There were a lot of moments, people and events leading up to the creation of hip hop. From its West African roots, where stories were delivered over drums, to spoke jazz poetry, to Muhammad Ali, hip hop's origins spans many cultures and influences.
But when Clive Campbell, aka DJ Kool Herc, and his sister, Cindy Campbell, decided to throw a block party in the recreation room of their apartment building at 1520 Sedgwick Avenue in the Bronx, it would officially mark the historic birthplace of hip hop culture.
As the story goes, Cindy needed to raise some funds so that she could buy school supplies on Delancey Street, so she linked up with her brother to throw a party where they could charge an entrance fee. The date for the party was August 11, 1973.
"It was only 25 cents for girls and 50 cents for the guys," Cindy recalled in an interview with New York Magazine . "I wrote out the invites on index cards, so all Herc had to do was show up. With the party set from 9 p.m. to 4 a.m., our mom served snacks and dad picked up the sodas and beer from a local beverage warehouse."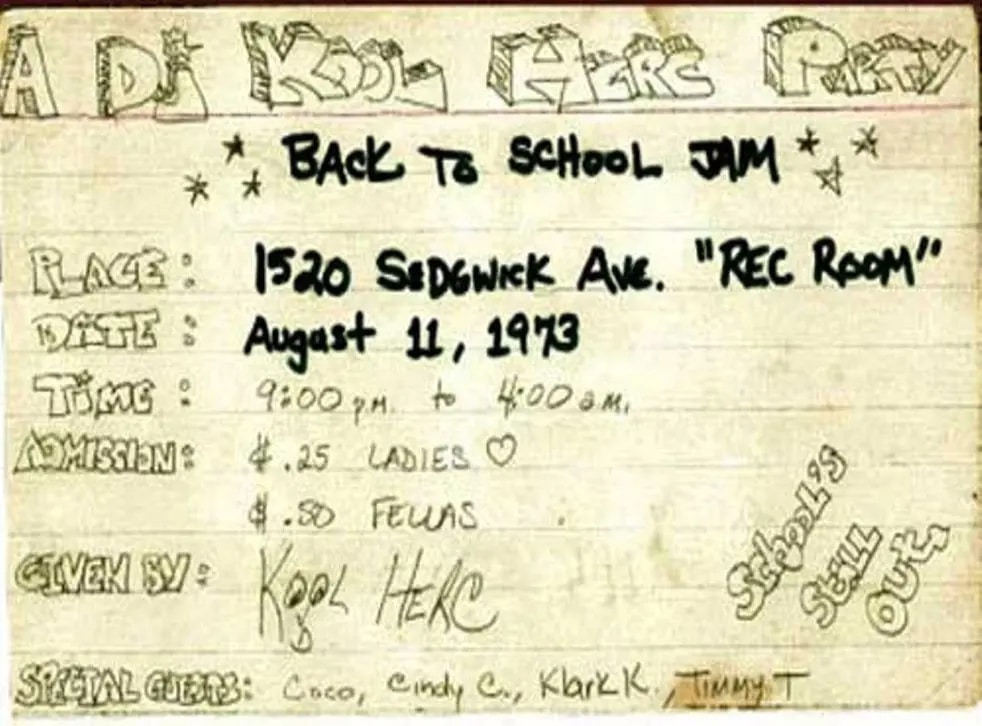 "This is where it came from," Kool Herc said in an interview with The New York Times about the historic address. "This is it. The culture started here and went around the world. But this is where it came from. Not anyplace else."
Using two turntables, Herc was able to isolate the breakbeats of popular records like James Brown's "Give It Up or Turnit a Loose" and The Incredible Bongo Band's "Bongo Rock", creating what he called "The Merry-Go-Round" technique. This innovation is considered the origin of hip hop DJing and production.
Kool Herc: Hip-hop started when my father brought a PA system and didn't know how to hook it up. I was messing around with the music and I started out by buying a few records to play at my house. When I was doing that I saw a lot of kids playing outside in the backyard. My sister asked me to give a party one day. Actually, she wanted me to play at a party [1520 Segdwick Ave] and I went out and got around twenty records that I felt was good enough and we gave a party and charged about twenty five cents to come in and made 300 dollars.

Interview w/ DJ Kool Herc | Davey D