After being in the rap game for over a decade and running it for more than five years, Jay Z's eighth studio album, The Black Album, was supposed to be his last record and he was determined to go out with a bang.
To help with this, Hov wanted to have 12 songs produced by 12 different producers. There was even a flyer floating around during the early stages of the album's marketing campaign which featured the slogan "12 songs… 12 producers…" and listed the names: The Neptunes, Just Blaze, Dr. Dre, DJ Premier, Rick Rubin, Swizz Beatz, Kanye West, Trackmasters, Eminem, DJ Quik, Ski and Timbaland.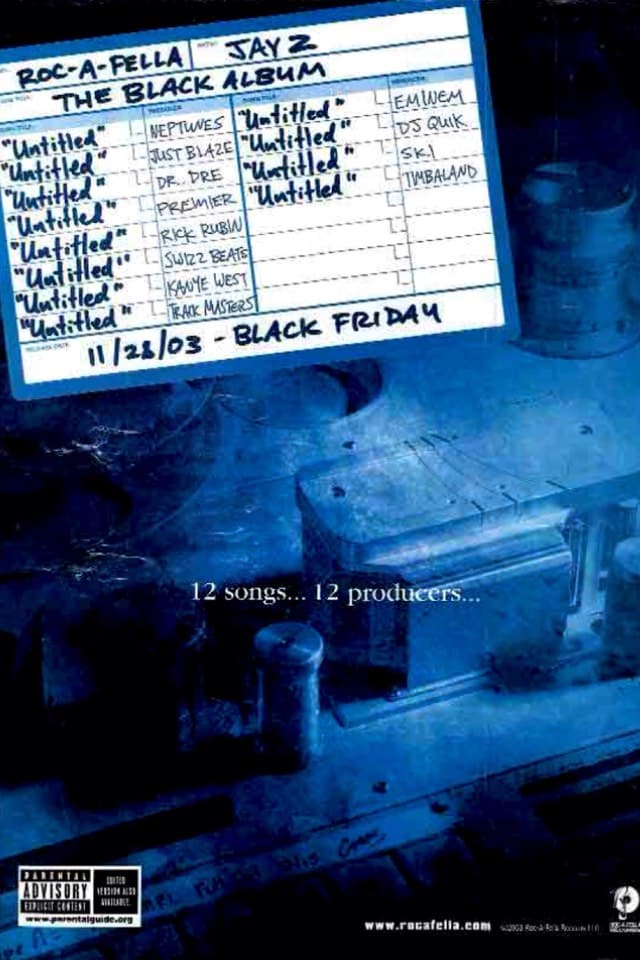 Unfortunately this idea didn't pan out for the final product. Instead, we got 14 songs produced by 10 names: Just Blaze, Kanye West, The Neptunes, Timbaland, Rick Rubin, DJ Quik, Eminem, 9th Wonder, The Buchanans and Aqua.
Just contributed the most, producing "Interlude," "December 4th" and "Public Service Announcement (Interlude)," while Kanye and The Neptunes produced two each. The other producers all contributed one beat each.
In The Fader's oral history of The Black Album, Kyambo "Hip-Hop" Joshua talked more about the 12 producer idea and why it didn't ultimately pan out.
We thought The Black Album was going to be his last, so the concept was, "Let's work with the producers we've worked with, and producers we've never worked with before." It was going to be like the ultimate wish list—Jay's list and my list. Dr. Dre was supposed to be on it. We always wanted to do something with Rick Rubin or Dr. Dre. The other shit was obvious: Kanye and Just. From that point on, we just went on trips. We went down to see Timbaland in Miami, or Pharrell in Virginia, and Rick Rubin in L.A. Ultimately, the Dre thing didn't happen and the DJ Premier thing didn't happen. It was a schedule thing. Jay had a specific song that he wanted Premier to do and I think he came with something else. That's how the 9th Wonder record ["Threat"] came about. It wasn't a replacement for Premier's song, but it was that feel that Jay was looking for. Jay really put 9th Wonder on the spot, like, Do this. 9th knocked it out and it was incredible.

Moment of Clarity: An Oral History of Jay Z's The Black Album | The Fader