The Marathon Continues. Crenshaw. Mailbox Money. Victory Lap. Nipsey Hussle's catalogue encapsulated everything that he held dear to his heart: Los Angeles, entrepreneurship, patience and ownership.
Born Ermias Joseph Asghedom on August 15, 1985 and raised in South Los Angeles neighbourhood, Crenshaw, Nipsey joined the local Rollin 60's Neighborhood Crips at the young age of 14. Nipsey's gang affiliation would play a prominent role for the rest of his life.
Entering the music industry in the mid-2000s off a series of acclaimed mixtapes, Nipsey was touted as the next big West Coast artist and was included in XXL's 2010 annual Top 10 Freshmen list, alongside current superstars like J. Cole, Big Sean and Wiz Khalifa.
Signed to Epic Records and making big moves like featuring on "We Are the World 25 for Haiti" and rapping next to West Coast OG Snoop Dogg, Nipsey was getting ready to drop his major label debut South Central State of Mind before things came to a halt. His debut album was shelved indefinitely and he was subsequently dropped from Epic the very same year XXL proclaimed him the "Most Determined" in his class.
Unwavered from his vision, Nipsey continued to work on his music, linking up with artists like Wale, YG, Game and Rick Ross. Then in 2013, he hit a new level with a brilliant business move.
Inspired by Jonah Berger's book about viral marketing, Contagious: How Things Catch On, Nipsey set up a pop-up shop in Fairfax, Los Angeles, selling limited edition hard copies of of his 8th mixtape, Crenshaw, at $100 per copy. He was on a mission to change up the way hip hop music was being treated as quick-serving, disposable product, instead of valuable art.
"The reason I chose to charge $100 dollars each copy and only start with 1000 units is because I tailor making my music for those who are listening," he said about the campaign. "It's not about stepping outside of what I'm known for in hopes of new discovery. What that means less is fans that are better served. Kinda like the effect of less kids in a class room leading to a better education."
Jay-Z was so impressed with Nipsey's business acumen that he bought 100 copies of the mixtape for $10,000. Within 24 hours, Nipsey moved all 1,000 copies of the mixtape, cashing in for $100,000.
After Crenshaw, Nipsey would continue to work and release music; the following year he dropped Mailbox Money, offering 1,00 copies for $1,000 each. After the release,Nipsey posted up a snapshot of the project's revenue, revealing that the mixtape, which was free to download on DatPiff, had made $175,000 in month.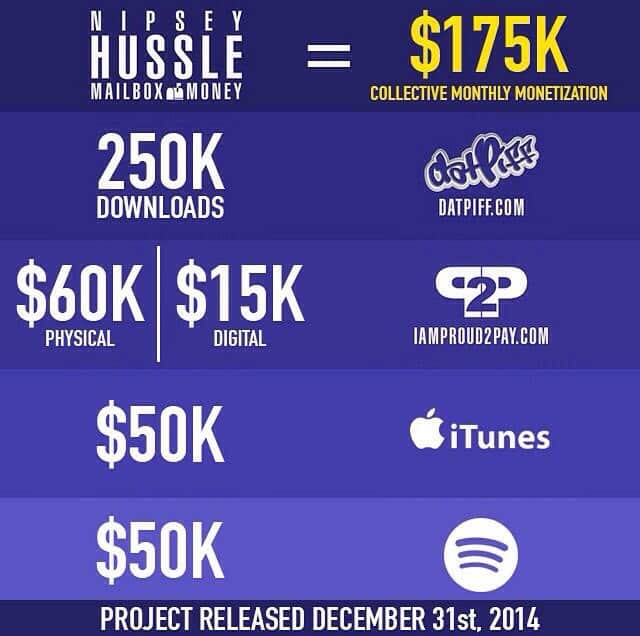 As he continued to put out new mixtapes each year (Slauson Boy 2, Famous Lies And Unpopular Truths, No Pressure with Bino Rideaux), Nipsey was in the background working with Atlantic Records on a major label partnership that would set the foundation for his debut studio album, Victory Lap.
Released February 16, 2018 via in a joint deal between All Money In and Atlantic Records, Victory Lap was the culmination of over a decade's worth of music, business lessons learnt and independent grinding. Featuring major names like Kendrick Lamar, Puffy, YG, The-Dream and Cee-Lo Green, the album received a nomination for Best Rap Album at the 61st Grammy Awards, and has since gone platinum.
Throughout his career, Nipsey was nothing, if not patient and focused on creating a lasting legacy through ownership and being self-made. From day one, he was investing in his music and building up his career, one brick at a time. When major label deals failed, he didn't go looking for another one, opting to keep things independent so he could retain more creative control and reap the rewards.
Read more.
Interview: Nipsey Hussle Explains His Dispute with Complex, Going Indie, and "Crenshaw" // Complex (2013)
With the hype around Nipsey's Crenshaw mixtape and its $100 price tag, Complex reached out to speak with the rapper, only to get dissed for putting him on a list of 10 Underachieving Rappers a couple months earlier. Nipsey eventually agreed to an interview with the publication, speaking to Angel Diaz about his problems with Complex; going to war on the streets in between albums; and the independent hip hop movement.
On why his music is bigger than the Billboard charts and numbers: "The metrics and the gauge of success, and of impact on the culture. It don't got shit to do with Billboard, it don't got shit to do with SoundScan. It don't got shit to do with any of these platforms that the business created. This shit is a culture. This shit is our life."
On being connected with his fans: "I know that people in New Zealand spend $600 with me a month. I see that I'm shipping out a package that costs $400: a hat and T-shirt, mixtapes, a beanie, I see that. I got people in Toronto that spend $500. I see that. My fans are engaged to that level."
On staying independent vs. signing to a major label: "Why would a ni**a sign to a major label and give up the only thing you have? They be famous, but they don't own shit. Once the marketing money wears off and you ain't getting no check, and your single ain't being marketed to radio no more? You don't got nobody who really cares for you, or really loves you, or really connects to what you're saying. So it's over. I was on a major label with a lot of these ni**as. I've seen niggas with No. 1 hits come and go. You feel what I'm saying? I'm still here my nigga."
On Rick Ross trying to sign him to Maybach Music: "Me and Rick Ross sat down and talked and he made it clear that he can make the deal that I need. And I told him that I don't need money, I need a partnership. I needed a marketing machine and I needed international distribution for my product. Ross fought tooth and nail to make that happen for me. I respect him and salute him for that; but then we ran into the corporate structure of these companies."
Meet Nipsey Hussle, the rapper who wants you to pay $1,000 for his album // The Guardian (2015)
As Nipsey continued to run his own lane as an independent businessman charging a premium for music, his name and brand kept growing. Speaking with Rob Boffard, the Crenshaw rapper talked about expanding his #Proud2Pay campaign; charging $1,000 for Mailbox Money; and levelling up his digital analytics tools to better engage with his fans.
On measuring a project's success through inspiration: "The highest human act is to inspire. Money is a tool – it's the means, not the end. [Inspiration is] the metric that dictates whether or not a project is a success. It's more realistic than trying to aim for radio play, or trying to satisfy an A&R, or the other gatekeepers on these platforms. I don't even know how to create with those things in mind. But if you tell me the goal is to inspire? That makes my job a lot easier."
On connecting with Ryan Leslie who put him on new digital tools: "The software is a direct consumer enhancement tool that allows creators of the content to own the relationship, and own the data of those transactions."
On the importance of ownership to him: "The labels aren't letting us live. They're not letting artists own anything! We're going to end up 60 years old without a pot to piss in – no catalogue, no mailbox money, no residuals. We're supposed to be in control. We're supposed to own this shit. Unless you don't have the mental capacity to do so, but that doesn't apply to me."
Nipsey Hussle is making major label moves with an independent spirit // Fader (2017)
With his debut studio album, Victory Lap, ready to drop and a partnership with Atlantic Records locked in, Nipsey spoke to Fader about building leverage as an independent artist; why he decided to partner with a major label; and being inspired by Jay-Z, Murder Inc. and Ruff Ryders.
On the value of partnering with a major label like Atlantic Records: "It's all the resources that we have that was once just a three-man job. I had to do the projects and work it from all angles ourselves. To give the music a really fair chance to make sure that it gets is proper platform, we knew we always wanted to go back into a major situation as a partner, but we just had to get a weight back up outside of the negotiating table to do that."
On building leverage as an independent artist: "In negotiation, you need leverage to serve your interests and the leverage happens outside of the negotiating table. This is why the indie circuit became so big because we started to see that you gotta go create your value, and sometimes when you go into that space in creating your value, you like, 'I'm good, this is where I want to be. I don't want to leave this space'."
On creating a music moment with Victory Lap: "We have like business moments with Crenshaw and marketing moments and like real authentic moments with my early stuff where it was like a real energy that you felt. But, I want to create a music moment and make a victory lap."
Nipsey Hussle on the Genius of Master P, Upcoming Joint Album With YG & Being the 'Tupac of His Generation' // Billboard (2018)
Following the release of his long-awaited debut studio album, Nipsey reached new heights as a rap star who'd been grinding independently for over a decade. Sitting down with Billboard, Nipsey discussed the creation process behind Victory Lap; being the Tupac of his generation; and being inspired by Master P.
On the impact of gang culture in his music: "I didn't wanna influence nobody to join a gang, but I wanted to establish that this was one of our voices from gang culture. That way, when I mobilize forward, I got them with me. I ain't want just the music fans, I ain't want just the West Coast fans, I wanted the gang members to come with me."
On his legacy as an artist: "Look at these buildings. That's a human's creation. Somebody said they'd build a skyscraper, and they did it. Somebody said they'd build an airplane, and they did it. It hadn't been done yet, until somebody did it. I just want to inspire that type of thinking. Believe in yourself and dream big. Reverse-engineer that shit. Work backwards."
On meeting Jay-Z: "It's like meeting Denzel or meeting Michael Jordan. It made me realize he's human. I don't like to fan too much, but I was clear, like, "I was inspired and you did a lot for me, homie. I was raised off of some of them lyrics. Thank you for certain lyrics and certain songs." I wrote a personal note and I thanked him for certain lyrics that sunk in when I was going through it in the streets."
On the last verse off of "Blue Laces 2": "My whole hood was there. My whole hood know that that's a true story. My art reflects life. When I look at my mixtape catalog before I started writing Victory Lap, I was like, what did I do to make them connect? I looked at the songs that reconnected, and I referenced real life."
Lessons to learn.
Invest in yourself, before anything else: Nipsey only partnered up with Atlantic Records for the release of Victory Lap, after he spent almost a decade building up his brand, fanbase and multiple sources of independent revenue streams. Thanks to his Marathon store and music catalog, Nipsey was earning monthly royalty checks in the six figures; giving him all the leverage when it came to negotiating deals.
Success is a marathon, not a sprint: It took Nipsey 10 years to drop Victory Lap. 10 years. Most artists these days don't even take 10 months to drop their debut album. In those 10 years, he put out mixtapes, collaborated with like-minded artists, and networked with executives; getting all the pieces on the chessboard ready before making his move.
In an industry that rewards the latest hits and the hottest up-and-coming acts, he kept his head down focused on the music he wanted to make, and the fanbase he wanted to serve. Because of his patience, he benefited from genuine relationships with names like Puffy, Kendrick Lamar and YG, who all appeared on his debut album.
Ownership is everything: From the very beginning Nipsey preached and practiced ownership. Having independence meant everything to him and he worked hard to maintain ownership over his music and business.
It wasn't about the money that the major labels could offer him, it was about the resources they could provide and the ownership he would retain. Even partnering up with Atlanta, Nipsey made sure he owned his master recordings so he could pass it on to his kids.