With 6 albums, 4 group projects, 3 EPs and 3 mixtapes to his name, J. Cole has solidified himself as one of the best, most consistent and most influential rappers of his generation.
Whether you're a rap connoisseur, a casual J. Cole fan or a Dreamville diehard, it's hard to deny the impact Cole has had on the rap game. Coming up in Fayetteville, North Carolina, the Dreamville MC made his debut with 2007's The Come Up, but it wasn't until the follow-up tape, The Warm Up, released two years later that he really started to make the rounds.
Fast-forward to over a decade later, Cole is sitting comfortably at the very top of the hip hop world, cemented as one of the best rappers in the game right now. With his latest release, 2021's The Off-Season, Cole proved that he was only getting better with time with the project being one of his best to date.
From his 2011 debut, Cole World: The Sideline Story, to 2021's The Off-Season, we rank every J. Cole album, from worst to best.
6. Cole World: The Sideline Story
Released: September 27, 2011
Label: Roc Nation, Columbia
Singles: "Work Out", "Can't Get Enough", "Mr. Nice Watch", "Nobody's Perfect"
Features: Trey Songz, Drake, Jay-Z and Missy Elliott.
After a run of mixtapes, J. Cole released his long-awaited first album, Cole World: The Sideline Story, and it certainly does sound like a debut. That comes with its upsides and downsides. On one hand, he sounds so hungry, with an energetic style to his rapping that always comes with a rising star. The album also has some really punchy production at points, especially on highlights like "Sideline Story" and "Nobody's Perfect" which complement Cole's confident and accessible sound.
However, his lyricism isn't always on point, with a handful of questionable bars and some ideas better in concept than execution. It sounds rusty, but it's still solid. This album is Cole shaping his sound, and you can truly hear his potential. Hip hop heads won't be talking about the album as one of the best rap debuts anytime soon, but it started Cole down the path to greatness, which is all that matters at the end of the day.
5. KOD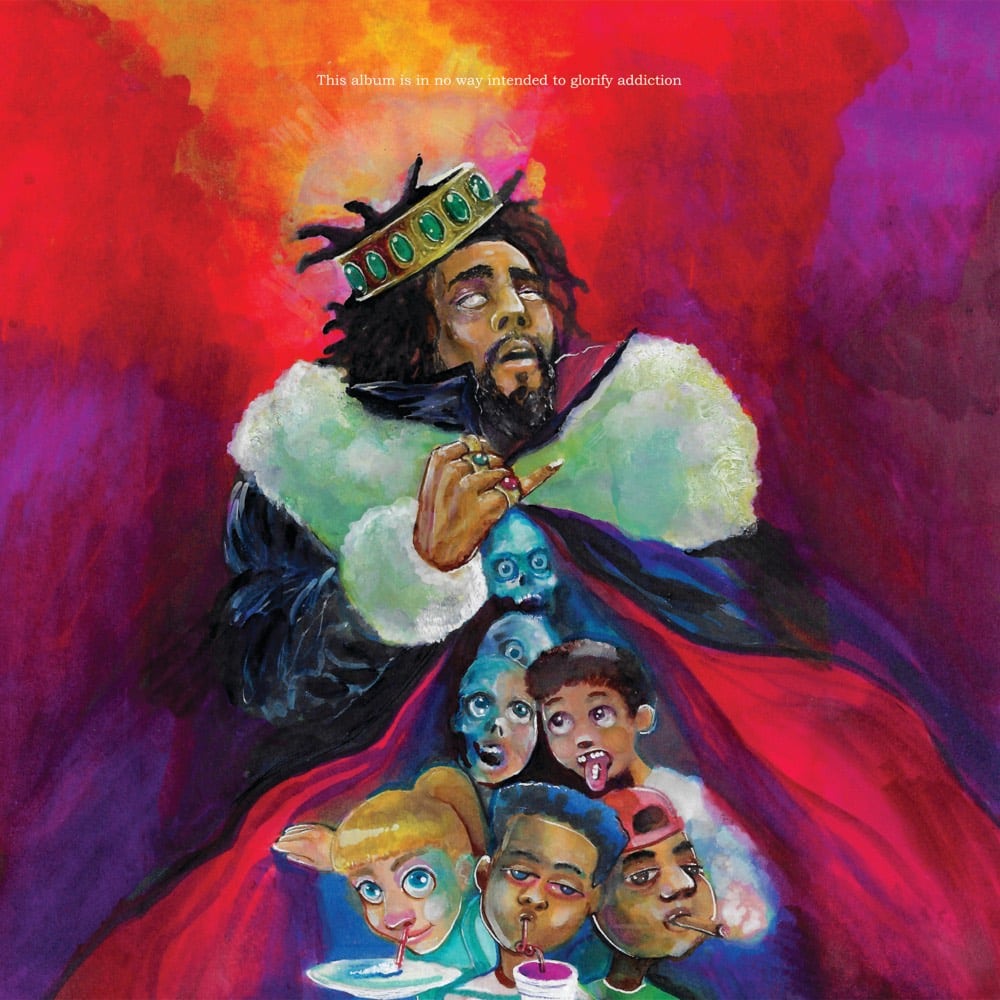 Released: April 20, 2018
Label: Dreamville, Roc Nation, Interscope
Singles: "KOD", "ATM"
Features: N/A
Despite being another commercial success for Cole – adding another "platinum with no features" record to his discography – it was a disappointment for most fans and remains one of his weaker projects. The album revolves around themes of addiction and drug use, but Cole's exploration of those themes comes off as muddled and inconsistent.
The North Carolina MC's bars aren't as layered as usual, his delivery feels monotone at points, and his usual knack for making memorable but hard-hitting tracks is missing here. The beats, too, feel half-baked, with Cole adopting more trap production but doing little with it – the beats are bare, without detail or memorability. Overall, it's still a cohesive project with a consistent theme and sound, but it could have been so much more, especially with an artist of Cole's immense rapping and production talent.
4. Born Sinner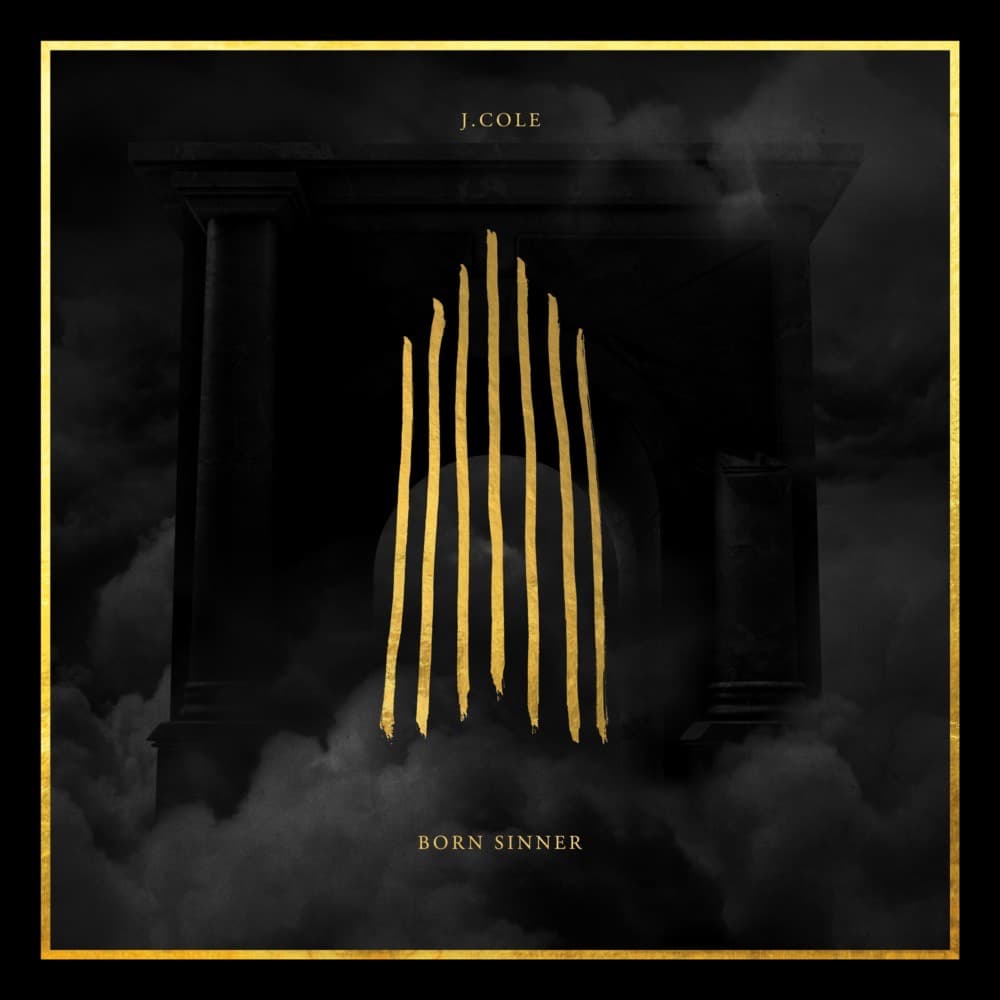 Released: June 18, 2013
Label: Dreamville, Roc Nation, Columbia
Singles: "Power Trip", "Crooked Smile", "Forbidden Fruit", "She Knows"
Features: Miguel, Amber Coffman, Jhené Aiko, James Fauntleroy, Bas, TLC, Kendrick Lamar and 50 Cent.
After the commercial success but lukewarm critical reception of Cole World, Cole had a lot to prove with his next album. Born Sinner is a bigger, flashier evolution of everything on Cole World. Not only do his bars contain far more bravado, but the production is more polished, making for a more consistent listen overall. This is the album where you feel the rapper really starting to grow into his shoes.
Cole sounds more comfortable, conveying a confidence in his bars which make each verse all the more engaging. With features from Kendrick, Amber Coffman, Miguel, and more, the tracklist is stacked with talents who all work well with Cole's more confident approach on Born Sinner. However, running for almost an hour, the album does feel its length at points, and some tracks feel longer than necessary.
3. 4 Your Eyez Only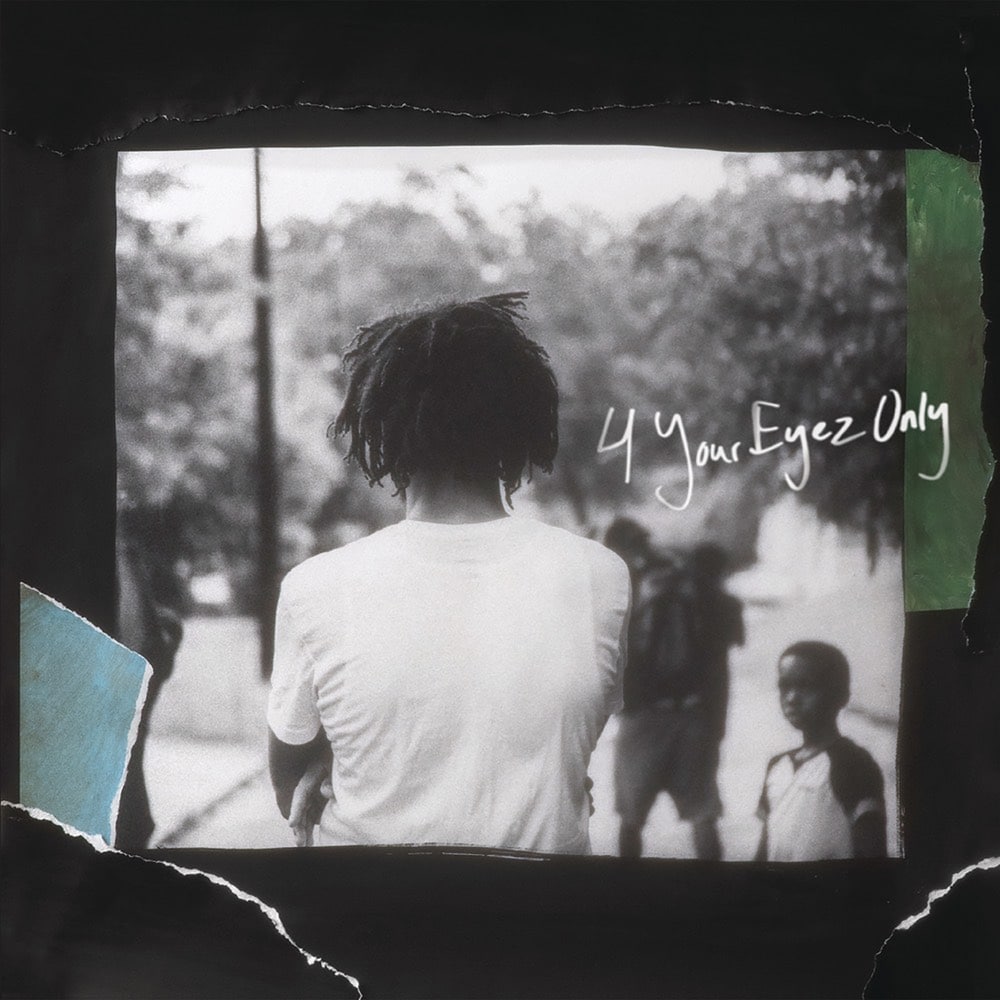 Released: December 9, 2016
Label: Dreamville, Roc Nation, Interscope
Singles: "Deja Vu", "Neighbors"
Features: N/A
4 Your Eyez Only is one of Cole's most ambitious projects, and unlike on KOD, that ambition definitely pays off. The album follows the life of a black man from his youth to his death, with Cole describing all the troubles a man in the black community would face at any age. Lyrically, it's his most mature work, reflecting a level of political awareness and emotional transparency unlike any of his other albums.
The production is refreshing too, with hard-hitting moments like the single "Deja Vu" and the animated "Foldin Clothes". However, most of this record embodies a more laidback sound, with quiet jazz and piano samples laced throughout each beat, which has the unintended effect of tracks blending into each other. Overall, the album's nuanced, poignant and deserves repeated listenings.
2. The Off-Season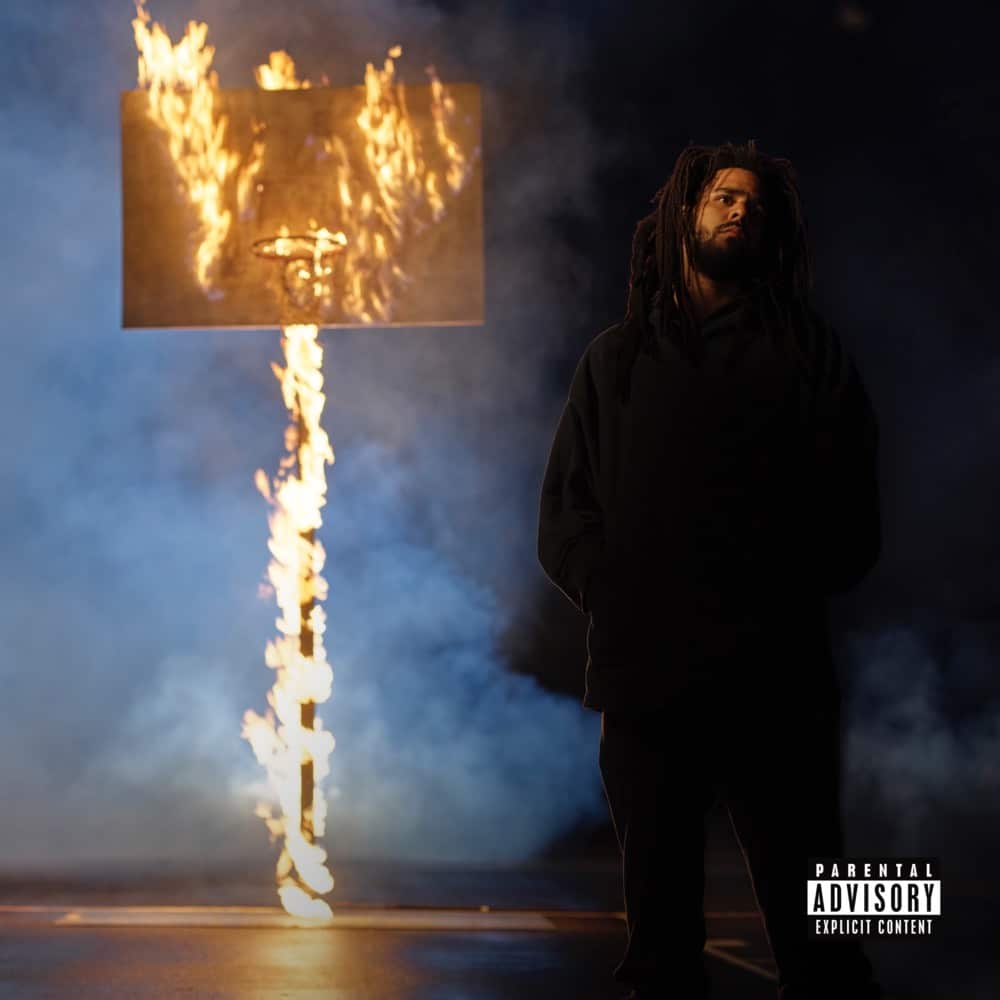 Released: May 14, 2021
Label: Dreamville, Roc Nation, Interscope
Singles: "My Life"
Features: Morray, 21 Savage, Lil Baby, Bas, and 6lack.
In between his last album and this one, Cole went on a features bodying run that included murderous verses on songs like "Say Na", "Sojourner", "Boblo Boat", "A Lot" and "Family and Loyalty," just to name a few. As a result, The Off-Season is Cole's lyrically sharpest work to date. With the same trap influence as KOD, he does so much more with that style here. The result is his most explosive and catchy material ever. It also helps that he abandoned the whole no features approach (thank god) and opted to add some more colours and dimensions to his work.
An 'off-season' usually refers to an athlete taking a break from regular activity to recuperate, but in contrast to what the title may suggest, Cole sounds more alive than ever. His flows are wild, his sharp lyricism in full form and, joined by a host of stellar features from 21 Savage to Lil Baby, it makes for a fast-paced and exciting listen with fiery trap-inspired production. If this is Cole's 'off-season', then we can only imagine what he has in store for when he comes back on with The Fall Off.
1. 2014 Forest Hills Drive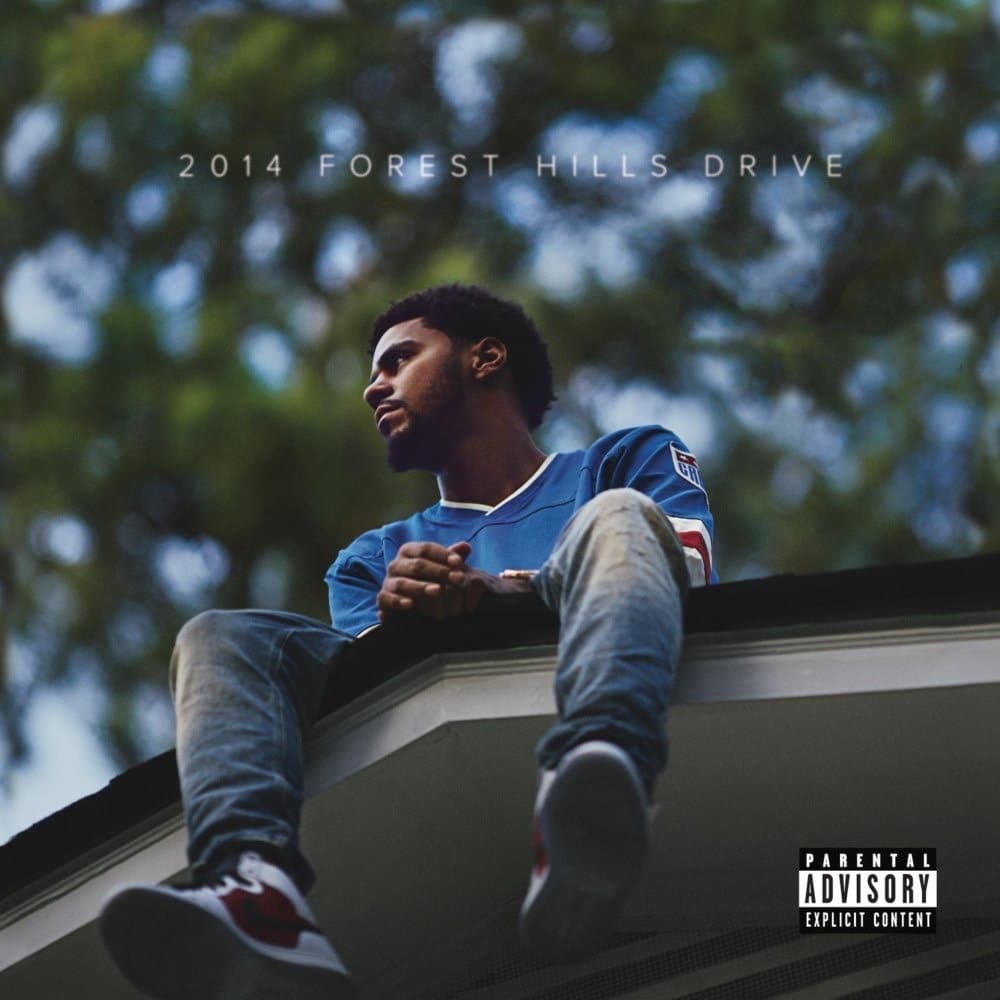 Released: December 9, 2014
Label: Dreamville, Roc Nation, Columbia
Singles: "Apparently", "Wet Dreamz", "No Role Modelz", "Love Yourz"
Features: N/A
2014 Forest Hills Drive is when Cole perfected his sound. After two albums which could be hit or miss at points (depending on how you look at it), 2014 is far more consistent, with classic Cole storytelling from front to back. It's also the album where Cole completely locked into himself as an artist and was able to ascend to the levels of Kendrick Lamar and Drake on both a critical and commercial level.
He has the same charisma as on Born Sinner but with a sharper pen, painting these relatable, down-to-earth pictures with his words that make for a diverse tracklist full of all different themes. The production is varied but consistent, with highlights like the rugged "A Tale of 2 Citiez" or the elegant "Love Yourz". Of course, this album sparked the phrase 'platinum with no features', and that's exactly what Cole did: he showed the world he doesn't need anybody's help to be a great MC. Looking back on this album almost a decade on, it's clearly the most pivotal point in his career, which is why we've crowned 2014 Forest Hills Drive to be the best J. Cole album of all time.