Westside Gunn never planned to be a rap star. In 2011, after he was released from prison, West set out to break into the music industry by managing his half-brother Conway the Machine.
But in 2012, while getting to his truck after leaving a club, Conway was shot multiple times; with bullets hitting his neck, shoulder and back of the head. The shooting left Conway permanently paralysed on the right side of his face.
"If Conway would've never got shot, it wouldn't be no Westside Gunn the rapper," said West in an interview with The Ringer. With Conway down and out for the time being, it was up to West to pick up the mantle.
West's rapping career starting slowly, but steadily. First by finding his voice with the Hitler Wears Hermes series, then putting all together for his 2016 magnum opus, Flygod, which also featured appearances from underground luminaries like Your Old Droog, Mayhem Lauren, Danny Brown, Roc Marciano, Skyzoo and Action Bronson, in addition to Conway and their cousin Benny the Butcher.
Fast-forward to now, Griselda – now made up of West, Conway, Benny, in-house producer Daringer, Boldy Jamesm YN Billy, Armani Caesar and Mach-Hommy – has transformed from a local Buffalo rap crew to receiving co-signs from legends like Jay-Z and Eminem, sitting front row at Paris Fashion Week, and spearheading the boom-bap revivalist movement, all while keep true to their music and where they come from.
Over the past five years, Griselda has dropped an incredible amount of projects (15 albums, 20 mixtapes and 10 EPs), most of which were executive produced and curated by Westside. This has resulted in some hip hop classics, including Supreme Blientele, Tana Talk 3, WWCD and From King to a God.
Everything about Griselda Records — the business, the music, the fashion — is the result of Westside Gunn's vision and execution. With a relentless stream of quality music and exclusive merchandise that appeals to their core audience; West has always been focused on the organic growth of their brand, never compromising the product, and showcasing hip hop music as a highest form of art.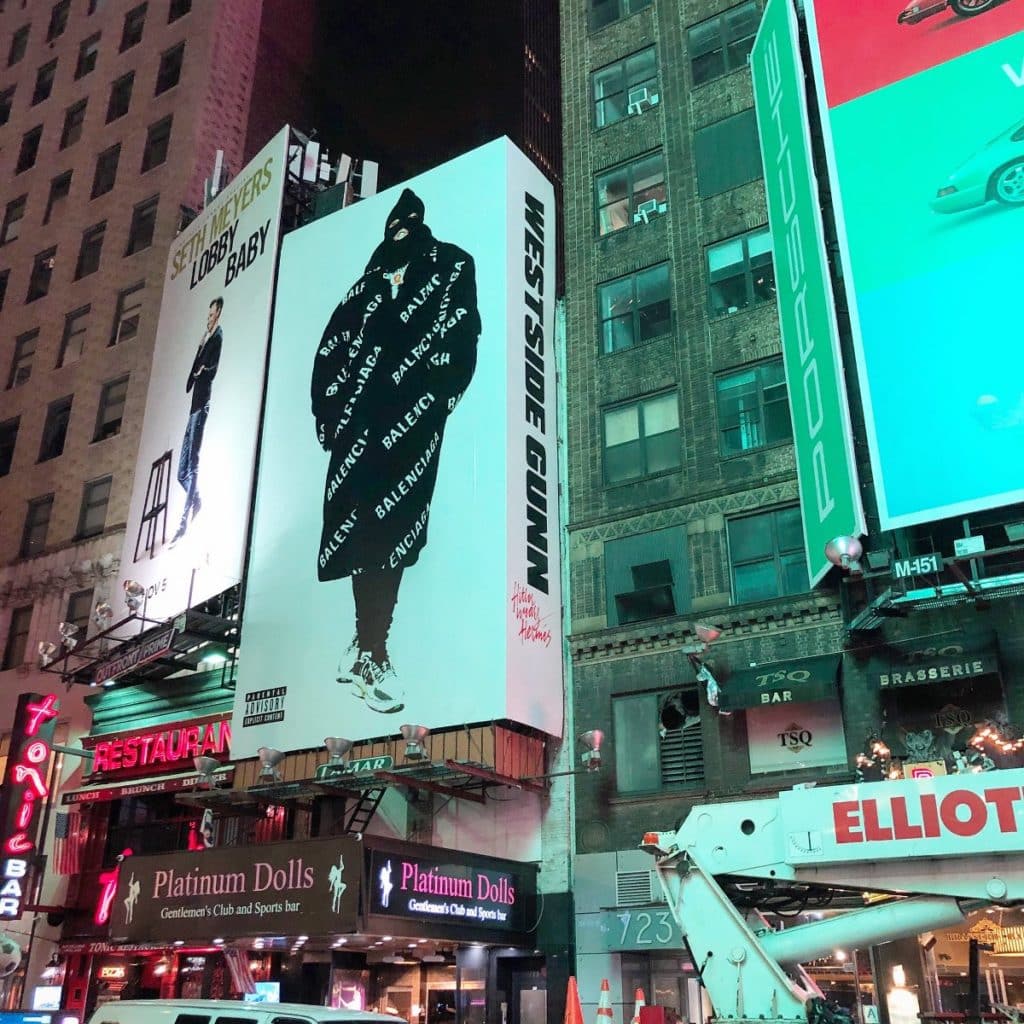 Read more.
RESPECT. Interview: Westside Gunn Discusses Changing Lives, Art Exhibits & Production // RESPECT. (2016)
Following the release of his 2016 debut album, Flygod, West spoke to RESPECT. about building up the Griselda brand through work ethic and consistency; the role art plays in his music; and the long road that led them to where they are now.
On the importance of Daringer's on the Griselda sound: "However, nobody will ever get me like Daringer. That's my producer since day one. When you hear him that's the Griselda sound. The RAW shit you know? I'm where I am today because of what Daringer brought to the table."
On really living that art lifestyle and the influence it plays on his music: "I like going to art exhibits and peeping raw talent. You can learn a lot and develop a different outlook on life by looking at an artists view. Some designers I mess with are Raf, Virgil, Don (Just Don), and Neil Barrett. Also, I love what Kanye is doing. I feel I'm a grimier Kanye."
On inspiring the younger generation of rappers: "From prisons, murders, drug sales, and almost losing life. I mean, Conway got shot in the damn head. But yeah, we've come a long way and I hope what we're doing can show the people from the same walks of life that if you grind hard and stay focused anything is possible. Changing lifes is more important to me than music. I'm just glad when I make music I'm able to do both."
An Interview with Westside Gunn // Passion of the Weiss (2018)
Off the back of dropping his second studio album – the intoxicating Supreme Blientele – West spoke to Steven Louis about the evolution of Griselda Records; collaborating with Anderson .Paak; the project's iconic artwork; rare Flygod vinyls; and Westside Gunn as a character.
On recording Supreme Blientele:

"I'm in that zone. People don't know, but I made that project in one day. I wrote and recorded everything in one day."

On the value of limited supply and exclusivity: "I could be 50 times richer if I left my shit up all day, for new people just discovering my music yesterday, who wish they could buy a print but it's sold out before they even knew about me. I could be making money all day long, but then it wouldn't mean nothing."
On staying independent vs. signing to a major label: "Now that I'm signed, I have different obligations. When you're indie, you can do what you want. I wish I would've done Shady maybe, like, two years after I did."
On classic '90s hip hop: "Back in the day, people used to want to be Nas, Rae, and Ghost. People used to want to be Hov and all of that shit. I'm taking it back to that shit."
Griselda Set Out To Be Your Favorite Rapper's Favorite Rappers. It's Paying Off // NPR (2019)
With the release of their debut group album, WWCD, West, Conway and Benny talked to NPR's Frannie Kelley about receiving co-signs from the likes of Jay-Z, Eminem Nas and Raekwon; not changing up their sound for cater to the mainstream; and the late Chine Gun.
On boom bap hip hop: "Boom bap is Pete Rock, is DJ Premier. When we get on that wave, that's the boom bap side of us. The more street side is The Alchemist, you know — Daringer is a mix of both. I look at boom bap like, the early Joey Bada$$, the Skyzoos. But the street rap is the Pusha T, the Jeezy. It's just you just speaking on what you been through, in the streets."
On coming from Buffalo: "A lot of people from Buffalo haven't even been outside of Buffalo. Probably 75% of Buffalo never even been in New York City. We just come from a different kind of place. You just have to be from there to kind of understand that."
On not having any samples on WWCD: "The thing about it is, you hear a lot of people album that have no samples, but the beats is trash. They might not have a Beat Butcha. You have to play the game smart. You have to actually know how to use the players that you have around you, if you have access to 'em. Fortunately, we have a Beat Butcha. Fortunately, we have a Daringer."
On Wu-Tang, Mobb Deep and Nas: "We really grew up hearing that music in the late '80s all through the grimy '90s. We come from that same cloth. That Wu-Tang cloth? We're cut from it. Mobb Deep, Nas, all them people that people love. The Kool G era — all of that. We was alive for it, we was around for it, we heard it soon as it came out, just like when they did it. Griselda could have came out in the '90s."
On Chine Gun's importance to Griselda: "I always say, I only praise one dude — that's Chine Gun. We evolved, he evolved with us. [I have] his whole face tattooed over my heart. I wear his chain every day. Now we have our debut album named after him. As long as you know Griselda, you gonna know Chine Gun. Period. Even though he's the fallen member, he's still with us to this day."
Westside Gunn and Virgil Abloh Talk About Their Shared History, Coming Back from Coronavirus, and Being the "Best in Class" // GQ (2020)
When West launched his clothing brand, Griselda by Fashion Rebels (GxFR), in 2005, it would have been hard for him to envision that 15 years later he'd be talking to GQ about Paris Fashion Week. In a joint interview with Virgil Abloh, West talked about recording Pray for Paris while in Paris; name-checking Virgil's Off-White brand on "Mr. T"; and leaving the country for the first time in his life.
On following Virgil's work for close to a decade: "I've been a fan of Virgil for seven years. I'm heavy into fashion. I always keep my ears and eyes open to the streets, to who's doing what, because I always designed. I'm more of a fashion designer than I am a rapper."
On being inspired by Paris: "Going out to Paris for Fashion Week, it opened up my eyes a lot. Now I'm looking at different ways of approaching things, different things I want to design that I never designed before taking. This is just another level. The things I've been designing since Paris have been incredible."
On never travelling outside the country before Paris: "I'm out in Milan, I'm going to Japan. Cause you know I just left the country. I've only been to Paris. I haven't been to London, I haven't been to Milan, I haven't been to Japan and so many places that I have to go now. When this is over, I'm going across the world."
How Mach-Hommy and Westside Gunn Made 'Pray for Haiti' a Modern Hip-Hop Classic // Rolling Stone (2021)
West and Mach-Hommy's rollercoaster relationship reached new heights when the New Jersey rapper's album Pray For Haiti was executive produced and released by the Griselda head honcho. In this interview with Rolling Stone, the two rappers talked about reconciling their differences; Haitian culture; curating music for Griselda artists; and bringing listeners into their world.
On linking back up with Mach-Hommy: "Everything happened organically. Not even about perfect timing, it was meant to me. We got up, just to build with one another. It had been so long since we had seen each other. We picked up where we left off. And from there, then we said ''let's just kill this.'' Let's just take over this shit."
On being an executive producer and picking beats: "I'm a fan first. I'm a curator but a fan first. So, it doesn't take preparation, I know what is going to sound good because I am a fan. I know what is going to bring the best out of them. I know what Benny is going to sound crazy on. And I know what Mach is going to sound crazy on."
Lessons to learn.
Creative work comes from connecting ideas, passions and experiences: The reason why Westside and, as a whole, Griselda's music has been so successful is the authenticity of their sound and stories. Westside really was fashion forward his whole life, Conway really did get shot in his head and survive to tell the tale, Benny really was cooking up crack in his kitchen and driving it across state lines.
Next to Pusha T, Westside Gunn is the best at balancing the duality of high art opulence and luxury fashion with grimy street talk and drug stories. You can throw some wrestling talk into the mix as well. Westside's biggest strength as an artist is his way of connecting ideas and vibes, weaving in his passion for high art and his experiences on the Buffalo streets.
Exclusivity generates demand: Griselda's merchandise is notorious for their limited runs and selling out quickly. Westside understands exclusivity generates demand, and that by creating a limited number of items, he'll increase fan attention for the next drop, which also allows them to price the merchandise at a higher tier than other artists.
Good music comes first: As competitive as West can be against other rap crews, he's actually super generous when it comes to his own team. He understands that Griselda, as a brand and record label, is bigger than him, and has often been happy to play the background role as he puts the spotlight on Benny, Conway, Armani Caesar and Mach-Hommy. "I'm not a selfish dude, it's about making dope music and being creative," he told DJBooth. "It's just an art piece and I want it to flow through."