Emerging from the shadows of Top Dawg Entertainment, alongside Kendrick Lamar, Ab-Soul and Jay Rock, Schoolboy Q's sonic evolution has been nothing short of fascinating, a journey that has carved a distinctive niche in the West Coast rap game .
From his debut, the densely textured Setbacks , to the bleakly introspective Crash Talk , the rhythmic assault of Oxymoron , the genre-bending Habits & Contradictions , and the sprawling, cinematic Blank Face LP , ScHoolboy Q has consistently proven himself as an artist unafraid to redefine boundaries. The Figueroa-repping rapper's albums serve as milestones in his career, with each one reflecting his distinct identity and the cultural zeitgeist.
So let's get into it. From his debut Setbacks to his breakout album Habits & Contradictions to his 2016 masterpiece Blank Face LP , we rank every Schoolboy Q album from worst to best.
Setbacks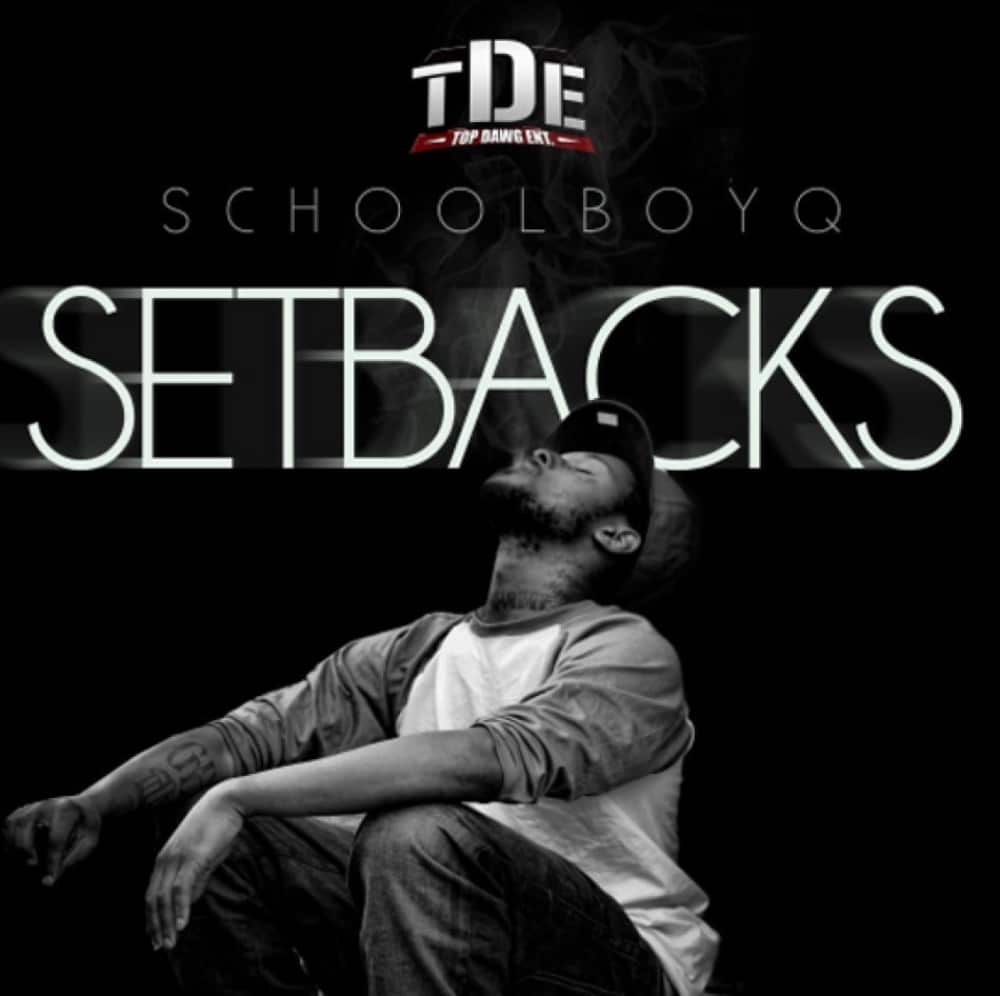 Released: January 11, 2011
Label: Top Dawg
Singles: N/A
Features: Kendrick Lamar, Jay Rock, Ab-Soul, Alori Joh, Jhené Aiko and BJ the Chicago Kid.
Setbacks , ScHoolboy Q's debut album, successfully strikes a balance between socially conscious rap and lighthearted odes to the West Coast stoner culture. The album combines polished production, funk-infused beats, and well-thought-out lyrics, conjuring an atmosphere reminiscent of an blurry weekend. Q's versatility shines through tracks like "Figg Get Da Money," a reflection on consumer culture, and "Light Years Ahead," a languid dive into after-work relaxation. Featuring fellow Black Hippy member Jay Rock, the radio-friendly "What's the Word" stands out, as does the looped, soulful "iBETiGOTSUMWEED." Throughout Setbacks , ScHoolboy Q maintains his identity, offering a promising contribution to the contemporary L.A. rap scene .
Crash Talk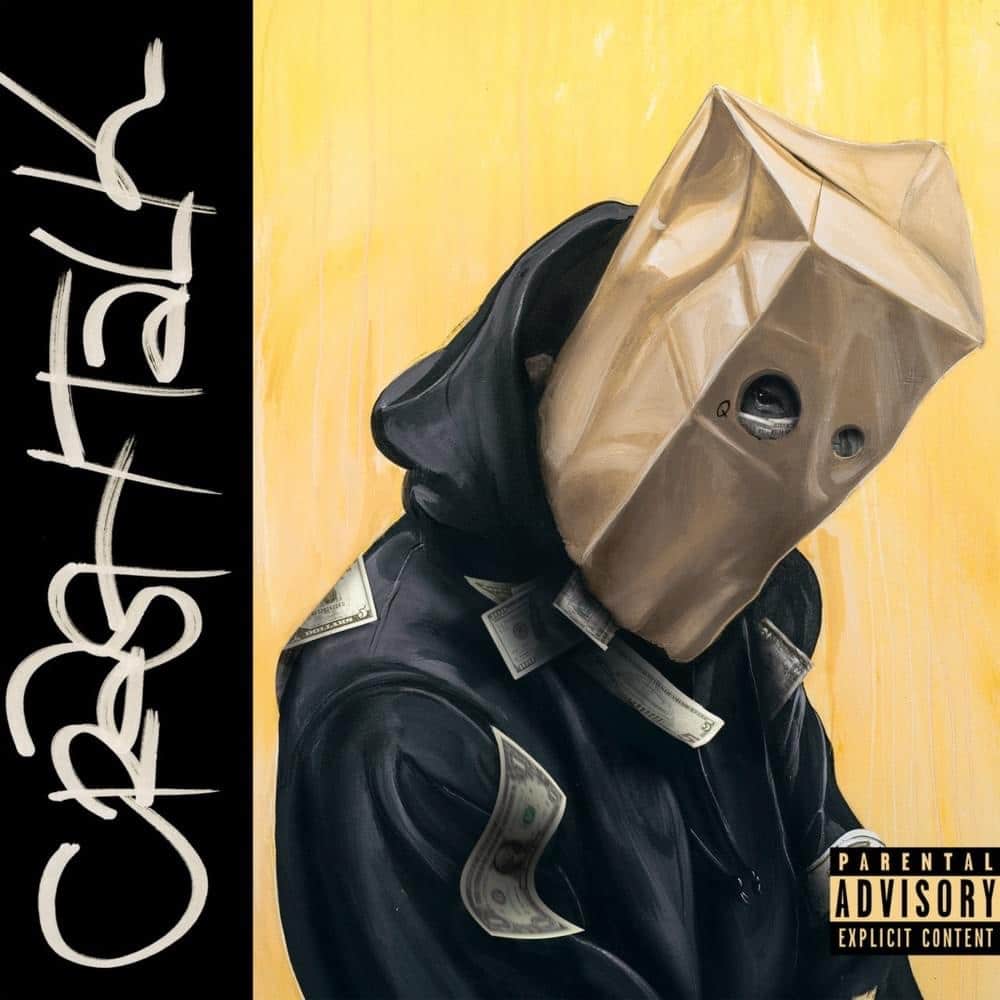 Released: April 26, 2019
Label: Top Dawg, Interscope
Singles: "Numb Numb Juice", "Chopstix", "Floating"
Features: Travis Scott, 6lack, Ty Dolla Sign, YG, 21 Savage, Kid Cudi, and Lil Baby.
CrasH Talk , ScHoolboy Q's fifth album, though eagerly anticipated, falls short of the artistic highs reached in his previous works. Despite the heavy-hitting opener "Gang Gang" and the short yet impactful "Numb Numb Juice," much of the album feels disappointingly uninspired. While tracks like "Drunk" and "Dangerous" provide glimpses of the West Coast rapper's aggressive energy and introspective street vignettes, they are sadly few and far between. Notable exceptions include "CrasH," a raw exploration of Q's current mindset, and "Water," a track that, despite its potential, doesn't quite reach the heights expected. Though CrasH Talk contains individual tracks that exemplify Q's lyrical prowess, as a whole, it feels like a detour from his typically solid and consistent output.
Oxymoron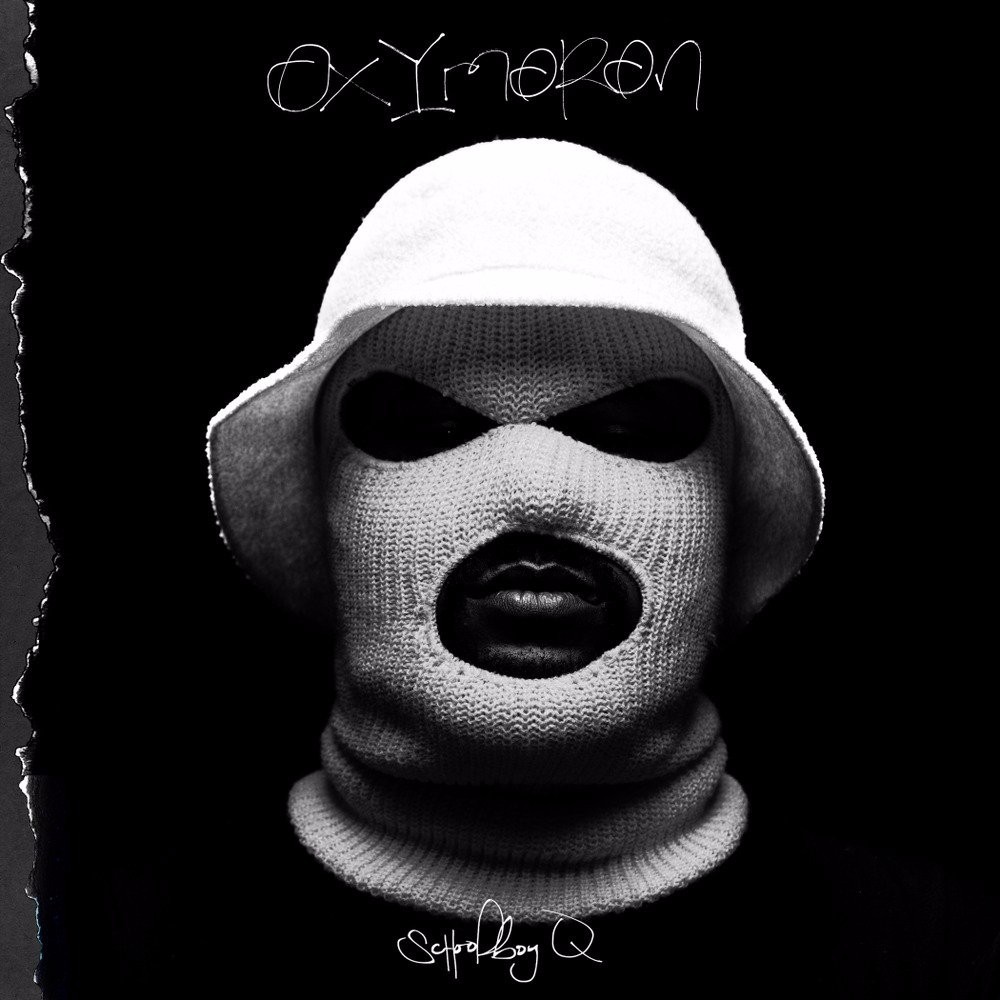 Released: February 25, 2014
Label: Top Dawg, Interscope
Singles: "Collard Greens", "Man of the Year", "Studio", "Hell of a Night"
Features: Kendrick Lamar, 2 Chainz, ASAP Rocky, Jay Rock, Tyler, the Creator and Kurupt.
Diving into Q's major label debut, Oxymoron captures the rapper's patient ascent to the top of the rap game, a journey characterized by collaborations with contemporary heavyweights like Tyler, the Creator 2 Chainz, as well as rap OGs like 50 Cent and Raekwon. On Oxymoron , the TDE rapper takes us through a sonic labyrinth of his gang-affiliated past, delivering bone-chilling verses that resonate with authenticity. Far from being a quest for radio hits, the album feels like a mission to inject his uncompromised style into mainstream gangsta rap. With the gritty narratives, the album unfurls an engaging tapestry of Q's vulnerability and street life – a showcase of his lyrical versatility.
Habits & Contradictions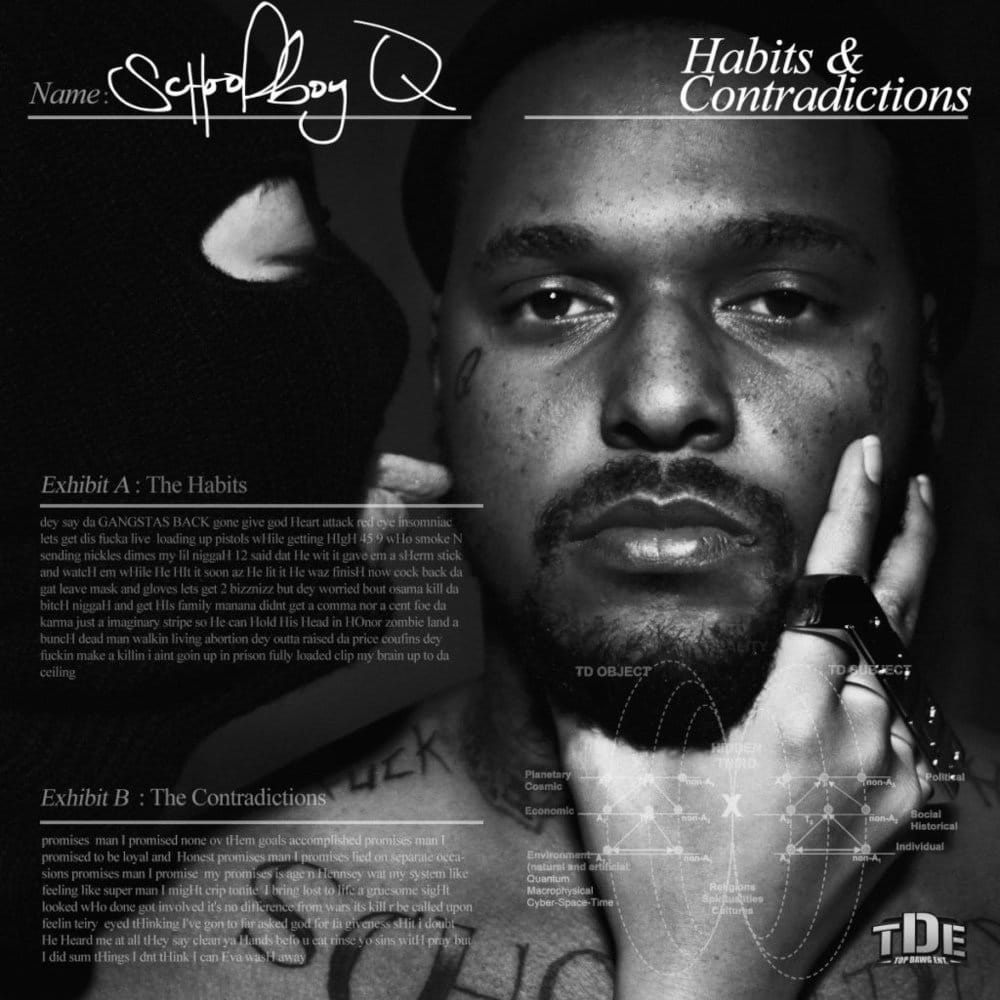 Released: January 14, 2012
Label: Top Dawg, Interscope
Singles: "Druggys wit Hoes Again", "Hands on the Wheel"
Features: ASAP Rocky, Jhené Aiko, Dom Kennedy, Currensy, Ab-Soul, Kendrick Lamar and Jay Rock.
Habits & Contradictions , ScHoolboy Q's sophomore effort, finds the rapper carving out his unique niche within the Black Hippy collective. The album offers a gritty yet varied exploration of themes like drugs, crime, and hustling. Standout tracks like the dark "Oxy Music" delve into the grim realities of narcotics trade, while "Hands on the Wheel" offers a more lighthearted, albeit messed-up, romp through party culture with fellow rapper A$AP Rocky. However, the 18-track album also risks oversaturation, with some tracks such as "Sex Drive" falling flat in comparison to the album's many highlights. Despite these minor missteps, Habits & Contradictions showcases the West Coast rapper's unique ability to drift between different styles and tones, solidifying it as one of Schoolboy Q's best albums to date.
Blank Face LP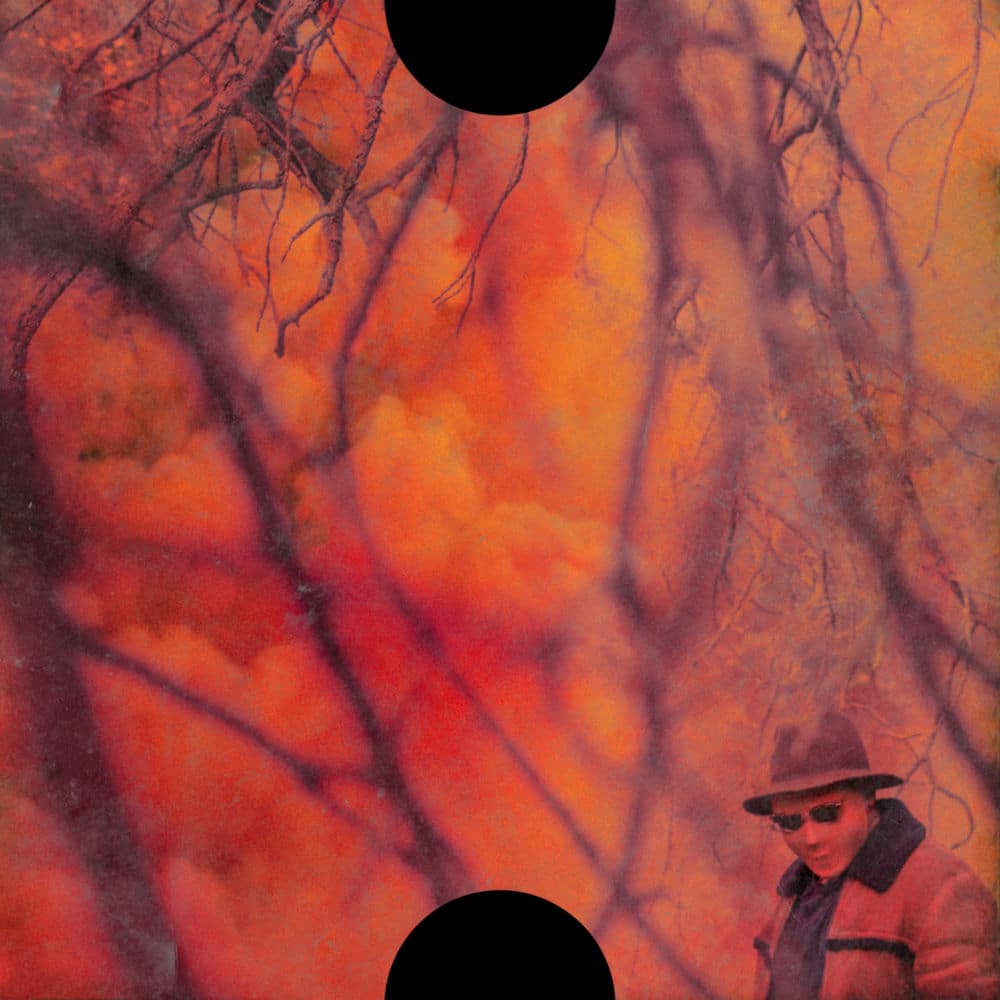 Released: July 8, 2016
Label: Top Dawg, Interscope
Singles: "Groovy Tony", "That Part", "Overtime"
Features: Kanye West, Jadakiss, E-40, Tha Dogg Pound, Miguel and Anderson .Paak.
Blank Face LP represents a pivotal point in Schoolboy Q's rap career, marking a shift in his musical narrative. This album refuses to be overshadowed by its predecessors or individual high-profile tracks. With a running time of 74 minutes, it offers a relentless onslaught of lyrical brilliance. The aggressive undertones resonate with Q's trademark nihilistic approach, standing out starkly in the hip-hop landscape. However, the album isn't without its anomalies; the track "Overtime," with its contrasting tone, feels more like a concession to radio popularity than a natural fit within the album. Nonetheless, this album is a testament to Q's maturing artistry, boldly spotlighting his lyrical prowess and ability to create a cohesive body of work. As it stands, Blank Face LP is Schoolboy Q's absolute best album to date.