Hailing from Gary, Indiana, Freddie Gibbs Gibbs has overcome a turbulent past, from the street life to early label issues and rapper beefs to become one of the best rappers in the game today .
Emerging during a time when the culture was dominated by artists such as Lil Wayne and Kanye West, Gibbs refused to be overshadowed. Instead, he honed his craft, combining the grit and rawness of gangsta rap with the introspective lyricism of the golden era, and in the process, he created a distinct sound that would become his trademark.
With a unique blend of streetwise storytelling, versatile flows, and undeniable charisma, Gibbs has put together a rich discography over the years that demonstrates his evolution as an artist with each release. As he navigated the ever-evolving landscape of the genre, he managed to stay true to his roots while also embracing new sounds, styles, and collaborators.
From his major-label debut Soul Sold Separately to the iconic Bandana, which cemented his partnership with Madlib, we rank every Freddie Gibbs album from worst to best.
9. ESGN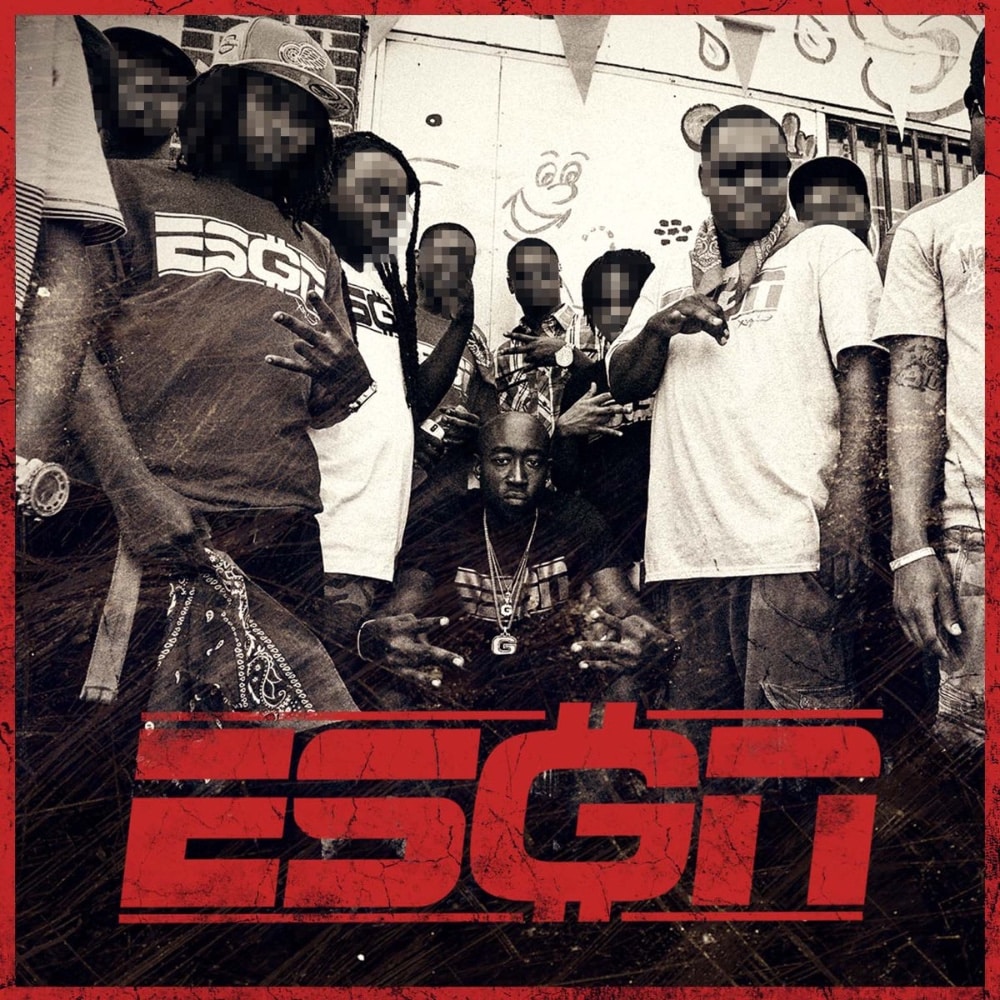 Released: June 19, 2013
Label: ESGN, Empire Distribution
Singles: "One Eighty Seven"
Features: Daz Dillinger, Spice 1, Jay Rock, G-Wiz, Hit "Skrewface", Big Kill, Lil Sodi, Problem, Y.B., D-Edge, G.I. Fleezy and BJ the Chicago Kid.
At number 9, we've got ESGN (Evil Seeds Grow Naturally) , an album that slaps with Freddie Gibbs' trademark sound. Brimming with relentless trap beats and gritty tales of Gary, Indiana street life, Gibbs stays true to his roots. But while ESGN flexes his artistic muscles, it falls short in painting a full picture of who the MC really is. On "Freddie Soprano," Gibbs confronts hip-hop's drug addiction epidemic, while "The Real G Money" has him looking back on his days as a young coke dealer. These moments, where he escapes the album's pervasive numbness, hit the hardest. Other standouts include the bass-driven "Eastside Moonwalker" and the jazzy "Dope in My Styrofoam." Don't get it twisted— ESGN isn't a bad album. Freddie Gibbs is a rap powerhouse with killer flow and an ear for dope collaborations. Many tracks hit the mark, but the album lacks a clear stance on the heavy themes it tackles. More than anything ESGN is a testament to Freddie Gibbs' untapped potential. Despite industry hurdles and label issues, Gibbs remains unyielding in the face of adversity. With his undeniable lyrical talent and unwavering commitment to his sound, ESGN , while not perfect, still packs a punch.
8. Soul Sold Separately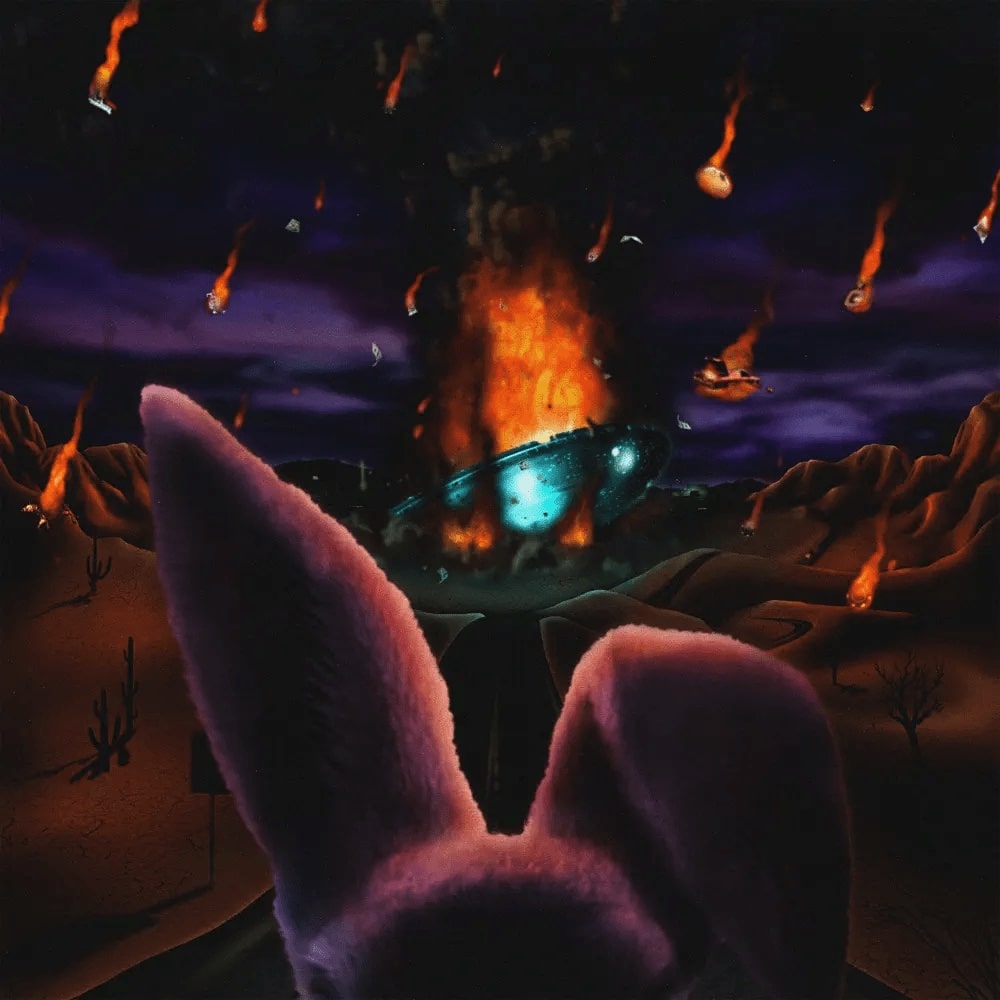 Released: September 30, 2022
Label: Warner Records
Singles: "Too Much", "Dark Hearted"
Features: Kelly Price, Offset, Moneybagg Yo, Rick Ross, Anderson .Paak, Raekwon, DJ Paul, Pusha T, Musiq Soulchild, Scarface.
Landing at number 7, we have Gibbs' major-label debut, Soul Sold Separately . Coming off the heels of acclaimed projects like Bandana and the Grammy-nominated Alfredo , expectations were high—and the Gary MC did not disappoint. Soul Sold Separately combines a glamorous casino backdrop with heart-wrenching tales of struggle. As Gibbs delves into topics like drug abuse and loss, he balances the heavy subject matter with a pink, Energizer Bunny-like mascot, adding humor and extravagance to the mix. An impressive roster of guest features (Offset, Moneybagg Yo, Rick Ross, Anderson .Paak, Raekwon, DJ Paul, Pusha T) and producers, including Madlib, The Alchemist, and Kaytranada, only add to the album's brilliance. Highlights like "CIA" and "Zipper Bagz" showcase Gibbs' razor-sharp flow and ability to adapt to diverse beats. Haunting tracks like "Grandma's Stove" and "Dark Hearted," featuring Musiq Soulchild and James Blake respectively, reveal the raw emotion driving this project.
7. You Only Live 2wice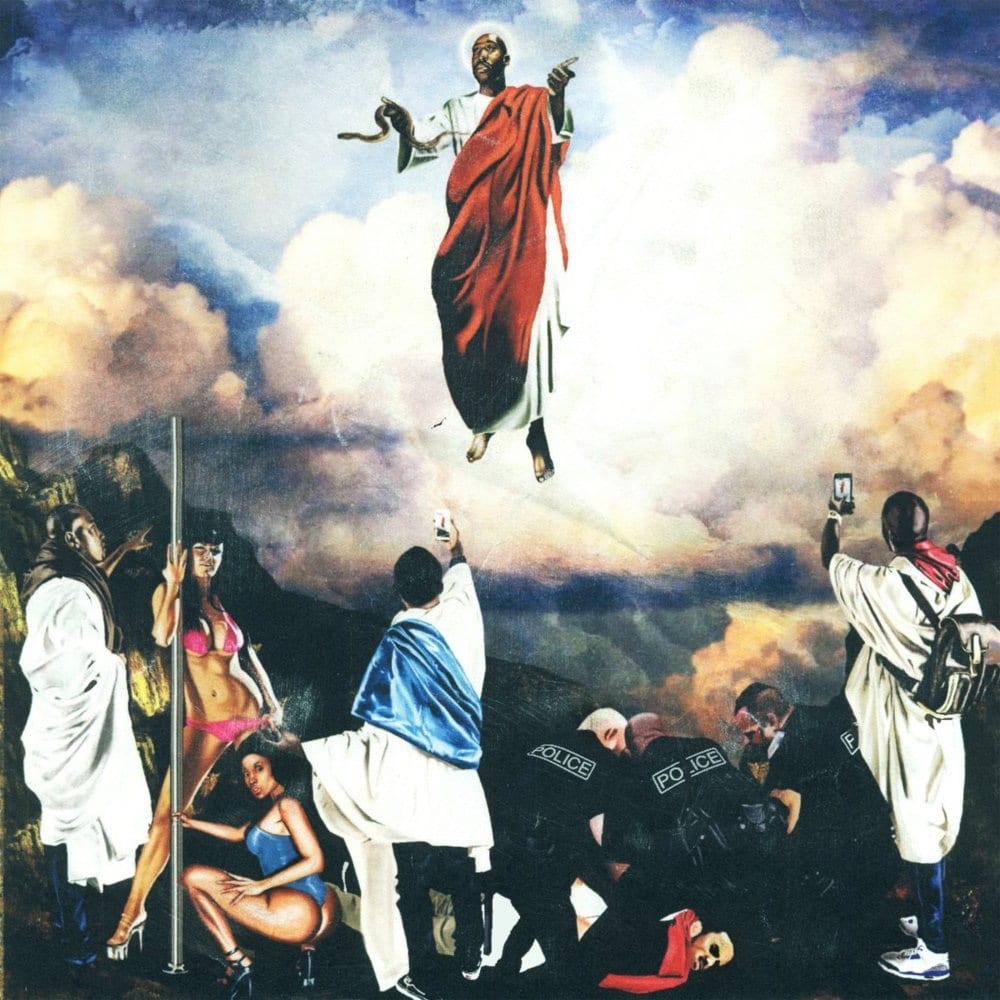 Released: March 31, 2017
Label: ESGN, Empire
Singles: "Crushed Glass"
Features: N/A
At number 6 on our ranking, Gibb's third studio album is a testament to the MC's relentless pursuit of rap excellence. You Only Live 2wice is a dazzling display of Gibbs' lyrical prowess, with the album's 30 minutes packed full of intricate verses. While some elements of this album mirror 2015's Shadow Of A Doubt , You Only Live 2wice isn't defined by Gibbs' past legal troubles. Instead, it's a triumphant return to form for the rapper. Songs like "Crushed Glass" confront his 2016 acquittal on sexual assault charges head-on, while the rest of the album feels like an artist eager to reclaim his place in the rap game. Gibbs' life experiences only seem to fuel his intensity on You Only Live 2wice , as he packs even more words into each bar, rapping with the urgency of someone who knows he has to make every moment count.
6. Freddie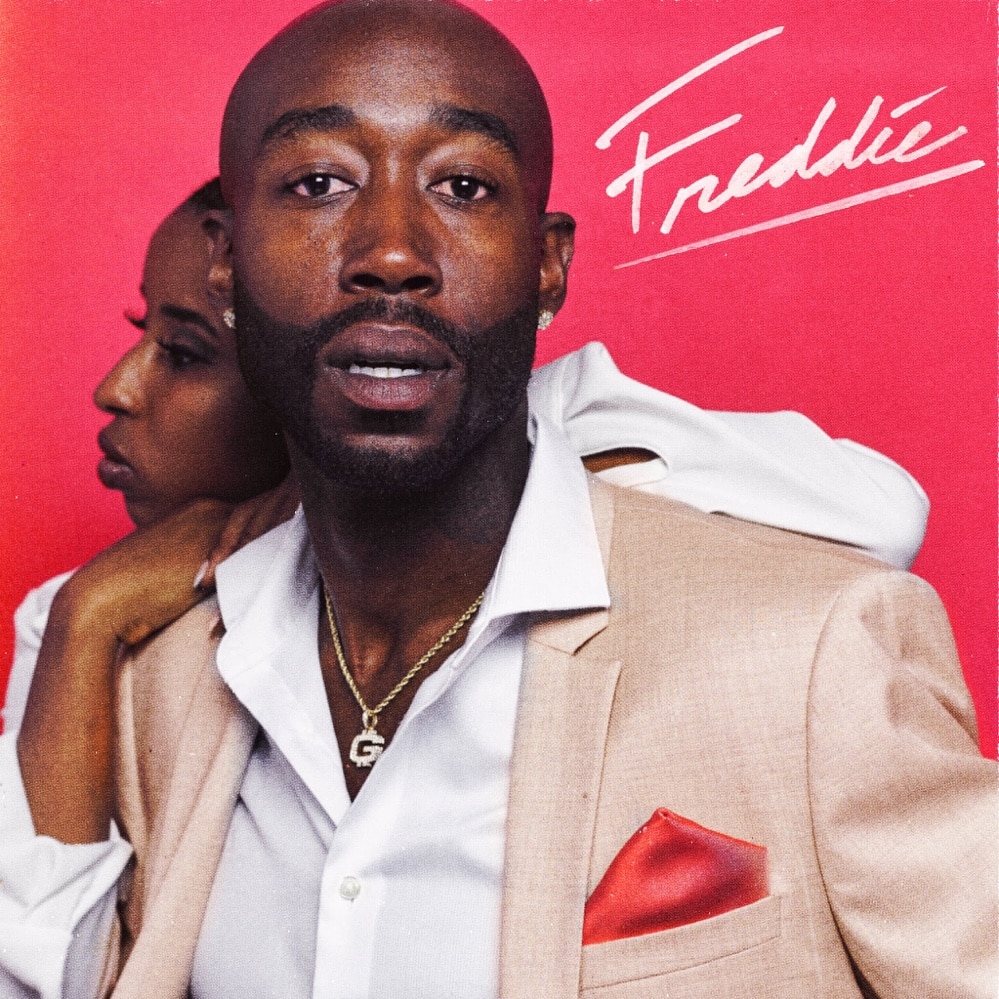 Released: June 22, 2018
Label: ESGN, Empire
Singles: N/A
Features: 03 Greedo, Cassie Jo Craig and Irie Jane Gibbs.
Coming in at number 5 on our list is Freddie . Released as an interim project between You Only Live 2wice and the much-anticipated Bandana , this 10-track offering gives fans the perfect mix of Gibbs' signature high-quality gangsterism and undeniable lyrical prowess. Freddie doesn't shy away from embracing the trap sound, but Gibbs always manages to maintain his unique voice and style. Tracks like "Death Row" featuring 03 Greedo and "Triple Threat" showcase his ability to elevate the trap life, while "2 Legit" brings out the best in Gibbs, reminding fans of his 2014 bar-setting performance on Pinata . However, not every song on Freddie reaches those heights. While still enjoyable, tracks like "Weight" and "Automatic" lack the soul that sets Gibbs apart from his contemporaries. But, he finds his groove again with tracks like "Diamonds 2," "Set Set," and "Toe Tag," demonstrating his artistic prowess within the trap vibe.
5. Fetti (with Curren$y and The Alchemist)
Released: October 31, 2018
Label: Jet Life, ESGN, ALC, Empire
Singles: N/A
Features: N/A
Coming in at number 8 is Fetti , the collaborative brainchild of Curren$y, Freddie Gibbs, and the always reliable Alchemist. Fetti stands out as a rare project where each artist finds their groove without overshadowing the others. Across its 24-minute runtime, it's clear this trio knows how to create music that resonates with both Curren$y and Gibbs fans. The Alchemist's production sets the stage for both rappers to shine, as he weaves together moody, ambient beats like "Saturday Night Special" and soul-infused instrumentals on "New Thangs." Despite their differing lyrical content, the chemistry between Curren$y and Gibbs is undeniable. Together with The Alchemist's production prowess, Fetti delivers on its potential as a top-tier rap album, nothing more, nothing less.
4. Shadow of a Doubt
Released: November 20, 2015
Label: ESGN, Empire
Singles: "Fuckin' up the Count", "Extradite", "Packages"
Features: Black Thought, Dana Williams, Tory Lanez, ManMan Savage, Gucci Mane, and E-40.
Landing at number 4 is Shadow of a Doubt . This dark and introspective record arrived in the wake of a near-death experience for Gibbs, who was shot at outside a New York record shop in 2014. It's clear that this incident had a profound impact on the rapper as he delves deep into his gangsta past throughout the album, questioning if he can ever truly escape it. Kicking off with the haunting "Rearview," Gibbs takes listeners on a gritty journey through his life. On tracks like "Fuckin' Up The Count" and "Extradite," he reflects on his choices and the violent world he inhabited. The album slows down with the auto-tuned tracks "Lately" and "Basketball Wives," but the overall vibe remains intense. Shadow of a Doubt comes on the heels of Gibbs' critically acclaimed collaboration with Madlib on Piñata . While that album showcased versatile beats and a deep exploration of Gibbs' hustler narrative, Shadow of a Doubt takes a more introspective approach. A team of top-notch producers , including Mike Dean and Boi-1da, helps create a nuanced backdrop for Gibbs' raw and deeply honest storytelling.
3. Alfredo (with The Alchemist)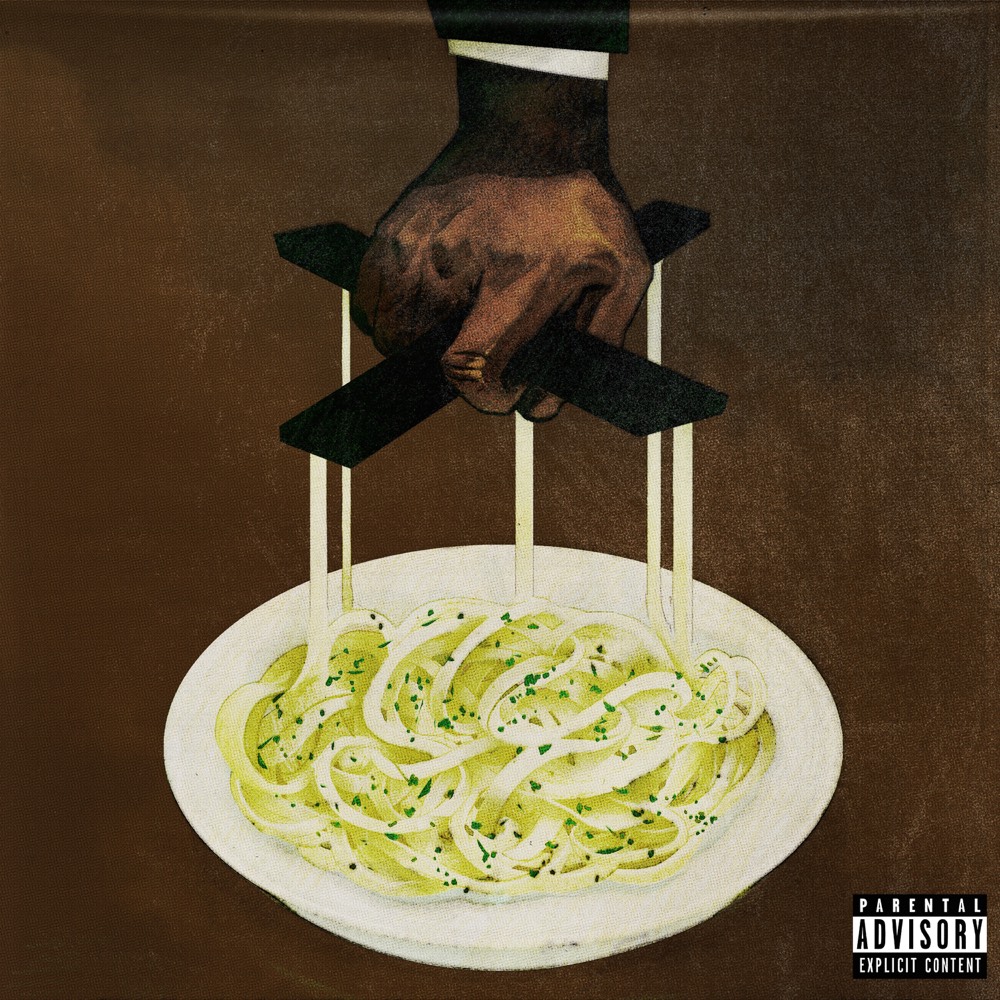 Released: May 29, 2020
Label: ESGN, ALC, Empire
Singles: "1985"
Features: Rick Ross, Benny the Butcher, Tyler, the Creator, and Conway the Machine.
A match made in hip hop heaven, Alfredo sees Gibbs link up with production maestro The Alchemist for a musical pairing that seemed destined for greatness from the start. While his prior collaborations with Madlib on Bandana and Piñata pushed the rapper to test his lyrical prowess over some of the most challenging production of his career, The Alchemist's luxurious, atmospheric beats on Alfredo proves to be the perfect canvas for Gibbs' nimble, melodic flow. Even with the album boasting a strong roster of feature rappers — including Rick Ross, Benny the Butcher, Tyler, the Creator, and Conway the Machine — the spotlight never wavers from Gibbs. The ESGN rapper's extraordinary technical skills, magnetic mic presence and show-stopping one-liners come together to create a record that showcases an MC operating at peak performance.
2. Piñata (with Madlib)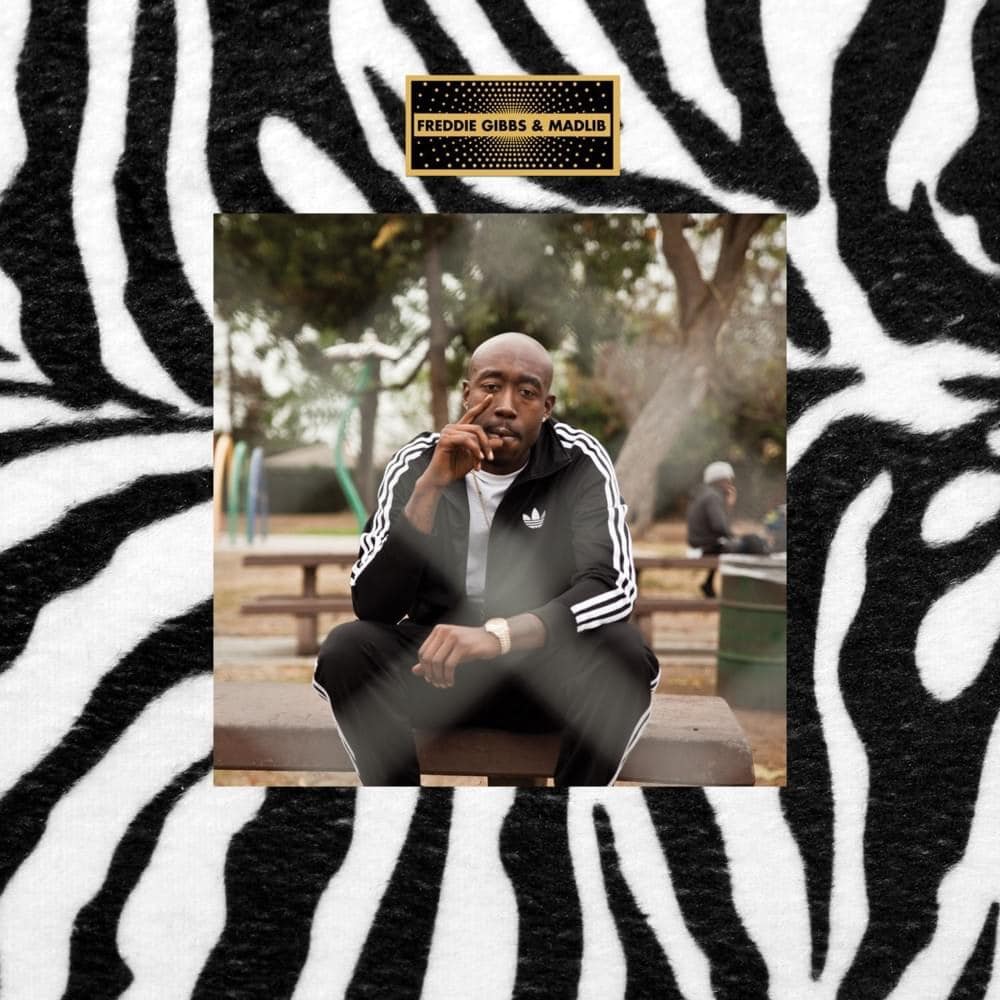 Released: March 18, 2014
Label: Madlib Invazion
Singles: "Thuggin'", "Shame", "Deeper"
Features: Raekwon, Earl Sweatshirt, Danny Brown, Domo Genesis, Scarface, BJ the Chicago Kid, Ab-Soul, Casey Veggies, Meechy Darko and Mac Miller.
Piñata is a prime example of a collaboration that transcends expectations. While the rap world was already hip to the fact that Gibbs was a top-notch MC before 2014, it wasn't until this album that everybody realised that the rapper might be at different level to his competition. On the album, producer Madlib channels both the gritty aesthetic of RZA and soulful loops of Dilla to create a cinematic soundscape that push back while also complementing Gibbs' harshly melodic flow and street narratives. Piñata is jam-packed with bangers like the hard-hitting "Real", dreamy "Broken" and sublime title track, as well as a feature line-up that reads like a who's who of rap lyrical royalty – we're talking Danny Brown, Raekwon, Scarface, and Mac Miller, just to name a few. It's a seamless blend of production styles and tapping talent that elevates Piñata to becoming one of Freddie Gibbs' best albums.
1. Bandana (with Madlib)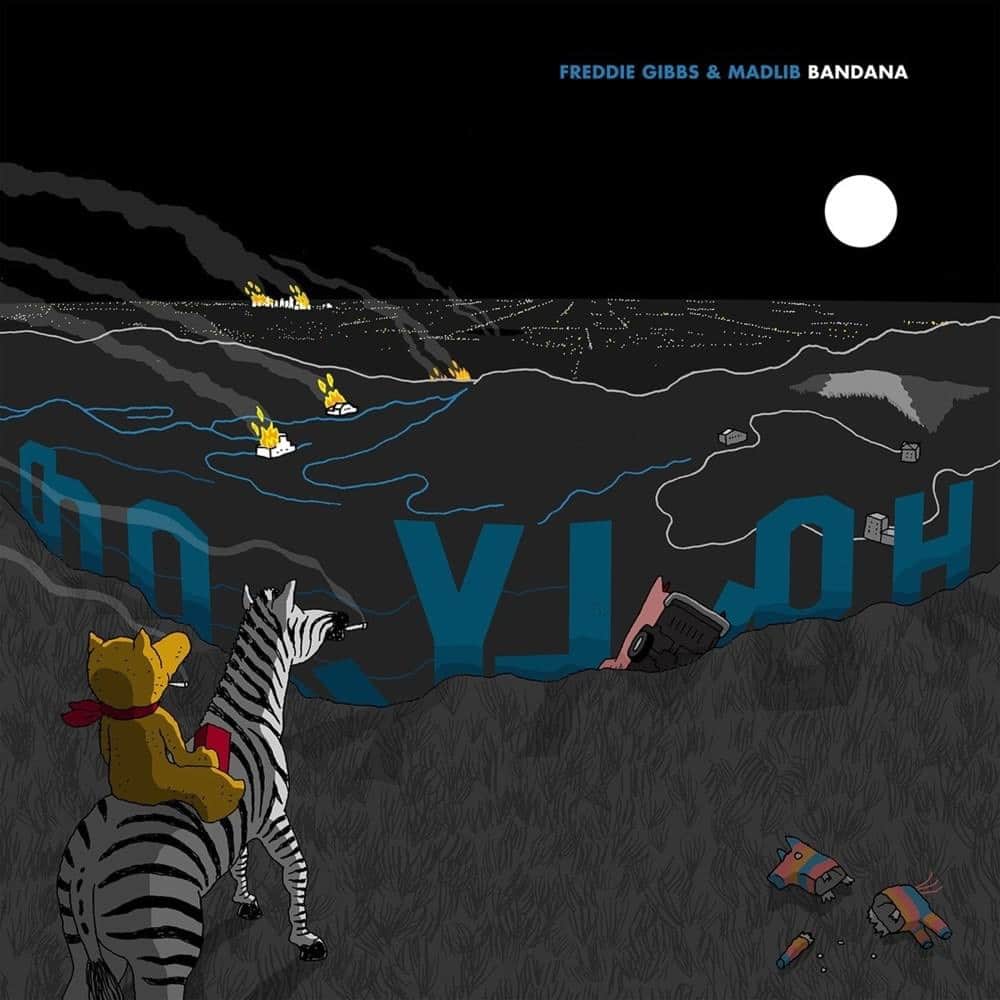 Released: June 28, 2019
Label: ESGN, Keep Cool, Madlib Invazion, RCA
Singles: "Flat Tummy Tea", "Crime Pays", "Giannis"
Features: Pusha T, Killer Mike, Anderson .Paak, Yasiin Bey, and Black Thought.
The crown jewel in Freddie Gibbs' discography is Bandana , his second collaboration with Madlib, cementing the rapper and producer as one of the best duos in the game today. After their first joint effort, Piñata , showcased their undeniable chemistry, the duo managed to elevate to new heights with their follow-up. The story behind Bandana is as almost as fascinating as music itself; Madlib created a treasure trove of beats on an iPad and offered them to Kanye West. While Kanye only used one for his track "No More Parties in LA," Gibbs seized the opportunity to claim the remaining goldmine. The pair then meticulously refined their work, resulting in an album that surpasses their previous collaboration. Madlib's use of a tablet instead of his usual analog equipment might have caused some people do a double take, but the beats he crafted for Bandana are undeniably some of his finest work. The intricate production features a dizzying array of samples, drawing from genres such as soul, funk, reggae, Hindi thriller soundtracks, and even broken beat. The result is a rich tapestry of sounds that complements Gibbs' storytelling. Speaking of which, the rapper's versatile lyrical prowess is on full display here, whether he's reflecting on personal struggles or celebrating triumphs. He's equally gripping when discussing the damage caused by infidelity and drug addiction or when boasting about his drug-dealing past. Bandana stands as a testament to the magic that happens when two undeniable forces like Freddie Gibbs and Madlib come together. It's the pinnacle of their collaborative efforts and the shining star in Gibbs' exceptional catalogue.