Ever since he made his official debut on the blaring "Tupac Back" in 2011, Meek Mill has always stood tall as one of the strongest pure MCs of his generation. His discography serves not just as a testament to his skill as a rapper, but also as a reflection of his personal journey, navigating through struggles, triumphs, and an evolution both as an artist and an individual.
From his major-label debut, Dreams and Nightmares, an album that vacillated between the glittering highs and the harsh realities of life in the limelight, to the more introspective and contemplative Dreams Worth More Than Money, where he boldly addressed his then-romantic relationship with Nicki Minaj, Meek has consistently showcased his ability to balance raw street credibility with mainstream appeal.
Championships stands as a pivotal album in Meek's career, an unequivocal statement on social issues, particularly prison reform, laced with an all-star cast of hip-hop stalwarts. This was followed by Expensive Pain, an album that saw Meek embrace a more introspective, warier tone while also expanding his melodic range.
So let's get into it. From his 2012 debut, Dreams and Nightmares, to his latest release, 2021's Expensive Pain, we rank every Meek Mill album, from worst to best.
Expensive Pain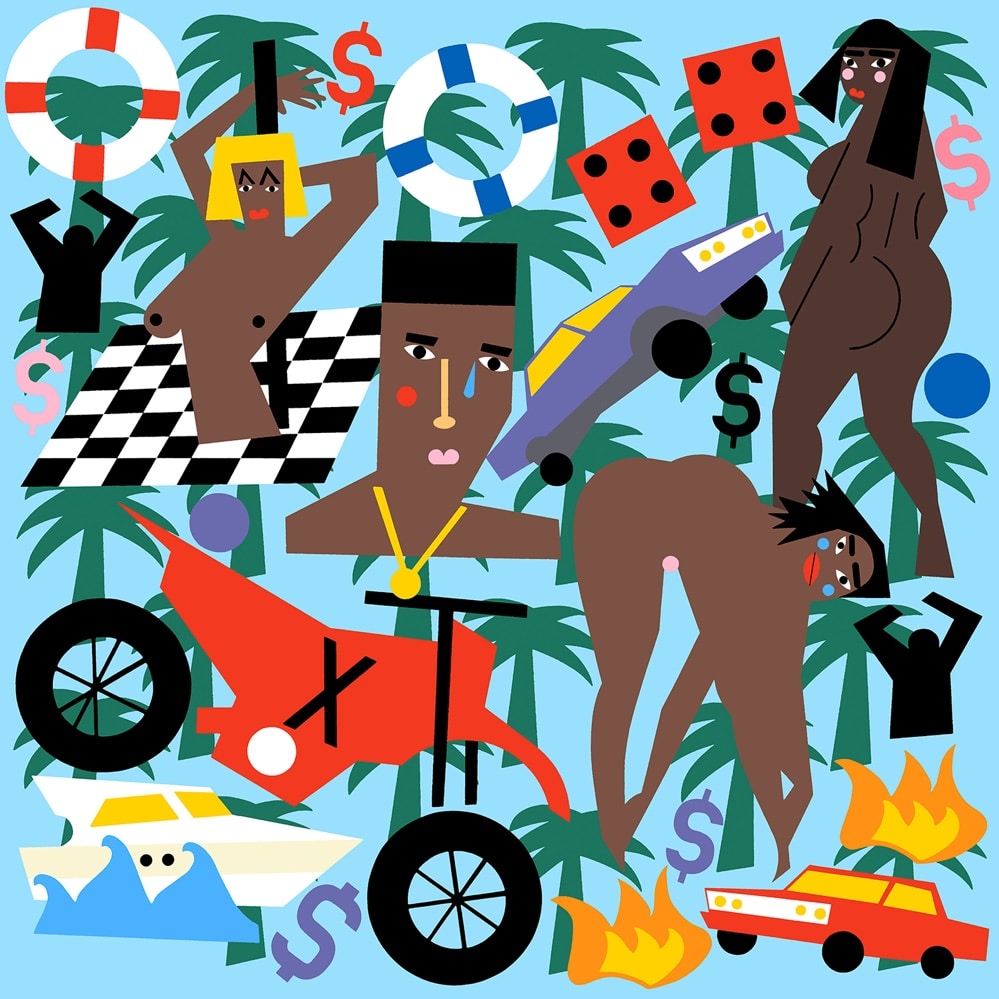 Released: October 1, 2021
Label: Maybach, Atlantic
Singles: "Flamerz Flow", "Sharing Locations", "Blue Notes 2"
Features: Lil Baby, Lil Durk, Kehlani, ASAP Ferg, Moneybagg Yo, Giggs, Young Thug, Vory, Lil Uzi Vert, and Brent Faiyaz.
With Expensive Pain, Meek Mill took a sharp detour from his celebrated and Grammy-nominated Championships, presenting rap fans with a more contemplative and guarded persona. His distinctive, breathless flow remains ever-present, punctuating each track with passionate intensity as he navigates the warier corners of his psyche. This introspective turn didn't come without variety, as Meek began to incorporate melodic elements into his repertoire while maintaining his unique rapping style. The album's guest features form an impressive roster of contemporaries, including Lil Durk and Lil Baby on "Sharing Locations," and contributions from the likes of Young Thug, Lil Uzi Vert, Kehlani, and Brent Faiyaz. Regardless of his stylistic approach, Meek's performance on Expensive Pain feels like a precarious balancing act, one where he's constantly looking over his shoulder, lending a unique tension to the album's atmosphere.
Wins & Losses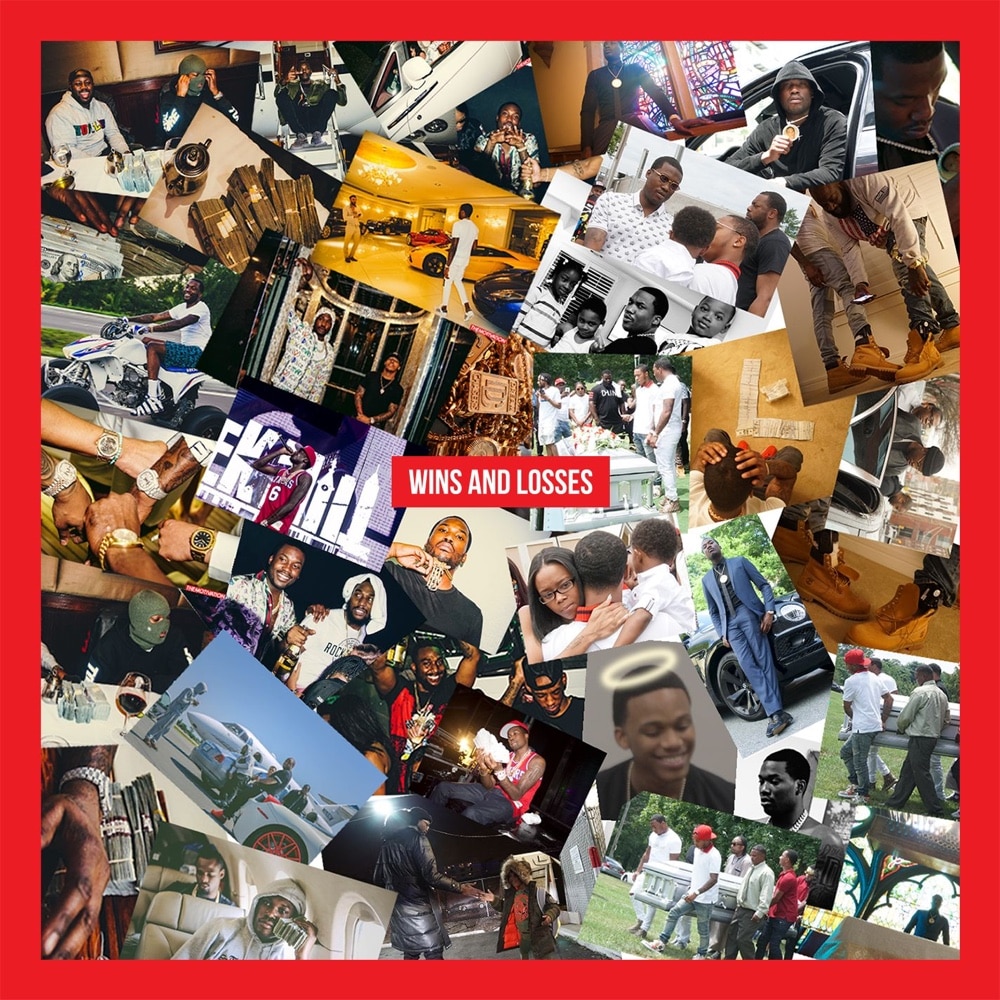 Released: July 21, 2017
Label: Maybach, Atlantic
Singles: "Whatever You Need", "Young Black America"
Features: Rick Ross, Future, Quavo, Young Thug, Lil Uzi Vert, Chris Brown, Ty Dolla Sign, Yo Gotti, The-Dream, Teyana Taylor, and Verse Simmonds.
Wins & Losses, Meek Mill's third studio album, inevitably carried the weight of his high-profile breakup with Nicki Minaj, a fact he deftly maneuvers in the introspective "1942 Flows." Beyond the personal turmoil, Meek forges ahead with tracks like "Whatever You Need," an impressive collaborative effort featuring DJ Mustard, Ty Dolla $ign, and Chris Brown that cleverly interweaves a Tony! Toni! Toné! classic. The Philly rapper continues to oscillate between various emotional states throughout the album, from confrontational to triumphant and reflective, showcasing his range as an artist. Standout tracks include the title opener and "Connect the Dots," both masterfully produced by Dreamchasers signee Papamitrou. These tracks bristle with a dark, thunderous energy that adds an edge to Meek's catalog. Yet, amidst the hardened exterior, a moment of resounding clarity emerges in "Young Black America," featuring the-Dream. This subdued gospel-soul track sees Meek take a step back to paint a stark picture of the violent cycles and systemic forces that disproportionately affect black lives. This nuanced portrayal offers a poignant testament to Meek's depth as an artist, reminding listeners of his ability to weave powerful narratives.
Dreams and Nightmares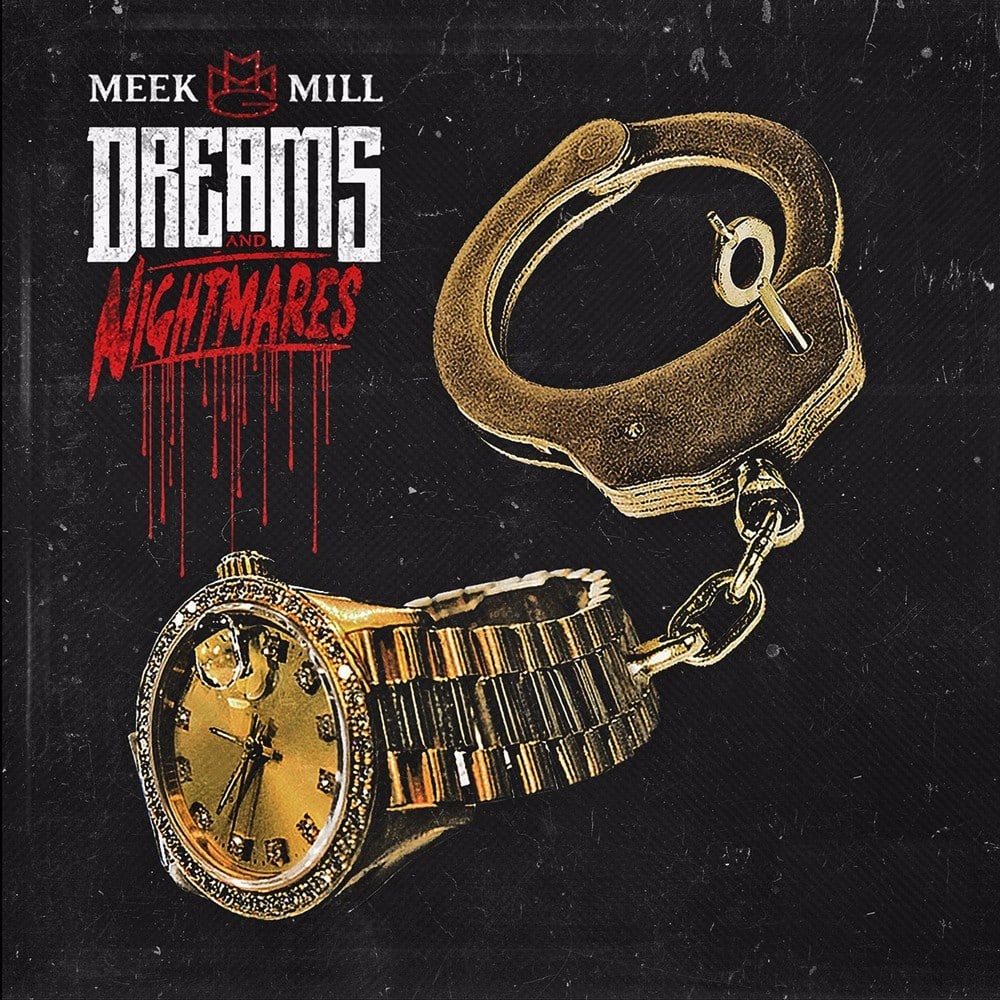 Released: October 30, 2012
Label: Maybach, Warner Bros.
Singles: "Amen", "Burn", "Young & Gettin' It", "Believe It"
Features: Kirko Bangz, Rick Ross, Nas, John Legend, Drake, Wale, and Mary J. Blige.
The dichotomy of life and the rap game came into stark relief with Meek Mill's debut studio album, Dreams and Nightmares. Fresh from his notable contributions on the first two volumes of Maybach Music's Self Made compilations, the Philly MC didn't shy away from juxtaposing triumph with tragedy. "Young & Gettin' It", a swagger-laden anthem featuring Kirko Bangz, effortlessly segues into the sobering "Traumatized", a testament to Meek's formidable range and talent. While the sequence of tracks could be perceived as haphazard, Meek's sheer determination and wit weave a cohesive narrative out of chaos. Showcased notably in "Maybach Curtains," where he holds his own alongside heavyweights like Nas and Rick Ross, Meek's compelling fusion of speed and force shines through. Balancing braggadocio with introspection, he charms with his audacious opener on "Amen", yet doesn't lose the emotional resonance on tracks like "Who Your Around," underscored by Mary J. Blige's rich backing vocals. Dreams and Nightmares might not offer profound insights into street life, but its power lies in capturing raw realities and turning them into anthemic hooks. The album represents a successful transition from mixtape rawness to the polished grandeur synonymous with the Maybach brand, embodying the very essence of glittery gangster bravado.
DC4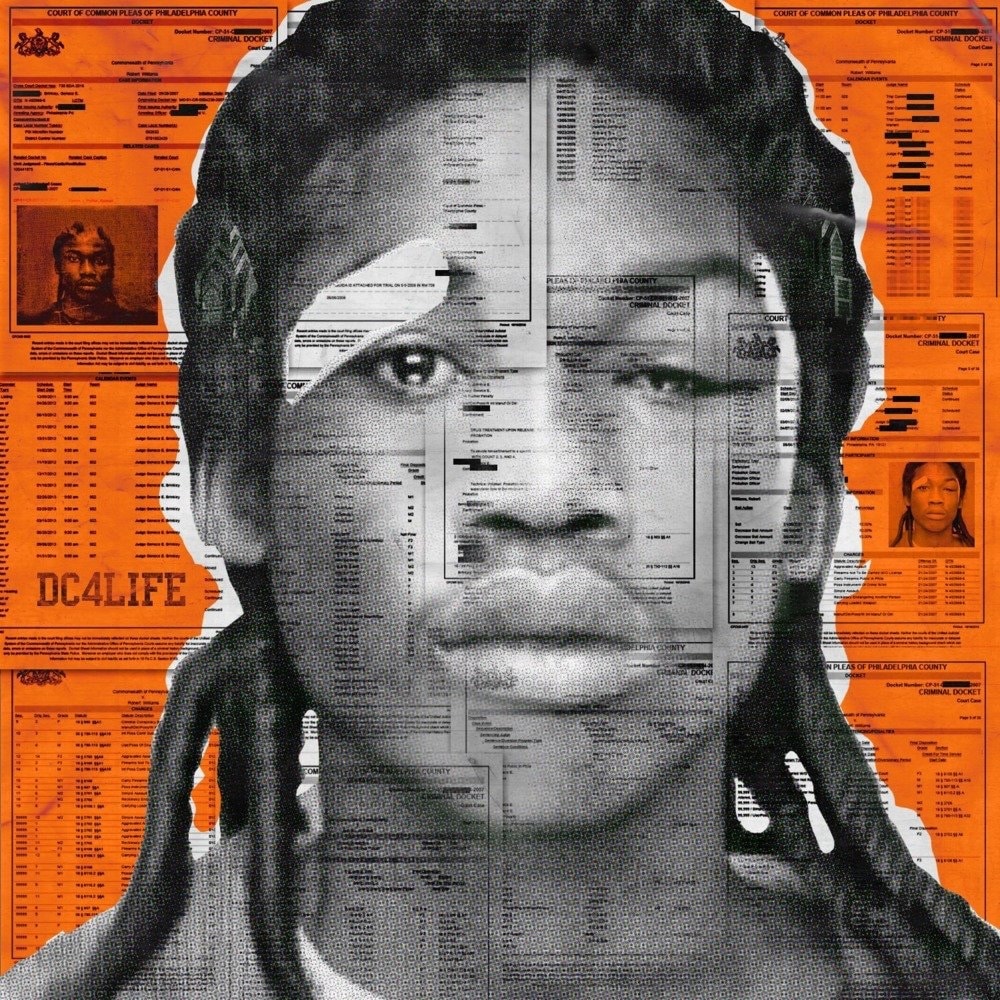 Released: October 27, 2016
Label: Dream Chasers, Maybach, Atlantic
Singles: "Froze", "Litty"
Features: Tory Lanez, Lil Uzi Vert, Nicki Minaj, Quavo, Don Q, Young Thug, 21 Savage, YFN Lucci, Guordan Banks, Pusha T, Lil Snupe, and French Montana.
DC4 materialized in the aftermath of Meek Mill's tussles with some of the industry's biggest names, embodying the controversies and confrontations that punctuated his career up to that point. This album, the fourth installment of his Dreamchasers series, is a complex affair—both a commercial mixtape and a monument to Meek's relentless drive to ascend from the trenches of South Philadelphia. The project kicks off with the flamboyant "On the Regular," echoing shades of Nas and Puffy. Meek's checklist of rap topics, though conventional, bristles with an edgy authenticity. The gritty narratives about surviving on the streets are emblematic of his roots, yet his delivery occasionally struggles to evolve beyond the frenetic intensity of his battle rap origins. DC4 continues to showcase Meek's keen ear for production with its arsenal of hard-hitting beats crafted by rising talents like Sound M.O.B. and the 808 Mafia. The sonic landscape is further enriched by a roster of contemporary rap heavyweights such as Lil Uzi Vert, Young Thug, and 21 Savage, all contributing to the overall sonic identity of the album. Ultimately, DC4 is a fascinating snapshot of a rapper at the crossroads of his career—its potential captivating but yet to be fully realized.
Dreams Worth More Than Money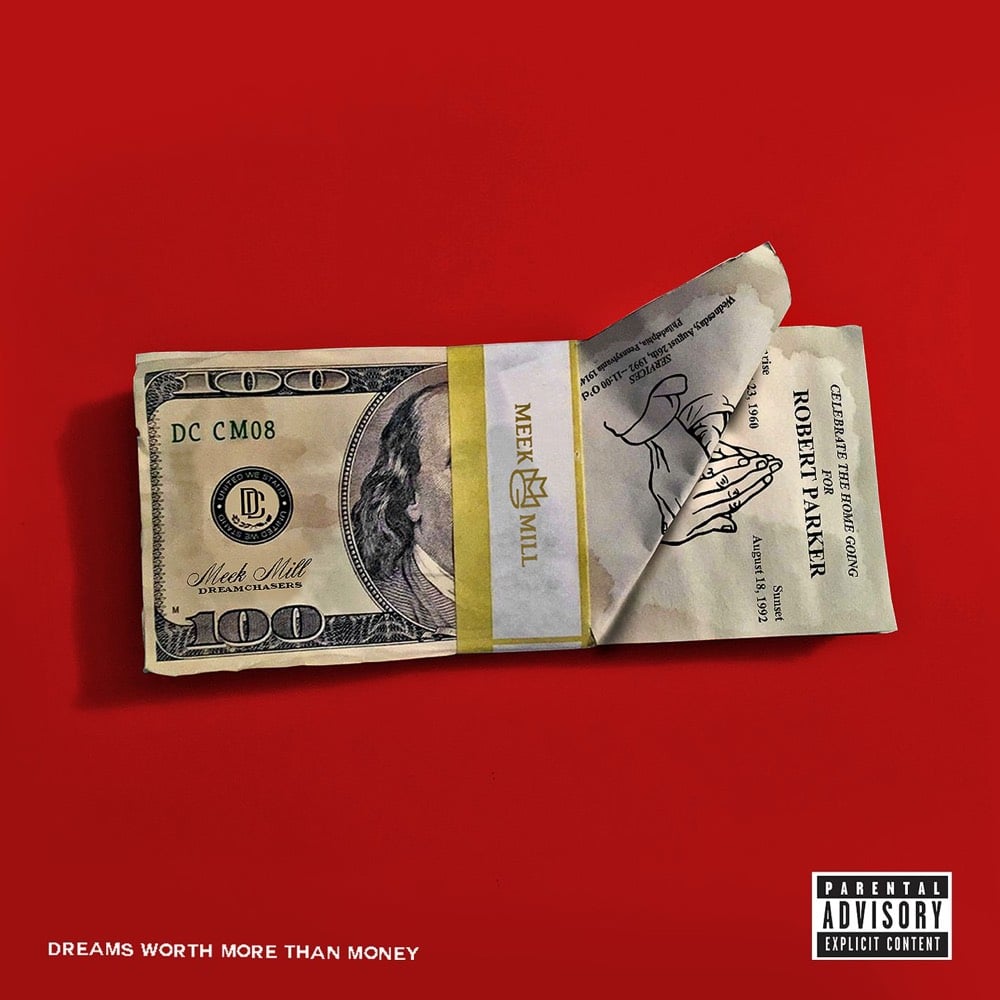 Released: June 29, 2015
Label: Maybach, Atlantic
Singles: "Check", "All Eyes on You", "R.I.C.O."
Features: Tory Lanez, Swizz Beatz, Future, Chris Brown, Nicki Minaj, Drake, The Weeknd, Rick Ross, Puff Daddy.
Dreams Worth More Than Money, Meek Mill's sophomore effort, deftly straddles the line between profound, radio-friendly tracks and raucous party anthems. Undeterred by his high-profile romance with Nicki Minaj and the ensuing public scrutiny, Meek exhibits an unbridled confidence throughout the album. Tracks like "Been That," featuring Rick Ross, bristle with unabashed swagger, while "All Eyes on You," a fictitious and entertaining account of his first encounter with Minaj, stands out as a highlight. Minaj's contribution to the mellifluous "Bad for You" adds a sensual dimension to the album, aligning with her own introspective journey on "The Pinkprint." The album's variety is impressive, yet navigable, almost akin to a star-studded soundtrack. With contributions from the likes of Drake, Swizz Beatz, and Diddy, Meek successfully curates an ensemble that does justice to his vision. Rather than being influenced by his relationship with Minaj, Dreams Worth More Than Money remains faithful to Meek's street roots and builds upon the foundation established in his mixtapes.
Championships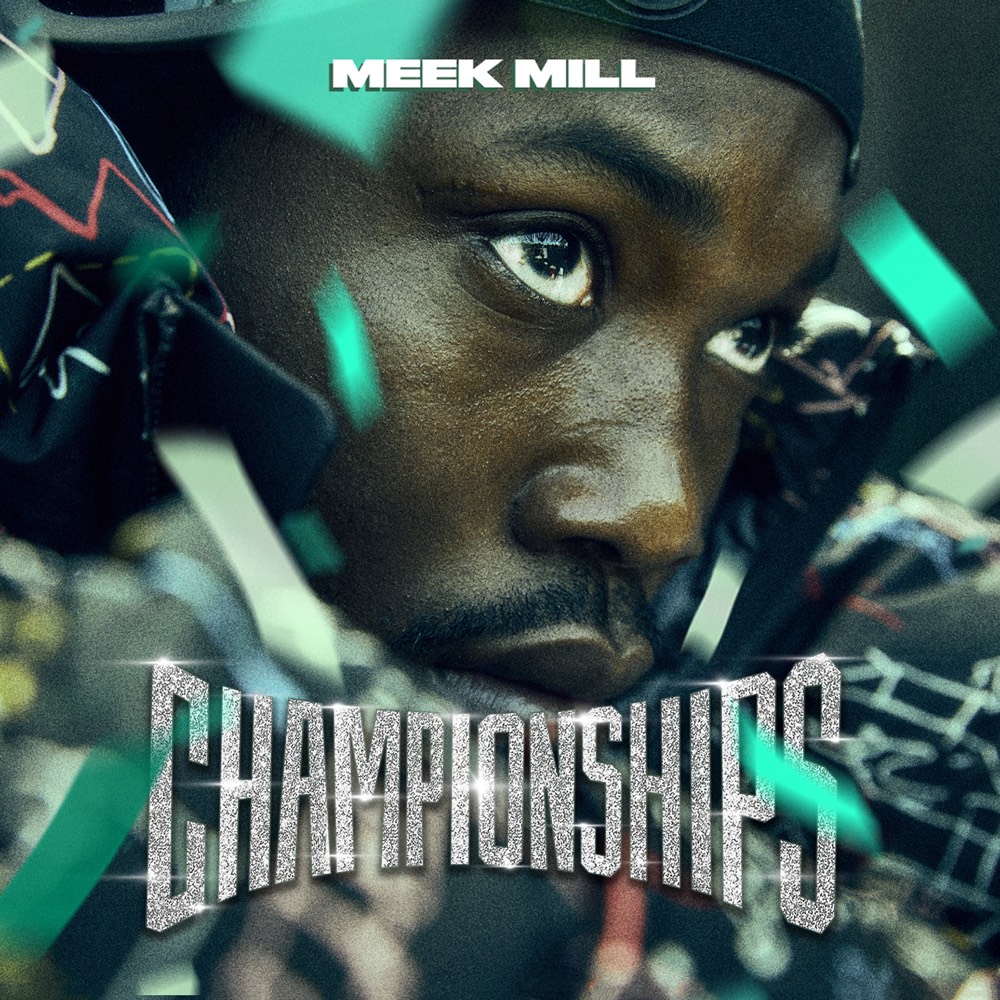 Released: November 30, 2018
Label: Maybach, Atlantic
Singles: "Dangerous", "Going Bad", "24/7"
Features: Fabolous, Anuel AA, Cardi B, Rick Ross, Jay-Z, Future, Roddy Ricch, Young Thug, Drake, Kodak Black, Ella Mai, 21 Savage, Melii, Jeremih, and PnB Rock.
With Championships, his 2018 magnum opus, Meek Mill bursts back onto the scene with a level of fervor that suggests more than just a return to form; it feels like a total evolution. Released after serving five months in prison, the Philadelphia-born artist strikes an audacious note with a robust 18-track compilation that calls upon a constellation of hip-hop's brightest talents. The album is a firm and unwavering commentary on issues that hit close to home for Meek: prison reform, racial oppression, and the struggles of the marginalized. From the outset, Meek minces no words about his experiences. On "Trauma", he dives headlong into the injustices of his past with startling candor — his raps on the track aren't just an intimate glimpse into his life; they also serve as a rallying cry against a system that continues to fail many. Another standout track, "What's Free," sees him teaming up with Jay-Z and Rick Ross to interrogate capitalism and income inequality, all over a hypnotic Notorious B.I.G "What's Beef" sample. It's a triumphant testament to his ascension as a figurehead for prison reform and a testament to his indomitable spirit. Songs like "100 Summers", "Almost Slipped", "Respect The Game," and "Trauma" allow for a kaleidoscope of featured artists to share the spotlight while reminding listeners of Mill's unshakeable talent. Contributions from Anuel AA on "Uptown Vibes", Melii on "W.T.S", Ella Mai on "24/7", and PnB Rock and Jeremih on "Dangerous" only further elevate the overall experience of the album.