Born in Clarksdale, Mississippi, and raised on the sun-soaked streets of Carol City, Miami, Rick Ross has transformed into one of the most commanding voices in rap history. Rozay's music, soaked in grandeur and extravagance, often rich in cinematic details, paints portraits of the high-risk, high-reward lifestyle that so many are drawn to.
Over his illustrious career, Ross has dropped a smorgasbord of albums that have helped shape the landscape of modern hip-hop. Whether it be his debut, "Port of Miami", that introduced us to his booming voice and extravagant narratives, or his magnum opus "Teflon Don", which solidified his place amongst hip-hop royalty, Ross' discography is a sprawling testament to his undeniable impact. From the humble beginnings marked by the gritty "Port of Miami 2", to the polished and ambitious narratives of "Mastermind" and "Deeper Than Rap", Ross' music is a thrilling rollercoaster ride, chronicling his evolution as an artist and as a mogul.
So let's get into it. From his genre-defining debut, Port of Miami, to his 2010 magnum opus Teflon Don and 2021's Richer Than I Ever Been, we rank every Rick Ross album, from worst to best.
Hood Billionaire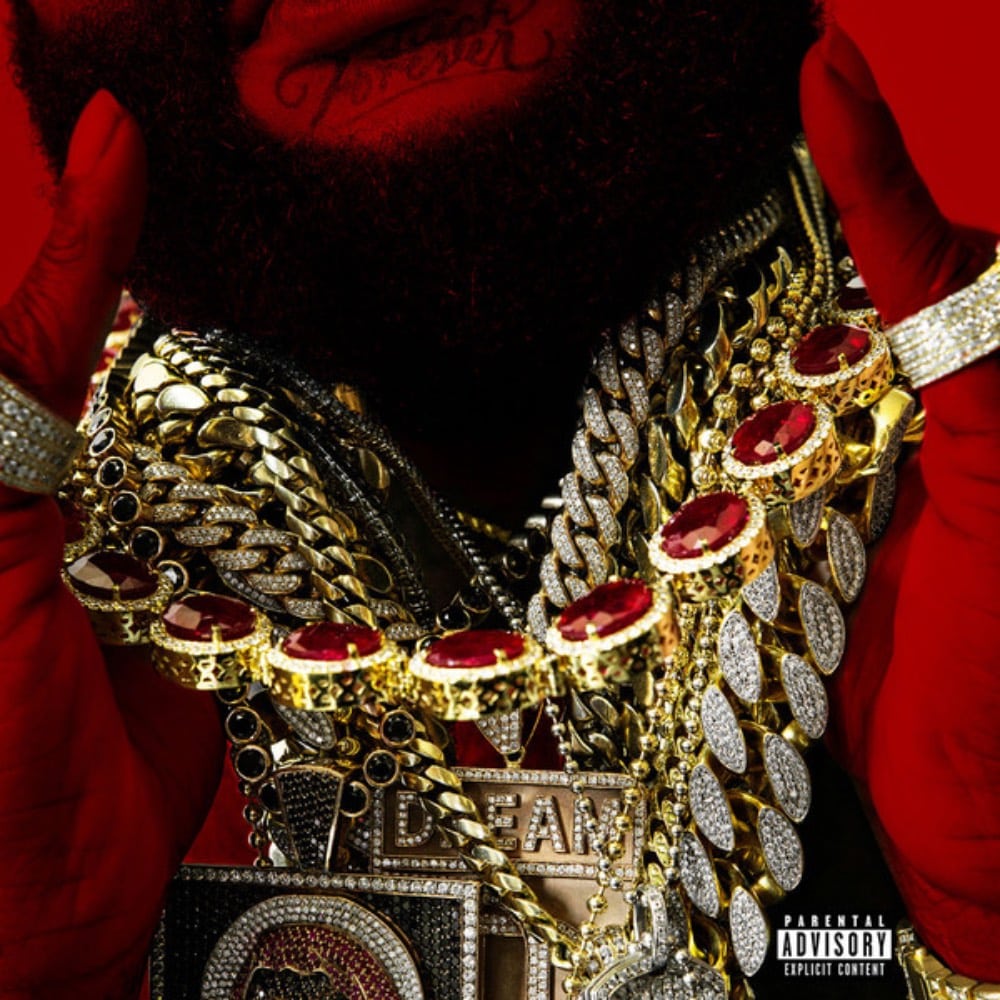 Released: November 24, 2014
Label: Maybach, Slip-n-Slide, Def Jam
Singles: "Elvis Presley Blvd.", "Keep Doin' That (Rich Bitch)", "If They Knew", "Nickel Rock"
Features: Jay-Z, Prodigy, French Montana, Project Pat, Yo Gotti, Boosie Badazz, Big K.R.I.T., Whole Slab, R. Kelly, and Snoop Dogg.
Often overshadowed by its more illustrious siblings, Hood Billionaire is frequently considered the underdog within Ross' discography. The album's sonic architecture, while on a grand scale, doesn't quite break new ground. Its extravagant beats and braggadocious lyrics are classic Ross, but the album's creative courage doesn't quite hit the heights of his more acclaimed releases. Still, tracks like "Elvis Presley Blvd." and "Movin' Bass" exhibit the Florida rapper's ability to transform typical rap tropes into cinematic extravaganzas. It's less an experimental detour, more a lap of honor for Rick Ross, reaffirming his unwavering dedication to the luxurious lifestyle he so frequently references.
Port of Miami 2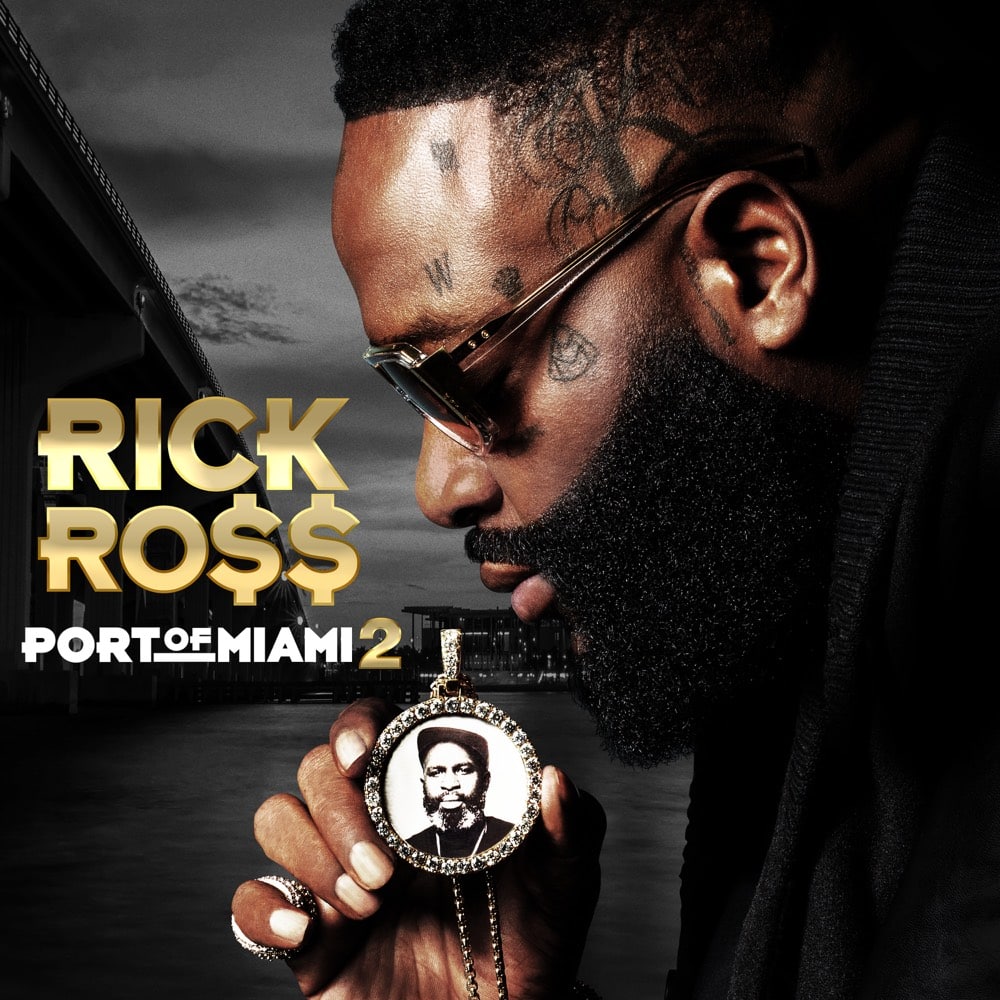 Released: August 9, 2019
Label: Maybach, Epic
Singles: "Act a Fool", "Big Tyme", "Gold Roses"
Features: Wale, Gunplay, Summer Walker, Dej Loaf, Swizz Beatz, Meek Mill, Nipsey Hussle, Teyana Taylor, Jeezy, YFN Lucci, Ball Greezy, A Boogie wit da Hoodie, Denzel Curry, John Legend, Lil Wayne, and Drake.
The sequel to Ross' debut album, Port of Miami 2, sees the Teflon Don revisiting his roots while exhibiting growth as an artist. The album is as opulent as ever, each track steeped in grandiosity, revealing a man reflecting on his past triumphs and tribulations. From the soulful "Gold Roses" featuring Drake, to the introspective "Vegas Residency," Ross oscillates between his usual flamboyant bravado and a newfound maturity. Despite some moments of brilliance, the album falls short of its predecessor's impact, serving as a reminder of the titanic heights the MMG head honcho can ascend to, but doesn't quite reach here. Nonetheless, it's a testament to his consistency and his ability to age gracefully within the industry.
Black Market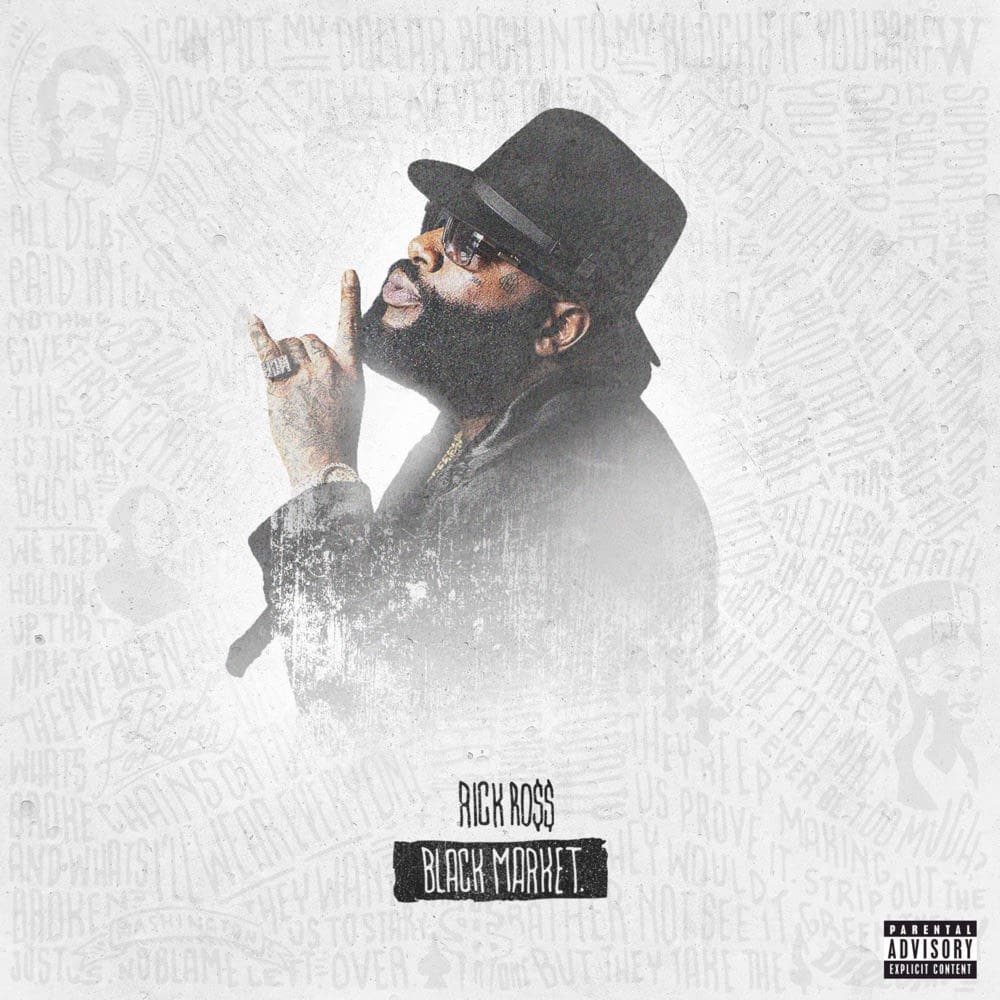 Released: December 4, 2015
Label: Maybach, Def Jam
Singles: "Foreclosures", "Sorry"
Features: John Legend, CeeLo Green, Nas, DJ Premier, Mariah Carey, Mary J. Blige, Chris Brown, Future and The-Dream.
Released in 2015 after his double album drop the year before, Black Market, while not Ross' most groundbreaking work, delivers another hefty dose of the extravagant lyricism and grandiose production we've come to expect from him. The resonance of tracks like "Color Money" and "Dope Dick" give a nod to his past indulgences, while "Ghostwriter" and "Smile Mama, Smile" push towards a more introspective narrative. Black Market may not hold the flagship status in Ross' catalog, but it's a solid work, with Ross effortlessly commanding the listener's attention through his lush portrayals of luxury and street-life wisdom.
God Forgives, I Don't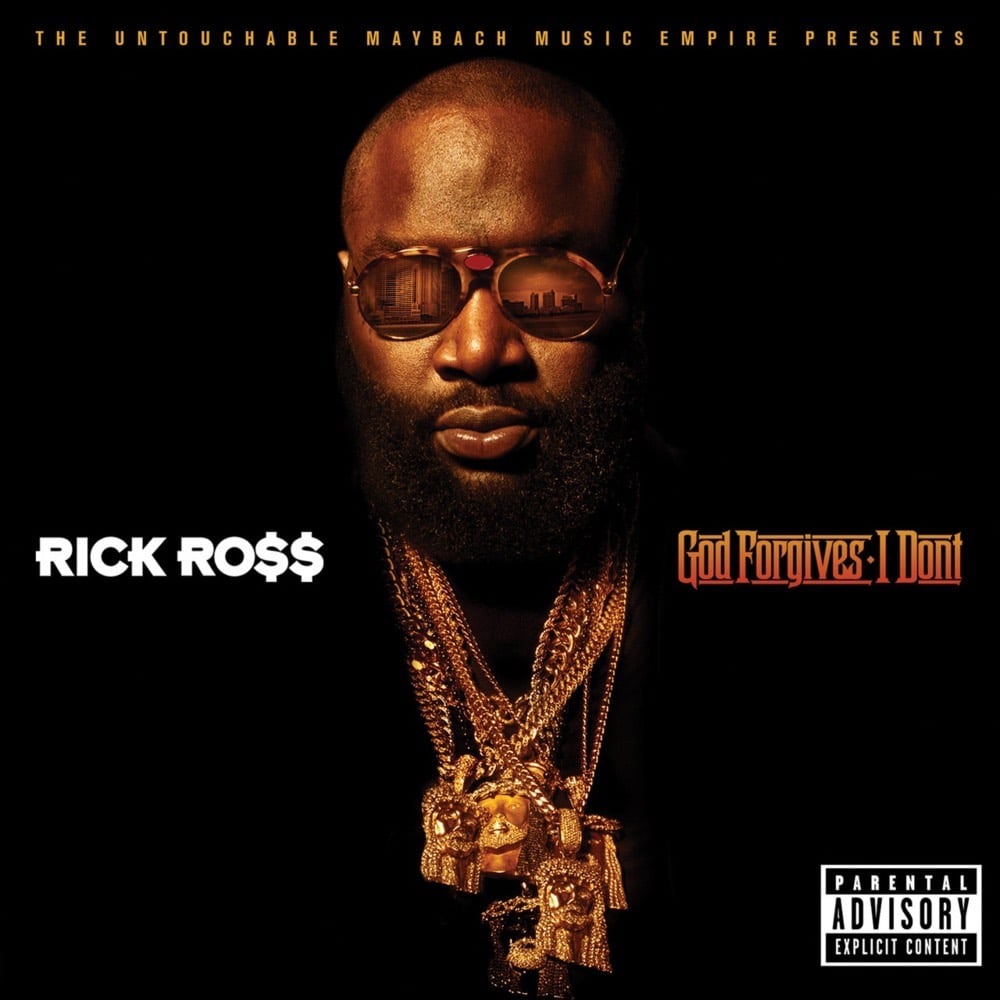 Released: July 31, 2012
Label: Maybach, Slip-n-Slide, Def Jam
Singles: "Touch'N You", "So Sophisticated", "Hold Me Back", "Diced Pineapples"
Features: Dr. Dre, Jay-Z, Ne-Yo, André 3000, Meek Mill, Elijah Blake, Omarion, Usher, Wale, Drake, Stalley
More than anything Ross' fifth studio album, God Forgives, I Don't, is a testament to his consistency and his ability to create larger-than-life rap records better than almost any other artist of his era. Tracks like "3 Kings" with Jay-Z and Dr. Dre, and "Sixteen" featuring a stunning feature verser from Andre 3000, embody a cinematic opulence and lyrical prowess that has become Ross' signature. However, the album's uneven pacing and occasional overindulgence in materialistic themes hold it back from reaching the apex of Ross' discography. Yet, it remains a key piece in understanding the trajectory of his career, marking a period of significant growth and cementing Ross' place as one of the biggest rappers in the game.
Richer Than I Ever Been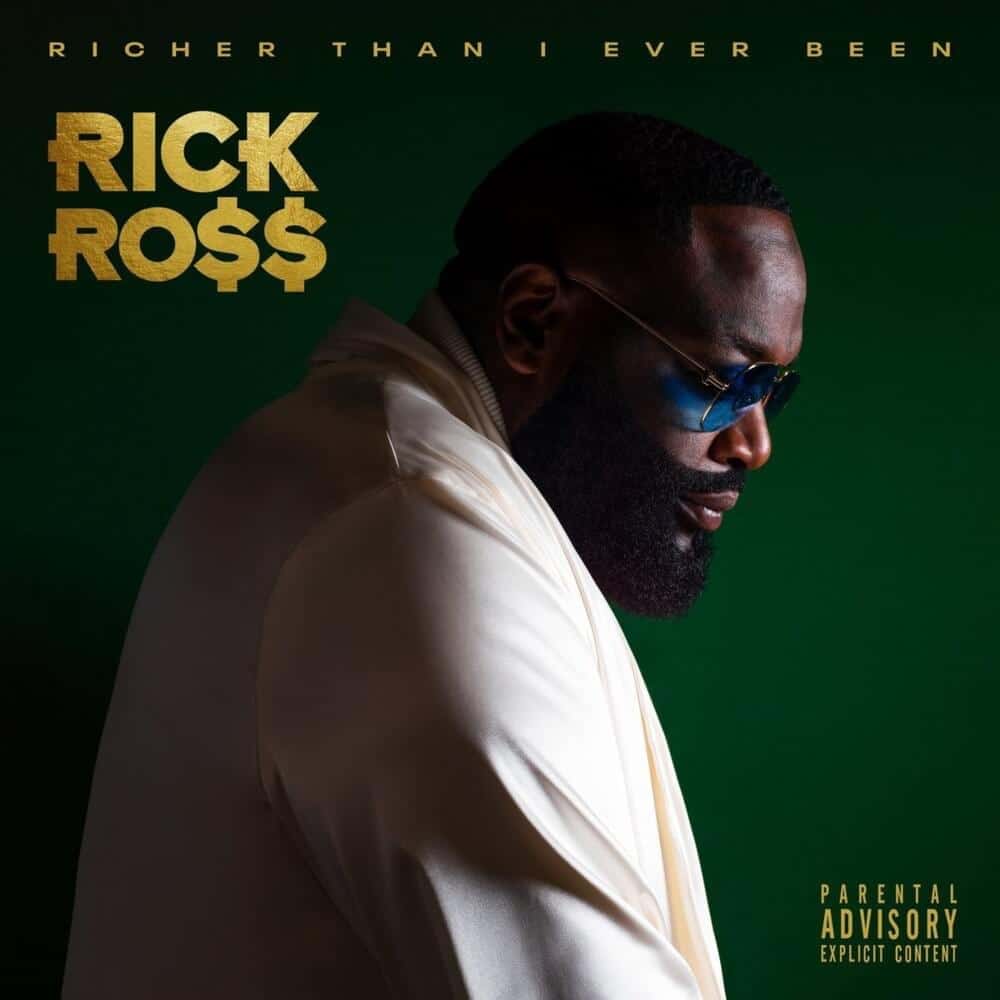 Released: December 10, 2021
Label: Maybach, Epic
Singles: "Outlawz", "Little Havana"
Features: Willie Falcon, The-Dream, Benny the Butcher, Wale, Future, DreamDoll, Yungeen Ace, Major Nine, Blxst, Jazmine Sullivan, 21 Savage, and Wiz Khalifa.
Serving as a crystalline testament to his staying power in the industry, Richer Than I Ever Been reveals a Ross who is older, sharper and wiser, unafraid to delve into more introspective territory. His bars, always potent, now ripple with seasoned wisdom, from the gritty storytelling in "Outlawz" to the nostalgic depth of "Little Havana." Though it doesn't eclipse some of his past offerings in terms of pure bombast, Richer Than I Ever Been is a critical notch in the Rick Ross discography, an opulent ode to survival and thriving amidst the hustle of the game.
Rather You Than Me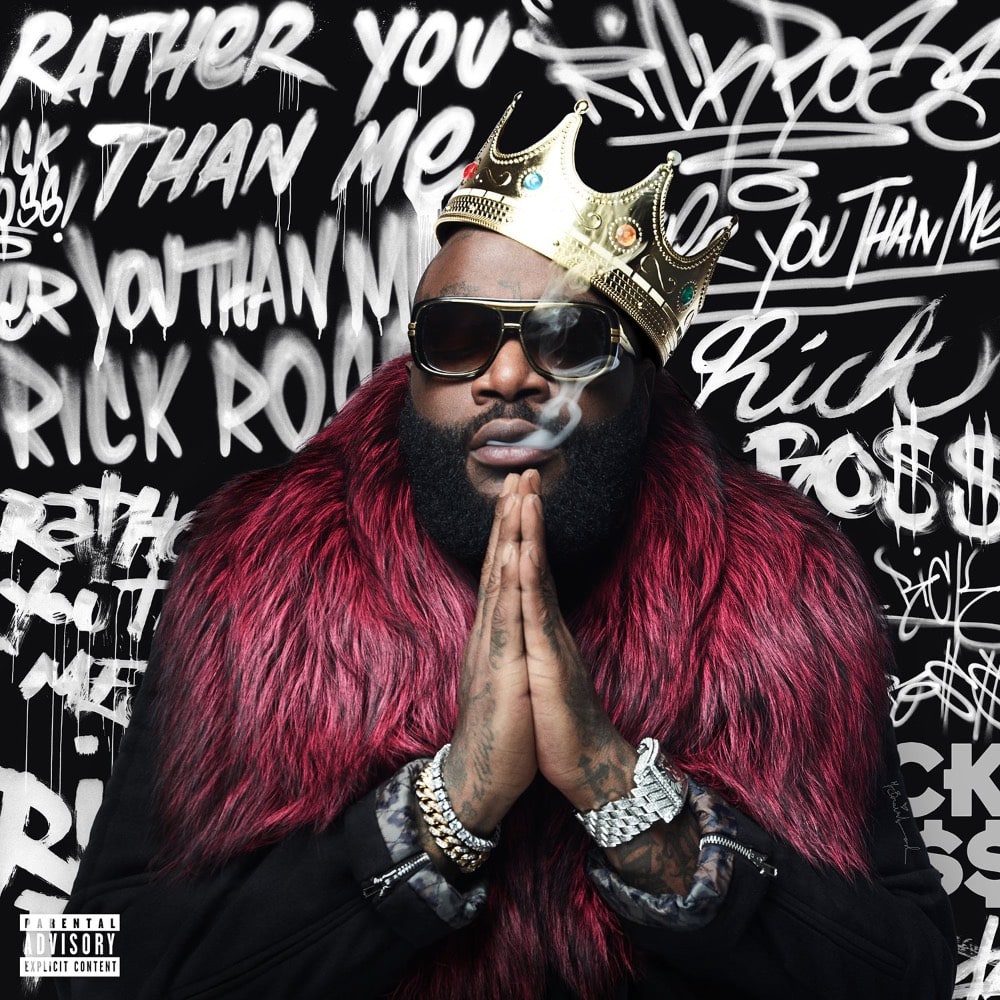 Released: March 17, 2017
Label: Maybach, Epic
Singles: "I Think She Like Me", "Trap Trap Trap"
Features: Raphael Saadiq, Chris Rock, Young Thug, Wale, Future, Jeezy, Yo Gotti, Gucci Mane, Ty Dolla Sign, Nas, Meek Mill, Anthony Hamilton, Scrilla, and Dej Loaf.
Here we find Ross at his most unapologetic, his rhymes seething with the bravado and conviction we've come to associate with the Boss. Whether it's the scathing critique of Birdman on "Idols Become Rivals" or the velvety smooth R&B-infused "Apple of My Eye," Ross' authoritative voice weaves a narrative of power, luxury, and self-awareness. And yet, amidst the opulence, the MMG rapper remains deftly connected to the streets that shaped him, crafting a lyrical tapestry that's both grandiose and grounded. Rather You Than Me stands as a testament to Ross' longevity and his uncanny ability to remain relevant in an ever-evolving genre, marking it as
Mastermind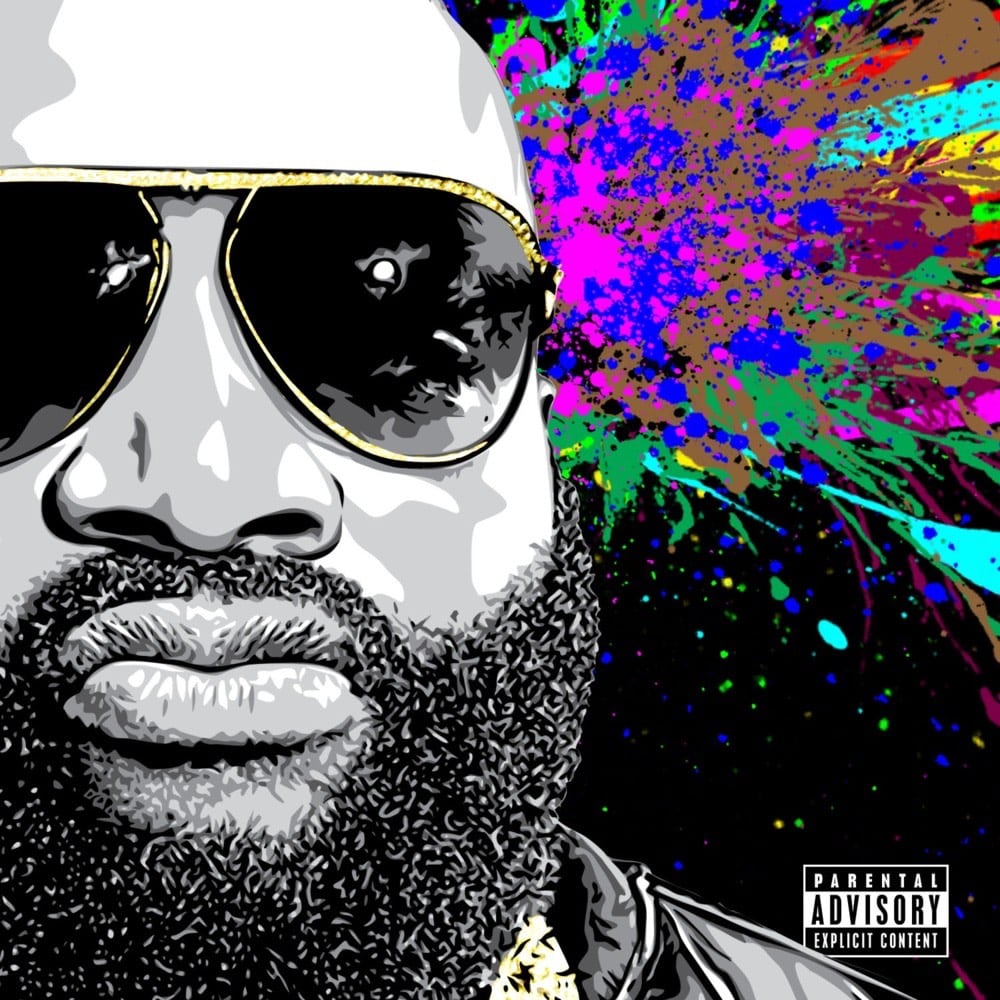 Released: March 3, 2014
Label: Maybach, Slip-n-Slide, Def Jam
Singles: "The Devil Is a Lie", "War Ready", "Thug Cry"
Features: Jay-Z, Jeezy, The Weeknd, Kanye West, Big Sean, Meek Mill, Lil Wayne, French Montana, Diddy, Sizzla, Mavado, Z-Ro and Scarface.
Mastermind sees the Teflon Don himself leveraging his prowess for grandiose storytelling and stately wordplay. Imbued with that familiar bravado and irresistible swagger, Ross strikes a rich balance between introspective tales of the underworld ("Thug Cry") and unabashed displays of luxury ("Sanctified"). The production, as varied as the narratives within, shifts from soul-infused opulence to gritty street realism, echoing Ross' lyrical versatility. Aided by the likes of The Weeknd, Kanye West, and Jay-Z, Rick Ross crafts a dynamic soundscape that resonates with the cinematic spirit that has come to define his legacy.
Trilla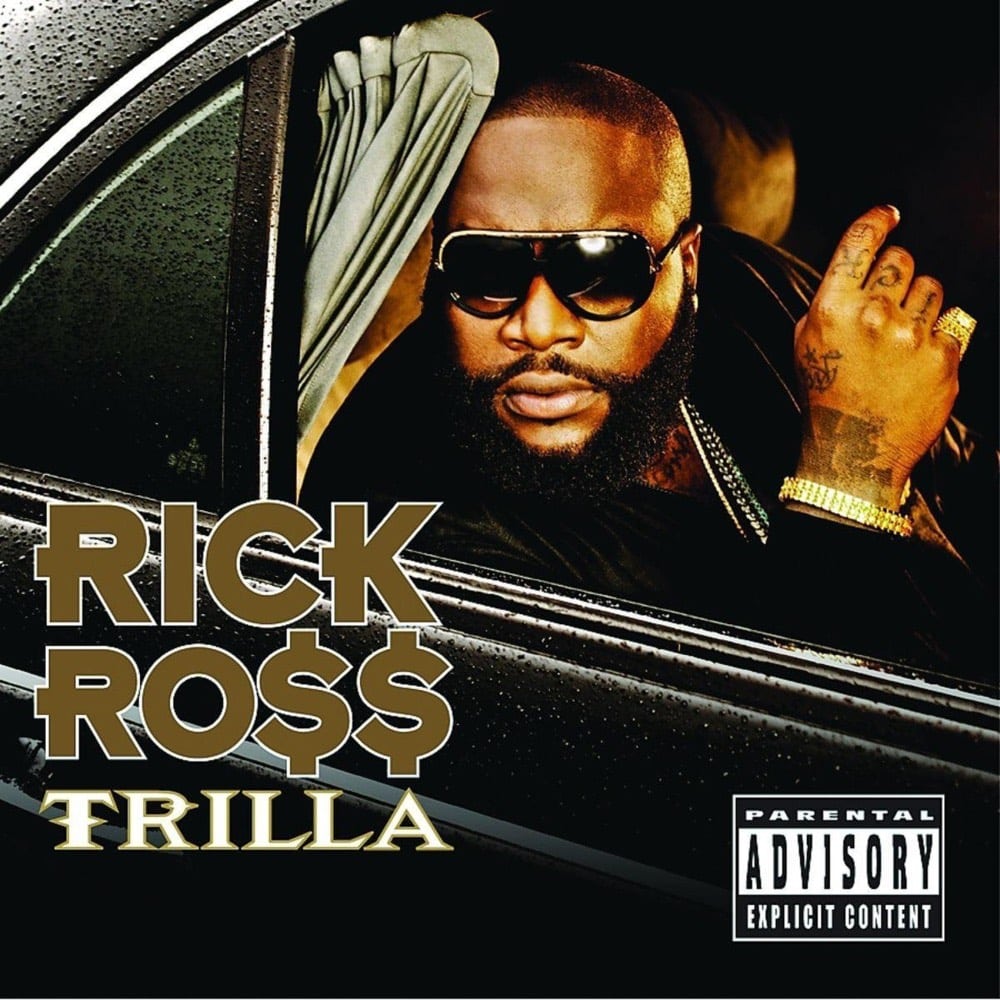 Released: March 11, 2008
Label: Slip-n-Slide, Poe Boy, Def Jam
Singles: "Speedin' ", "The Boss", "Here I Am"
Features: R. Kelly, T-Pain, Trey Songz, Young Jeezy, Trick Daddy, Nelly, Brisco, Triple C's, Jay-Z, Lil Wayne and Avery Storm.
There's a quality to Trilla that sets it apart from other albums in Ross' discography. Situated early in his career, this sophomore effort captures a raw, unrefined Ross, crafting his larger-than-life persona amid the flourishing Miami rap scene. The unabashed celebration of excess on tracks like "The Boss" and "Maybach Music" showcase Ross at his most audacious, constructing vivid, narcotic-fueled narratives that echo with authenticity. Yet it's the introspective moments, such as the contemplative "Here I Am," where the Florida rapper truly shines, offering glimpses into the complexity beneath the bravado. Despite its lower rank, Trilla serves as one of the most important releases from the Bawse , marking his ascension from street hustler to hip-hop mogul.
Deeper Than Rap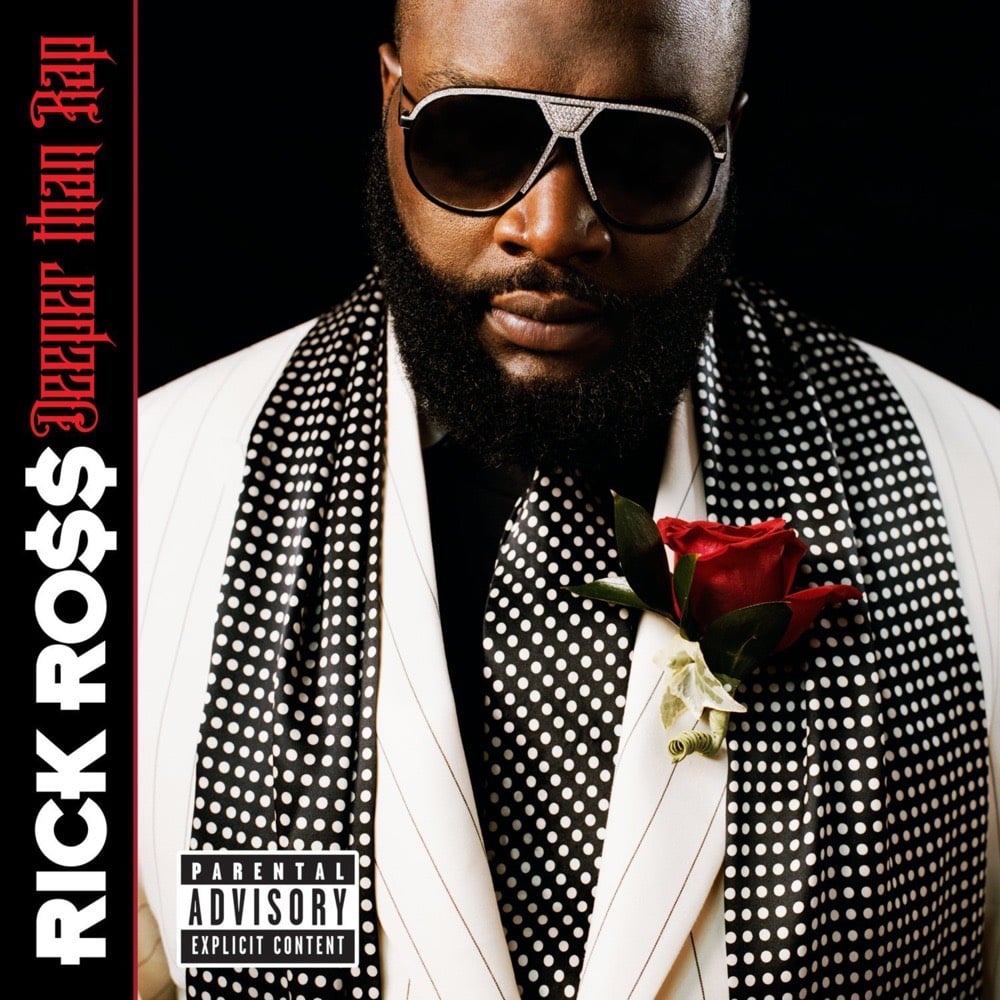 Released: April 21, 2009
Label: Maybach, Slip-n-Slide, Def Jam
Singles: "Mafia Music", "Magnificent", "All I Really Want", "Maybach Music 2"
Features: Kanye West, Lil Wayne, T-Pain, John Legend, Magazeen, Nas, Kevin Cossom, The-Dream, Avery Storm, Robin Thicke, Foxy Brown, Gunplay, Ne-Yo, Trina
Within Deeper Than Rap, we're gifted with Rick Ross at his most majestic, serving an opulent buffet of luxe rhymes over lush soundscapes. In this project, the Florida MC demonstrates an uncanny ability to blend his tales of high-life excess and street-life reality with a precision that few in the game can match. Whether he's wrestling with his demons on "Valley of Death" or portraying a life of decadence on "Magnificent," Ross' knack for creating compelling narratives shines through. What distinguishes Deeper Than Rap from its predecessors is the maturity and growth evident in Ross' lyricism and storytelling.
Port of Miami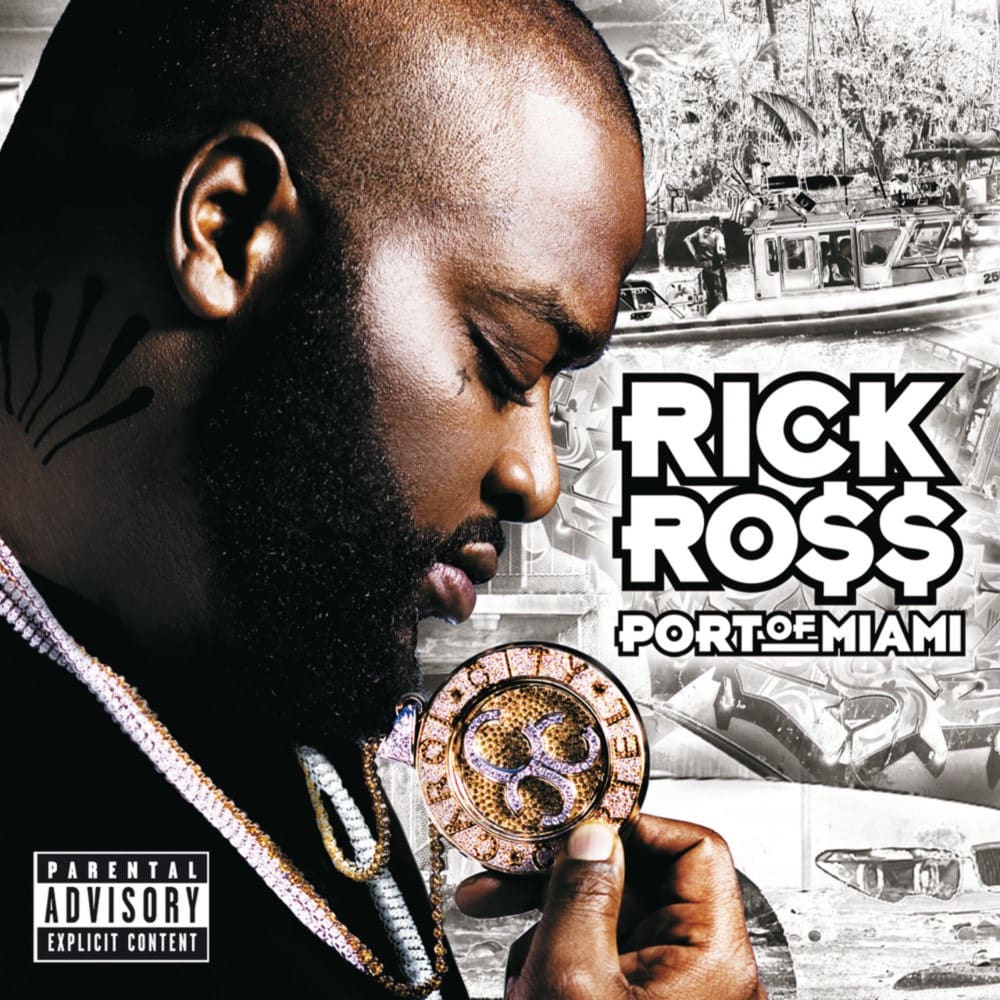 Released: August 8, 2006
Label: Slip-n-Slide, Poe Boy, Def Jam
Singles: "Hustlin'", "Push It"
Features: Dre, Akon, Mario Winans, Rodney, JRock, Lyfe Jennings, Lloyd, Jay-Z, Young Jeezy, Triple C's, Lil Wayne, Brisco
The genesis of the Bawse, Port of Miami, marks Ross' official entry into the rap game, etching his indelible stamp on the culture. From the seismic impact of "Hustlin'", which encapsulates Ross' whole ethos, to the introspective "Cross That Line", the future mogul displays a striking level of sophistication for a debut. The album blends the gritty realities of Miami street life with the aspirational longing for luxury, effectively setting the tone for Ross' discography to come. Port of Miami holds a special place in Ross' oeuvre – and in hip-hop history – for its ground-breaking fusion of Miami rap traditions with a cinematic narrative scope.
Rich Forever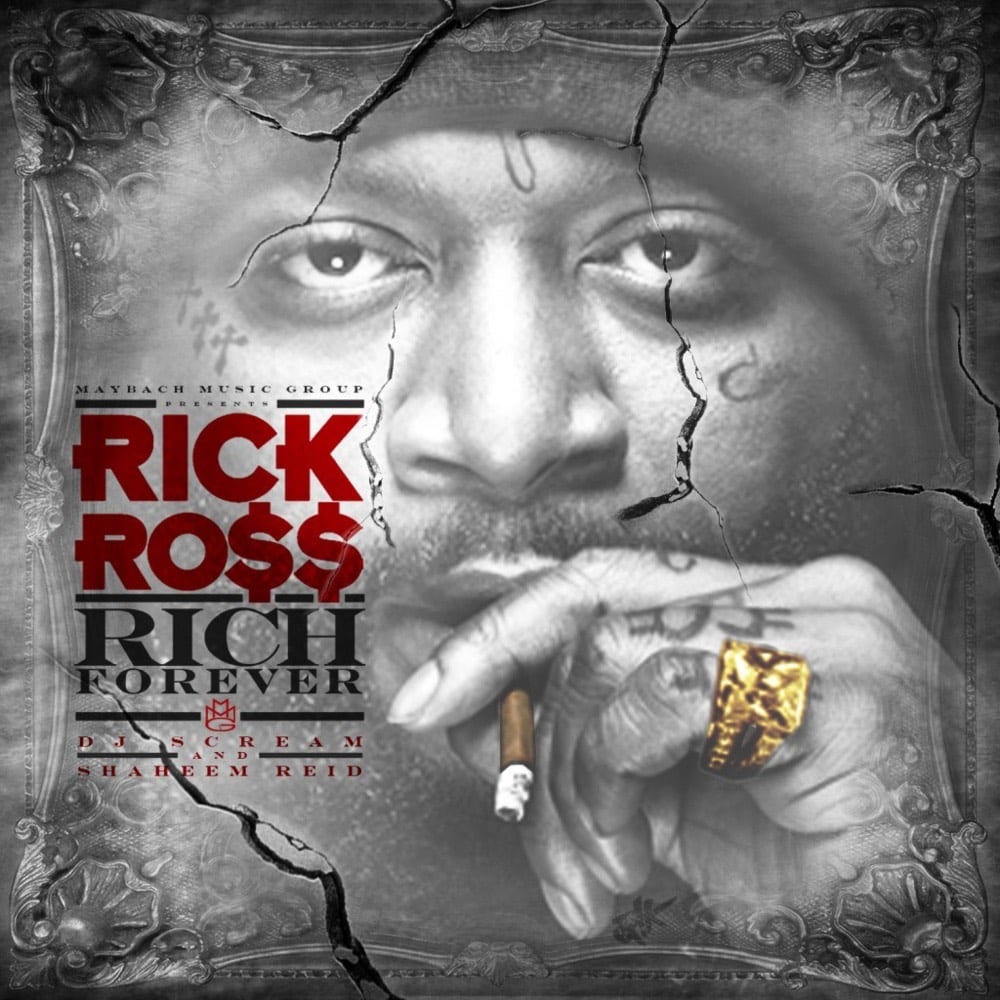 Released: January 6, 2012
Label: Maybach
Singles: "Stay Schemin'"
Features: Diddy, 2 Chainz, Wale, John Legend, Nas, Kelly Rowland, Styles P, Birdman, Meek Mill, French Montana, Pharrell, Future, Stalley and Drake.
Now we're entering the lofty heights of Ross' discography. Rich Forever remains one of hip-hop's most immaculate mixtapes, a tour de force of Ross' opulent mafioso rap. From the high-octane "Holy Ghost" and "MMG Untouchable" to the introspective title track and simmering "Stay Schemin'," Ross paints vivid, complex pictures of the game, making his braggadocious lifestyle feel tantalizingly attainable, yet far out of reach. Backed by an A-list roster of artists — including Puffy, Drake, Nas, Birdman, Meek Mill, Future, Pharrell, Wale, 2 Chainz and plenty others — Rich Forever is as big an album as any high-calibre rapper could drop, and Ross released it as a mixtape. What a flex.
Teflon Don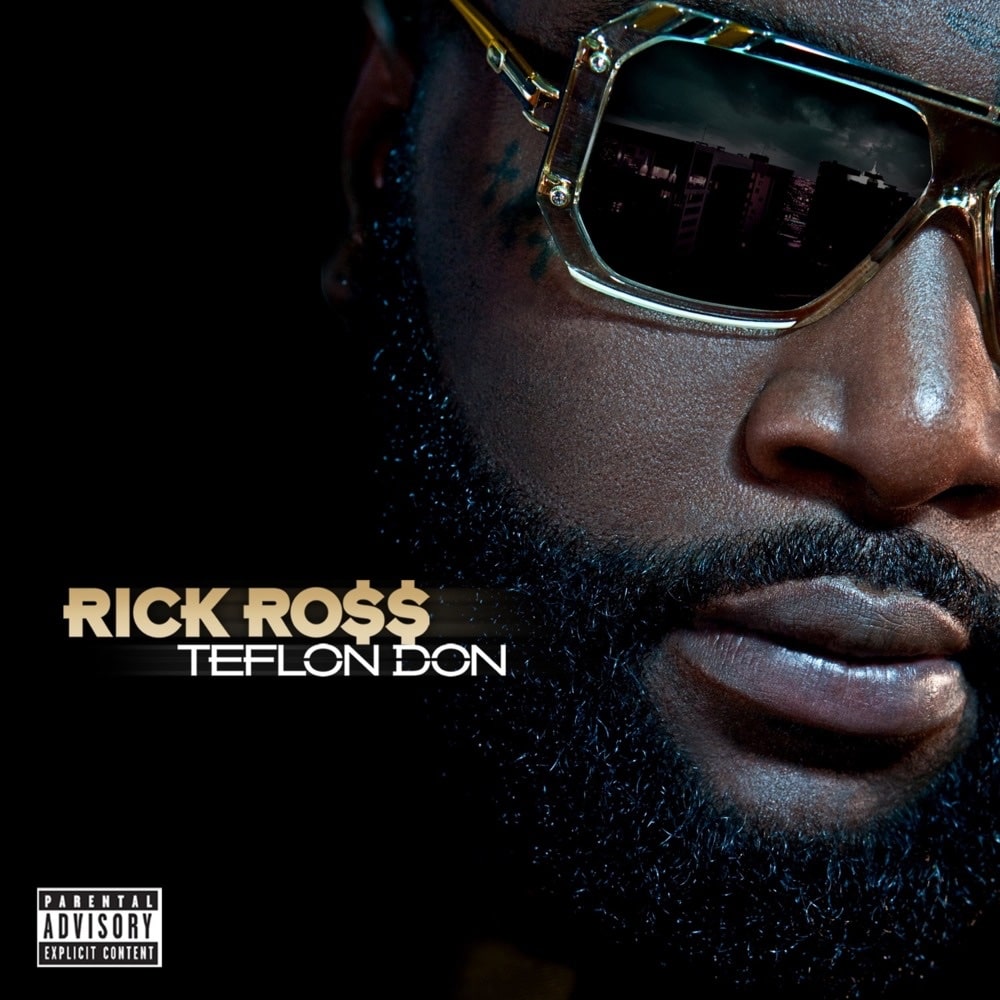 Released: July 20, 2010
Label: Maybach, Slip-n-Slide, Def Jam
Singles: "Super High", "B.M.F. (Blowin' Money Fast)", "Aston Martin Music"
Features: Jay-Z, Cee Lo Green, T.I., Jadakiss, Erykah Badu, Kanye West, Ne-Yo, Diddy, Trey Songz, Gucci Mane, Styles P, Drake, Chrisette Michele, Raphael Saadiq
Ascending to the pinnacle of Ross' artistic output, we find Teflon Don. This album can be considered Ross' magnum opus, where his luxurious gangster narratives reach their zenith. Teflon Don transcends the music, serving as an audacious declaration of the rapper's place in the culture. With this project, Ross marries his talent for opulent storytelling with a masterful command of flow and cadence. From the orchestral grandeur of "Free Mason" to the assertive dominance of "B.M.F.", Ross seizes the listener's attention and never lets go. A cornerstone of Ross' discography, Teflon Don represents the high watermark of his lyrical prowess and capacity to craft grandiose, immersive worlds within his music.