Ghostface Killah has been rapping at the highest level since 1993. That's coming onto 30 years now. Is there any surprise that he's one of our greatest rappers of all time?
Bursting onto the scene with the unforgettable "Ghostface, catch the blast of a hype verse," Tony Starks has put together a catalogue matched by few other rappers. Whether it's Wu albums, solo albums, supporting Raekwon's Only Built 4 Cuban Linx… series, or feature verses, Ghost's resume is immaculate thank to his unstoppable work ethic and ability to weave the most vivid rap stories hip hop has ever witnessed.
From GZA's "4th Chamber" to Raekwon's "Criminology" and more recently Kendrick Lamar's "Purple Hearts," here are the top 10 best Ghostface Killah guest verses of all time.
10. Cormega ft. Ghostface Killah – "Tony/Montana"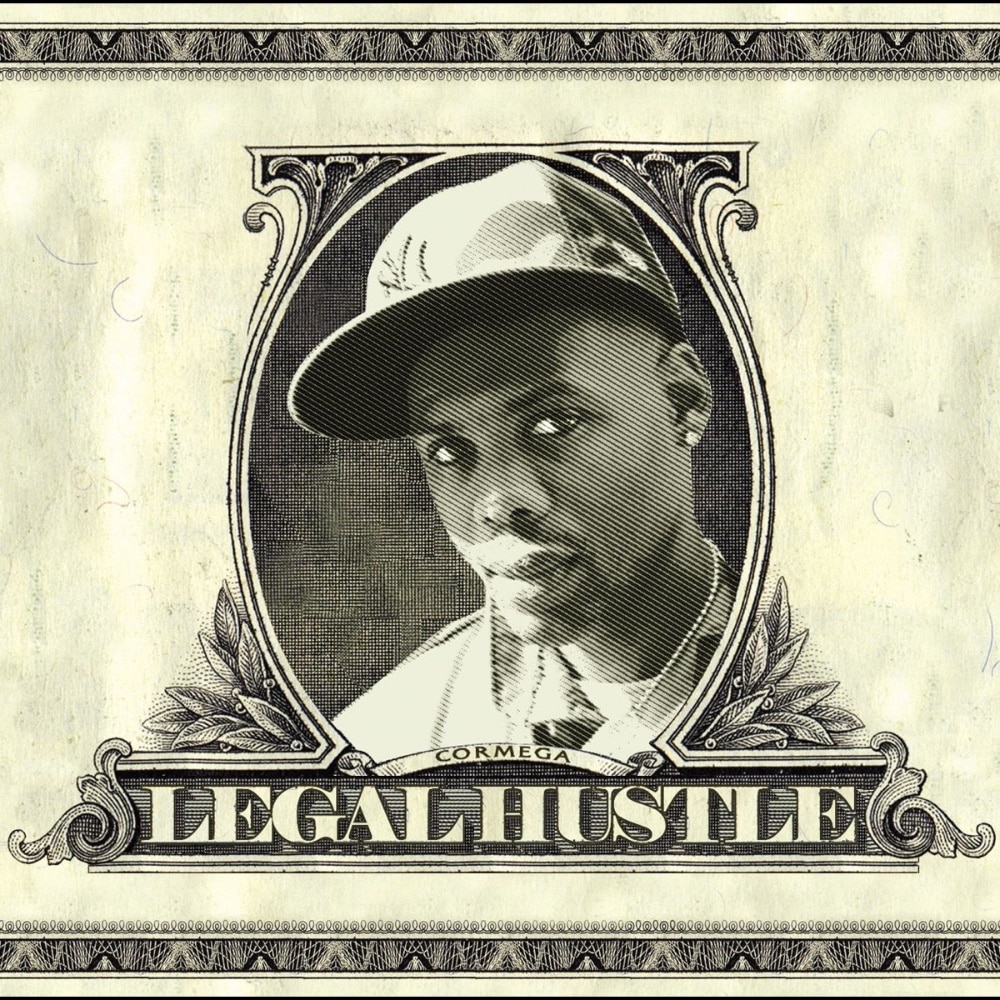 Released: The Feil Brothers
Album: Legal Hustle
Producer: September 14, 2004
I play hard for nine innings, dressed in fine linen
'Cause pussy is the best next thing besides winnin'
All the positions I've been in couldn't explain how I'm livin'
My vision, my intuition has risen
Here, take a listen, I'm hittin'
Up to bat with precision; see, I'm back in the kitchen
Slinging crack to these pigeons, for the fact that I'm driven
My linebackers is blitzin', send you packing, good riddance
Trapped in this prison where snakes and rats is forbidden
Keep my gun hidden, niggas is bitches signing petitions
And they providing convictions
See, I survive through the system under the livest conditions
My riders ride on a mission
For snitchin', you get your back blown right out of commission
You'll be missin' like them crazy Christians
And swimming with all the fishes
Your Ms.'s will come and witness your body with hugs and kisses
Now, tell me, is that nutritious?
We party with chips and liquors
Your wizzes is coming with us
For real, kid, they bought me presents
The difference is this is business, big biscuits, big figures
We click on religious niggas for acting too superstitious
Move, 'cause the Coupe is vicious
Shoot if you want your wishes to blow
See Trife in the Bentley with a group of bitches
9. De La Soul ft. Ghostface Killah – "He Comes"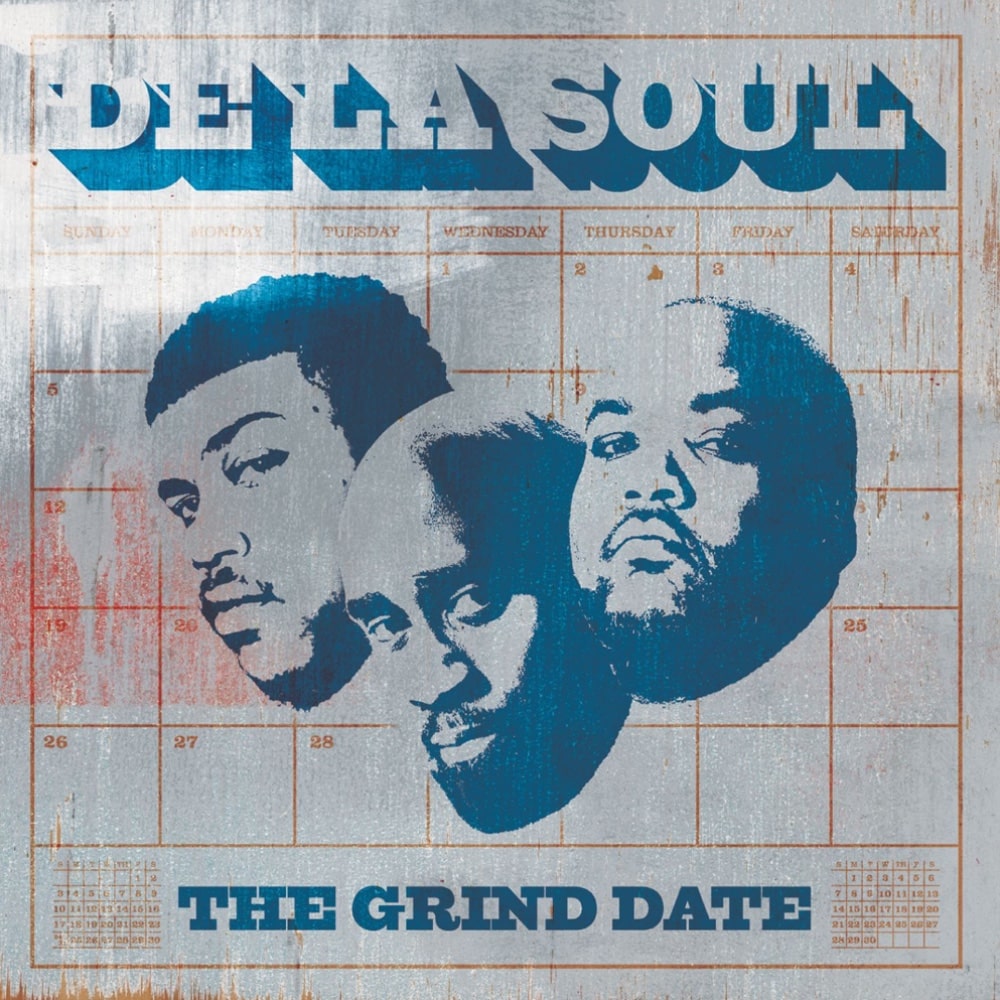 Released: October 5, 2004
Album: The Grind Date
Producer: Supa Dave West
Tony 'Tana with big hammers for bad manners who got 'em
We kiss cannons for Scrangelous crew, and his whack dancers
Biting is forbidden, pah, pay that tax
And don't you ever look at us funny
Boy, we'll bring rap back
And that'll hurt you like Superman chased by a group of men
With dyna-mics, real hip-hop'll do you in
Floor you like Loo Goo Kim, or Moo Loo Inn
Hula-hoop all bitches crew full with brand new Keds
Cutmaster kill 'em, make sure we cut classics
Buck bastards in broad day and tuck caskets
Next to Uday and Qusay, how can the group shoot the PA
And just lay whooptay whooptay?
Use the ruse, sport beads, and snatch a dude's toupee
Since tuning into T-La Rock and AJ
Ghostface gats is fresh squeezed like a glass of OJ
Girls, you can go cruising in my OJ
8. Kendrick Lamar ft. Summer Walker & Ghostface Killah – "Purple Hearts"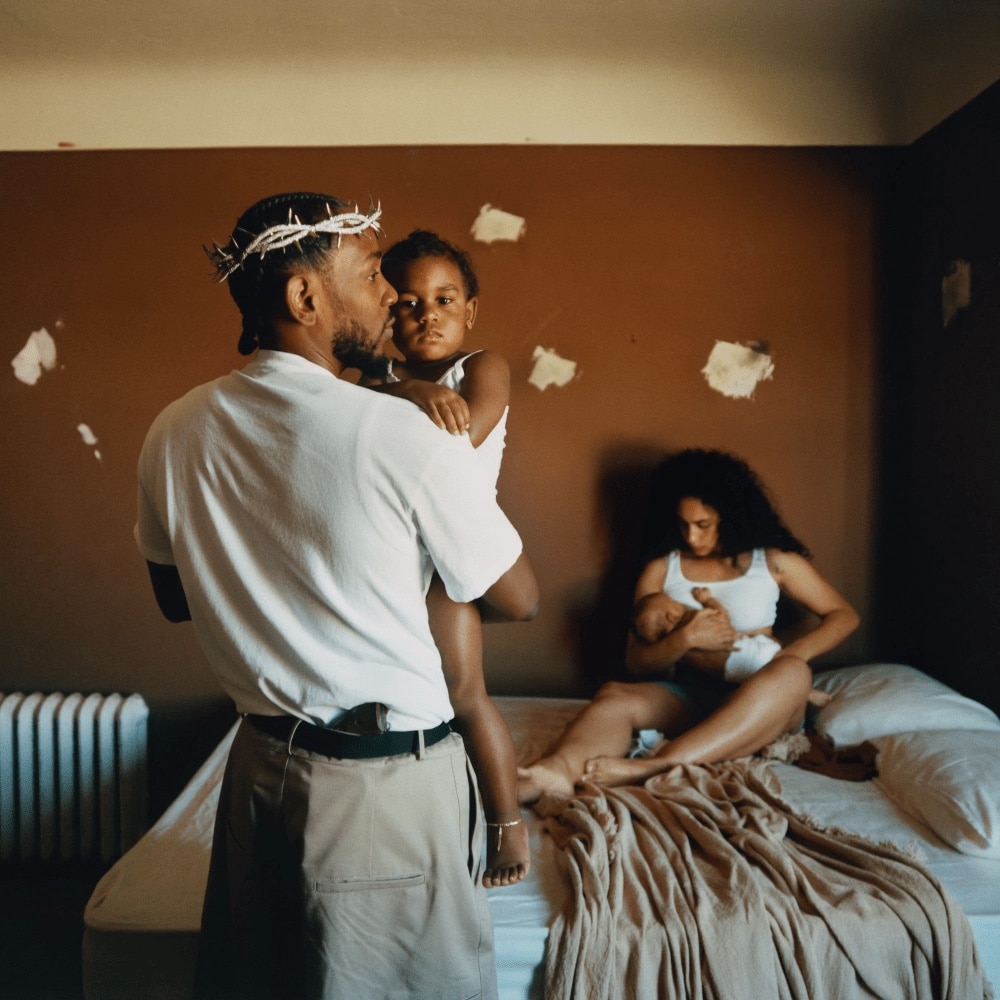 Released: May 13, 2022
Album: Mr. Morale & The Big Steppers
Producer: The Alchemist, DJ Khalil, Beach Noise, J.LBS & Sounwave
Yo, yo
Telekinesis, I'm purifying these D speeches
While I'm crying, I clean the feet of the sweet Jesus
Dreams, visions get blurry of the Elohim, it's light
It's known to tear retinas in a single gleam
Shut the fuck up when you hear His love talkin'
To the mind, it's God's cypher divine in a small portion, uh
Faded pictures, this global madness, the intervention
This world's in The Twilight Zone, this is the fifth dimension
God, please blow the whistle, we need an intermission
My good deeds in front of your door, I'm standing by the entrance
With heavy baggage, my brother's ashes
I seen tragic, I did dirt, smacked death and held it to that nigga cabbage
Love, we killin' greed, we killin' homelessness
And I don't give a fuck about this land, I want ownership
Bow your head for just God's sake
Listen what the stars say when I say it's God's way
7. Raekwon ft. Ghostface Killah – "Gihad"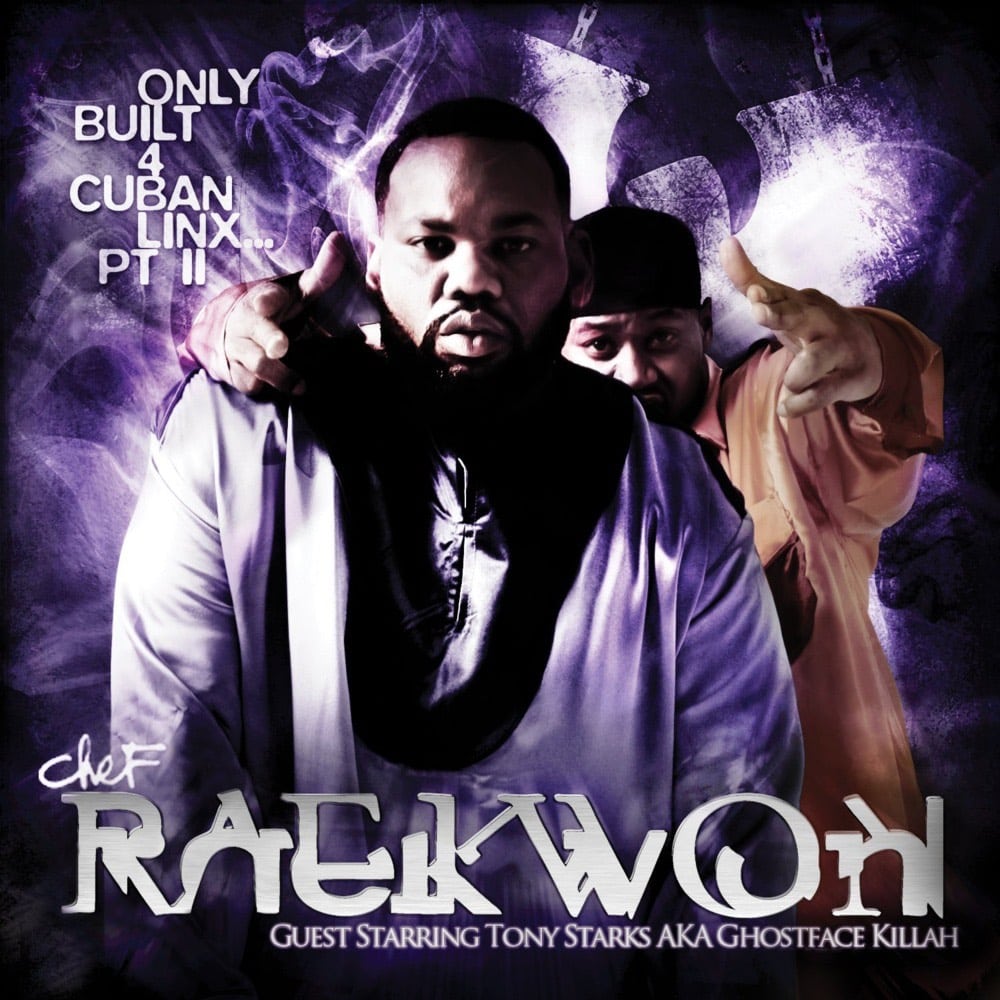 Released: September 8, 2009
Album: Only Built 4 Cuban Linx… Pt. II
Producer: Necro
But on the other side of town, it's Tony, laid up (Ugh)
This white chick want to gargle my nuts
I put the Bailey's down, tap the blunt out
Grabbed her by her hair, watch blondie-love whip my dick out
Spit dripping down my balls, she slobbing me
"That's right! Suck that dick! Get it hard for me"
Pyrex in one hand, large amount of grams in it, rocked up
And she pregnant, my little man got her knocked up
He popped up ("Oh, shit!") I'm like a crooked cop
Richard Gere, big smirk on, getting my cock sucked
He pulled the joint out, a bullet spun out, but it was too late
Already nutted on the side of her mouth
Side of her face, and hair like Something About Mary
I can't front, my son gun look scary ("Whoa...")
"Chill! She's a whore!
You knew it from the time we ran trains on her
And you still went and fucked her raw?
Come on, son, give me the gun ("Gimme that!")
You gonna kill me over this bum-ass bitch you can't resist?
Remember Vel' had her in the telly, taking the fist?
Watch how you aiming that shit, you should be aiming at Trish
She take a bone like a ribeye steak at Ruth's Chris
Yo, be easy on the trigger, son, you squeezing the fifth
I only did it just to show you she's the easiest bitch"
He came close, had to duff him—"Nigga, give me that shit"
6. Danger Doom ft. Ghostface Killah – "The Mask"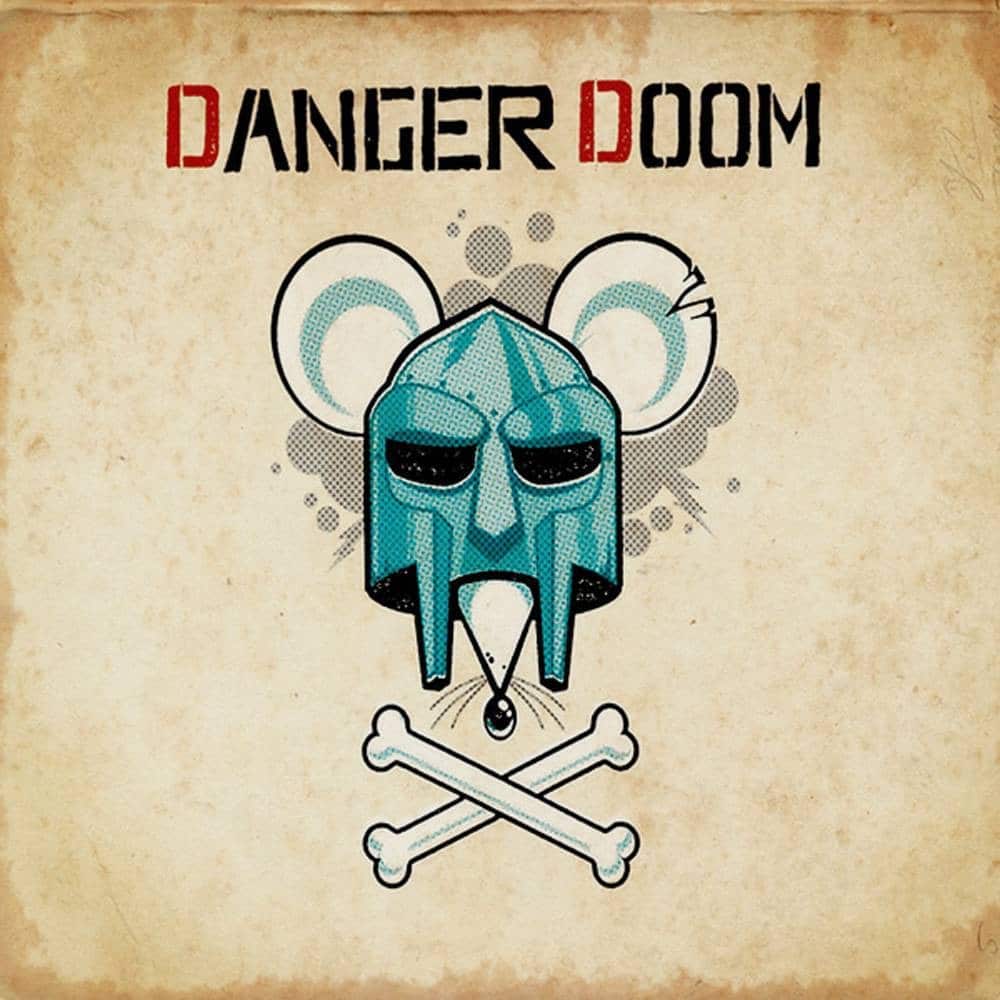 Released: October 10, 2005
Album: The Mouse and The Mask
Producer: Danger Mouse
The day I took my mask off, my face was missing for two days
For the record, G, came back a year later
A whole new identity, Tony Stark's pedigree
My money green like my nickname was celery
Who is Ghost? He flashed his toast
Never wore sheets, but bulletproof coats
Oh no! The feds cried for the mask back on
Told them Ghost is dead, he'll return at the crack of dawn
Few years from now, him and his pals
Before the Jetson era arrive, he'll be back summertime 2005
With a half of face iron
The other half water, look like alien science
In the summertime here, you can see the face boil
But the other side, I keep lubed with the Pennzoil
Mad loyal (Uh-huh), when the winter time come (What?)
I gets stuck 'cause my brain all numb
It's like I ate a thousand ICEE's and frozen Pepsi's
Aquaman's pops can't water check me
Disrespect me, indirectly
I seen his feet and they both lefty, he steppin' half correctly
As I stroll the globe and terrorize the planet
With a Bill Clinton mask and them Playskool hammers
Me and DOOM, always be the best on the landing
Superheroes for life until our souls vanish
5. Raekwon ft. Ghostface Killah, Inspectah Deck and GZA – "Guillotine (Swordz)"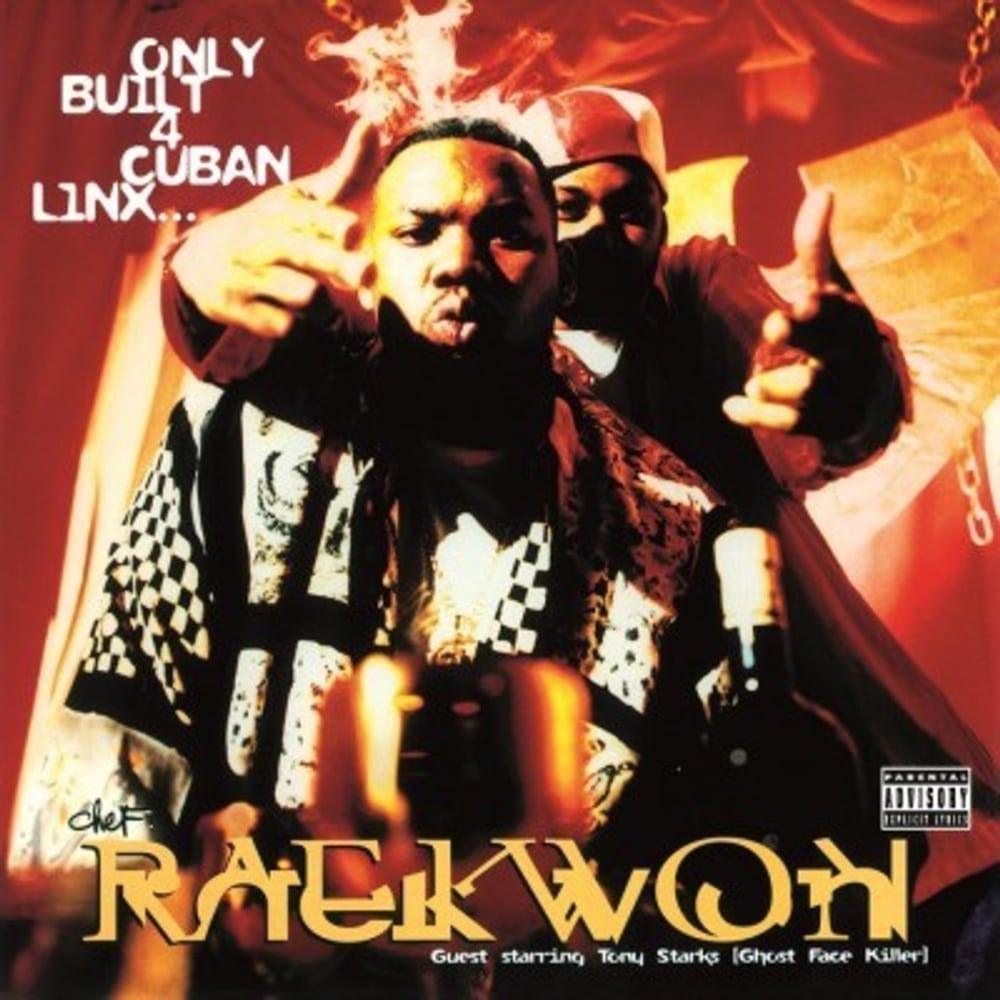 Released: August 1, 1995
Album: Only Built 4 Cuban Linx…
Producer: RZA
Yo, you fourteen carat gold slum computer wizard
Tappin' inside my rap vein causes blizzards
The wildlife that kills for ice trife like by the digits
Gorillas injected with strength of eighty midgets
The Earth spins ruins, rap exotic blends
Let my peeps in, niggas gaspin', swallowin' aspirins
With a dosage, you overdosed in rap
High explosives, my posters hypnotize with hypnosis
I sell goods, my whole Clan is on the run like Natural Born Killers
Record-breakin' the album Thriller
Got access to tear gas, bombs and rocket launchers
Flow like dough, Killa Beez is what I sponsor
Your entrepreneur, pens and gear like Shakespeare
When I fuck, I grab hair, collect drawers as souvenirs
Fuck yeah, my crew down German beers
My career's based on guns throwin' cats in wheelchairs
Et cetera, damage any lame-ass competitor
Who try to front, get broken in fast like leathers
Whatever, hot hard-heads get shattered like mirrors
Beretta shots splatter your goose, scatter your feathers
Say never poetry chumps crumbs deal with graphic
Flew my family overseas, I'm maxin'
If rap was crack, fully packed, I'd be tall caps
Taxin' kingpin of the rap drug traffickin'
Village niggas get slapped in Manhattan for rappin'
Big Ghost steps off laughin', ha
4. Raekwon ft. Ghostface Killah & Masta Killa – "Glaciers of Ice"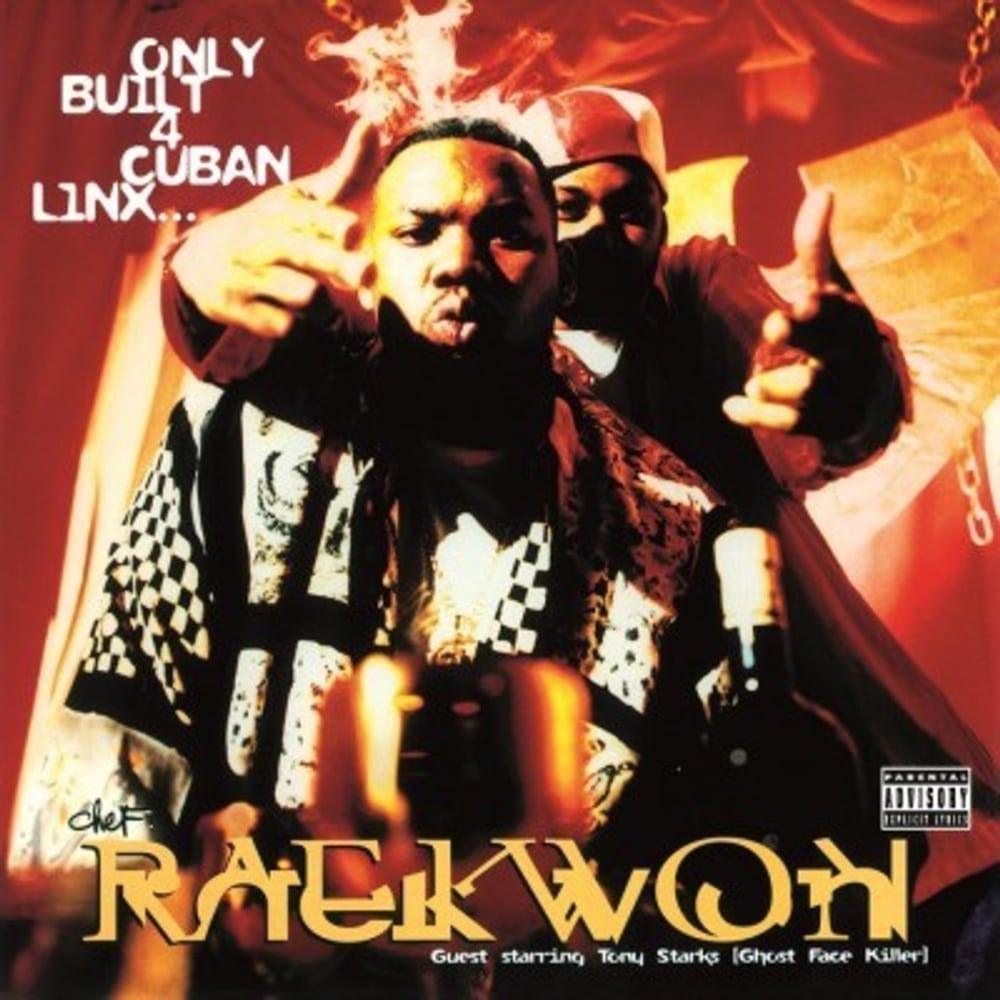 Released: August 1, 1995
Album: Only Built 4 Cuban Linx…
Producer: RZA
Straight up and down, it's all good
Peace to them check-cashin', chain-snatchin', gun-flashin'
Niggas in the hoods bubblin' goods
Analyze Starks, who be buying lion heads and Clarks
To all my house bitches, Starks'll be home soon
I'm on tour, chill, catch me '96 in June
But until then my ten-man team be safe
Chill on the whips for seven months, we can all get laced
Take a boat cruise, sip daiquiris and max
Swimmin' pools, fly jewels, Wally shoes, blow stacks
Relax kids, black kids got a cravin' for Cris
Until we get back, unpack, leave the Mac with your Wis'
But whatever, I gotta hit other sides of the Earth
Spread Wu-ness, rule this, civilization's cursed
But luckily I'm born to be wild and then be out
Move crowds, collect twenty thou' and then be out
Heavy convoys, my crew keep pretty boys paranoid
Built like a steroid pat down Dan Aykroyd
3. GZA ft. Ghostface Killah, Killah Priest & RZA – "4th Chamber"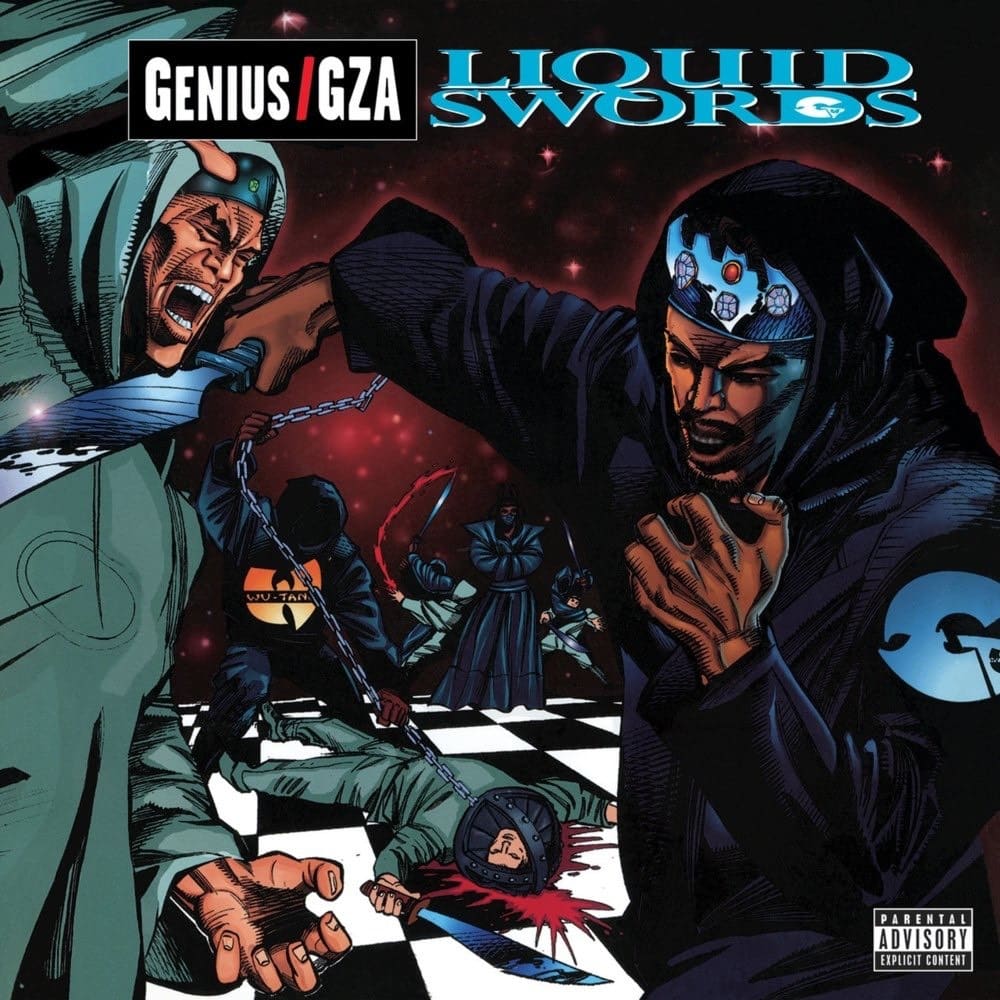 Released: November 7, 1995
Album: Liquid Swords
Producer: RZA
The only man a ho wait for
Is the sky-blue Bally kid, in '83 rocked Tale Lords
My Memorex performed tape decks, my own Fostex
Watch out for Haiti bitches, I heard they throw hex
Yo, Wu whole platoon is filled with raccoons
Corner-sittin' wine niggas sippin' Apple Boone
This ain't no white cartoon
'Cause I be duckin' crazy spades
The kid hold white shit like blacks rock ashy legs
Why is the sky blue? Why is water wet?
Why did Judas rat to Romans while Jesus slept?
Stand up, you're out of luck like two dogs stuck
Ironman be sippin' rum out of Stanley Cups, unflammable
Noriega, aimin' nozzles, stay windy in Chicago
Spine-tingle, mind boggles
Kangols in rainbow colors, promoters try to hold dough
Gimme mine before Po wrap you up in so-and-so
I ran the Dark Ages, Constantine the Great, Henry the 8th
Built with Genghis Khan, the red suede Wally Don
2. GOOD Music ft. Ghostface Killah – "New God Flow"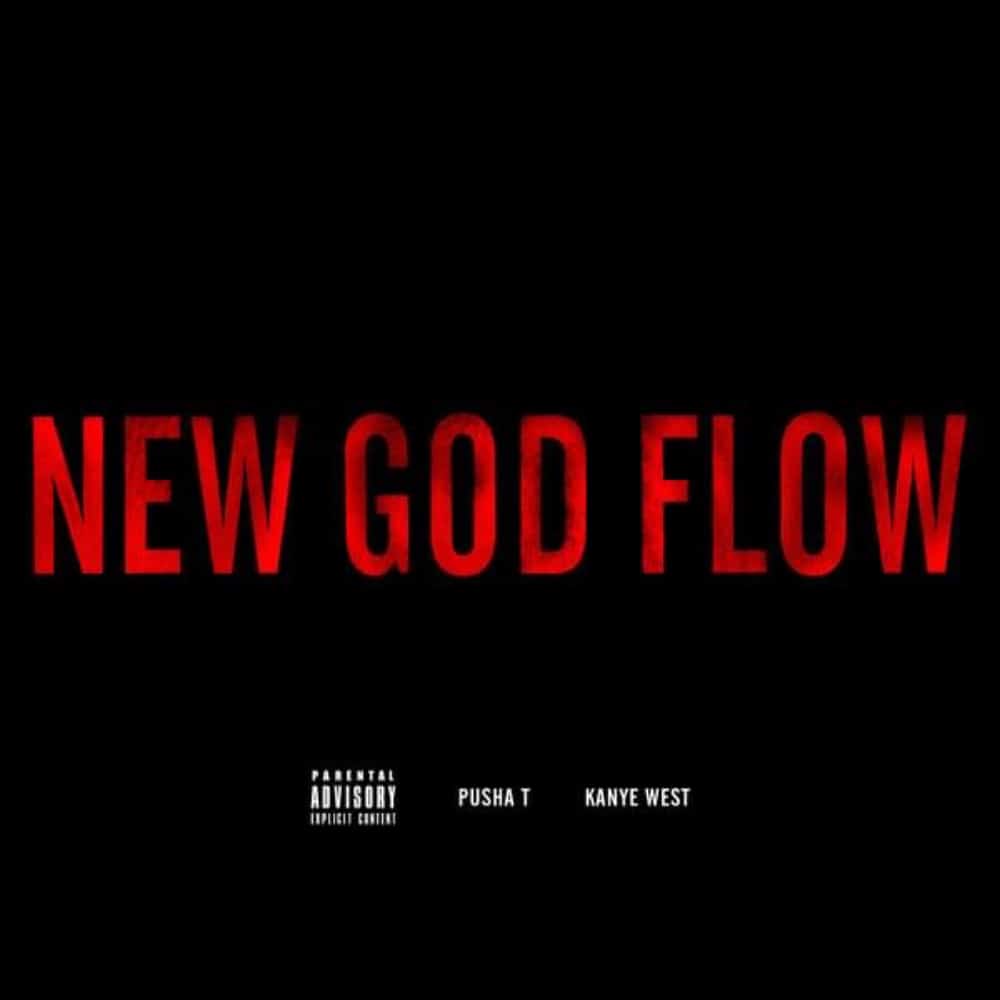 Released: September 14, 2012
Album: Cruel Summer
Producer: Kanye West, Boogz & Tapez, Anthony Kilhoffer
Six hundred Cuban cigar in the big tub
Medallion on, Dove soap on the fresh cut
With soap suds on the MAC-11
My big lion haven't ate since twelve and it's after seven
We feed the nigga like forty chickens
His tail wag when I send him a bag with just one victim
Uh-huh, now let me show you what my closet on
Gems in the display case, call it a rock-a-thon
I— I got soccer moms payin' for cock
Asians get it from behind while they cleanin' they wok
Comin' with flows that is toxic (Come on)
Deadly fumes when I'm in the room
Repercussions occur when you dry snitch
Red light, green light, one, two, three
Look mean, got my machine, cried and hit you, please
Said and shake that body, scar up that body
Should I kill him now Tone? I said, "Probably"
Side bets are four and better
Bust hammers with pot holders
And yo, dead a cow for his fuckin' leather
I'm not bow-legged, but old school like Redd Foxx
My favorite color in my hustle days was red tops
My gold eagle arm shitted out a red rock
Threw it off my project roof and saw red dots
Kanye, shine a light on my Wallabees
You can have a good time with G-O-D
1. Raekwon ft. Ghostface Killah – "Criminology"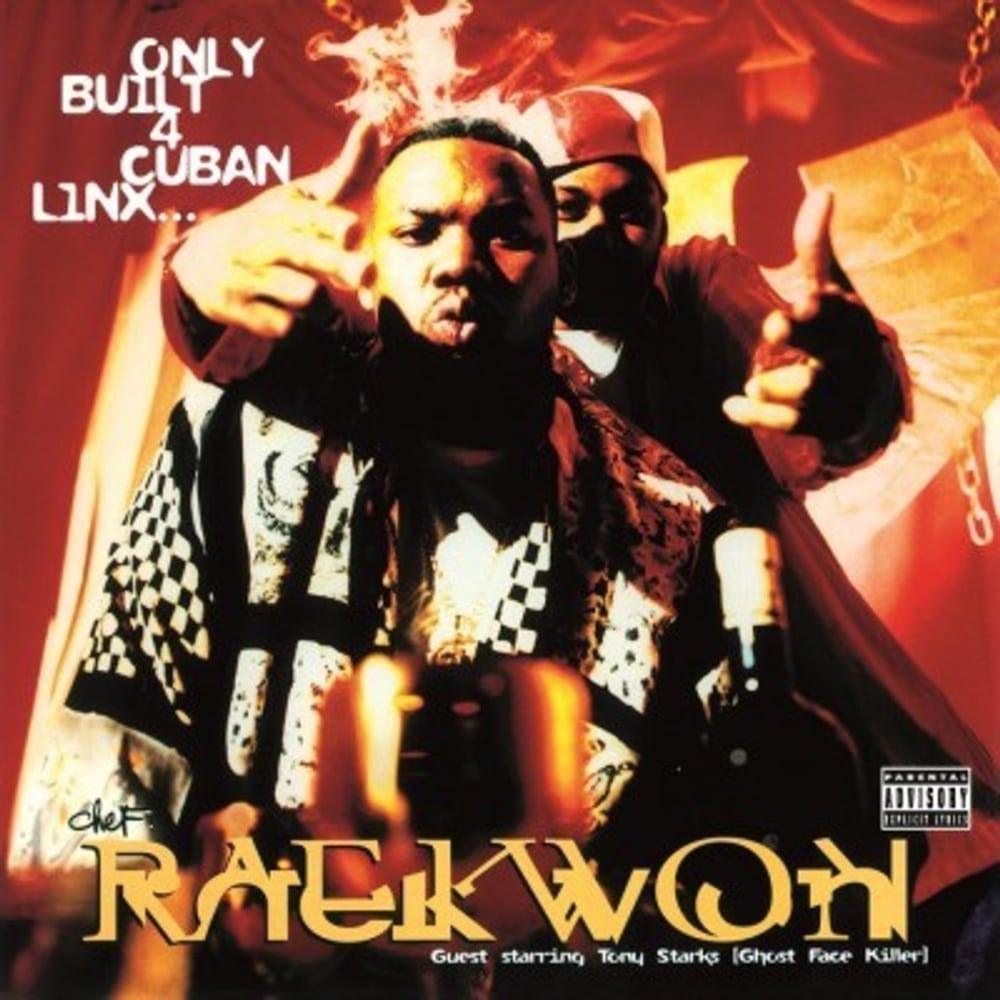 Released: August 1, 1995
Album: Only Built 4 Cuban Linx…
Producer: RZA
Yo, first of all, son, peep the arson
Many brothers I be sparkin' and bustin' mad light inside the dark
Call me dough snatcher, just the brother for the rapture
I hang glide, holdin' on strong, hard to capture
Extravagant, RZA bake the track and it's militant
Then I react like a convict and start killin' shit
It's manifested, the gods work like appliances
Dealin' in my cypher I revolve around sciences
The 9th chamber, leave you trapped inside my hallway
You try to flee but you got smoked up by the doorway (Blaow)
No question, I send your ass back right to the essence
Your whole frame is smothered in dirt, now how you restin'?
While I'll be trapped by sounds, locked behind loops
Throwin' niggas off airplanes 'cause cash rules (Cash rules)
Everything around me, black, as you can see
Swallow this murder one verse like god degree
Then analyze my soundtrack for satisfaction
You adapt like a flashback, chain reaction