Born in the gritty South Bronx during the 1970s, hip hop culture emerged as a voice for the marginalized, with park jams and block parties serving as the stage for its rapid growth. Over the decades, the culture has emerged as a local phenomenon in New York to become one of the most powerful pop culture forces in recent history. Along the way, there have been hundreds, if not thousands, of rappers who have graced the microphone with all of them battling it out to be the dopest MC in the game.
From the poetic mastery of Melle Mel and Kool Moe Dee, who crafted vivid narratives and intricate wordplay, to the captivating stage presence of Run-D.M.C. and the unparalleled lyricism of Rakim, hip hop's pioneering architects laid the groundwork for future generations to build upon. This rich legacy was carried forward by '90s legends like Nas, Wu-Tang and Biggie, who claimed their position with powerful storytelling and innovative flows.
The 2000s saw the emergence of commercial juggernauts like 50 Cent, whose gritty street tales and melodic hooks took hip hop to new heights, and Lil Wayne, whose eclectic approach to wordplay and punchlines set the stage for a new era of lyrical creativity. Enter the likes of Drake, Kendrick Lamar, J. Cole, and Future, who took the baton and further propelled hip hop into the global limelight. They were soon joined by a constellation of stars such as A$AP Rocky, and Tyler, the Creator, whose distinct voices and diverse styles have continued to expand the culture's reach and impact.
In recent years, artists like Lil Baby, Young Thug, Vince Staples, and Denzel Curry have emerged as the vanguard of a new generation, fearlessly pushing the boundaries of hip hop culture and paving the way for fresh talent to make their mark. And over all these decades, rap fans and hip hop heads have sat around debating — who is the best rapper of all time? On this list, we'll pay homage to the old school originators made all this possible, as well as the new wave innovators keeping hip hop alive and thriving.
Before we get into it, here is the criteria we used to consider when trying to answer the question of who is the greatest rapper of all time:
Lyrical skills: It's all about those clever bars, storytelling, and mind-blowing metaphors. A great rapper knows how to paint a picture with words and keep us hanging on every line.
Flow: Rhythm, cadence, delivery – a unique flow is what sets a rapper apart. The best ones can switch it up and still sound smooth as silk.
Songwriting: We all know that a killer verse can make a track, but strong hooks, unforgettable melodies, and well-structured songs are what take a rapper's music to the next level.
Influence: We're talking about the rappers who changed the game, shaped the sound of hip hop, and inspired generations of artists. If they left a mark on the culture, they've got a spot in the conversation.
Consistency: Dropping fire albums year after year? That's how you prove you're not just a one-hit-wonder. Longevity and relevance are key to being considered a true great.
Commercial success: While it's not everything, sales, chart-topping hits, and shiny awards definitely count for something. You can't ignore the numbers!
Originality: If they're pushing the envelope, experimenting with new styles, or carving out a new subgenre, they've got our attention. Innovation is a game-changer.
So let's get into it. From Nas, 2Pac, Jay-Z and The Notorious B.I.G., to Kendrick Lamar, Drake, Future and J. Cole, here are the top 100 best rappers of all time.
100. Project Pat
Essential listening: Mista Don't Play: Everythangs Workin (2001)
Coming up in the rap game on the gritty streets of Memphis, Project Pat's association with Three 6 Mafia (he is the older brother of Juicy J) has been a dynamic and fruitful collaboration. Though not an official member of the iconic group, his memorable hook on "Sippin' on Some Syrup" showcased his undeniable talent and catapulted him into a legendary solo career. Project Pat's rap style is a masterclass in storytelling, painting vivid pictures of street life and struggle with his dark, penetrating lyrics. The Memphis rapper's signature eerily calm tone, juxtaposed against the backdrop of bouncy yet sinister beats, has cemented Project Pat's status as not only one of the most underrated artists to emerge from Memphis but also as a true innovator in the game.
99. MC Lyte
Essential listening: Lyte as a Rock (1988)
With her high-pitched, distinctive, and powerful voice, MC Lyte emerged as a female rap pioneer during the late 1980s. As a Brooklyn native, she began writing and rapping at just 12 years old, and her debut album, Lyte as a Rock , solidified her position as one of the leading female MCs of her time. Notably, her song "I Cram to Understand U (Sam)" was one of the first rap tracks addressing the crack era. Lyte's groundbreaking talent transcended gender barriers, and there was no questioning that her skills rivalled those of her male counterparts of the '80s .
98. Mase
Essential listening: Harlem World (1997)
Coming up in the mid-90s under the name Murda Mase alongside fellow Children of the Corn MCs Big L, Cam'ron, and Herb McGruff, the Harlem rapper became one of the biggest rappers of the decade after signing to Bad Boy Records. Stepping in to fill the void that Big Poppa's passing left, Mase's star shot into the stratosphere off the strength of hits like "Feel So Good" and "What You Want" as well as his features on Puff's "Can't Nobody Hold Me Down" and Big's "Mo Money Mo Problems." Despite criticisms for leaving the rap game while he was scorching hot , Mase's influence on the current crop of rappers – whether it's Kanye, Drake or Pusha T – is undeniable.
97. Chief Keef
Essential listening: Finally Rich (2012)
Chief Keef almost single-handedly birthed a new subgenre of hip hop at just 17 years old. With his unfiltered lyrics, dead-eyed flow, and raw DIY aesthetic, Reef's melodic raps and slurred delivery on landmark releases like Back from the Dead and Finally Rich laid the foundation for the current drill and mumble rap scenes. As the godfather of many of today's rappers, Keef's influence can be heard in the works of artists like like Polo G, Trippie Redd, NBA YoungBoy, Lil Uzi Vert, and the late Juice WRLD. Even though his career didn't hit the commercial heights that Interscope were betting on, Chief Keef has grinned out an impressive independent catalogue and solidified his legacy as one of the most influential rappers of his generation.
96. Ras Kass
Essential listening: Soul on Ice (1996)
Hailing from Watts, Los Angeles, Ras Kass has been a powerful force in the underground hip hop scene for over three decades. The West Coast rapper's debut album, Soul on Ice , released in 1996, gave rap fans a peek into the mind of a lyrical genius who blended complex wordplay, intricate storytelling and a masterful flow into a complete MC package. Though often underrated and not as frequently mentioned alongside other West Coast greats, Ras Kass' undeniable skill on the mic and unwavering consistency make him one of the greatest lyricists of all time .
95. Twista
Essential listening: Kamikaze (2004)
A pioneer of speed-rapping and once holder of the Guinness World Record for the fastest rapper in the English language, Twista boasts a remarkable three-decade-long career. His precise rapping skills and dedication to making great records have allowed him to survive and thrive through various hip hop eras – from the early '90s era with Loud records to scoring a chart-topping hit with "Slow Jamz" and beyond. A pure technician on the mic, Twista possesses one of the best flows ever, and is a true icon of the Chicago rap scene.
94. Brother Ali
Essential listening: Shadows on the Sun (2003)
Brother Ali, a tireless activist against racism and oppression, has made a name for himself in the hip hop world by infusing his music with powerful, optimistic messages that tackle contentious and political subjects. His impassioned delivery, often delivered over soulful production masterfully balances great music and deep messages. Since his debut with Rites of Passage in 2000, the Minneapolis-based MC's passion for hip hop and drive for change have remained steadfast, solidifying his position as one of the greatest underground rappers of all time .
93. Rick Ross
Essential listening: Teflon Don (2010)
Rick Ross, the boss of Miami's hip hop scene , has not only built up a impressive legacy as an MC, but as a mogul shaping the careers of numerous talented rappers like Meek Mill and Wale. Starting in the mid-2000s under the wing of Jay-Z at Def Jam, Ross quickly established himself as a dominant force in the rap game. His commanding husky voice and extravagant bars became synonymous with wealth and luxury in the rap game, and he's earned the respect of legendary MCs like Jay-Z, Nas, Pusha T, and Lil Wayne.
92. Posdnuos
Essential listening: Stakes Is High (1996)
Ever since '89, Posdnuos has been blessing hip hop with some of the slickest jazz rap to ever grace the genre, displaying a level of consistency most MCs could only dream of. With no shortage of witty rhymes and sensational stories to tell, Plug 1 embodies that feel-good charm and energy of the '80s. He's a natural born performer whose animated flows and effortless chemistry with Plug 2 have resulted in timeless rap songs and landmark albums. Dropping classics in De La Soul like the legendary 3 Feet High and Rising , the hip hop landscape wouldn't be the same if not for Pos and his unlimited enthusiasm for rap music.
91. Too Short
Essential listening: Life Is…Too Short (1988)
Representing Oakland to the fullest, Too $hort has been a game-changer in the rap world since the 1980s. As a pioneering force in West Coast hip-hop, his influence has stretched far beyond the Bay Area, shaping the culture for generations to come. His uncensored lyrics and gritty storytelling on tracks like "Freaky Tales" boldly challenged the status quo, bringing a raw and unapologetic edge to hip hop at a time when the scene was still relatively tamed. As the founder of Up All Nite Records, Too $hort has played an integral role in nurturing and developing new talent. Alongside fellow Bay Area legend E-40, he has also been instrumental in defining the independent hustle, proving that success can be achieved without the backing of major labels.
90. Gucci Mane
Essential listening: The State vs. Radric Davis (2009)
Over the past two decades, Guwop, the undisputed king of trap , has revolutionized the Atlanta rap scene with his relentless work ethic, flood-the-market approach, and enormous influence on artists like Young Thug, Migos, Future, and Lil Uzi Vert. Kicking down the door to the rap game in the early 2000s, Gucci transformed into a legend off the strength of his gritty street anthems, beefing with Jeezy and dropping projects non-stop, including classics like Writings on the Wall and Burrrprint: The Movie 3D . Though commercial success and mainstream superstardom has eluded him for the most part, there's no denying that Guwop is one of the most influential and best rappers ever.
89. The Game
Essential listening: The Documentary (2005)
Despite The Game's occasional tomfoolery, there's one thing that you can never take away from him – the man's unwavering love for hip hop. The Compton rapper's dedication to his craft to evident in his extensive catalogue, which spans two decades and features collaborations with some of the industry's most influential artists, from Dr. Dre and Kanye West to Kendrick Lamar and Nas. As a rapper, The Game has always stayed true to his West Coast roots, proudly repping L.A. throughout his career. Game's gritty storytelling, relentless flow, and unmistakable voice make him one of the most iconic artists of the past two decades, and his contributions to the West Coast scene have helped shape its evolution from the 2000s to now.
88. Juicy J
Essential listening: When the Smoke Clears: Sixty 6, Sixty 1 (2000)
Juicy J, co-founder of Three 6 Mafia, has been a game-changer in the rap world since the '90s. With a deep-rooted Memphis sound, he's not only a legend in the Southern scene but has remained relevant through his ability to adapt and collaborate with today's hottest artists like A$AP Rocky, Travis Scott, and Megan Thee Stallion. From gritty trap vibes to catchy hooks, Juicy J's Memphis influence can be felt throughout the hip hop landscape, inspiring countless rappers and producers. His effortless transition from group success to a solo powerhouse, with hits like "Bandz A Make Her Dance," transformed him from an influential legend to one of the hottest artists in the game today .
87. Pimp C
Essential listening: Too Hard to Swallow (1992)
As one half of UGK, Pimp C, with his Houston swagger and unfiltered rap bars, delivered a unique brand of Southern rap that resonated with rap fans far beyond his Port Arthur roots. Known for his brash flow and uncensored storytelling, Pimp never shied away from discussing the realities of street life, hustling, and the pursuit of success. His charisma and authenticity were palpable, and he quickly became a symbol of the Dirty South sound. Despite his tragic passing in 2007, Pimp C's legacy is locked in, with his influence continuing to inspire new generations of artists, from A$AP Rocky to Drake and Travis Scott.
86. Nicki Minaj
Essential listening: Pink Friday: Roman Reloaded (2012)
Nicki Minaj, the self-proclaimed Queen of hip hop, has solidified her name amongst the greatest of the greats. From her early days of dropping mixtapes to her current position sitting atop the rap game, with a catalogue peppered with multi-platinum releases and chart-topping singles, the Queens MC has always stay true to her hip hop roots. Even with massive pop collaborations with Katy Perry and Ariana Grande in the bag, you can always count on Nicki to deliver bars when the times comes. Whether it's her savage bars on "Lookin Ass," her legendary feature on "Monster" or the playful "Barbie Dreams," Nicki Minaj is always ready to show you why she's one of the best rappers alive .
85. Krayzie Bone
Essential listening: E. 1999 Eternal (1995)
In the long list of MCs who don't get the love they deserve, Krayzie Bone ranks among the most underrated. The MVP in Bone-Thugs-N-Harmony, every verse from Krayzie is a highlight, perfecting the art of melodic rap with his hypnotic mix of soulful singing and bloodthirsty rapping. Even beyond his work in the group, he's got a strong solo catalogue worth bragging about, especially with his Fixtape series and his hard-hitting debut, Thug Mentality 1999 . Grinding in the studio from '95 up to today, Krayzie Bone is a relentless MC who puts his all into his art, regardless of how much noise it makes.
84. RZA
Essential listening: Bobby Digital in Stereo (1998)
RZA, the architect behind Wu-Tang Clan, is undoubtedly one of the greatest producers in hip hop . As a rapper, though, he can be hit-or-miss. While the Abbott displayed raw aggression and stole the show a few times on the Wu's debut, he mostly took a backseat to members like GZA, Method Man, and Ol' Dirty Bastard. Over time, RZA's rap style evolved, favoring philosophical musings over the chaotic lyricism of his early days. His penchant for complex vocabulary and intricate concepts has sometimes led to convoluted verses. Nevertheless, his crazy performance on GZA's "4th Chamber" is locked in as one of the greatest guest verses of all time .
83. Ice-T
Essential listening: Rhyme Pays (1987)
As the godfather of West Coast gangsta rap, Ice-T has cemented his place in hip-hop history. With a legendary catalog that spans Rhyme Pays and his magnum opus, O.G. Original Gangster , his impact on the defining subgenre of the '90s is unparalleled. Born in New Jersey and raised in L.A., Ice-T, inspired by Schoolly D's 1985 single "P.S.K. What Does It Mean?", released "6 in the Mornin'", setting the stage for a new wave of West Coast artists (Eazy-E and Ice Cube would later credit the groundbreaking track as the inspiration for "Boyz-n-the-Hood"). Ice-T's four back-to-back classic albums and his role in igniting the West Coast gangsta rap movement make him not just one of the best rappers of all time, but one of the most important hip hop artists ever.
82. Talib Kweli
Essential listening: Train of Thought (2000)
Making his mark in 1997 as one half of the iconic duo Black Star, alongside Mos Def, Talib Kweli has evolved into the poster child of the conscious hip hop scene. That Hov namecheck on "Moment of Clarity" didn't hurt either. Raised in a household of college professors, Talib was introduced to the power of words at a young age, a passion he would later bring to his music. Throughout his career, he has used hip hop as a platform to enlighten and empower his community, tackling complex social and political issues head-on. As a masterful lyricist with a cool, nonchalant flow, the Brooklyn MC's youthful voice cuts through all the static, providing him with the perfect medium to drop knowledge.
81. Rapsody
Essential listening: Eve (2019)
In a hip hop landscape often dominated by male artists, Rapsody has emerged as a formidable force, challenging the status quo with her immense lyrical prowess and thought-provoking content. Discovered by the renowned 9th Wonder, this North Carolina native has been crafting quality music for over a decade, holding her own alongside heavyweights like Kendrick Lamar, J. Cole, and Black Thought. With Grammy-nominated Laila's Wisdom and the critically acclaimed Eve under her belt, Rapsody has solidified her position as one of the best, not just female, rappers of all time.
80. Ab-Soul
Essential listening: Control System (2012)
Spitting wisdom like a rap veteran but with the manic energy of a young rookie, Ab-Soul is an MC as consistent as he is underrated. Using the mic to confess all his woes, he's been hailed as one of the most vulnerable rappers of his generation, telling such raw and unapologetic stories across his small but effortlessly consistent discography. Coupled with a swaggering demeanour and ear for punchy beats, Ab-Soul has a knack for balancing heavy subject matter with pop appeal. Even when he took a years-long hiatus after Do What Thou Wilt , fans waited patiently for his return, because the Black Hippy poet brings a level of transparency and charisma to the game few MCs can rival.
79. Lil' Kim
Essential listening: Hard Core (1996)
Combining her unapologetically raunchy lyrics, fierce Brooklyn attitude, and undeniable talent in one highly marketable package, Lil' Kim was integral to challenging the hip hop status quo and paving the way for future female rappers. Lil' Kim's provocative rhymes and skilled delivery laid the foundation for today's female rap superstars like Nicki Minaj and Megan Thee Stallion. With a career spanning over two decades, Lil' Kim has seen both commercial success and critical acclaim. Her debut album, Hard Core , released in 1996, instantly put her on the map, followed by multiple platinum albums and chart-topping singles. After a hiatus, Lil' Kim returned in 2019 with her album, 9 , proving that her skills as a rapper had not diminished over time.
78. Del the Funky Homosapien
Essential listening: Eleventh Hour (2008)
While his cousin Ice Cube was running California's gangsta rap scene, Del started off representing the jazzy and energetic sound of Oakland. With his signature hyperactive flow and a knack for strange concepts, Del quickly made a name for himself as one of the West Coast's most creative MCs. By the time he dropped the ground-breaking Deltron 3030 , the Funky Homosapien's music hardly even sounded like West Coast hip hop – it sounded like rap music from outer space. Rapping about everything from corrupt label execs to alien dystopias, Del is a rapper who never runs out of ideas. Rocking the mic since the early '90s, the Funky Homosapien is a creative legend long overdue his flowers.
77. Blu
Essential listening: Below the Heavens (2007)
Blu has been a driving force in the alternative West Coast hip hop scene since the release of his groundbreaking Exile-helmed debut, Below the Heavens , in 2007. Known for his introspective, everyday-man approach to rap, the Inglewood-born lyricist delves into subjects such as racism, black history, and his love for hip hop and music, all while maintaining a strong thematic focus in his projects. Over the past 15 years, he has become one of the hardest working artists in the game, dropping over 20 projects with a diverse roster of acclaimed collaborators, from Oh No to Nottz and Madlib. Blu's unrelenting work ethic, combined with his undeniable skills as an MC, has solidified his reputation as one of the best rappers of all time.
76. Cam'ron
Essential listening: Purple Haze (2004)
If there's one thing for sure about Cam'ron standing in rap culture, it's that his impact went well beyond his own music. As the frontman of Dipset, he brought together a crew of rappers with a distinct sound and aesthetic that went on to re-define New York swagger in the 2000s. Their counterpart G-Unit may have sold more records, but the Diplomats had the more powerful movement. With his penchant for innovative wordplay and audacious internal rhymes, Cam's distinctive voice, captivating storytelling, and effortless charisma have left a lasting impression on the rap game.
75. Young Jeezy
Essential listening: Let's Get It: Thug Motivation 101 (2005)
A legend since the early 2000s, Young Jeezy's exhaustive catalog is packed full of his signature adlibs, motivational trap sermons and banging production. Even before dropping his major label in 2005, the ATL trapper was a legend in the streets with a classic mixtape and hype that was out of this world. As rap's preeminent thug motivator, Jeezy was the man when it comes to crafting anthems like "Soul Survivor," and "Trap or Die," that resonate with hustlers and trappers worldwide. An Atlanta icon and Southern rap legend, is absolutely one of the greatest rappers of all time.
74. Canibus
Essential listening: Rip the Jacker (2003)
Canibus burst onto the hip hop scene in the early '90s as a lyrical powerhouse, known for his razor-sharp wordplay and exceptional freestyle ability. While his notorious beef with LL Cool J may have hindered his mainstream breakthrough, Canibus remained a stalwart in the underground scene, earning the respect of his peers and maintaining a loyal fanbase. With an extensive discography under his belt, Canibus has consistently pushed the boundaries of lyricism. His fifth album, Rip the Jacker , a collaboration with Stoupe the Enemy of Mankind of Jedi Mind Tricks, serves as a prime example of his dedication to the art of MCing. The project showcases Canibus' intricate rhymes and complex storytelling, solidifying his position as one of the best rappers of all time.
73. Future
Essential listening: DS2 (2015)
With links to the legendary Atlanta production group Organized Noize (Rico Wade is his cousin), Future's hip hop pedigree runs deep. With one foot in the drug game and the other foot in the studio while honing his songwriting skills, it wasn't long before he fully embraced the rap game. To dismiss Future as merely a trapper-turned-rapper would be a disservice to his artistic range. His ability to produce vastly different albums like Future and Hndrxx within a week of each other speaks to his versatility and creativity. Since finding his stride in late 2014, Future has maintained a legendary run, punctuated only by brief periods of respite. As one of the best rappers of all time, Future's enduring influence on the current crop of artists is undeniable.
72. Freddie Gibbs
Essential listening: Bandana (2019)
Over the past two decades, Freddie Gibbs has battled his way through obstacle after obstacle, rising through the ranks of the rap game and solidified himself as a modern-day legend. From his early days as an underground sensation to his most recent album, the Indiana native has consistently showcased his raw, gritty lyricism and Bone Thugs-inspired flow flow. Gibbs' partnership with acclaimed producers like Madlib and The Alchemist has resulted in some of the most celebrated rap projects in recent memory, including the timeless Piñata and the Grammy-nominated Alfredo . The future looks bright for Freddie Gibbs, one of the best rappers of all time.
71. Elzhi
Essential listening: The Preface (2008)
Often hailed as "Detroit's best-kept secret," Elzhi is a masterful lyricist whose technical prowess and intricate wordplay have made him one of the most revered MCs in recent history. The Detroit rapper's dedication to the art of rap is showcased in his extensive discography, from his early days in Slum Village to cult classics like The Preface and eLmatic , all the way up to his 2022 release, Zhigeist . In a world of fleeting fame and changing trends, Elzhi's unyielding commitment to his craft has earned him the respect and admiration of hip hop connoisseurs worldwide.
70. AZ
Essential listening: Doe or Die (1995)
Though he never achieved the same mainstream recognition as some of his contemporaries, AZ has always remained a respected figure in hip hop circles. Considered one of the most underrated lyricists in rap history, AZ's intricate wordplay and storytelling capabilities have garnered him a dedicated following among true hip hop heads. As part of the legendary rap collective The Firm, which included Nas, Foxy Brown, and Nature, the Brooklyn rapper helped lay the foundation for a new era of East Coast rap in the late '90s. Their one and only album, The Album , may not have lived up to the lofty expectations, but it further solidified his status as an elite MC capable of holding his own among hip hop's greats. AZ's enduring legacy serves as a testament to the importance of substance and skill in an ever-changing hip hop landscape.
69. E-40
Essential listening: In a Major Way (1995)
Bay Area trailblazer E-40 has been a pioneer in the rap game since the early days of hustling tapes out of his car. Known for his unorthodox flow and unmatched wordplay, Earl Stevens popularized and coined countless slang terms that are still being used to this day. His extensive discography, packed with solo projects and iconic collabs, is just a testament to his commitment to the grind and adaptability in a landscape that values the latest trends and hottest new artists. From pioneering the independent hustle to influencing generations of artists, E-40's impact on hip hop culture is far-reaching, and he's absolutely secured his spot as one of the best rappers of all time.
68. Beanie Sigel
Essential listening: The B. Coming (2005)
Beanie Sigel emerged in the 2000s as part of the Roc-A-Fella takeover and etched his name in hip hop history as a street rap legend hailing from Philly . Though he may not have reached the same commercial heights as his colleagues, Beanie's classic tracks, like "Feel It in the Air," "The Truth," and "Ride 4 My," which feature his signature authentic storytelling and unflinching portrayal of street life, have become timeless classics following their release. While his career has been plagued by legal troubles and unnecessary beefs with other rappers, these challenges haven't diminished his status as one of the greatest rappers of all time.
67. Fabolous
Essential listening: Street Dreams (2003)
One of the slickest MCs to ever grace a mic, Fabolous has remained an enduring force in the rap game thanks to his consistency and ability to adapt with the times. Coming up in the late '90s, the Brooklyn MC was signed to DJ Clue's Desert Storm Records after an incredibly dope radio freestyle on Hot 97. From there, it's been two decades of platinum plaques, top 40 hits, clever punchlines and charismatic flows. Whether he's trading bars with Jadakiss on their collaborative project Friday on Elm Street or linking up with A Boogie Wit Da Hoodie, Fab has proven time and time again that he can stay ahead of the curve and relevant to the culture.
66. Phife Dawg
Essential listening: The Low End Theory (1991)
Pioneering the lush sound of jazz rap with his partner-in-rhyme Q-Tip , Phife was vital in establishing the funky sound of '90s hip hop. Although Q-Tip may be the stronger lyricist, no MC will make you smile like Don Juice, channelling his inner Biz Markie with a range of witty rhymes and carefree flows. The Trini-Gladiator would spit his lyrics with a little Trinidadian flavour, blending dancehall grooves into his jazz rap sound to make his verses as catchy as they were comedic. Although his solo ventures never made much noise, A Tribe Called Quest's classics wouldn't be half as good if not for Phife Dawg and his colourful blend of comedy and lyrical elegance.
65. Lauryn Hill
Essential listening: The Score (1996)
L. Boogie's fusion of musical styles and her ability to effortlessly switch between spitting bars and crooning melodies have cemented her place in hip hop's hall of fame. Her impact is unquestionable, both as a Fugee and a solo artist, even though her discography remains relatively lean. Hill's mastery as of MCing is evident in her slick wordplay, intricate rhyme schemes, and her knack for storytelling. Her verses pack an emotional punch, full of introspection and depth, making her one of the most respected lyricists in the game. In a male-dominated genre, Hill's raw talent and authenticity have transcended gender barriers, raising the bar for all rappers, male or female.
64. Sean Price
Essential listening: Mic Tyson (2012)
A true titan in the underground hip hop world, Sean Price made a name for himself as part of the legendary Brooklyn collective Boot Camp Clik, before teaming up with Jahmal "Rock" Bush to create the duo Heltah Skeltah. With their debut album, Nocturnal , dropping in 1996 via Duck Down Records, Price was already making waves. But it wasn't until the 2000s that he truly found his stride as a solo artist, with standout albums Monkey Barz and Jesus Price Supastar showcasing his raw talent. Over banging, soulful beats from the likes of 9th Wonder, Illmind, Ayatollah, and Khrysis, Price obliterated the competition with his razor-sharp rhyme schemes and gritty delivery. Even before his untimely passing in 2015, the tough Brooklyn MC had already cemented himself as one of the greatest of all time.
63. DJ Quik
Essential listening: Safe + Sound (1995)
Often compared to the iconic Dr. Dre, Quik's impact as both a rapper and producer has shaped the course of West rap history, even though he might not get his due credit for it. From his early beginnings as a teenage mixtape phenom in Compton to collaborating with some of the biggest names in the industry, DJ Quik's contributions to the L.A. rap game are undeniable with a stack of classics to his name. While he may not always receive the same level of recognition as some of his peers, those well-versed in hip hop culture know that DJ Quik is undoubtedly one of the greatest hip hop artists to ever emerge from the West Coast .
62. Slick Rick
Essential listening: The Great Adventures of Slick Rick (1988)
Hailing from the early '80s hip hop scene, Slick Rick has earned his title as the greatest storytelling rapper of all time. Rocking his signature eye patch and smooth flow, Rick the Ruler captivated hip hop heads as a member of Doug E. Fresh & the Get Fresh Crew. With tracks like "The Show" and "La Di Da Di" ( the most sampled rap song in history ), it wasn't long before he embarked on a solo career with The Great Adventures of Slick Rick . As a storyteller, Slick Rick's influence on the rap game is immeasurable. His vivid narratives and unparalleled storytelling have left a lasting impression on heavyweights like Nas, Jay-Z, Kanye, and Snoop.
61. Missy Elliott
Essential listening: Supa Dupa Fly (1997)
From the moment she burst onto the scene with her debut single, The Rain (Supa Dupa Fly) , it was clear that Missy Elliott was destined for artistic greatness. The Virginia-born triple threat – she raps, sings, and produces – is one of the most fearless and creative MCs to ever hit the rap game. Over the years, Missy has consistently pushed the boundaries of what hip hop can be, both sonically and visually. Her music videos are legendary, combining futuristic aesthetics, mind-bending special effects, and iconic choreography that have left an indelible mark on the culture. Not to mention her legendary run of albums – 6 platinum albums in 7 years – that has vaulted her up in the pantheon of hip hop greatness.
60. Tech N9ne
Essential listening: All 6's and 7's (2011)
Tech N9ne is a living testament to the power of independence in hip hop. As one of the most successful independent rapper of all time, Tech N9ne, alongside his partner Travis O'Guin, has built a massive music empire from the ground up with their label, Strange Music. Tech's unique brand of hardcore rap—sometimes bordering on horrorcore—has captivated a dedicated underground fanbase, thanks to his jaw-dropping flows, unparalleled technical abilities, and captivating live performances. For decades, the Missouri MC has been grinding away, building his fanbase one show, one fan, and one piece of merchandise at a time. His relentless hustle and unwavering commitment to his craft have paid off, with Strange Music now standing as one of the most influential and respected hip hop record labels in the game .
59. Kool Keith
Essential listening: Dr. Octagonecologyst (1996)
Kool Keith, a name synonymous with innovation and boundary-pushing, has undoubtedly earned his place among hip-hop's elite with the work he's put in over the decades. A key figure in the '80s rap scene, his work with the Ultramagnetic MCs on Critical Beatdown stands shoulder-to-shoulder with golden age classics like Criminal Minded and Paid in Full . Moving on as a solo MC, Kool Keith's unorthodox approach to lyricism, often exploring bizarre and otherworldly concepts, set apart from any of his peers. The Bronx-born rapper's penchant for adopting multiple personas—ranging from Dr. Octagon and Dr. Dooom to Black Elvis—pioneered a new wave of creativity in rap, inspiring future generations of underground artists like MF DOOM .
58. Snoop Dogg
Essential listening: Doggystyle (1993)
Snoop Dogg is not only a West Coast legend and a proud representative of L.A., but he is also arguably one of the most famous hip hop artists in history. His universal appeal transcends the genre, making him a household name across the globe. Long before other rap superstars took the charts by storm, it was the D-O-double-G who held the throne. As one of the most popular rappers of all time, Snoop's meteoric rise began with his unforgettable contributions to Dr. Dre's The Chronic , which catapulted him into the limelight. His debut album, Doggystyle , shattered records by selling over 800,000 copies in its first week and becoming the fastest-selling hip hop album of its time. Drawing inspiration from Slick Rick, Snoop's laid-back flow and West Coast-infused style were perfectly complemented by the G-funk production that defined his signature gangsta raps.
57. J. Cole
Essential listening: 2014 Forest Hills Drive (2014)
Since his 2011 debut, Cole has evolved into a lyrical titan and a guiding force within the rap community. As the head honcho behind Dreamville Records, he's not only elevated his own game but has also cultivated a roster of immensely talented MCs, all of whom constantly push him to maintain his razor-sharp edge. Cole's feature run, starting in 2018, has been nothing short of phenomenal. The Dreamville MC has lit up tracks with artists across the rap spectrum, from Benny the Butcher and Wale to 21 Savage and Young Thug, and in the wake of destroyed microphones has cemented his position as one of the best rappers in the game today .
56. Guru
Essential listening: Jazzmatazz, Vol. 1 (1993)
When you've got rhymes like Guru, who needs a flashy delivery? He was proof that rapping wasn't all about being in-your-face and animated, with a steady, nonchalant flow that allowed the MC to flex his lyrical muscles. From his countless classics in Gang Starr to his innovative Jazzmattazz series, Guru was a lyrical monster in the '90s. He was full of intricate rhyme schemes and witty one-liners, but where he shone brightest was with his knowledge – Guru packed every verse full of wisdom about life and music, turning him into a hip hop philosopher. Cooking up masterpieces like Moment of Truth and Hard to Earn with DJ Premier, Guru was the heart and soul of '90s boom bap.
55. Phonte
Essential listening: Charity Starts at Home (2011)
Revolutionising conscious hip hop with a soulful twist, Phonte is a multitalented wizard on the mic who's been making magic for decades. He's shown off his toolbox of skills on classics like Little Brother's The Listening and The Minstrel Show , full of tight rhymes and everchanging flows, plus his elegant voice where he lets out his inner R&B singer. Flowing over an array of summery soul beats, Phonte is among the most versatile rappers alive, pushing a wave of R&B-laced hip hop through his stellar catalogue. With a good case for being the best singer in rap history, Phonte's talent can't be understated.
54. Inspectah Deck
Essential listening: Wu-Tang Forever (1997)
With his precise delivery and mastery of various flows, Deck has proven his prowess as one of rap's finest lyricists. The Shaolin rapper's iconic verses on "Triumph" and "C.R.E.A.M." have become etched into the minds of hip-hop fans. Unfortunately, Deck's solo work in the '90s didn't reach its full potential due to a devastating flood that destroyed much of RZA's home studio, including beats meant for his debut. Although Uncontrolled Substance is a solid album, fans can only wonder what it could have been with the lost beats. Nevertheless, Deck's undeniable talent shone through on features like GZA's "Duel of the Iron Mic," Raekwon's "Guillotine (Swordz)," and Big Pun's "Tres Leches (Triboro Trilogy)," not to mention his recent resurgence as part of Czarface.
53. MC Eiht
Essential listening: We Come Strapped (1994)
A crucial figure in West Coast hip hop, Compton rapper MC Eiht has been a driving force in the L.A. rap scene for over three decades. Beginning with his role in the influential group Compton's Most Wanted, Eiht's signature style has consistently blended hard-hitting old-school beats with melodic R&B backdrops while sharing captivating stories from the streets. Despite not reaching the same level of commercial success as some of his West Coast contemporaries, MC Eiht's longevity and impact on the rap scene are undeniable. With an extensive discography that includes the classic We Come Strapped and 2022's Revolution in Progress, Eiht has proven his ability to adapt and stay relevant in an ever-changing industry.
52. Kurupt
Essential listening: Tha Streetz Iz a Mutha (1999)
Kurupt's unique blend of East Coast lyricism, due to his Philly roots, and West Coast bop has made him a rare entity in rap. As an integral member of Tha Dogg Pound alongside Daz Dillinger, he helped shape the West Coast gangsta rap sound that would come to define an entire era. Their debut album, Dogg Food , showcased Kurupt's ability to deliver hard-hitting bars with precision, and his effortless chemistry with Daz and Snoop Dogg became a signature element of their sound.However, Kurupt's talents were not limited to his work with Tha Dogg Pound. The L.A. rapper's solo projects, including Kuruption! and Tha Streetz Iz a Mutha , demonstrated his versatility as an artist, delving into introspective storytelling and intricate wordplay that further cemented his status as one of the most formidable MCs of his generation.
51. T.I.
Essential listening: Trap Muzik (2003)
The 2000s were all about the South, with Houston and Atlanta's finest dominating the scene. Amidst this, T.I. audaciously declared himself the King of the South, and boy, did he deliver. With his first three albums, the Atlanta MC showcased his dexterous blend of East Coast flows and Southern swagger. But it was his fourth album, King , that truly solidified his position as one of the best rappers of all time. During his peak years, Tip was untouchable: he had the slick wordplay, effortless lyricism and liquid flow, all wrapped up in a hitmaking machine that saw him top the charts time and time again , all while maintaining his distinct Atlanta flavour.
50. Killer Mike
Essential listening: R.A.P. Music (2012)
Starting his career alongside OutKast's Big Boi, Mike established himself as a force to be reckoned with before embarking on his solo journey. Throughout the 2000s, he hustled with solid releases like Monster and the I Pledge Allegiance to the Grind series, showcasing his raw talent and ability to tackle social issues. However, it wasn't until his collaboration with El-P on the 2012 masterpiece R.A.P. Music that he truly broke through into the rap consciousness. As a member of the Dungeon Family, a solo artist, and one-half of Run the Jewels, he has consistently pushed the boundaries of hip hop, tackling social issues head-on, and leaving a powerful impact on the culture.
49. Big L
Essential listening: Lifestylez ov da Poor & Dangerous (1995)
Big L's tragic, untimely passing left the hip-hop community with an undeniable sense of loss and a lingering question: What if? Like Biggie and 2Pac, the late rapper's potential seemed limitless, but he never had the chance to build a body of work as expansive as his contemporaries. Even so, his impact on the rap game is unquestionable. With just his debut album, Lifestylez ov da Poor & Dangerous , and a handful of other tracks like the ingenious "Ebonics," Big L secured a special place in the hearts and minds of rap fans. The Harlem MC's unparalleled skill at freestyling, masterful wordplay, and ability to craft gritty narratives showcased his sheer talent and earned him a spot among the best rappers of all time.
48. Roc Marciano
Essential listening: Reloaded (2012)
After breaking off from Busta Rhymes' Flipmode Squad in 2001, Roc Marciano spent the next two decades quietly crafting some of the most influential hip hop music that would later serve as the foundation for current rap acts like Westside Gunn, Boldy James and Mach Hommy. Marciano's intricate rhyme schemes, laid-back delivery, and sharp wordplay have solidified his status as an underground legend. From the celebrated Reloaded to 2022's The Elephant Man's Bones , Roc Marci's prowess as an MC has remained consistent, delivering complex verses and unconventional hip hop year after year.
47. Royce da 5'9″
Essential listening: The Allegory (2020)
Few rappers can consistently match Eminem's lyrical prowess, but Detroit's own Royce da 5'9″ has managed to do just that for the past two decades. As a vital part of the duo Bad Meets Evil and the supergroup Slaughterhouse, Royce has cemented his reputation as a lyrical heavyweight in the hip hop community with his complex rhyme schemes and precise flow. What has set Royce apart from his peers more recently is his ability to evolve and reinvent himself as an artist. The rapper's 2018 album, Book of Ryan , showcased a more introspective and vulnerable side, while his politically charged 2020 release, The Allegory , tackled themes like racism and police brutality. Royce's continuous growth and ability to deliver high-quality raps has solidified his place among the best rappers of all time.
46. Gift of Gab
Essential listening: Nia (1999)
Representing the Bay Area for three full decades, there's no denying that Gift of Gab was one of the most technically gifted MCs to ever grabu the mic. Spitting tongue-twisting rhymes was as easy as breathing for the Blackalicious star, changing up his tempo and cramming a dozen syllables into a few short seconds. His rapid-fire flow would have most rappers stuttering with their tongues in a knot, but for Gift of Gab, no speed was too fast. The iconic "Alphabet Aerobics" offered just a taste of his technical talent, as the MC flexed his skills on masterclasses of internal rhyme like Blazing Arrow and Nia . Gone too soon, his godlike combo of swift flows and dense rhymes remain timeless.
45. Pharoahe Monch
Essential listening: Internal Affairs (1999)
Pharoahe Monch, the king of complex rhymes, reigns supreme in the world of hip hop lyricism. Born and raised in Queens, this budding linguistics professor-turned-rhyme serial killer has left a lasting impact on the rap game with his dense, intricate rhymes and unmatched versatility. Pharoahe's dynamic flow and manic tone have earned him recognition as one of the most skilled and pure lyricists of all time . He's a chameleon, able to adapt effortlessly to various musical styles, from the jazzy beats of Organized Konfusion and gritty solo material to the explosive rock instrumentals of Th1rt3en. No matter the backdrop, Pharoahe Monch always rises to the occasion.
44. GZA
Essential listening: Liquid Swords (1995)
GZA may not be as charismatic as Meth, captivating as Ghost, fly as Chef or as technical as Deck, but his mastery of linguistics and intricate rhymes have cemented his place among the greatest rappers of all time. Genius' magnum opus, Liquid Swords , stands shoulder-to-shoulder with Only Built 4 Cuban Linx… as one of the best Wu-Tang Clan solo albums ever . As Raekwon puts it on "Can It Be All So Simple," GZA is "the backbone of the whole shit," with Method Man adding that "we form like Voltron, and GZA happen to be the head."
43. Styles P
Essential listening: The World's Most Hardest MC Project (2012)
From the grimy streets of Yonkers to the upper echelon of hip-hop, Styles P has built a reputation as one of the most skilled lyricists in the game . A founding member of The LOX, Styles' contributions to the group's success cannot be overstated, but it's his solo work that truly showcases his prowess as an MC, unapologetically raw and deeply introspective. When it comes to Styles' lyrical content, his approach is unfiltered and brutally honest. He doesn't shy away from the pain and struggles that have shaped his life, exploring themes of mental health, street life, and the relentless pursuit of success. This authenticity is what sets him apart from his peers, earning him the respect and admiration of both fans and fellow artists alike.
42. El-P
Essential listening: Cancer 4 Cure (20120
After forming an army of underground talent under his label Def Jux, El-P already had a legacy worth bragging about, but he refused to stop there. Ruling New York's underground in the 2000s with his label and a gritty run of solo records, El-P handcrafted his own futuristic sound, practically birthing his own subgenre in rap. He's relentless on the mic, with each verse a barrage of tongue-twisting rhymes delivered with a furious delivery. From 1997's Funcrusher Plus with Company Flow to 2020's RTJ4 in Run the Jewels, El raps like he doesn't age, constantly innovating while maintaining the mindboggling rhymes and forward-thinking style that put him on the map.
41. Ludacris
Essential listening: Word of Mouf (2001)
One of the first crossover rap superstars to emerge from Atlanta, Ludacris dominated the 2000s with a string of multiplatinum albums and over a dozen top 40 hit singles. Luda's momentum was so strong in the early 2000s that he snatched the King of Atlanta crown off OutKast with classic Southern albums like Back for the First Time and Word of Mouf . With a range that encompassed street anthems, lyrical bars, club bangers, and radio hits, the Atlanta MC was the total package: he could make huge crossover hits with Usher then jump on a grimy mixtape joint with the likes of Nas and never sound out of place.
40. Aesop Rock
Essential listening: Labor Days (2001)
From the depths of the New York underground, Aesop Rock has quietly proven himself one of the most technically skilled MCs ever, with the lyrical mastery to rival some of hip hop's greats. Boasting the largest vocabulary of any rapper, Aesop's verses are like cryptic puzzles to decipher, but with his endless supply of lightning-fast flows, it always sounds smooth. A master wordsmith and an even greater storyteller, he can pen any idea to perfection, creating his own world of spirits on Spirit World Field Guide and narrating the grim life of a blue-collar worker on Labor Days . From the wackiest concept to the most mundane theme, Aesop has the pen game to turn any idea to gold.
39. Q-Tip
Essential listening: Midnight Marauders (1993)
In his prime, Q-Tip was carrying New York on his shoulders. As the frontman for A Tribe Called Quest, the Abstract is responsible for jazz rap staples like The Low End Theory and Midnight Marauders , with fast-paced flows and limitless wit to keep up with the busy jazz beats. He's got a slickness to his delivery almost as smooth as the jazz he glides over, and occasionally he'll let out his inner popstar, like on his flashy solo venture, The Renaissance . It would be wrong to say Q-Tip invented jazz rap, but he definitely perfected it – with numerous classics under his belt and a buttery style that still sounds fresh today, he's a certified legend.
37. Treach
Essential listening: Naughty by Nature (1991)
One of the world's best rappers ever, this New Jersey-born MC is a technical marvel on the microphone. As the frontman of Naughty by Nature, Treach helped to perfect the hip hop success blueprint that was laid down by LL Cool J a few years before. Bringing a unique blend of street anthems and radio-ready hits, the New Jersey MC demonstrated an uncanny ability to balance these two facets of hip hop without ever sounding out of place. With his rapid-fire flow, intricate wordplay, and undeniable charisma, Treach's influence can still be felt in the rap game today. From his penchant for crafting unforgettable hooks to his ability to captivate hip hop heads with his lyrical prowess, the Naughty by Nature rapper was a trailblazer in every sense of the word.
36. Prodigy
Essential listening: Hell on Earth (1996)
With his menacing voice, deliberate flow and unrelenting grit, Prodigy played a pivotal role in shaping the darker, more visceral sound of New York boom-bap. While the Mobb Deep rapper may not have possessed the effortless rhyme schemes of Nas or the explosive delivery of Biggie, his talent lay in meticulously crafting each bar as a standalone masterpiece, delivered with an ice-cold, unwavering intensity. This unique approach to his artistry made Prodigy an unforgettable force in the rap world and one of the most sampled hip hop artists of all time. From Mobb's legendary albums like The Infamous and Murda Muzik to his show-stealing guest verses for Nas, LL Cool J, and Big Pun, Bandana P consistently proved that he wasa cornerstone of '90s rap music, providing a raw and uncompromising soundtrack to the concrete jungle of New York City.
35. Busta Rhymes
Essential listening: Extinction Level Event: The Final World Front (1998)
When it comes to energetic live performances and spitting liquid fire, Busta Rhymes is a true titan of the rap game. The Long Island-raised MC has been flexing his lyrical muscles and captivating rap fans with his high-octane performances for decades now. Whether it's his tenure with Leaders of the New School or his extensive solo career, Busta has proven time and time again that he's got bars for days. From his classic collaborations with Janet Jackson ("What's It Gonna Be?!") to more recent bangers like "Look Over Your Shoulder" with Kendrick Lamar, the Brooklyn-born MC has remained relevant and in demand, proving that his skills are truly timeless. With his rapid-fire flow, combined with his animated, larger-than-life personality Busta has not only earned him respect from his fellow MCs but also solidified his spot as one of hip hop's most unforgettable icons.
34. 50 Cent
Essential listening: Get Rich or Die Tryin' (2003)
It's easy to forget about 50 Cent's career as a rapper these days, especially with his recent success in the entertainment world, but when he was the King of New York, he had his foot on the neck of every single other rapper trying to come for the throne. With his relentless confidence, undeniable charisma, and knack for crafting infectious hooks, 50 helped to revitalize gangsta rap and in the process, propelled his debut, Get Rich or Die Tryin' , to 12 million copies sold worldwide . 50's unmistakable rawness and unique blend of East Coast lyricism with Southern-tinged flows expanded the culture's appeal far beyond regional boundaries, and his legacy will always be cemented amongst the all-time great rappers.
33. Kanye West
Essential listening: The College Dropout (2004)
As an artist, there's no doubt that Kanye is top five of all time. But don't sleep on him as a rapper. The Chi-town MC's introspective lyricism, vulnerability, and unapologetic confidence have solidified his place among the all-time greats. From the culture-shifting debut, The College Dropout , where his storytelling and humorous wordplay made him an instant star to My Beautiful Dark Twisted Fantasy and Watch the Throne , which saw him go toe-to-toe with arguably the greatest rapper of all time, Kanye's flow, delivery and content have only evolved over time. From an influence standpoint, Kanye's impact extends far beyond his music, he's reshaped the culture's landscape multiple times and paved the way for future rappers (many of them on this list) to follow in his footsteps. With his bold, genre-defying approach, Kanye has absolutely earned his spot among the best rappers of all time.
32. Mos Def
Essential listening: Black on Both Sides (1999)
A conscious hip hop pioneer, an abstract innovator, a master lyricist – there's a million ways to praise Mos Def. Whether it be his razor-sharp conscious lyrics as part of Black Star, or his glitchy, lo-fi approach on The Ecstatic , Yasiin Bey is a musical chameleon who's never been satisfied sticking to one style. The Brooklyn MC is among the greatest writers in rap history, using complex metaphors in his scathing critiques of society to elevate his rapping to full-on poetry. Mos started out with one of the wildest deliveries in the game, and although he doesn't carry the same energy these days, he's still dropping lyrical bombshells through his guest verses, proving his greatness will never fade.
32. Big Pun
Essential listening: Capital Punishment (1998)
Bursting onto the scene with an unmatched energy and presence, his talent was as immense as his physical stature. A lyrical heavyweight, Pun's technical prowess and intricate wordplay set the bar for many emcees that followed. One of the first Latino rappers to achieve mainstream success – he was the first solo rap act to go platinum – Pun boasted phenomenal mic skills; his murderous raps were on full display on "You Ain't a Killer" and "Boomerang," while his penchant for clever punchlines shone through on songs like "The Dream Shatterer" and "Beware."
31. Jadakiss
Essential listening: Kiss tha Game Goodbye (2001)
Jadakiss, a seasoned New York rap veteran and one-third of the gritty Yonkers trio, The LOX, has maintained his status as a formidable MC ever since he came into the game. With his raspy voice and knack for endless punchlines, Kiss' solo career took off quickly with the release of Kiss Tha Game Goodbye that put a spotlight on his relentless bars and menacing flow. No stranger to legendary collaborations, Jadakiss has shared tracks with some of hip hop's most respected names, from Biggie and Nas to Jay-Z and DMX, and has always held his own against the best of them. Kiss' competitive spirit and love for the culture were perfectly displayed during his Verzuz battle against Dipset, where he dominated the Harlem crew and reignited the conversation around his place in rap lore.
30. Bun B
Essential listening: Ridin' Dirty (1996)
As one half of the iconic duo UGK, alongside the late Pimp C, Bun B is a true Southern rap legend and helped to define the sound and style of Houston hip hop. His smooth, no-nonsense flow combined with vivid storytelling and a commanding voice made him one of the most respected rappers of his generation. UGK's music embodied the spirit of the South, with their gritty, soulful beats providing the perfect backdrop for Bun's lyrical prowess. As a solo artist, Bun has continued to build on his impressive legacy, releasing critically acclaimed albums such as Trill , II Trill , and Trill OG . His versatility has been showcased through collaborations with artists across the spectrum of hip-hop, including T.I., Lil Wayne, Drake, and Big K.R.I.T.
29. Big Boi
Essential listening: Sir Lucious Left Foot: The Son of Chico Dusty (2010)
Known for his smooth, streetwise flow and clever wordplay, Big Boi has always been a masterful storyteller, taking listeners on a journey through the streets of Atlanta and beyond. While Andre 3000's eccentricity and eclectic style may have captured the spotlight, it was always Big Boi's consistency and grounding presence that balanced the duo's dynamic and made them one of the greatest hip hop duos . Since embarking on his solo career, Big Boi has continued to demonstrate his versatility as an artist, pushing boundaries and exploring new sounds while remaining true to his Southern roots. His solo discography, including Sir Lucious Left Foot: The Son of Chico Dusty , Vicious Lies and Dangerous Rumors , and Boomiverse , serves as a testament to his talent, dedication, and passion for hip hop.
28. DMX
Essential listening: It's Dark and Hell Is Hot (1998)
As soon as DMX debuted, he had hip hop in a chokehold, dropping hardcore classics that catapulted him to the top of the mainstream in a single year. Every bit of success was deserved, because no MC has ever matched the explosive anger and raw delivery DMX had. He was a natural-born hitmaker whose voice would turn any club into a riot, but beneath his violent persona was a sincere rapper who wasn't afraid to get personal. Balancing party anthems and emotional ballads on It's Dark and Hell Is Hot , X was a versatile genius who knew how to sell a record while staying true to himself. He was the definition of a hip hop titan.
27. Common
Essential listening: Like Water for Chocolate (2000)
Hailing from the Windy City, Common has conscious staple in hip hop ever since the mid-90s. The Chicago MC's introspective and socio-political lyricism, combined with his conversational flow and ability to paint vivid pictures with his words, has made him one of the more important artists in a culture that is often criticised for its lack of substance. Throughout his career, Common has never been afraid to evolve and adapt to the changing landscape of hip hop. From 1994's Resurrection , where he rapped over No I.D.'s jazzy boom-bap to 2000's Like Water for Chocolate where he connected with J Dilla to 2005's Kanye-helmed Be , Common has consistently pushed himself to do something different, while remaining true to his core as an MC.
26. Pusha T
Essential listening: Daytona (2018)
From the moment Clipse dropped Lord Willin' in 2002, it was clear that the coke rap had gained a new heavyweight. With a lead single that was both infectious and groundbreaking, they changed the landscape of street rap seemingly overnight. Fast forward to 2022, and Pusha T's latest project, It's Almost Dry , cements his two-decade-long reign in the coke rap game, delivering bars with the same hunger and creativity that characterized the Clipse's debut. While fellow OGs like Nas and Lloyd Banks have leaned into nostalgia for their recent comebacks, Pusha T has taken a different approach. He's all about forward motion, showcasing his adaptability and versatility as he navigates Pharrell's futuristic soundscapes and Kanye's soulful samples. Listening to the Clipse MC experiment with different flows and cadences on his latest album, it's impossible not to recognize him as one of the best rappers currently in the game.
25. Masta Ace
Essential listening: A Long Hot Summer (2004)
From his iconic verse on Marley Marl's "The Symphony" to his debut Take a Look Around to 2012's MA Doom: Son of Yvonne , Masta Ace has proven time and time again that he is one of the most underrated rappers in the game. The Brooklyn rapper's uncanny ability to adapt and reinvent himself across various eras of hip hop is a testament to his undeniable MCing talent and commitment to the art of rap. Ace's catalogue is a treasure trove of lyricism and storytelling, with albums like SlaughtaHouse offering a satirical take on West Coast gangsta rap, and ambitious concept projects like Disposable Arts and A Long Hot Summer . In the grand scheme of hip hop history, Masta Ace may be one of the most slept-on rappers, but his skill, consistency, and longevity in the game have undoubtedly earned him a spot among the best rappers of all time.
24. Redman
Essential listening: Muddy Waters (1996)
As one of the most animated and energetic performers in hip hop, Redman remains one of the most impactful MCs in the game today, even in his 50s. Making his debut on EPMD's Business as Usual in 1990, Reggie Noble immediately captured hip hop's attention with rough persona, rugged lyricism and raw flow. The New Jersey native went on to release his solo debut, Whut? Thee Album , a golden age classic boasting Erick Sermon's funky boom-bap production and more of his fierce lyricism. One of the best examples of a rapper's rapper ( he's one of Eminem's favourite MCs ), Redman is cemented as one of the best rappers ever.
23. Raekwon
Essential listening: Only Built 4 Cuban Linx… (1995)
A staple figure of the '90s New York rap game, Chef dominated hardcore East Coast hip hop with contributions on Wu albums and legendary feature appearances . With the release of his magnum opus, Only Built 4 Cuban Linx… , in '95, Rae set the bar for street rap albums. Despite a period of uncertainty surrounding the long-awaited Only Built 4 Cuban Linx… Pt. II , Raekwon proved his status as the greatest hip hop criminologist when the sequel finally dropped. Although his indecipherable slang and raw lyricism has kept him from reaching higher commercial peaks, Raekwon remains one of the most enduring rappers in hip hop and Wu-Tang Clan's finest MC .
22. Big Daddy Kane
Essential listening: Long Live the Kane (1988)
Brooklyn's own Big Daddy Kane emerged in the late '80s alongside lyrical masterminds Rakim and KRS-One to help revolutionise the rhyming landscape. Debuting with the Long Live the Kane in 1987, Kane captivated fans with his unforgettable punchlines, charismatic presence, and masterful showmanship. A member of the iconic Juice Crew and mentored by the legendary Marley Marl, Kane's influence on future Brooklyn greats like Jay-Z and Biggie is undeniable. His smooth operator charm, gritty battle raps, and sharp fashion sense made him the full package, securing his spot among the best rappers of all time.
21. LL Cool J
Essential listening: Mama Said Knock You Out (1990)
LL Cool J laid down the blueprint for becoming a superstar in hip hop. That's just fact. At just 16, he teamed up with Rick Rubin and Russell Simmons, marking the birth of Def Jam Recordings with the release of his debut single, "I Need a Beat." His first album, Radio , cemented the Queens rapper as a new school pioneer, but it was his sophomore release, Bigger and Deffer , that took him to the next level. With hits like "I'm Bad" and "I Need Love," LL crafted a blueprint for success, balancing street anthems with radio-friendly tracks, appealing to both hardcore hip-hop fans and mainstream audiences. This duality would influence future generations of rappers like Treach, Snoop Dogg and 2Pac.
20. Method Man
Essential listening: Tical (1994)
With his melodic flow, husky voice, and unmatched charisma on the mic, Method Man has earned himself a reputation as one of the most captivating rappers of all time. While his solo output may not have reached the same heights as fellow Wu-Tang members like Raekwon, GZA, and Ghostface, Meth has consistently shone on group albums with his sing-a-long lyrical style and brilliant wordplay. Not to mention his brilliant feature verses – from GZA's "Shadowboxin'" and Big's "The What" to more recent appearances like Conway's "Lemon" and JID's "Hot Box."
19. Ghostface Killah
Essential listening: Supreme Clientele (2000)
Ghostface Killah has consistently delivered top-tier material for nearly three decades straight. From his early days with Wu-Tang Clan to his countless solo albums and guest appearances, Ghost has remained a fire-spitting presence in the rap game. The storytelling prowess of Ghostface is hard to rival, with vivid crime tales that transport listeners into his gritty, cinematic world. The Stapleton-raised rapper has gone toe-to-toe with the likes of Kool G Rap, Slick Rick, Biggie, and Nas, cementing himself as one of the culture's finest storytellers and best rappers of all time.
18. Kool G Rap
Essential listening: Live and Let Die (1992)
While he emerged in the '80s alongside titans like Rakim, Kane, and KRS, it was the '90s where G Rap's gritty narratives and mafioso persona truly flourished. As the godfather of mafioso rap, G Rap's cinematic storytelling and mobster comparisons set the stage for artists like Jay-Z and Raekwon to adopt a similar cinematic vision, while his technical prowess, featuring crazy internal rhyme schemes, set a new standard for lyricism and influenced a generation of East Coast rappers, from Big Pun and AZ to Biggie and Wu-Tang Clan. With a discography that includes classics like Road to the Riches , Wanted: Dead or Alive , and Live and Let Die , as well as his solo work on 4,5,6 and Roots of Evil , the Queens MC laid the groundwork for future New York street kings. His impact can be felt in the DNA of iconic albums like Reasonable Doubt , Only Built 4 Cuban Linx… , Life After Death , and It Was Written .
18. Drake
Essential listening: Nothing Was the Same (2013)
As a hip hop culture, we've seen plenty of legends come and go. Some have been more successful than others. Some have sold more records than others. Some have been on top longer than others. But, no rapper, and I mean, no rapper have ever been able to sustain the consistent level of success and impact that the Toronto superstar has for the past 10+ years. That's just facts. Old '90s heads and conservative rap traditionalists might disagree, but Drizzy has been on top for longer than any of your favourite rappers in history. But let's not get it twisted—his accomplishments go beyond sales and commercial impact. Drake has consistently proven himself to be one of the most talented writers of his generation, just peep his lyrical cuts like "Champagne Poetry", "Do Not Disturb", "6PM in New York", "Lemon Pepper Freestyle", "Weston Road Flows" and plenty other joints. Bottom line is: Drake has more than earned his position as one of the best rappers of all time.
16. Black Thought
Essential listening: Cheat Codes (2022)
The lyrical mastermind behind the legendary Roots crew, Black Thought has been schooling MCs since the early '90s. With an unparalleled ability to weave intricate stories and drop thought-provoking bars off the top of the head, he's solidified his spot among hip hop's greatest. Hailing from Philly, Thought has remained relevant through the ever-evolving rap landscape, consistently raising the bar for lyricism and technique. Whether spitting fire on tracks like "You Got Me" and "The Seed (2.0)" or bodying a Funkmaster Flex freestyle, Thought's MCing skills always shines through. Venturing into solo territory with his acclaimed Streams of Thought series and the recent Cheat Codes , the Philly legend has shown growth as an artist and longevity.
15. MF DOOM
Essential listening: Madvillainy (2004)
Hip hop's supervillain is a hero to the culture, with a run of abstract classics that practically birthed the modern underground. With dense rhymes, a genius sense of wordplay and unlimited creativity, he crafted a formula never before seen in rap music, reinventing the rhyme scheme with some of the most complex patterns in rap history. Beyond his pen game, DOOM rapped with a dark, husky delivery to match his villainous character, perfecting his style on the gritty Madvillainy , the beating heart of abstract hip hop. Performing under a whole cast of colourful personas, DOOM concocted his own brand of lyricism that MCs from Roc Marciano to Earl Sweatshirt have carried through into the modern era.
14. Chuck D
Essential listening: It Takes a Nation of Millions to Hold Us Back (1988)
Few voices in hip hop have carried as much weight and authority as the commanding baritone of Chuck D. As the driving force behind Public Enemy, he delivered powerful messages that resonated with fans and sparked important conversations. After their debut album, Yo! Bum Rush the Show , Chuck D recognized the need for innovation and sought to push boundaries in response to the likes of Eric B. & Rakim. The result was the seminal It Takes a Nation of Millions to Hold Us Back , an album that set a new standard for hip hop excellence. Fueled by The Bomb Squad's layered, sample-heavy production, and Chuck D's unrelenting delivery, it became the go-to pick for the greatest rap album ever long before Illmatic or My Beautiful Dark Twisted Fantasy entered the conversation.
13. Lil Wayne
Essential listening: Tha Carter II (2005)
There's a legendary story floating around about Lil Wayne during his prime mixtape days. According to N.O.R.E., after Jay-Z returned in 2006 with Kingdom Come , it wasn't long before Weezy would snatch the instrumental for "Show Me What You Got" and completely body it. What the New Orleans MC did to the track was so vicious and complete that it made Hov question his commitment to the game. That's just one of many examples of how other rappers view Lil Wayne. Since his rapid rise in the 2000s, Wayne's relentless work ethic, razor-sharp lyricism and fluid flow turn into an undeniable force in hip hop. With his signature intricate rhyme schemes and witty wordplay, Wayne staked his claim as the best rapper alive and has never really let go of it ever since. Though those peak years may have passed on, Tunechi is still showing up on tracks like Westside Gunn's "Bash Money," Nicki Minaj's "Seeing Green," Tyler, the Creator's "Hot Wind Blows," and DJ Khaled's "Thankful," proving that the rap fire has never left him.
12. Lupe Fiasco
Essential listening: Tetsuo & Youth (2015)
By this stage of his career, there should be no doubt anymore that Lupe Fiasco is one of the greatest rappers of all time. After emerging in the spotlight off the strength of "Touch the Sky," the young Chi-town MC followed up with the acclaimed Food & Liquor , proving he wasn't just another rapper, but a thought-provoking force addressing life, politics, and social issues. While his career has gone through several ups and downs, Lupe's dedication to lyricism remains unwavering. Although sometimes overlooked by the mainstream, Lupe's influence is undeniable – he's inspired a generation of rappers to prioritize thoughtful raps and storytelling, showing that substance and commercial success can coexist together.
11. Scarface
Essential listening: The Fix (2002)
A pioneer in the Southern rap scene, at a time when the region was still finding its footing, Scarface carved out a space for raw, honest storytelling that resonated with rap fans from all walks of life. As a founding member of the Geto Boys and as a solo artist, Face's unique blend of gritty street narratives and introspective vulnerability set him apart from his contemporaries. Whether it's the iconic "Mind Playing Tricks on Me" or the introspective "I Seen a Man Die," his storytelling is unmatched. With a discography spanning decades, Scarface has consistently demonstrated his lyrical prowess and ability to navigate complex subject matter.
10. Kendrick Lamar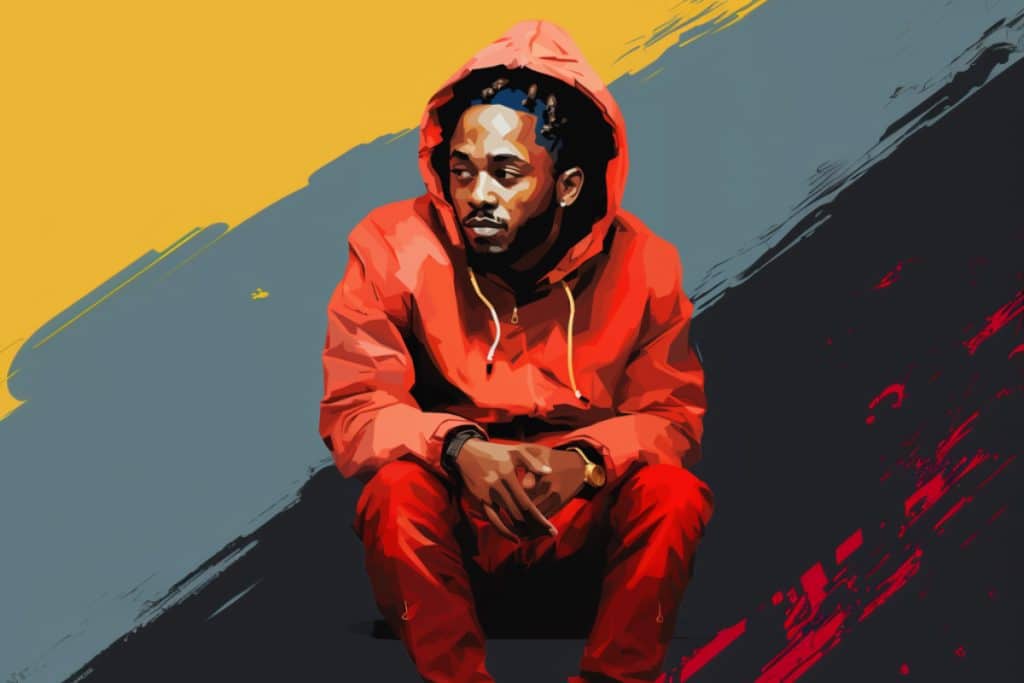 Essential listening: To Pimp a Butterfly (2015)
It didn't take long for Kendrick to evolve from a rookie to a hip hop goliath with a solid case for being the GOAT. Whether you're talking about his conceptual magnum opus To Pimp a Butterfly or his commercial powerhouse good kid, m.A.A.d city , K-Dot never disappoints with his ferocious flow and unparalleled creativity. He's got the imagination of an author and a poet's pen, packing every verse full of vivid storytelling but with the pop appeal to make any track a club-shaking hit. His influence might not run as deep as someone like Jay-Z, but with a classic-stacked catalogue and dozens of GOAT-level verses under his belt, Kendrick has every right to be ranked alongside hip hop's finest.
9. KRS-One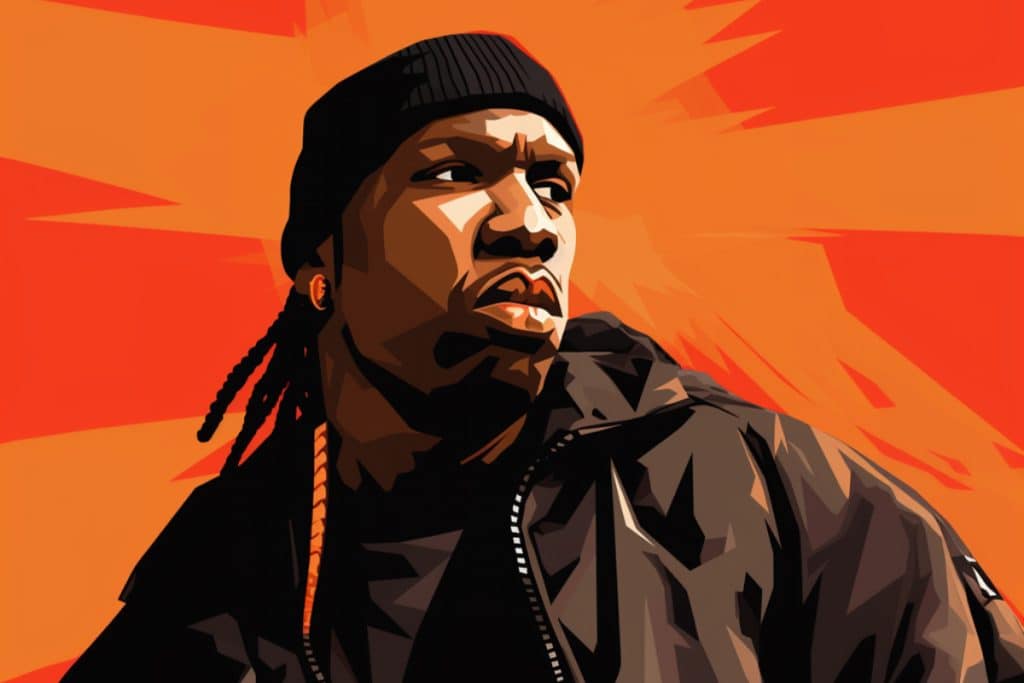 Essential listening: Return of the Boom Bap (1993)
There should be no doubt in any rap fans mind that KRS-One is one of the top 10 rappers of all time. As a pioneering figure in both gangsta rap and conscious rap, KRS has played an instrumental role in shaping the culture and elevating the artform since the '80s. During the '90s, the Blastmaster continued to build upon his impressive legacy with a string of critically acclaimed albums that featured more of his commanding voice and unwavering dedication to the culture. KRS' impact on hip hop is multifaceted. As a battle rapper, he struck fear into the hearts of his opponents with his razor-sharp wit and relentless flow. As a conscious rapper, he enlightened listeners with thought-provoking lyrics that touched on social issues, politics, and the black experience in America. And as a pioneer in both sub-genres, the Teacha paved the way for future artists to push the boundaries and express their authentic experiences through music.
8. Ice Cube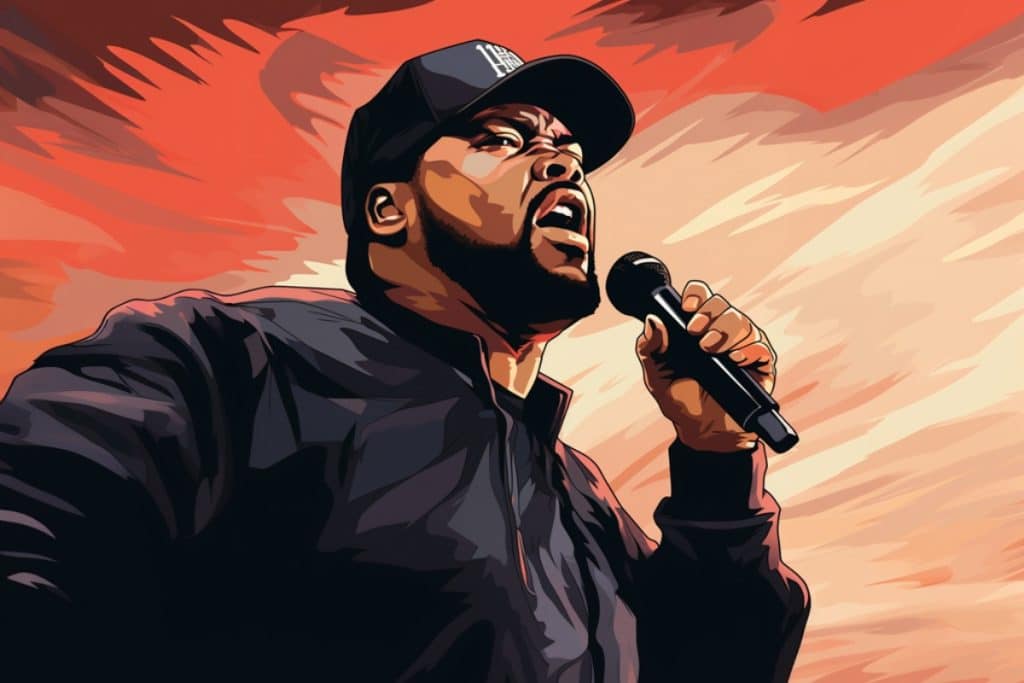 Essential listening: AmeriKKKa's Most Wanted (1990)
Ice Cube's legacy as one of the greatest rappers of all time is often overlooked by younger generations of hip hop fans. They might recognize him as a West Coast legend, but they often fail to appreciate the sheer magnitude of his contributions to the rap game. Cube's absolute peak years between 1988 and 1992 is, without doubt, the greatest 5-year run by a rapper of all time . Not only did he play a pivotal role in the success of N.W.A. with the groundbreaking Straight Outta Compton album, but he also embarked on a phenomenal solo career, dropping three classic albums AmeriKKKa's Most Wanted , Death Certificate , and The Predator – along with the groundbreaking EP Kill at Will .
7. Rakim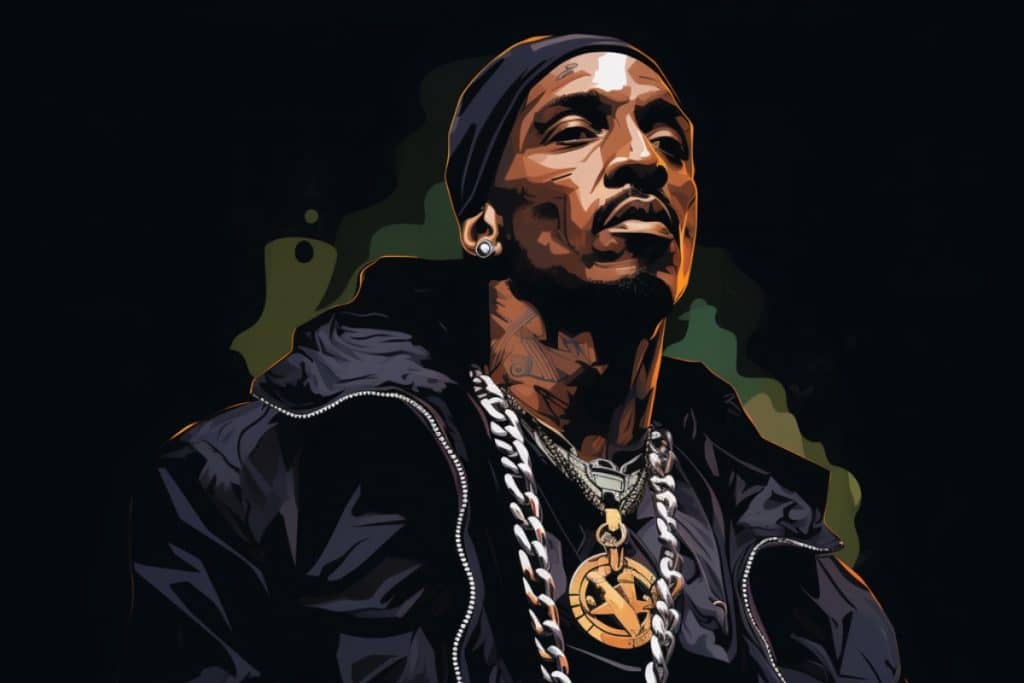 Essential listening: Follow the Leader (1988)
There's no question that you could easily argue for Rakim Allah to be the best rapper ever. The Wyandanch-born MC's impact on hip hop is nothing short of monumental, with his revolutionary rhyme patterns and flow propelling the art form to new heights. By introducing complexity and a jazzy influence to rap, the God MC reshaped the landscape and became one of the most influential MCs in history . The moment Rakim burst onto the scene with Eric B. & Rakim's "Eric B. Is President" and "My Melody," the rap world knew they were witnessing something groundbreaking. Ra's intricate rhymes and wordplay elevated hip hop from a relatively simple art form to something more sophisticated, akin to a jazz performance.
6. The Notorious B.I.G.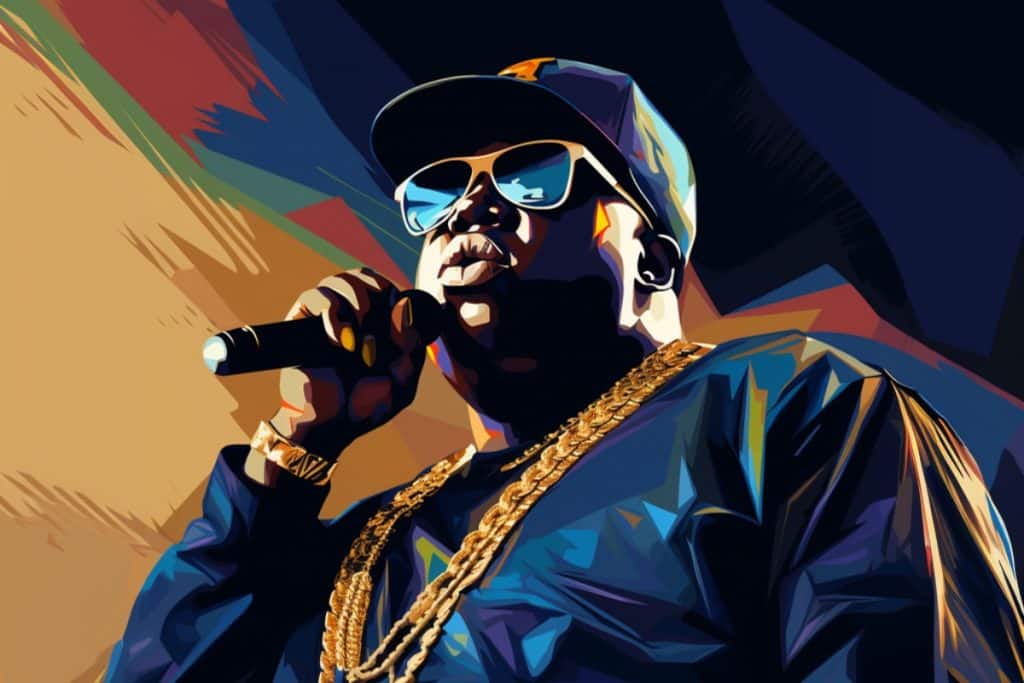 Essential listening: Life After Death (1997)
Despite his tragic passing on March 9, 1997, The Notorious B.I.G. left behind a rap legacy that can still hold up against any other rapper's catalogue. Biggie's approach to rhyming was characterized by his smooth yet powerful delivery, vivid imagery, and a keen sense of humor that balanced the gritty, often dark subject matter of his songs. He had a natural ability to make every verse count, with his witty wordplay and memorable punchlines leaving listeners mesmerised. Beyond his lyrical prowess, Biggie's flow was unparalleled. With a smooth cadence and a voice that commanded attention, he was able to switch effortlessly between various styles, proving that he could hold his own with the best of them. From collaborating with fellow legends like Jay-Z, The LOX, and Bone Thugs-n-Harmony to scoring massive chart-toppers to engaging in fierce rivalries with 2Pac, Nas and Raekwon, Biggie proved his dominance in every arena of rap imaginable.
5. Eminem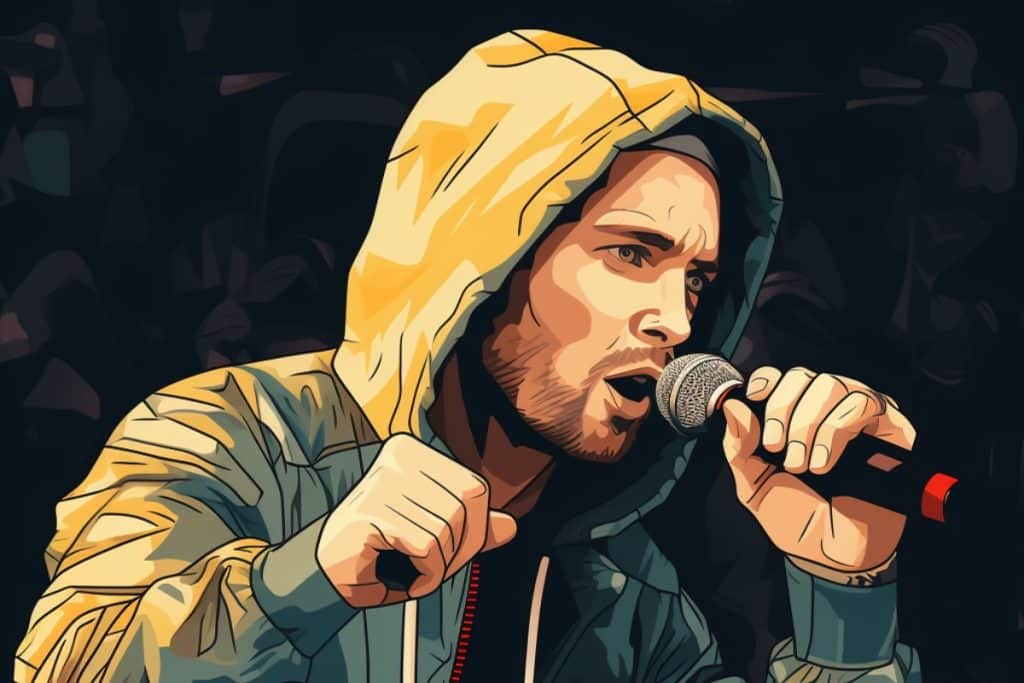 Essential listening: The Marshall Mathers LP (2000)
It's no secret that Eminem's discography is a goldmine for pure rap aficionados. Whether it's his storytelling skills in "Stan," his introspection in "Cleaning Out My Closet," or his self-deprecating humor in "Without Me," the Detroit MC has consistently proven his ability to create compelling music that resonates with hip hop fans of all stripes. Em's penchant for pushing boundaries, tackling controversial topics, and pushing the limits of what is considered acceptable in the culture has also solidified his reputation as a rap pioneer who had zero fucks to give. In the pantheon of hip hop greats, Em's name stands tall (evidently). His incredible wordplay, intricate rhyme schemes, and keen hitmaking skills has made him one of the most successful MCs of all time. Man, we found it hard narrowing down just 100 of best Eminem songs .
4. Andre 3000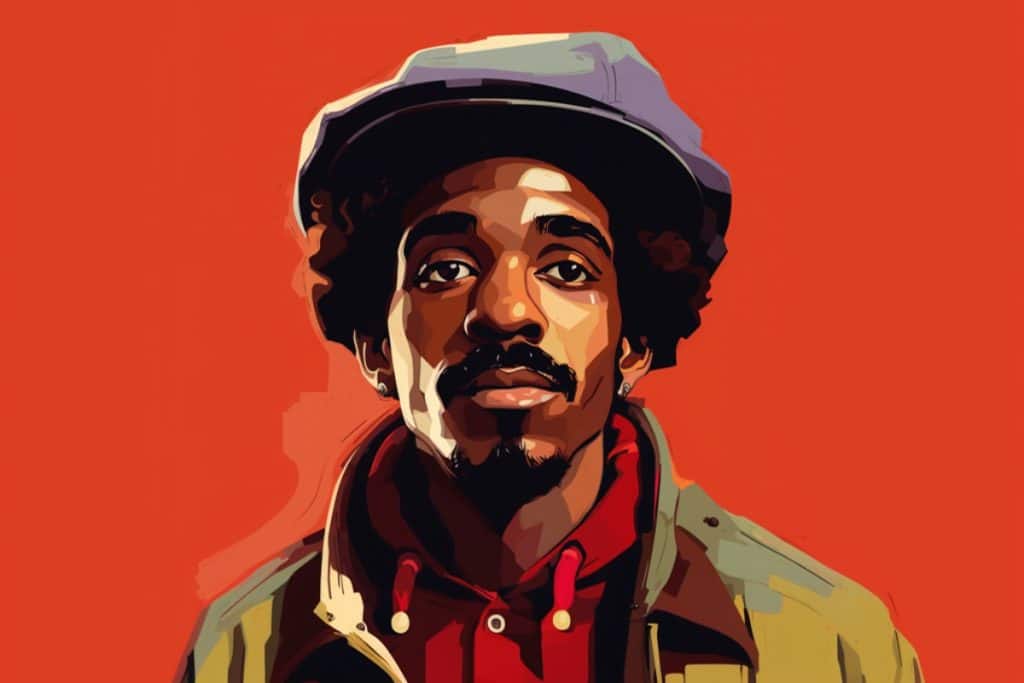 Essential listening: Aquemini (1998)
With a career spanning over three decades, this ATLien has consistently demonstrated his unmatched lyrical ability and versatile songwriting, earning him a place among hip hop's elite. 3 Stacks made his mark as a wordsmith extraordinaire in the '90s, blending complex rhyme schemes, clever wordplay, and an uncanny ability to switch from humor to profundity with ease. His verses on classic OutKast albums like ATLiens and Aquemini often highlighted raw vulnerability and a unique storytelling prowess that took listeners on a celestial journey. Even without a solo album to his name, Andre has managed to stay relevant in the conversation, with his sporadic features – Big Boi's "Royal Flush", Frank Ocean's "Solo (Reprise)" and Kanye's "Life of the Party" – often sending the internet into a frenzied debate.
3. 2Pac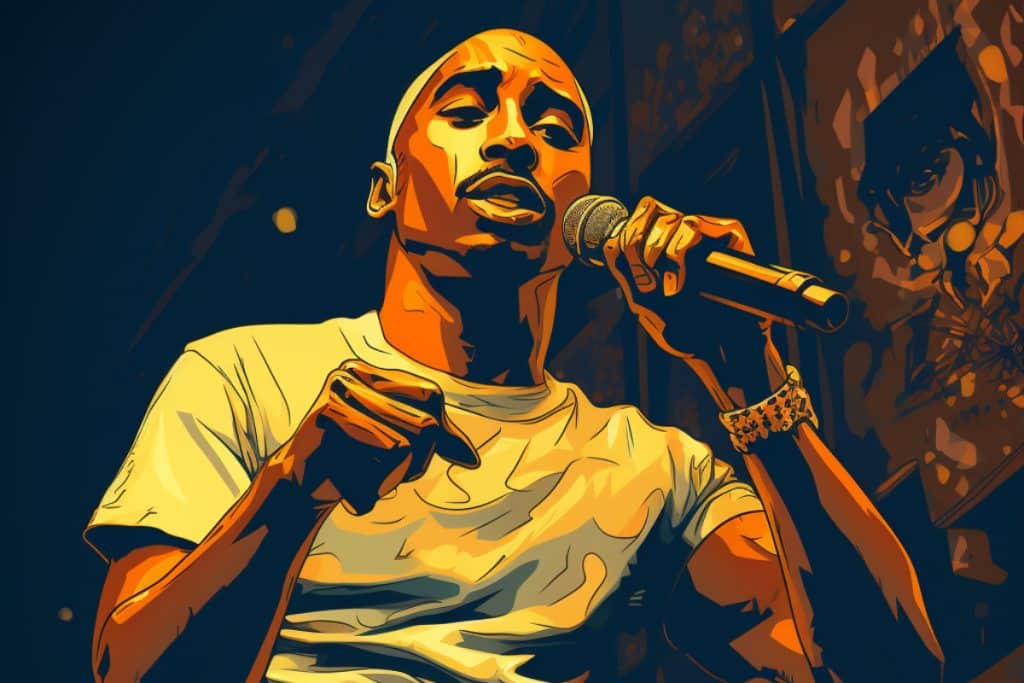 Essential listening: All Eyez on Me (1996)
2Pac is the most influential rapper of all time , period. Even during his lifetime, Pac transcended the world of hip hop and became a cultural icon. He more than just a rapper, he was poet, an activist, and an unapologetic voice for the marginalised. The raw introspection and vulnerable honesty in his music made him one of the most beloved (and imitable) artists in the culture, and his impact is still felt today through rappers like Lil Wayne and Kendrick. In the end, Pac's greatness as a rapper was about more than just his technical skills or lyrical content. It was about his ability to connect with listeners on a deeply personal level and his willingness to bare his soul in his music, making him one of hip hop's most important and celebrated figures ever.
2. Jay-Z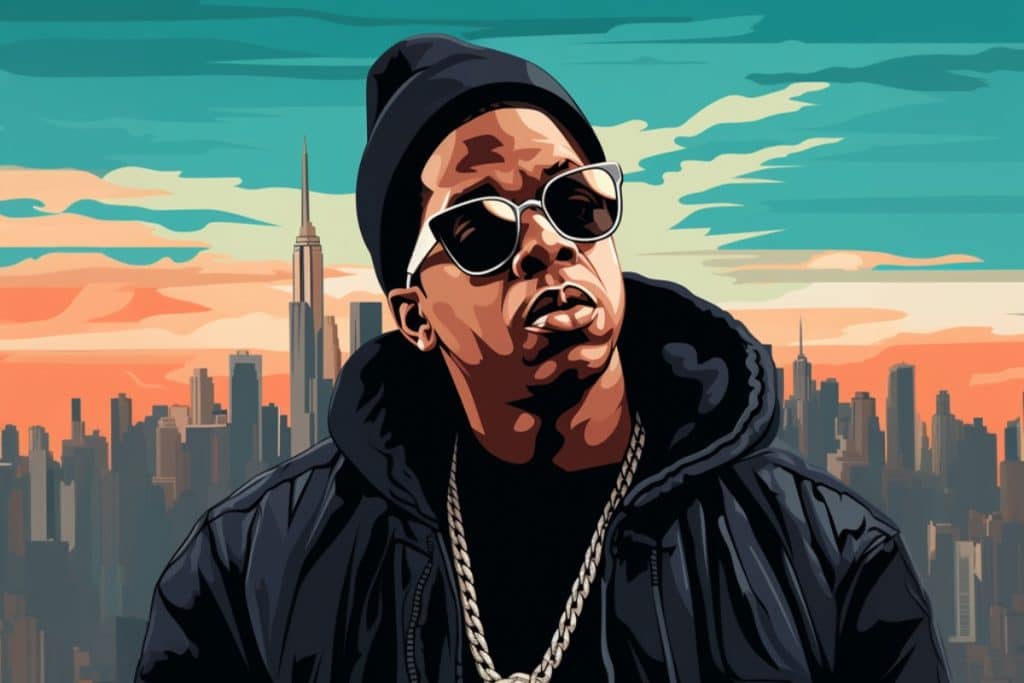 Essential listening: The Blueprint (2001)
In the pantheon of hip hop legends, Jay-Z's name is synonym with greatness and embodies of the very essence of rap royalty. Hov has been hailed as the GOAT more than perhaps any other rapper in history, which is just a testament to how the culture views him. During the '90s , he firmly established himself as one of the best rappers alive, dropping a string of classic albums that showcased his clever wordplay, slick punchlines, and intricate storytelling. Unlike Biggie and Nas, who were almost immediately celebrated as soon as they debuted, Jay had to fight tooth and nail to earn his position. From Reasonable Doubt to The Blueprint to 4:44 , Hov has dropped classic albums across three decades straight, and now with his current feature run which saw him body tracks like "What's Free", "God Did" and "Neck & Wrist", it's safe to say that he's not going away anytime soon.
1. Nas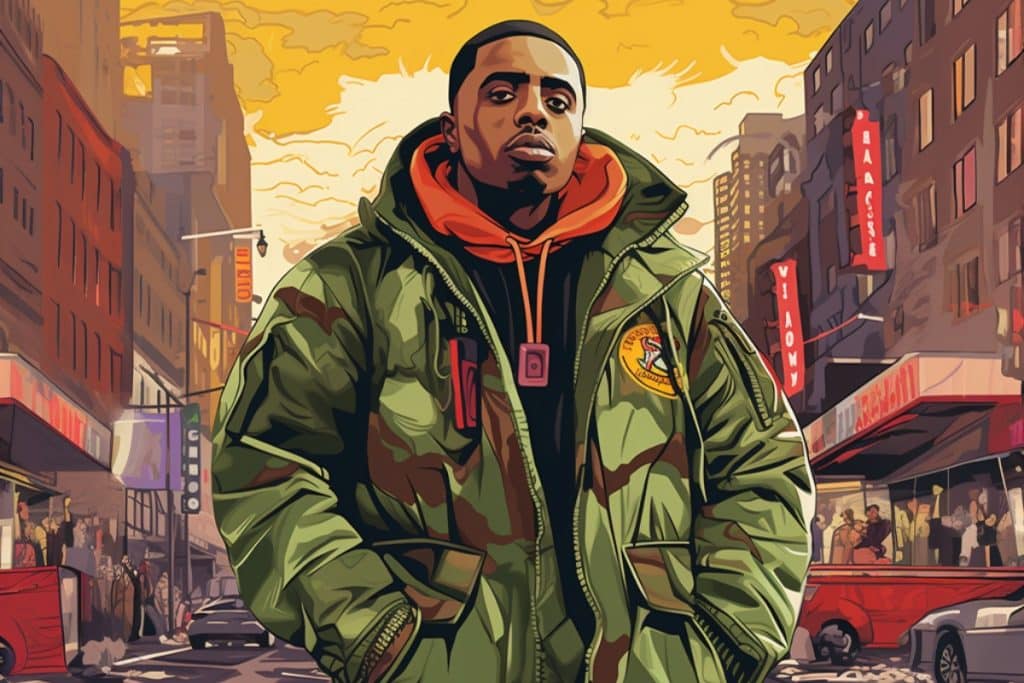 Essential listening: Illmatic (1994)
So here we are, the number one spot. When it comes to the illest MCs to ever bless a mic, Nasty Nas stands tallest amongst the best rappers of all time. From his groundbreaking debut verse on Main Source's "Live at the Barbeque" to Illmatic to his current King's Disease series, he's remained a constant force in hip hop's ever-changing landscape for over three decades. Nas' penchant for raw, unfiltered storytelling coupled with complex rhyme schemes and multisyllabic mastery has made him a revered figure in rap circles. Whether he's kicking knowledge as the streetwise prophet or flexing his bravado as the untouchable Esco, Nas has continued to elevate the art of rapping and show what it means to be a true MC.