Hip hop music has a rich history, with countless talented rap groups contributing to the genre's evolution and success over the decades.
Looking at all of the notable hip hop groups throughout history, we're going to rank the top 25 best ones based on their impact, influence, catalogue, and overall contributions to the rap game. From pioneering acts that laid the groundwork for future generations to contemporary powerhouses that continue to shape the sound of rap music today, these groups have left a lasting impact on the world of hip hop.
From Geto Boys, Bone Thugs-n-Harmony and Cypress Hill, to Wu-Tang Clan, A Tribe Called Quest and N.W.A., here are the top 25 best rap groups of all time.
Related:
25. The Pharcyde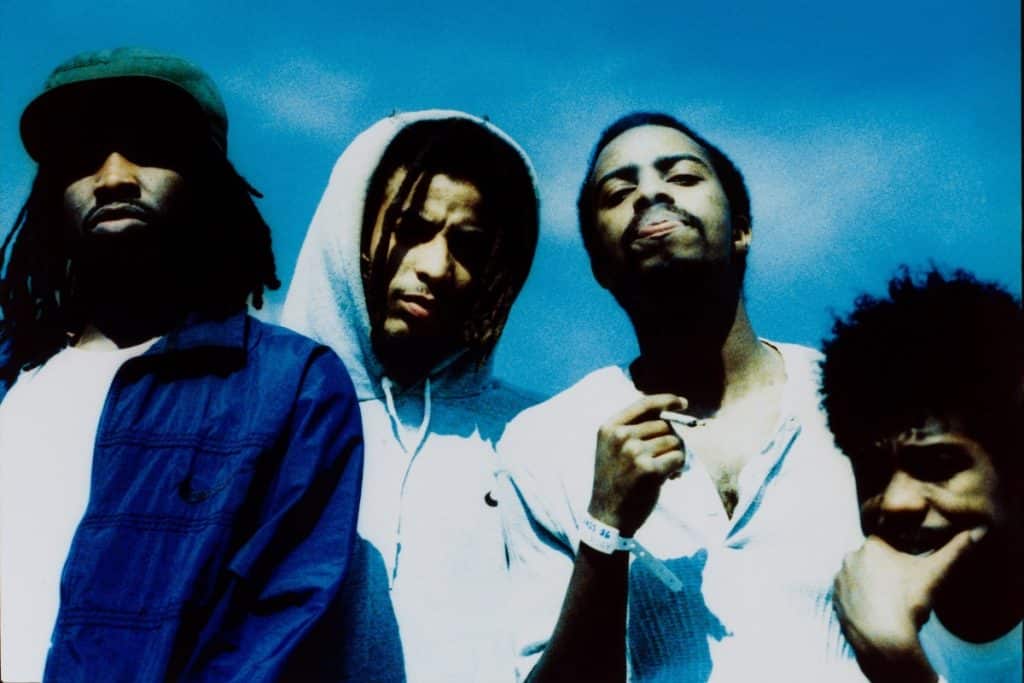 Members: Fatlip, Slimkid3, Imani
Catalogue: Bizarre Ride II the Pharcyde (1992), Labcabincalifornia (1995), Plain Rap (2000), Humboldt Beginnings (2004)
One of the most energetic and unique groups to come out of the West Coast, The Pharcyde's enthusiasm from each member's performance is what made their music so captivating. The group originally consisted of rappers Imani, Bootie Brown, Fatlip, and Slimkid3. Their production style is distinctly jazzy, full of groovy basslines and steady drums which make their music irresistibly danceable.
They embody an upbeat and carefree sound akin to De La Soul, proving that quality jazz rap wasn't exclusive to the '90s East Coast. With classics like Bizarre Ride II The Pharcyde and Labcabincalifornia, The Pharcyde are one of the most celebrated groups from the West Coast, and their catchy take on boom bap and carefree lyricism remains timeless.
24. Onyx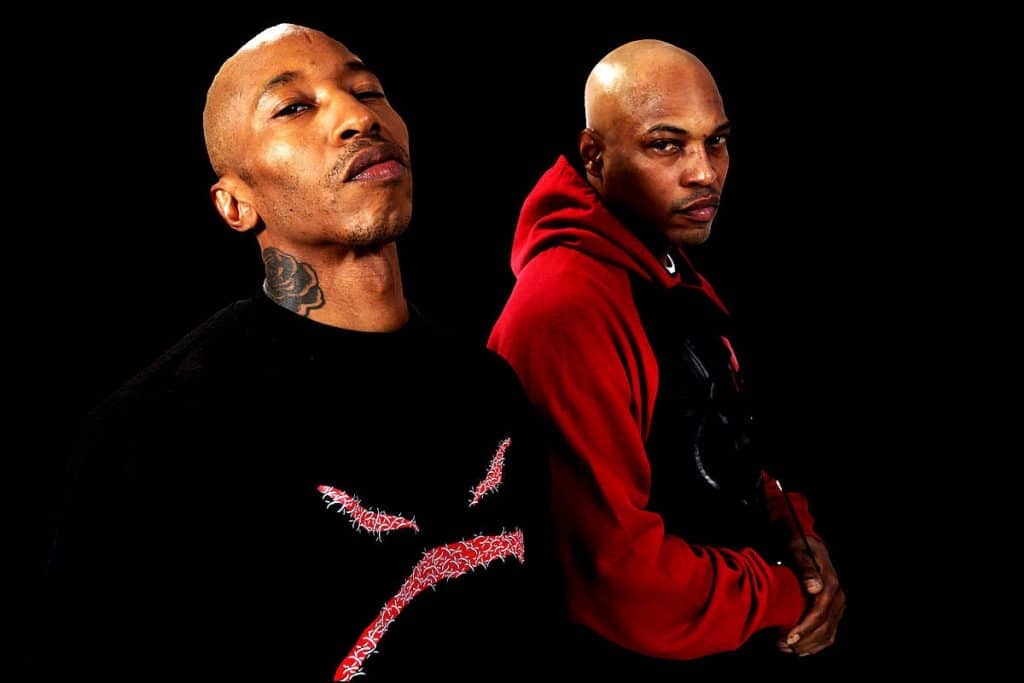 Members: Fredro Starr, Sticky Fingaz
Catalogue: Bacdafucup (1993), All We Got Iz Us (1995), Shut 'Em Down (1998), Bacdafucup Part II (2002), Triggernometry (2003), #WakeDaFucUp (2014), Black Rock (2018), SnowMads (2019), Onyx 4 Life (2021), 1993 (2022), Onyx Versus Everybody (2022)
Onyx pioneered the sound of hardcore hip hop in the early '90s, driving a rough and aggressive style of rap music into the mainstream with iconic hits like "Slam." The group consisted of Fredro Starr, Sticky Fingaz, Sonny Seeza, and the late Big DS, and they made sure to represent their brand of slamming hip hop to the fullest. Their music is incredible for the sheer amount of passion they can convey, spitting each verse and bouncing off each other like a shouting match.
Their production can be grimy and abrasive like on "Piro". It can also be stripped back and repetitive like on "Shut 'Em Down", where the members' enraged delivery alone is enough to keep the track engaging. Coming out during a time when the West Coast was dominating, Onyx helped re-establish New York as a commercial force in hip hop, and they're cemented forever as one of the best rap groups of all time.
23. Salt-N-Pepa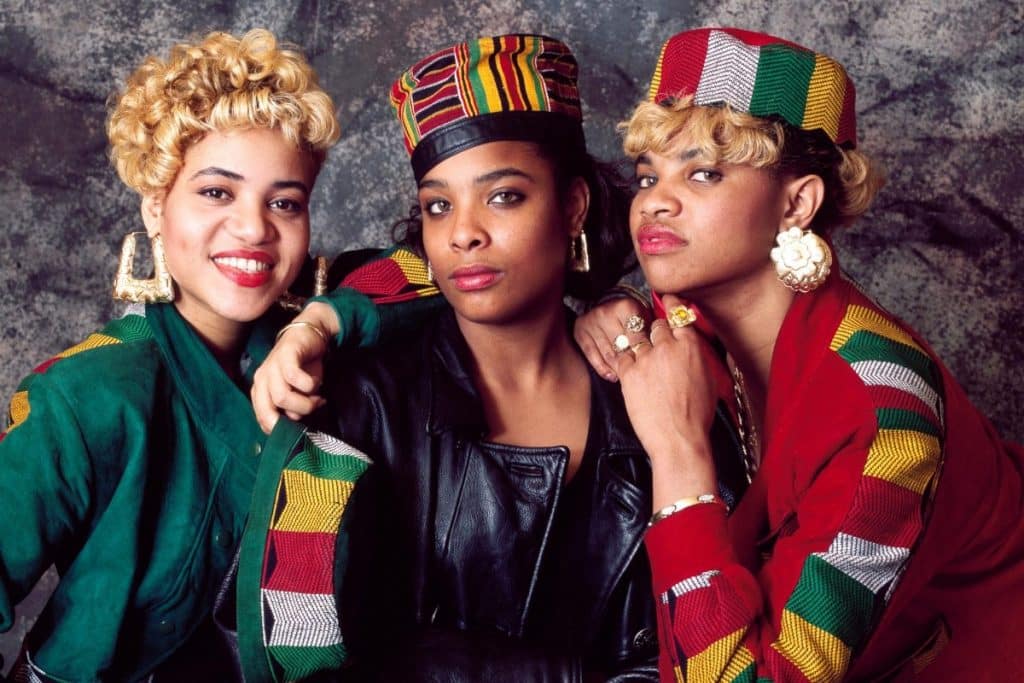 Members: Salt, Pepa, DJ Spinderella
Catalogue: Hot, Cool & Vicious (1986), A Salt with a Deadly Pepa (1988), Blacks' Magic (1990), Very Necessary (1993), Brand New (1997)
The legendary Salt-N-Pepa paved the way for female MCs in hip hop, breaking down the stereotype that rap music was for men alone. Their iconic hit "Push It" helped bring the genre into the mainstream in the late '80s, combining elements of hip hop and dance into an instant earworm of a song.
Rappers Salt and Pepa have incredible chemistry in their songs, working off each other and building an upbeat atmosphere made for parties and clubs. While they may not be for the hardcore rap fan, Salt-N-Pepa were experts in their lane, making some of the catchiest and most memorable songs in the hip hop and pop landscapes. Along with DJ Spinderella, Salt-N-Pepa are absolutely one of the greatest rap groups in history.
22. Hieroglyphics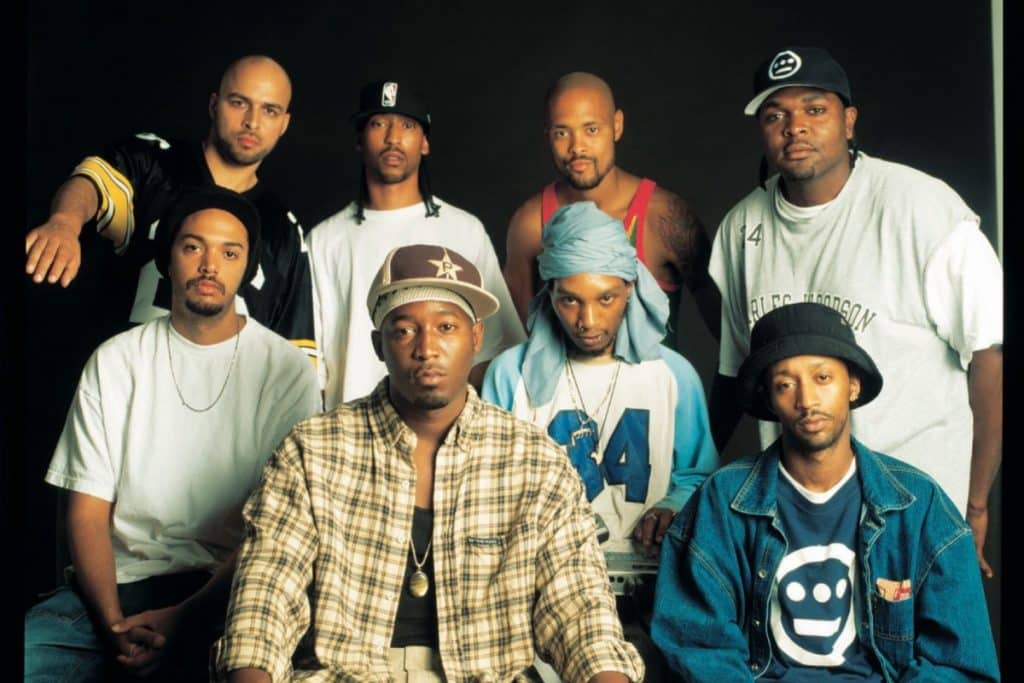 Members: Casual, Del the Funky Homosapien, Domino, DJ Toure, Pep Love, A-Plus, Opio, Phesto, Tajai
Catalogue: 3rd Eye Vision (1998), Full Circle (2003), The Kitchen (2013)
Hieroglyphics is an underground collective formed by Del the Funky Homosapien, otherwise composed of a number of rappers and producers, such as the group Souls of Mischief. The group has become a staple in the underground, making some of the most creative and hard-hitting hip hop of the '90s and 2000s.
Their 1998 record 3rd Eye Vision is an underground classic, combining hard elements of boom bap with the spacey instrumentals of abstract hip hop into a sound that's equally unique and easy to groove to. Being a collective, the group has no shortage of members, but each of them is given their chance to shine, from Del's animated delivery to Tajai's sharp rhyming ability.
21. Slum Village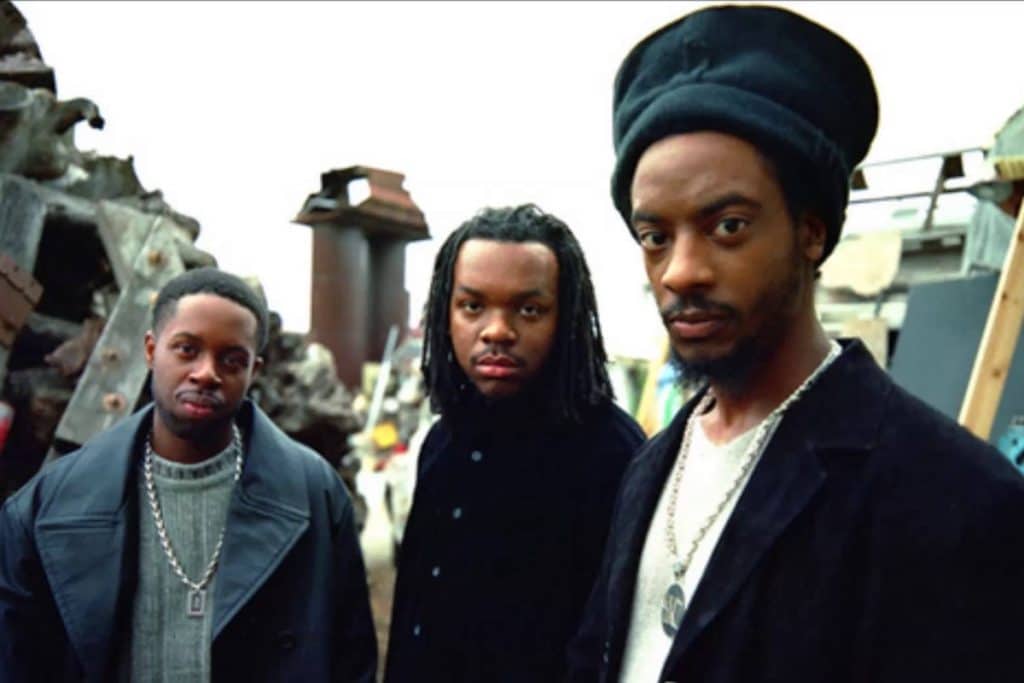 Members: T3 , Young RJ, J Dilla, Baatin, Elzhi, Illa J
Catalogue: Fan-Tas-Tic (Vol. 1) (1997), Fantastic, Vol. 2 (2000), Trinity (Past, Present and Future) (2002), Detroit Deli (A Taste of Detroit) (2004), Slum Village (2005), Villa Manifesto (2010), Evolution (2013), Yes! (2015), Vol. 0 (2016)
Hailing from Detroit, Michigan, Slum Village have a summery and jazzy sound similar to A Tribe Called Quest, but with a tightness and polish to their production crafted by the legendary J Dilla. While J Dilla later left the group, he helped define their sound with Fan-Tas-Tic followed by the classic Fan-Tas-Tic, Vol. 2.
Rappers Baatin and the late T3 helped form the group with Dilla, with some of the smoothest flows of their era and enough charisma to make any verse unforgettable. While there were many personnel changes over the years – from Dilla's departure to Elzhi's introduction – the quality of Slum Village never diminished, carrying the classic sound of boom bap through the twenty-first century. While the legendary Detroit group may not be as well-known outside of hip hop circles, they are certainly one of the greatest rap groups of all time.
20. Black Moon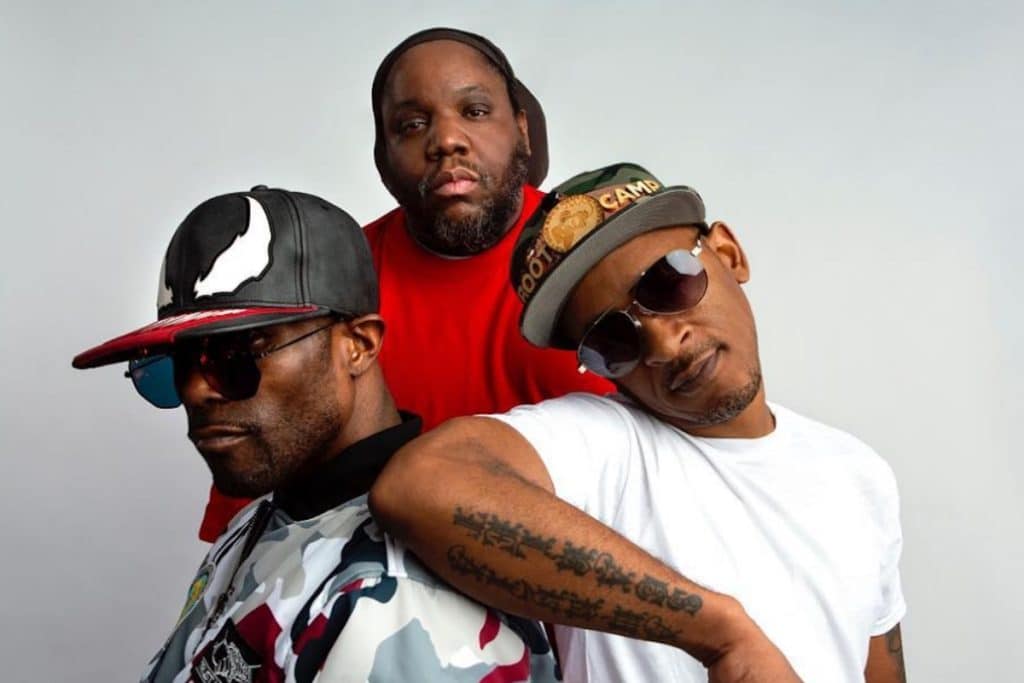 Members: Buckshot, 5ft, DJ Evil Dee
Catalogue: Enta da Stage (1993), War Zone (1999), Total Eclipse (2003), Rise of da Moon (2019)
Coming up in the early '90s New York scene at a time when the West was dominating, Black Moon are an underground group who need no introduction. Their grimy style fuses elements of jazz rap with hardcore hip hop, distinguishing themselves from other East Coast acts of the '90s with their abrasive rapping and equally hard-hitting beats.
Made up of rappers Buckshot and 5ft along with producer DJ Evil Dee, the trio always compete with one another, rivalling one another's energy to see who can deliver the most ferocious verse. When DJ Evil Dee's beats are loud and impactful, you can always expect Buckshot and 5ft to match that energy, if not double it. After releasing the classic Enta Da Stage in 1993, the trio have never stopped making music, and they've maintained that fierceness and competitive nature to outdo one another.
19. Goodie Mob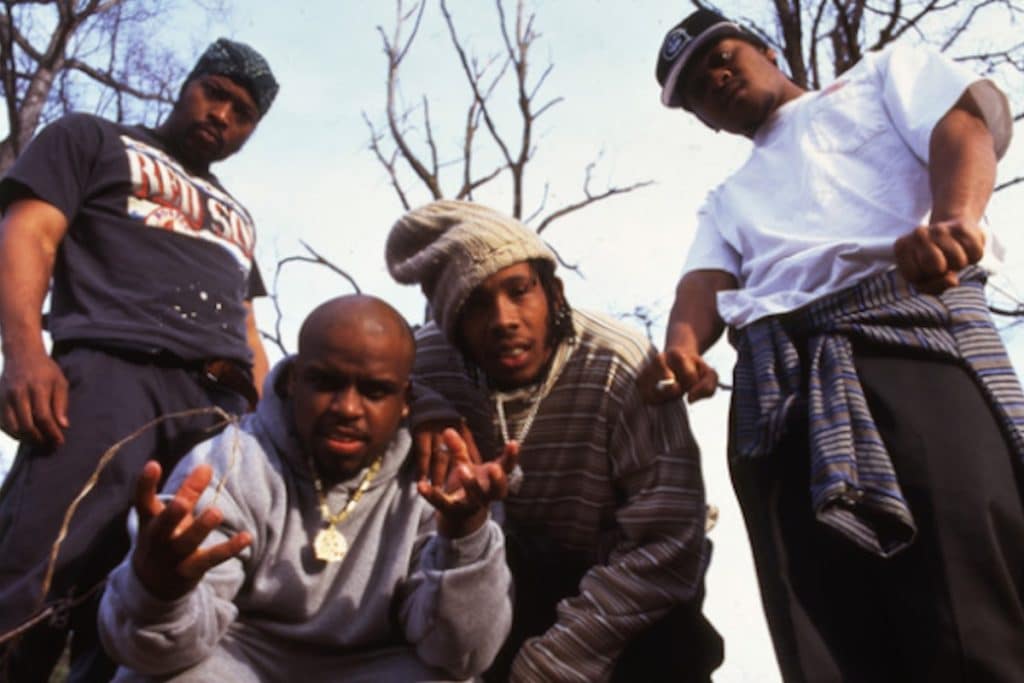 Members: Big Gipp, Khujo, CeeLo Green, T-Mo
Catalogue: Soul Food (1995), Still Standing (1998), World Party (1999), One Monkey Don't Stop No Show (2004), Age Against the Machine (2013), Survival Kit (2020)
Along with groups like OutKast and Geto Boys, Goodie Mob helped define the sound of Southern hip hop and are rightfully recognised as legends of the South. Their classic debut in 1995, Soul Food, encapsulates everything great about their sound – such groovy basslines, punchy drums, and animated performances from every member.
Whether it be Cee-Lo, Big Gipp, T-Mo or Khujo, every rapper in Goodie Mob brings a swagger to their verse, embodying that same charisma of the funk and soul singers which Goodie Mob sample for their beats. The group aren't strangers to singing either, with some of their songs being an effortless blend of hip hop and soul which make for some of the smoothest, funkiest rap music of the '90s.
18. 2 Live Crew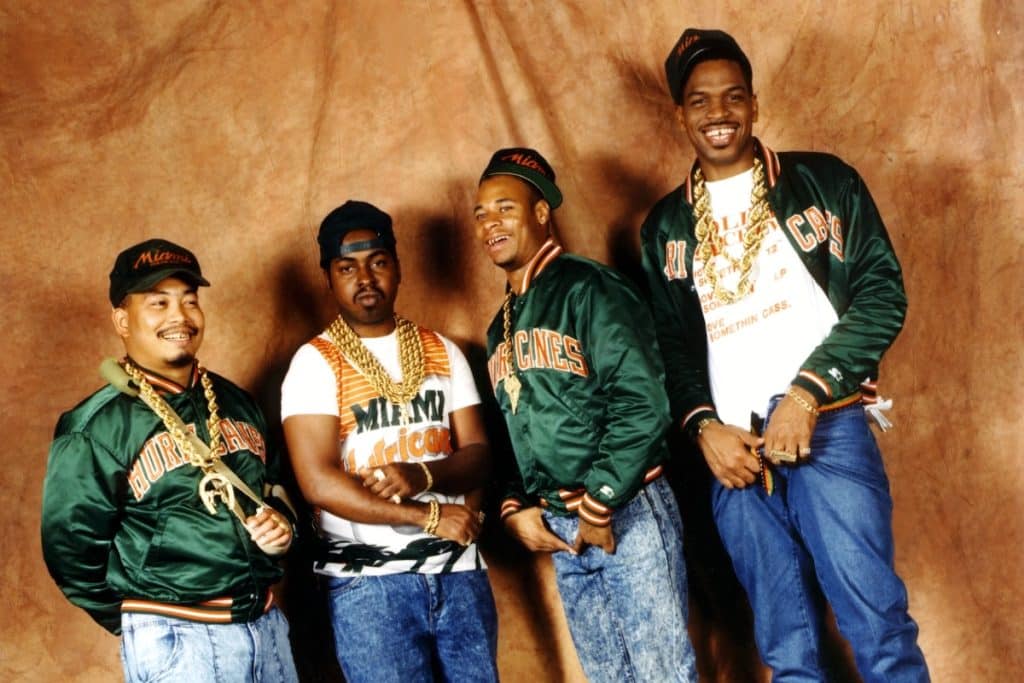 Members: Luther Campbell, Fresh Kid Ice, Brother Marquis, Verb, Mr. Mixx
Catalogue: The 2 Live Crew Is What We Are (1986), Move Somethin' (1988), As Nasty as They Wanna Be (1989), Banned in the U.S.A. (1990), Sports Weekend: As Nasty as They Wanna Be, Pt. 2 (1991), Sports Weekend: As Clean as They Wanna Be Part II (1991), Back at Your Ass for the Nine-4 (1994), Shake a Lil' Somethin' (1996), The Real One (1998)
There aren't many hip hop groups as unapologetic and raunchy as 2 Live Crew. Their lyrical content usually revolves around sex and women, with the graphicness of their verses and their over-the-top energy resulting in music that is equally provocative and entertaining.
Unlike other '80s hip hop acts which leaned in to a more mainstream and accessible sound, 2 Live Crew stayed true to what made them unique, embracing their vulgar sense of lyricism on albums the aptly named As Nasty As They Wanna Be in 1989. They helped define the sound of Miami bass, often using beats with dance influence and prominent kickdrums which gave their music a catchy groove. Highly influential, especially in the Southern region, 2 Live Crew are cemented as one of the best rap groups of all time.
17. Brand Nubian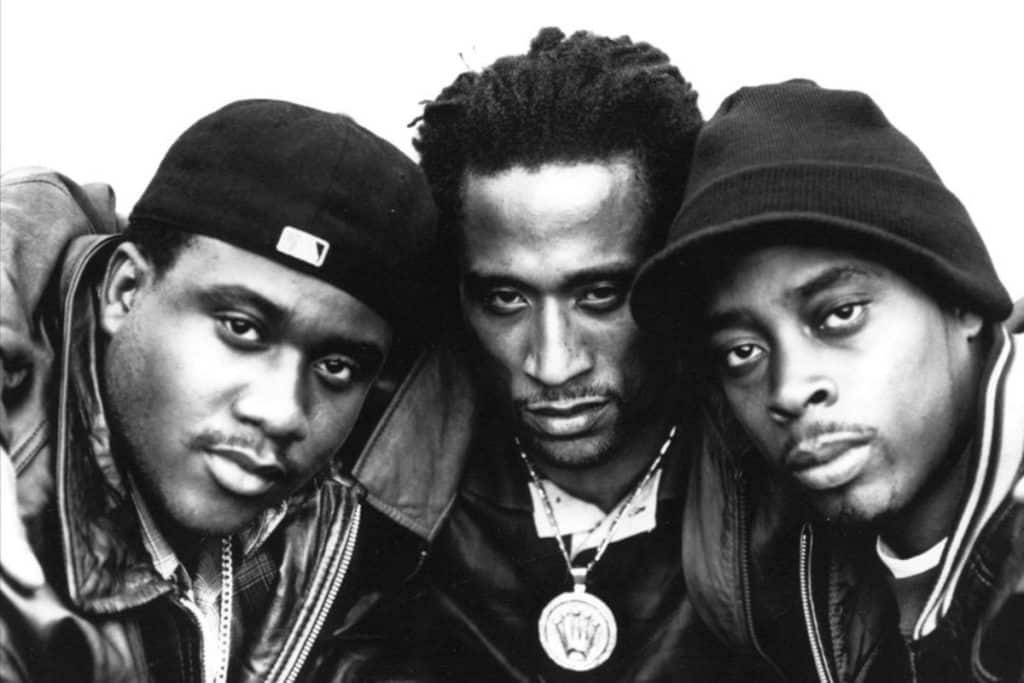 Members: Grand Puba, Lord Jamar, Sadat X, DJ Alamo, DJ Sincere, DJ Stud Doogie
Catalogue: One for All (1990), In God We Trust (1993), Everything Is Everything (1994), Foundation (1998), Fire in the Hole (2004), Time's Runnin' Out (2007)
Politically-charged rap group Brand Nubian rose to prominence with their acclaimed debut, All For One, in 1990. Their production style is jazzy and upbeat, contrasting the political and often controversial lyricism from rappers Sadat X, Lord Jamar, and especially Grand Puba. This contrast is part of what makes their music so interesting, embodying that same summery and carefree feeling as their contemporaries in Native Tongues, but with a dark edge to their lyricism to show that not all is what it seems on the surface. Brand Nubian used their accessible sound to project their politics, advocating for black power and the end of white oppression. This makes their music all the more appealing, striking the balance between a song which is catchy and one which is thought-provoking and powerful.
16. Naughty By Nature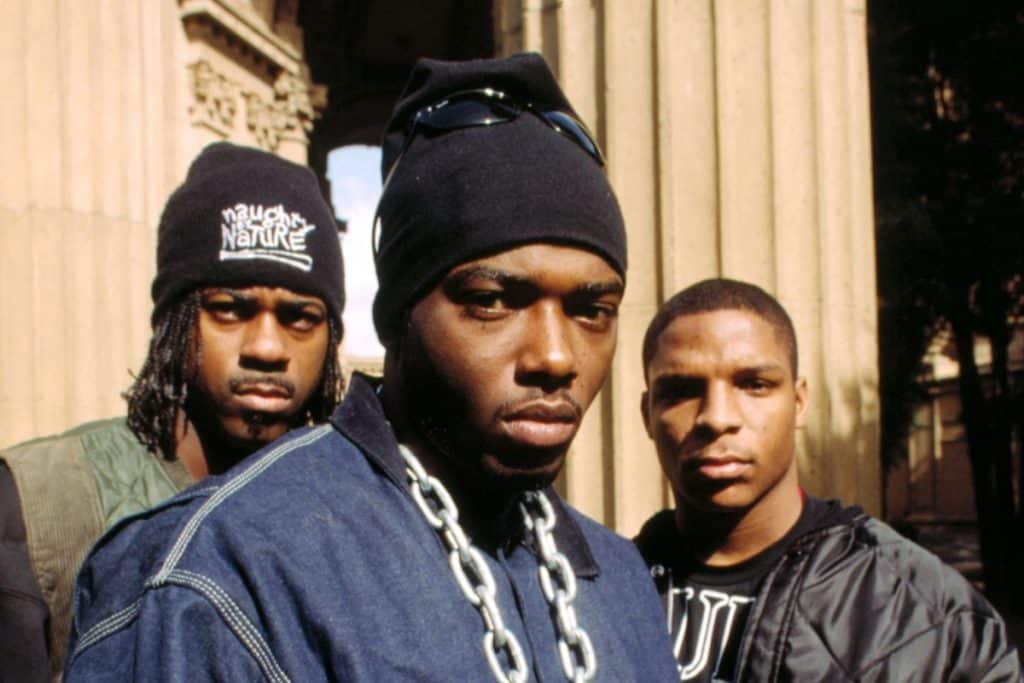 Members: Treach, Vin Rock, DJ Kay Gee
Catalogue: Independent Leaders (1989), Naughty by Nature (1991), 19 Naughty III (1993), Poverty's Paradise (1995), Nineteen Naughty Nine: Nature's Fury (1999), IIcons (2002), Anthem Inc. (2011)
One of the best rap groups to balance commercial and street appeal, Naughty By Nature garnered a ton of mainstream attention in the '90s while maintaining their certified status in the larger hip hop scene. DJ Kay Gee handles production, fusing the rough elements of boom bap with the flashier style of hardcore hip hop, with the final product being hits such as "Hip Hop Hooray" and "Feel Me Flow" which celebrate the abrasive nature of hip hop while remaining accessible and catchy. Rappers Trench and Vin Rock have such an addictive energy, constantly hyping each other up with adlibs and aggressive verses. While they may not have the same classic catalogue as other groups, Naughty By Nature knows how to make a hit, and how to make it unforgettable.
15. The LOX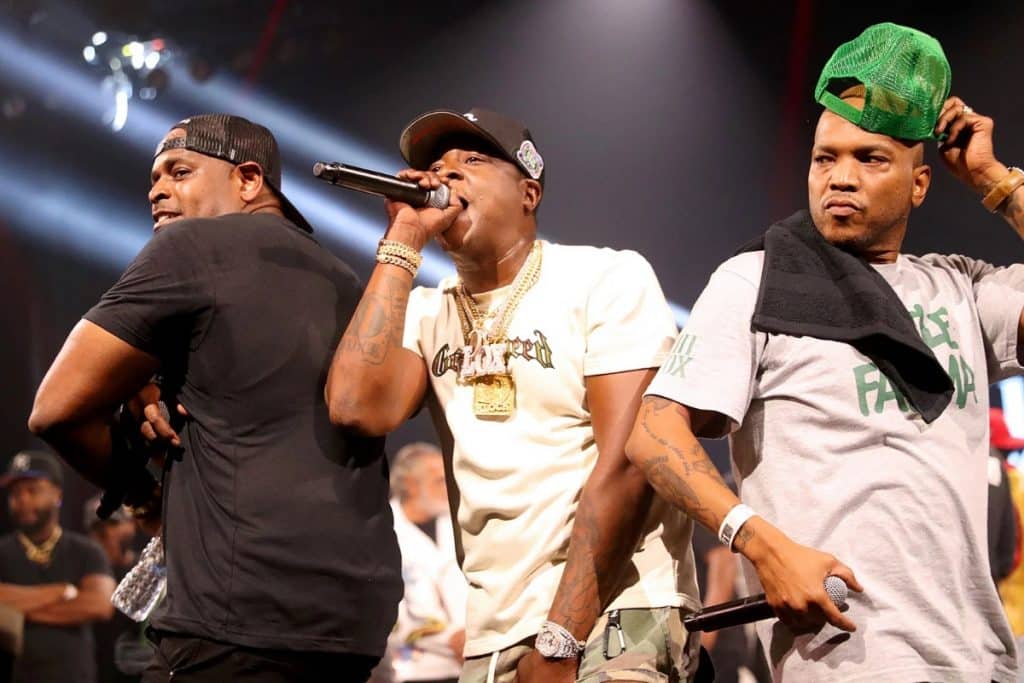 Members: Jadakiss, Styles P, Sheek Louch
Catalogue: Money, Power & Respect (1998), We Are the Streets (2000), Filthy America… It's Beautiful (2016), Living Off Xperience (2020)
The LOX are a prominent group in the hardcore hip hop scene. They drove their brand of abrasive, aggressive rap music to the mainstream in the late '90s alongside superstars like DMX and Mase, while maintaining their street appeal. Few groups are as cold and menacing as The LOX. Their style is rough and ferocious mic.
The chemistry between rappers Jadakiss, Styles P, and Sheek Louch is one of the best parts of their music, always one-upping each other for the most hard-hitting and ruthless verse. It's one of the main reasons why the group has sustained their success for so long. From their 1998 debut Money, Power & Respect to 2020's Living off Xperience, their prowess as rappers has never wavered, with each verse still full of cold production and colder bars.
14. Boogie Down Productions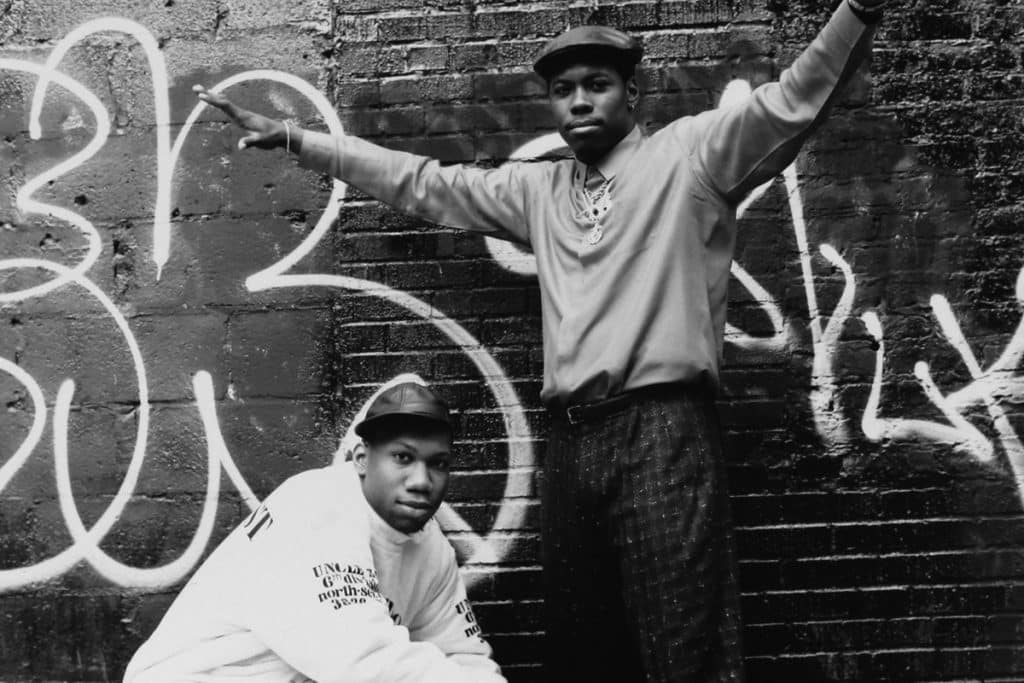 Members: KRS-One, D-Nice, DJ Scott La Rock
Catalogue: Criminal Minded (1987), By All Means Necessary (1988), Ghetto Music: The Blueprint of Hip Hop (1989), Edutainment (1990), Sex and Violence (1992)
The frontman of Boogie Down Productions is KRS-One, one of the best rappers alive, and that fact alone should be enough to know how great the group was in their prime. They were a massively influential group in the '80s, helping push a wave of hardcore and political hip hop as KRS-One depicted vivid pictures of life in the streets.
KRS has always been an incredible MC with his animated delivery and effortless rhyming ability, but as part of Boogie Down Productions, he truly shines, with a constant high energy to match the busy production. The group embraced the carefree bravado of '80s hip hop and combined it with a level of introspection and political focus rarely heard in that era. Their music was as influential as it was excellent.
13. Fugees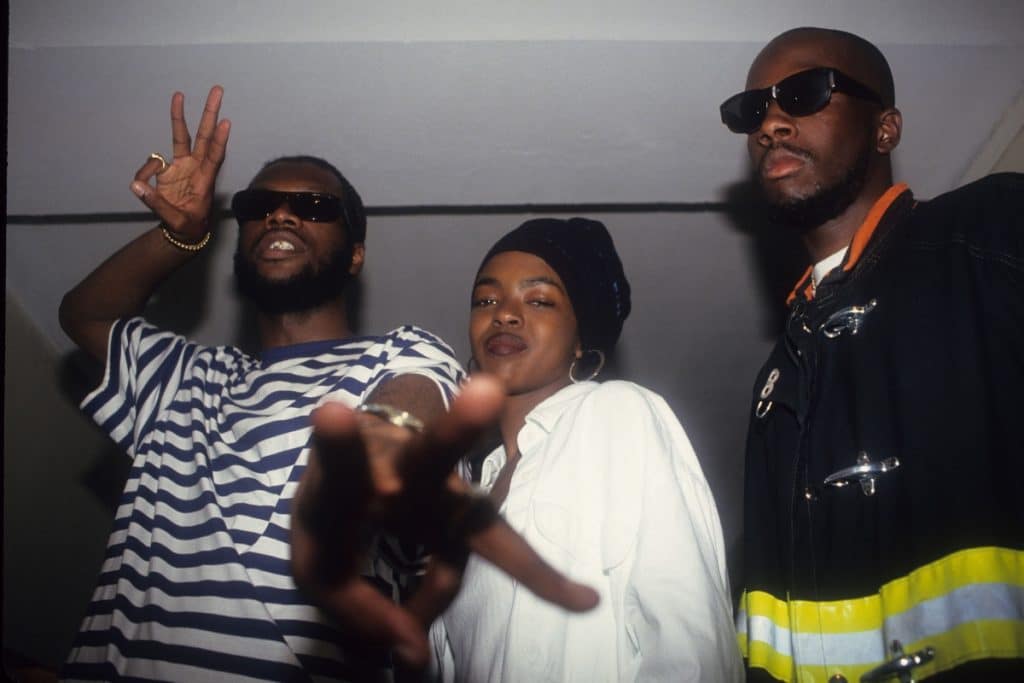 Members: Lauryn Hill, Wyclef Jean, Pras Michel
Catalogue: Blunted on Reality (1994), The Score (1996)
Fugees may not have a lengthy catalogue of music, but across their two albums, they delivered some of the most colourful and gorgeous hip hop to ever grace the genre. Consisting of Lauryn Hill, Wyclef Jean and Pras Michel, they stood out from other hip hop acts of the '90s with a heavy R&B influence laced between their more traditional rap songs.
Thanks to Lauryn's impeccable talents as a singer, their music was not only full of impressive flows and hard verses, but also beautiful passages for the rapper-singer to show off her incredible voice. The contrast between the grimy boom bap tracks and the more soulful songs made Fugees's music so unique and memorable, and quickly established them as one of the best rap groups ever.
12. Cypress Hill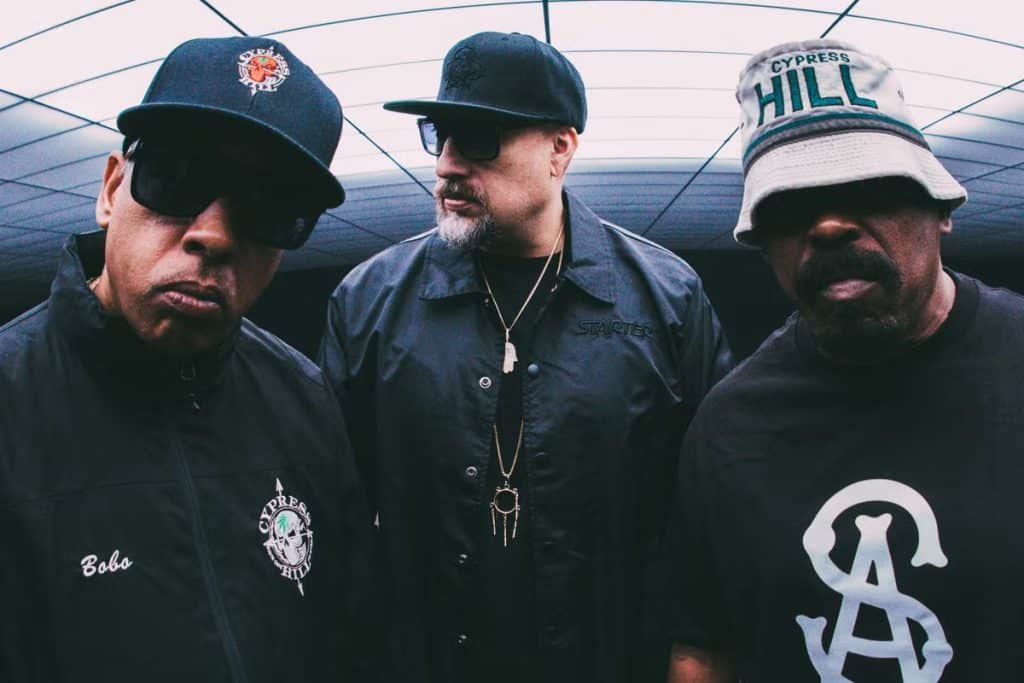 Members: B-Real, Sen Dog, Eric Bobo, Mellow Man Ace, DJ Muggs
Catalogue: Cypress Hill (1991), Black Sunday (1993), III: Temples of Boom (1995), IV (1998), Skull & Bones (2000), Stoned Raiders (2001), Till Death Do Us Part (2004), Rise Up (2010), Elephants on Acid (2018), Back in Black (2022)
Cypress Hill are among the most iconic groups in hip hop history, and justifiably so. Lead rappers B-Real and Sen Dog embody so much charisma, dominating over the messy style of production where dozens of samples are mashed together into a storm of intricate sound.
While they've seen lots of mainstream success, Cypress Hill have never let go of what made them unique, especially with rapper B-Real, who performs with a strange, high-pitched voice which makes the group's music instantly recognisable. With a distinct style of rapping, imaginative production and dozens of iconic tracks, Cypress Hill dominated the '90s for their consistency and limitless enthusiasm for hip hop.
11. Three 6 Mafia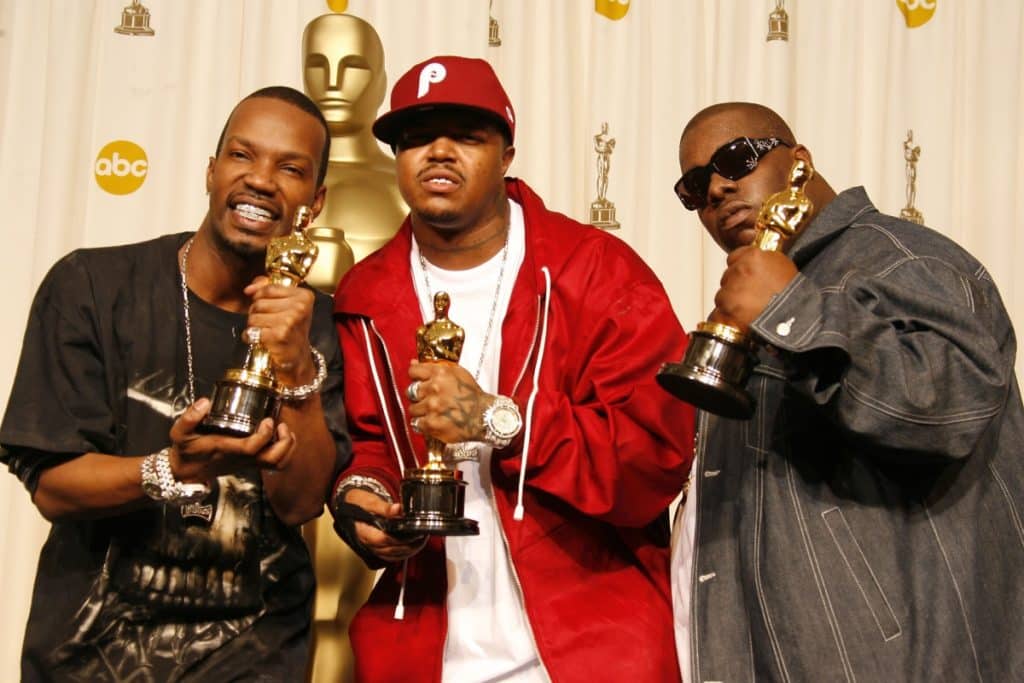 Members: DJ Paul, Juicy J, Gangsta Boo, Crunchy Black, Lord Infamous, Koopsta Knicca
Catalogue: Mystic Stylez (1995), Chapter 1: The End (1996), Chapter 2: World Domination (1997), When the Smoke Clears: Sixty 6, Sixty 1 (2000), Choices (2001), Da Unbreakables (2003), Choices II: The Setup (2005), Most Known Unknown (2005), Last 2 Walk (2008)
In contrast to the party anthems and funk-influenced highlights of most Southern hip hop in the '90s, Memphis rap showed a darker side to the south, and at the forefront was the incredible Three 6 Mafia. Their sound is dark, with growling bass and sinister samples over looped drum machines which form a terrifying, almost cinematic, atmosphere.
Adding to this is their gruesome lyrical style, resembling what would become known as horrorcore, making for some of the grimiest and grimmest music in hip hop. What makes Three 6 Mafia so fantastic is that unique style they perfected, with few hip hop groups being able to capture the same sense of atmosphere and vivid lyricism as them. One of the most influential rap groups of all time, the impact of Three 6 Mafia are still being felt to this day.
10. Geto Boys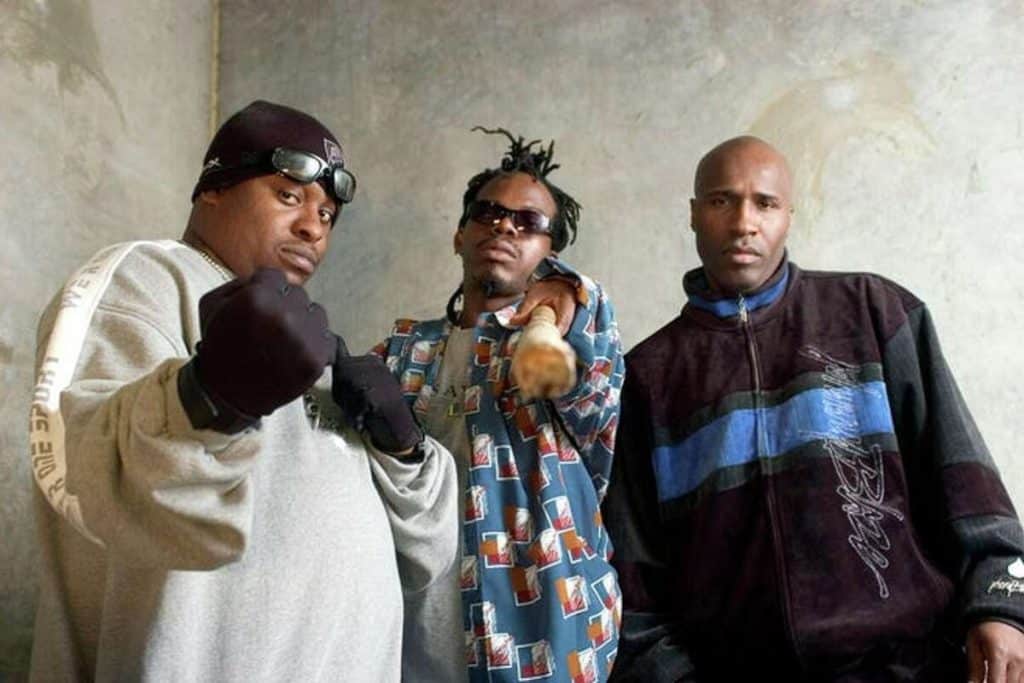 Members: Willie D, Scarface, Bushwick Bill, Raheem, Sir Rap-A-Lot, Sire Jukebox, Prince Johnny C, DJ Ready Red, Big Mike
Catalogue: Making Trouble (1988), Grip It! On That Other Level (1989), We Can't Be Stopped (1991), Till Death Do Us Part (1993), The Resurrection (1996), Da Good da Bad & da Ugly (1998), The Foundation (2005)
While Geto Boys have seen several personnel changes over the years, their core sound and quality have remained consistent. Their most striking attribute is their lyrical content, with legendary Houston rappers Scarface, Bushwick Bill and Willie D among other members rapping with bombastic flows, detailing graphic experiences about sex, murder, drugs, and all forms of violence.
The ferocity of their performances, coupled with their unapologetic lyrics, makes for some unforgettable hip hop, pushing the boundaries of how violent hip hop can be. While their sound may not be the most accessible, it's their devotion to horrorcore themes and grimy production that makes them so appealing and, equally, so admirable.
9. Bone Thugs-N-Harmony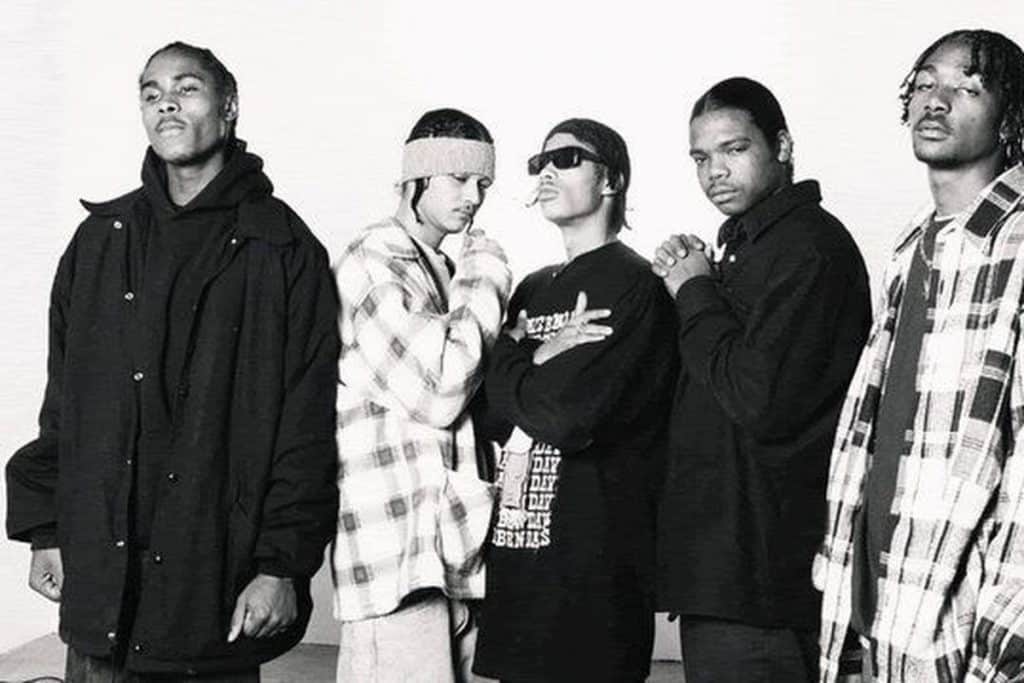 Members: Bizzy Bone, Wish Bone, Layzie Bone, Krayzie Bone, Flesh-n-Bone
Catalogue: Faces of Death (1993), Creepin on ah Come Up (1994), E. 1999 Eternal (1995), The Art of War (1997), BTNHResurrection (2000), Thug World Order (2002), Thug Stories (2006), Strength & Loyalty (2007), Uni5: The World's Enemy (2010), The Art of War: World War III (2013), New Waves (2017)
Bone Thugs-N-Harmony are an incredible group who embraced the sound of G-Funk and pop rap to perfection in the early '90s. With heavy use of synths and vocal manipulation, they're known to use the mainstream conventions of the West Coast and put a dark twist on them, fusing the glamour of G-Funk with the hard-hitting aggression of gangsta rap.
Aside from their production, the rappers in Bone Thugs-N-Harmony have incredible chemistry, bouncing off each other and harmonising together effortlessly with a limitless supply of cold bars and smooth flows. No member is ever outshined, with each given their chance to show off their fiery ability.
8. Beastie Boys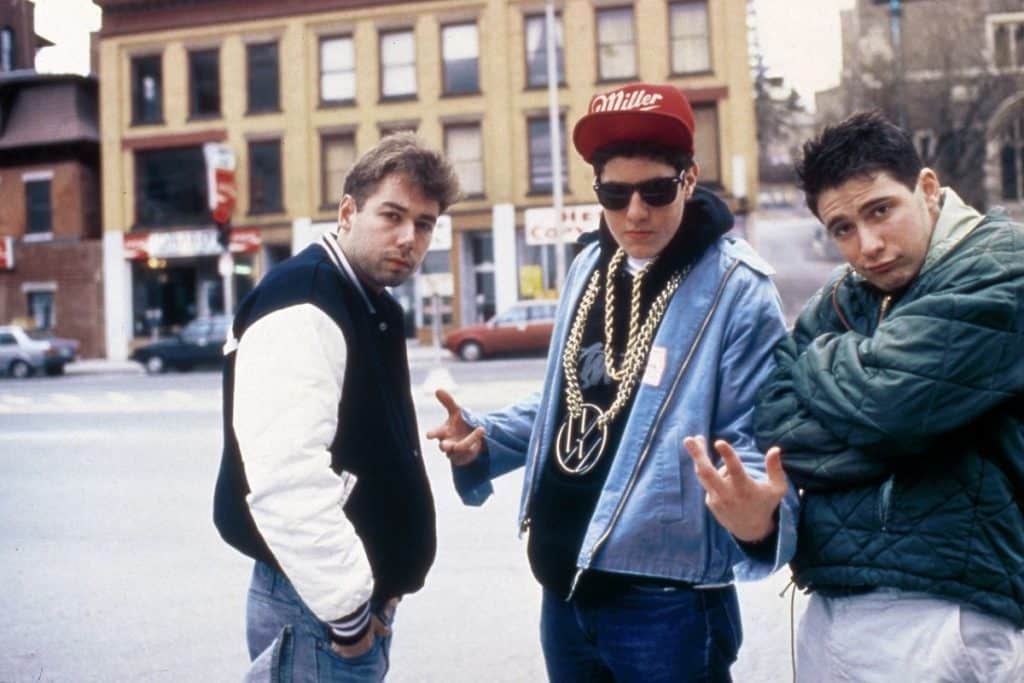 Members: Ad-Rock, MCA, Mike D, John Berry, Kate Schellenbach
Catalogue: Licensed to Ill (1986), Paul's Boutique (1989), Check Your Head (1992), Ill Communication (1994), Hello Nasty (1998), To the 5 Boroughs (2004), The Mix-Up (2007), Hot Sauce Committee Part Two (2011)
Beastie Boys are a group who need no introduction. One of the most influential rap acts of all time, their charisma is irresistible, with the members chanting along with one another, shouting in each other's faces to see who can spit the wildest verse. Their music is explosive, whether it be their shouty style of rapping of their abrasive production choice with heavy rock influence.
It's that youthful energy and in-your-face attitude of the group that makes Beastie Boys so appealing. On every song of theirs, you can picture the excitement on their faces in the studio, conveying so much passion in their party anthems that no music fan could resist. With landmark albums released over the past decades, Beastie Boys is undisputedly one of the best rap groups of all time.
7. N.W.A.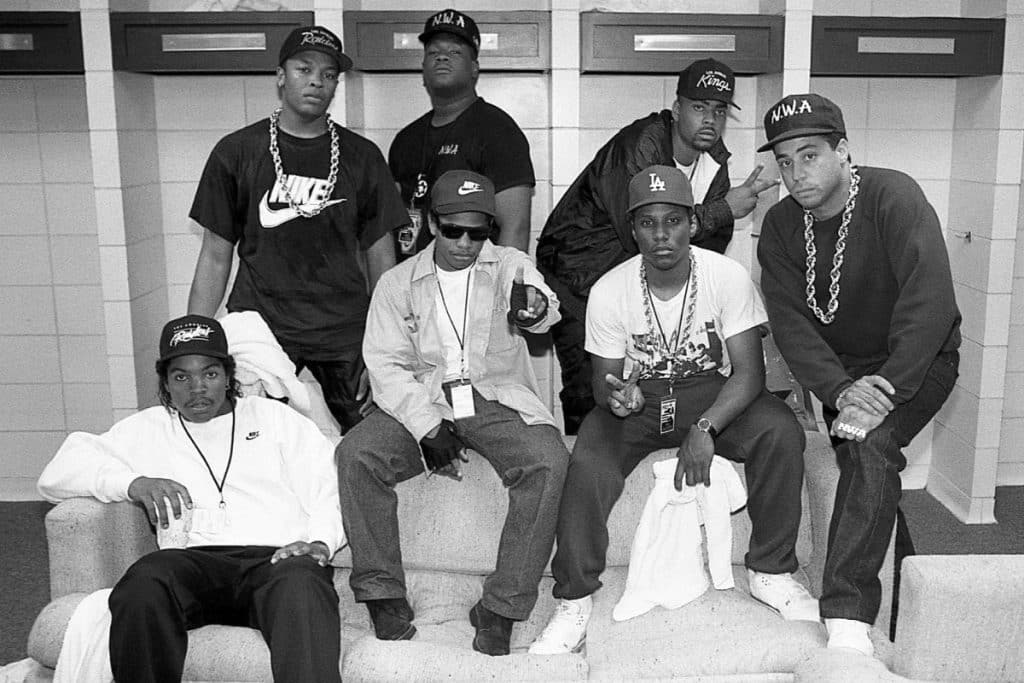 Members: Arabian Prince, DJ Yella, Dr. Dre, Eazy-E, Ice Cube, MC Ren
Catalogue: Straight Outta Compton (1988), 100 Miles and Runnin' (1990), Niggaz4Life (1991)
The late '80s saw the rise of many enraged, politically-charged hip hop groups using their platform for activism, but N.W.A. defied that, embracing the violent, graphic, and aggressive side of hip hop others tried to resist. Their production style was explosive, with Dre's crashing drums and roaring samples to match the anger in the performances of each rapper.
The unapologetic rage of their deliveries would make any verse sound incredible, but N.W.A. had the lyrical talent (courtesy of Ice Cube, MC Ren and D.O.C.) to match their style, with detailed accounts of crime and violence painting cinematic pictures of the streets. While their sound wasn't as graphic as a group like Geto Boys, they were just as untamed and aggressive, making for some of the wildest hip hop of the era.
6. The Roots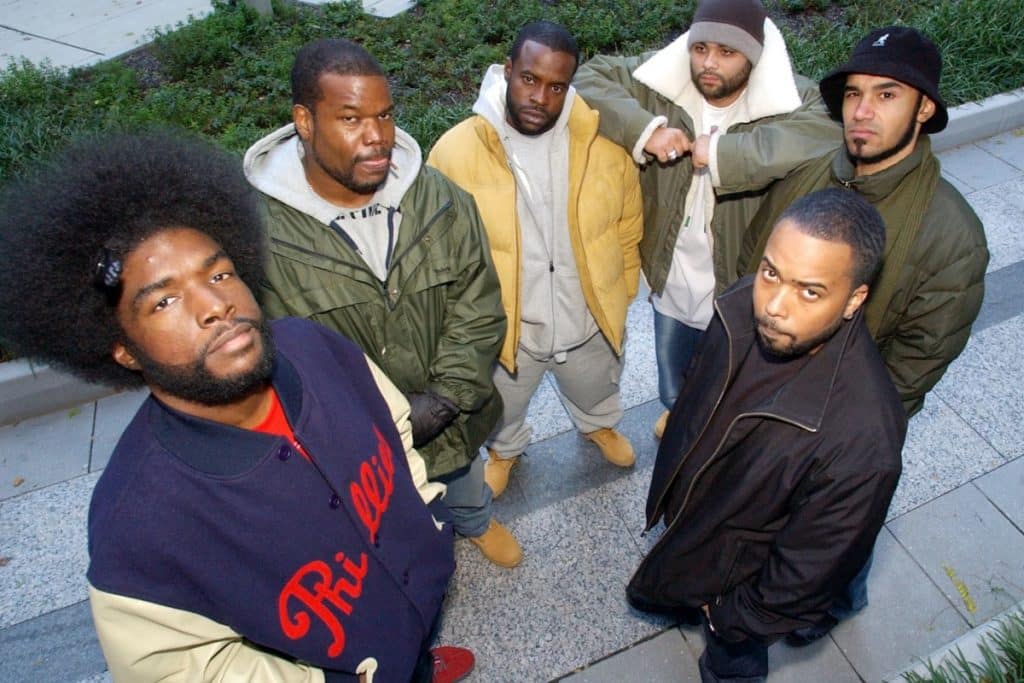 Members: Black Thought, Questlove, Kamal Gray, Captain Kirk Douglas, Damon "Tuba Gooding Jr." Bryson, Ray Angry, James Poyser, Mark Kelley, Stro Elliot, Jeremy Ellis, Ian Hendrickson-Smith, Dave Guy
Catalogue: Organix (1993), Do You Want More?!!!??! (1995), Illadelph Halflife (1996), Things Fall Apart (1999), Phrenology (2002), The Tipping Point (2004), Game Theory (2006), Rising Down (2008), How I Got Over (2010), Undun (2011), …And Then You Shoot Your Cousin (2014)
The Roots are highly regarded for a number of reasons, but most notable may be their pioneering jazzy style of production and being the most well-known hip hop bands ever. While their blend of soulful sounds and boom-bap influence would sound great for any group, the fact that The Roots perform with live instruments makes those instrumentals all the more impressive.
Furthermore, lead vocalist Black Thought flows effortlessly over the live band, with a sharp sense of introspective lyricism that has defined him as one of the greatest writers in hip hop. Though Malik B. sadly passed away, his contributions to the group were also elite, bouncing well off Black Thought, rivalling him for the best verse and creating a light-hearted sense of competition within the band.
5. Run-D.M.C.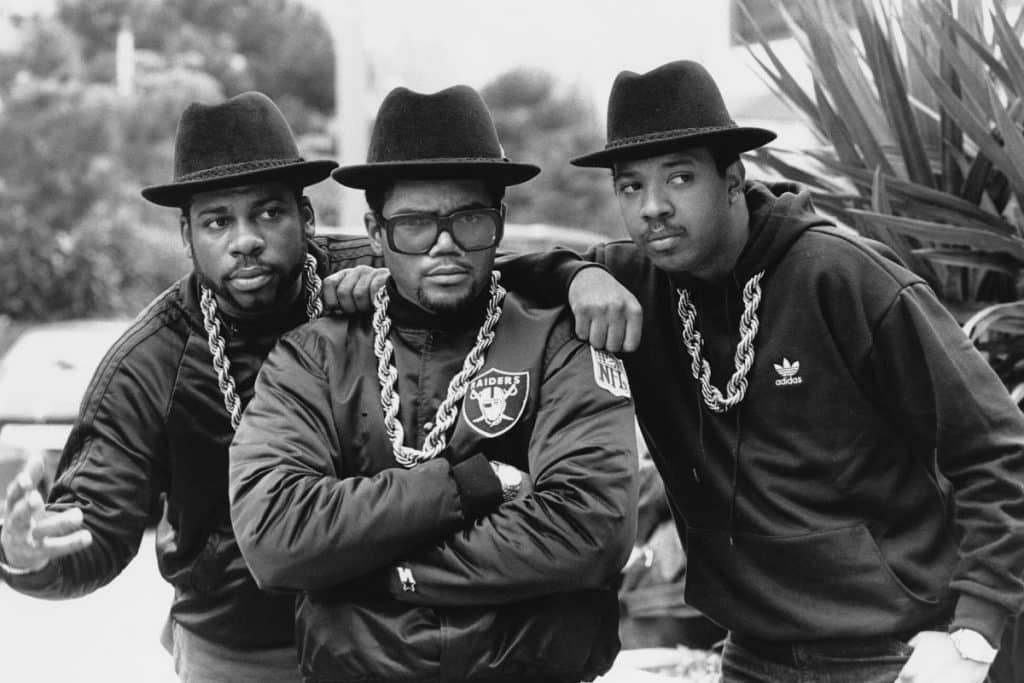 Members: Run, D.M.C., Jam Master Jay
Catalogue: Run-D.M.C. (1984), King of Rock (1985), Raising Hell (1986), Tougher Than Leather (1988), Back from Hell (1990), Down with the King (1993), Crown Royal (2001)
Quite possibly the most influential rap act of all time, Run-D.M.C. defined the shape of hip hop to come when they debuted in 1984. With their high energy and hardcore style, they brought hip hop away from the safe, mainstream sounds of dance and funk, embracing a harder, more abrasive sound which became the norm for the genre.
Run-D.M.C. are legendary for their impact on music, fashion and pop culture in general, but that's not to say the group were only worth praising for their influence. Run and D.M.C. knew how to make a crowd move, with a knack for making catchy hooks and an ear for loud and energetic beats. They matched their energy with their wild verses, putting their all into every verse. With a staggering list of achievements like being the first rap group to achieve a gold and platinum record, the Hollis, Queens trio is hip hop royalty.
4. De La Soul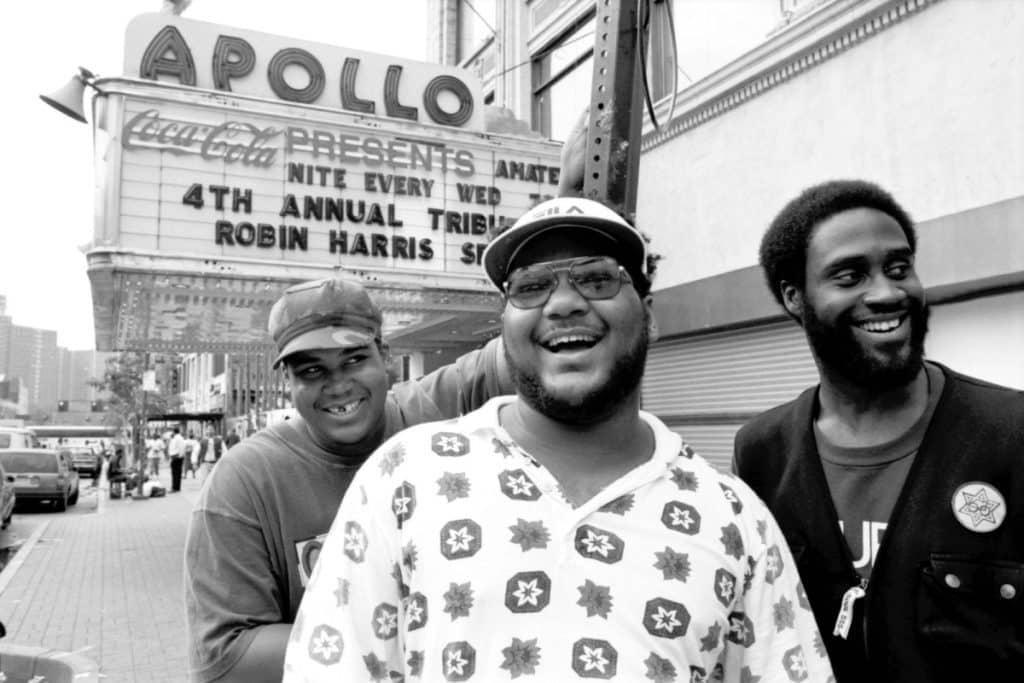 Members: Posdnuos, Trugoy, Maseo
Catalogue: 3 Feet High and Rising (1989), De La Soul Is Dead (1991), Buhloone Mindstate (1993), Stakes Is High (1996), Art Official Intelligence: Mosaic Thump (2000), AOI: Bionix (2001), The Grind Date (2004), Plug 1 & Plug 2 Present… First Serve (2012), And the Anonymous Nobody… (2016)
De La Soul emerged in the late '80s with 3 Feet High and Rising and proved their legend status further with each project thereafter. Their style fluctuated from light-hearted jazz rap to aggressive boom bap, with the group's versatility making their discography one of the most diverse and consistent in hip hop.
The group has such a youthful energy, with upbeat lyricism and captivating chemistry between each rapper, making the darker moments in their catalogue all the more impactful. Although label disputes have made their music inaccessible to rap fans in the modern era, true hip hop heads know that De La Soul are up there with the best of the best.
3. Public Enemy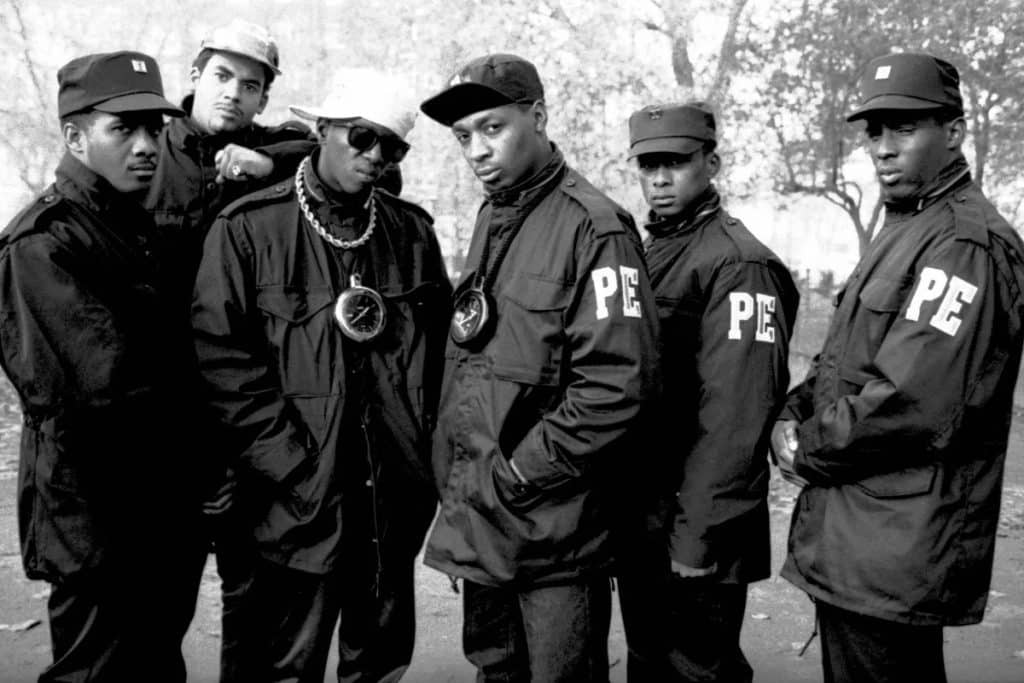 Members: Chuck D, Flavor Flav, DJ Lord, Sammy Sam
Catalogue: Yo! Bum Rush the Show (1987), It Takes a Nation of Millions to Hold Us Back (1988), Fear of a Black Planet (1990), Apocalypse 91… The Enemy Strikes Black (1991), Muse Sick-n-Hour Mess Age (1994), There's a Poison Goin' On (1999), Revolverlution (2002), New Whirl Odor (2005), How You Sell Soul to a Soulless People Who Sold Their Soul? (2007), Most of My Heroes Still Don't Appear on No Stamp (2012), The Evil Empire of Everything (2012), Man Plans God Laughs (2015), Nothing Is Quick in the Desert (2017), Loud Is Not Enough (2020), What You Gonna Do When the Grid Goes Down? (2020)
Public Enemy are hip hop legends, renowned as hip hop pioneers, achieving mainstream success while maintaining respect within the hip hop community. While the members' shouty style of rapping could be compared to the Beastie Boys, it's the lively, sample-riddled production style of Public Enemy that sets them apart from all other hip hop outfits.
One of the greatest rappers of all time, Chuck D's delivery is wild, matching the messy and unpredictable nature of the group's production with limitless energy and a range of dynamic flows. What makes the group even more engaging is their powerful politics, using their music as a stand against racism and oppression in America.
2. Wu-Tang Clan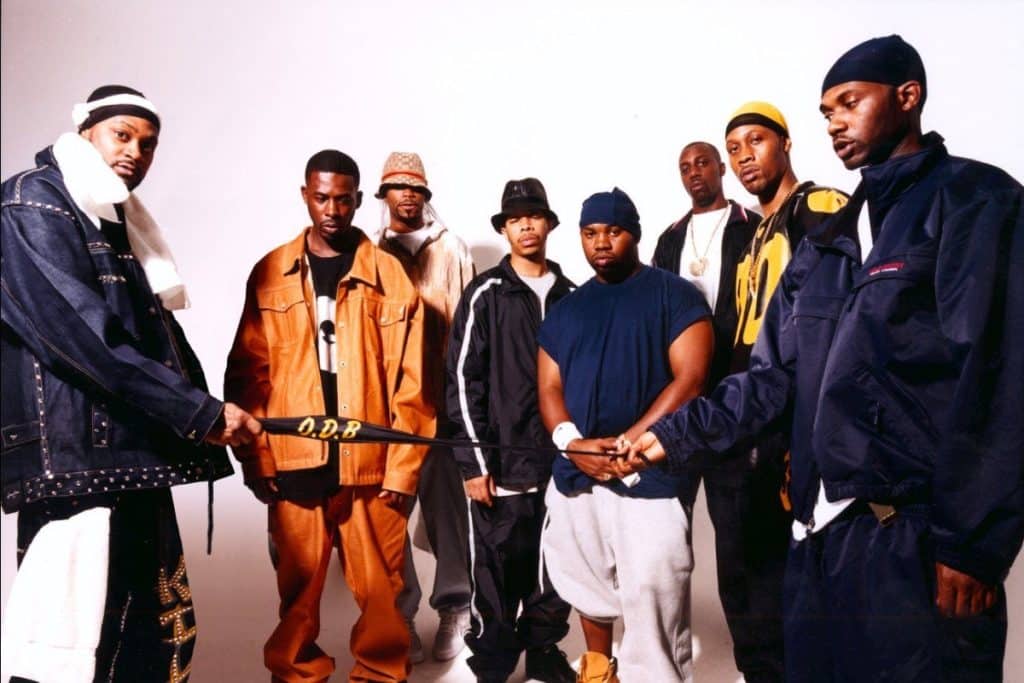 Members: RZA, GZA, Ol' Dirty Bastard, Inspectah Deck, U-God, Ghostface Killah, Method Man, Raekwon, Masta Killa, Cappadonna
Catalogue: Enter the Wu-Tang (36 Chambers) (1993), Wu-Tang Forever (1997), The W (2000), Iron Flag (2001), 8 Diagrams (2007), A Better Tomorrow (2014), Once Upon a Time in Shaolin (2015)
The sheer amount of talent to come out of Wu-Tang Clan is extraordinary. Rappers like Ghostface Killah, Method Man, GZA and Raekwon are often in discussions for the best rappers of all time, so for them – among a handful of other legends – to have all come from the same group instantly marks Wu-Tang as one of the greatest rap groups of all time. Though there are almost a dozen members in the group, each one of them has their moment to shine.
That is precisely what makes Wu-Tang so special: the group acts as one unit, not taking turns for their verses, but going back and forth, hyping one another up, always complementing each other's style. Throughout hip hop history, there hasn't been a rap group that has been as dominating or overwhelming as the Wu-Tang Clan.
1. A Tribe Called Quest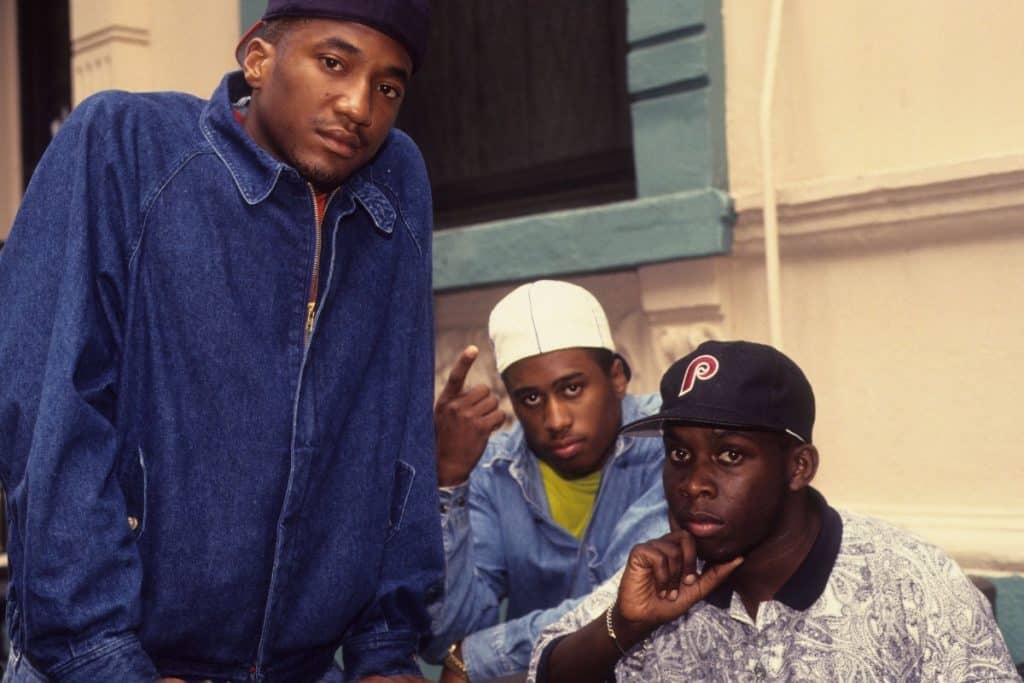 Members: Q-Tip, Phife Dawg, Ali Shaheed Muhammad, Jarobi White
Catalogue: People's Instinctive Travels and the Paths of Rhythm (1990), The Low End Theory (1991), Midnight Marauders (1993), Beats, Rhymes and Life (1996), The Love Movement (1998), We Got It from Here… Thank You 4 Your Service (2016)
A Tribe Called Quest is the best rap group of all time, period. They pioneered jazz rap in the early '90s, dissecting brilliant samples from Lonnie Smith and Roy Ayers classics to recreate the same summery and light-hearted sound in their slick brand of hip hop. Q-Tip and Phife Dawg had some of the best chemistry between any two rappers, going back and forth with one another, not as two rivals competing for the best verse, but as two close friends joining forces, combining their strengths to forge some of hip hop's greatest songs.
From their '90s classics to their 2016 comeback, Tribe have proven themselves hip hop titans, and their legacy will not be forgotten. If this list was put together before Tribe dropped their last album, there's a good chance that Wu-Tang would have taken the top spot. But We Got It from Here… Thank You 4 Your Service provided Tribe with the perfect ending to a story that was left unfinished for almost two decades.