Now that we've done the best hip hop records of the '80s and '90s, it's time to move on to the noughts era. Coming into this decade, hip hop was transforming into one of the biggest genres in the world. It was a pivotal moment for hip hop, but also for the recording industry in general.
With acts like Eminem, Dr. Dre, DMX and Jay Z dominating the end of the '90s, gangsta and street rap propelled the culture into a commercial juggernaut. Then we had 50 Cent come through and the rise of the South – Lil Wayne, T.I., Young Jeezy and Gucci Mane would all make history with their '00s releases.
While all this was happening, a Chicago producer was quietly plotting his takeover of the industry. Gangsta rap might have dominated the first half of the '00s, but make no mistake, the second half was all Kanye, or at least his influence.
So let's get into it, here's the '00s edition of the best hip hop albums, every year since 1986.
Read other decades:
2000: Ghostface Killah – Supreme Clientele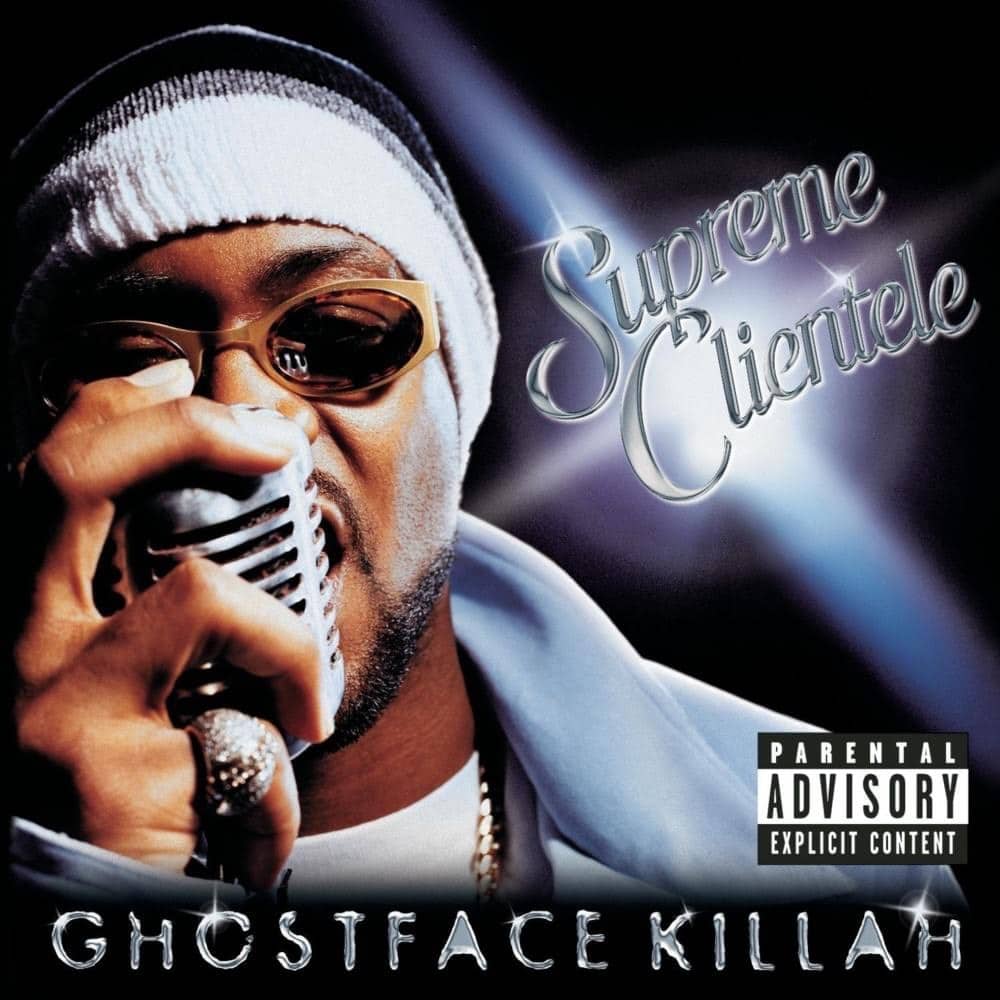 Released: February 8, 2000
Label: Epic, Sony, Razor Sharp
Singles: "Mighty Healthy", "Apollo Kids", "Cherchez La Ghost"
Honourable mentions: Common – Like Water for Chocolate, Outkast – Stankonia, Eminem – The Marshall Mathers LP, Reflection Eternal – Train of Thought
Ghostface's 1996 debut, Ironman, always felt like a solid Wu-Tang album with him as the lead character. Supreme Clientele, on the other hand, is a fully-realised masterpiece that only the Wallabee Champ could have created.
Released during the second round of disappointing solo Wu albums, Supreme Clientele singlehandedly revived the stagnating group, injecting some much needed energy with classics like "Nutmeg" and "Mighty Healthy," and powering Ghost's momentum into the new decade.
Ghostface: When I was rhyming on "Nutmeg" and "One" on Supreme Clientele, I made a style that I couldn't even tell what it was. I just wanted to use some words that sounded good with each other and everybody's trying to decipher what I mean when, really, I don't even know what it means because I had no beat. But something said, Make a record. Write a verse real quick just putting words together, whether they mean something or not. Just put them together. That's what I did with "Nutmeg" and "One." But it was "Nutmeg" that set it off.

Ghostface Killah on the Most Memorable Moments of His Incomparable Career | Vulture
2001: Jay Z – The Blueprint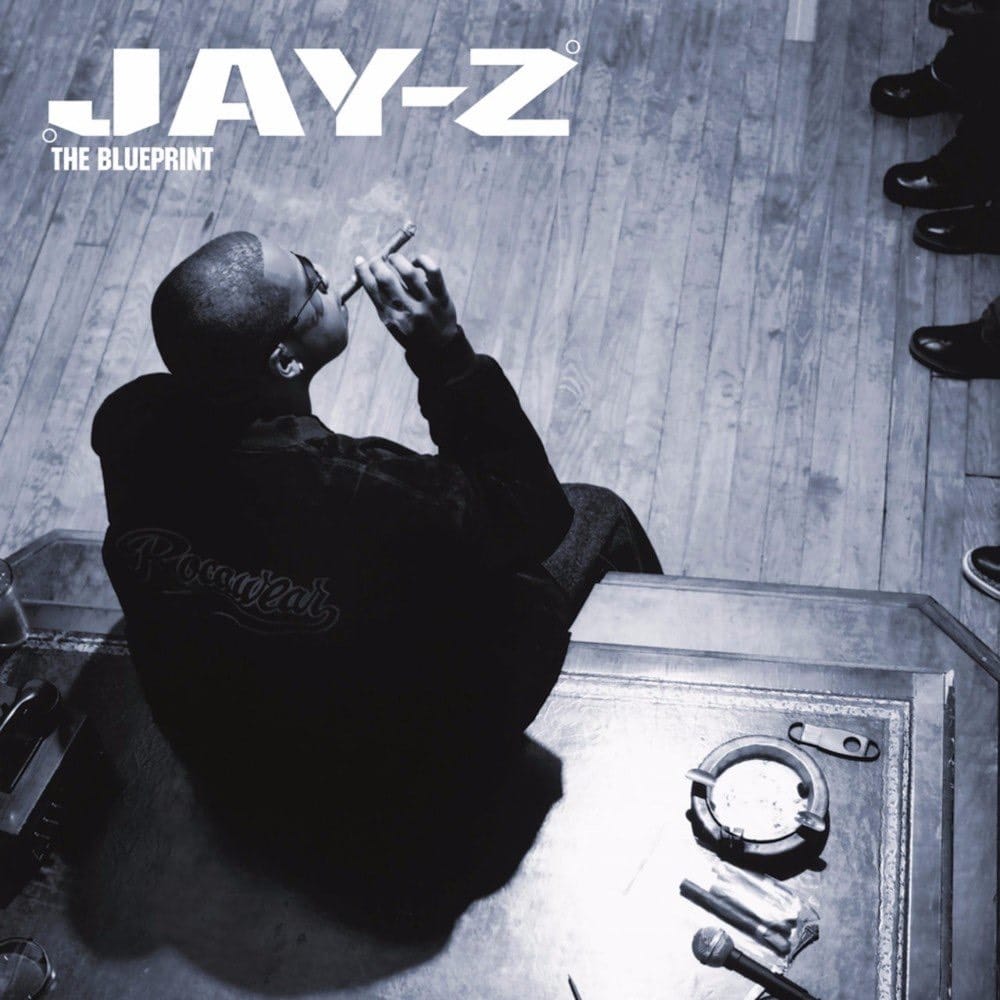 Released: September 11, 2001
Label: Roc-A-Fella, Def Jam
Singles: "Izzo (H.O.V.A.)", "Girls, Girls, Girls", "Jigga That Ni**a", "Song Cry"
Honourable mentions: Nas – Stillmatic, Cannibal Ox – The Cold Vein, Masta Ace – Disposable Arts, Beanie Sigel – The Reason
Reasonable Doubt was Hov spitting as a hungry Brooklyn with an independent chip on his shoulder, eager to prove to the world that he was as good, if not better, than any of these major label artists.The Blueprint, on the other hand, is Jay at the top of his power. There's a reason why most rappers fall off after two or three albums, they taste some success and grow complacent with their craft. Hov never let that happen to him.
This album is made by a rapper who knows exactly where he stands in the industry, where he stands in his craft and where he stands in his life. Surrounded by the '70s soul samples that defined his youth and backed by the production wizardry of Kanye, Just Blaze, Bink and Timbaland, Hov took back control of the throne ("The Ruler's Back"), fired shots at rivals ("Takeover"), got introspective ("Song Cry"), and successfully secured his reign over hip hop.
Just Blaze: 'Song Cry' is probably the most complex song on there. Originally when I did it, I had straight drums and that singing sample all the way through. I literally had 96 sample traps in that beat. If you listen to it, it sounds seamless. It sounds like one long smooth thing but that's literally 96 sample chops all being triggered in that beat. When Jay did his verse all the way through, I went back and did the whole beat over. When he heard it, he called me and told me 'Yo, you're the best. I want you to know that. Right now you're the best producer around. Nobody can take that from you and I'm glad you stuck around.' Then he called Timbaland and said, 'Yo, you cool but Just Blaze is the best.'

Just Blaze Tells All: The Stories Behind His Classic Records (Part 1) | Complex
2002: Clipse – Lord Willin'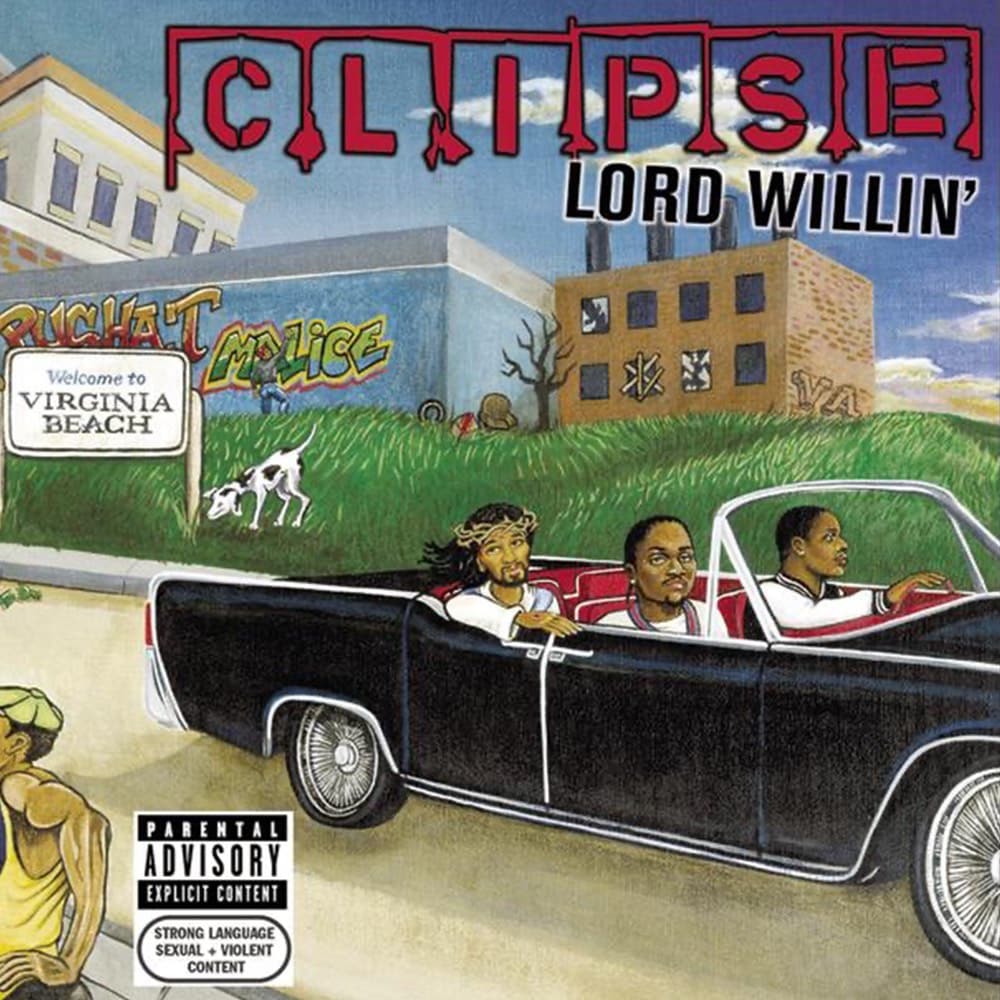 Released: August 20, 2002
Label: Star Trak, Arista
Singles: "Grindin'", "When the Last Time", "Ma, I Don't Love Her", "Cot Damn"
Honourable mentions: The Roots – Phrenology, Nas – God's Son, Talib Kweli – Quality, Eminem – The Eminem Show, Nas – The Lost Tapes
What do you get when you combine the genius pop sensibilities of The Neptunes with the coldest rap duo ever? A stone cold classic, that's what you get.
With Pharrell and Chad providing the rattling drum patterns and futuristic funk that would soon dominate the '00s, Pusha and Malice recounted their hustling tales with youthful brashness and a detachment that bordered on sociopathic.
And "Grindin'", oh my god, "Grindin'". Coke rap has never sounded more enjoyable than this.
Pusha T: Whatever you hear first sets the tone of the album. It was really about establishing identity, and, like, putting our flag in the ground. We basically wanted people to understand and know where we were coming from—no one had ever seen this side of Virginia before. We knew that this music was a bit newer. Even though we had The Neptunes on our side and they were everything at the time, our criteria for The Clipse was outside of what The Neptunes were doing. Our first record out was "Grindin'." This was at a time when Pharrell was hot, the Neptunes were hot. He was on every hook from Nelly to Mystikal, everybody. And we have a hook where he's actually not on it. The intro…it basically set the tone for all of those maneuvers and moves. It was just like, "This is what we are, we're different. This is the streets, this is Virginia, this is new, this is risk-taking." Playas, we ain't the same. You know.

Pusha T Talks The Making Of "Lord Willin'" 10 Years On, Pharrell vs. Kanye, & G.O.O.D. Music | Life + Times
2003: 50 Cent – Get Rich or Die Tryin'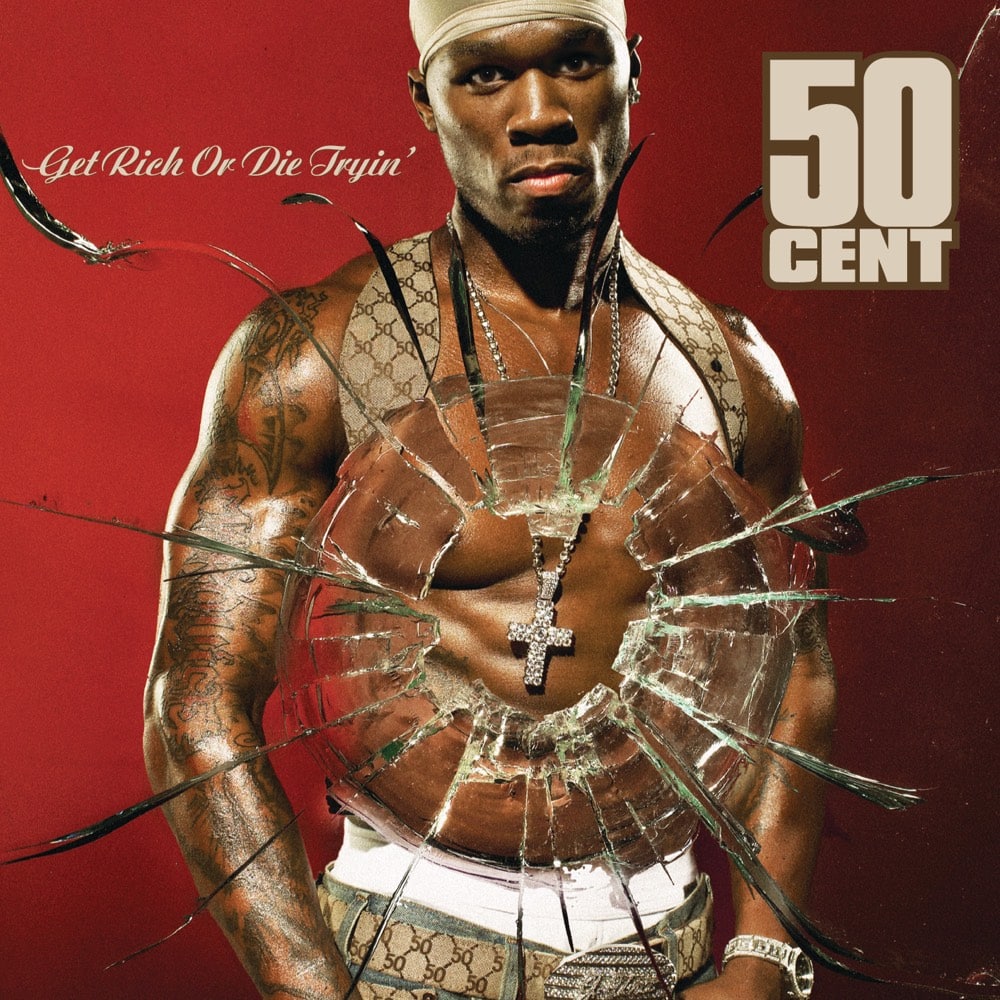 Released: February 6, 2003
Label: Shady Records, Aftermath Entertainment, Interscope Records
Singles: "In da Club", "21 Questions", "Many Men (Wish Death)", "P.I.M.P.", "If I Can't"
Honourable mentions: Outkast – Speakerboxxx/The Love Below, Jay Z – The Black Album, Ludacris – Chicken-n-Beer, T.I. – Trap Muzik
Hov said it himself on "A Star Is Born" – "50 came through like hurricanes do." Hip hop had never seen a force like Curtis "50 Cent" Jackson come through before. And even with all the superstars that would come after him, from Kanye to Lil Wayne to Drake, it's never quite been the same.
With mixtapes like Guess Who's Back?, 50 Cent Is the Future, No Mercy, No Fear and God's Plan circulating the streets the year prior, the hype for Get Rich or Die Tryin' was insane, so when "In da Club" dropped it was a wrap for every other rapper out there.
DeNaun Porter: Get Rich Or Die Tryin' was a monumental thing. That album was perfectly produced. There were no flaws in it. There's a song for everybody. 50's work ethic was everything, especially to Dre and Em. The fact that he was smart and hungry. He worked like he was gonna get shot again. He didn't take no days off. It shifted everybody's view of music. At the time everybody was trying to be hard and tough and took a route that maybe wasn't for them. It killed a lot of the corny records. It was OK in the party to wear Timbs at the time. There has been nothing like it.

The Secret History Of 50 Cent's 'Get Rich Or Die Tryin'' | Okayplayer
2004: Kanye West – The College Dropout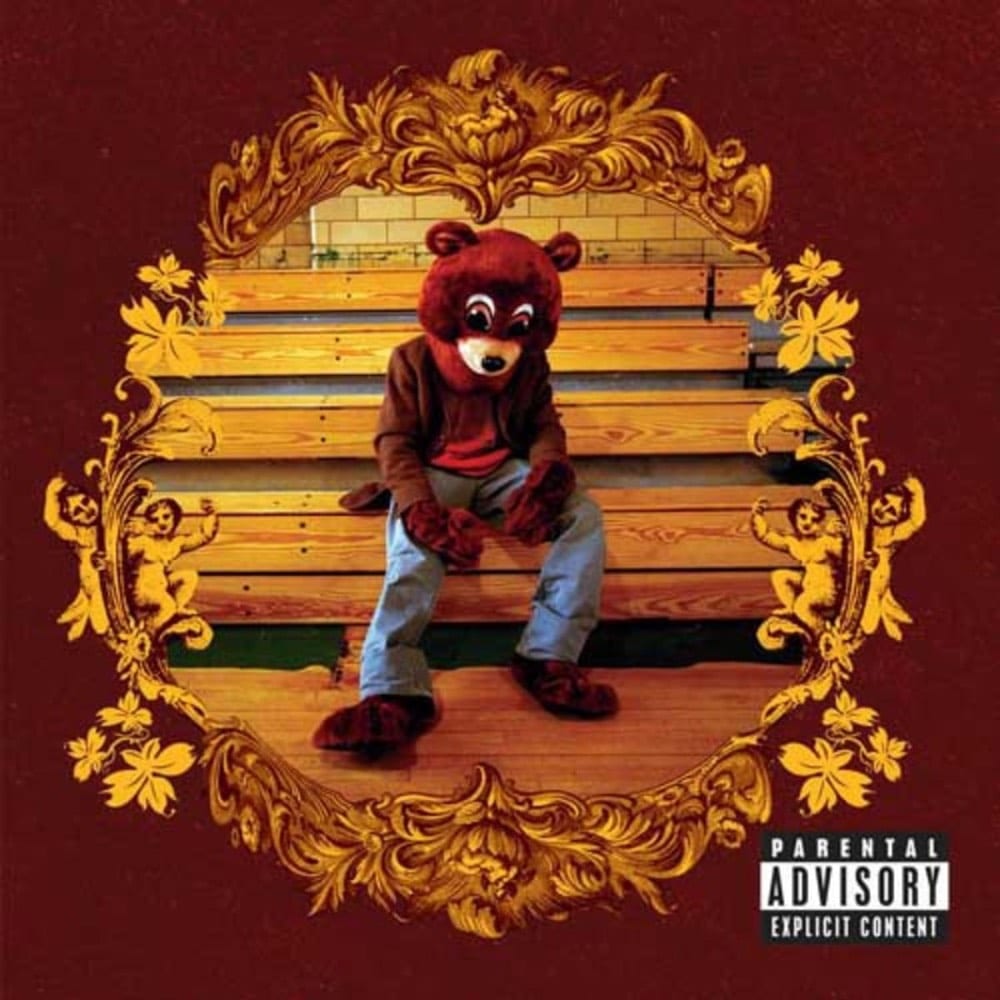 Released: February 10, 2004
Label: Roc-A-Fella Records, Def Jam Recordings
Singles: "Through the Wire", "Slow Jamz", "All Falls Down", "Jesus Walks", "The New Workout Plan"
Honourable mentions: Madvillain – Madvillainy, MF Doom – MM..Food, Masta Ace – A Long Hot Summer, Ghostface Killah – The Pretty Toney Album
On The College Dropout, Kanye took Talib Kweli, Mos Def and Common, then threw them on the same record as JAY Z, Freeway and Ludacris, merging the two worlds like no other artist has before. In one breath, he name-dropped luxury fashion brands, in another, he lamented working a dead-end 9-to-5 job.
Backed by chipmunk soul samples, gospel-tinged soundscapes and highly-addictive funk grooves; Kanye clobbered listeners with huge hits like "Jesus Walks" and "Slow Jamz" while getting introspective, examining blue collar dreams, working class dilemmas and the daily hustle.
There's a very long list of rappers – Drake, Lupe Fiasco, Kid Cudi, to name a few – who were able to launch commercially-successful recording career thanks to this album. The most influential hip hop record of the decade? Absolutely.
J. Ivy: The album got people through school, through depression, through death in the family, through relationships, through bad jobs, through career decisions – the album changed lives. People said that they were considering taking their lives but they heard my verse and they reconsidered committing suicide. It called forth a huge ripple effect. So many artists came after it were inspired. So many people were inspired to write poetry, so many rappers were inspired to rap, so many producers were inspired to produce and those who were doing it already were inspired to do it better.

Kanye West's 'The College Dropout': An Oral History | Billboard
2005: Young Jeezy – Let's Get It: Thug Motivation 101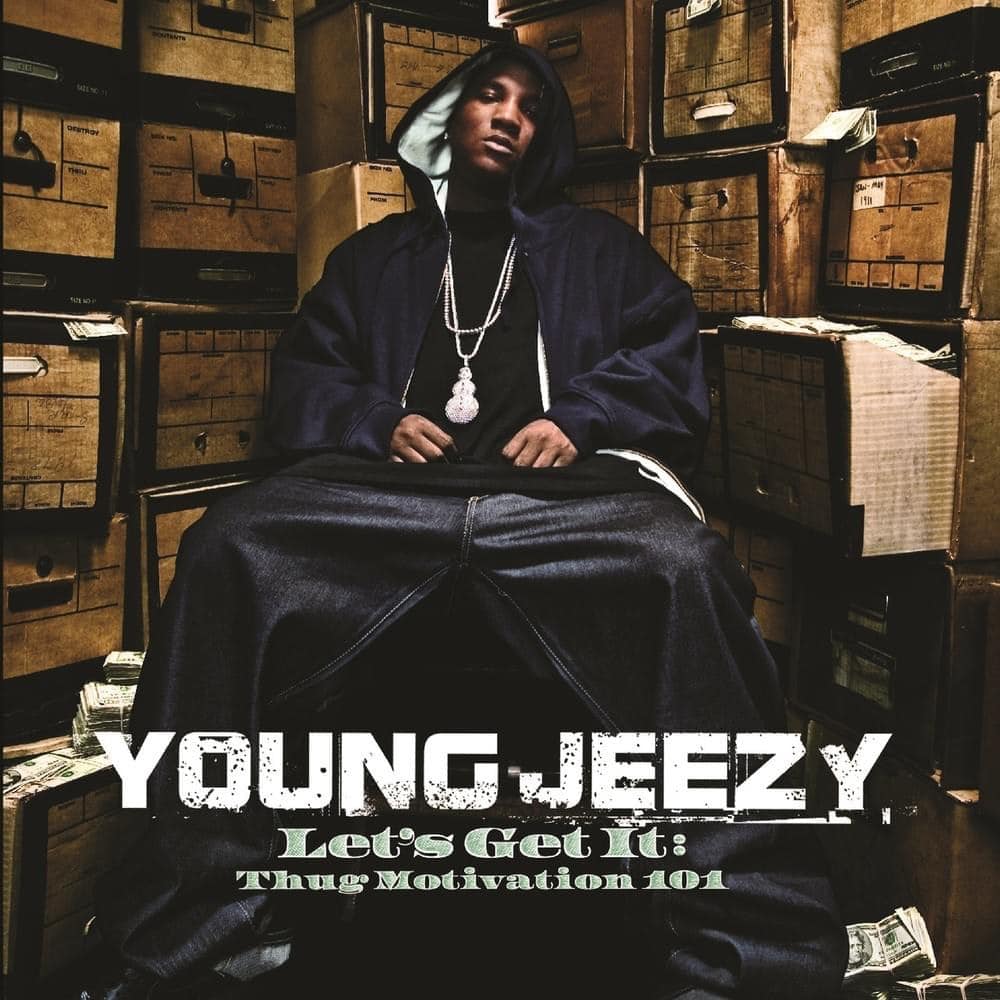 Released: July 26, 2005
Label: CTE World, Def Jam Recordings
Singles: "And Then What", "Soul Survivor", "Go Crazy (Remix)", "My Hood"
Honourable mentions: Kanye West – Late Registration, Common – Be, DangerDoom – The Mouse And The Mask, The Game – The Documentary, Lil Wayne – Tha Carter II
Let's Get It: Thug Motivation 101 wasn't the biggest album of 2005 – we had 50's The Massacre and Game's The Documentary. It wasn't the most talked about album, that award goes to Kanye's Late Registration. Nor was Young Jeezy even the best rapper (skilfully speaking) that year, you'd have to go with Lil Wayne, T.I. or Common for that.
And yet, there was just something about the voice, the sermon-like flow, the anthems, the beats ("Go Crazy" is bananas), that helped this album eclipse anything released that year. This is greatest trap album ever released, and that's saying something.
Young Jeezy: To be honest with you, Thug Motivation 101, to me, was my testimony. I never looked at it for record sales, money or for a record deal. I was really just trying to be heard, that was my whole goal. I just wanted the world to hear me, hear my story, and hear my peoples' story, their pain and their triumph. It came across so passionately, because every word I uttered, I believed it – because I saw it, I lived it, I felt it, I touched it.

Young Jeezy Reveals That He Spent Six Months Living At Shawty Redd's House, Revisits "Thug Motivation" Series | HipHopDX
2006: Clipse – Hell Hath No Fury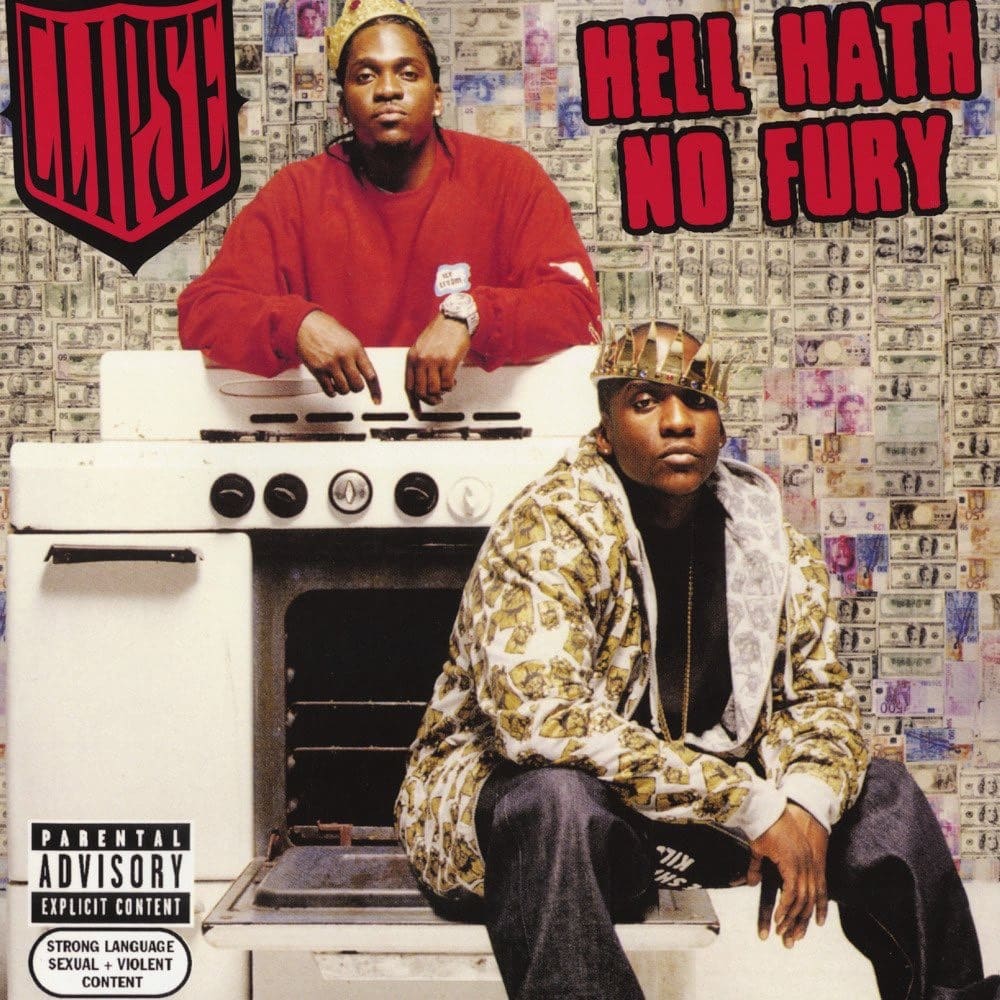 Released: November 28, 2006
Label: Re-Up Records, Star Trak Entertainment, Jive Records
Singles: "Mr. Me Too", "Wamp Wamp (What It Do)"
Honourable mentions: Young Jeezy – The Inspiration, Nas – Hip Hop Is Dead, T.I. – King, Ghostface Killah – Fishscale, Lupe Fiasco – Food & Liquor, The Roots – Game Theory
Clipse and The Neptunes took the formula that worked so well for Lord Willin' and doubled down on it for this album. Pusha and Malice are on point as always with slick double entendres about their coke dealings, while Pharrell and Chad worked the drum machine
The fact that the two brothers sound almost identical in rhyme syntax and vocal pitch only adds to the record's soulless vibe; the lyrics are delivered through steely scowls and posturing stares. Behind the vocals, The Neptunes deliver their most disciplined production job yet. Sparse, lean, electro boom-bap is all there is to Hell Hath No Fury, but my god does it sound dope.
Pusha T: I probably could have given you an album with straight facts, the shit probably didn't even need to rhyme, and it would have been the most shocking shit you've ever heard. It still would have been entertaining, but the fact the actual artform was never, ever, ever, lost, the art of the cleverness, the art of the rap, it was not lost for one moment on that album.

Clipse Talk About Hell Hath No Fury on Its 10th Anniversary (and If There Will Be Another Clipse Album) | GQ
2007: Kanye West – Graduation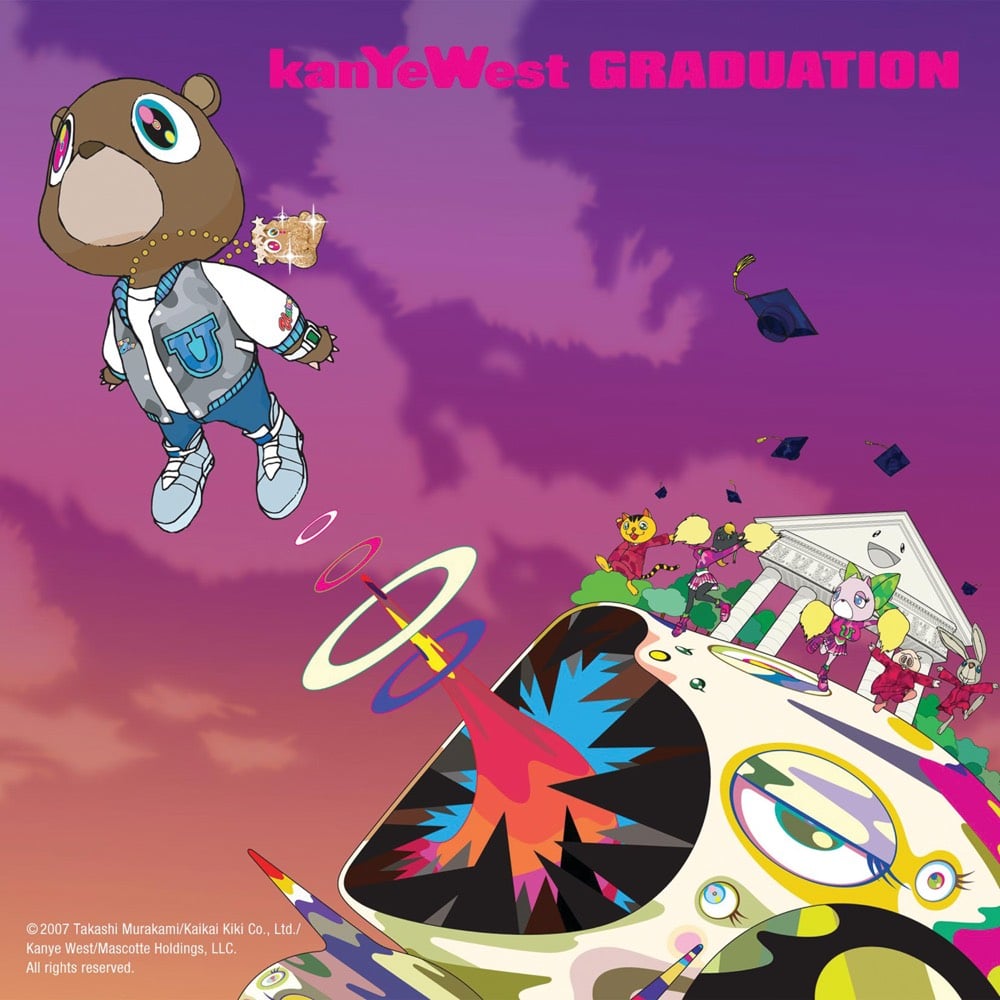 Released: September 11, 2007
Label: Roc-A-Fella Records, Def Jam Recordings
Singles: "Can't Tell Me Nothing", "Stronger", "Good Life", "Flashing Lights", "Homecoming"
Honourable mentions: Jay-Z – American Gangster, Lupe Fiasco – The Cool, Blu & Exile – Below the Heavens, UGK – Underground Kingz
If his two preceding albums established Kanye as a talented new force in hip hop, then Graduation confirmed that he was pop music genius, and the most original artist in the game. Musically, Graduation is Kanye's boldest work to date. He moves beyond hip hop and reaches far beyond, creating a synthesis between traditional boom-bap rap music and stadium-status, synth-heavy electronic-rock.
While his debut explored working family dreams and the monotony of middle-class work and Late Registration delved into social welfare and global issues, Graduation narrowed the focus and tightened the writing – it's all about Kanye here. The dazzling rise in the music business, the allure of fame, the controversy, the media, the asshole everybody loves to hate.
JAY Z: It's pretty much how much he cares about it. It's not done for any other reason but to be the best music out at that specific time. You know, at times you could hear [other] people's music, and you hear, "Okay, that's your girl single, that's the thug single, that's the…" No, it's none of that. Every single song he makes, he makes because he thinks it's the best record at that specific time. He may not think it next week, but that week, he thought that was the best record that he could make.

Jay-Z toasts Kanye West's "Graduation" | EW
2008: Q-Tip – The Renaissance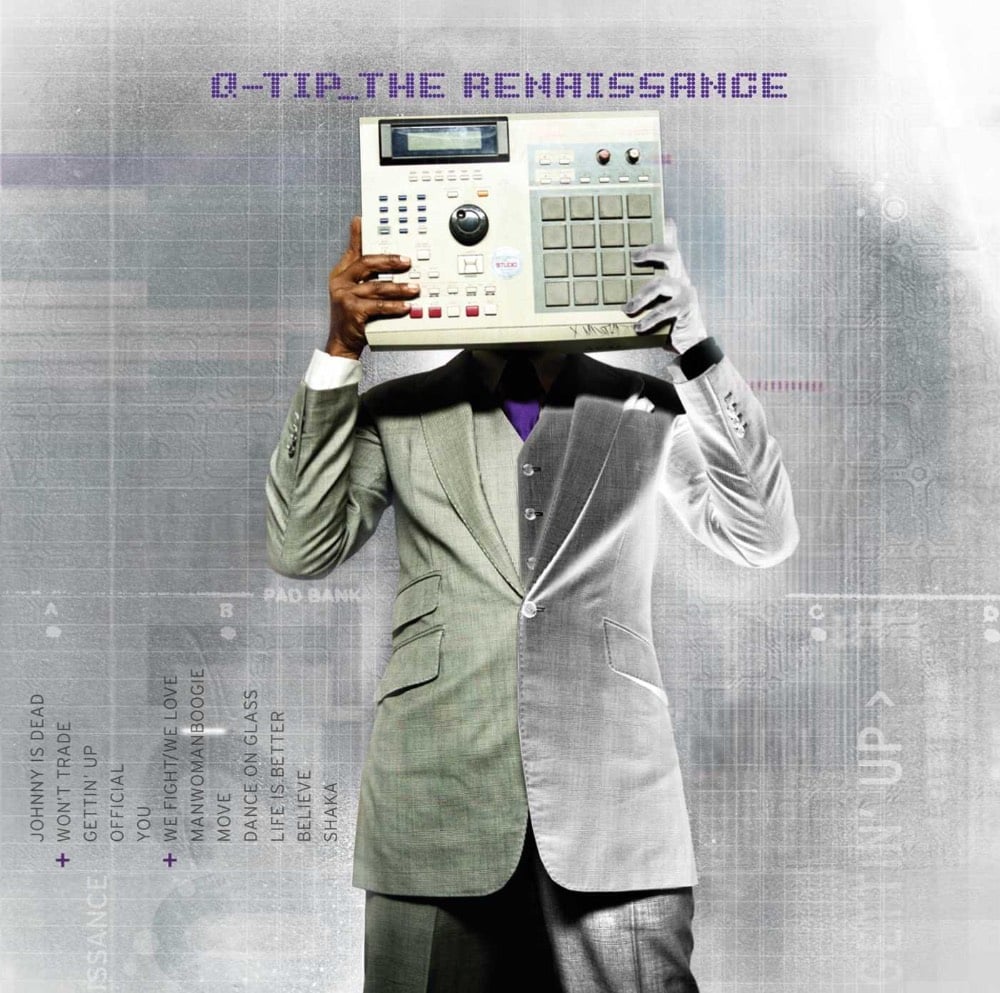 Released: November 4, 2008
Label: Universal Motown
Singles: "Gettin' Up", "Move", "Life Is Better"
Honourable mentions: Lil Wayne – Tha Carter III, Kanye West – 808s & Heartbreak, Young Jeezy – The Recession, The Roots – Rising Down
10 years removed from Tribe's last album, and nine years from his solo debut, Q-Tip was back on the cover of his next album holding up the classic MPC2000XL. The Renaissance is, in many ways, a tribute to the golden age that popularised the use of that drum machine in hip hop, although Tip managed to effortlessly merge the polished, modern sound of the '00s with the soulful funk of the old-school era.
Building tracks using samples by Black Ivory and The Jackson 5 and looping gritty breakbeats, The Abstract also roped in jazz musician Norah Jones and soul singers Raphael Saadiq and D'Angelo to compose a sophisticated, elegant and unified sound, unlike any other hip-hop record at the time.
Q-Tip: It felt like I had re-entered hip hop. At the time I exited, music was vastly different. Then I came back and was like 'Okay, the breaks are still there. This is the steering wheel. We don't put the keys in doors no more, I can handle that!' It was like even though things had changed, the premise of a car is still a car. Once you get in, you keep things moving. In 2008, everything in hip hop was so different as you had Lil Wayne and Kanye really popping. It was really exciting and inspiring, but I guess you could also say [in 2008] rap became less about the music. I felt like a renaissance was needed, not just for hip hop, but across all mediums of art.

Q-Tip interview: reflections on 'The Renaissance', ten years on | NME
2009: Raekwon – Only Built 4 Cuban Linx… Pt. II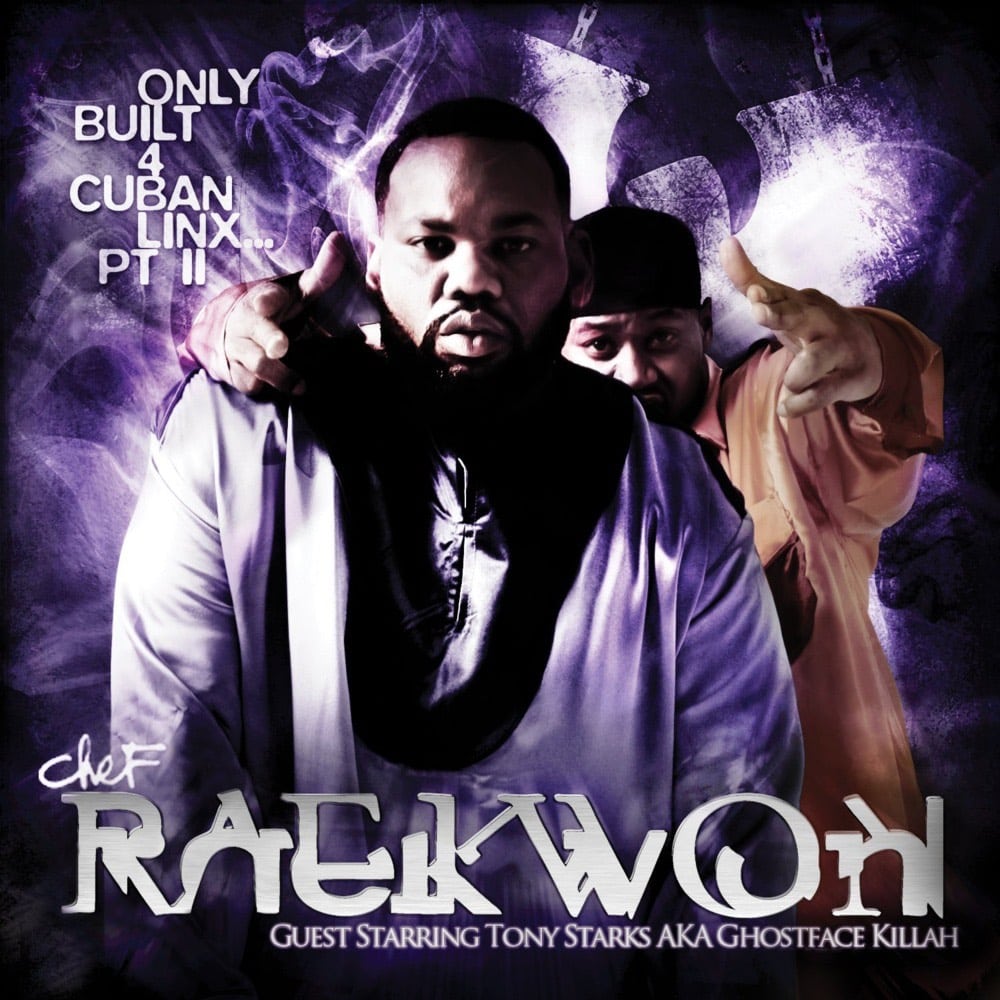 Released: September 8, 2009
Label: Ice H2O, EMI
Singles: "New Wu", "House of Flying Daggers", "Walk Wit Me", "Have Mercy", "Catalina"
Honourable mentions: Brother Ali – Us, Mos Def – The Ecstatic, DOOM – Born Like This, Jay-Z – The Blueprint 3, Kid Cudi – Man on the Moon: The End of Day
It's only right that Ghost had the best album at the beginning of the decade and his partner-in-crime had the best album at the end. If Only Built 4 Cuban Linx… crowned Raekwon as the mafioso hip hop's finest storyteller, the sequel cemented Chef as the most revered criminologist in the game.
Like The Godfather Part II, this album will forever be linked to the original, but make no mistake, it is a classic that can be judged on its own artistic merits and not just by its franchise brand. Plus, the production line-up is stacked! RZA, Dr. Dre, Erick Sermon, J Dilla, Marley Marl, Pete Rock all show up here.
Only Built 4 Cuban Linx… Pt. II is a modern update on a classic, with renewed lyricism and a ton of replay value. The sequel draws upon the original for inspiration but it is entirely unique in its own way; and most importantly, it's a satisfying result to an impossible task; being the sequel to one of the greatest hip hop albums of the '90s.
Raekwon: It does follow the same storyline, and like the first one, we weren't thinking about money. This is a lot like the original in many ways, not just the name. I'm talking about coming into the studio with boots and a hoodie and just being a fucking emcee. We weren't about glamour. So I wanted to go back into that world we created on the original. The fact that the original went gold in like two days or some shit, made me work even harder. People were telling me to do a sequel since like '96 or '97 so I had to do it eventually.

Cuban Linx Revisited: Interview With Raekwon | Nerdtorious