The rap game is no stranger to seismic shifts over the decades. Yet, some constants stand firm amidst the ever-changing landscape, one of which is the unmistakable, undeniable force of nature that is Busta Rhymes. The Brooklyn-born MC's discography shows a career that has consistently pushed the boundaries of hip hop, offering a diverse line-up of albums that showcase his unmatched energy, liquid hot flow and lyrical finesse on the mic.
You can't talk about the impact of the Long Island-raised MC without mentioning Extinction Level Event. Released amidst the millennial frenzy of the late 90s, the album capitalized on the global apprehension, echoing its sentiments through an enthralling narrative of a rapidly approaching doomsday. Its apocalyptic theme rings loud, setting the tone for the rapper's signature eccentricity throughout.
However, Busta's discography isn't just about grand visions of apocalypse. Albums like The Big Bang and Genesis demonstrate his ability to craft infectious tracks and punchy hooks, while his debut, The Coming, marked a clear shift in the hip-hop scene of the mid-90s, setting the stage for Busta's flourishing career.
Throughout the highs and lows, whether it's the anticipated highs of When Disaster Strikes… or the experimental lows of Year of the Dragon, one fact remains: Busta's energy, creativity, and raw talent have left an enduring impact on the rap game.
So let's get into it. From his 1996 debut album, The Coming, to his Aftermath album, The Big Bang, and latest release, Extinction Level Event 2, we rank every Busta Rhymes album, from worst to best.
Year of the Dragon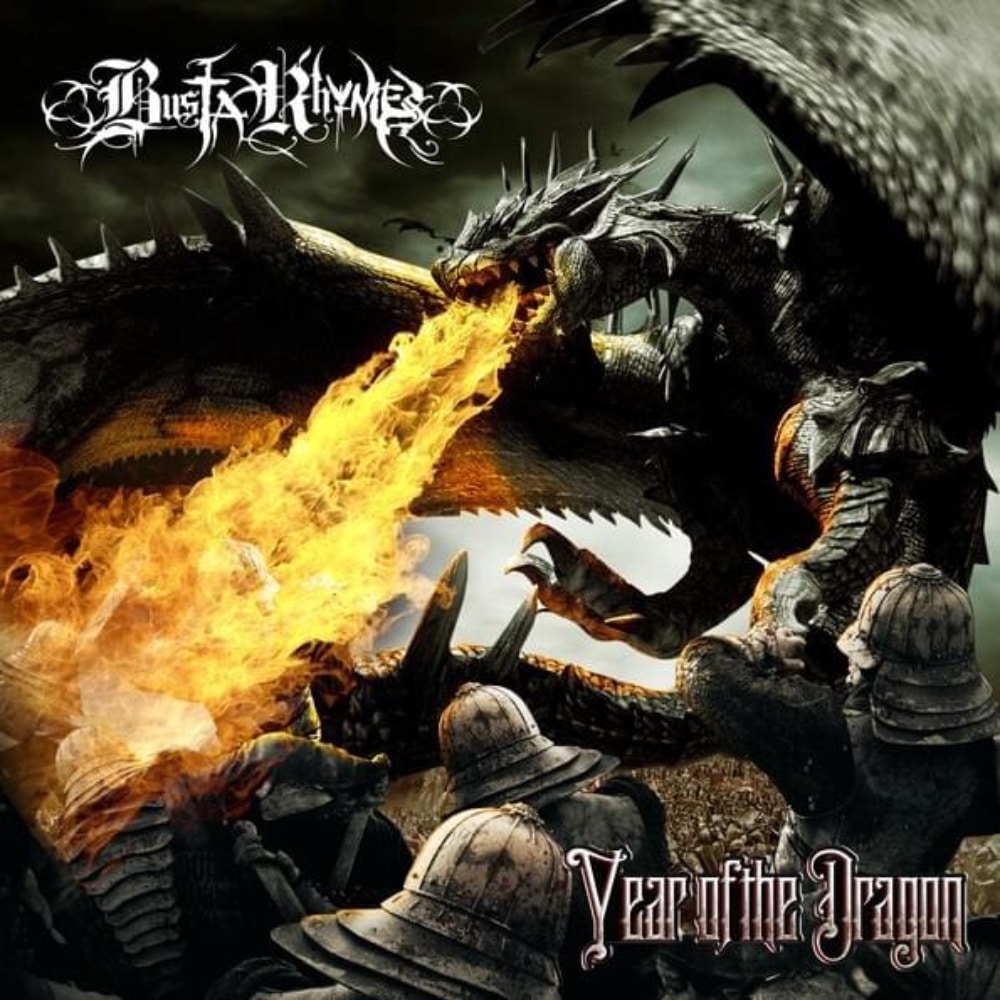 Released: August 21, 2012
Label: Conglomerate
Singles: "King Tut", "Doin' It Again"
Features: Anthony Hamilton, Cam'ron, Robin Thicke, Maino, Vybz Kartel, J-Doe, Reek da Villian, Rick Ross, Gucci Mane, Trey Songz and Lil Wayne.
On Year of the Dragon, we find a seasoned Busta Rhymes grappling with his established legacy and a desire to experiment, yet struggling to find a cohesive thread. Though moments of brilliance shine through, such as the '90s nostalgia of the Notorious B.I.G.-sampled "Dreams (Just Playin')" where Busta and Gucci Mane craft a memorable vibe, the album overall lacks direction. This mixtape-turned-album is an eclectic mix of features, production styles, and themes, that while showcasing the Long Island rapper's versatility, also emphasizes his struggle to maintain consistency. Despite the project's disorganization, it's evident that Busta's lyrical prowess is undiminished, offering hope for future, more focused efforts.
Back on My B.S.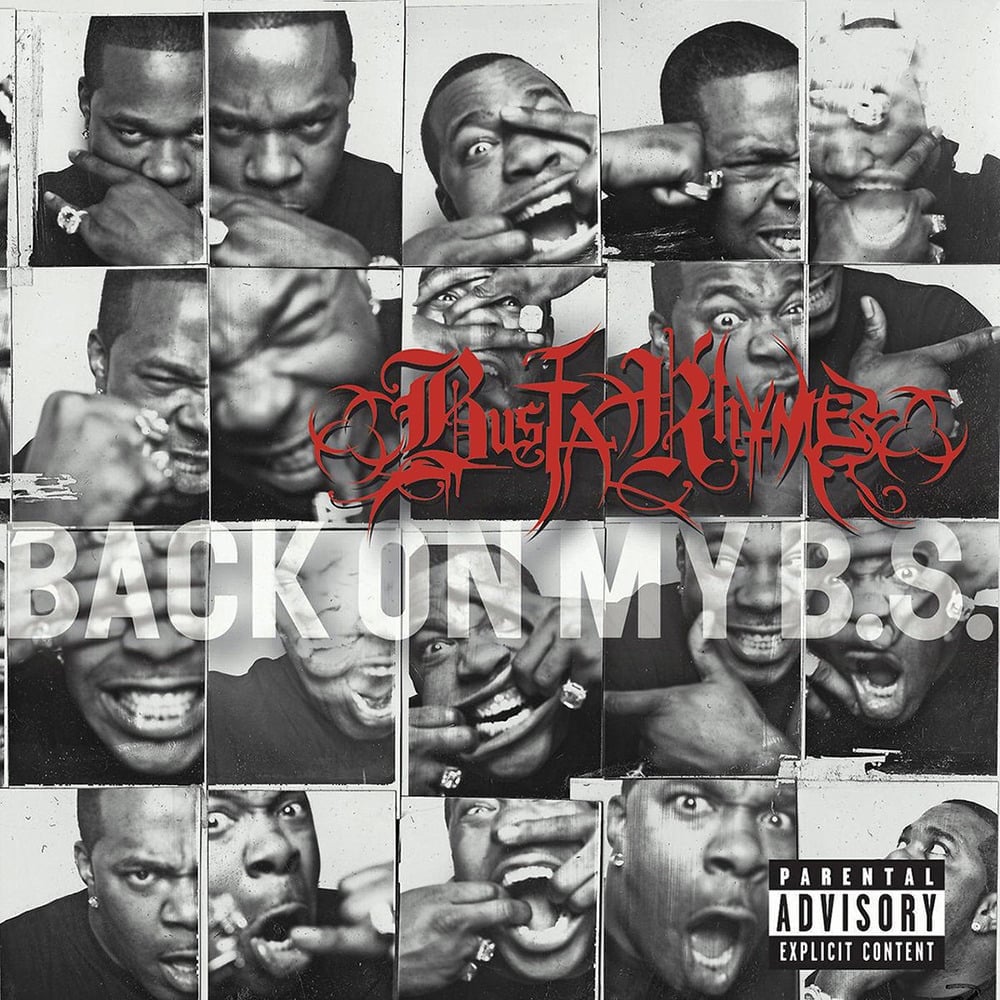 Released: May 19, 2009
Label: Flipmode, Universal Motown
Singles: "Arab Money", "Hustler's Anthem '09", "Respect My Conglomerate", "World Go Round"
Features: Lil Wayne, Jadakiss, T-Pain, Pharrell Williams, Tosh, Ron Browz, Mike Epps, Ron Browz, Spliff Star, Show Money, DeMarco, Jelly Roll, Jelly Roll, Akon, T.I., Jamie Foxx, Mary J. Blige, John Legend, Common, Estelle
Back on My B.S. marks a period of self-renewal for Busta Rhymes. Akin to a phoenix rising, the rapper returns to his roots with an explosive energy, reminding us why we loved him in the first place. From the heady Arabic sounds of "Arab Money" to the patois-infused "Kill Dem," Busta delves into his eclectic influences to forge his comeback. However, the project occasionally suffers from overambition, as tracks like "Give Em What They Askin For" feel overblown. Yet, the album's high points, including the unexpected Euro-disco closer "World Go Round," point towards Busta's resilient creativity, pushing the boundaries of his sonic palette.
Anarchy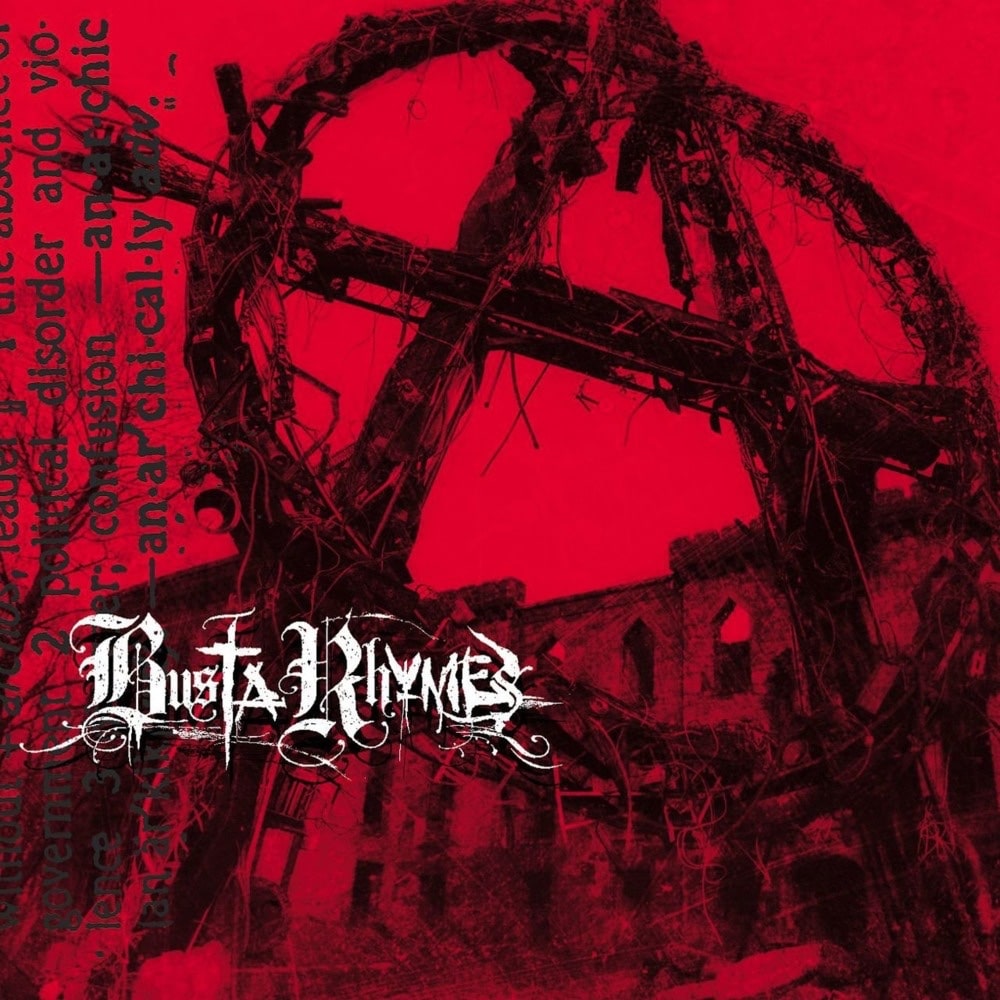 Released: June 20, 2000
Label: Flipmode, Elektra
Singles: "Get Out!!", "Fire"
Features: Raekwon, Ghostface Killah, Roc Marciano, The Flipmode Squad, Lenny Kravitz, M.O.P, DMX, Jay-Z
Anarchy is a roller-coaster journey through Busta Rhymes' prolific '90s career. Retaining his rapid-fire delivery and distinct style, the album at its best is nothing short of brilliance. However, the project also signals some fatigue in Busta's well-tested formula, with the weaker tracks relying heavily on his vibrant personality rather than groundbreaking innovation. Furthermore, Anarchy's repeated apocalyptic concept, although familiarly engaging, hinted at a lack of new thematic directions. Despite its shortcomings, the album's best moments are a testament to Busta's raw talent and, although it didn't meet all expectations, Anarchy further solidified his status as one of the era's most distinctive rappers.
Genesis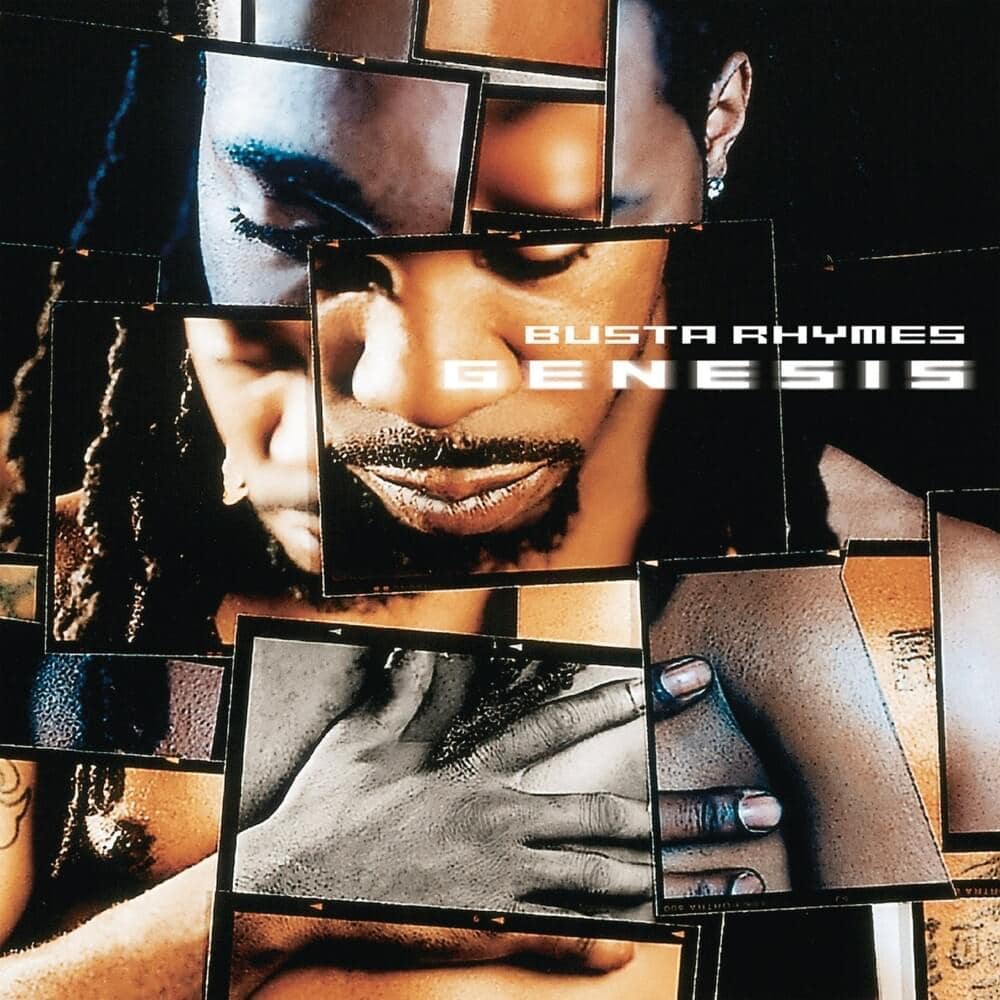 Released: November 27, 2001
Label: Flipmode, J
Singles: "What It Is", "Break Ya Neck", "As I Come Back", "Pass the Courvoisier, Part II"
Features: Clive Davis, Rudy Ray Moore, Rah Digga, P. Diddy, Jaheim, Kokane, Kelis, Mary J. Blige, Flipmode Squad
Backed by a constellation of producers including Dr. Dre and The Neptunes, Busta crafted Genesis into an album bursting with energy, evidenced in standout tracks like "Break Ya Neck." His intricate chemistry with Rah Digga shines on "Betta Stay Up In Your House," while "Pass The Courvoisier" finds him matching P.Diddy's explosive energy. Nevertheless, Genesis is not without flaws; certain tracks come across as repetitious, somewhat dampening the album's overall vitality. Despite this, Genesis is celebrated for its triumphant return to form, concluding with the summer hit "What It Is," serving a smorgasbord of hard-hitting beats and infectious flows.
It Ain't Safe No More…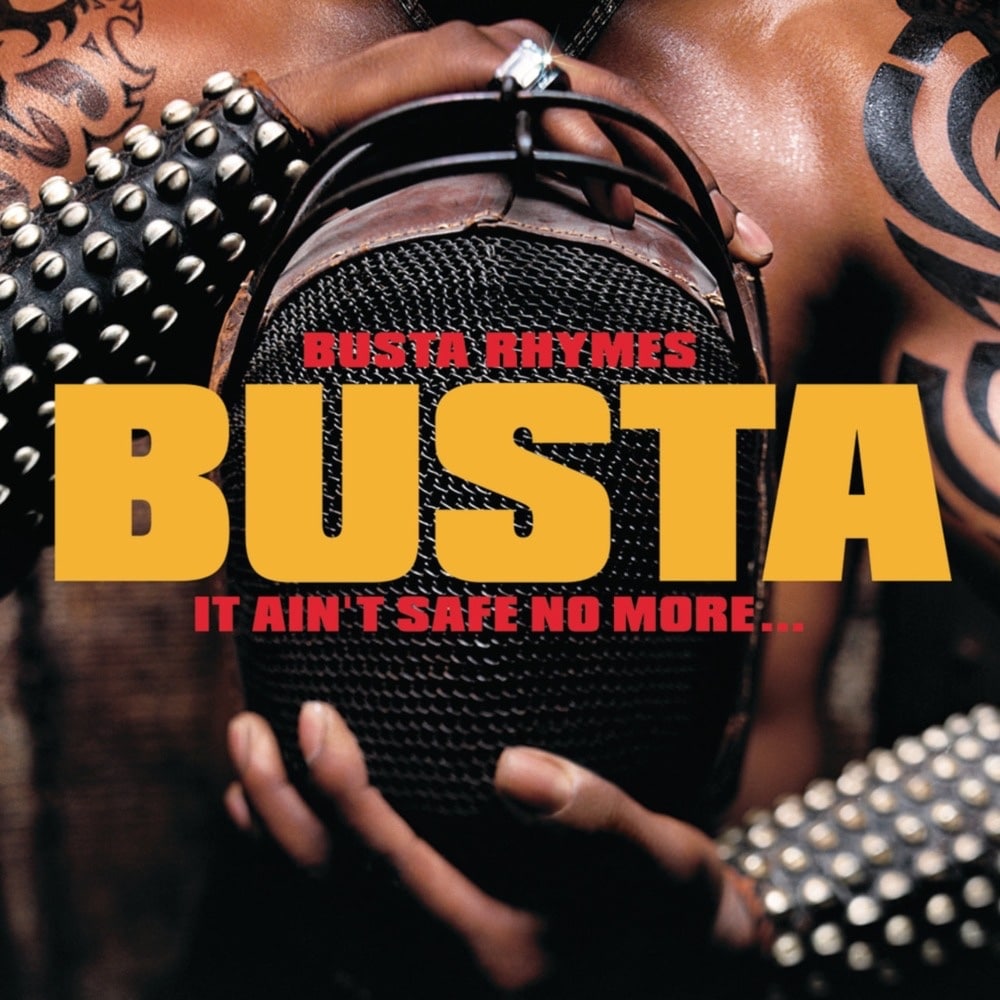 Released: November 26, 2002
Label: Flipmode, J
Singles: "Make It Clap", "I Know What You Want"
Features: Meka, Rampage, Spliff Star, Mariah Carey, The Flipmode Squad, Carl Thomas, Sean Paul
Released at the end of 2002, It Ain't Safe No More… reflects a more conceptual approach, balancing Busta's characteristic party anthems with conscious cuts addressing broader societal issues. The intro track signals his intent to reclaim the rap game, while "Branded" presents a poignant critique of the streets and the state of hip-hop. Moreover, the album offers up infectious bangers like the Neptunes-produced "Call The Ambulance," perfectly demonstrating Busta's aptitude for crafting hit records. Although there are minor missteps, It Ain't Safe No More ultimately succeeds in presenting a refreshed Busta Rhymes, who skillfully weaves serious themes into his discography without compromising his essence of fun and captivating musicality.
Extinction Level Event 2: The Wrath of God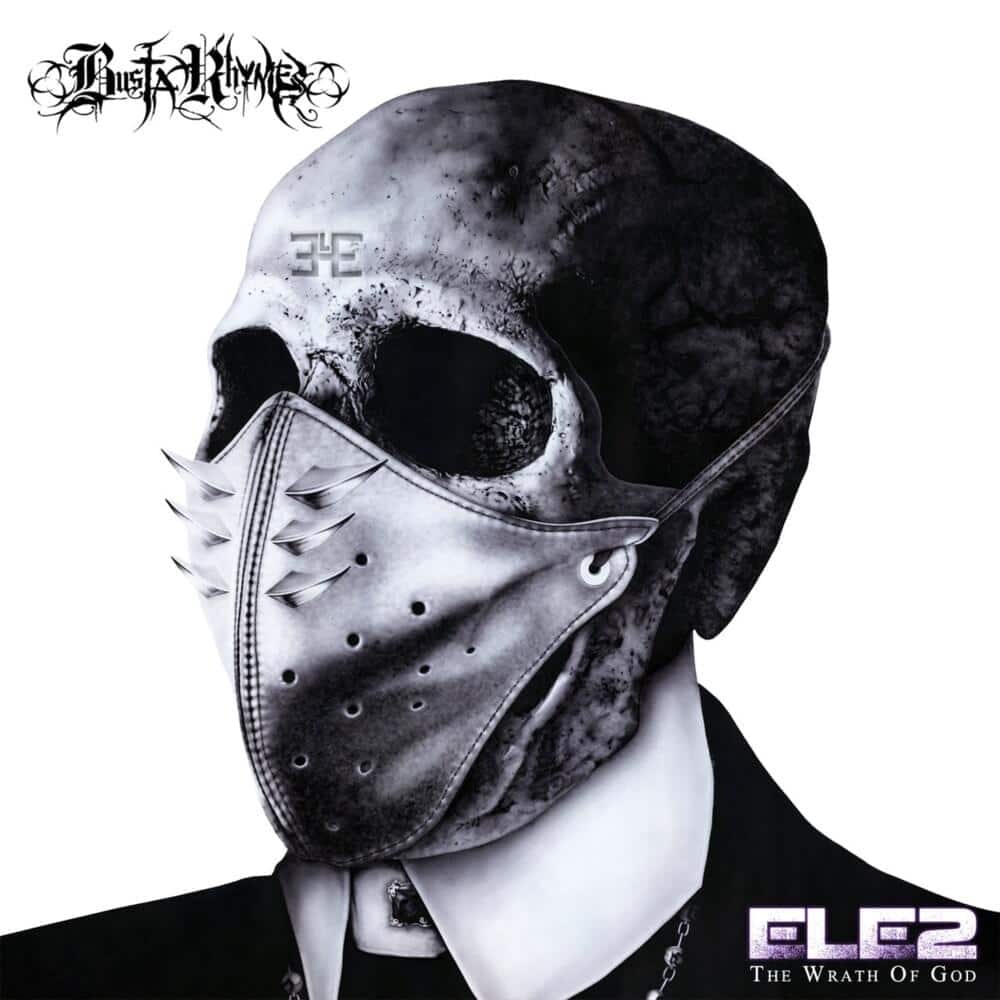 Released: October 30, 2020
Label: Conglomerate, Empire
Singles: "Calm Down", "The Don and the Boss", "Yuuuu", "Look Over Your Shoulder", "Where I Belong"
Features: Kendrick Lamar, Mariah Carey, Anderson .Paak, Q-Tip, Rick Ross, Mary J. Blige, Rapsody, Ol' Dirty Bastard, Rakim, Pete Rock, Vybz Kartel, Bell Biv DeVoe, M.O.P., Nikki Grier, Chris Rock, and Louis Farrakhan.
Extinction Level Event 2: The Wrath of God is an audacious sequel to the rapper's prophetic 1998 album, distilling 22 years of societal turmoil into a powerfully theatrical hip-hop narrative. The veteran MC returns to the scene with all guns blazing; his signature chaos, multi-layered flows, and intricate metaphors are intact. E.L.E. 2 serves as both a showcase for Busta's timeless dynamism and a call to action, addressing global issues and socio-political unrest with fervor. Memorable tracks like "Strap Yourself Down" and "Outta My Mind" epitomize Busta's vintage style. Despite minor missteps venturing into contemporary trap beats and a dated duet with Mariah Carey, E.L.E. 2 stands as a thrilling addition to Busta's extensive discography, a vibrant testament to his ability to blend discordant elements into a compelling whole.
The Big Bang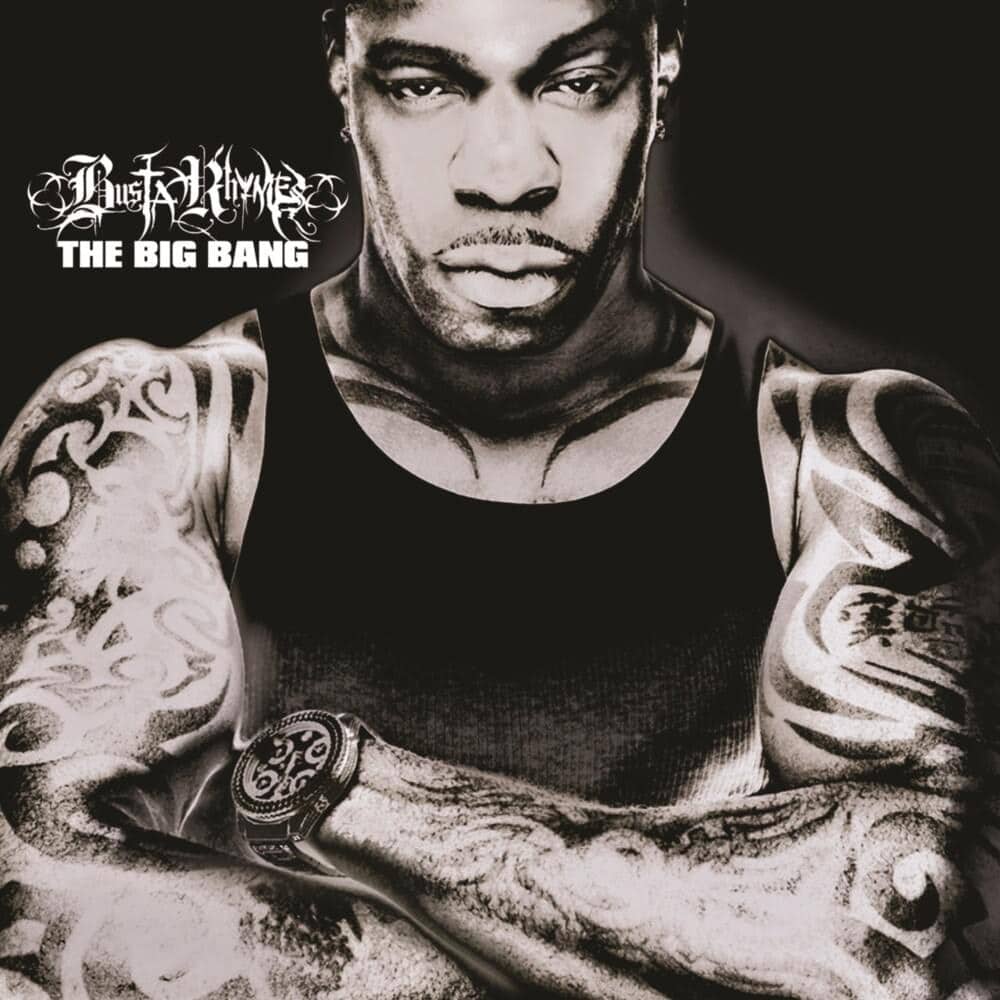 Released: June 13, 2006
Label: Flipmode, Aftermath, Interscope
Singles: "Touch It", "I Love My Bitch", "New York Shit", "In the Ghetto"
Features: Nas, Stevie Wonder, Rick James, Kelis, Raekwon, Q-Tip, Missy Elliott, Marsha Ambrosius & LaToiya Williams.
Released in 2006, four years after his last solo album, The Big Bang was easily the most anticipated Busta Rhymes album — the project being released on Aftermath Entertainment certainly helped with the buzz. Lyrically nothing has changed much; Busta's dynamic personality and linguistic acrobatics are in full display throughout this project, proving his relevance despite the lengthy break between albums. The opening track "Get You Some," with Q-Tip on the hook and a thumping beat by Dr. Dre and Mark Batson, sees Busta firing shots at his detractors, setting the tone for the album. The smash hit "Touch It," produced by Swizz Beatz, exemplifies Busta's unique flow, fluctuating from whispers to shouts, providing a compelling contrast that only he can pull off. Despite Dre's hit-or-miss record with rap legends on his label, The Big Bang emerged from the pipeline unscathed, further solidifying Busta Rhymes' place as one of the greatest rappers of all time.
Extinction Level Event: The Final World Front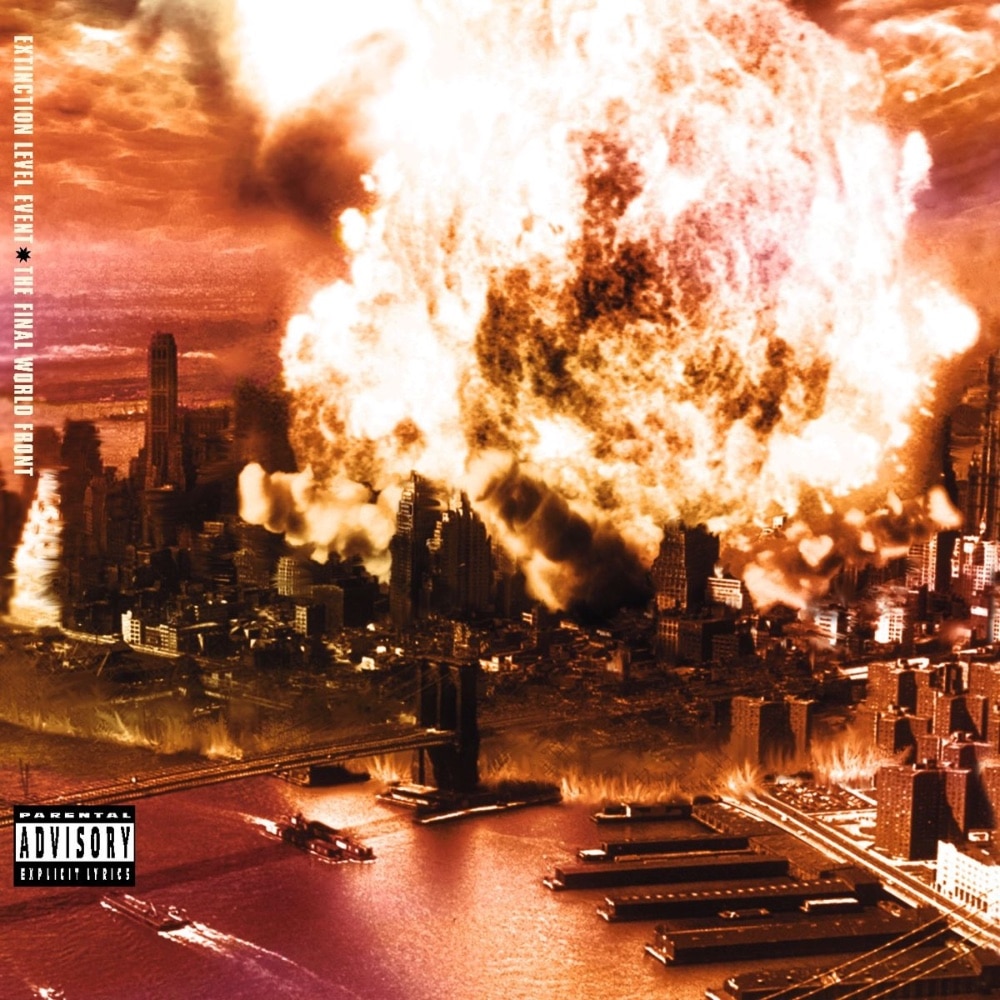 Released: December 15, 1998
Label: Flipmode, Elektra
Singles: "Tear da Roof Off", "Gimme Some More", "Party Is Goin' on Over Here", "What's It Gonna Be?!"
Features: Flipmode Squad, Mystikal, Janet Jackson, Ozzy Osbourne.
Capitalizing on the millennial frenzy of the late 90s, Busta Rhymes' third album Extinction Level Event: The Final World Front presented an enthralling narrative of a rapidly approaching doomsday. Released amidst a climate of global apprehension, E.L.E. echoes the sentiments of its time, masterfully using the foreboding backdrop to underscore its thematic depth. The lead single "Gimme Some Mo" showcased Busta's versatile lyricism set against minimalist production, a departure from his previously elaborate style. The apocalyptic theme rings loud right from the opening track, with a chilling dystopian discourse setting the tone for the album. From the energetic "Tear Da Roof Off" and "Against All Odds" to the radio-ready, Janet Jackson featuring "What's It Gonna Be?!" the album showcases a rich variety of tracks. With an in-your-face style as seen in "What The Fuck You Want!!" and the unexpected Ozzy Osbourne collaboration on "This Means War!!", the rapper maintains his signature audacity throughout. While the world didn't implode as he projected, the album remains an engaging, era-defining piece that has aged gracefully, sitting comfortably amongst the top of Busta's best albums.
The Coming
Released: March 26, 1996
Label: Flipmode, Elektra
Singles: "Woo-Hah!! Got You All in Check", "It's a Party", "Do My Thing"
Features: Rampage the Last Boy Scout, Zhané, Q-Tip, Jamal, Redman, Keith Murray, Lord Have Mercy, Dinco, Milo, Charlie Brown.
Busta Rhymes' solo debut, The Coming, was a clear delineation of the metamorphosis hip-hop underwent between the early and mid-90s. Drawing heavily from the raw, gritty soundscapes that earmarked the East Coast rap game's style at the time, The Coming hit a chord with its eccentric undertones. Tracks like "Woo Ha!! Got You All in Check," exemplified Busta's intricate wordplay and surrealistic lyricism that defined his early career. Despite the occasional monotony, the rapper's dynamic word-weaving prowess gave The Coming a formidable anchor, setting the stage for the energetic MC's flourishing career.
When Disaster Strikes…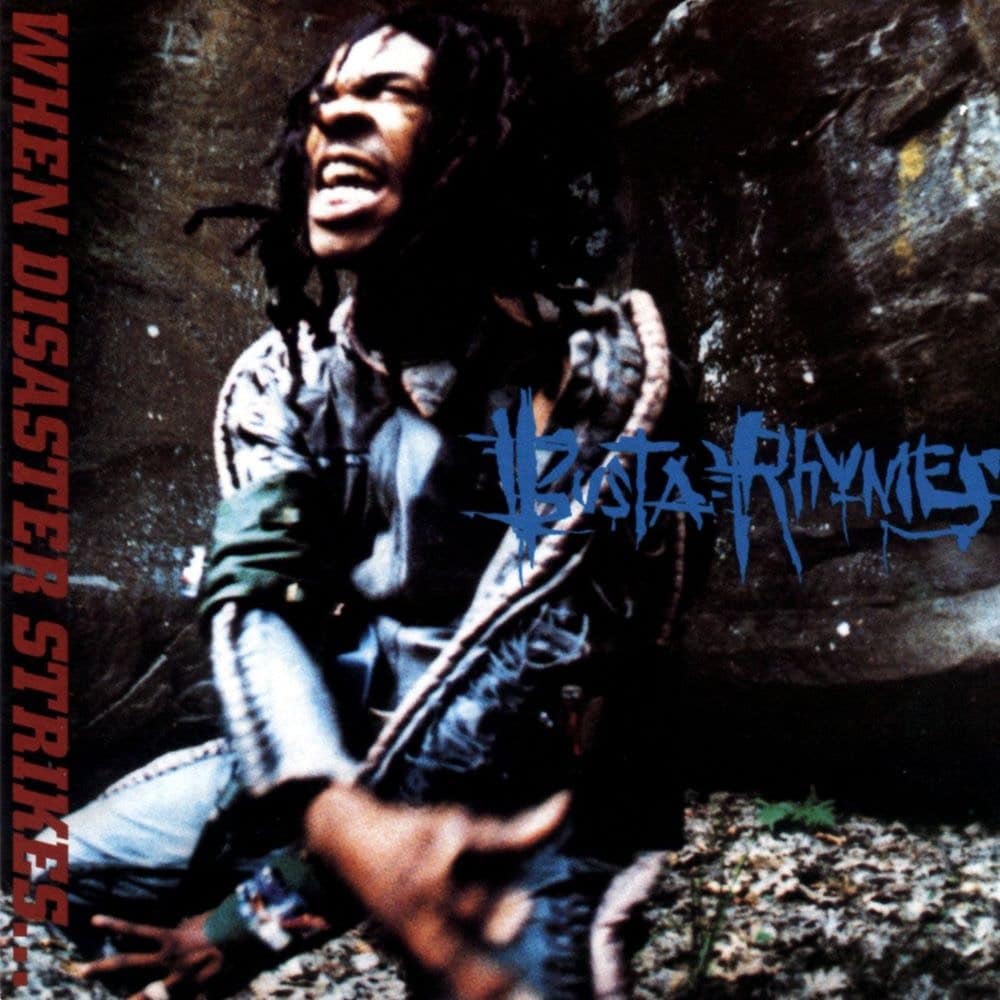 Released: September 16, 1997
Label: Flipmode, Elektra
Singles: "Put Your Hands Where My Eyes Could See", "Dangerous", "One", "Turn It Up (Remix) / Fire It Up"
Features: Jamal, the Flipmode Squad, Rampage, Anthony Hamilton, Erykah Badu, Sean "Puffy" Combs, Mase, Lord Have Mercy.
When Disaster Strikes…, Busta Rhymes' sophomore album, took listeners on a tumultuous journey that echoed his eccentricity and unabashed uniqueness. Carrying an apocalyptic theme, the album served as a surreal pre-millennium party soundtrack, exhibiting Busta at his most untamed. His energetic and unpredictable flow, particularly in hits like "Dangerous" and the timeless track "Put Your Hands Where My Eyes Could See," proved he was more than just an oddity in the hip-hop landscape. Despite slowing its pace towards the latter half with an influx of collaborations, When Disaster Strikes… remains a significant addition to Busta Rhymes' catalogue and arguably his best album to date.