From his viral inception as a promising high school MC to his growth as a matured lyricist, Joey Bada$$ has been a beacon in the modern hip-hop landscape, consistently nodding to its golden era while adding his own distinct spin.
With a discography as diverse as the genre's many subcultures, the Brooklyn rapper has consistently proven his status as a purveyor of authentic hip-hop and a potent voice for socio-political commentary.
From the debut mixtape 1999, that introduced us to a teenager with precocious talent and a deep respect for the roots of hip-hop, to the contemplative and politically charged All-Amerikkkan Bada$$', he's continuously shifted his artistic approach while remaining true to his essence. In between, we've seen him grapple with the challenges of success on Summer Knights, coming to terms with the weight of expectations, and make his formal entry into the mainstream with B4.Da.$$, a project that displayed the maturity of his artistry.
His most recent offering, 2000, revisits the nostalgic vibes of his debut, serving as a homage to both his early career and the evergreen influences of hip-hop's golden age. Each of these projects encapsulates a moment in time, a snapshot of Joey Bada$$' mindset, his growth as an artist, and his interpretation of the world around him.
So let's get into it. From his breakout mixtape, 1999, to his latest release, 2022's critically acclaimed 2000, we rank every Joey Bada$$ album from worst to best.
Summer Knights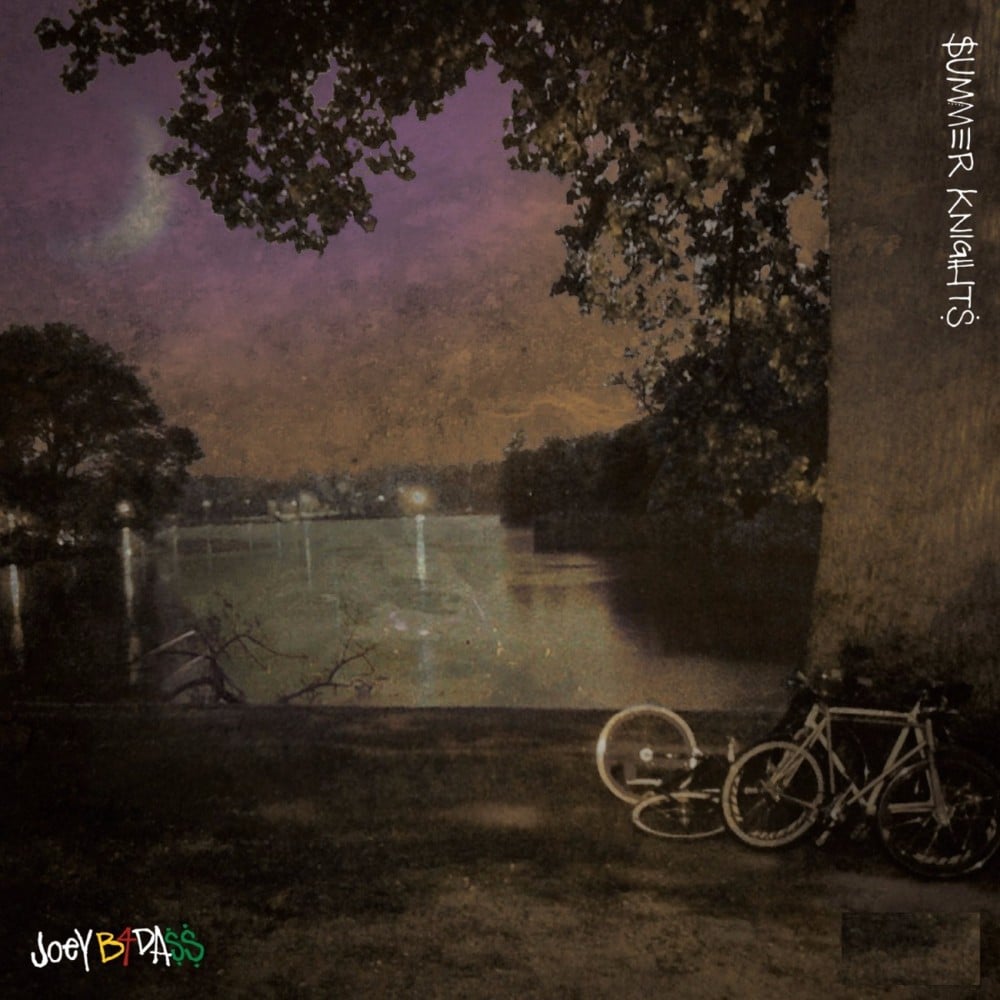 Released: July 1, 2013
Label: Pro Era, Cinematic, Relentless, RED
Singles: "Unorthodox", "My Yout"
Features: Collie Buddz, Smoke DZA, Dirty Sanchez and Nyck Caution, T'nah Apex and Dessy Hinds, Chuck Strangers, Kirk Knight, and Dessy Hinds, Kirk Knight, Pro Era.
The spirit of the '90s seemed to have found a new custodian in Joey Bada$$, especially after the virality of "Survival Tactics" and the critical success of 1999. However, on Summer Knights, his attempt to relive those golden days felt stifled and a bit directionless. The energy and dynamism of his introduction seemed to wane, replaced with a somewhat monotonous commitment to the boom-bap era. It is an album that showed Joey struggling with identity and succumbing to the weight of expectations. Joey's inherent brilliance flickered in tracks like "95 'Til Infinity" and "Word Is Bond," but the vivid introspection and fiery lyricism of the Joey we knew from his previous works seemed to be absent. Despite its shortcomings, Summer Knights was a testament to Joey's potential for greatness, and a reminder of the pitfalls of the burden of representation in hip-hop.
B4.Da.$$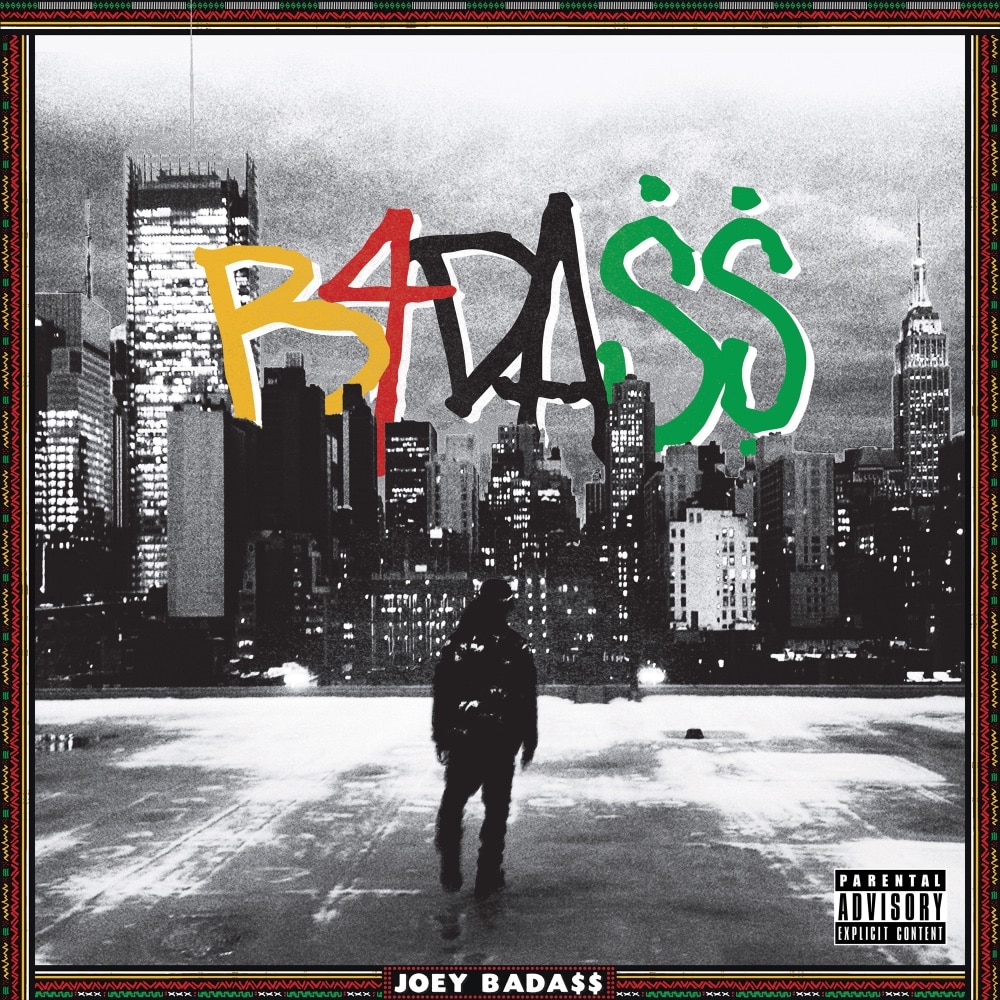 Released: January 20, 2015
Label: Pro Era, Cinematic, Relentless, RED
Singles: "Big Dusty", "Christ Conscious", "No. 99", "Curry Chicken", "On & On", "Teach Me", "Like Me", "Paper Trails"
Features: BJ the Chicago Kid, Chronixx, Dyemond Lewis, Maverick Sabre, Raury.
Joey Badass' debut album, B4.Da.$$, cemented him as a proud torchbearer of the golden age of hip-hop. The Brooklyn rapper's fusion of Notorious B.I.G.'s grit with Mos Def's consciousness felt like a breath of fresh air in the era of trap beats and mumble rap. From the smoky allure of "Like Me" to the almost cinematic grandeur of "Run Up on Ya," Joey's lyricism coupled with lush production from revered beatmakers like DJ Premier, Statik Selektah, and The Roots made this album a testament to the rapper's inherent versatility and capacity for nuanced storytelling.
2000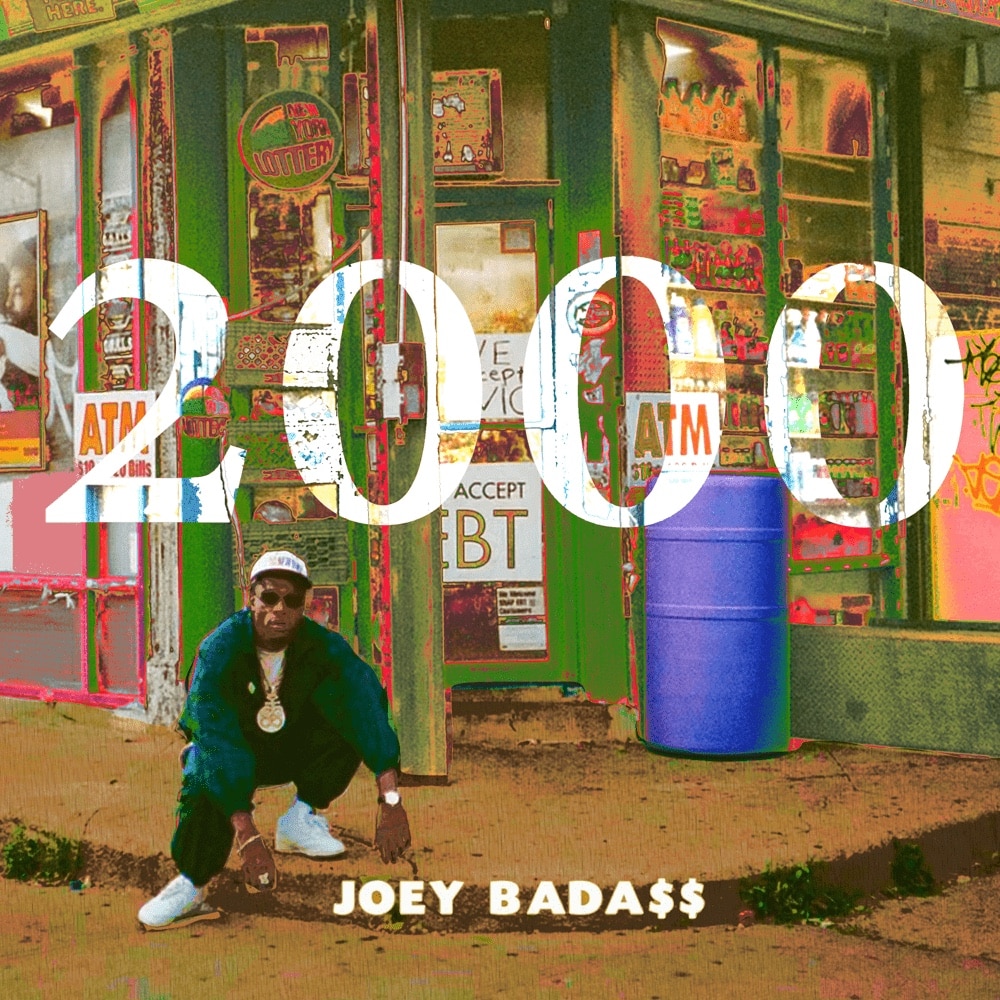 Released: July 22, 2022
Label: Pro Era, Cinematic
Singles: "Head High", "Where I Belong", "Survivors Guilt", "Zipcodes"
Features: Diddy, Westside Gunn, Larry June, Chris Brown, Capella Grey, and JID.
2000, the nostalgic follow-up to 1999, encapsulates Joey's continued homage to the golden age of hip-hop, presenting him as a resolute figure against the backdrop of evolving hip-hop trends. The Brooklyn lyricist's innate ability to breathe life into old-school beats complements the jazzy samples and boom-bap rhythms, enhancing the already profound narratives of New York City life. Whether it's the '90s-evoking "Brand New 911" or the lyrically dense "Zipcodes," 2000 serves as a testament to Joey's unwavering commitment to his sound and his city, making it one of his most compelling projects.
All-Amerikkkan Badass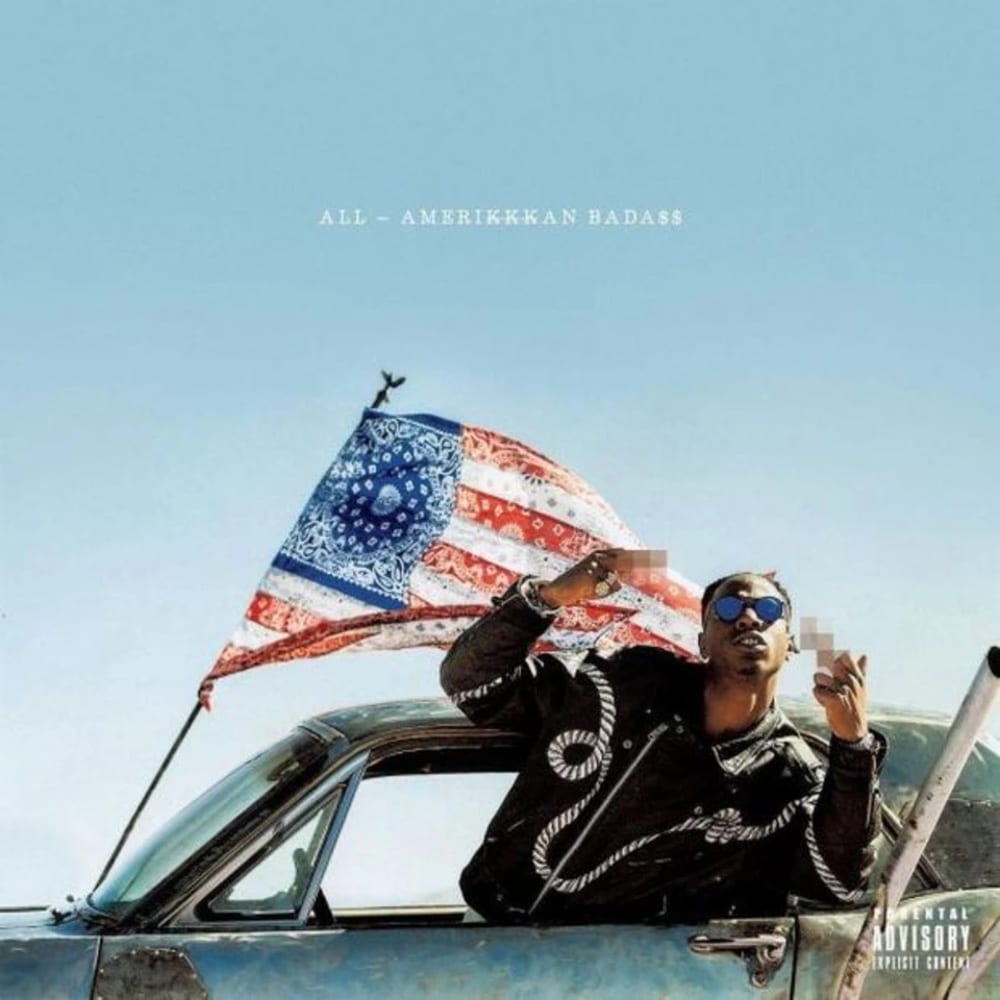 Released: April 7, 2017
Label: Pro Era, Cinematic
Singles: "Devastated", "Land of the Free", "Temptation"
Features: Schoolboy Q, J. Cole, Kirk Knight, Meechy Darko, Styles P, and Chronixx.
All-Amerikkkan Bada$$ saw Joey at his most politically charged, exploring systemic injustice, police brutality, and the socio-political landscape of America. This project established the rapper as a conscious rapper with the courage to tackle these challenging themes. From "Land of the Free" to "Devastated," Joey used his platform to express both despair and hope for the future. With a roster of prestigious producers and feature rappers, Joey painted a picture of modern America through the lens of a young black man, making it one of his most significant and impactful works to date.
1999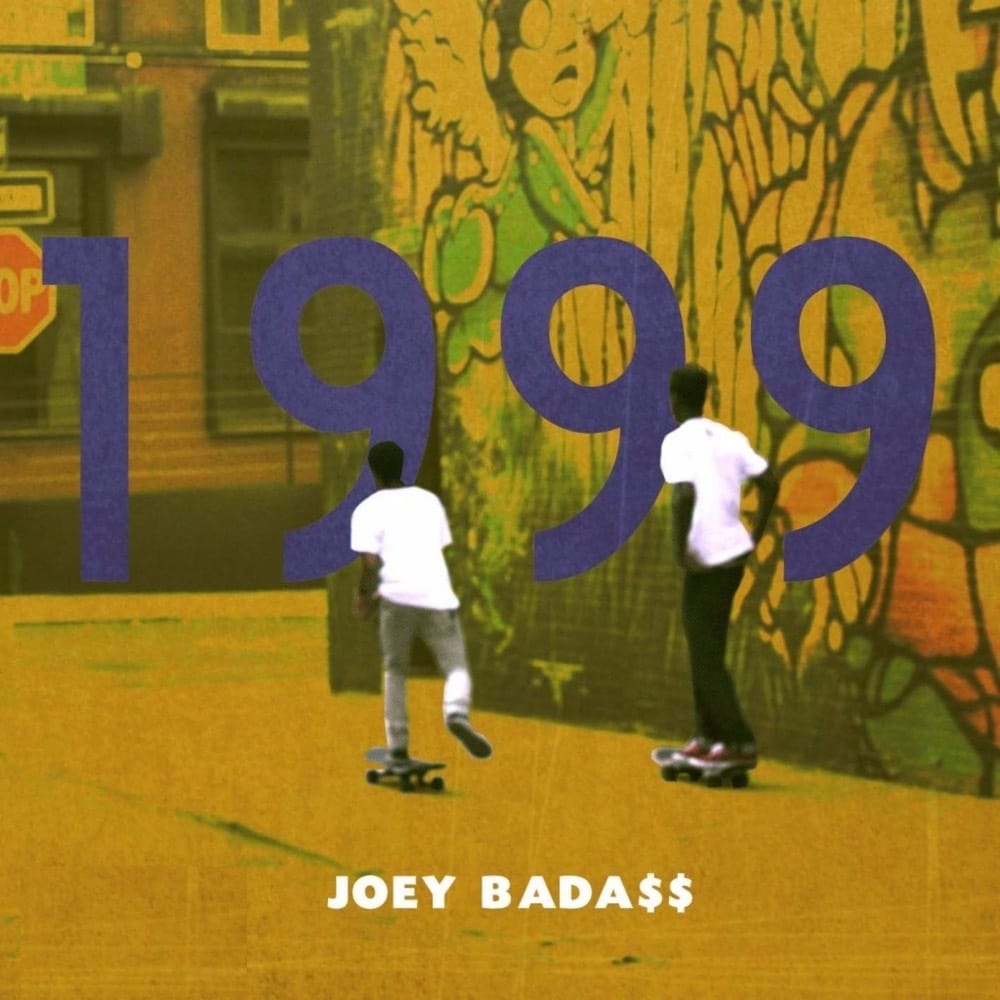 Released: June 12, 2012
Label: Pro Era, Cinematic, Relentless, RED
Singles: "Waves"
Features: Pro Era, Capital STEEZ, CJ Fly, Chuck Strangers, Dyemond Lewis, Nyck Caution, Kirk Knight, Rokamouth, T'nah Apex and Dessy Hinds.
It all started with 1999. This is where Joey Bada$$ truly made his mark, effortlessly channeling the soul of '90s hip-hop. The mixtape's jazzy samples and boom-bap beats served as the perfect canvas for Joey's robust lyricism and precise flow, resulting in an impressive debut that placed him at the forefront of the modern New York hip-hop scene. From the introspective "Waves" to the militant "Survival Tactics" and the playful "World Domination," Joey's blend of thoughtful introspection and youthful ambition encapsulated the essence of hip-hop. It wasn't just a mixtape; it was a statement, a proclamation of the arrival of a rapper whose music felt like a nostalgic trip back to the golden era of hip-hop, while also firmly planting his feet in the present. For many, 1999 is not only Joey's best work but a cornerstone in the resurgence of traditional hip-hop in the 2010s.