There have been few hip hop artists in the past decade who have had as much a hand in shaping the modern rap game as Scott Ramon Seguro Mescudi, aka Kid Cudi. From Kanye West, Travis Scott and Childish Gambino, to Denzel Curry, Jaden Smith, and A$AP Rocky, Cudi's sound and aesthetic, which emerged in the last 2000s, has touched almost every major rapper in the game today.
As the cornerstone of a new wave of alternative hip hop, this Cleveland-born artist has spent over a decade experimenting with various genres, resulting in a diverse array of music that encompasses everything from soulful rap to psychedelic rock. With a career anchored by albums such as his debut Man on the Moon: The End of Day, the sequel Man on the Moon II: The Legend of Mr. Rager, and the cathartic collaborative project Kids See Ghosts with Kanye, Cudi has left an enduring mark on hip hop.
Whether we consider his 2020 release Man on the Moon III: The Chosen, the genre-defying Passion, Pain & Demon Slayin', or the exploratory vibes of Satellite Flight: The Journey to Mother Moon, each album in Cudi's discography offers a unique window into his creative journey, painting a vivid picture of an artist constantly in evolution.
So let's get into it. From his 2009 debut masterpiece, Man on the Moon: The End of Day, to Indicud and 2022's Entergalactic, we rank every Kid Cudi album, from worst to best.
Speedin' Bullet 2 Heaven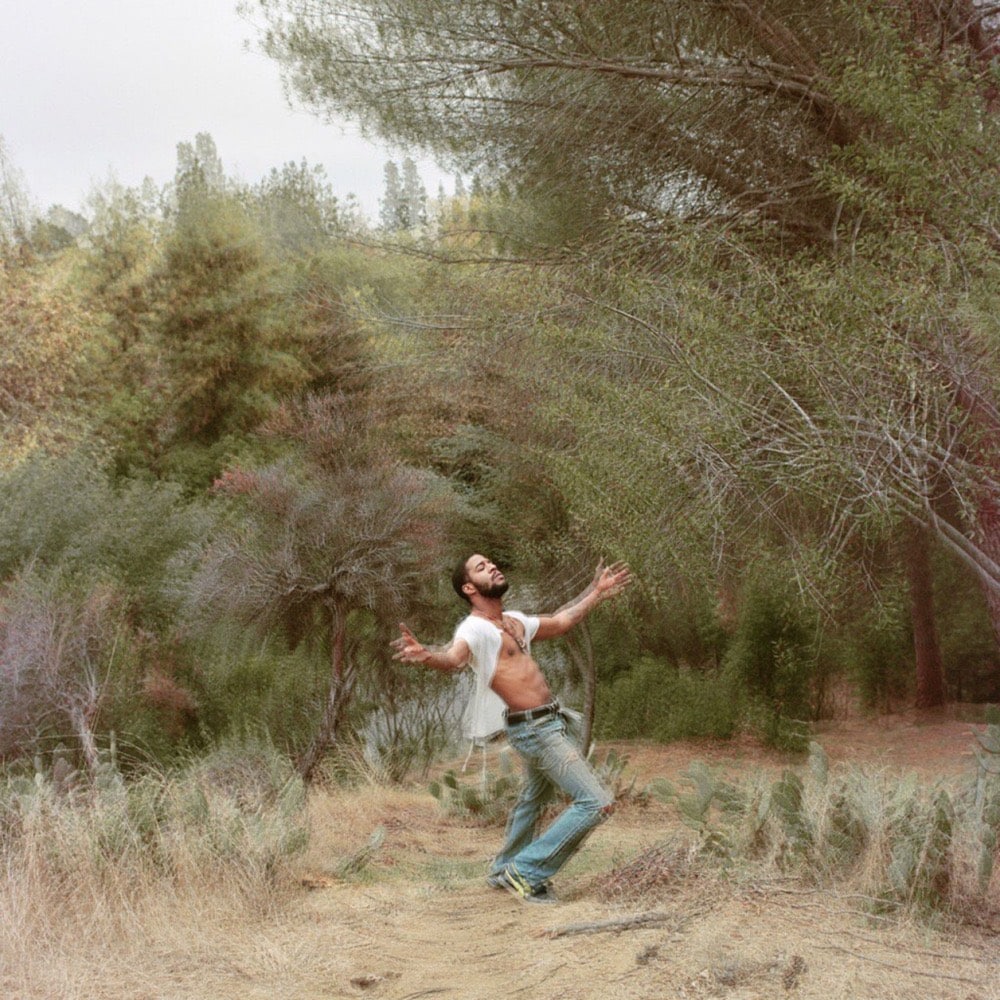 Released: December 4, 2015
Label: Wicked Awesome, Republic
Singles: "Confused!", "Speedin' Bullet 2 Heaven"
Features: N/A
Venturing into the sonic wilderness, Scott Mescudi's Speedin' Bullet 2 Heaven marked a shift from the familiar cadence of his early works. Choosing rock as his new creative playground, the Man on the Moon seemed to shed his hip hop persona, embracing a more rebellious ethos. This adventurous exploration had its highs and lows—tracks like "Handle with Care" echoed the promise of his innate talent, while others appeared as uncertain experiments in unfamiliar territory. In essence, the album mirrored Cudi's own journey, the music reflecting his inner turmoil and his struggles with identity. His talent, however unmistakable, seemed in search of a stable foothold in this new genre, resulting in an album that showcased the struggles of an artist caught amidst transformation.
WZRD (with Dot da Genius, as WZRD)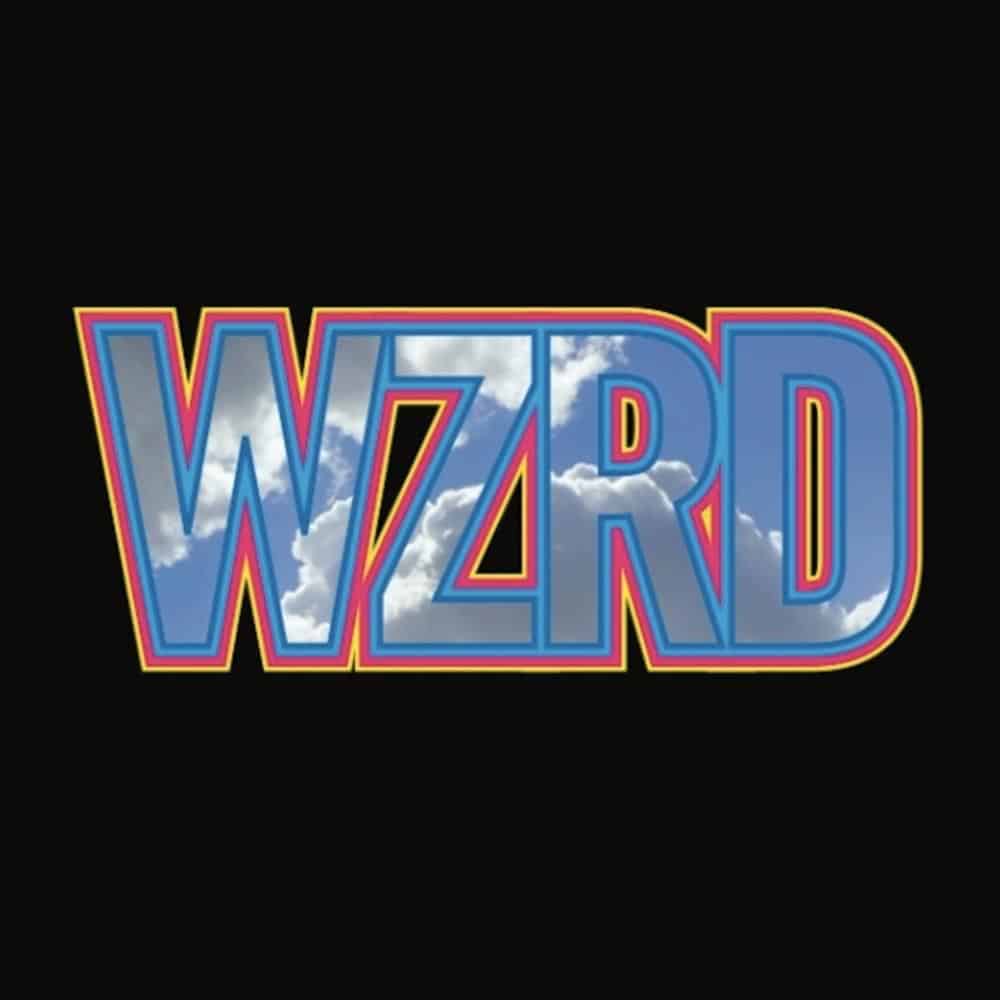 Released: February 28, 2012
Label: Wicked Awesome, GOOD, Universal Republic
Singles: "Brake", "Teleport 2 Me, Jamie"
Features: Desire
Here, on WZRD, Cudi and Dot Da Genius continued to experiment, straying further from the familiar hip hop shores into the vast ocean of rock. Yet, throughout this experimentation phase, the essence of the Cleveland native remained unmistakable—his introspective lyricism and soul-baring vulnerability enduring as his signature. His vocals, although straining at times to meet the rock-infused compositions, remained grippingly evocative, laying bare the raw emotions and personal battles he was experiencing. Despite the occasional falter, such as "Dr. Pill," the album's authenticity was its driving force. Here was the same artist who had once ruled the hip hop charts, unafraid to journey into the unknown, to risk alienation for the sake of evolution.
Entergalactic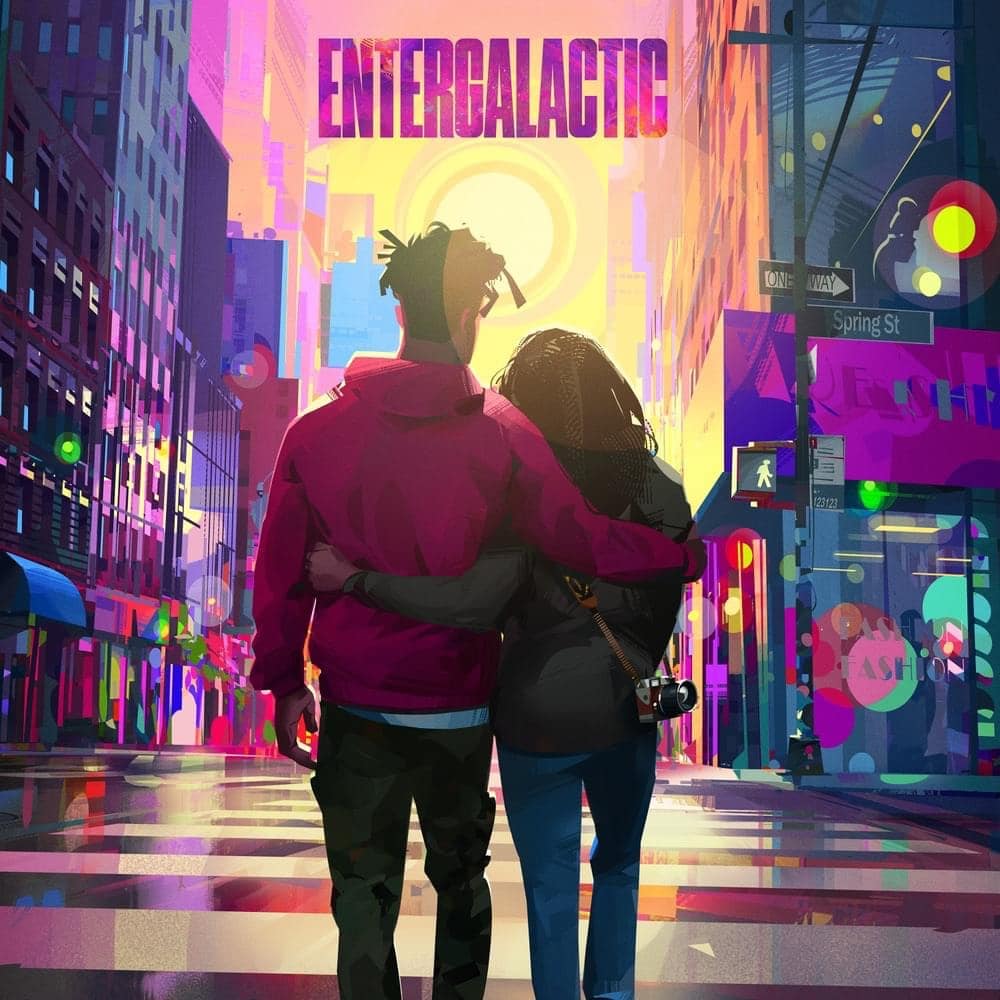 Released: September 30, 2022
Label: Wicked Awesome, Republic
Singles: "Do What I Want", "Willing to Trust"
Features: Ty Dolla Sign, 2 Chainz, Steve Aoki and Don Toliver.
In Entergalactic, Kid Cudi demonstrates a compelling blend of nostalgia and novelty, curating a sonic landscape that is distinctly his own. The album serves as a masterstroke of emotional introspection and exploration, doubling as a soundtrack for his adult-oriented anime film. Standouts like the "Entergalactic Theme" and "New Mode" are quintessential Cudi, radiating the artist's signature croons and hums. This 15-track project is more streamlined, allowing for a fluid, immersive experience unburdened by excess interludes or skits. Closing with two soothing tracks featuring Don Toliver, Entergalactic emerges as a solid offering from Cudi, indicating a matured mastery of his craft.
Satellite Flight: The Journey to Mother Moon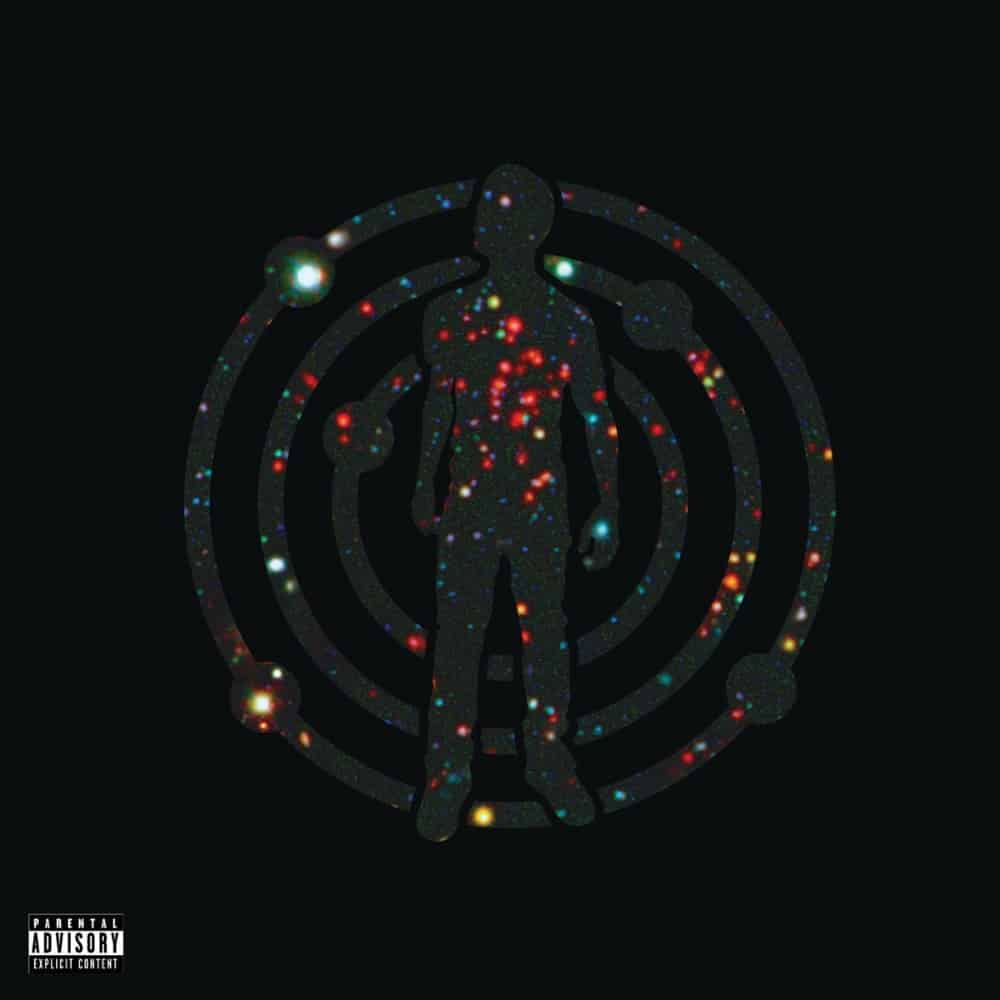 Released: February 25, 2014
Label: Wicked Awesome, Republic
Singles: N/A
Features: Raphael Saadiq
Satellite Flight: The Journey to Mother Moon showcases Kid Cudi's firm commitment to artistry as he continued to transcend the conventional boundaries of hip-hop. Instrumentals like "Destination: Mother Moon" and "Copernicus Landing" punctuate the album, adding to the cosmic voyage's atmospheric richness. Cudi's introspection on tracks like "Going to the Ceremony" and "Internal Bleeding" is coupled with moments of urgency in songs like "Balmain Jeans," yielding a balanced and engrossing experience. Despite some emotional ebb and flow, the album culminates in a fitting testament to Cudi's resilience and creativity. Slight imperfections aside, Satellite Flight marks a significant milestone in Cudi's discography, offering a glimpse into his constantly evolving artistic universe.
Indicud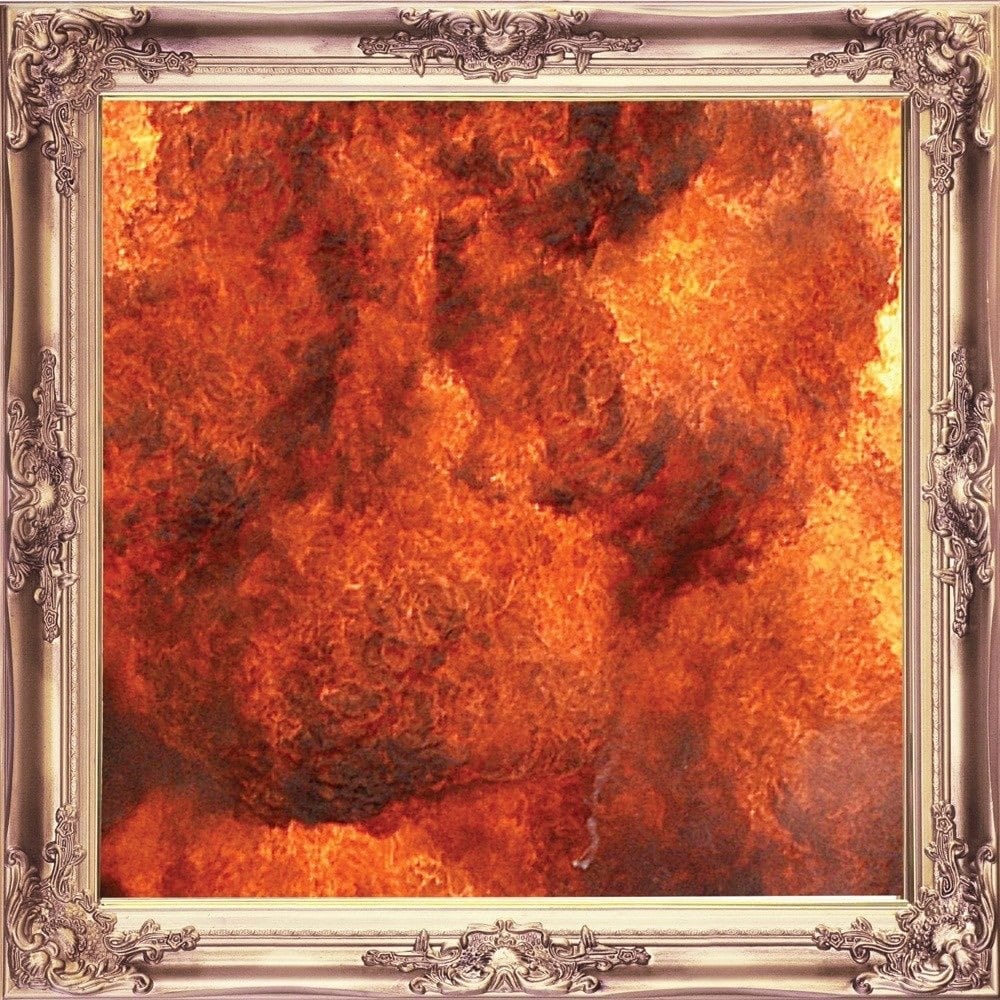 Released: April 16, 2013
Label: Wicked Awesome, GOOD, Republic
Singles: "Just What I Am", "King Wizard", "Immortal", "Girls"
Features: King Chip, Kendrick Lamar, Too Short, RZA, ASAP Rocky, Father John Misty, Michael Bolton and Haim.
Indicud finds the eclectic Scott Mescudi crafting an impressive display of his multifaceted artistry. As an executive producer, he introduces listeners to a mythical soundscape, synthesizing the laid-back rhythm of indica and his unique sound. Highlights include "Beez," where Cudi's production prowess blends effortlessly with RZA's anthemic verses, and "Solo Dolo, Pt. 2," which extends Kid's introspective domain to Kendrick Lamar. Despite its eccentricity, Mescudi's distinct creativity shines on the track "Afterwards (Bring Yo Friends)," blending cloud rap, EDM, and Michael Bolton's vocals.
Passion, Pain & Demon Slayin'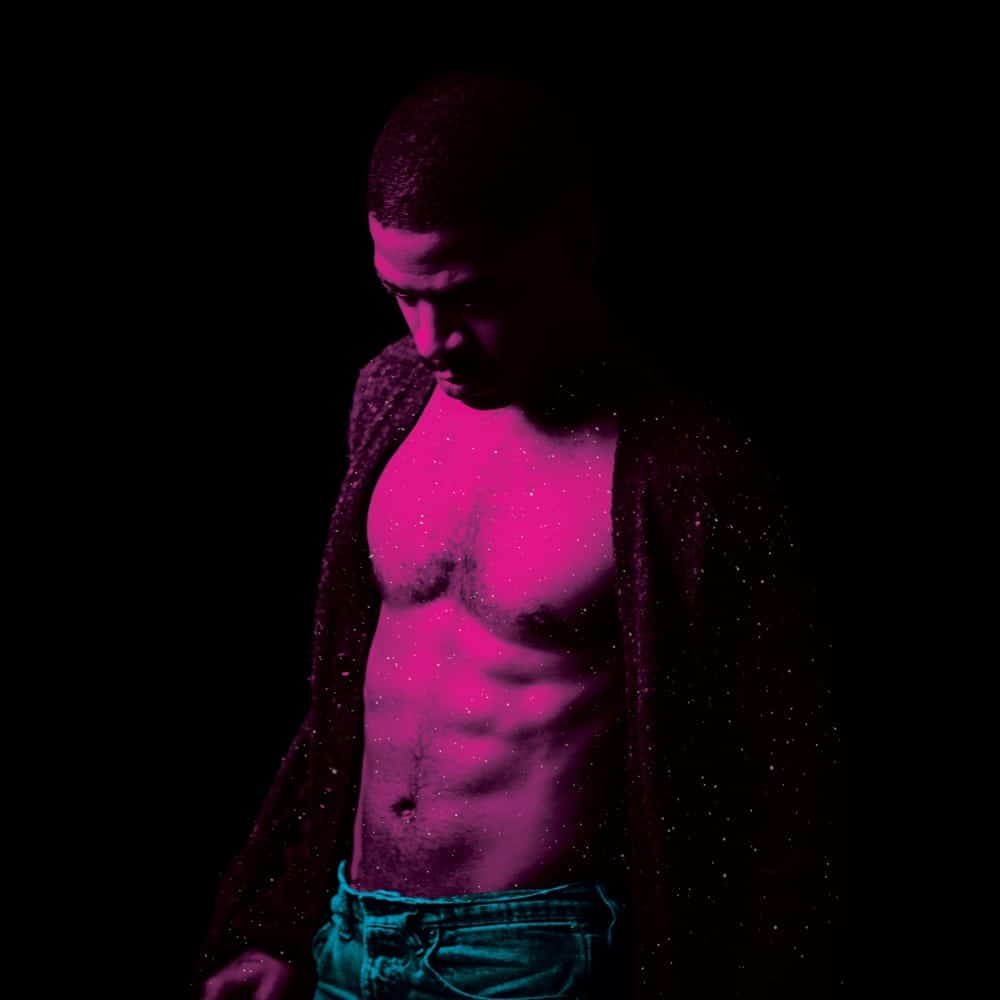 Released: December 16, 2016
Label: Wicked Awesome, Republic
Singles: "Frequency", "Surfin'"
Features: André 3000, Pharrell Williams, Travis Scott and Willow Smith.
Passion, Pain & Demon Slayin' signifies a pivotal moment in Kid Cudi's music journey, the sixth solo album is a testament to his resilience and artistic evolution. Mescudi's willingness to explore various soundscapes comes to fruition, with an array of genre-defying tracks. "Does It" harks back to his rap roots, while "Dance 4 Eternity" immerses listeners in a trippy experience. The production, led by Mike Dean, Pharrell Williams, and other collaborators, amplifies the sonic brilliance. Mescudi's passionate pursuit of intimacy comes through on "The Guide," featuring a tightly-knit feature from Andre 3000. Despite its sprawling length, Passion, Pain & Demon Slayin' successfully illustrates Mescudi's battle against his demons and the war within, making it an essential addition to his discography.
Man on the Moon II: The Legend of Mr. Rager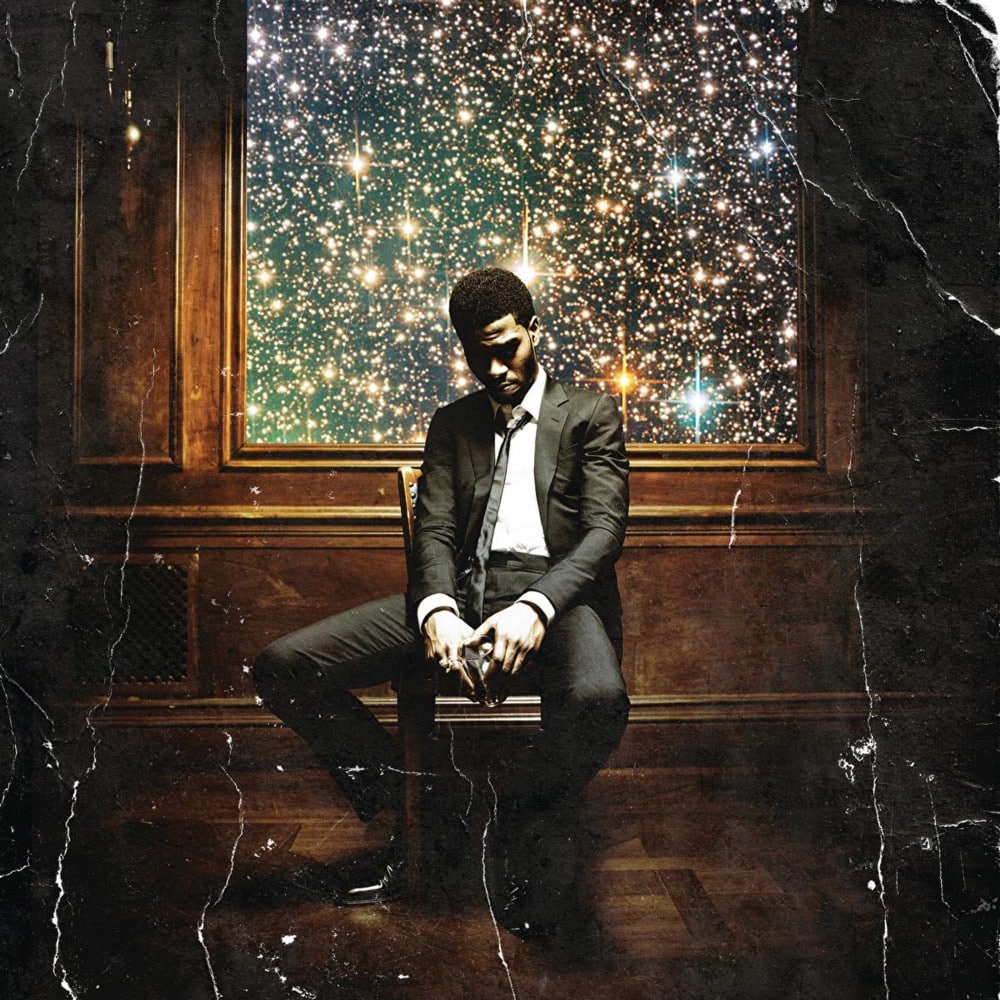 Released: November 9, 2010
Label: Dream On, GOOD, Universal Motown
Singles: "Erase Me", "Mr. Rager"
Features: CeeLo Green, Mary J. Blige, Kanye West, Cage, St. Vincent, GLC, Chip tha Ripper, and Nicole Wray.
Man on the Moon II: The Legend of Mr. Rager navigates the turbulent waters of fame, painting Cudi's self-destructive journey with strokes of addiction and regret. Despite the overarching darkness, the album maintains an alluring soundscape, an expansive, interstellar therapy session where tracks like the St. Vincent-assisted "Maniac" or the self-reflective "Don't Play This Song" hit hardest. At times the album can feel overly indulgent, but its redemption arrives with standout moments like the Kanye West feature "Erase Me" and the ethereal "Marijuana". Man on the Moon II offers a deeper insight into Cudi's psyche, challenging his fans while maintaining a sense of intrigue.
Man on the Moon III: The Chosen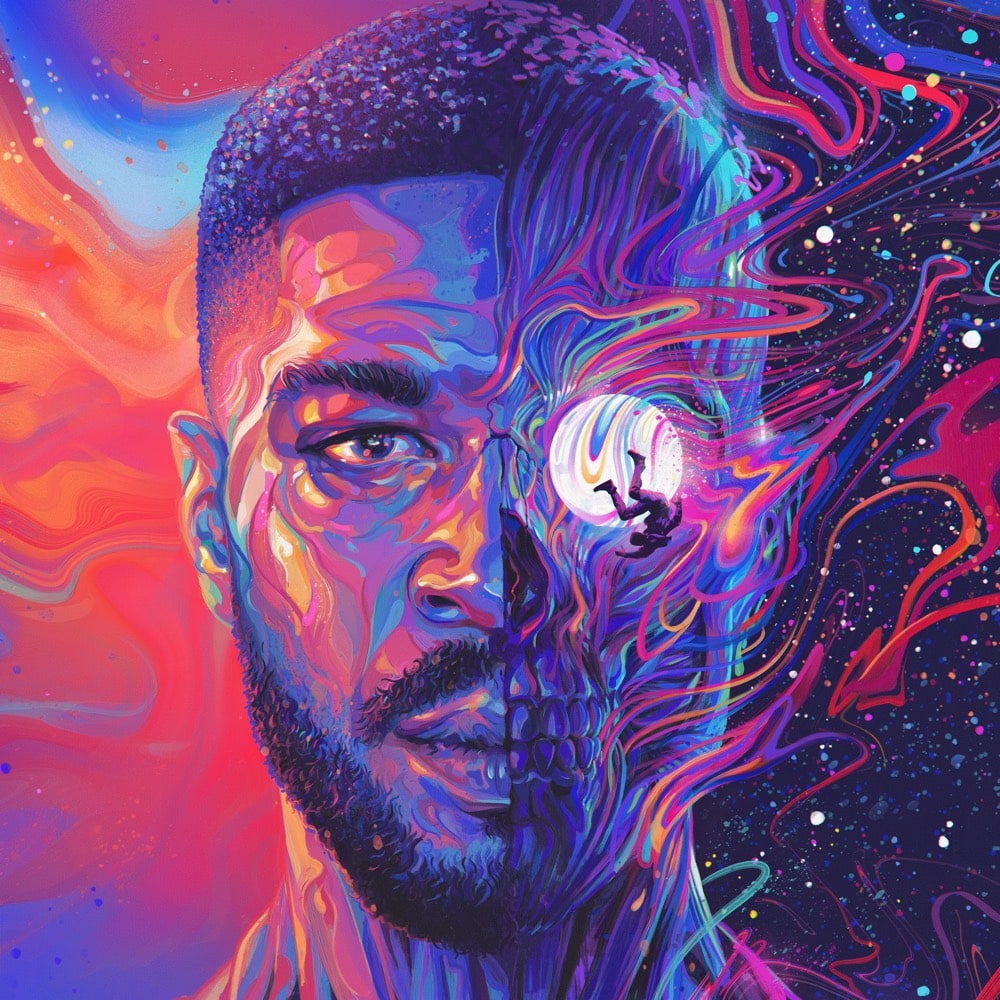 Released: December 11, 2020
Label: Wicked Awesome, Republic
Singles: N/A
Features: Phoebe Bridgers, Pop Smoke, Skepta and Trippie Redd.
Over a decade after Kid Cudi first captured audiences with his unique blend of emotional openness and cosmic soundscapes, Man on the Moon III: The Chosen signifies a gratifying homecoming. In this third installment, Cudi manages to both recapture the essence of his initial impact and encapsulate his successful musical experiments over the years. The production here is audacious and sleek, weaving an atmosphere that seems to echo through space itself. While tracks like "Tequila Shots" lean into pop-trap sensibilities, others like "The Void" embody a more rock-inspired vigor. Cudi's signature moody vocals and nocturnal aura resurface on "Solo Dolo, Pt. III," presenting a resonating familiarity. Overall, Cudi triumphs in pushing the boundaries of his musical language, particularly shining on tracks like "Show Out" where he explores the gritty terrain of drill music alongside Pop Smoke and Skepta. As the latest instalment to his legendary trilogy, Man on the Moon III finds the artist delivering an engaging blend of blockbuster production and introspective lyricism worthy of being one of Kid Cudi's best albums.
Kids See Ghosts (with Kanye West as Kids See Ghosts)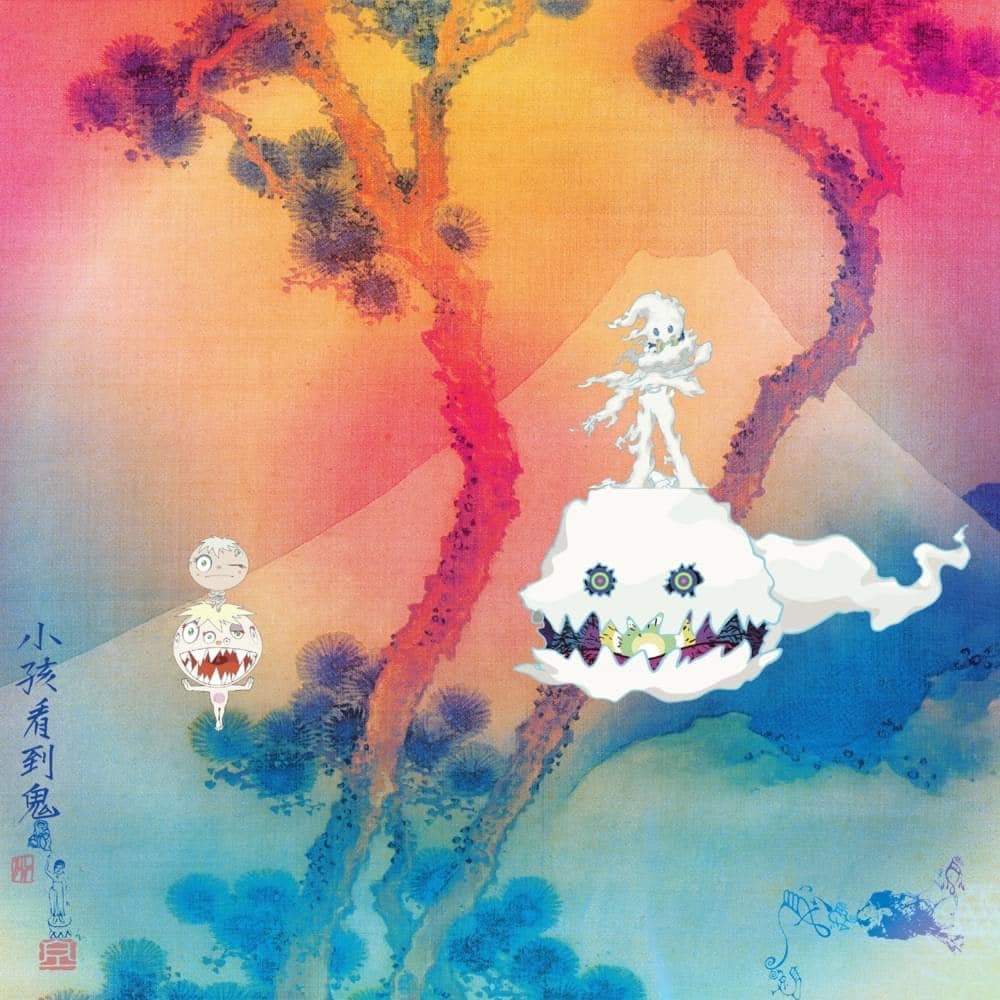 Released: June 8, 2018
Label: Wicked Awesome, GOOD, Def Jam
Singles: N/A
Features: Pusha T, Yasiin Bey, and Ty Dolla Sign.
Launching a mere week after Kanye West's Ye, the debut from Kid Cudi and West's superduo, Kids See Ghosts, manages to distill and elevate the prior album's themes. The project emerges as a standout from West's Wyoming Sessions, coupling superior production with a rich lyrical narrative. The duo captures a rare alchemy, harnessing their shared experiences to craft an intimate exploration of resilience and hope amidst struggles. While Kanye's creative production and Cudi's dreamlike vocals pulse at the album's heart, the collective energy of featured artists like Pusha T, Ty Dolla $ign, Mr. Hudson, and Yasiin Bey enriches its soul. Tracks like "4th Dimension" and "Freeee (Ghost Town, Pt. 2)" amplify this sense of renaissance, striking a chord of liberation. In essence, Kids See Ghosts serves as a sonic antidote to chaos, demonstrating the potency of music as a beacon of light.
Man on the Moon: The End of Day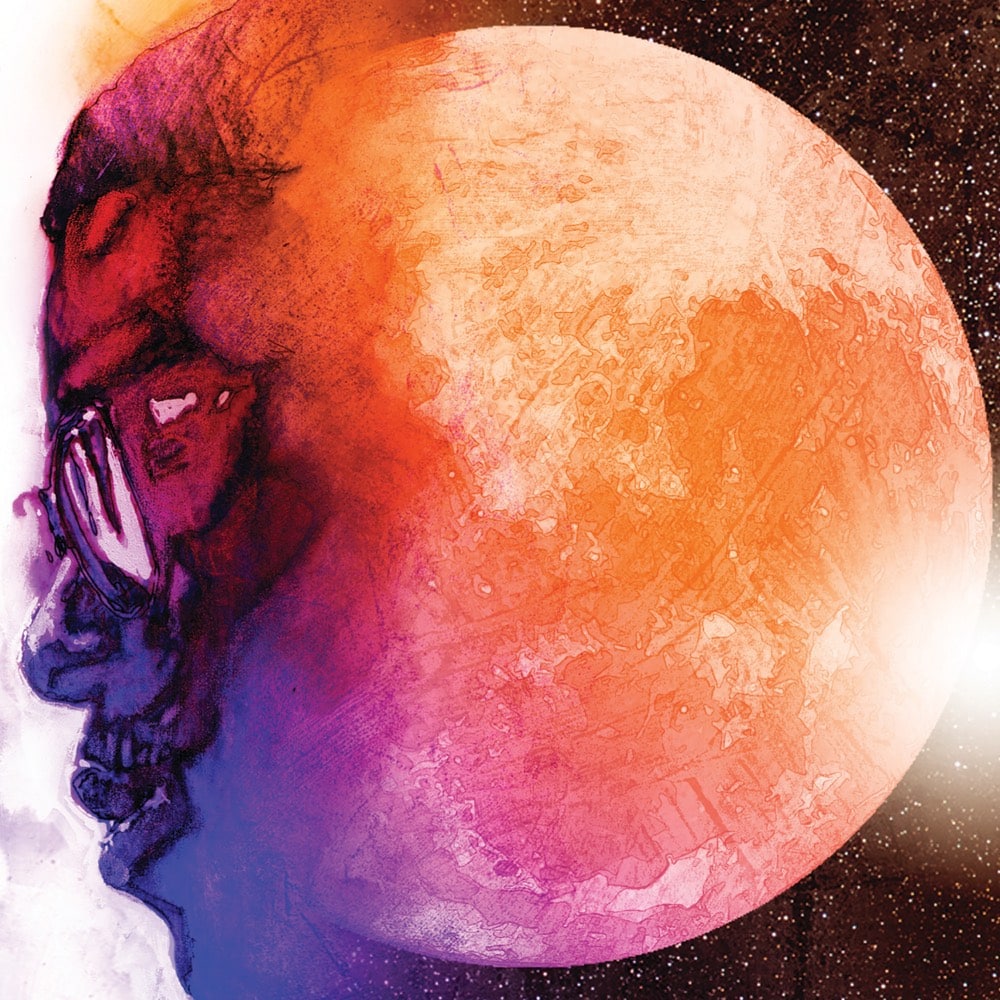 Released: September 15, 2009
Label: Dream On, GOOD, Universal Motown
Singles: "Day 'n' Nite", "Make Her Say", "Pursuit of Happiness"
Features: Billy Cravens, Ratatat, Kanye West, Common, MGMT, Chip tha Ripper.
Kid Cudi's debut album Man on the Moon: The End of Day remains a defining moment in his career, bridging the divide between backpack rap and club bangers. This highly anticipated release was both an introduction and a game-changer, offering a conceptually rich narrative woven into its fabric. From the ethereal introduction to the closing notes, listeners embark on a journey through Cudi's dreams, a realm tinged with both the raw reality of his life and the otherworldly echoes of his imagination. The album transforms personal hardships into a fantastical odyssey, offering a unique blend of introspection and escapism. Despite its predominantly solemn atmosphere, tracks like "Make Her Say" introduce an unexpected, yet delightful, touch of audacious humor. On the whole, Man on the Moon: The End of Day is a venture into the mind of a singular artist. The album's innovative blend of genres and reflective storytelling set it apart, marking the beginning of Cudi's enormously influential role in hip hop and is absolutely his best album to date.