From the sun-kissed shores of Barbados to the global stage, Rihanna's meteoric rise in the music industry has been nothing short of phenomenal. With each album, she has showcased an uncanny ability to evolve, setting trends rather than following them.
Her discography, laden with hits, has explored a myriad of sounds, from infectious pop anthems to introspective ballads, Caribbean rhythms to avant-garde R&B. Each release, from the dancehall-inflected Music of the Sun to the boundary-pushing Anti, tells the tale of an artist refusing to be boxed in. This Bajan queen didn't just give us chart-topping bops; with Good Girl Gone Bad, she transformed into a fashion and music powerhouse. Her foray into darker territories with Rated R showed a resilience and depth, while Loud brought back the fun and flair. Yet, as we'll see, every album in Rih's repertoire serves as a musical diary entry, mapping out her evolution.
So let's get into it. From her 2005 debut, Music of the Sun, to her global blockbuster, Good Girl Gone Bad, and magnum opus Anti, we rank every Rihanna album, from worst to best.
Music of the Sun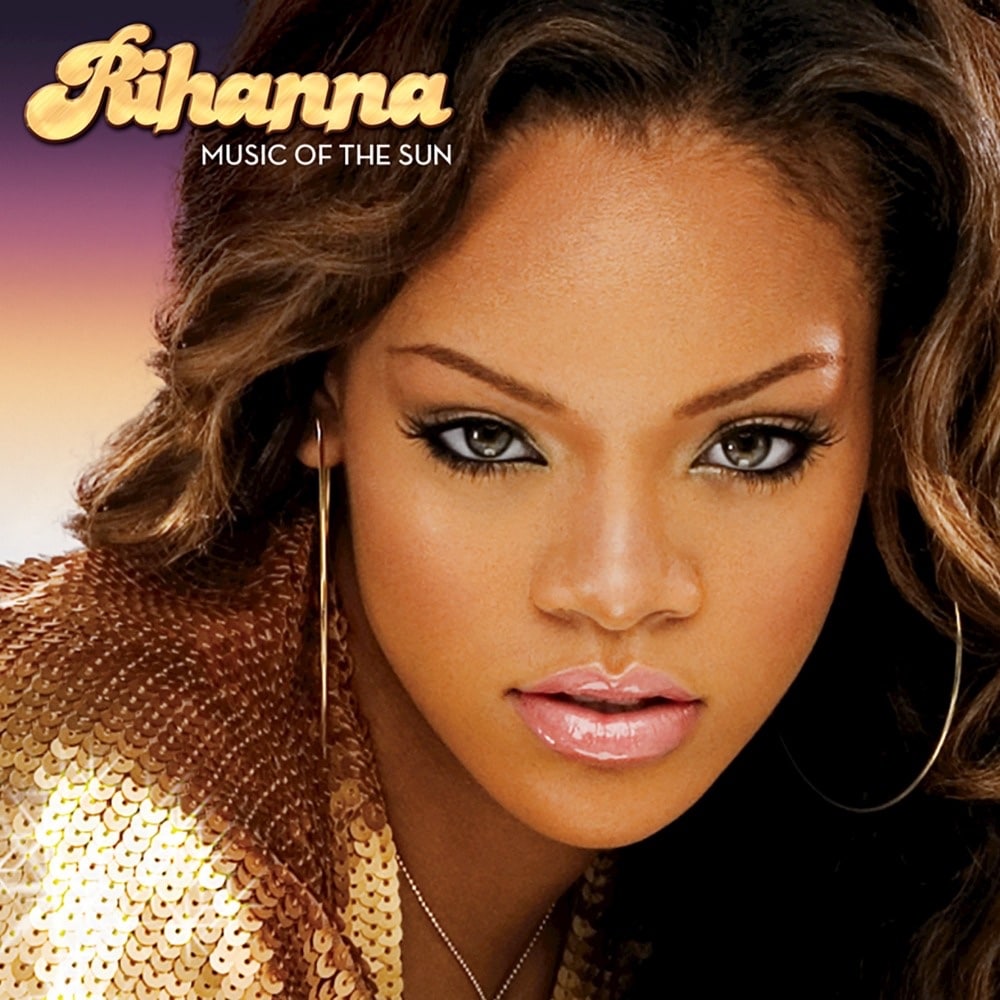 Released: August 12, 2005
Label: Def Jam, SRP
Features: Kardinal Offishall, J-Status, and Vybz Kartel.
Singles: "Pon de Replay", "If It's Lovin' that You Want"
Dipping back to the genesis, Music of the Sun was our inaugural glimpse into the vibrant world of Rihanna, the Bajan songstress poised to take over the globe. Fresh from the shores of Barbados, this 2005 debut was where it all began, shimmering with island vibes and sun-kissed melodies that hinted at the superstar she'd become. Packed with Caribbean rhythms, the album gave us the irrefutable summer anthem, "Pon de Replay," a track that had dancefloors and radio waves pulsating to its infectious beat. Yet, beyond the commercial hits, Rihanna also showcased her deep island roots with cuts like "Here I Go Again" and the dancehall-driven "If It's Lovin' that You Want." Music of the Sun was an apt introduction to an artist who effortlessly merged her Barbadian heritage with contemporary R&B and pop. While it doesn't contain the full range of experimentation and growth we'd witness in her later works, this album was an essential stepping stone. It offered a tantalizing taste of the island-infused pop and the distinct vocal flair of an artist who would soon be impossible to ignore. Here, young RiRi made it clear: she was here to shine, and her sun was only starting its ascent.
A Girl like Me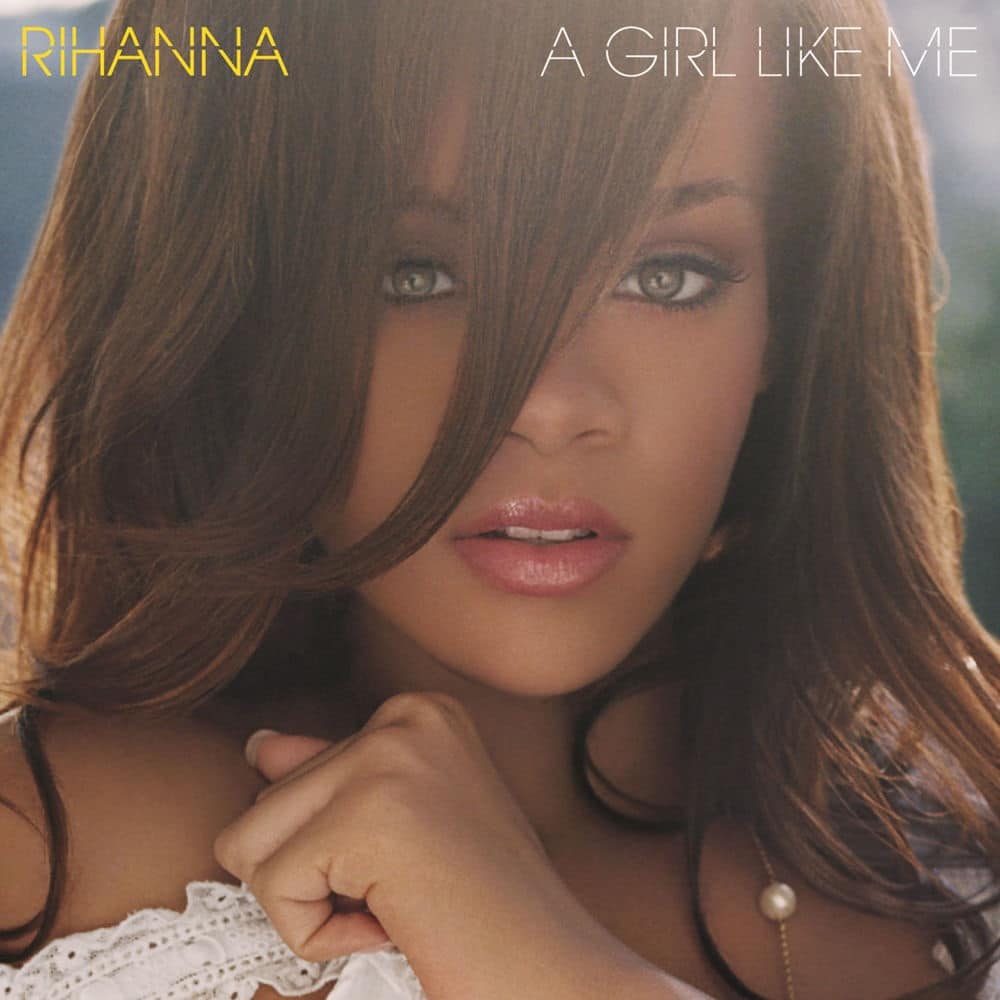 Released: April 11, 2006
Label: Def Jam, SRP
Features: J-Status, Dwane Husbands, Cory Gunz
Singles: "SOS", "Unfaithful", "We Ride", "Break It Off"
Dropping a mere year after her debut, A Girl like Me showcased a swift evolution for the Barbadian songstress. Not just content with resting on the laurels of "Pon de Replay," the R&B queen sought out a more mature sound, blending her Caribbean roots with elements of rock, R&B, and dance-pop. The result? Chart-topping smashes like "SOS" – a jam sampling Soft Cell's "Tainted Love," which swiftly became an anthem. Within A Girl like Me, BadGalRiri flirted with darker themes and deeper emotions, evident in the haunting "Unfaithful," a ballad diving deep into the complexities of infidelity. Tracks like "We Ride" and "Break It Off" (featuring Sean Paul) retained her dancehall signature while hinting at a broader sonic canvas. This record solidified Rihanna's spot not just as a transient pop sensation, but a force on a meteoric ascent. While it might not have the experimental edge of her subsequent projects, A Girl like Me was a testament to Riri's burgeoning artistry, her drive to innovate, and an innate knack for melding diverse sounds into chart-topping gold. This was a statement: Rihanna wasn't just any girl; she was on a trajectory all her own.
Rated R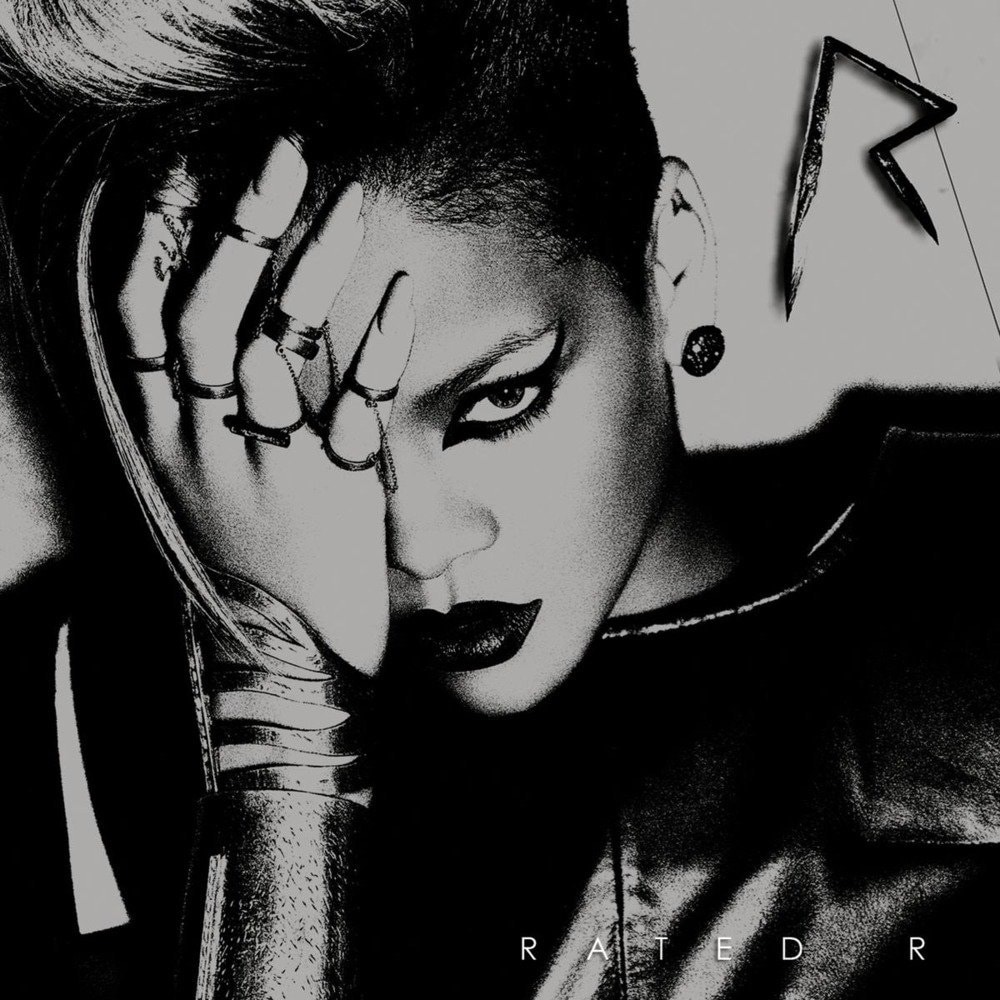 Released: November 23, 2009
Label: Def Jam, SRP
Features: Young Jeezy, will.i.am, Justin Timberlake and Slash
Singles: "Russian Roulette", "Hard", "Wait Your Turn", "Rude Boy", "Rockstar 101", "Te Amo"
This 2009 project marks the moment BadGalRiri truly dismantled the pop princess image, stepping into a realm of gritty introspection and audacious self-expression. With this record, the island diva didn't just knock on the door of evolution; she kicked it wide open. From the fierce opener, "Mad House," it's clear this isn't the Rihanna of yore. Songs like "Hard" and "Rude Boy" are unyielding in their assertion, blending industrial sounds with reggae and R&B influences. Yet, it's tracks like "Russian Roulette" and "Fire Bomb" where Rihanna's emotional depth truly shines, touching on themes of heartbreak, love's perils, and her own vulnerabilities. But Rated R isn't just about intensity. The singer shows off her versatility with the soft, almost hypnotic, "Stupid in Love" and the guitar-driven "Rockstar 101." Undoubtedly, the project is a kaleidoscope of emotions, sounds, and stories, painting the Barbadian queen as a multi-faceted artist unafraid of dark themes, sonic experiments, or stark honesty. This was Rihanna, raw and unfiltered, setting the stage for the icon she was blossoming into.
Unapologetic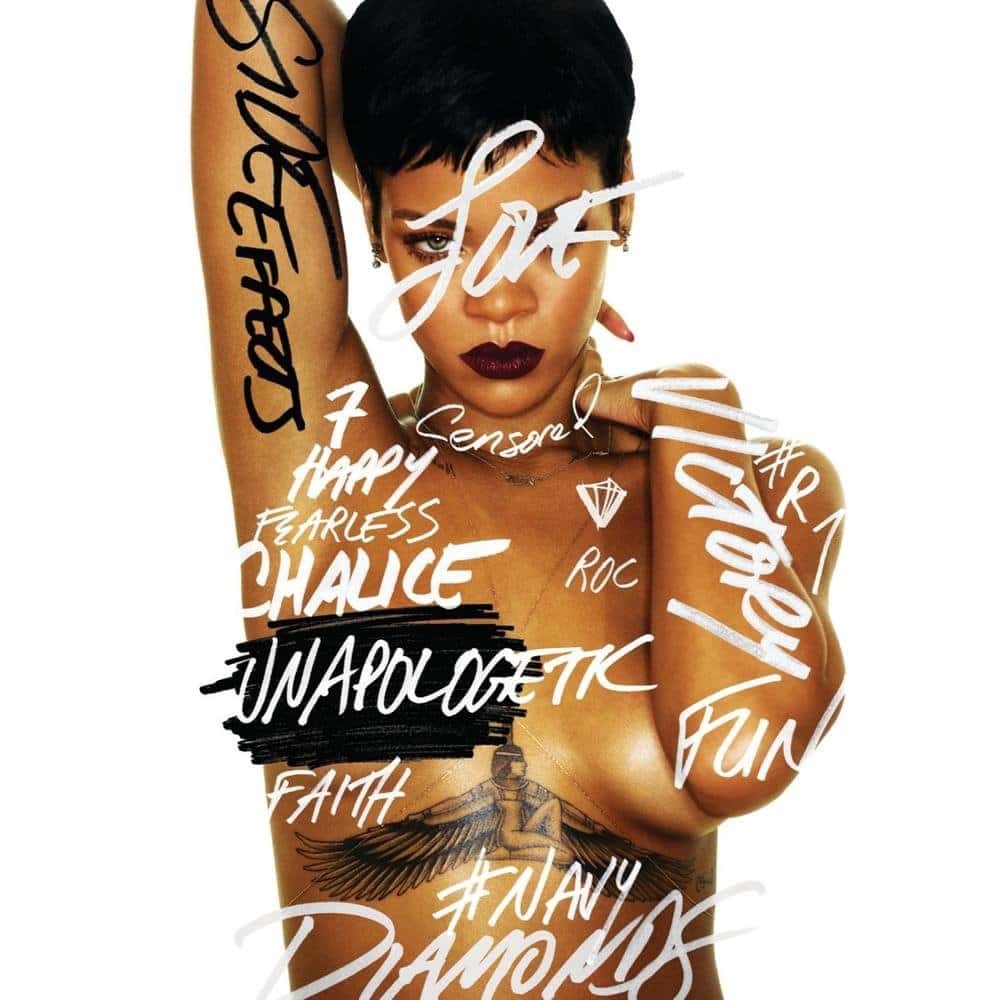 Released: November 19, 2012
Label: Def Jam, SRP
Features: Eminem, Future, David Guetta, Mikky Ekko, Chris Brown
Singles: "Diamonds", "Stay", "Pour It Up", "Right Now", "What Now", "Jump"
Unapologetic, where Rihanna, the edgy and unyielding queen of reinvention, further pushed boundaries. Released in 2012, this project found her diving deeper into her introspective side, while still churning out party anthems ready to rule the airwaves. Who could forget the magnetic pull of "Diamonds"? A track where her vocals soared over a serene beat, painting vivid images of resilience and beauty. But this album wasn't just about chart-toppers. There was a rawness to tracks like "Stay," showcasing Rih's emotional vulnerability, and a testament to her growth as an artist. Flirting with genres, she fused her signature pop sound with EDM, reggae, and hip-hop. Songs like "Pour It Up" became instant club bangers, while "No Love Allowed" had that reggae touch, a nod to her Caribbean roots. In Unapologetic, RiRi truly lived up to the album's title. She was audacious, taking risks, and laying her emotions bare, all while crafting an album that was a mosaic of sounds and feelings. It was a diary of a young artist who had seen both tumult and triumph, and wasn't afraid to put it to music.
Talk That Talk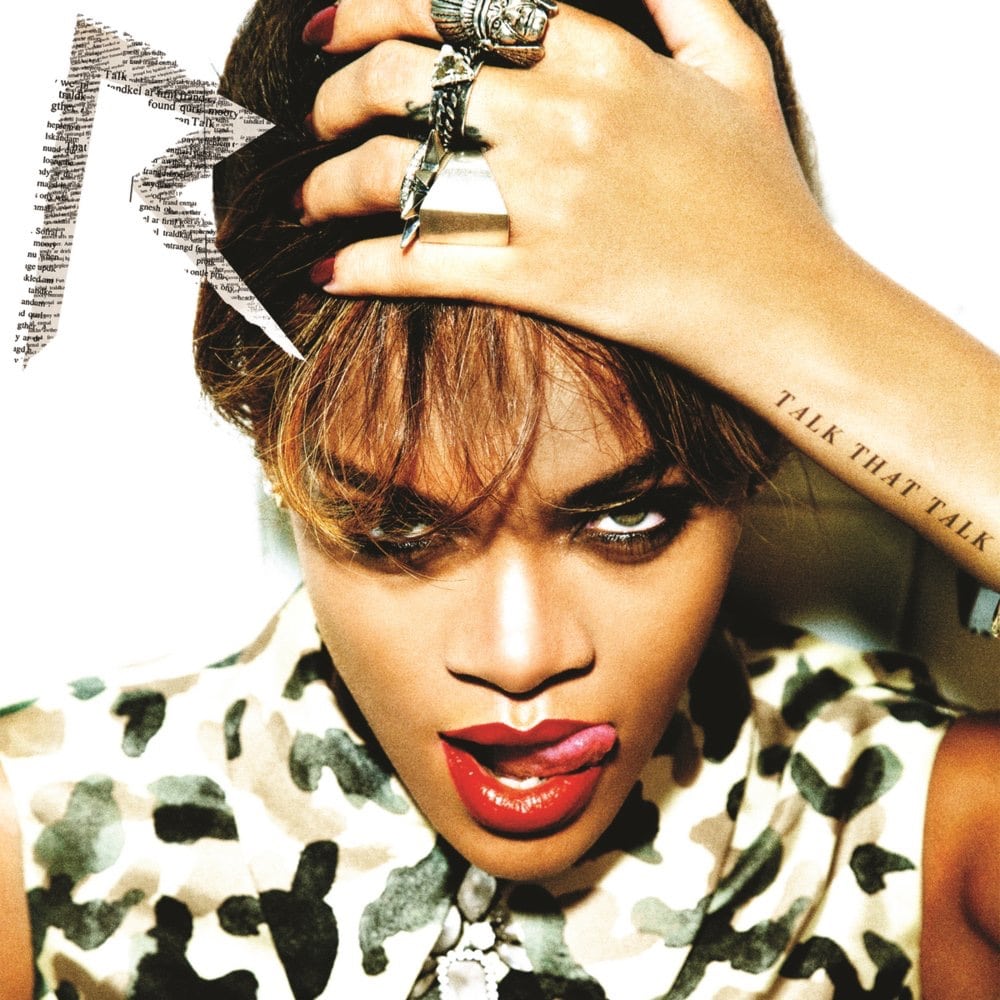 Released: November 21, 2011
Label: Def Jam, SRP
Features: Jay-Z
Singles: "We Found Love", "You da One", "Talk That Talk", "Birthday Cake", "Where Have You Been", "Cockiness (Love It)"
Dropping in 2011, this project was Rih doing what she does best: blending genres with such finesse, the lines between them blur. The Barbadian icon hit the ground running with the infectious "We Found Love," a dance track in collaboration with Calvin Harris that pulsed with euphoria and nostalgia. But it wasn't just the dance anthems that stood out. Tracks like "Where Have You Been" showcased her chameleonic prowess, effortlessly gliding from pop to EDM. And who could overlook the seductive swagger of the album's title track, "Talk That Talk," where she traded verses with none other than Jay-Z? Still, the Bad Gal didn't shy away from moments of vulnerability. "Farewell" and "Drunk on Love" were intimate confessions, dipped in emotion and dripping with sincerity. Throughout the record, Rihanna embraced her sensuality, flaunted her boldness, and showcased her vocal dexterity. Talk That Talk was Rih in her element, a fusion of pop, R&B, and dance, all underlined with that characteristic Rihanna rebellion.
Good Girl Gone Bad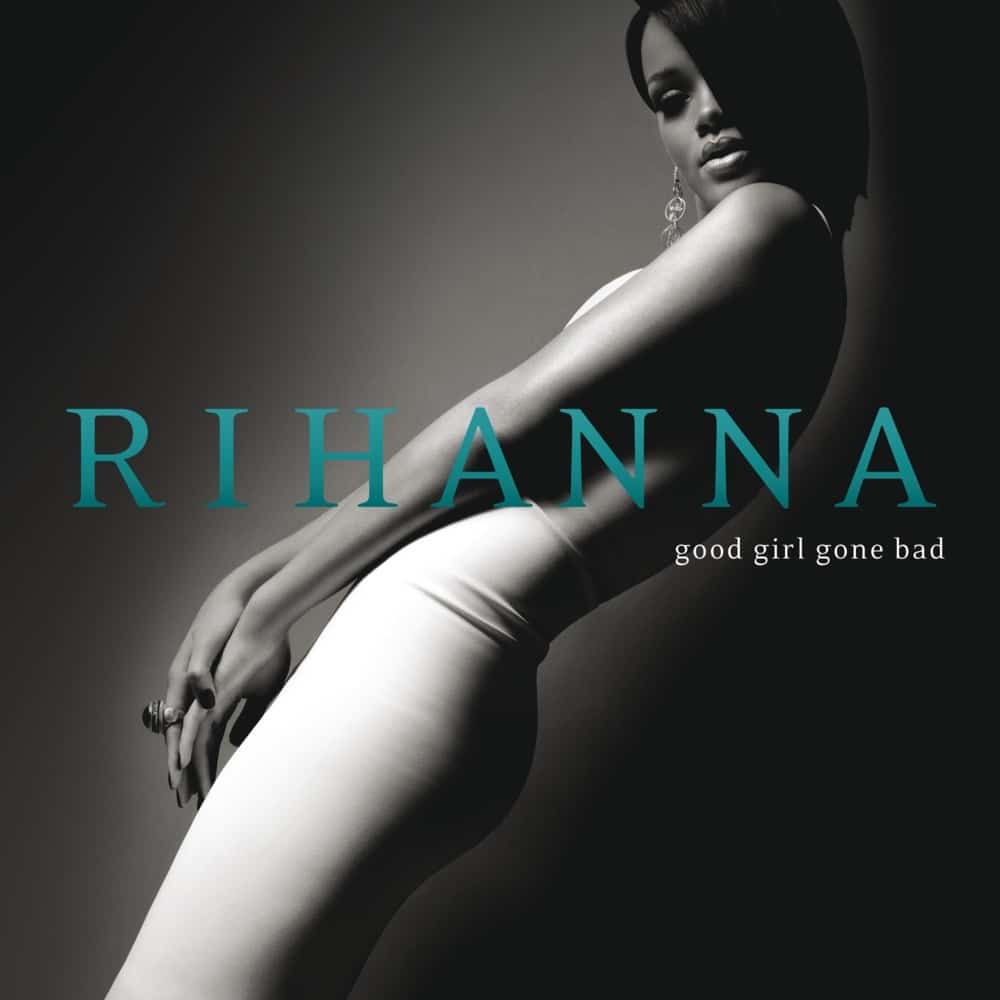 Released: June 5, 2007
Label: Def Jam, SRP
Features: Jay-Z, Ne-Yo
Singles: "Umbrella", "Shut Up and Drive", "Hate That I Love You", "Don't Stop the Music", "Rehab"
Diving deep into the 2007 classic, Good Girl Gone Bad, we see Rihanna truly coming into her own, breaking free from the chains of standard pop conventions and embracing a more mature, edgier side. This project wasn't just a title; it was a declaration of the Barbadian beauty's artistic evolution. By this time, Rihanna had begun shedding her innocent image, and tracks like "Umbrella," with its captivating hook and the assist from Jay-Z, solidified her status as a global icon. However, the album wasn't just defined by its mega hits. Deep cuts like "Rehab" with Justin Timberlake and the infectious "Don't Stop The Music" showed Rih's versatility and her willingness to experiment with sound. The sultry undertones of "Shut Up and Drive" introduced fans to a side of Rihanna that was both playful and unabashedly confident. With Good Girl Gone Bad, our island queen wasn't just serving up tracks; she was sculpting anthems. The blending of pop, R&B, and dance paved the way for future artists and set a gold standard for genre fluidity. Whether she was delivering heart-wrenching ballads or floor-shaking bangers, Rihanna proved with this album that she was never one to be boxed in. She was a force, unapologetically redefining her narrative, and leaving an indelible mark on the music scene.
Loud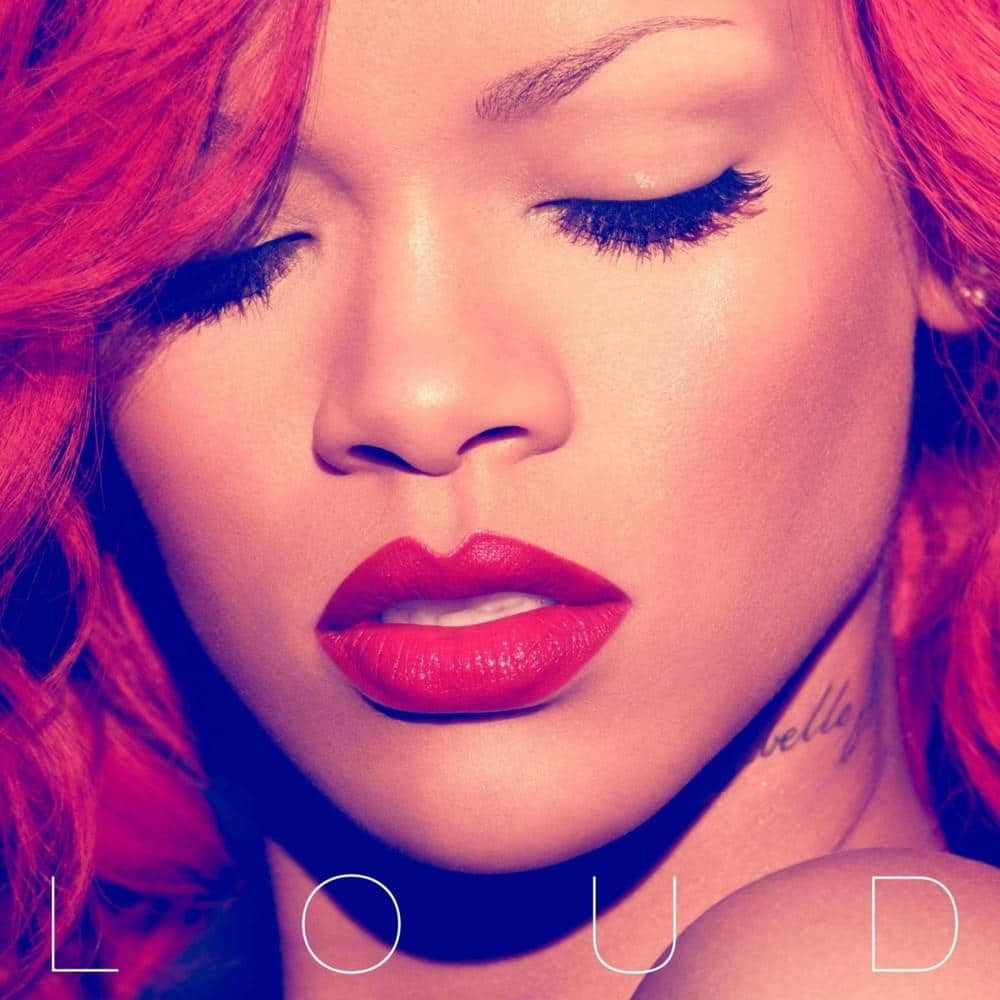 Released: November 16, 2010
Label: Def Jam, SRP
Features: Drake, Nicki Minaj and Eminem
Singles: "Only Girl (In the World)", "What's My Name?", "Raining Men", "S&M", "Man Down", "California King Bed", "Cheers (Drink to That)"
When the Barbadian songstress unleashed Loud on the world in 2010, it felt like an unapologetic celebration of love, life, and everything in between. This project saw Rih take on an eclectic mix, seamlessly blending reggae with pop, R&B, and dance. One could argue that Loud represents one of the most vibrant eras in her career, characterized by the fiery red hair and equally fiery tracks. "Only Girl (In The World)" epitomized the spirit of the album – it's bold, audacious, and demands attention. Rihanna's request to stand alone as the center of someone's world was both a love plea and a declaration of her own self-worth. The heart-pounding bass of "S&M" showcased her edgy side, unafraid to flirt with taboo topics, while "Man Down" took listeners back to her Caribbean roots, telling a story of passion and regret. Then there's the timeless "California King Bed," where the Bad Gal showed her more vulnerable side, expressing longing and heartbreak in a way only she could. And who could forget the sultry "Skin", a testament to Rihanna's ability to deliver sensuality with class? With Loud, Rihanna cemented herself not just as a hit-maker, but as an artist unafraid to take risks, to be loud in her choices, and to embrace every facet of herself. This was more than an album; it was an era, a mood, a vibe. She gave the world a piece of her heart with every track, and it was loudly appreciated.
Anti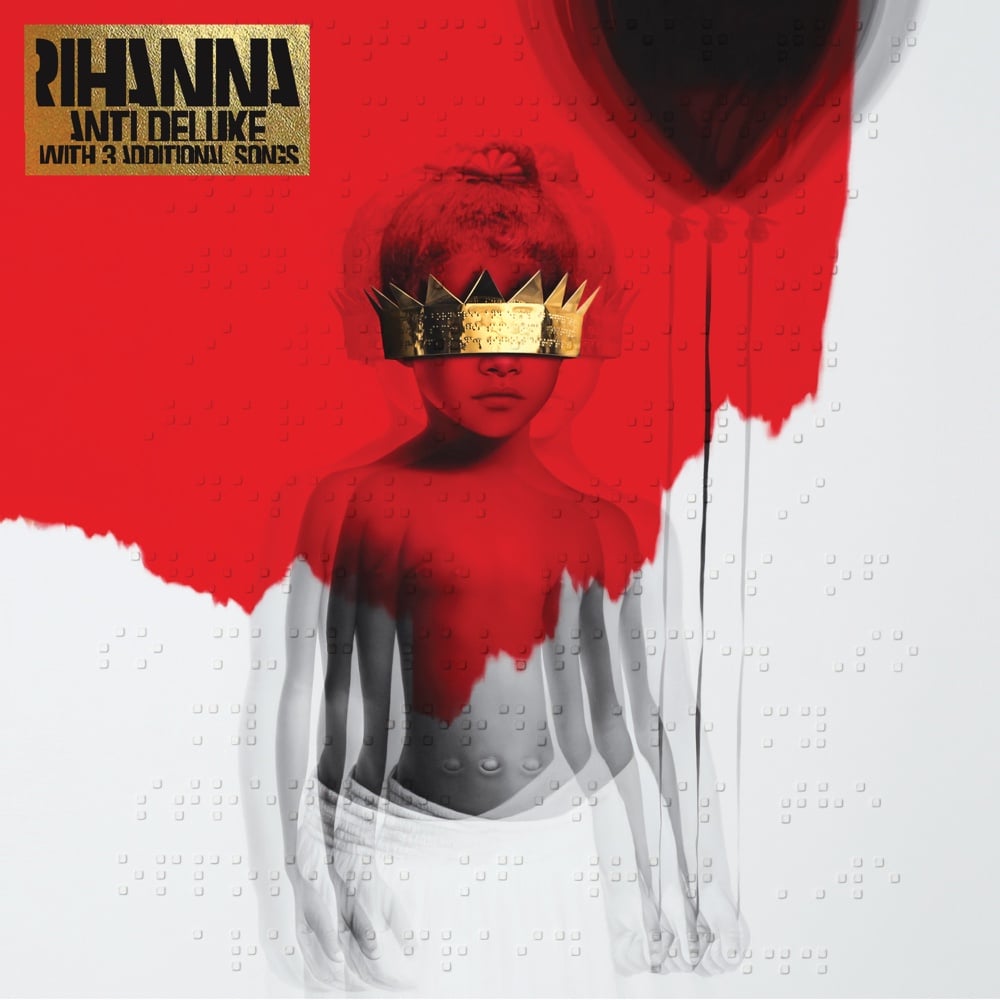 Released: January 28, 2016
Label: Westbury Road, Roc Nation
Features: SZA and Drake
Singles: "Work", "Kiss It Better", "Needed Me", "Love on the Brain"
Anti, released in 2016, stands as an opus within Rihanna's discography, marking a significant departure from her previous works. Instead of following the mainstream path that had yielded her numerous hits, the Barbadian beauty dived into a pool of raw authenticity, delivering an album teeming with introspection, innovation, and maturity. It was as if Rihanna had torn down the walls, inviting listeners into the most intimate corners of her mind and soul. From the hauntingly beautiful "Love on the Brain," which harkens back to vintage soul, to the intoxicating "Work" featuring Drake, every track on the album is a testament to Rihanna's musical evolution. The Caribbean-infused "Consideration," featuring SZA, encapsulates her desire for respect and autonomy. Then there's "Needed Me," where she adopts a nonchalant demeanor, a nod to her unwavering strength and independence. One of the album's standout moments, "Higher," reveals a stripped-back Rihanna, her raspy vocals detailing a raw, impassioned plea for love. This wasn't the polished pop princess from her earlier days; this was an artist, vulnerable yet defiant, seeking and showcasing truth in its purest form. Anti was a revelation. It wasn't about creating chart-toppers, but about creating art. In doing so, the multifaceted icon redefined herself, solidifying her position not just as a pop sensation, but as an artistic force to be reckoned with. Through Anti, Rihanna confirmed that she was in control, breaking molds, and creating on her own terms.