Eminem is a hip-hop titan with a staggering discography that covers three decades. Marshall Mathers has a gift for getting you sucked in with razor-sharp rap verses, cinematic storytelling, and thematic explorations that range from brutally personal to brazenly confrontational. A master lyricist with a catalogue that spans over two decades, Em has transcended the confines of Detroit, Michigan to etch his indelible mark on the global zeitgeist.
From "The Slim Shady LP" that introduced us to the bleached-blond menace with a devil-may-care attitude, to the contemplative depths of "Music to Be Murdered By," Mathers' consistency of craft has been unmatched, thanks to his knack for flipping raw narratives into rhythmic poetry. Albums like "Recovery" and "The Marshall Mathers LP" shifted paradigms, with tracks that melded vocal dexterity with intricate narrative arcs. Meanwhile, "Encore" and "Relapse" showcased his knack for playing with personas, while never shying away from introspective conversations about struggles with fame, addiction, and mental health.
In this cannon, songs like "Rap God," "Lose Yourself," "Not Afraid," and "The Monster" have not only topped charts but have also become cultural touchstones. His collaborations with talent, ranging from Juice WRLD to Young M.A, and Ed Sheeran to Anderson .Paak, also underscore his range and relevance in different eras of the hip-hop spectrum.
Whether he's being Eminem, Slim Shady, or Marshall Mathers, he has managed to keep the rap game on its toes, always wondering which variant of his genius is going to drop next. And there's no better way to appreciate the depth and breadth of his artistry than by dissecting his portfolio, one track at a time. So let's get into it.
From the controversial "Kim" to the iconic "Lose Yourself," here are the Top 100 Eminem Songs Ranked from Worst to Best.
100. Infinite
Although this is Eminem's debut, it ain't his most celebrated work. A young Em' was still finding his footing, delivering bars full of bravado and complex wordplay, but lacking the distinctive and raw voice we know him for today. The beats were lo-fi, and Em's delivery was reminiscent of Nas and AZ, lacking the punchy anger and deeply personal narratives that would later catapult him to stardom. In essence, "Infinite" is Eminem in development, a glimpse of the future GOAT in his rookie season. Not his best, but crucial for understanding his journey. It's the type of joint you spin if you want to trace the roots, ya feel me?"
99. Kings Never Die
A testament to Eminem's dogged persistence in the game. Spit over a guitar-driven beat, the song features a compelling hook from Gwen Stefani and captures Eminem's warrior-like resilience, his refusal to surrender to time or haters. It doesn't quite reach the heights of his most iconic work, but it's a solid reminder that you can't easily dethrone a king. It's a testament of his longevity in the game, the lyricism is beyond par, Em's delivery is unapologetic and the defiance in his voice is palpable. But despite this, it falls short of the raw, hypnotic charm of his more celebrated hits.
98. W.T.P.
"W.T.P." or "White Trash Party," ain't nothing but a raw, unapologetic anthem from Em's 2010 album, "Recovery." With a heavy Detroit influence, Eminem takes us through a wild, trailer park jam, painting vivid pictures of the chaos, fun, and rawness that comes with it. While the beat bangs, the lyrical content ain't exactly Em's finest hour – you're not going to find the deep emotional introspection he's known for. This is Em letting loose, giving his fans a respite from his usually dense, emotionally heavy tracks. Still a banger, sure, but on a lyrical level, it doesn't scratch the surface of what Slim Shady can do.
97. Never Love Again
Off 2020's "Music To Be Murdered By" is Em wrestling with his demon – the addictive seductress of substance abuse. Stripped back and raw, it's not his slickest flow, but the Detroit godfather again serves up potent rhymes from a place of pain. He drags you into his battle with addiction, painting a vivid tableau using stark imagery of an abusive relationship. It ain't earning any club spins, but it's pure Shady storytelling, barefaced and introspective. On the real, it's a profound reminder of how Em doesn't just emcee; he bares his soul, the good, the bad, the ugly. It ranks as the seventh, a worthy inclusion but not his top shelf, yo.
96. Kim
A harrowing and merciless journey into the dark recesses of Eminem's tumultuous relationship with his ex-wife Kim Scott. This track from "The Marshall Mathers LP" is Slim Shady at his most unhinged and controversial. Infused with raw emotion and disturbing violence, it's a gut-wrenching narrative of love gone terribly wrong. Many have criticized its stark and gruesome portrayal of domestic dispute. However, it's undeniable that Eminem showcased a unique, unfiltered storytelling ability on this track that few can match. It's not for the faint-hearted, but "Kim" serves its purpose as a cautionary tale about the depths of personal despair and toxicity. Not for casual listening, the raw intensity of this track separates it from the rest of Em's discography.
95. Who Knew
An Eminem track that might not instantly ring bells, but don't sleep, it hits hard. Em is in his most confrontational mode here, dialing up his critical view on society's hypocrisy, lyrical dexterity on full display. He questions his own influence, "I never knew I'd, get him to slit his wrist / I never knew I'd, get him to hit this bitch." The song serves as an indictment on parenting, media, and censorship, controversial yet thought-provoking. Em's wordplay is chaotic yet nuanced, it's like Picasso painting a war scene. So yeah, it may not have the pop appeal of other Eminem hits, but true heads know the skill contained in "Who Knew". Firmly in the middle of our list, it's got enough clout to be mentioned, but falls short of his marquee tracks.
94. Brain Damage
A raw, unflinching piece of storytelling that could only come from the pavement of 8 Mile. This track is Marshall at his autobiographical best, dissecting his traumatic past like a frog in high school biology class. It's grim, it's evocative, and it's quintessential Eminem. With gritty beats from Dr. Dre and Em's signature lyrical sharpness, 'Brain Damage" paints a picture of the violence and neglect that frequented his childhood. It illustrates not only his survival but his ability to channel the madness into art. However, it's not Em's best work—his prowess would only ascend in later releases. It's grim, stark, and real—a raw and uncut look at the struggle that molded one of the genre's GOATs.
93. Still Don't Give A Fuck
A testament to Eminem's raw talent and the audacious defiance that's always been part of his persona. Dropping as the final track on his major-label debut, "The Slim Shady LP," this joint stamped Em's arrival as a force to be reckoned with, a spitfire lyricist with a deep-rooted disdain for societal norms and expectations. Layered with dark humor and grim depictions of addiction, it's a track that doesn't pull any punches in showing the gloomy underbelly of Eminem's world. Sure, it may not be his most refined work, but its unfiltered honesty and abrasive tone make it an emblem of the chaotic brilliance that marked Eminem's early career. Pure and uncut, it's Em at his most irreverent.
92. Tone Deaf
This ain't a personal favorite, but we gotta give Em his props for the wordplay and flow. Lyrically, it's typical Shady, full of controversial bars and a total disregard for the haters. The self-deprecating humor's there and the song does have a catchy hook. However, when we're talking about an artist who's given us anthems like "Lose Yourself" or "Stan", there's a definite contrast. "Tone Deaf" ain't no game-changer, but it sure as hell ain't the worst Em's tortured us with – remember "FACK"? Bottom line, it's a fun track for the Stans but probably ain't going to win over any new fans.
91. Rabbit Run
This joint is Eminem on full tilt, boogie-mode with bars that illustrate his struggle to fame, a soundtrack to the struggle Silva from the Detroit streets. The desperation in Em's flow on this joint, it's raw, unfiltered…man, it's like a heavyweight fight with his demons. Contained in the "8 Mile" soundtrack, "Rabbit Run" didn't make waves like "Lose Yourself" did commercially, but lyrically? Please! It was Em channeling his trials, tribulations and rage, spitting faster than most mortals even think. Ain't no hooks, ain't no breaks, just Slim going off – the essence of hip-hop in its finest form. The track is gritty and NSFW, but it's a must-listen for any hip-hop heads wanting to understand Eminem's artistry and lyrical prowess.
90. Rock Bottom
Giving listeners a bleak glimpse into his struggles and hardships before the fame. It's from his second studio album "The Slim Shady LP" released in 1999 when Em was still a rugged, uncensored kid from Detroit. The lyrics are raw, honest, and unfiltered. It ain't flashy or filled with punchlines ' it's just Marshall Mathers being vulnerable and keeping it 100. If you ain't familiar with this track, then you sleepin' on a key piece of Eminem history, fam. The raw emotion that he applies to the rhymes draws you in and provides a sturdy example of his talent for turning personal trauma into compelling art. It's one of those joints that remind us why Em's still the rap game's GOAT contender.
89. Drug Ballad
Vintage Shady – raw, controversial, yet undeniably compelling. From the seminal "Marshall Mathers LP," it's a potent narrative, serving as a cautionary tale of substance abuse wrapped in Em's razor-sharp wit and audacious delivery. Laced with a thumping bassline and a catchy hook by Dina Rae, it's a deep cut that exemplifies the complexities and contradictions of Eminem's persona. Despite its light-hearted sound, the spot-on depiction of drug-fueled high-life and inevitable crash is as real as it gets. Interestingly, it also features doses of self-awareness, as Em questions his own reliance on substances to fuel his creativity. As a standout track, "Drug Ballad" stands as a testament to Eminem's storytelling prowess and his uncanny ability to blend harsh realities with dark humor.
88. Won't Back Down
No doubt one of Em's more confrontational joints, a knock-down drag-out lyrical skirmish. Featured on the 2010 album "Recovery", this song embodies Em's feisty spirit and refusal to back down, no matter what. Pink, the hook master, brings through a rock edge with her raspy and powerful vocals, juxtaposing it to Em's fiery rhymes to bring a sense of tenacity. It's not a top-tier Eminem song by any stretch – some may even label it as the moment Marshall veered into a more pop-focused direction. But you gotta give it to him for the lyrical tenacity. He ferociously spits bars, bobbing and weaving around detractors, refusing to go down without a fight. It's the Slim Shady way.
87. Unaccommodating (feat. Young M.A)
Unapologetically abrasive, a collab featuring Brooklyn rapper Young M.A, the song is a punch-you-in-the-face statement about being unapologetically oneself, no matter how uncomfortable it may be to others. True to his reputation, Em doesn't pull punches. The track's stuffed with controversial bomb-droppers, ripped-right-from-the-headline kind of wordplay that has defined Marshall Mathers' genius – and polarized audiences – since his Slim Shady days. However, some critics felt Eminem's verse was overshadowed by Young M.A's opening verse, arguing the guest outshone the host. Still, this cut stays true to Em's ethos ' a defiant, middle finger in the air proclamation of self, even if it's seen as "unaccommodating."
86. Good Guy (feat. Jessie Reyez)
Featuring Jessie Reyez is Eminem hitting us with that quintessentially Marshall narrative of troubled relationships. Nestled in his 2018 album, "Kamikaze", it's a laudable exploration of toxicity and remorse. Shady and Reyez weave a delicate, haunting duet, their voices swirling in an intense dance of accusation and regret. This isn't Em at his lyrical zenith, yeah, but the emotionally charged storyline gives it a kind of resonance. What it lacks in audacious rhymes, it makes up for with a potent back-and-forth narrative structure. It's dreary, it's dark, it's complex – a raw slice of life straight from the kitchen of hip-hop's fieriest chef. "Good Guy" might not hit the heights of other Slim Shady classics, but it sure ain't a skipper on the playlist.
85. No Regrets (feat. Don Toliver)
This sees Em teaming up with Don Toliver, dropping some introspective rhymes on a moody beat that plays like a soundtrack to a contemplative midnight drive. The song finds Slim wrestling with the demons of his past, expressing zero regrets. Instead of dwelling, he flips the script, turning past shortcomings into fuel for his fiery lyricism. Toliver's hook is a haunting echo, providing a fitting backdrop for Eminem's candid reflections. Now, while it might not be vintage Em, it's a solid track that showcases his growth and resilience as an artist. It's a testament to his tenacity, proving he's still got more stories to tell, more rhymes to spit, and ain't going anywhere anytime soon.
84. Darkness
"Darkness" is where Em exhibits his storytelling prowess, but, yo, it's darker than midnight under an eclipse. Bruh, this a masterclass in painting a bleak picture. He's Zorro in a world of color, leaving strokes of black everywhere. He borrows from the tune of "The Sound of Silence" with its melancholy vibe, running parallel to the grim content. The genius part? The dual narrative – Eminem's touring life and the 2017 Las Vegas shooting. He puts himself in the shoes of the shooter, stirring up a dialogue on gun violence and mental health. Some might say it's a deeper dive into controversy, but this is Slim Shady ' controversy is his bread and butter. Yet "Darkness" ranks lower because Em's strength is in fiery, defiant anthems ' this is contemplative and grave.
83. Black Magic (feat. Skylar Grey)
Sounding more like a misstep than magic, "Black Magic" is a collab with Skylar Grey that falls flat in terms of lyrical and thematic depth. This ain't no Illmatic, it's more like chill-static, Em's multi-syllable rhyme schemes getting lost in the dramatic pop hooks. There's a sense of Em trying to tap into his Relapse era, but it ends up feeling unauthentically dark rather than artistically insightful. Skylar's vocals are on point, but it's hard to deny that they overshadow Marshall's delivery. A coda to the Music to be Murdered By saga, "Black Magic" sticks out as an uncharacteristic magus misfire in the broad Eminem canon.
82. Legacy
Ayo, "Legacy," off The Marshall Mathers LP 2, speaks directly to the heart of Em's hardcore fanbase. This joint is a straight up poetic narrative, layered with a haunting hook from Polina that gives it an eerie vibe. Shady takes us on a journey through his troubled childhood, grappling with poverty, bullying, and a deep sense of inadequacy. The reminiscing technique here is peak Eminem, proving once more Shady's blueprint with storytelling. The piano-heavy beat sets a sorrowful tone, while Em flips his past angst into a determined swagger, creating a "legacy" that spits in the face of his doubters. However, some might argue that the track's charm is undermined by its repetitiveness, and Eminem's emotional flow could have used more variety to truly punch through. But hey, it's still vintage Shady – raw, visceral, and unapologetic.
81. Say What You Say
This is a mid-tier track in Eminem's vast catalogue. It's a testament to the Detroit native's ability to vent, sharpening his lyrical prowess against the whetstone of beef and controversy. The track serves as a shooting gallery, offering a platform for Em to air his views on various issues. However, while its delivery is passionate and intriguing, it lacks certain elements that typically make an Eminem track formidable. "Say What You Say" is an example of the rapper's no-holds-barred approach to hip-hop, but it doesn't quite reach the gritty intensity and emotional complexity of his top-tier joints. It's decent, but Em has better in his vault, no cap.
80. Marshall Mathers
Coming in hot from `The Marshall Mathers LP`, is one of them joints that pulled back the curtain, letting the world see the man behind the Slim Shady moniker. Instead of Slim's cartoon villainy and biting sarcasm, "Marshall Mathers" speaks truth from the horse's mouth, raw and unfiltered. Em vents about the pitfalls of fame and lays bare his frustration at being misunderstood and vilified. The track's stripped-down, acoustic production by Bass Brothers and Em himself underscores the sobering reality of Marshall's words: ain't no glitz and glamour here, just real talk. "Marshall Mathers" may not be Em's most commercially successful track, but when it comes to providing insight into the man himself, few others hit this hard. This joint's a must-listen for any self-respecting hip-hop head.
79. Say Goodbye Hollywood
An intriguing chapter in Eminem's discography. Off the monumental "The Eminem Show" album, this track paints a captivating image of the suffocating fame Em immersed himself into. But yo, it ain't all diamonds and gold chains as it mirrors his struggles during his early peak moments. He spits with a fierce ferocity that'll hit a thug right in his feelings, and man, the beat, produced by Em himself, remains as raw as a fresh wound. It's a testament to his unmatched skill of converting personal turmoil into hard-hitting bars. But compared to the rapper's more iconic hits, "Say Goodbye Hollywood" might just come off as a tad underwhelming. Compelling, yes, but not enough to outshine the Eminem classics.
78. Headlights
This joint allowed Marshall Mathers to finally reach a truce with his often-criticized mother. Over an emotionally raw Nate Ruess hook, Em openly laments the turbulent relationship he's had with his moms, asking for forgiveness for past disses and acknowledging his appreciation for her sacrifices. The lyrical content aside, what makes "Headlights" such an impeccable track is the stunning balance between the haunting melancholy of the hook and Em's passionate delivery. This ain't the effortless, braggadocious flow you'd hear on a track like "Rap God." Nah, this here is raw emotion, proof that even in the darkest alleys of hip-hop, there's room for a little introspection.
77. Cold Wind Blows
A raw and audacious track that finds Eminem snarling with an unmatched ferocity. You can tell it's Em in his zone, where he unloads his frustration in hella cathartic bunches, all while weaving an intricate wordplay. It's an emblematic Slim Shady solo ' brazen, defiant, and outright offensive at times. This ain't your radio-friendly Em; it's the raw, uncensored version. Em's punchlines are savage — both comic and cringe, blending his spit and fire flow with his clownish, yet dark humor. "Cold Wind Blows" ain't a greatest hits contender, but it's an unapologetic statement of Em's refusal to bow down to the whims of the industry or public opinion. It stands as a testament to Em's enduring potency as a controversial figure of hip hop culture.
75. Just Don't Give A Fuck
A cut off Eminem's EP "Slim Shady." When Em dropped this one in '97, it was a game-changer, a bold statement from a hungry emcee straight outta Detroit's gritty rap scene. This joint laid out the Slim Shady persona with a "no holds barred" approach, mixing dark humor with a grim life narrative. Eminem's rhyme scheme and flow on this track were vicious, spit with pure conviction. It might not have had the catchy hooks or polished production of his later work, but its rawness was its strength – this was an authentic voice of rage and rebellion, flipping the bird at the world. But, word is bond, it's not his best; there were greater hits still to come from Marshall.
74. Lock It Up (feat. Anderson .Paak)
A collaborative dire warning to the detractors who've been sleepin' on Shady. Em teams up with the soulful Anderson .Paak – a move as unexpected as it is dope and they craft a gem that radiates a playfully menacing energy. While Em's savage wordplay is always a highlight, Paak's smooth hook and verses add an unpredictably mellow flavor to the track. The beat, an upbeat, head-bobber, provides the perfect underpinning. It ain't "Till I Collapse" or "Lose Yourself", but it holds its own as a joint that showcases Em's ability to adapt his sound while still keeping it 100% Slim Shady.
73. Criminal
Showcasing Slim Shady at his devilish best. But hold up, don't get it twisted, it ain't just about spitting bars and sparking controversy. Eminem uses this track to critique the media's perception of him as a criminal influence, delivering a biting commentary on society's obsession with scandal. The track is laced with Em's signature tongue-in-cheek humor, combined with an array of violent and outrageous scenarios that illustrate his point. However, beneath the surface, "Criminal" also reveals Eminem's strategic genius. The more the media villainized him, the more records he sold. And you gotta respect that hustle. So yeah, it might not be Em's most lyrically profound track, but the social commentary and media manipulation perpetrated by the rap god himself? Pure brilliance.
72. Greatest
This joint is when the Rap God sets the booth on fire, spitting bars over a sick beat. This track is Em at his bragging best, unashamedly claiming his throne at the top of the hip-hop pantheon. Eminem flexes his lyrical muscles here, showcasing his intricate internal rhymes, rapid-fire delivery, and clever wordplay. But the song isn't just about self-aggrandizement; it's a defiant statement against the tide of mumble rap that was sweeping the scene at the time. A point-by-point takedown of his detractors and a celebration of his own prowess. While it might not have the emotional depth of some of his other hits, "Greatest" is a potent reminder of Eminem's skill and relevance.
71. I'm Back
Ranked at a respectable position on this list, is vintage Slim Shady, y'all. Off "The Marshall Mathers LP," this track illustrates Eminem's knack for blending controversial lines with wicked wordplay like a lyrical chemist. His hauntingly humorous commentary on pop culture figures and censorship showed his penchant for pushing boundaries and creating shock value, a trait that truly defines his career. But let's not sleep on Dre's glorious beat that rolls under Em's stunning stanzas like a velvet carpet. "I'm Back" set the precedent for Eminem's unapologetic style, a style that wouldn't simply tiptoe along societal norms, but rather leave muddy footprints all over 'em.
70. Zeus (feat. White Gold)
This joint finds Em firing off warning shots, showcasing his trademark lyrical dexterity. The beat is hauntingly melodic, its eerie undertones setting the stage for Em's verses. The track features an enthralling chorus from White Gold, but make no mistake, it's Eminem's show here. His venomous aim targets past adversaries and current happenings with a relatable humanity that reminds us he's not just a rap god, but a man marked by life's trials. However, it's a disservice to place it anywhere near the top of his discography ' it doesn't hit that upper echelon level of classic Marshall Mathers tracks. Still, it's a solid entry showcasing Em's lyrical artistry well into his career.
69. You Gon' Learn (feat. Royce Da 5'9″ & White Gold)
A diamond roughed up from Eminem's 11th studio album, "Music To Be Murdered By". It's a compelling collab with Royce da 5'9″ and White Gold, with each artist delivering potent verses steeped in introspection and brutal honesty served over a haunting, gritty beat. Em and Royce's chemistry, forged during their Bad Meets Evil days, is palpable. They rap about their experiences, hardships, and lessons learned, urging listeners to heed their wisdom or risk repeating their mistakes. White Gold's chilling hook wraps up the track, leaving a lasting impression. It's not Em's most commercial track and the unflinching reality it presents might be uncomfortable for some, but in terms of substance, there's a whole lot to unpack. Yo, you gon' learn today. Word.
68. Square Dance
Off Em's seminal album "The Eminem Show," ain't your grandma's do-si-do. This rollercoaster jam is pure Slim Shady, weaving complex rhymes with his signature blend of stinging satire, deft wordplay, and political commentary. Landing somewhere in the middle of our list (skip the top tier; we ain't in "Lose Yourself" territory), it's not his most iconic, but it's crucial in the Eminem canon for meshing his battle rap roots with broader sociopolitical critiques. The beat is charged, the flow is relentless, and the sneering disdain for the Bush administration? Dope as hell. Like a graffiti artist armed with wit and rhythm, Em uses "Square Dance" to tag America's sociopolitical landscape. It's audacious, it's controversial, it's hip-hop in its rawest form. Underappreciated? Maybe. Forgettable? Hell no.
67. FACK
Universally known as a low point in Eminem's illustrious career. The track from his 2005 compilation album, "Curtain Call: The Hits," is notorious for its absurd and overtly sexual lyrics, even for Slim Shady's standards. You gotta understand, Em's always been about pushing boundaries and causing controversy, but "FACK" puts the pedal to the metal on the vulgarity scale, abandoning the storytelling and lyrical prowess we've come to love him for. It's a blip on the radar, a rare misstep, from an artist that's built his fanbase from intricate rhymes and intensely personal narratives. Just goes to show, even legends can miss the mark sometimes.
66. Bump Heads
A certified neck-breaker from the vault, perfectly exemplifies Em's incendiary nimble wordplay and relentless attack flow. Combined with the street grit of G-Unit, the song becomes a battle anthem that triggers a sense of invincibility when blasting through the speakers. However, while it's an undeniable banger, the track does fall a bit into the shadow of more sophisticated Eminem cuts. It lacks the emotional depth and storytelling prowess that form the backbone of his best work, showcasing Em's skills but not necessarily contributing greatly to his artistic legacy. A solid track no doubt, but not Em in his fullest glory. Though, as hip-hop heads know, even middle-tier Eminem makes for some dope play.
65. My Dad's Gone Crazy
Straight fire track from Eminem's iconic album, 'The Eminem Show'. This joint features Em's own daughter, Hailie Jade, a bold move showcasing Em's intertwining of his personal life with his music. The track serves as a complicated letter to his daughter, full of tumultuous emotions and hard truths. While it's not Em's most lyrically profound joint, it stands out for its earnestness and emotional candidness. But let's keep it a buck, the track falls a bit flat compared to the other heavy hitters in Em's discography. It lacks the sharp lyrical prowess and intricate wordplay we've come to associate with Slim Shady. Despite this, it remains an important piece in understanding Em's narrative as a father in the hip-hop game."
64. 25 To Life
"25 To Life" off the Recovery album is a joint that demonstrates Em's capacity to delve into the complex emotions of a tumultuous relationship. The track ain't about a woman though; it's about his relationship with hip-hop, making it an artist's lament, concealed in the trope of a love-gone-wrong ballad. Em's lyrical prowess shines as he plays with metaphors and double entendre, spinning a tale of deep connection, disappointment and borderline resentment. It's a prime example of Slim Shady flipping traditional themes on their head, offering more than just braggadocio and shock value—it's introspective and raw. Yet, the track doesn't precisely hit the upper echelons of Em's discography. The production feels a bit generic for an artist like Em who is known to push boundaries consistently.
63. You Don't Know
Em's monumental collab with 50 Cent, Lloyd Banks, and the late Tony Yayo, straight off the iconic compilation album, "Eminem Presents: The Re-Up." This '06 track hit different. The sick beats by our boy Eminem and Luis Resto set a fierce stage for each rapper to flex, with Em's volcanic delivery standing out like fresh graf on a brick wall. But real talk, the track didn't resonate the same way some of his solo efforts did. The other features matched energy but lacked the signature lyrical depth and rawness that we expect from Shady. Not his most memorable, but it's still a solid part of his catalog, representing the strength of Shady Records at that time, no doubt.
62. Those Kinda Nights (feat. Ed Sheeran)
A crossover cut off Em's eleventh studio album, "Music to Be Murdered By," is a step out of the Detroit rapper's comfort zone. This track sees Em swapping his usual aggressive bars for a more commercial sound, linking up with pop juggernaut Ed Sheeran. The track's got a club-ready, flirtatious vibe that plays with a narrative of a wild night out. While Eminem does flex his trademark tongue-twisty flow here, the lyrics seem a bit uninspired. Ye, the Em-Sheeran duo has given us gems before, but this one feels like it falls short, feeling more like a forced radio hit than an honest collab. It's not necessarily Em at his worst, but it's far from his best.
61. When The Music Stops
This be hitting different. This track, featuring the lyrical assassin group D12, is an exposition of pure hip-hop authenticity. Cut from his critically lauded "The Eminem Show" album, Em be lyrically flexin', dissecting the impact of fame and challenging the limitations of entertainment. Shady's raw emotion, paired with the sharp wordplay of D12, takes us down memory lane to the Detroit freestyle battles. It serves as a visceral reminder of rap's power, showing the sheer vulnerability that makes hip hop the realest genre. But let's keep it 100: it ain't Em's illest cut. It can be overshadowed by his larger hits, but for the hardcore Stan, it's an absolute gem. Remember, real recognize real. It may not be his top-notch stuff, but it sure got that Shady flavor.
60. My Mom
Some deep-cut storytelling. Sure, it's a controversial joint. Critics will say it's just more of Marshall's psychodrama, but ain't that what hip-hop is about? Dredging up demons, exorcising 'em with the abracadabra of wordplay. And Em delivers with his genius level rhyme schemes. The track talks bout his ma's pill addiction and its influence on his own life, painting a vivid picture of his challenging upbringing. It's not gonna win him a 'Son of the Year" award, but it's a raw, unfiltered look at a life that birthed a legend. Honoring the pain, along with the triumphs, you feel me?"
59. 8 Mile
The title track of Em's semi-biographical film that shares the same name ' ain't no debate: this joint hits hard. It's a gritty, raw cut that utilizes the themes of struggle and survival, painting a clear image of Em's come-up from Detroit's notorious 8 Mile Road. Marshall rhymes with a fiery hunger, weaving metaphorical complexity into his verses that express his struggle as an underdog. The beat, produced by Eminem himself, resonates with the essence of Detroit's concrete jungle. This ain't just a song, it's a detailed street-map of Em's rooted beginnings, shaping up his legendary status. However, held against Em's wider discography, it doesn't strike the same level of creative ingenuity or impact as his highest-ranked tracks. Still, "8 Mile" remains a legendary chapter in Em's saga and a testament to his raw, undiluted storytelling attribute.
58. Beautiful Pain
Eminem teams up with Sia, whose haunting choruses amplify the rapper's emotional introspection. Here, Slim Shady spits out verses about dealing with personal demons, despair, and his infamous tumultuous past. Yet, it's not all gloom and doom. The track flips the narrative by embracing pain as a necessary step towards growth and redemption. Though it may not be as impactful as his iconic diss tracks or as commercially successful as rap ballads like "Stan," "Beautiful Pain" shows Eminem's evolution as an artist and his commitment to sincerity. Its vulnerable narrative intertwined with a catchy, pop-infused beat takes you through Slim's emotional rollercoaster ride, making this track a notable entry in his discography.
57. Not Alike (feat. Royce Da 5'9)
Teaming up with Detroit compatriot Royce Da 5'9″, this track be a direct reaction to the mumble rap culture that's got the hip-hop landscape looking bleached. Marshall and Royce dish out some grown-man bars, the type to make you sit up and reevaluate what you thought was dope. With a beat switch up from Tay-Keith that hits like a right hook from Tyson, Eminem goes on a steady offense, calling out names while refusing to give an inch. Packed with intricate wordplay and a 'take no prisoner' energy, "Not Alike" is proof that Em still got a finger on the pulse, even if he disapproves of the rhythm.
56. Kamikaze
A straight funk flex, it sees Em spit his lyrics with that fiery Detroit swagger we all know and love. The track's halo highlight is its merciless, full-throttle lyricism where Em takes aim at everyone from new school rappers to the critics who panned his previous album, 'Revival'. There's a rawness and a brutal honesty here that takes you back to the early days of Slim Shady – it's an ego trip carrying a heft of vitriol for those who dared cross his path. However, for some fans, the song's confrontational vibe might come off as a tad defensive, and perhaps indicative of Em struggling with his relevance in rap's new era. Nonetheless, it's Em at his most combative, giving zero fa's and reminding us all why he's got GOAT status.
55. One Shot 2 Shot
A volatile track, demonstrating Em's ability to spin a narrative of chaos, mayhem, and desperation. Featuring his longtime Detroit comrade D12, Eminem's aggressive delivery and gritty storytelling illustrate a fictional club shootout scenario. Lines like "Whole club just blows like a bottle of Chrys" tell a surreal tale that highlights Em's narrative prowess. However, despite its intensity, it lacks the lyrical complexity and emotional depth that characterizes some of the wordsmith's top-tier tracks. It's a decent deviation into the violent and grotesque aspects of hip-hop, but it doesn't quite hold up against Eminem's most iconic works.
54. Survival
Ain't exactly his most lyrical moment but it's a heater nonetheless. The song was initially released as part of the soundtrack for "Call of Duty: Ghosts," showing Em's affinity for tapping into the pop culture zeitgeist. It got that fast-paced adrenaline-fueled beat, with Eminem spitting rapid-fire rhymes about his determination to survive in the ruthless game of hip-hop. He brings his signature aggression, emphasizing his refusal to back down or let hardships overcome him. While it ain't a ground-breaking opening of his Pandora's box of emotions, "Survival" still slaps hard, showing Em in his combat mode, ready to battle whatever comes his way. Don't sleep on its intensity; this joint's firepower will wake you up real quick. It might not be among Em's best, but hey, it bangs.
53. We Made You
A clear manifestation of Eminem's unapologetic satirical streak. Released as part of his 2009 album "Relapse", the track is chock full of the contradicting complexities we've come to expect from Slim Shady. Its playful beats and humorous visuals, courtesy of a celebrity-roasting music video, formed a stark contrast with Em's biting commentaries on fame and the music industry. Yes, it ain't Em at his most lyrically profound, but this song shows that even when he's not dropping knowledge bombs, his knack for crafting catchy, laugh-inducing hooks remains untouched. The song's polarizing reception is a testament to Em's continued relevance – he can still get under our skin, make us laugh, or leave us shook. And that's why "We Made You" deserves its place in his vast discography.
52. When I'm Gone
A reflective banger that lets Em flex his storytelling chops. Released in 2005 on the 'Curtain Call' compilation, Marshall plumbs the emotional depths of his struggle as an absentee father. He's spittin' raw, low lit verses, painting vivid pictures of his daughter Hailie's loneliness and his own guilt. Listen, it's not your turn up track but it's quintessential Eminem ' unvarnished truth over a melancholic beat. Its dual entry might be puzzling, but quality can't be denied. Guess some joints are just too good to be included once, ya dig? The overall effect is a poignant self-portrait ' it's downhearted, but packs an aching lyrical punch. Keep an ear out for it.
51. Guilty Conscience
The classic Dr. Dre and Slim Shady collabo, it hits different. From Em's 1999 debut, "The Slim Shady LP", This track signaled a sea-change in hip-hop storytelling, y'all. The two iconoclasts play the angel and devil on some poor sucker's shoulders, with Dre's calm, cool advice countered by Em's chaotic, reckless suggestions. That's storytelling on steroids, man! Word is bond, if you ain't feel a chill when Em goes against Dre's advice and eggs on the last dude to murder his wife and her lover, you might have no pulse.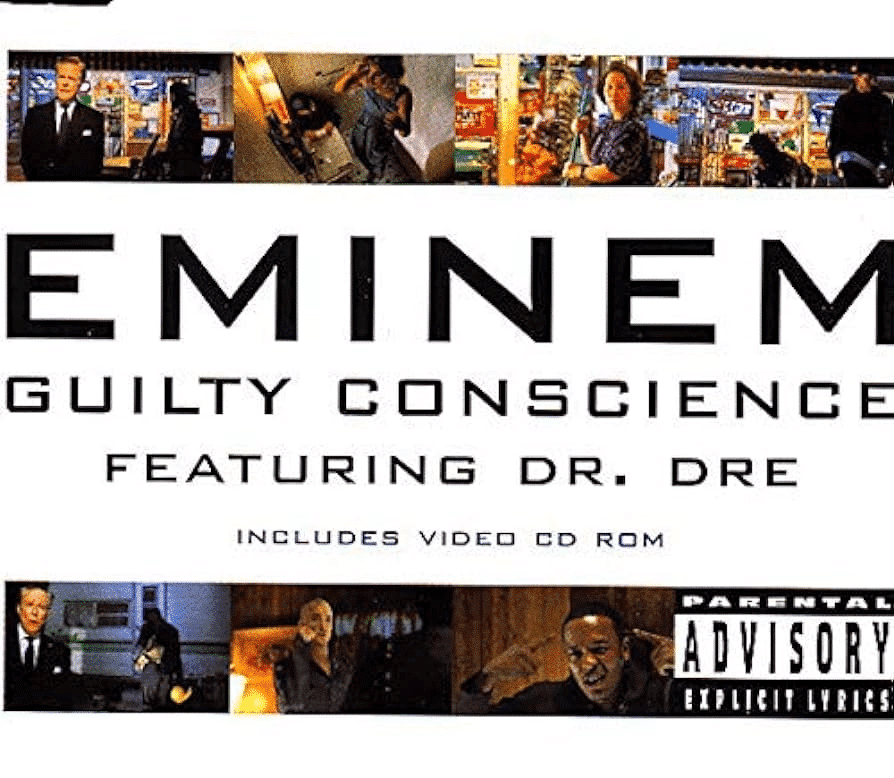 50. Fall
Introspective joint where Em owns up to his missteps, particularly the lukewarm reception to his previous album, "Revival". But don't get it twisted, the track ain't no pity party. Em also comes with hard-hitting bars, blasting critics and firing shots at other MCs, letting everybody know he's still a force to be reckoned with. This track is a blend of humility, introspection, and defiance that's refreshingly raw and brutally honest. Plus, that beat is straight fire—dark, brooding, and just right for Eminem's counterpunch. Not the GOAT's best work, no doubt, but definitely a solid entry into his discography.
49. Gnat
While the infectious hook latches on to you like a burrs on a Detroit hoodie, Em's notorious chopping technique is taken to a whole new level. Dude was surely taking shots at the COVID-19 pandemic as if it were another mumble rapper stepping to him. Is this Shady's best? Nah, fam. But "Gnat" shows the breadth of his creative capacity, proving yet again that even a lower-ranked Eminem joint can still drop jaws. Nonetheless, while this tune's got the spitfire lyrics and sick flow that's become Em's signature, it somewhat lacks the emotional punch that usually elevates his tracks to the top tier. It's dope, but it ain't Em's dopest.
48. White America
Aight, let's break it down. When we talk about "White America", we hollerin' about one of Em's most politically charged joints to date. Straight off "The Eminem Show" in 2002, Slim ain't pulling no punches on this one. This track is Em giving the finger to the establishment, coming hard at the censorship critics and expressing the influence he's had on the white youth of America. Lyrically, it's a fiery, fierce, uncomfortably real rant. It's like he's drawing a line in the sand, and daring anyone to cross it. That's the Eminem we know and love – raw, rebellious, and a real spitfire. Musically, it ain't his most captivating beat, but Em's lyrical assault is in full swing, and that's really the soul of this track. Ain't no holding back when you pushing the envelope this way. Solid entry in Em's discography, no doubt.
47. Berzerk
A real departure for Em, a throwback jam that echoes the Beastie Boys and early Def Jam records. It's Marshall at his most vibrant, spitting bars with reckless abandon over a grimy, old-school Rick Rubin beat filled with squealing guitars and slamming drums. His knack for weaving in pop culture references is on full display, with nods to Kendrick Lamar and "The Walking Dead.". As much as it is an homage to the past, "Berzerk" is also a flex of his own relevance in the ever-changing game that is hip-hop. It's not his deepest track lyrically, and some might argue it's more fun than it is introspective, but when Em's having fun, we're all having fun.
46. Go To Sleep
A banger that's often overlooked in Eminem's discography. Released in the early 2000s, it's a diss track where Em's hostility is directed at Benzino and Ja Rule. This joint features DMX and Obie Trice, both of whom deliver fierce verses that match Marshall's intensity. But let's talk about Em's verse: he rolls out a bed of nails with his words, setting the tone of the entire track. It's a brutal, no-holds-barred barrage that encapsulates his in-your-face style from the era. Despite its raw energy, "Go To Sleep" suffers from a dated production that doesn't quite stand up to the test of time, ranking it lower on this list. Still, it's a testament to Em's ability to channel raw anger into dynamic, hard-hitting verses.
45. Hailie's Song
Not just another track in Eminem's vast catalog; it's a soul-baring testament to his undying love for his daughter. We see a side of Em here that's often eclipsed by his Slim Shady alter ego—the protective father, the doting dad. Eminem veers from his comfort zone here, trying his hand at singing instead of his usual spitfire rapping. While he ain't about to win any Grammys for his vocal chops, the rawness of his performance adds to the emotional weight of the song. It's a tender departure from his usual venom and vitriol. If you're after the hard-hitting, diabolical raps, you might want to skip this, but for a glimpse into his softer side, "Hailie's Song" is a surprising gem in Eminem's discography.
44. Killer (feat. Jack Harlow & Cordae) – Remix
Diving into an Eminem track that's been hotly debated in hip-hop circles. On one hand, Em's venomous delivery hits like a sucker punch – he's throwing left hooks with multisyllabic rhymes, painting vivid pictures like a hip-hop Picasso. Jack Harlow and Cordae hold their own, proving why they're considered part of the new school's cream of the crop. But on the flipside, some heads argue that Em's intricate wordplay sometimes feels overcooked, like he's trying to make a 5-star meal out of a 2am snack. Don't get it twisted, the track slaps, but it's not his strongest showing by a long shot. Hard-hitting, but slightly off the bullseye.
43. The Ringer
"The Ringer," off Em's surprise 2018 album 'Kamikaze,' is a blistering return to form that harks back to his early days of unfiltered, raw, and rapid-fire lyrical assaults. On this track, Slim Shady comes out guns blazing against his critics, social media trolls, and modern mumble rappers, with a flow as brutal and fierce as a pitbull on the attack. His frustration and fury serve as the gasoline to his creative engine, resulting in a lyrical detonation that challenges the status quo of the current hip-hop landscape. Forget the bells ' when "The Ringer" plays, you hear sirens. However, for all its rage, it lacks the nuanced storytelling that marks Em's best work. It ain't his magnum opus, but it sure pulls no punches.
42. Soldier
Aight, here's the 411 on "Soldier". Now, this ain't your casual summer bop, nah, this right here is raw, unfiltered Em. Off the "The Eminem Show" album, he lays down a barrage of unapologetic, spitfire bars that shaped 2002 hip-hop. The track's a testament to Em's resilience, showcasing his refusal to be silenced or sidelined. Storytelling? On point. Delivery? Razor-sharp, full of Em's classic ferocity. Issa stark reminder of his roots in 8 Mile; ain't nobody gonna push Em around. Where it ranks on the list? It's up there. Does it eclipse his more iconic tracks? Maybe not. But make no mistake ' "Soldier" is straight fire, and an essential cut in understanding Eminem's journey.
41. Leaving Heaven (feat. Skylar Grey)
Ain't no lightweight jam; it's an emotionally charged lyrical journey where Em lays his trauma bare, something we ain't exactly strangers to. No doubt, Marshall Mathers has been adept at channeling his pain into his rhymes, but here, accompanied by Skylar Grey's haunting hook, he takes it to another level. He speaks on his abusive childhood, the death of his father, and the demon of addiction he's been tryna shake off his back. The track's an exploration of Em's demons, shedding light on the man behind the Slim Shady persona. But it's not his rawest or deepest—Em's ventured into darker, more personal territory before. Still, this tune is an essential stop on his road to redemption, showcasing his knack for dope storytelling.
40. Under The Influence
This track is off Eminem's third studio album, The Marshall Mathers LP, is a D12 posse cut that unabashedly showcases the group's love for salacious content. The song thrives on its raw and uncensored aura, underpinning the sensibilities of the Detroit collective. Yet, it's not Em's finest moment. While the rapper's potent punchlines and unapologetic delivery are in full display, the track is notably overshadowed by the sheer lyrical spectacle of other songs in his discography. There's a sense of verbosity here, a lyrical binge, if you will, that doesn't always land perfectly. The explicit nature of the song also might not strike a chord with everyone. Nevertheless, it remains an essential piece of early Em – a testament to his audacity and his rebel spirit.
39. Is This Love ('09) (feat. 50 Cent)
Another collaboration with 50 Cent, this joint barely makes a dent in Em's discography. Despite some decent verses from both Em and Fif, the track suffers from an uninspired hook and lukewarm production. Em's lyrical prowess and 50's street charisma are both kinda muted. Sure, it's aight if you're a diehard Stan or a G-Unit soldier but let's keep it one-hundred, it won't be sitting at the top of any "Best of Shady" lists. Sometimes even the greats swing and miss, and this here is solid proof. It's cool to see Em and 50 link up, but this ain't their finest hour, ya dig?
38. Role Model
A cut from the classic Slim Shady LP. This track is Em at his most audacious, no question. It's a biting satire, a smoky mirror held up to society, asking if you really want this wild, off-kilter MC as your role model. The bars are sharp, the wit, sharper. Marshall prances on the line of absurdity and reality, flip-flopping between the two without losing a step. "Role Model" isn't your conventional rap fare of the time. But then again, Em never was your conventional rapper. The track's dark humor and shock value might not be everyone's cup of lean, but it's a showcase of Em's prime combination of technical skill, storytelling, and outrageousness.
37. Big Weenie
One of the most polarizing joints in Em's discography. Now, don't get me wrong, Eminem is lyrical royalty, a behemoth of hip-hop. Yet with "Big Weenie," he takes a detour into a more playful, almost farcical realm. Off his 'Encore' album, this record took shots at his then-pop culture adversaries. Fact is, it's not Em's finest shot at humor, with punchlines that don't always land as hard as his usual. It's clear he's clowning around, but the overall effect is less 'god of wordplay' and more 'high school jester'. An important song in his catalogue, for sure, but not one that's going to be remembered as classic Em. The track just lacks the complexity, depth, and searing introspection that characterizes his best work.
36. Like Toy Soldiers
An emotionally raw track off Eminem's fifth studio album, 'Encore'. The song gives a play-by-play on some of the beefs Em found himself tangled up in, revealing the darker side of hip-hop feuds. What makes this joint stand out is the sample of Martika's '80s pop hit, "Toy Soldiers," which adds a contrasting element to the gritty reality he paints. The poignant hook, coupled with Em's visceral lyrics – each bar packed with regret and a yearning for peace – is a true call for an end to violence. Sure, it's not his most lyrically impressive work, but it hits the heart hard, intensifying with each verse, exposing the gravity of lost lives due to unnecessary beefs. It's a sobering note in the catalogue of a man known for his relentless spitfire.
35. Higher
One of those Eminem tracks that admittedly lands in the middle of his storied discography. Dropped on his 2020 album, "Music to Be Murdered By: Side B," the track showcases Em's patented wordplay and rapid-fire delivery. Despite the emotive hook lamenting the stakes of fame and greatness, it seems like Slim is, at times, on autopilot. We get bars about his early days, his struggle, and his subsequent rise but it's territory we've tread before. That's not to say "Higher" can't hold its own ' it does, especially when placed next to Em's lesser works. It just doesn't quite hit the dizzying heights of his best. The production's edgy beat and dramatic rock-tinged choruses hang tough, but they don't add much to raise the song… 'higher'.
34. Going Through Changes
A track off Em's Recovery album, occupies a soft spot in his discography. The track reveals a vulnerable Slim Shady wrestling with addiction, fame, and personal loss. Em uses an Ozzy Osbourne sample to lay bare his demons, which offered a raw, unfiltered glimpse into his struggles. But let's keep it a buck; while the lyricism was top-tier, the song's overall vibe was noticeably less impactful. Conceptually, it's a rich tapestry of emotional turmoil, but sonically, it falls somewhat short, especially when stacked against Eminem's full body of work. Yes, he was going through changes, but this song didn't quite make it off the therapist's couch and into hip-hop's hall of fame. It's a presence on the list, but hardly a highlight.
33. Kill You
Ain't for the faint-hearted, y'all. Landing a spot smack-bang in the middle of Em's groundbreaking LP, "The Marshall Mathers LP", it's an audacious opening number that spills raw venom and ominously predicts the audacious lyrical slaughters to come. The Detroit wordsmith, still healing from the wounds of his gnarly upbringing, leaves no stone unturned in his menacing threats in a wild unapologetic diatribe that mirrors the violent rage of a cornered beast. However, it ain't just about shock value. Wrapped in distorted piano riffs, the track juxtaposes coarsely violent metaphors with an infectious chorus that screams of his signature wit. Classic Slim Shady, tearing down the house with his quilled sword, it contributes to the monument that is "The Marshall Mathers LP".
32. Space Bound
Man, this song hits every time. Em at his emo-rap best, tackling love with his signature intensity. The track off his "Recovery" album is Slim Shady wearing his heart on his sleeve ' filled with paranoia, violent fantasies, and his fear of betrayal. Em's lyrical prowess shines as he likens his love life to a journey in outer space. It's heavy, yeah, but a masterpiece in its own right. The video starring Sasha Grey, infamous for its suicide scene, gives the lyrics an even darker edge. Not Em's top-tier track but still, it has its place in his discography and holds a mirror to his tumultuous emotional landscape. It's a raw, painful love ballad, hip-hop style, and only Em could pull it off with such brutal honesty.
31. Just Lose It
Aight, let's chop it up about "Just Lose It", Em's first single from his 2004 album, "Encore". Quite frankly, it ain't the apex of Em's discography, but that don't mean it ain't worth the listen. Em threw down heavy on the humor and packed in plenty of the outrageous wordplay he's known for. The track's got a hypnotic, bouncy rhythm that hooks listeners right in. But I gotta keep it 100, the clownish antics distract from Em's lyrical prowess, which still shines through in moments. Some feel it's too much of a stand-up routine, less of the hard-hitting, conscious bars we'd come to expect from Detroit's finest. However, the track serves to spotlight Em's ability to switch styles on the mic ' showin' not every rhyme he drops gotta shake the earth, sometimes, the man's just havin' some fun. So, just lose it, stand up, stomp, and let go with Em on this one.
30. No Love
Off Em's seventh studio album, 'Recovery', is a remarkable construct, no debate. It's an anthem of resilience, a declaration of defeat defiance featuring the indomitable Lil Wayne. Its brilliance isn't accidental, nah, it's the product of a methodical demolition of expectations. A Haddaway '90s Eurodance sample? Seems drastic, yet masterfully reworked under Em and Weezy's tormented bravado. Weezy's verse? Melodramatic but slammin'. Then Marshall steps up, and criminy, he ain't playin'. His bars are a vehement surge of pent-up fury. He unapologetically goes after detractors, the chaff of the industry, even his own insecurities. "No Love" ain't just a banger. It's testament to Eminem's resilience, a middle finger to adversity. It's an Em classic, filled to the brim with raw emotion and audacity. But best? Not quite. Let's keep it movin'.
29. Beautiful
Ain't your typical Eminem cut, y'all. This track from the "Relapse" album peels back the tough veneer and lets us see into the depths of Marshall's soul. It's introspective, melancholic, and real. The production on this one by Jeff Bass is sublime. It smacks of a classic rock ballad underpinning Em's sharp, emotionally drenched bars. Lyrically, the man's throwing punches of raw vulnerability, giving a galvanizing anthem for anyone feeling down in the dumps. It's Eminem showing us he's just as human as we are, despite the fame and fortune. But here's the rub, though it's a powerful joint, "Beautiful" ain't as thumping or provocative as what we typically expect from Slim Shady. A great track, but not his greatest.
28. Business
Like a mission statement for Eminem and Dr. Dre's chemistry. Off of "The Eminem Show", the track is a homage to the dynamic duo, Batman and Robin, and there's no mistaking their signature collaboration magic here. Em's sharp, punchy delivery meshes perfectly with Dre's dark, yet funky beats, creating a rambunctious vibe. It's a far cry from the emotionally charged "Stan" or the self-deprecating humor of "Without Me," but it encapsulates the sheer audacity and playfulness of Eminem's lyrical craft. That said, is it in the top 20? Nah. But does it signify an important era in Shady's career? Most definitely. "Business" showcases Eminem's 'wicked' humor and Dr. Dre's sublime beat-crafting – they aren't lyrically or musically groundbreaking, but they sure do mean business.
27. Cinderella Man
Punching through the speakers with a raw ferocity that's characteristic of Eminem at his peak. Off his 2010 album "Recovery", Em spits fiery bars about his triumphant return to music after a career hiatus – a 'rags to riches' tale akin to the Cinderella story, hence the title. The track's hard-hitting beat complements Em's swift and relentless flow, making it an adrenaline-pumping anthem. However, it falls short on the lyrical depth and emotional complexity that defines Em's top-tier work. Classic Slim Shady wit and sarcasm? Check. A compelling narrative? Not so much. While "Cinderella Man" may not be Eminem at his most thought-provoking, it's him at his most defiant and resilient, celebrating his comeback with unapologetic bravado.
26. From The D 2 The LBC (with Snoop Dogg)
From the vault of hip-hop's most dynamic collaborations comes "From the D 2 The LBC" – a track that shows Eminem's Detroit grit blending seamlessly with Snoop Dogg's laid-back Long Beach vibes. Here, Shady's lyrical acrobatics flow over the chill West Coast beat like a phantom, serving up wordplay-laden bars that parallel Snoop's OG charisma. Yet, while the track is a nostalgic nod to hip-hop's golden era, it's not without its flaws. The energy can feel mismatched at times, with Em's intensity slightly overwhelming Snoop's cool demeanor. Nevertheless, it's an important piece of hip-hop history, illustrating the genre's cross-regional potential and the power of collaboration between two of its biggest titans.
25. Killshot
A testament to Em's straight fire ability to battle rap. Borne out of his vicious lyrical feud with Machine Gun Kelly, "Killshot" is no fluffy mainstream trap; it's a bar-heavy diss track filled with some of the most personal, direct, and cold-blooded lines in Em's arsenal. Shady's use of multi-syllabic rhymes and complex metaphors is proof that even in beef, he's a true wordsmith. True heads know that this one ain't for the weak. From the opening lines to the final punch, Em goes in hard, again proving the old adage, in the world of battle rap, Eminem is a beast you don't wanna provoke.
24. Crack A Bottle
We gotta keep it real, this joint don't fully rep Em's lyrical prowess. Featured on the "Relapse" album in 2009, it's a wild ride with Dr. Dre and 50 Cent laying down bars too. Despite snaggin' a Grammy and topping the charts, it's more a display of Shady's pop mentality than his spitfire rawness. The beat bangs and the flow's on point, but this ain't Em at his storytelling best or his lyrical complex. Yet, its commercial success is proof the homie can construct a mainstream hit without sacrificing his hip-hop cred. Not Em's dopest, but scarcely a track to dismiss – just sit back, enjoy the clubby vibe, and let the record spin.
23. Never Enough
That deep cut off Eminem's "Encore" album that true heads know don't get enough shine. Featuring 50 Cent and the late Nate Dogg, this track lays bare Em's relentless drive, showing us that no matter his success, it's "never enough" for the Detroit MC. However, icons like Em paved the way for the 50 Cents of the game to spit bars that go harder than concrete and hooks that just won't quit. While this ain't an Em anthem like "Lose Yourself," it's got all the hallmarks of a Em classic – introspective lyrics, wordplay tighter than a drum, a catchy hook, and absolutely savage bars. It's solid, no doubt, but in Slim Shady's extensive catalog, it's not the brightest star in the sky.
22. Venom – Music From The Motion Picture
Hitting the street in 2018 as the lead single from the "Venom" soundtrack, Em dove headfirst into a symbiotic relationship with the Marvel antihero. Venom, a sentient alien with liquid-like form, lends itself well to the fluidity of Eminem's rhymes. The track's grimy beat echoes the dark, twisted world of the film, while Eminem's lyrical prowess takes metaphoric inspiration from the symbiote itself. It's definitely not one of his most substantive tracks lyrically, but as a metaphor, it's genius. Em spits bars about embracing the inner monster, a theme consistently present in his catalog, always reminding us of his 'Slim Shady' alter ego. But the track, by and large, didn't have the same impact as other Eminem gems. The superhero tie-in felt a little too on the nose, and the rap seemed to lack that raw, guttural Em intensity we've come to crave. As an addition to the soundtrack, it served its purpose. As an addition to Em's discography – the jury is still out.
21. Bitch Please II
Ain't just an Eminem joint, it's a West Coast party. The sequel to Snoop Dogg's original "Bitch Please," gets Dre on the production track while Em, Xzibit, Nate Dogg, and The Doggfather himself spit fire. It's a testament to the caliber of hip-hop royalty Eminem was rubbing shoulders with at the peak of his career. But let's not front, Slim Shady holds his own amidst this star-studded lineup, a testament to his lyrical prowess and adaptable flow. Though the chorus might be a bit on the playful side, the verses are anything but, serving up raw, unfiltered and at times, controversial rhymes that are pure Em. It ain't his best, but it's far from his worst, solidifying its spot solidly in the middle of our list.
20. Lucky You (feat. Joyner Lucas)
A testament to Em's ability to adapt to the ever-evolving landscape of hip-hop. On this track, he teams up with Joyner Lucas, embodying the spirit of competitive rap that's central to the genre. The cut is fierce, with Em brutal and unapologetic, tearing into the industry with the same ferocity he had in his "8 Mile" days. Lucas holds his own too, bringing a new-school energy that complements Eminem's raw aggression. Though it's high up on the list, there's a case to be made that "Lucky You" doesn't hit the emotional depth of Em's best work. However, in terms of technical skill and lyricism, it's a strong showing from the Rap God, proving once again that he can skate on any beat, with any collaborator.
19. The Way I Am
One of those cuts that plays like Em's autobiography on wax. Released in 2000 off "The Marshall Mathers LP", this track finds Em getting meta about his skyrocketing fame, the media scrutiny, and his refusal to compromise. All while staying true to his authentic, aggressive style. The self-penned beat throws down a moody, piano-driven soundscape, setting the stage for Eminem's raw and intense delivery. There's a certain angst in his rhymes that echoes the early punk movement. Em doesn't hold back on expressing his frustration, resulting in a track that's as defiant as it is iconic in his discography. In the ecosystem of Em joints, "The Way I Am" symbolizes the moment his Slim Shady persona fully matured into a distinct and game-changing force in hip-hop.
18. Cleanin' Out My Closet
This no-holds-barred confessional hit from 'The Eminem Show' is an unapologetic admittance of pain and resentment towards his mother that not every listener could stomach. Notorious for airing his dirty laundry in his rhymes, Marshall took it up a notch with this gut-wrenching introspection, lacing his raw emotions over a haunting beat. Critics might argue that the track was a tad too candid, even for Eminem, but ain't that why we fell for Slim in the first place? His unfettered audacity to bare his soul through his verses? We salute the courage behind this joint, all while acknowledging the contentious nature of its content.
17. River (feat. Ed Sheeran)
"River (feat. Ed Sheeran)" is a track that takes Marshall Mathers into the territory of introspection. This joint features an unexpected yet powerful pairing with pop maestro Ed Sheeran. In it, Em showcases a more vulnerable side, grappling with themes of regret over failed relationships. This ain't no classic Shady, but Em's lyricism and storytelling are as tight as ever, drawing the listener into the drama. The chorus hooks you deep, while Em's verses unfold the story in a confessional, almost remorseful style, dealing with issues like infidelity. It's not a banger, but it shows Em's willingness to experiment and break from traditional hip-hop narratives.
16. Love The Way You Lie
Sitting in the top three of our Top 100 Eminem tracks. This joint, featuring the undeniable vocal talents of the Barbadian queen Rihanna, offers a raw and unfiltered look into the cycle of domestic violence, a theme that's as potent as it is discomforting. Em spits his rhymes with a ferocity that mirrors the turmoil the lyrics delve into, dropping bar after bar of jagged truth. What's mad is how the track contrasts the heavy subject matter with a catchy, radio-friendly hook, creating an unsettling blend that's hard to ignore. While some might argue the song plays too close to Em's past controversy, there's no denying its impact. This song demonstrates just why hip-hop is the powerhouse genre it is today – it ain't scared to tackle the real issues head-on. Now that's real talk.
15. Ass Like That
A track from Em's fifth studio album, "Encore" (2004), is a classic example of his Slim Shady persona: irreverent, outrageous, and always ready to cross the line. It's a trademark Em comedy cut, packed with silly, provocative lines and that distinctive, exaggerated accent. But let's keep it 100: this ain't peak Em. The comedic effect falls flat in places and the track lacks the lyrical depth and narrative complexity of his best work. It's definitely a fun listen, with a catchy, club-friendly beat, courtesy of Dr. Dre, but it's more of a playful aside in Em's discography than a standout moment. The highly satirical music video, featuring puppet versions of celebrities, is a highlight, though. It's Em in his element, stirring up controversy and having a laugh.
14. My Name Is
Marking the quintessential genesis of Eminem's illustrious career, straight off his breakout LP, "The Slim Shady LP." This quirky track, cooked up by the prodigious Dr. Dre, served as the perfect platform for Em to introduce himself and his darkly comic, disturbing alter-ego, Slim Shady, to the world. The beat perfectly complements the off-beat humor and devastating lyricism that Eminem displays. It was a loud statement: rap doesn't always have to be about the streets. It can be about suburban malaise, too. The track had the radio waves on lock, the video aired on every MTV countdown, and Em etched a spot as the jester in the court of hip-hop. As debut singles go, few have had the same cultural shockwave of "My Name Is".
13. Rap God
A cut off Em's 2013 joint, "The Marshall Mathers LP 2". This track ain't just a song, it's a lyrical blitzkrieg, a testament to Eminem's insane wordplay and nimble tongue. Shady flips off haters, shouting out icons like Rakim and Pharoahe Monch while breaking Guinness records for most words in a hit single. He doesn't just talk the talk, he walks the walk, grappling with complex rhyme schemes and tongue-twisting flows like it's nobody's business. But for all the technical prowess, he does get a tad self-indulgent and the beat is kinda vanilla. It's more of a cypher verse disguised as a track, but it's still undeniably Em doing what he does best – ripping mics to shreds and leaving his peers in the dust.
12. Mockingbird
Ain't no debate, "Mockingbird" is Em at his most vulnerable, reppin' that introspective flow that colors his best work. Dropped on 'Encore' back in '04, the track is a heartfelt lullaby dedicated to his daughter Hailie and adopted daughter Alaina. If anyone thinks Slim Shady can't bare his soul, this joint proves 'em wrong. Shady delves into his struggles with Kim, offering a sincere mea culpa that's cold as The D in wintertime. The production is minimal, lettin' Em's raw emotion rhyme through. Now, I ain't saying it's top-tier Em – it doesn't bang like "Stan" or "Lose Yourself", but it's an intimate look into his mindset, a peek into his closet that's filled with pain, regrets, and broken dreams.
11. Sing For The Moment
Throwback to 8 Mile, this is a testament to Eminem's ability to bridge the gap between hip-hop and rock, utilizing a sample from Aerosmith's "Dream On." This joint finds Em in his introspective bag, addressing his critics while simultaneously bigging up the power of music. His flow hews close to the rock-sample-infused beat, illustrating his chameleon-like adaptability. Amidst the harshest critiques, Em stands as a voice for the voiceless, drawing a vivid picture of the struggles that he and his listeners share. It's a potent reminder of why he resonates so powerfully with his fanbase. Ranked #21, even though it can't outshine his all-time classics, it remains a crucial part of his discography, dope in its fusion of genres.
10. Stan feat. Dido
A haunting narrative from Em's diamond-selling album, "The Marshall Mathers LP," is undoubtedly one of Eminem's most impactful tracks — period. The storytelling prowess in this joint is unparalleled, showcasing Marshall's vivid and unsettling depiction of fan obsession turned dark. The smooth, melancholic vibe from Dido's "Thank You" sample sets the unsettling ambience right from the get-go. The back-and-forth between Stan and Em, the tension, the buildup, it's all cinematic. The epistolary format of the verses was a stroke of genius and the rain-soaked chorus hits different every time. But it's really Em's portrayal of the helpless, desperate Stan that takes this track to a higher plane. This joint ain't just a song, it's a cultural milestone and a testament to Eminem's storytelling abilities. Marshall be bringing that raw, visceral intensity here, no doubt about it.
9. The Monster feat. Rihanna
Silky mix of pop and hip-hop that showcases Rihanna's killer hook. But don't be fooled by the catchy chorus, this track cuts deep. Eminem delivers raw introspection, wrestling with his fame, his alter ego Slim Shady, and his own demons. While some critics argued it was too pop, too commercial, hip-hop heads recognized it as an essential Eminem joint ' it's the Detroit wordsmith grappling with his own persona in real-time. The result? A Billboard Hot 100 number one and a Grammy win. It sits mid-way on our list – while it might lack the rough edges of some of his earlier work, "The Monster" is quintessential Eminem, a cocktail of self-deprecation, honesty, and hard-hitting rhymes.
9. Not Afraid
A gutsy joint that marked a crucial turning point for Em. He had just come out of a serious bout with addiction, and this track showed his determination to overcome his demons. The dope delivery and inspirational lyrics reveal a side of Marshall Mathers that's ready to face his fears, make amends, and inspire others. The beat ain't no slouch neither, it's got that uplifting, anthemic vibe. But let's be honest, ain't no one coming to an Eminem track for glossy production or catchy hooks – it's all about intricate wordplay and raw emotion, and in that regard, "Not Afraid" delivers. It's ranked highly for its power and honesty, but is it Em's most inventive work? Nah, not even close.
8. Godzilla (feat. Juice WRLD)
Ain't no toy monster, it's a behemoth of a track that showcases Eminem's chameleonic flow at its most relentless and ferocious. Laced with the late Juice WRLD's melodic hook, the track is as catchy as it is lyrically dense. Classic Shady wordplay fills the song – crafting clever punchlines dissecting fame, detractors, and the rap game itself. Em absolutely blacks out on the mic, spitting a Guinness World Record-breaking 229 words in 30 seconds– all while honoring the memory of his musical comrade, Juice. It ain't every day an artist creates a track as brutally explosive and defiantly intricate as Godzilla, proving once again, Em reigns supreme in the rap game.
6. Shake That feat. Nate Dogg
A prime example of Eminem leaning into his wilder, party-animal persona. The track, a collaboration with the late Nate Dogg, spins a raunchy night out story laced with Eminem's trademark quirkiness. As far as lyrical acrobatics go, this ain't no "Lose Yourself." But what it lacks in profundity, it makes up for in unadulterated fun. The result is a playful, club-banger that brilliantly showcases Eminem's rap range. It's a far cry from his heavier, introspective tracks, but Em's genius lies in his ability to flip the script. "Shake That" ain't top-tier Slim Shady, but it's a solid banger that keeps the party jumpin'. So, post up in the corner like a mail box, let your hair down, and just vibe with it.
5. Till I Collapse feat. Nate Dogg
Ranked high on this list, "'Till I Collapse" is a stone-cold beast of a track from Em's 2002 masterpiece, "The Eminem Show". This joint goes harder than a 90s Knicks defense, showcasing Em's lyrical dexterity and relentless energy. The haunting military-style beat, Nate Dogg's chilling hook, and Em's raw, visceral verses form a trinity of hip-hop perfection. It's a prime example of Em at his most defiant, spittin' lines like he's got something to prove, showing why he's still one of the most influential in the game. Yet, it ain't without flaws. The track could be seen as overbearing, potentially drowning the listener in its own intensity. But hey, that's what makes it pure Eminem, right?
4. Superman
Y'all remember this one, right? Off "The Eminem Show" album, it's a laid-back, slow-burning joint that has Em swinging between his love for women and his dedication to the rap game. The track takes us deep into Marshall's psyche, revealing his self-perception as a heroic yet tragically flawed figure. The beat, produced by Eminem himself and Jeff Bass, is a mix of bouncing bass, eerie synths and crisp drums. Lyrically, it's a classic example of Em's raw honesty, with lines that oscillate between romantic promises and blatant misogyny. It ain't Em at his most profound or his most moral, but it's real talk from Slim Shady, and sometimes that's exactly what you need from a rap song.
3. The Real Slim Shady
"The Real Slim Shady" holds a certified spot in the pantheon of Eminem's discography. Released in 2000 from the album 'The Marshall Mathers LP', the track showcases Em's lyrical dexterity, controversial subject matter, and an uncanny ability to captivate mainstream consciousness. It's the sound of Marshall Mathers unapologetically asserting his place in hip-hop, daring to provoke and challenge the status quo. The sardonic lyrics and that infectious hook cemented Eminem as a unique voice in the industry, earning him a Grammy. He uses this joint to wrestle with his multiple personas – the man, the myth, the miscreant. So here is Marshall at his finest, reminding us all why he steps out as Slim Shady – to spit those hard truths that nobody else dares to.
2. Without Me
Ayo! Eminem said it himself, "Without Me" is his version of "The Real Slim Shady" on steroids. It's the kickoff joint from his classic album, 'The Eminem Show,' where Mathers drops his clownish alter-ego, deploying an arsenal of riotous, near-cartoonish lyrics over a cheeky, rollicking beat. Em's exaggerated delivery meshes perfectly with the track's pumped-up energy. The song represents Em in his prime, lyrical swords sharp as ever, clowning everybody from Moby to boy bands. Critics might call out Em's crude humor and provocative disses, but y'all can't front, no one ever said controversy wasn't entertaining. The track's video just took it to another level, proving again that hip-hop's favorite bad boy was back to stir the pot. Yeah, this joint ain't nowhere near the end of the list.
1. Lose Yourself
This cut is as iconic as it gets. Eminem penned this anthem for struggle and perseverance in the midst of filming his semi-autobiographical movie, "8 Mile." Tracks like these are the reason Slim Shady is known as the Rap God, delivering thought-provoking lyricism laced with a gripping narrative, all on an unforgettable instrumental. It became the first rap song to win an Academy Award for best original song, pushing hip-hop further into mainstream consciousness. However, from a strictly hip-hop lens, Eminem has a library of songs that show even more dexterity and artistry. A classic, but Em has hits that hit harder in the heart of the culture.