Trap music has undoubtedly become one of the most popular and influential sub-genres of hip hop in the 21st century. Originating from the regional scenes in the South, trap has evolved from a local movement to a global phenomenon.
At the forefront of this movement are the rappers who have made their mark in the world of trap music. From the early pioneers who helped shape the sound to the current generation of trap rappers pushing the genre to new heights, there is no shortage of talented artists who have contributed to the success and impact of trap music.
In this article, we will be exploring the top 10 best trap rappers of all time. We will delve into their history, their influence on the genre, and their most significant contributions to trap music. From the raw storytelling of Gucci Mane to the infectious hooks of Future, from the lyrical prowess of T.I. to the charismatic delivery of Young Thug, each rapper on this list has left an indelible mark on the world of trap music.
10. Lil Baby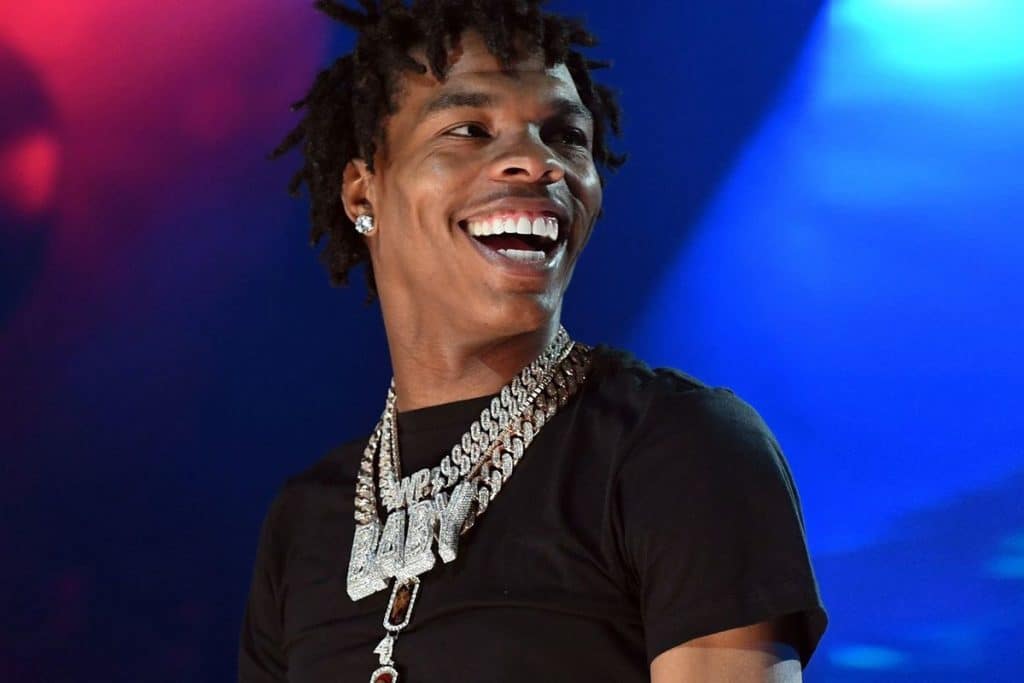 Discography: Harder Than Ever (2018), Drip Harder (with Gunna) (2018), My Turn (2020), The Voice of the Heroes (with Lil Durk) (2021), It's Only Me (2022)
Lil Baby is more than just a rapper – he's a cultural icon who has captured the hearts and minds of a generation with his emotive storytelling and undeniable talent. Hailing from Atlanta, the birthplace of trap music, Lil Baby is the Prince of the city and has made a name for himself as one of the greatest trap rappers of his generation. His prolific output, chart success, and influence on the genre all attest to his greatness. With multiple platinum-selling albums under his belt, Lil Baby has firmly established himself as one of the most sought-after rappers in the industry. He's worked with everyone from Drake to Megan Thee Stallion, and his collaborations have only served to further cement his status as a rap superstar. But what really sets Lil Baby apart is his authenticity. He's not afraid to speak his truth, and his willingness to address real-life struggles like poverty, addiction, and social injustice has earned him a massive following that sees him as a voice for their own struggles. And with his third studio album, It's Only Me, continuing his chart-topping success, there's no telling what Lil Baby will do next. But one thing is for sure – he's already cemented his place in the pantheon of trap greats and has a long and prosperous career ahead of him.
9. 2 Chainz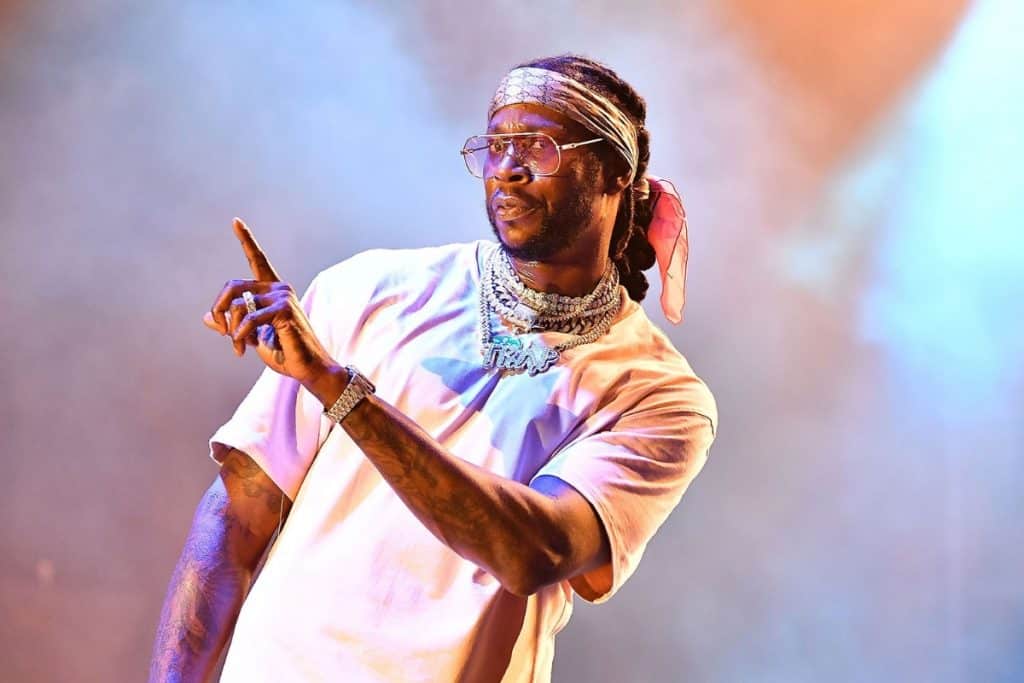 Discography: Based on a T.R.U. Story (2012), B.O.A.T.S. II: Me Time (2013), ColleGrove (2016), Pretty Girls Like Trap Music (2017), Rap or Go to the League (2019), So Help Me God! (2020), Dope Don't Sell Itself (2022)
2 Chainz is a trap icon who carved out a legendary career with his distinctive style and relentless work ethic. From his breakout mixtape T.R.U. REALigion to his chart-topping debut album Based on a T.R.U. Story, 2 Chainz has been a dominant force in hip hop since the early 2010s. His prolific guest verse run on hits like "Mercy" and "Fuckin' Problems" cemented his place in the rap game, while his solo work showcased his dexterous flow and ability to blend different musical worlds. With B.O.A.T.S. II: Me Time, 2 Chainz proved that he was not a one-hit wonder, solidifying his position as one of the biggest names in rap. His anthems like "I'm Different" and "Birthday Song" have become classics, and his impact on trap music will be felt for years to come.
8. 21 Savage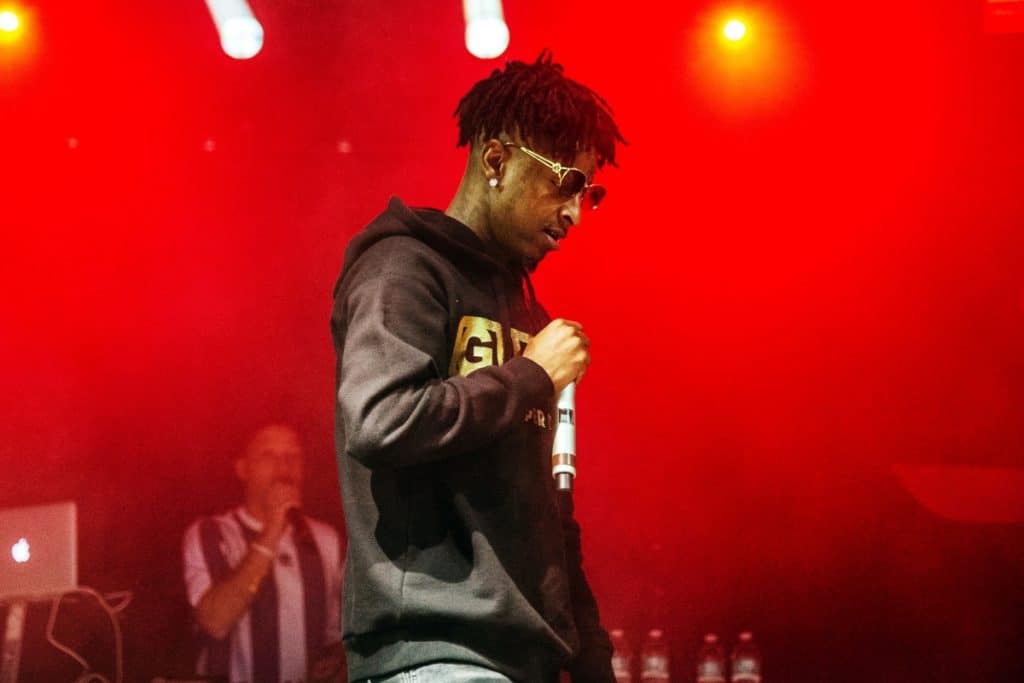 Discography: Savage Mode (with Metro Boomin) (2016), Issa Album (2017), Without Warning (with Offset and Metro Boomin) (2017), I Am > I Was (2018), Savage Mode II (with Metro Boomin) (2020), Her Loss (with Drake) (2022)
21 Savage's journey to the top of the trap rap game has been a long and tumultuous one. But through it all, he's remained steadfast in his commitment to his craft, creating some of the most menacing, yet introspective tracks in the genre. With his signature drawl and visceral lyricism, he's become a master of the art of storytelling, painting vivid pictures of the harsh realities of life in the streets. But what truly sets Savage apart from his peers is his ability to evolve and adapt with the times. He's not content to rest on his laurels, instead constantly pushing the boundaries of what trap music can be. Whether he's collaborating with fellow icons like J. Cole and Post Malone or pushing the envelope with his solo work, he's always exploring new sounds and styles, never content to stick to the same old formula. And that's why he's become one of the greatest trap rappers of all time. With a discography that's both impressive and consistently inventive, he's carved out a place for himself at the forefront of the genre, inspiring countless others to follow in his footsteps. Whether he's dropping hard-hitting street anthems or introspective moments, 21 Savage is always pushing himself to new heights, and his fans are better off for it.
7. Migos
Discography: Yung Rich Nation (2015), Culture (2017), Culture II (2018), Culture III (2021)
Migos didn't just revolutionize trap music, they turned it into a global phenomenon. With their infectious beats, triplet flows and catchy ad-libs, they've become one of the most iconic rap groups of all time. From their early mixtape days to their chart-topping albums like Culture, Migos has been dominating the rap game with their unique style and infectious energy. But their impact goes far beyond their own discography – they've influenced an entire generation of rappers and helped to shape the sound of modern trap music. Whether you love them or hate them, there's no denying that Migos has left an indelible mark on the genre, and their influence on trap music still permeates to this day.
6. Rick Ross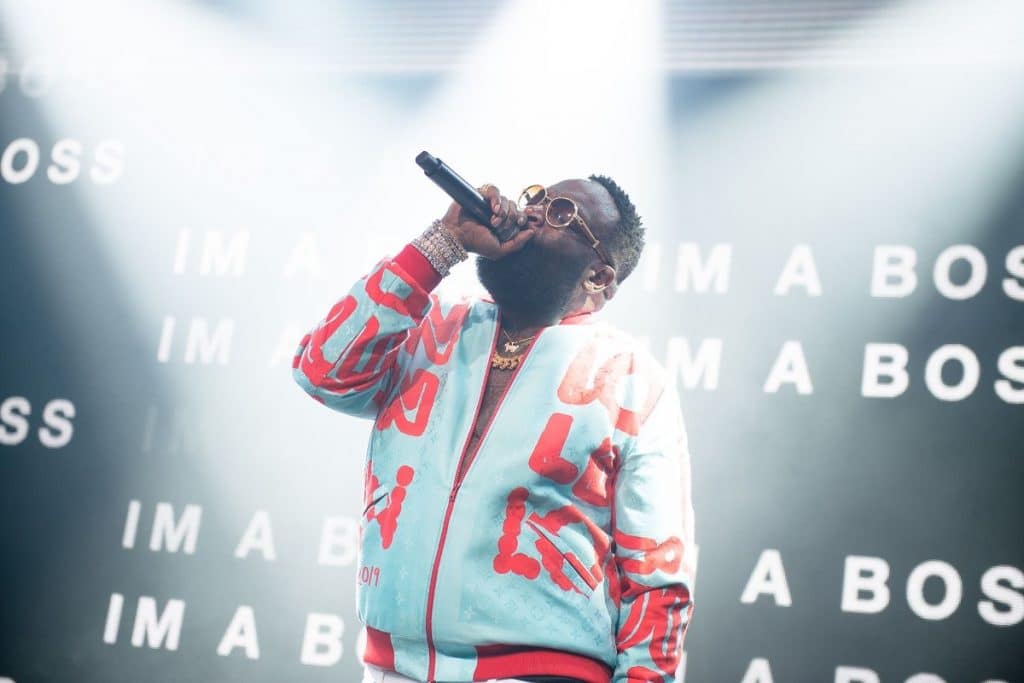 Discography: Port of Miami (2006), Trilla (2008), Deeper Than Rap (2009), Teflon Don (2010), God Forgives, I Don't (2012), Mastermind (2014), Hood Billionaire (2014), Black Market (2015), Rather You Than Me (2017), Port of Miami 2 (2019), Richer Than I Ever Been (2021)
Rick Ross is a name that demands respect in the world of hip hop. The Miami rapper's commercial success is nothing short of remarkable, with five No. 1 albums and eight Top 10 singles on Billboard's Hot Rap Songs chart. His catalogue alone cements him as a hip hop icon, with essential albums like Port of Miami, Teflon Don, and God Forgives, I Don't bestowing him with the title of master album craftsman. But Ross is more than just chart success. He's an MC who exudes confidence and slick wordplay in every bar, earning him respect from legendary rappers like Jay-Z, Nas, Pusha T, and Lil Wayne. His solo work is impeccable, but his features on tracks like Kanye's "Devil In a New Dress" and Drake's "Lemon Pepper Freestyle" showcase his versatility and range. While some may clown Ross for his past as a correctional officer and larger-than-life persona, his lyrical talent and unflinching confidence cannot be denied. And as the boss of Maybach Music, he's also helped to shape and elevate the careers of other talented rappers. When it comes to timeless trap anthems, there's no question that Rick Ross is at the top of the game.
5. Young Thug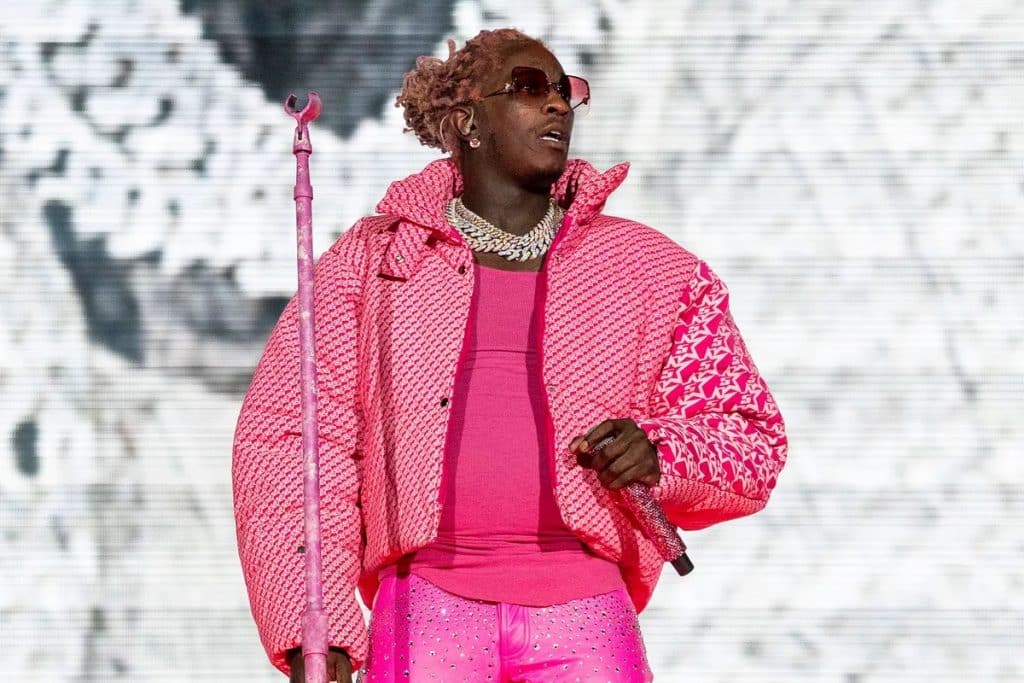 Discography: Slime Language (with YSL Records) (2018), So Much Fun (2019), Slime Language 2 (with YSL Records) (2021), Punk (2021)
Young Thug has been hailed as one of the most innovative and prolific rappers of the past decade, and his free-wheeling catalog speaks for itself. With a sound that blends trap, pop, and R&B, Thugger has carved out a unique lane in the rap game and inspired countless imitators along the way. From his breakthrough mixtapes like 1017 Thug and Rich Gang: Tha Tour Pt. 1 to his chart-topping albums like So Much Fun and Slime Language 2, the Atlanta rapper's discography is a testament to his undeniable talent and versatility. He's consistently pushed the boundaries of what's possible in hip-hop, and his influence can be heard in the work of artists ranging from Lil Uzi Vert to Drake. When it comes to music-making, Young Thug is a trailblazer. He's never been one to play it safe, instead embracing risk and experimentation, like his unconventional vocal stylings in "Harambe" and collaborations with legends like Elton John. And Thug's impact goes far beyond just his music. He's become a fashion icon in his own right, known for his boundary-pushing style and gender-bending fashion choices. He's also become a mentor to the next generation of Atlanta rappers – like Lil Baby and Gunna – helping to shape the sound of the city and ushering in a new era of trap music.
4. T.I.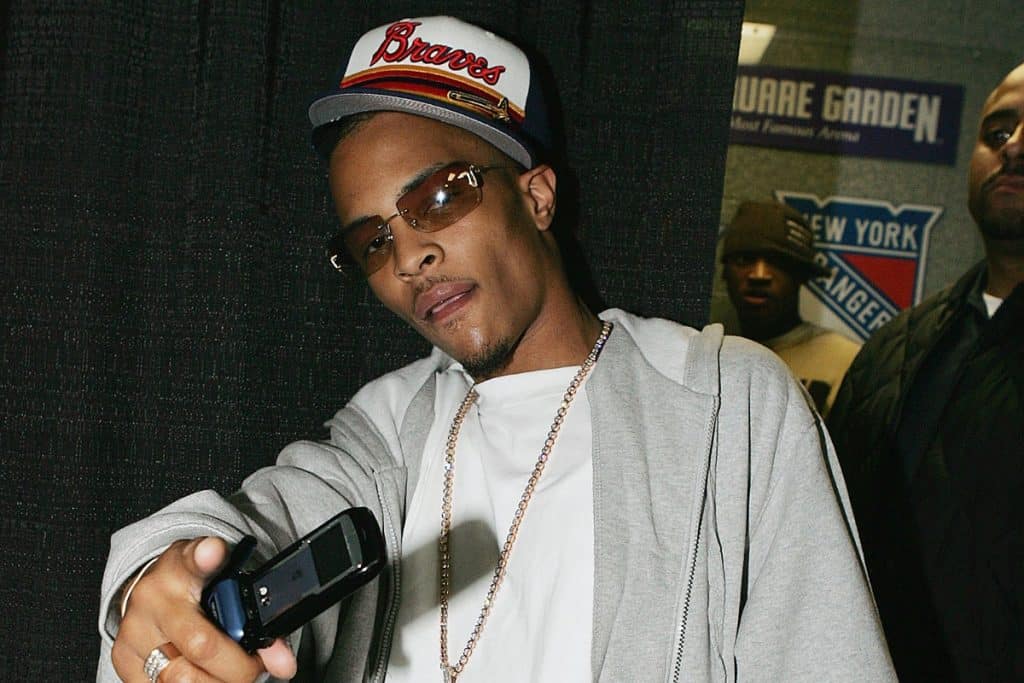 Discography: I'm Serious (2001), Trap Muzik (2003), Urban Legend (2004), King (2006), T.I. vs. T.I.P. (2007), Paper Trail (2008), No Mercy (2010), Trouble Man: Heavy Is the Head (2012), Paperwork (2014), Dime Trap (2018), The L.I.B.R.A. (2020)
When T.I. burst onto the scene in 2001 with his studio debut I'm Serious, the record was widely considered a flop, barely scraping the Top 100 of the Billboard 200. But two years later, the Bankhead native would establish himself as the King of the South on Trap Muzik, which marked the beginning of the trap music subgenre that has defined Atlanta hip hop in the 21st century. Over his first three albums, T.I. showcased a distinct blend of East Coast flows with a Southern flavor, and then it was on King that he truly cemented himself at the top of the Southern rap scene. Leading off with the ultimate coronation anthem, "What You Know," and supported by a stellar lineup of producers and rappers such as UGK, Jamie Foxx, B.G., Young Jeezy, Young Dro, Pharrell, Common, Just Blaze, Mannie Fresh, DJ Toomp, and Swizz Beatz, T.I.'s fourth album proved that not only was he the King of the South, he was the best rapper alive. The 2000s were all about the South, and T.I. was at the forefront of the movement. His ability to merge street authenticity with pop appeal set him apart from his peers and solidified his status as one of the greatest trap rappers of all time.
3. Future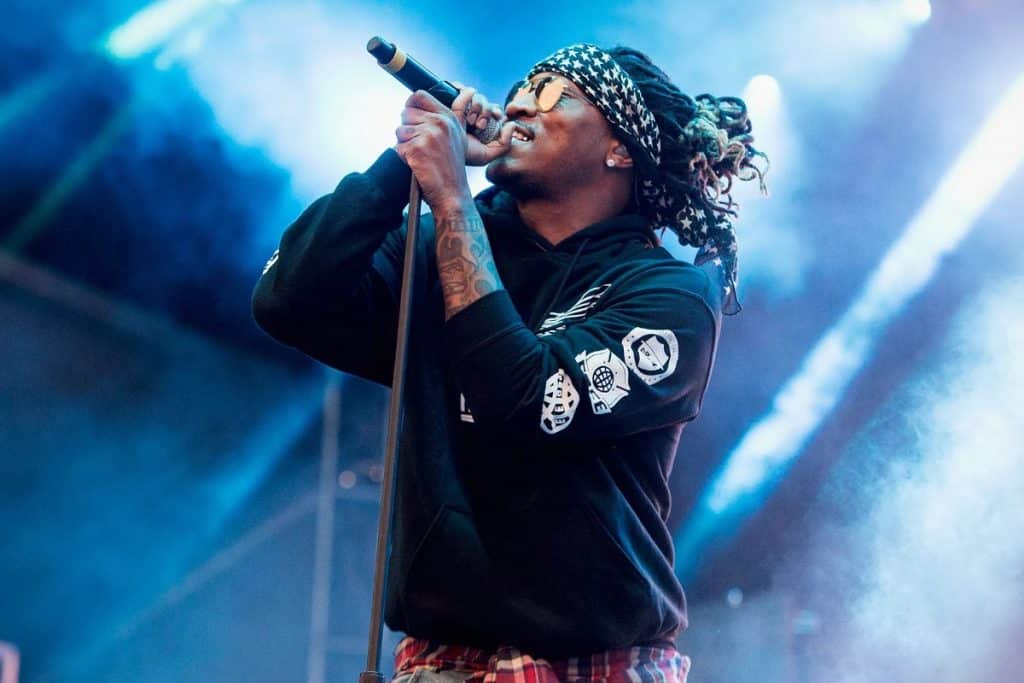 Discography: Pluto (2012), Honest (2014), DS2 (2015), Evol (2016), Future (2017), Hndrxx (2017), The Wizrd (2019), High Off Life (2020), I Never Liked You (2022)
From his early days dropping cult classic mixtapes like Dirty Sprite and Streetz Calling, this Dungeon Family affiliate quickly proved he had the talent and work ethic of a rapper with immense staying power. With his unique blend of hard bars and pained melodies, Future blurred the lines between rapping and singing, becoming one of the most influential artists of the past decade. His unparalleled mixtape run in the early 2010s culminated in the release of his critically acclaimed third album, DS2, which solidified his place in the mainstream. But the Freebandz head honcho wasn't content to rest on his laurels. He continued to innovate and push the boundaries of the genre, scoring his first solo number one hit with "Wait for U" and recording his biggest first-week album sales with I Never Liked You. Future's influence can be felt in the music of countless other rappers, and his legacy as one of the greatest trappers of all time is already secure. With a discography full of classics and a sound that continues to evolve, Future shows no signs of slowing down anytime soon.
2. Young Jeezy
Discography: Let's Get It: Thug Motivation 101 (2005), The Inspiration: Thug Motivation 102 (2006), The Recession (2008), TM103: Hustler'z Ambition (2011), Seen It All: The Autobiography (2014), Church in These Streets (2015), Trap or Die 3 (2016), Pressure (2017), TM104: The Legend of the Snowman (2019), The Recession 2 (2020), Snofall (2022)
Young Jeezy may not have had the same flow as Ludacris, the charisma of T.I., or the wordplay of Lil Wayne, but what he did have was a one-of-a-kind voice, a captivating delivery, and an absolute belief in his every word. These qualities, combined with true-to-life trapping tales and production from the likes of Shawty Redd, Drumma Boy, and Mannie Fresh, helped make Jeezy one of the greatest trap rappers of all time. At the midpoint of the 2000s, Jeezy marked a changing of the guard as he steered Atlanta into the trap movement that would define the city's next decade. In January 2005, Jeezy dropped his iconic mixtape Trap or Die, which was followed up later that summer by his major label debut, Let's Get It: Thug Motivation 101. The LP debuted at No. 2 on the Billboard 200, selling 172,000 copies in its first week. Thug Motivation 101 also produced arguably the biggest hit of Jeezy's career, the Akon-featuring "Soul Survivor," which peaked at No. 4 on the Billboard Hot 100. Jeezy's impact on the trap music subgenre and his contribution to Atlanta's rise in the 2000s will never be forgotten. He may not have been the flashiest or most technically proficient rapper, but his captivating voice, motivational sermons and uncompromising delivery helped make him one of the greatest trap rappers of all time.
1. Gucci Mane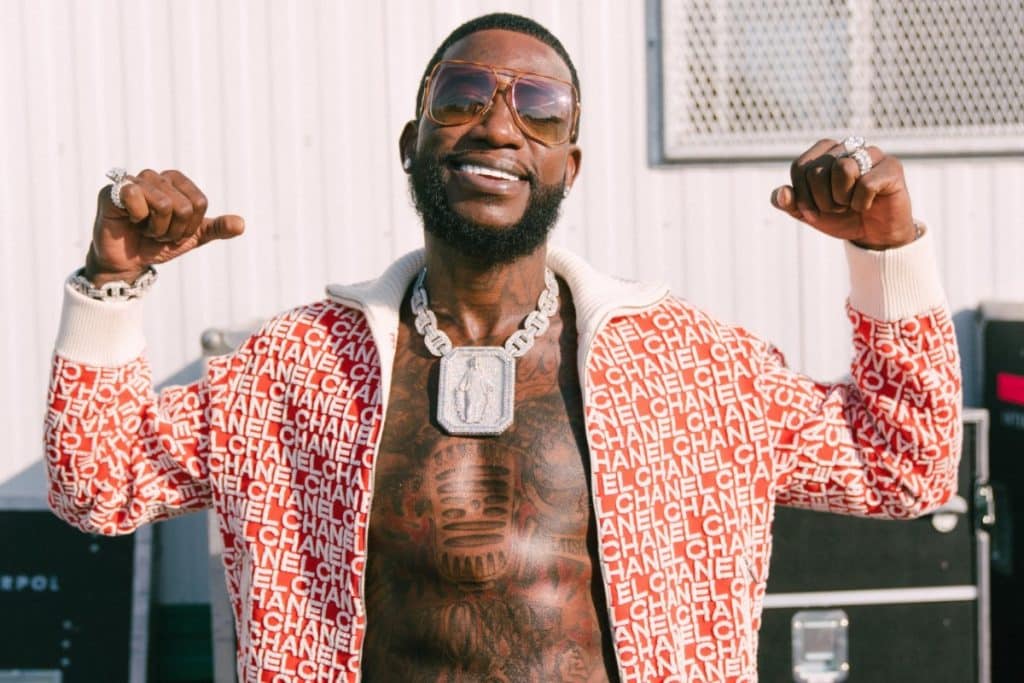 Discography: Trap House (2005), Hard to Kill (2006), Trap-A-Thon (2007), Back to the Trap House (2007), Murder Was the Case (2009), The State vs. Radric Davis(2009), The Appeal: Georgia's Most Wanted (2010), The Return of Mr. Zone 6 (2011), Everybody Looking (2016), The Return of East Atlanta Santa (2016), Mr. Davis (2017), Evil Genius (2018), Delusions of Grandeur (2019), Woptober II (2019), Ice Daddy (2021)
Gucci Mane is a living legend, an icon of Atlanta hip hop, and the greatest trap rapper of all time. He is one of the most influential artists in the culture, and his contributions to trap music cannot be overstated. From the moment he burst onto the scene with his debut album Trap House in 2005, Guwop has combined a relentless work ethic and and signature rap style to climb to the upper echelon of the ATL rap scene. Looking back over the decades, it's clear that Gucci's impact on trap music is undeniable; his influence can clearly be heard in the work of rappers like Migos, Future, Young Thug, Lil Uzi Vert, just to name a few. His prolific output and unmatched work ethic have also inspired a generation of up-and-coming rappers, who see him as a model of studio discipline and perseverance. Bottom line is: Gucci Mane's legacy as a trapper-turned-rapper is secure, and his impact on the culture will continue to be felt for generations to come.