MF DOOM isn't just the greatest underground rapper of all time, he's one of the best rappers to touch a mic, period. R.I.P. to an icon and hip hop legend.
An enigmatic and mysterious force in hip hop, the artist known as Doom or Viktor Vaughn or Metal Face or whatever alias you want to go with, built up a staggering music catalogue that will be discovered and deciphered by rap fans for a long time.
Born in Hounslow, London, but raised in New York, Daniel Dumile, who at the time was going by Zev Love X, entered the rap game in 1988 as part of the hip hop group KMD with his younger brother DJ Subroc.
After Subroc was tragically struck by a car and killed on April 23, 1993, Dumile retreated from the rap world for a few years. In his own words, he was "damn near homeless, walking the streets of Manhattan, sleeping on benches."
In 1999, Dumile made his return to hip hop with Operation: Doomsday under a new name, MF DOOM. Since then, he's dropped countless projects – some widely lauded and some of them obscure – under multiple aliases. Along the way, he's also appeared on numerous feature appearances, here are some of the dopest ones.
From DJ Muggs' "Death Wish" to Kool Keith's "Super Hero" and De La Soul's "Rock Co.Kane Flow," here are the top 13 best MF DOOM guest verses of all time.
13. Hell Razah ft. Viktor Vaughn & Talib Kweli – "Project Jazz"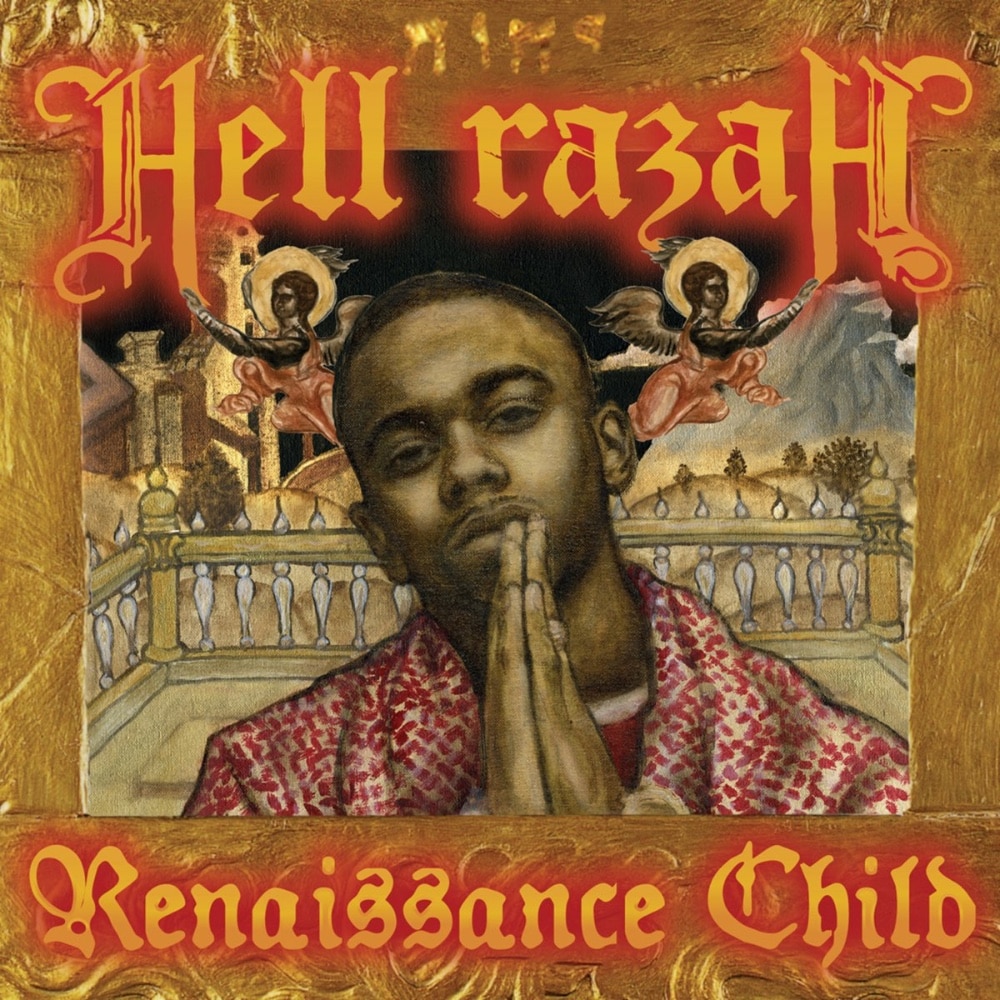 Released: February 20, 2007
Album: Renaissance Child
Producer: MF DOOM
Vik slick talk, with a cough full of North
Of course New York floss, don't know blue pork
Before you walk across, look both ways
The third and the fourth of them nowaday ofays
Kept a dog on a wooden leg
And hustled all night in the fog on the reg
Even dressed like a bum and could beg
Instead did the other on the strength, what a good egg
Been bred to win, since head spins, ooh them gems
Spread too thin, depends on who's losin
Heads do spin, it's deaded, now who's in?
The gang's all here, enough combined slang to bang all year
It's on, like it ain't never been on cordless before
Report for lawless, bosses off shore
With horses, hay and tablets, made em with rabbits
Habits til they hate 'em and had it, damn it
And he's gone with the wind
Dead wrong, a song with a spin and a grin
Out of style, with the blow out the mild mannered smile
Like a foul wild Spaniard on the show out
Vaughn, the one you trick-a-don
Why stick it, if you gotta slip a slicker on, Viktor Vaughn
12. DJ Babu ft. Sean Price & MF DOOM – "The Unexpected"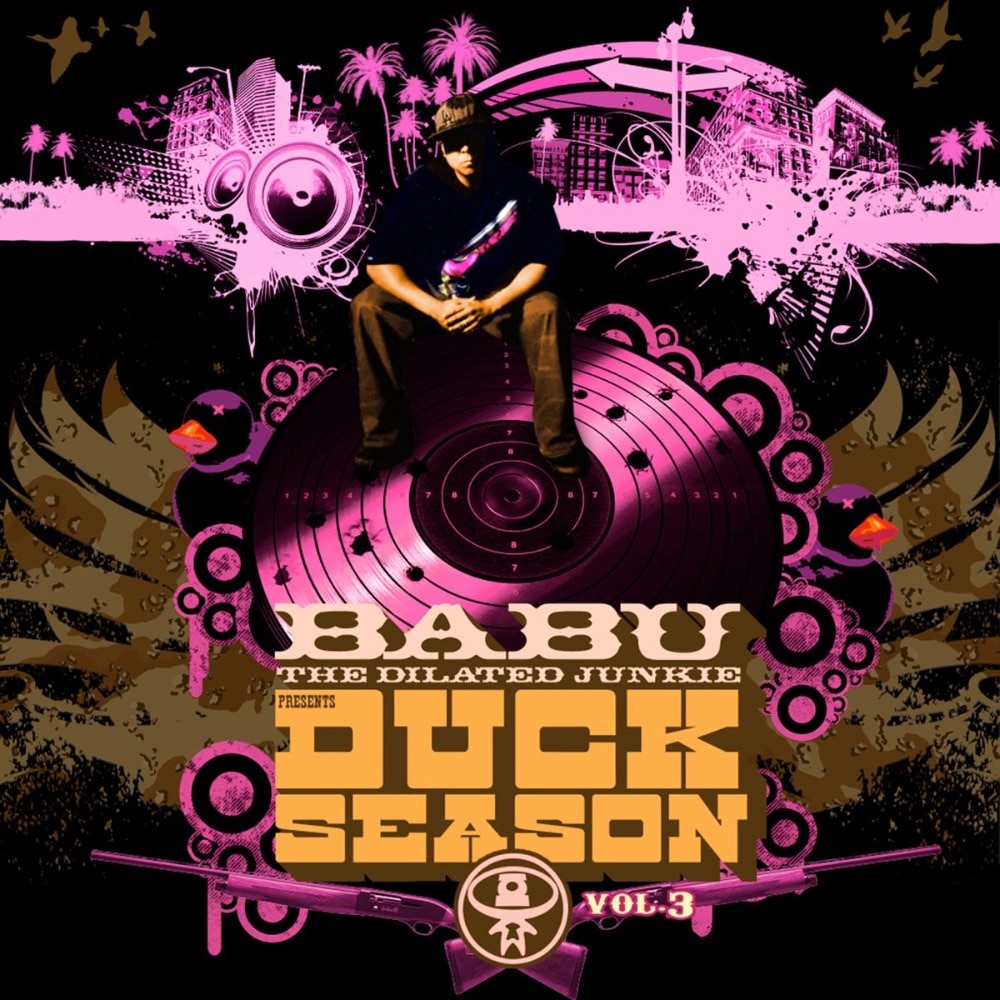 Released: October 28, 2008
Album: Duck Season Vol. 3
Producer: DJ Babu
Hmmmmm..
You say the beat grabbed you, then the rhyme stabbed you
But can't prove it was my clients Doom and Babu?
I rest my case - the witness never showed up
They both kept heat on the street and had it sewed up
Defense was wise, complete with alibis
What the informer told the coroner was a pile of lies
Beat the rap in a court of law
Free to beat the crap out them snitches while protectin and extortin the poor
Expect to expect the unexpected
Check for wreck, tons up under or in front of Han detected
Thunder for breakfast, sun a hundred sons in under a second
Whoever disrespect neck get disconnected
Off the record macho steel cage tiger stripe
Metal Fang striker versus Nacho Libre Riker type
Rigged for a fake drawer, that's what the paper do
Pick more cake score HD pay-per-view
It's much safer for you to cry dry tears for years
Dun-da-da-dah Villain here, no fears
It is what it is 'cept it ain't what it used to be
That's news to me, choose to be free musically
Take it from Doom-dini the crew meanie
Act like you don't know, even if you seen me
In it for the green zucchini, so we can get a new beanie
For Babu, the 1 and 2s genie
11. DJ Muggs ft. MF DOOM & Freddie Gibbs – "Death Wish"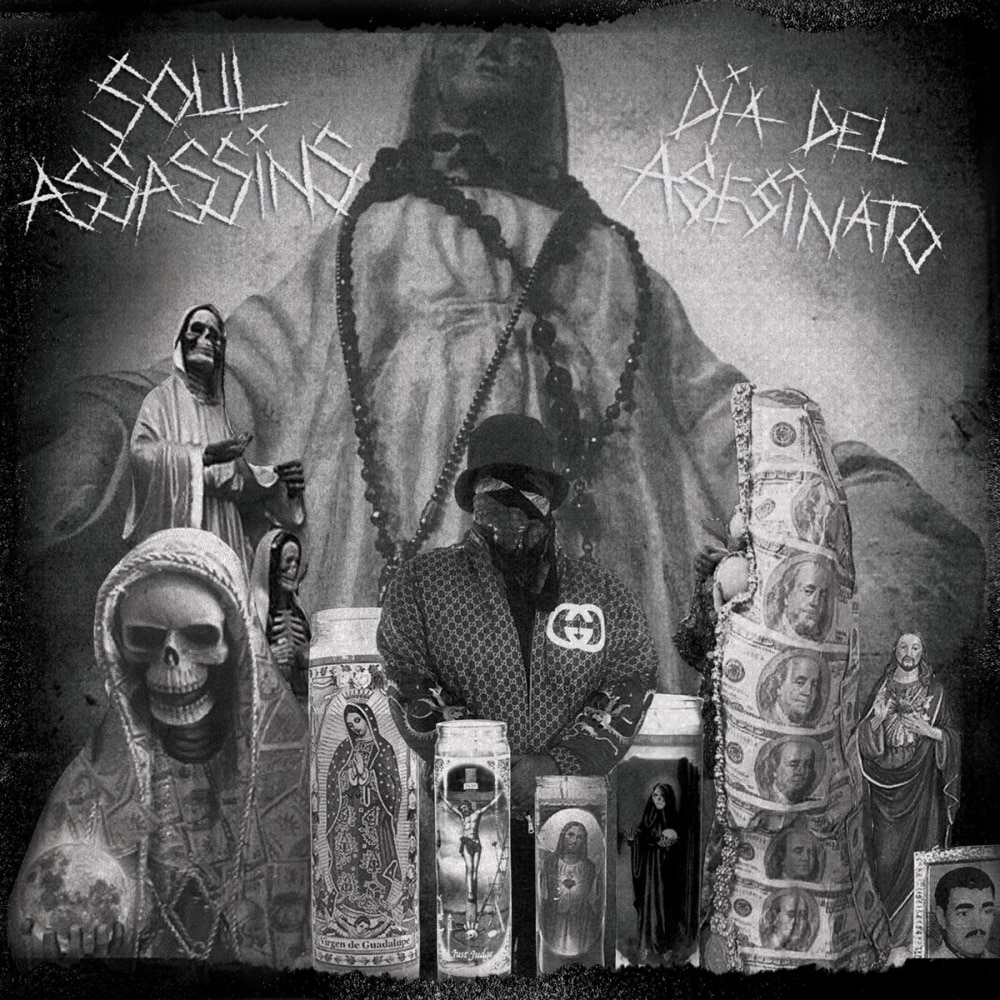 Released: June 22, 2018
Album: Soul Assassins: Dia Del Asesinato
Producer: DJ Muggs
Wrote this rhyme straight across, clown sure to take a loss
You know they jealous if behind his back they ever say he soft
Spin back around, quick! Confront 'em and they play it off
Young and the world is full of it, forge ahead, stay the course
At the bar, who's buying?
Been in the game so long, he can tell when dudes lying
Sneaky pricks sure to get hit with a ball of spit (spits)
Nahhh, keeps his integrity all of it
Must be too strong for tugging spirits
Guess everything is fair in love and lust and lyrics
Kinda fancying suckers hide behind the bread
To the point that the hammer be behind the head (click click)
Fire kid, bang, cocky sense of power, think they running shit
By the hour, dissipating into nothingness
Villain up in this bitch with a bottle, it's empty
It won't go to waste, zero empathy
10. Gorillaz ft. MF DOOM – "November Has Come"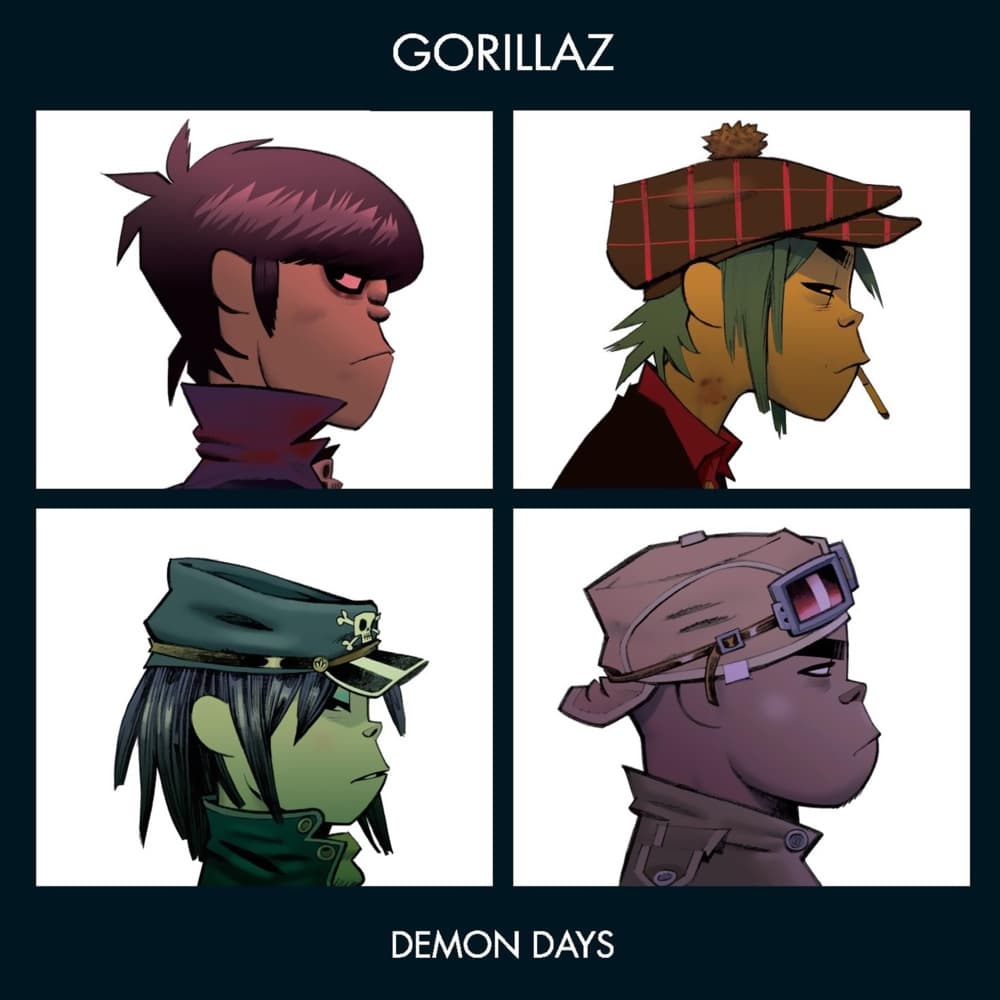 Released: May 11, 2005
Album: Demon Days
Producer: Danger Mouse, Jason Cox, James Dring & Gorillaz
Slow it down some, no split, clown bum
Your gold hits sound dumb, hold it now, crown 'em
Where you found them at?
Got 'em 'round town, could've drowned in it
Would have floated, bloated, voted
Sugar-coated, loaded hip shooter
Draw for the poor, free coffee at the banks
Hit through the straw, none more for me, thanks
That blanks the raw, that dank sure stank lit
Sank past the pit for more hardcore prank spit
Crank it on blast, roll past Front Street
Blew the whole spot like some old ass with skunk meat
These kids is too fast, juiced off a junk treat
Who could get looser off a crunk or a funk beat?
9. Prince Paul ft. Wordsworth, Chubb Rock & MF DOOM – "People Places & Things"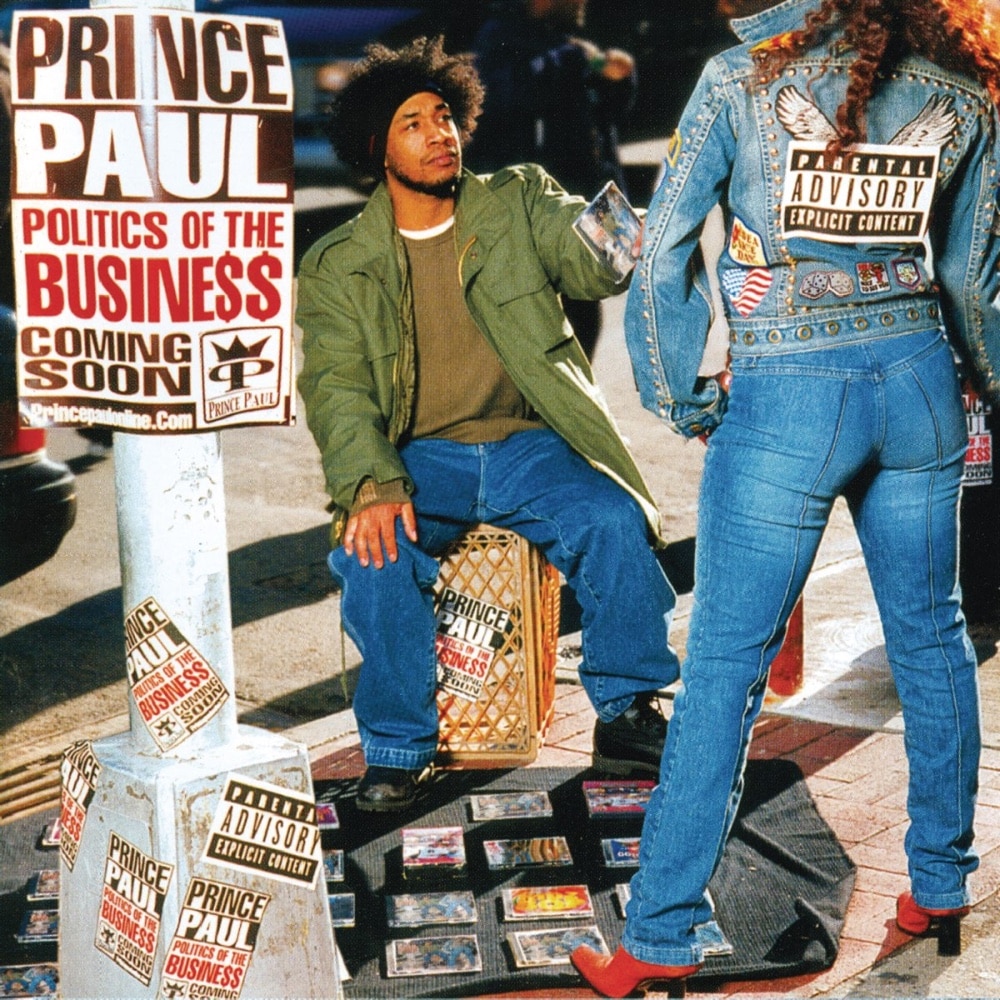 Released: May 6, 2003
Album: Politics of the Business
Producer: Mr. Len, Harry Allen, DJ A Vee & Prince Paul
The Supervillain's the name, still in the game, the same biz
What's his face told y'all what the name of the game is
Downtown on the skip-stop, crisp new Timbs
Damage on my corns like flip flops, and who's him?
Rap cats act brave as hell
Get on the mic and turn gangster on some "Yeah, see" like Dave Chappelle
More like Screech, Saved by the Bell
Black man on some "I'm a man's man" man's man name is Shaq Man
Then they get on the first year later
Get their first hater, their first pair of gators
To the perpetrators he's The Unknown Comic
Who spit on the microphone in chunks of thrown vomit
It's just a shame, bust this aim
Lust for fame crushed his frame, like what's his name
And whatchamacallit remind him of Mini-Me
With Minnie Mouse in Gucci from her coochie to her skinny knee
Like thirteen earthlings, Cool Hand Luke
Who dropped jewel and influence the youth like Buk
All he do is puke when he in need of a speedy line
He said "every rhyme I mastermind like Se' Divine"
You greedy swine, don't eat pork
In the Streets of New York you out of place like Mork
From Ork, dork, Paul pop the cork
Drop me in Newark airport, I'm supposed to meet Björk
But what's all the fuss about? Hush up your big mouth
I sent her out to see Grimm to bust him out the big house
Yup, see that's how rumors get started
A certified older cat who don't get carded
DOOM could write a rhyme on demand
And get money as if he had time on his hands
And when he not in the lab doing flows and vocals
He out in the streets throwing bones with the locals
Never underestimate the next man's thirst
It could be way far worse than a whole jar of Starburst
Mmmm, he keeps those by the pound load
Emcees run from common locations like download
I think it's rather spectacular
How they come out they neck, bite and suck like Dracula
In case you just tuned in, once again
We're here with the Supervillain, known as hip hop's Gunga Din
8. CZARFACE ft. MF DOOM – "Ka-Bang!"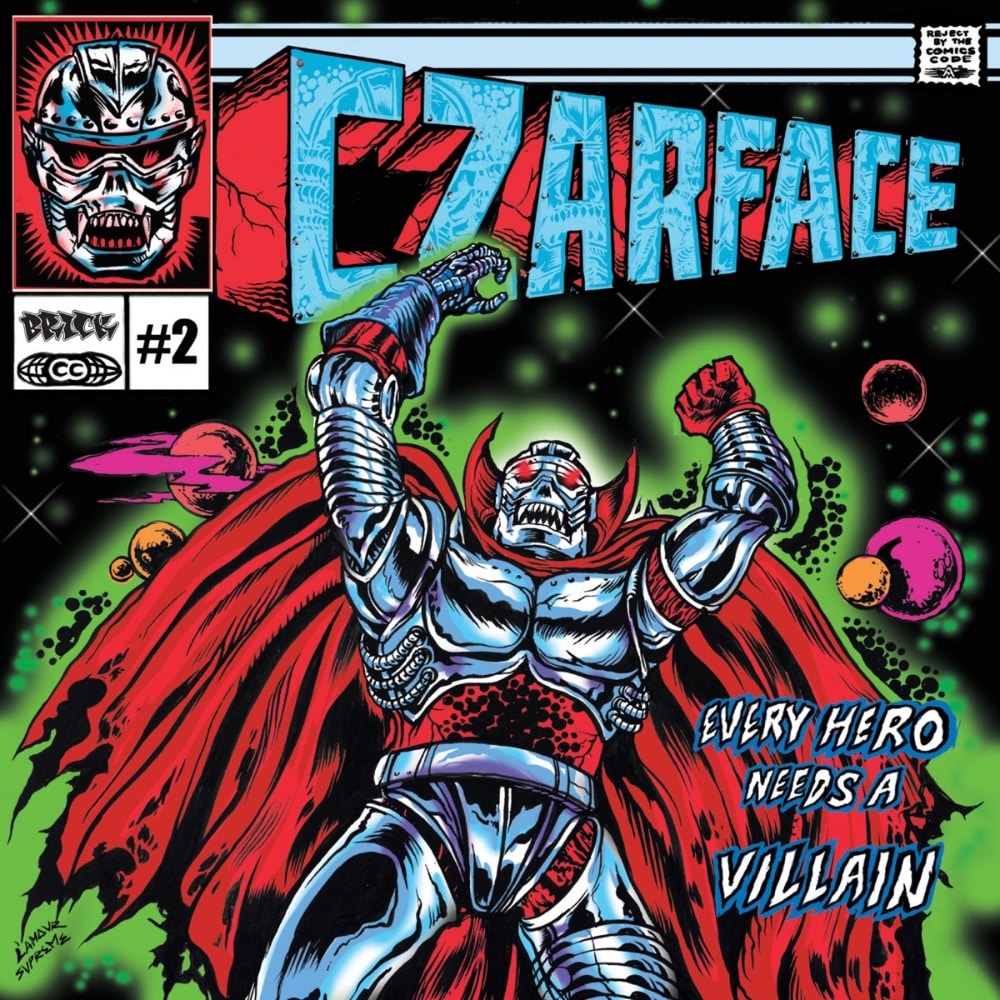 Released: June 5, 2015
Album: Every Hero Needs a Villain
Producer: The Czar-Keys
A grown-ass man, mind from a trash can
And he kept his rhymes as aligned as a Tascam
Whoosh! Like a flash bang crash the Shazam Van
Made it with the stashed cash, and his black ash hand
Bring on the last man standing, he can hang
Did the Shang-A-Lang then caught him, Ka-Bang!
Drone flown pass, blam, ping on the dash cam
Known as a king who do rings on a mass scam
Overthrow a vast plan, shown a unmask fam'
Rock it like a sun's splash jam
She had the color, came first place on the can-can band stand
Face like Ann Landers, ask my man, man-man
Bitter than a batch of tan bran from Pakistan
Don't get smacked with the practice hand
Not one to grand stand, get it on a low-low gram
Ampersand handstand gas can
7. The Herbaliser ft. MF DOOM – "It Ain't Nuttin'"
Released: March 19, 2002
Album: Something Wicked This Way Comes
Producer: Ollie Teeba & Jake Wherry
It ain't nuttin' like a fist full of cash or a bliss full of the hash
That twist like a mustache, from end to end, spread it like a rash
From talking through your Walkman or at your disco bash
Give me the Timbs Rumpelstiltskin brown
A metal face mask with a built in frown
A mic to tilt down, a hundred thousand pounds
And see how kilt sound like spilt milk clown
Cocoa butter on very ashy day fam
With Ray-Bans out on the islands of Cayman
Or I'll break it down for the layman
Bain De Soleil for that Saint-Tropez... tannnn
A can a ole gold too cold to hold, slow ya roll
Keep on moving like Soul II Soul, hold the dough
Like a fool who stole pity y'all
From tryna' go up against city hall titty bar
The black mic is like a red violin
Ok, everybody back to the lab, try again
Bloody rap game like Leviathan
Leave a bad taste, killin' my high like Niacin
Stop kiddin' middlemen need Ritalin
Hit me with the full tin of gin and I'm a kid again
Keep the bong lightin' straight through the song writin'
The Supervillain AKA the thong bitin', that's inviting all
To the reciting that's dope and raw
Hoping all y'all come in peace and it's open bar
Tear the roof off this Bumba Ras Clot
By the end of the night spazz like Shazbot
Spilt a shot made the pen lines runny
An ill plot that's ten times Ben Stein's money, funny
How he rips the scripts with a straight face
With more rhymes than is lines in ya database
Placing rappers in endangerment, who's reckless
With this food for thought sorta' like breakfast
You could mark it off as wreck on the checklist
Wear gold fronts, can't afford no necklace
Shit, that there, could go to help buildin' daycares
Somebody say yeah (yeah!)
Pay ya fares, give the Herbalizers their shares
And y'all could pay DOOM in beers, cheers!
6. BADBADNOTGOOD & Ghostface Killah ft. MF DOOM – "Ray Gun"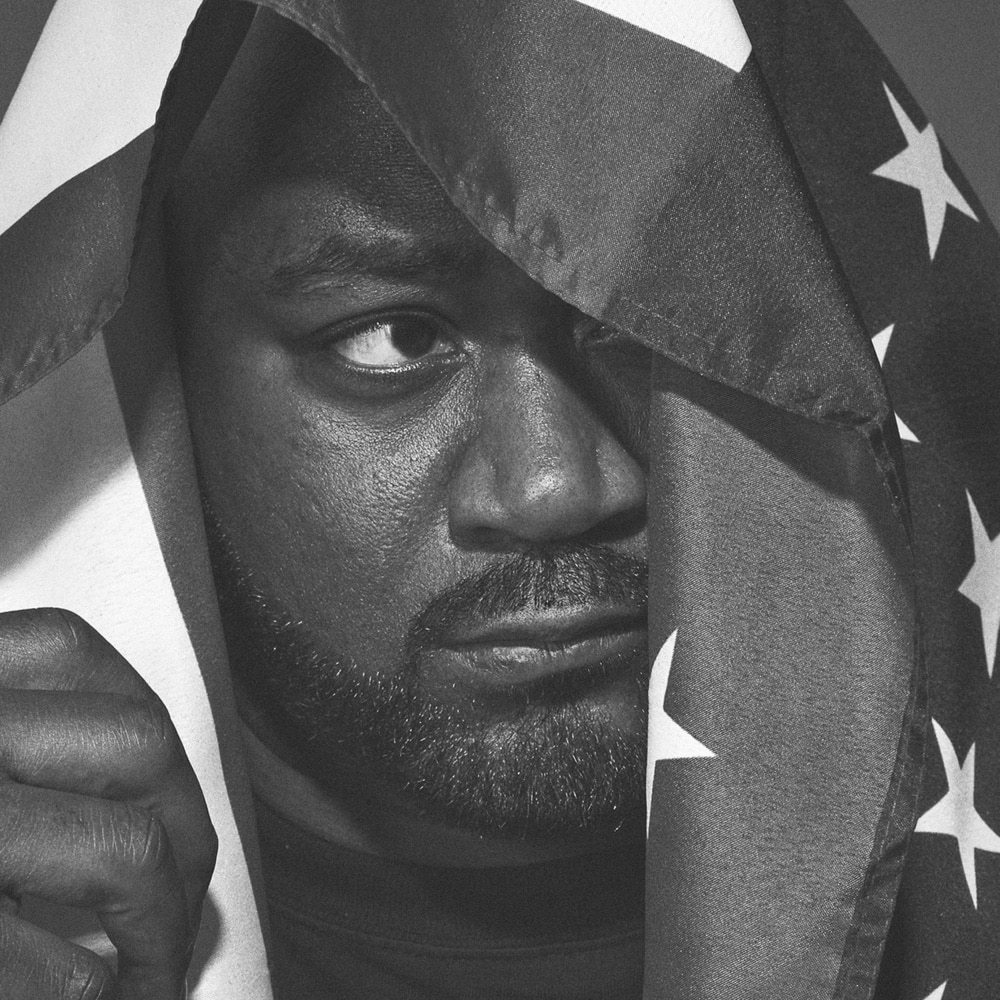 Released: January 9, 2015
Album: Sour Soul
Producer: Ging
As if, stance mad stiff
Metal Face DOOM, beware, he bear gifts
Cab for the shift, overwork, overtime
Jerk, you been warned, go for mine
In the dancehall, play the wall like handball
'Til his pants fall, brawl 'til last call
Loose cannon, squeeze drip
Off to rip this one for the Gipper, get gypped
That nig', ya dig? Don't tip the strippers
Foamposite mask, matching slippers
Yo, where's Starks? Backpack of ammo
Warriors said, "Let your flags blow", camo
These dudes is toys like Wham-O
Damn though, chip paint driving on the gravel with the Lambo
Blammo
5. Prefuse 73 ft. Aesop Rock & MF Doom – "Black List"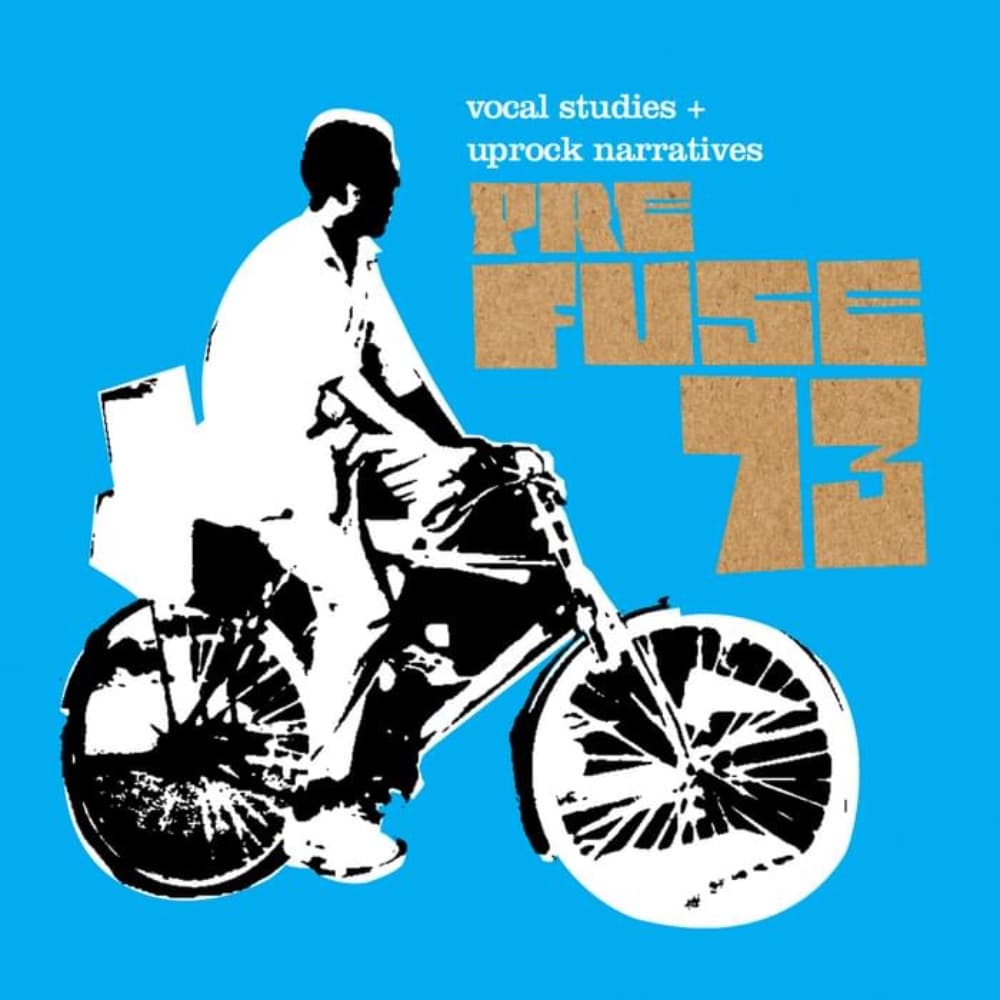 Released: June 11, 2001
Album: Vocal Studies + Uprock Narratives
Producer: Prefuse 73
I can stop anytime I want to
Famous last words that came back to haunt you
All your life like permanent dry tears
Some cats get it like no bright ideas
He broke the record and bowed
Said he couldn't do it without the crowd
For crying out loud
Even took the time to contaminate the rhyme scene
And drop a line before he was out in the time machine
A lot of rappers is drama queens
Fuddy duddy when it comes to the mic
I'm a fiend that's buddy buddy
Fuck around and get your title took, cut and dry
He doesn't lie even like who and where, what and why??
Hold it like a cube button
Buttonfly poom poom
Once he leave the room, they be like DOOM, DOOM, DOOM
Its no use blessed the design
Then the Villain has left the buildin, dressed to the nines
Like I'mma do mines and ya'll do ya'lls
He stay reppin the game like Lou Rawls
The Super MF Villain feel 'em like two balls
For the microphone he jonesed like two falls
We will see after these scrimmages who falls
A lot of ya'll image is reminiscent of Rupaul
Gall to brawl and we'll be needing new drawers
JAWS the one twos that run through walls
4. Jake One ft. MF DOOM – "Trap Door"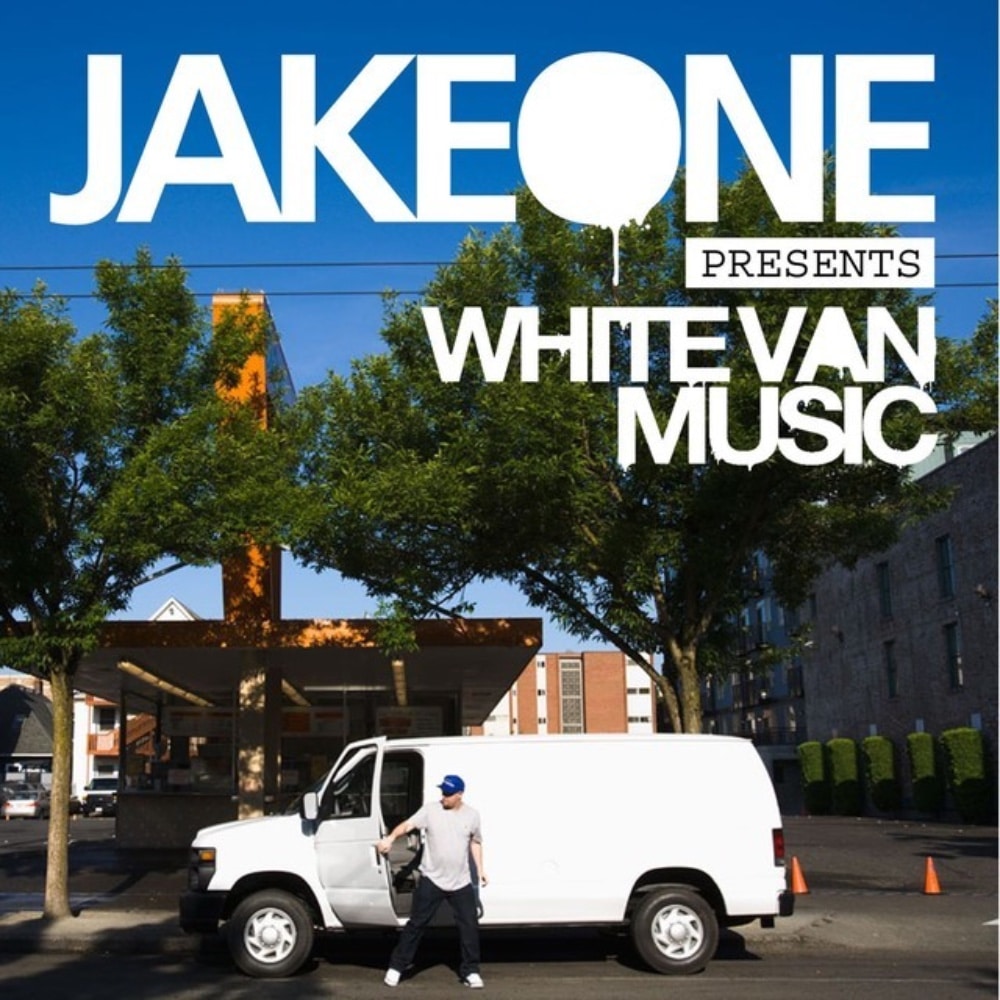 Released: October 7, 2008
Album: White Van Music
Producer: Jake One
He moves the crowd like a cursor on zoom
No curse words, DOOM the worst church nerd verse heard
Appeared blurred to a million true believers
He's the supervillain armed dealer to the divas
Catch, amongst other world scandals
Butter pearl handles to match your girl's sandals
Plan was hatched by a pack of old vandals
Who flag was a black and gold patch with bloody anvils
"Hit 'em to the head" was the motto
And one more time to make sure them dead, BLAKKO
When you throw blows in a knife fight Paco
That's how it goes in this Modern Life like Rocko
Clock dough 24-7 cycle
When it comes to flows he got more than a mic full
Pull a broad like a dyke bull on a long bid
You're messin with the wrong kids Michael
... it ain't Jack-son
For him to flip scripts like camera, action
Villain! Raw by the laws of attraction
For future generation's information - the black one
... Move the crowd like a buddha cloud
The purple, puff puff pass 'round the circle
A jerk well renowned for his work skill
He's out, the proof is the computer's down Urkel
MC a show via wi-fi
And paid way before we wrap it up like tie-dye
Hip-Hop sci-fi, you can see he had the eye
Of the tiger through the mask like the Fry Guy
Just made a baby Olmec dome check
Left some folks' ancestors home wreck
With blown backs, these lesser known facts thwart evil
It got no reason, like short people
No offense, his feet was burnt brass
Whenever he walked on the street it turned glass
On his lucky rat's paw in the crap drawer
All the world's a stage, where's the trap door, slackjaw
Logic, to keep your mind in the project
Drop the check, his job is to chop neck
That's just payback for noses, there's no psych though
What they don't know like Bo
Won't hurt Diddley squat
Got to be kiddin me, not
Seriously plot, to put a hit out on the G-spot
Gypped like Egypt out their kettles and they teapot
3. MED, Blu & Madlib ft. MF DOOM – "Knock Knock"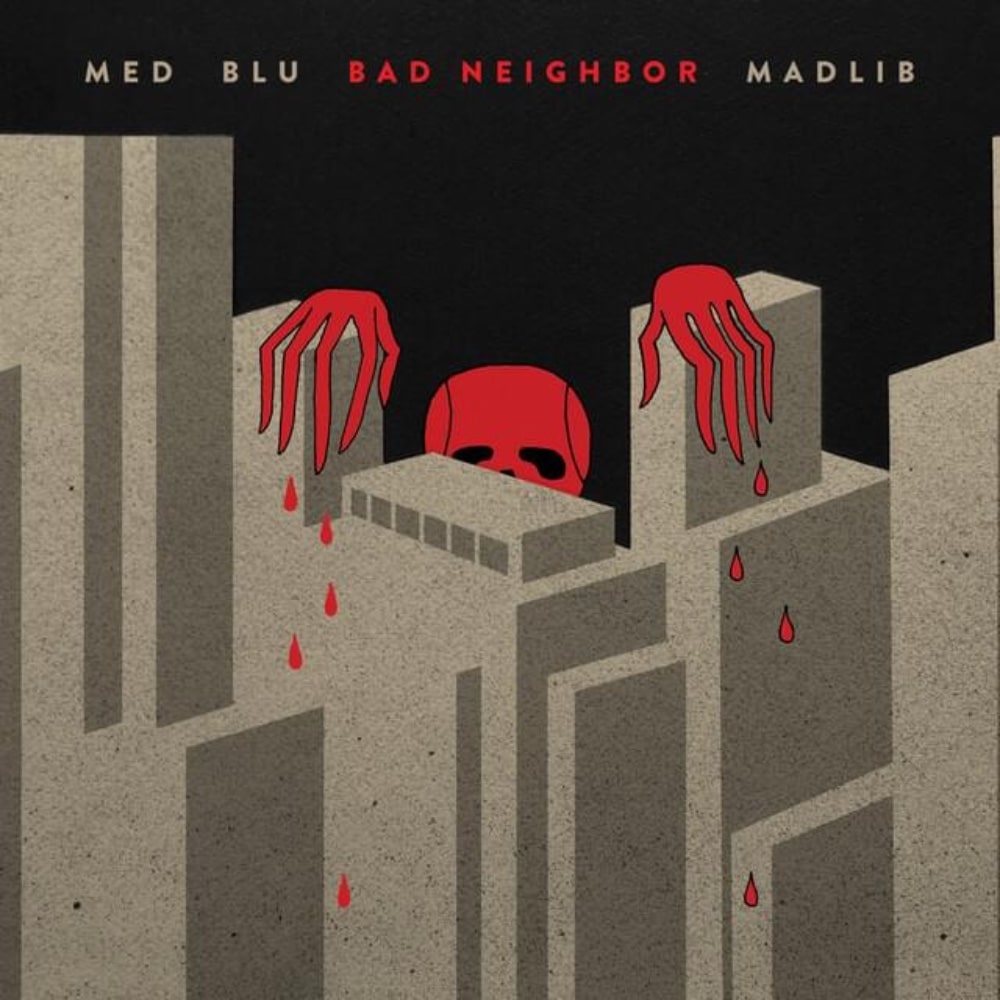 Released: October 30, 2015
Album: Bad Neighbor
Producer: Madlib
Knock knock, menacing cousin Villain, let my self in
Only need a stick of butter, cheese and some vitamin
D double O-M, as in mescaline
Hang the hat on steez, the gentleman's testament
The rest been sold and told like the book of Evangel
I'ma hold the DVD, I ain't seen Scandal
A handful IOU, won't miss a brew or two or six
Torture the lyrics, mics and crucifix
Fresh new kicks, I would put 'em on 'cept
Them shoes always hurt my corn
Might as well return, his young shirt was war torn
Got you on the track with the horn, word is bond
I see you when you gone to the next event (Represent)
Get paid, big cuzzo Villain message sent
2. Kool Keith ft. MF DOOM – "Super Hero"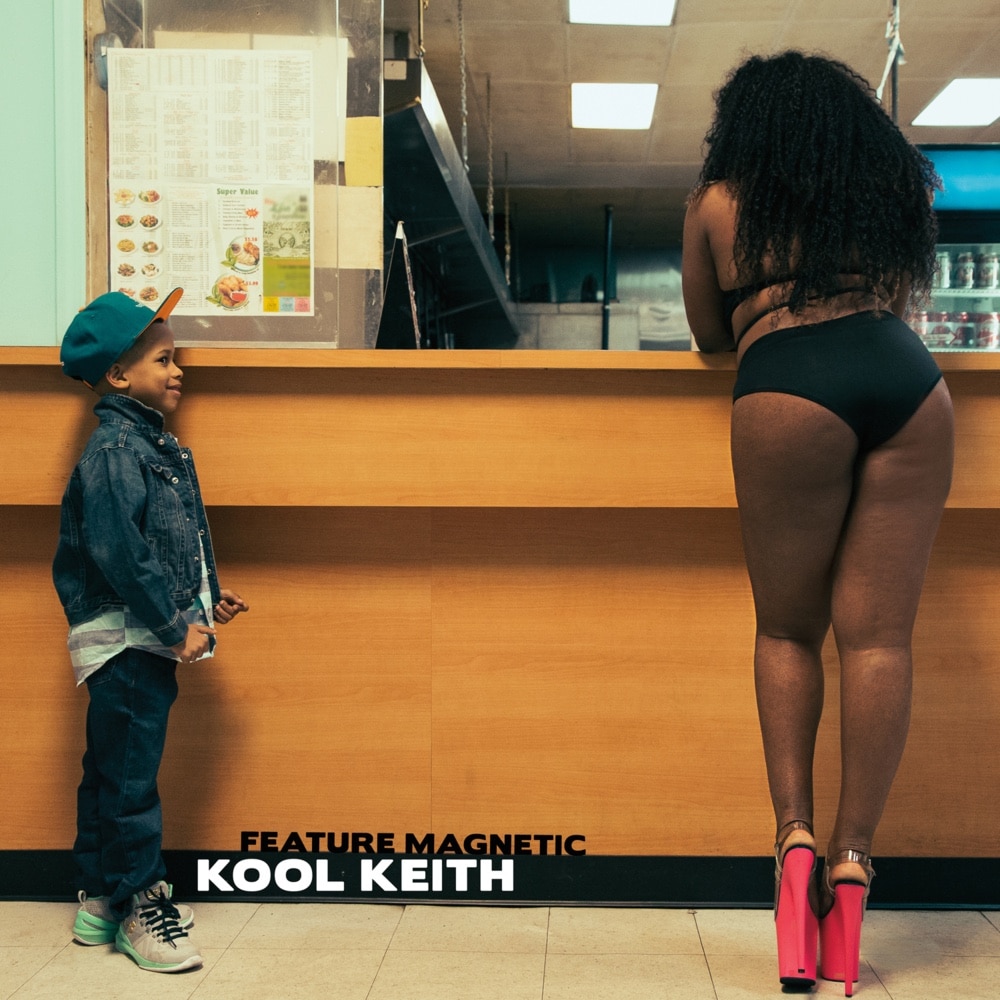 Released: August 16, 2016
Album: Feature Magnetic
Producer: Number One Producer
Vik' in the sick captain's pilot suit
Designed by Travolta out his mind
Is in the mind of another culture vulture
Threw him from Tulsa to this dimension
Right on time for the heroes-hustlers convention
It's no admission, you gotta be on the list
Play your position, peon, against the metal fist
He's on a purely secular mission
Stroll through wearin' the DOOM Clarks, second edition
Web slinger need a beat, well black him out
Flank him out, test his spidey senses on his bank account
For illest mention he hermaphrodite whose pants was tight
Who dance aight
Gave it to Puck from Alpha Flight
The mask was bright as lightnin'
Same type of shinin' got them Teen Titans fightin'
Sippin' on that She-Hulk milk, at least she said it was milk
In a Hello Kitty catsuit, I bet it was silk
Grabbed the award for bein' hella raw
Of course he scored the relic for
Until next rhyme, y'all—Excelsior!
1. De La Soul ft. MF DOOM – "Rock Co.Kane Flow"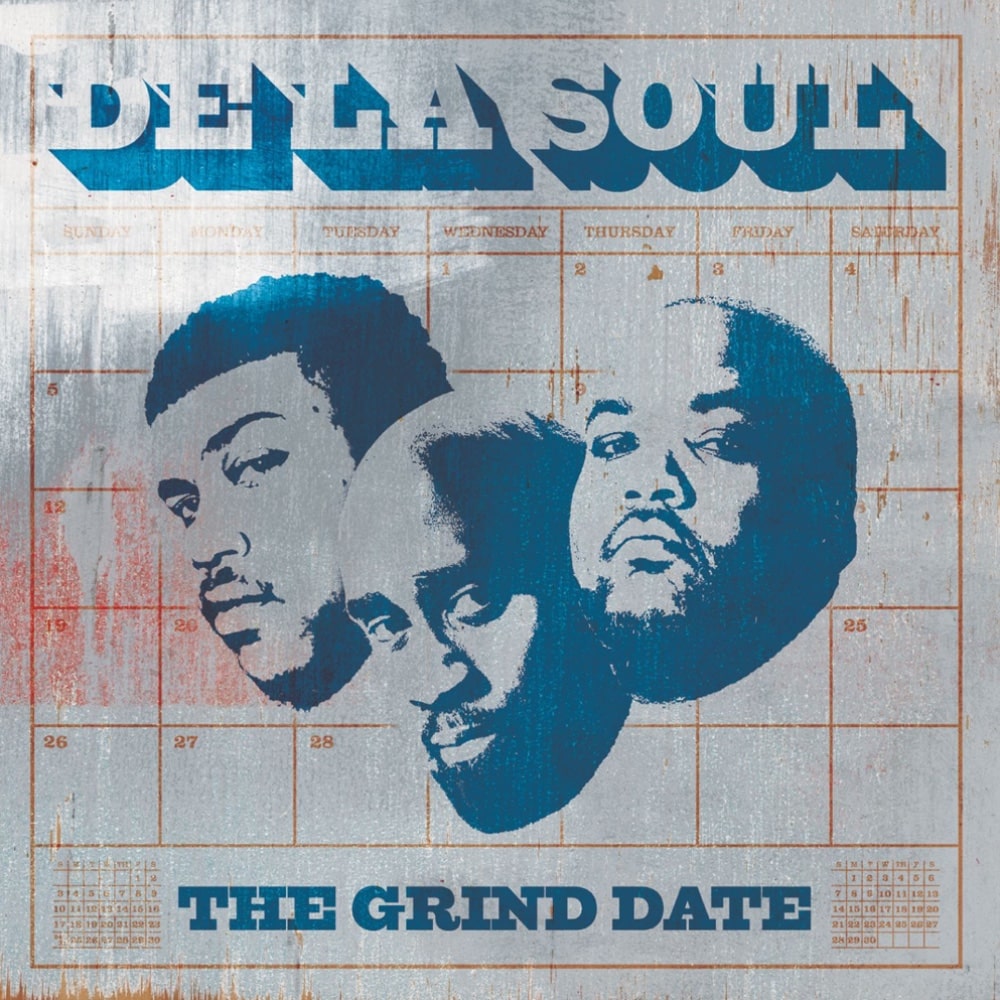 Released: October 5, 2004
Album: The Grind Date
Producer: Jake One
From the top of the key for 3 -- Villain!
Been on in the game as long as he can wheelie a Schwinn
Turn the corner spinning, bust that ass and get up
Dust off the mask, whoever laugh give him a head up
He got jumped, it pumped his adrenaline
He said it made him tougher than a bump of raw medicine
To write all night long, the hourglass is still slow
Flow from Hellborn to free power like LILCo
And still owe bills, pay dues forever
Slay youths when it comes to who's more cleverer
Use to wore a leather goose V with a fur collar
And charged a fee for loose leaf words per dollar
Ya heard? Holler - broad or dude, we need food
Eat your teams for sure, the streets sure seem rude
For fam like the Partridges, pardon him for the mix-up
Battle for your Atari cartridges or put your kicks up
It's a stick up