Tell me you're talking about a trailblazer in the hip-hop game without telling me you're discussing Diddy. Changing the scene with his signature style, Diddy, previously known as Puff Daddy and then P. Diddy, has been serving straight fire since his entrance into the rap world. With a knack for creating mad bangers and a nose for talent, dude is a force to reckon with.
His collabs with some of the biggest names in the game, as seen on "I Need a Girl Pt. 1" featuring Usher and Loon and the timeless classic "Coming Home", have provided some of the most memorable tracks in hip-hop history. Then there's "Can't Nobody Hold Me Down," featuring Mase, which is a testament to Diddy's resilience in the industry.
The Bad Boy Entertainment founder has served us countless hits, each with its own unique flavor, brewing up from classic hip-hop to melding melodies of R&B. His catalogue is nothing less than a testament of his influence on the genre and the culture at large.
So let's get into it. From "Victory" to "I'll Be Missing You", here are the Top 12 Diddy Songs Ranked from Worst to Best.
15. Diddy ft. Neptunes
Featuring The Neptunes is an emblematic tune from the early 2000s. The track was released in 2001 as the third single from Diddy's third studio album​. The Neptunes, consisting of Pharrell Williams and Chad Hugo, not only featured in the song but also took on the production reins, showcasing their unique sound that significantly influenced the hip-hop genre during that era​.
14. Roll With Me
From the infamous album "The Saga Continues", this underrated track shows the early softer side of Diddy and features Faith Evans, along with 8Ball and MJG. It's certainly not number one, but marks that point in time where rap and female vocalist collabs started to break through.
13. Tell Me
An upbeat and catchy track that blends Diddy's hip-hop influence with Christina Aguilera's powerful vocals. The song features a sample from the classic hit "Ain't No Mountain High Enough," adding a nostalgic touch to the modern sound. Diddy's rap verses provide a contrast to Aguilera's soulful chorus, resulting in a dynamic and memorable collaboration. The music video for "Tell Me" also garnered attention, featuring a stylish and visually appealing aesthetic. The song's success on the charts and its infectious melody made it a hit at the time of its release, further solidifying Diddy's reputation as a versatile artist capable of crossing genres and collaborating with top-tier talents like Christina Aguilera.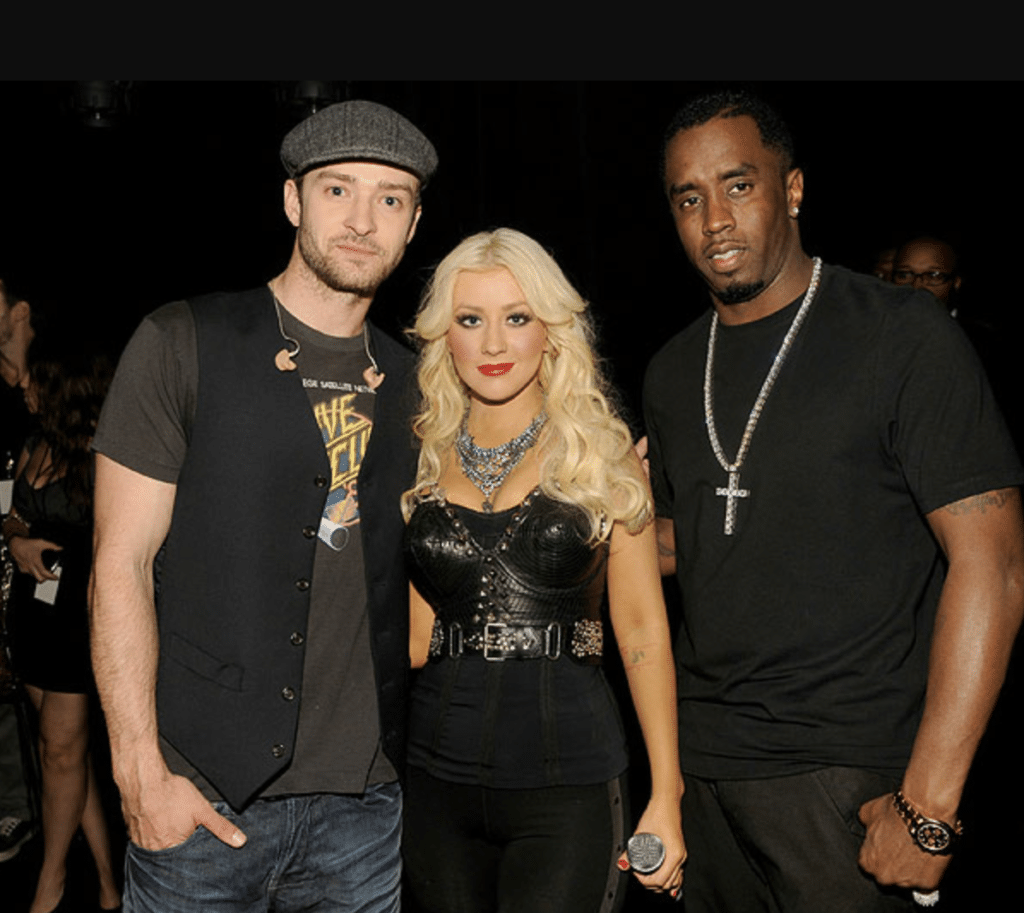 12. Last Night
A collaboration between Diddy and American singer-songwriter Keyshia Cole, which delves into the emotional strains experienced during a call the previous night, captured in the lyrics, "Last night, I couldn't even get an answer, I tried to call, but my pride wouldn't let me dial,".
11. Victory feat. The Notorious B.I.G. & Busta Rhymes
The track's production is grand and cinematic, setting the stage for the larger-than-life performances by the artists involved. Notorious B.I.G. delivers unforgettable verses, showcasing his lyrical prowess and distinctive flow. His vivid storytelling paints a vivid picture of his rise to success, making it one of his most memorable performances. Busta Rhymes' explosive and rapid-fire delivery in the outro adds an extra layer of intensity to "Victory." His guest appearance provides a dynamic contrast to Biggie's laid-back style, making the song's climax even more impactful.
10. Pick Up feat. Jacquees and Fabolous
He recruits Jacquees and Fabolous, and these two deliver, but Diddy seems a bit out of place. The track does not serve up what we expect from the Hip-Hop mogul — his usually charismatic presence is overshadowed by the guest artists. That ain't to say it's a straight-up dud; the production is slick, and it's definitely got that easy bounce. But when it comes to Diddy's best joints, "Pick Up" is relegating itself to the bench. Maybe it's a case of trying too much, or perhaps, the Puff we know and love just needed more room to shine.
9. Stay Long feat. Summer Walker
The song demonstrates his masterful way of blending hip-hop and R&B, with Summer Walker's sultry vocals complementing Diddy's confident rhymes. It may not flaunt the flamboyant flexing that you'll find in some of his other tracks, but it's a testament to Diddy's versatility. He knows how to deliver on a softer tune without losing that Bad Boy edge that we've all come to love. It's not a game changer, but it's a solid joint that holds its own in Diddy's robust catalog.
8. Gotta Move On feat. Bryson Tiller
It's a bumpy ride to Diddy's more vulnerable side, where he peels back the emperor's swag to let us glimpse the man behind the Maybach. Bryson's velvety vocals are a perfect match for Diddy's gravelly tones, painting a picture of heartbreak and the search for liberation. However, as much as it is emotionally searing, it doesn't quite crown Diddy's illustrious career. Compared to his more legendary bars, his verses here feel less vigorous, but the track's polished production design offers some redemption. A solid jam, no doubt, but it doesn't cause the Richter scale of Hip-Hop to go nuts. It's as if Diddy is gesturing towards a future direction without fully committing to the journey.
7. Another One Of Me feat. 21 Savage
The joint is vicious, the beats are relentless, and the verses straight fire. Diddy delivers his raw narrative with prowess, while 21 Savage spits bars that are both introspective and cutting. But let's keep it a buck, it doesn't pack the same impact as some of Diddy's signature old-school hits. Its powerful message notwithstanding, "Another One of Me" could use a pinch more of that Bad Boy flavor that made us fall in love with Diddy in the first place.
6. I'll Be Missing You feat. Faith Evans & 112
With the 2014 remaster, Diddy took it back to '97, making us all feel the ghost of Biggie Smalls, and let me tell you, that pain is palpable. Faith Evans and 112 on the track? Straight fire! They lace some real sadness into this joint, but it's not all about mourning. This track helped bring the hip-hop community together during a tumultuous time. Everybody knew Diddy could flex, but this showed us his emotional range and resilience too. Now, ain't no one saying it's Diddy's best bars; dude isn't Nas or Rakim. But sometimes, it ain't about the bars. It's about the vibe, the message, and damn, this track delivers. So, we're placing it second on our list because it's something truly special."
5. I Need a Girl (Pt. 2) feat. Loon, Ginuwine, Mario Winans
With a roster like Loon, Ginuwine, and Mario Winans spreading the love, it ain't hard to feel that classic Diddy groove. Track's got an R&B twist that blends in sweet, without losing sight of the Bad Boy boss's hip-hop roots. Diddy's lyrical trials about longing for package deal of a girl got heads bobbing, hearts understanding, and charts climbing back in '02. Could argue it's a typical love track, but with Diddy's signature swag, it hits different. And gotta give props to Winans for that smooth chorus – no fronting, it's one catchy hook. This track proves Diddy don't need no hype, the man's a hit machine. Pull up to this vibe anytime – it never gets old, word.
4. I Need a Girl (Pt. 1) feat. Usher & Loon
This cut epitomizes the heart-on-sleeve sentimentality of early 2000s hip-hop. Diddy's smoothed-out flow sits well over the track's glossy production, but it's Usher and Loon who steal the show with their charismatic contributions. However, compared to Diddy's more ambitious, narrative-driven work, it veers on the side of the stereotypical and lacks complexity. Great for a nostalgic nod to the past, but if we keepin' it 100, it ain't topping the list. It hits the spot but doesn't push boundaries, showing Diddy's capable of more.
3. Coming Home
This track, y'all, is peak Diddy, real talk. It's the Bad Boy mogul at his lofty, introspective best, reflecting on his victories, losses, and everything in between over a powerful JAY-Z crafted beat. Featuring Skylar Grey's haunting vocals, this joint hits different, speaking on Diddy's journey from the gritty streets of Harlem, to the glitz and glam of hip-hop stardom. Yeah, it might lean towards the pop side, but the raw emotion in Diddy's bars? That's hip-hop through and through. This ain't just a song, it's a life story, a testament to resilience, and a reminder of hip-hop's transformative power. "Coming Home" ain't just a hit, it's a Diddy anthem for real.
2. Bad Boy for Life
Released in 2001, this joint is a true anthem of the Bad Boy Records era. It's the kind of old-school swagger we all know and love from Diddy. Sonically, this track's infectious, bass-heavy beat and catchy hook, courtesy of none other than Black Rob and Mark Curry, makes it a certified banger. Undeniably, there's a sense of camaraderie and grit to this tune that immortalizes Diddy's status as a hip-hop mogul. It may not be his most poignant work, but it epitomizes an era when Diddy was defining what it meant to be a "bad boy for life".
1. Can't Nobody Hold Me Down (feat. Mase)
This joint right here? It's a joint that's still echoing through the concrete halls of hip-hop history. Bursting onto the airwaves in the late '90s, this was the lyrical altercation that introduced us to Puff and Mase as a dynamic duo, spitting bars over a sample of Grandmaster Flash's "The Message." The audacity? Commendable. Puff was breaking out of his Biggie shadow, stepping onto the mic with a flair for smooth-talking resilience. The playfulness of Mase's flow, bouncing off of Puff's braggadocio, drenched this track in a syrupy charisma that was, and still is, hard to deny. This is Diddy's declaration that he ain't going nowhere, a statement he's made good on.