For our Best Rappers Alive series, we take a look at the top five best rappers, year by year – ranking them on projects dropped, guest verses and overall impact.
If anyone has any doubts that 2013 was one of the best years for hip-hop in a long time, they just need to take a look at some of the hottest and most successful rappers of the year.
From the 10-year veterans to the up-and-comers; from Chicago to Louisiana to New York to Compton; the top best rappers of 2013 were a diverse bunch – a mix of street lifers, dope boys, Hollywood superstars, fashion icons, blue collar workers and more.
Here are the top five best rappers alive of 2013.
Honourable mentions:
Chance The Rapper
If 2011 was the breakthrough year for Kendrick Lamar who burst through mainstream conversation with his critically acclaimed Section.80 , 2013 will always be remembered as the year for Chance The Rapper broke down the walls with Acid Rap .
While the past couple years have been all about the Chicago drill movement, with the spotlight on artists like Chief Keef, Lil Reese, King Louise, Fredo Santana and Young Chop; an different movement has been bubbling up with rappers like Chance The Rapper and Vic Mensa at the forefront.
For hip-hop fans who have been looking for something outside your usual ratchet-turnup-molly (word to the Turnup Twinz ), Chance's Acid Rap mixtape provided a refreshing alternative with the 20-year old rapper spinning charming tales over soulful beats.
With the mixtape's success, Chance's ascension in the hip-hop world was rapid; within a few months he was spitting a verse on Weezy's Dedication 5 , collaborating with Justin Bieber and travelling the world on his Social Experiment Tour.
How's this for a sign: Acid Rap was so hot, bootleggers uploaded that shit on iTunes and the mixtape debuted at number 63 on the Billboard Top R&B/Hip-Hop Albums due to downloads. No doubt about it, Chance The Rapper was one of the best rappers of 2013, can't wait to see what he gets up to in 2014.
Mac Miller
You might not like Mac Miller but there's no way you can't respect his hustle and hard work. After Blue Side Park , his debut studio album released in 2011, was poorly received, Mac got back in the studio and kept grinding away.
He released 5 projects in 2013 alone, not to mention all the guest verses he dropped, particularly on Ariana Grande's hit single "The Way" which debuted at number ten on the Billboard Hot 100.
Mac Miller's second studio album, Watching Movies with the Sound Off , was not only a major step up in quality from Blue Side Park , it was arguably one of the best hip-hop projects dropped in 2013.
The album was a testament to Mac Miller's improved rapping, producing skills (he produced a number of dope joints under the alias "Larry Fisherman") and ability to pull in guest appearances from a range of artists, including Earl Sweatshirt, Schoolboy Q, Ab-Soul and most amazingly, Jay Electronica.
If there was an award for most improved hip-hop artist of 2013, Mac Miller wins, no doubt about it. Until then, he'll just have to settle for being one of the best rappers of 2013.
Kevin Gates
Ever since Kanye West changed the hip-hop landscape in 2008 with his genre-bending 808s and Heartbreak , the definition for a rapper has steadily morphed throughout the years – we have artists like Drake and Future who are very successfully blurring the lines between rapping and singing.
You can now add Kevin Gates to that list. The Baton Rouge rapper dropped two incredibly dope projects this year – The Luca Brasi Story and Stranger Than Fiction – both of which feature Kevin Gates rapping his ass off as well as singing the hooks.
Gates might be one of the most well rounded rappers at the moment, blending gritty street narratives and complex love stories with a keen sense of melody and technical precision, all wrapped up in a chilling voice.
Whether he's rapping on the haunting "4:30AM" or stealing the show from Pusha T with his hook on "Trust You," Gates proves he's capable to rhyme and sing over just about any sort of beat.
A$AP Rocky
2013 was a bit of weird year for A$AP Rocky. While the first half of the year was all about him after the release of LONG.LIVE.A$AP , he took a bit of a step back in the second half to let his A$AP Mob brothers (namely A$AP Ferg) get their shine.
But don't get it twisted; with a worthy follow up to his acclaimed 2011 mixtape, Live.Love.A$AP , A$AP Rocky proved he belonged at the top. LONG.LIVE.A$AP was another cohesive and tasteful project, showcasing Rocky's charismatic rhymes and incredible ability to flow over any sort of instrumental – whether it was Clams Casino's woozy bass, Hit-Boy's boom-bap or Skrillex's frenetic electro.
Not to mention, he consistently stole the scene on his feature appearances throughout the year, in particular on the "Work (Remix)" and "TKO (Remix)."
In fact, if you want to know why A$AP Rocky was one of the best rappers of 2013, just have another listen to "TKO (Remix)." J. Cole had bars, Pusha T had bars but A$AP Rocky killed that shit because he had absolutely the best flow.
2013 was all about quality over quantity for A$AP Rocky. Never the one to saturate the airwaves with his music, Pretty Flacko dropped his debut album along with some strategically placed feature verses and reminded hip-hop fans why A$AP Mob is one of the most powerful and notable movements at the moment.
J. Cole
Even though 2013 was all about Kendrick Lamar and Macklemore's victory lap around the music industry as well as Chance The Rapper's rise, on the low, J. Cole was having a pretty fucking good year.
Cole released his second studio album, Born Sinner , on the same day as Yeezus, debuting at number two on the Billboard 200 with 297,000 units sold – one of the biggest first week openers for the year – and hitting the gold mark in about 3 months.
The album singles – "Power Trip" and "Crooked Smile" – both did very well on the charts with "Power Trip" snagging a Grammy nomination for Best Rap/Sung Collaboration.
But commercial success aside, J. Cole was hard at work in the studio, dropping two mixtapes as a warm up for Born Sinner , popping up on a few random guest spots and just rhyming his ass off.
And let's not forget, Cole probably had one of the best responses to Kendrick's war-declaring "Control" verse when he totally dismissed him on the "TKO (Remix)" – " Girl, what is that? A ringtone? "
The Top 5 Best Rappers of 2013
5. Kanye West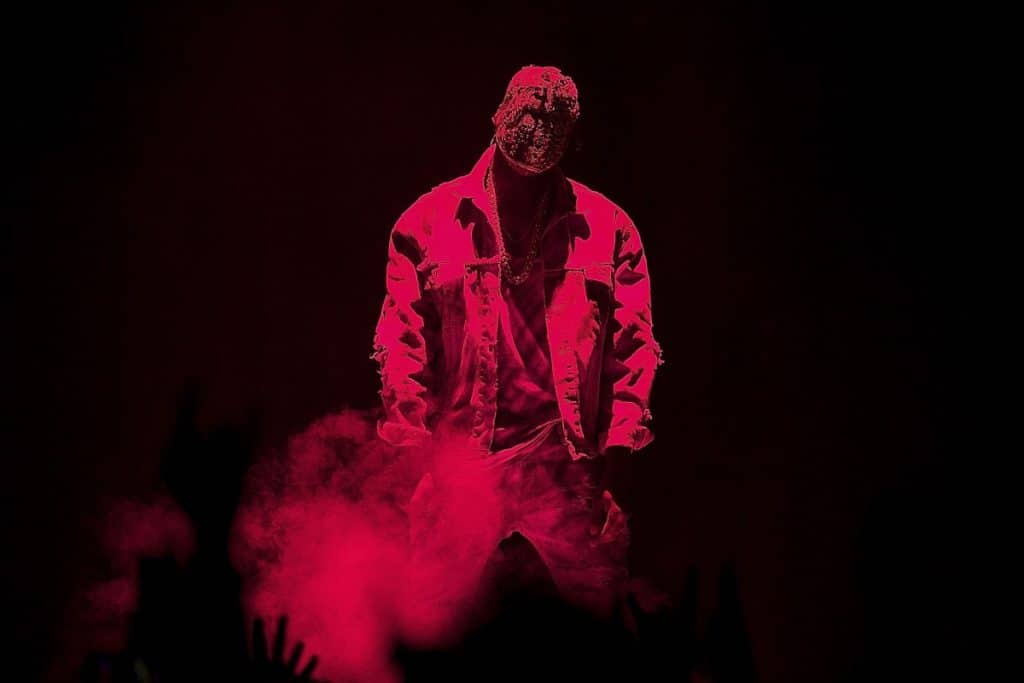 Notable releases: Yeezus
Key guest appearances: N/A
Any year Kanye West drops an album, he's going to be in discussion for best rapper of the year. Truth be told however, the best thing about Yeezus wasn't Kanye's lyrics but the incredible music backing them.
While Kanye's sixth studio album may have been one of the most exciting hip-hop projects to drop in 2013; rapping-wise, it didn't quite match up to the sweeping brilliance of My Beautiful Dark Twisted Fantasy , the confidence of Graduation or even the technical ability displayed on Watch The Throne .
However, Yeezus might be Kanye's most compelling and thought-provoking album to date – every line on the project has been dissected and discussed to death the moment it came out.
And when Kanye was in his zone, there was no stopping him. Nothing in 2013's hip-hop hit harder than the verses from "Black Skinhead" or "New Slaves," especially the latter which featured Kanye at his most abrasive and revolutionary.
Yeezus only had 10 tracks with a total running time of 40 minutes. Kanye also didn't have any notable guest verses like he's had nearly every year since The College Dropout came out. But you can be damn sure we're going to be looking back at 2013 as one of the most impactful and pivotal years in Kanye's career.
4. Eminem
Notable releases: The Marshall Mathers LP 2
Key guest appearances: Tony Touch's "Symphony In H."
Any year Eminem drops an album, he's automatically going to be one of the best rappers of that year. At his worst, Eminem is still one of the most technically gifted lyricists hip-hop has ever seen. At his best, well, we already know all about that – Em's already cemented his position as one of the greatest rappers of all time.
Just as a testament to Em's commercial prowess – Drake, who'd been working his ass off for the past couple years, temporarily had the biggest hip-hop album opener of the year. That was until Em came along and effortlessly moved 792,000 units in his first week . Then it was a wrap.
Em will always be a phenomenon in hip-hop; disappearing for months on end and then coming out nowhere to take over the rap game. The Marshall Mathers LP 2 was one of the best hip-hop albums of 2013 and definitely Em's best since 2002's The Eminem Show – the tracks revealed a rejuvenated Em who was back to balancing serious topics with his original carefree humour.
And if "Rap God" proved anything, it was that Eminem is rhyming on a different level to any other rapper. A 6-minute single filled with endless and wildly entertaining rhymes. Who the fuck else could pull that off?
3. Kendrick Lamar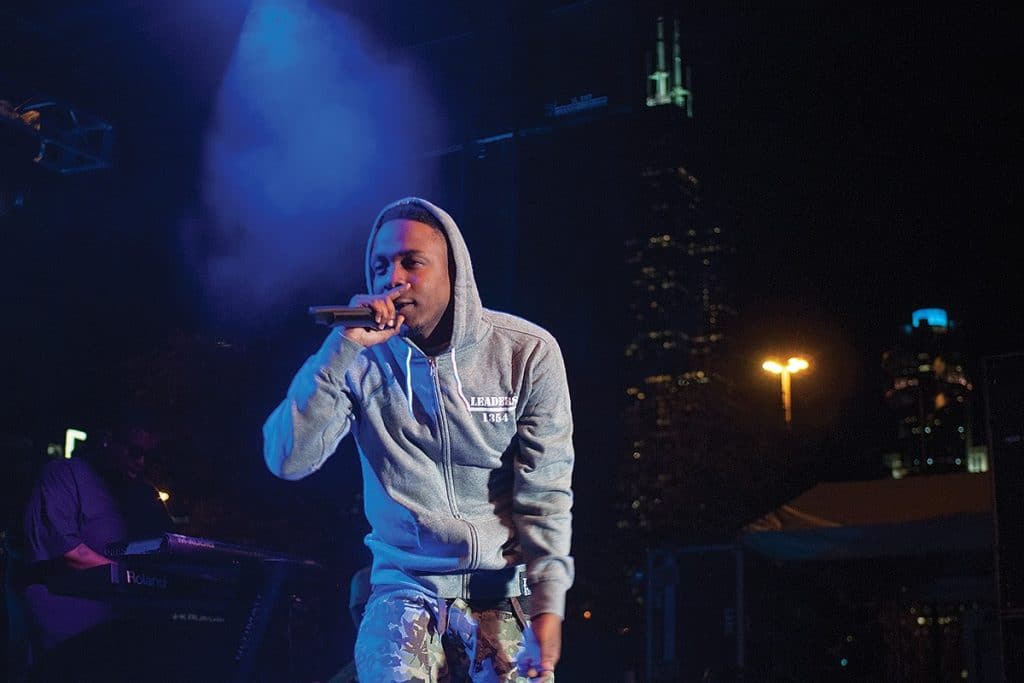 Notable releases: "Bitch, Don't Kill My Vibe (Remix)."
Key guest appearances: Big Sean's "Control," 50 Cent's "We Up," Schoolboy Q's "Collard Greens," Tech N9ne's "Fragile," J. Cole's "Forbidden Fruit," Fredo Santana's "Jealous," Pusha T's "Nosetalgia," A$AP Rocky's "1 Train," Kid Cudi's "Solo Dolo Part II," Eminem's "Love Game," Jhené Aiko's "Stay Ready (What a Life)."
Even without an album or a mixtape this year, Kendrick Lamar still managed to have firm grip on the hip-hop conversation.
There are only two other rappers that I can think of who's accomplished the same feat – Andre 3000 in '07, when he was bodying Rich Boy and Lloyd tracks, and Drake in 2012 where every hit single was literally Drake featuring Drake.
Off the back of the amazing success of his 2012 major label debut, good kid, m.A.A.d city , Kendrick dominated most of the year with the album singles ("Backseat Freestyle," "Poetic Justice," "Bitch, Don't Kill My Vibe"), tireless touring around, high profile feature appearances, BET Cyphers, Grammy nominations and so called beef with you now who.
Dude was so hot even Hov had to jump on the "Bitch, Don't Kill My Vibe (Remix)." Who had the best verse? I'll let you be the judge of that.
Kendrick had a lock on 2013, and that's not even taking into account his epic "Control verse." Whoops, I wasn't meant to talk about it right?
I can't think of the last time when an artist dropped a verse that stirred up this much controversy. In one fell swoop, K.Dot declared war on his peers, claimed king of both coasts and made every single rapper step up their game lyrically. You know what's even more crazy? Kendrick's verse on "Control" wasn't even his best one of the year.
Kendrick's in that special zone right now – like Em was in '00, 50 was in '03 and Wayne was in '06 – he's simply untouchable. Let's see what K.Dot and the rest of the TDE crew have in store for hip-hop in 2014.
2. Drake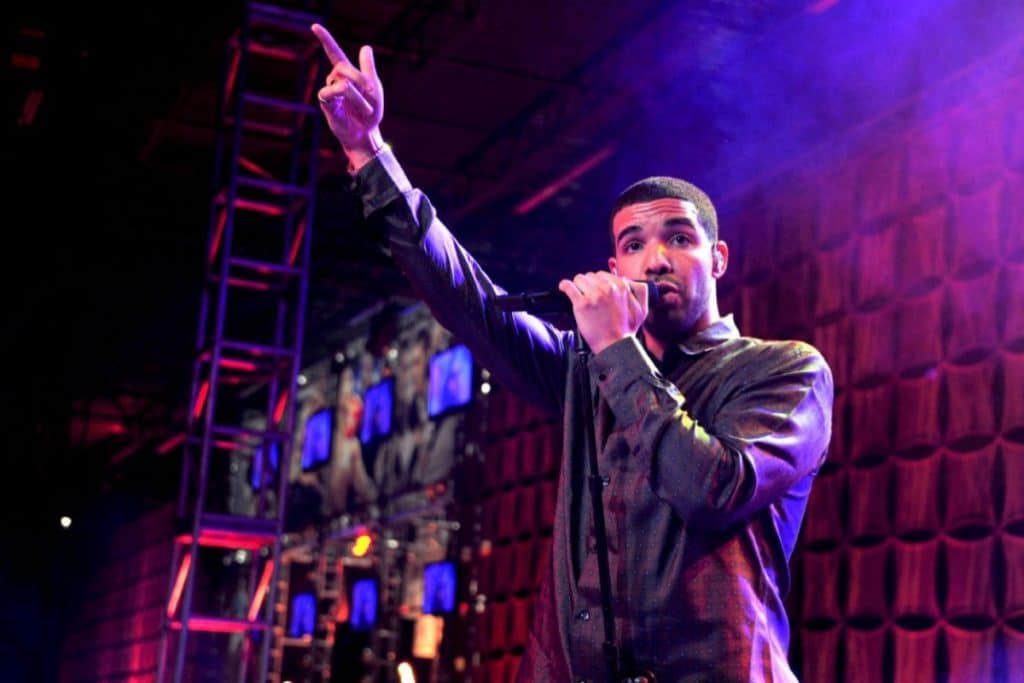 Notable releases: Nothing Was the Same, Non-album tracks: "Girls Love Beyonce," "Jodeci Freestyle," "Trophies," "We Made It," "5AM in Toronto."
Key guest appearances: Lil Wayne's "Love Me," DJ Khaled's "No New Friends," The Weeknd's "Live For," PartyNextDoor's "Over Here," Timbaland's "Know Bout Me," Justin Timberlake's "Cabaret," Beyonce's "Mine," Migos' "Versace (Remix)," 2 Chainz's "I Do It," Future's "Shit (Remix)."
Right now in hip-hop, there is not a single artist who can match Drake's Midas touch. Not Kendrick Lamar, not Eminem, not Jay-Z, not even Kanye fucking West can turn anything he touches into gold like Drizzy can at the moment. Whether it's Migos' "Versace (Remix)" or DJ Khaled's "No New Friends," – if Drake was on it, the song was hot.
And that's just the shit he gave away.
Drake may not be as lyrically dexterous as his peers like Kendrick or Cole, but he has an amazingly articulate way with words; dropping straightforward and precise bars that cut right through the bullshit. If Kendrick's the type of rapper to dazzle you with his mind boggling mic skills, Drake's the type of rapper that makes you stop in your tracks like – "oh shit, that's so true!"
As a hip-hop fan, you can't help but admit that "5 AM in Toronto" had some of the best rapping of the year. And that "Hold On, We're Going Home" had a lock on the radio. And that "Started from the Bottom" was the 2013 anthem. And that Nothing Was the Same was one of the best albums of the year.
With a rare ability to combine massive commercial success with critical acclaim and industry respect, Drake is sitting on top of the throne at the moment. Kanye declared it himself on the Breakfast Club interview – "It's Drake Season."
1. Pusha T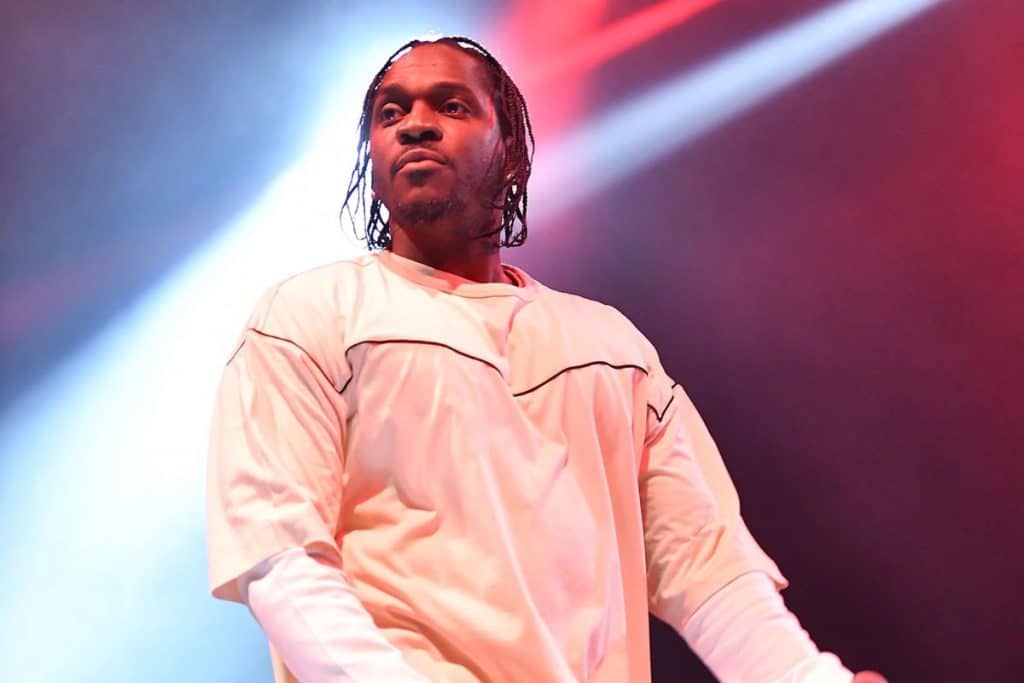 Notable releases: My Name Is My Name , Wrath of Caine .
Key guest appearances: N.O.R.E.'s "Tadow," Gunplay's "Bet That," The-Dream's "Pussy," Ludacris' "Mad Fo," No Malice's "Shame The Devil," Troy Ave's "Everything," Young Jeezy's "Pure," MMG's "Know You Better."
There might be other rappers out there who are more technically skilled or sold more records or had more hit singles or stirred up more conversation. But when it comes to just straight dope bars – you can't tell me nothing. PUSHA T WAS THE BEST RAPPER OF 2013.
Forget about it. Don't even try and convince me otherwise.
The past few years have been leading up to this very moment. From the GOOD Friday appearances to the Fear of God joints to his high profile verses on Cruel Summer 's "Mercy," "New God Flow" and "I Don't Like (Remix)" to the 2012 feature appearances bodying tour, Pusha's been working towards this very moment.
Starting 2013 off right with the Wrath of Caine mixtape, Pusha gave away album-worthy cuts like "Millions," "Blocka," "Doesn't Matter" and "Trust You" as a warm up for his long awaited debut solo album, My Name Is My Name .
Then My Name Is My Name dropped and moved a very respectable 74,000 copies in its first week – pretty amazing considering the album's lack of mainstream appeal. With the help of Kanye West and co., Pusha T delivered the most brutal, stark and focused hip-hop album of the year; showcasing the endless quotables delivered in the rapper's trademark dismissive sneer.
Who else can go from referencing the classic novel, Doctor Zhivago , to the Rocky IV villain, Ivan Drago, in one bar? Who else can hold his own against Kendrick Lamar during a year when the Compton rapper was slaughtering all his appearances? Actually, I'll do you one better – Pusha T had the better verse on "Nosetalgia."
From 2002's "Grindin'" to 2013's "Numbers On the Boards," Pusha T has always been about the art and craftsmanship of rapping; delivering painstakingly written bars with his icy snarl and sharp wit. Pusha T was the best rapper of 2013, period.