For our Best Rappers Alive series, we take a look at the top five best rappers, year by year – ranking them on projects dropped, guest verses and overall impact.
2012 was one of the landmark years in hip-hop. Not only did it announce the arrival of one of rap's new kings, in the form of Kendrick Lamar, 2012 was a year where we saw a range of artists achieve incredible success through different techniques.
From building their fan base independently to signing with major labels off the strength of their momentum – it was the year where we finally saw the critical, the respected and the commercially successful merge closer together.
If there's any doubts, hip-hop heads just need to take a look at the best rappers of 2012. From the chef-turned-MC from Queens, Action Bronson, to the MMG empire of Rick Ross, to the incredibly hot run 2 Chainz is currently on to Nas' Life Is Good to Kendrick Lamar's coronation, 2012 was an awesome year for hip-hop.
Here are the top five best rappers alive of 2012.
Honourable mentions:
Action Bronson
Action Bronson had already started making his rounds the year before with his two independent projects – Dr. Lecter and Well-Done (with Statik Selektah) – but it was really in 2012 when Action emerged as one of New York's leading up-and-coming rappers.
Kicking the year off with the Party Supplies-helmed Blue Chips, Action delighted hip-hop fans with his twisted non-sequiturs, bone marrow references and self-deprecating humour over dusty breakbeats and wacky samples.
With the project's innate boom-bap sound and features from New York staples like Roc Marciano, Blue Chips managed to sound rooted in East Coast traditionalism while pushing against the boundaries thanks to Action's absurd lyricism and Party Supplies' inventive production.
Next up was the collaborative mixtape with The Alchemist, Rare Chandeliers, where Action, more or less, followed on with the formula which had been working so well for him; this time over Alchemist's bizarre production and with Schoolboy Q, Evidence, Styles P and Sean Price tagging along for the ride.
It's only been a couple years since Action broke into the rap game but he's rhyming right now like a '90s veteran getting a boost late in his career with collaboration projects with some of the best producers today.
Rick Ross
Rick Ross has been slowly cementing his position at the top of the rap game since the Port of Miami days. After "Hustlin'" blew up and Ross managed to deflect 50 Cent's potentially crippling attacks on his character while releasing quality albums at the same time, it was only a matter of time really.
2012 was the year where everything fell into place for the MMG boss. After setting things up perfectly the previous year with the first Maybach Music Group compilation album, Self Made Vol. 1, and a handful of street bangers like "Tupac Back," "I'm on One" and "Ima Boss," Ross was ready to dominate the year and be one of the best rappers of 2012.
Things started out epic with Rich Forever, an opulent, blockbuster mixtape that featured guest appearances from hip-hop A-listers like Nas, Diddy, Drake, Pharrell in addition to Ross' usual cohorts – Meek Mill, Wale, Birdman, French Montana.
Critics and fans were amazed that Ross could give away bangers and album-worthy cuts like "Stay Schemin'" and "Triple Beam Dreams" while his fifth studio album, God Forgives, I Don't, was still waiting to drop.
God Forgives, I Don't added another number one notch to Ross' belt while proving his industry power – the MMG boss managed to pull in features from luminaries such as Jay-Z, Dr. Dre and Andre 3000.
Ross would continue his endless streak of crafting addictive hooks and unforgettable one-liners over mega-beats throughout the year. Whether it was supporting other MMG albums or appearing on hit singles alongside Usher, Ross was omnipotent in 2012 and definitely one of the best rappers alive that year.
Meek Mill
Like Rick Ross, Meek Mill used the previous year to set up Maybach Music Group's industry domination in 2012.
After dropping the monster mixtape Dreamchasers and making his star-making appearances on the first MMG compilation album, Self Made Vol. 1, including the massive singles "Tupac Back" and "Ima Boss," the Philadelphia shooter was in a position to smash open 2012.
Things started off nicely for Meek Mill, he dropped the sequel to his Dreamchasers mixtape which ended becoming one of the most downloaded mixtapes on DatPiff. Dreamchasers 2 also included two tracks that would later go on to become singles for Meek's debut album – the Drake-featured "Amen" and Big Sean-featured "Burn."
The second MMG compilation album, Self Made Vol. 2, dropped in mid-2012 would feature more of Meek's high powered delivery and relentless flow, hyping up Dreams and Nightmares to a feverish pitch.
When dropped towards the end of 2012, Dreams and Nightmares, sold 165,000 albums in its first week and spawned 4 singles that managed to hit the charts – "Amen," "Burn," "Young & Gettin' It" and "Believe It."
With the Maybach Music/Warner Bros. marketing machine behind, Ross' industry sway and his unstoppable work ethic, Meek Mill is in a position to make waves in the rap game. Combine this with his incredible rhyme skills and solid fan base and you've got one of the best rappers of 2012.
Pusha T
When it was announced Pusha T had signed to Kanye West's GOOD Music, it was a dream come true for hip-hop fans. On one hand, you've got one of the purest lyricist in the game, legendary for his intellectual drug metaphors and trafficking tales. And on the other hand, you've got one of the best hip-hop producers of all time and arguably the most talented musician in the game.
Needless to say, expectations were through the roof.
Admittedly though, things started off pretty slow. 2011 was a bit of let down. Sure, Pusha released his solo debut EP, Fear of God II: Let Us Pray, which included a couple of great tracks, including the amazing "My God" and Odd Future-collaboration "Trouble On My Mind" which no doubt gained him a few young fans. But for the most part, fans didn't get what we were expecting.
It was finally in 2012 where we got to see what a Pusha T/Kanye West partnership would look like. Pusha's high profile appearances on the GOOD Music compilation, Cruel Summer, which featured him bodying verse after verse on cuts like "Mercy," "New God Flow," "The Morning," "Higher" and "Don't Like" confirmed one thing: Pusha T was the best rapper in the GOOD Music crew and absolutely one of the best rappers of 2012.
Then the feature appearances. While sticking to his infamous coke-related bars, Pusha expanded his fan base by collaborating with a range of artists – from longtime collaborator Fabolous to Chi-Town's King Louie to up-and-comers like Troy Ave and Alley Boy.
Killer Mike
Who would have thought, OutKast-affiliate and Dungeon Family member, Killer Mike, would find his biggest success through a collaboration album with underground, Brooklyn hip-hop producer El-P?
While Killer Mike had been making his rounds since OutKast's 2000 masterpiece, Stankonia (he appeared on "Snappin' & Trappin'", it was on his sixth studio album, R.A.P. Music, where he discovered his greatest musical partner in El-P, who's crunching, industrial soundscapes would provide the best platform for Killer Mike to vent his socio-political frustrations over.
R.A.P. Music featured Killer Mike going head to head with Atlanta superstars like T.I. and Bun B without skipping a beat, dropping incendiary rhymes about Ronald Reagan and rapping that revolutionary shit over El-P's destructive beats – harking back the days of N.W.A. and Public Enemy.
Outside of R.A.P. Music and a couple of guest appearances on Big Boi and El-P records, Killer Mike stayed pretty insular for the rest of 2012. But it was all about quality over quantity – R.A.P. Music received universal acclaimed from critics and hip-hop fans from around the world and proved Killer Mike was definitely one of the best rappers of 2012.
The Top 5 Best Rappers of 2012
5. 2 Chainz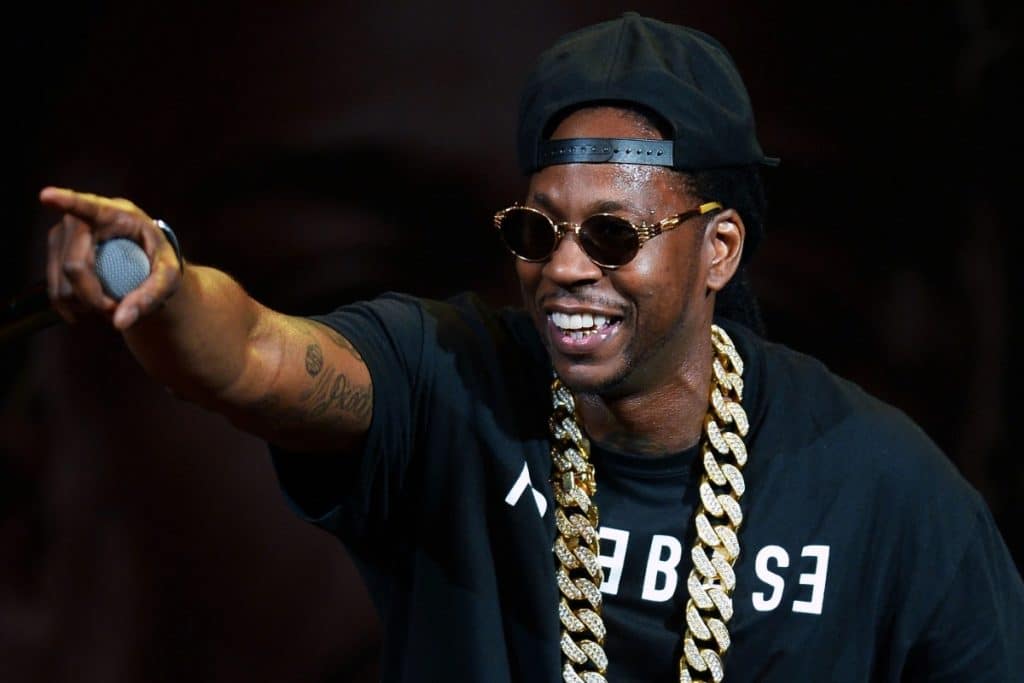 Notable releases: Based on a T.R.U. Story
Key guest appearances: GOOD Music's "Mercy," Nicki Minaj's "Beez in the Trap," DJ Drama's "My Moment," Juicy J's "Bandz a Make Her Dance," Tyga's "Do My Dance," ASAP Rocky's "Fuckin' Problems," T.I.'s "Loud Mouth," Rick Ross' "Fuck Em," Gucci Mane's "Okay with Me," Jadakiss' "Count It," Meek Mill's "Str8 Like That," Currensy's "Capitol," Plies' "See Nann," DJ Khaled's "I Don't See 'Em," Waka Flocka Flame's "Rooster in My Rari (Remix)," Wiz Khalifa's "It's Nothin'," Game's "Ali Bomaye," Wale's "Get Me Doe."
2 Chainz is the epitome of what hard work will achieve for you. After the Playaz Circle debut album, Supply & Demand, failed to make any substantial impact, despite having the Lil Wayne-featured hit single "Duffle Bag Boy," Tity Boi as he was known back in the day, went back into the studio to regroup, rebrand and record.
After releasing mixtape after mixtape, Tity Boi emerged as 2 Chainz in early 2011 and dropped his breakthrough project, T.R.U. REALigion. The mixtape was downloaded more than 500,000 times on DatPiff and featured guest appearances from rappers like Meek Mill, T.I., Birdman, Young Jeezy, Jadakiss and Raekwon.
2 Chainz parlayed that momentum into a deal with Def Jam and went on a features run so crazy it hadn't been seen since the days of Lil Wayne was bodying guest appearances during that '06 – '07 period. With his endless supply of hilarious punchlines, he jumped from feature to feature with ease.
Name a hot song in 2012, chances are 2 Chainz was on it. "Bandz a Make Her Dance"? Yeap. "Beez in the Trap"? Yeap. "Fuckin' Problems"? Yeap. Oh, and how about the hottest song of the entire year, "Mercy"? Yeah, 2 Chainz killed that shit and was the most hyped part of the fucking song.
And that's not even including his debut solo album, Based on a T.R.U. Story. With features from Lil Wayne, Drake, Kanye West, Nicki Minaj, Scarface as well as production from Southside, Mike Will Made It, Sonny Digital, The-Dream, the album moved a respectable 147,000 units in its first week, making it one of the biggest first week album sales of 2012.
From being a virtually unknown rapper to one of the industry's hottest commodities with a Grammy-nominated album, 2 Chainz combined his relentless work ethic and a little bit of luck to become one of the best rappers of 2012.
4. Kanye West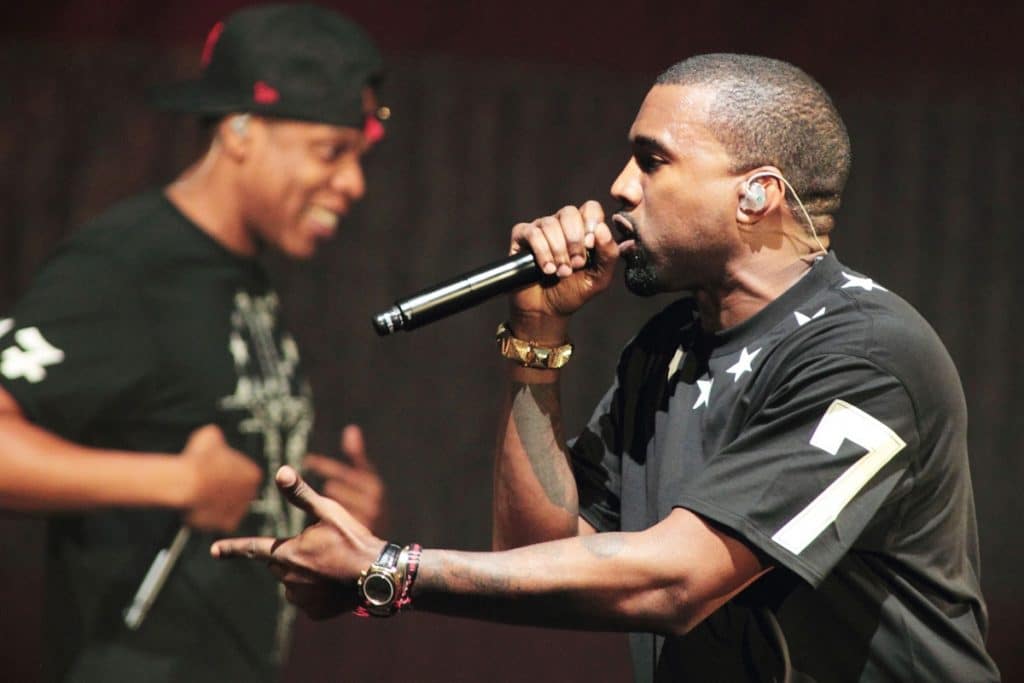 Notable releases: Cruel Summer (with GOOD Music), Watch the Throne singles – "No Church in the Wild."
Key guest appearances: 2 Chainz's "Birthday Song," Rihanna's "Diamonds (Remix)," DJ Khaled's "I Wish You Would," Fat Joe's "Pride N Joy."
Ever since his 2010 comeback album, My Beautiful Dark Twisted Fantasy, Kanye has become increasingly aggressive with his rhymes. The happy, humble Kanye from The College Dropoutdays was long gone. What was left in his place was an irritated and frustrated artist, venting his anger at any opportunity given.
And boy did he spazz. On Rihanna's "Diamonds (Remix) with an epic verse. On 2 Chainz's "Birthday Song" with a scene-stealing appearance. On DJ Khaled's "I Wish You Would" with a taunts and sneers.
Then on Cruel Summer, Kanye played quarterback for some of the biggest songs of the year – "Clique," "Mercy" – spazzed out on "Cold" and battled for the best verse against Pusha T on "New God Flow" and "Don't Like."
But even with all his achievements in 2012, Kanye didn't seem to get the accolades he deserved. MTV's Hottest MC in the Game for 2012 actually put Big Sean and Rick Ross in front of him, which is ridiculous. Maybe it was because people were expecting Kanye to deliver another My Beautiful Dark Twisted Fantasy or Watch the Throne, but they're acting like Cruel Summer isn't one of the best crew albums of all time.
Kanye West will always be held to a higher standard than other rappers. He's accomplished more in the past 10 years than most artists have accomplished in their entire career. Needless to say, Kanye was definitely one of the best rappers of 2012, you can't tell me nothing.
3. Drake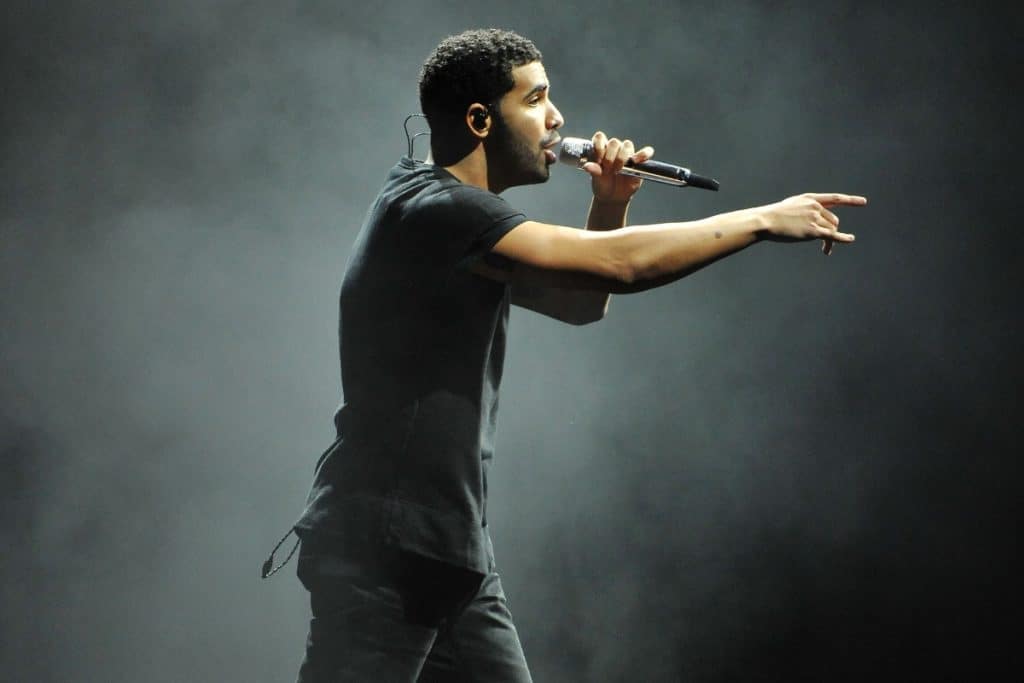 Notable releases: Take Care singles – "Take Care," "HYFR (Hell Ya Fucking Right)," "Crew Love," "Lord Knows."
Key guest appearances: Rick Ross' "Stay Schemin'," 2 Chainz's "No Lie," French Montana's "Pop That," Meek Mill's "Amen," A$AP Rocky's "Fuckin' Problems," Kendrick Lamar's "Poetic Justice."
While 2011 was Drake's landmark year with the release of his sophomore album, Take Care, it was in 2012 that proved just how talented and successful a hit-maker he really was.
2012 was also the first year Drake fired back. While famous for replying to shots from other rappers, Drake was sick of disses from everyone and their mother and took the opportunity on Rick Ross' menacing "Stay Schemin'" to deliver arguably his best verse of all time.
Within that 16-bar verse, Drake fired quotable after quotable at his haters, particularly Common, with many of his venomous lines now engrained in pop culture.
Fresh off the release of Take Care at the end of 2011, Drake juggled the album's massive hit singles – "Take Care" and "HYFR (Hell Ya Fucking Right)" with scene-stealing guest appearances on records with 2 Chainz, French Montana, Kendrick Lamar, Meek Mill and more.
With a midas touch unmatched by anyone else in the rap game, Drake showed veterans and up-and-comers how it was done. While 2 Chainz was known for getting on the hottest songs of 2012, Drake automatically made any song he appeared on hot. Can you imagine "No Lie," "Pop That" or "Amen" without Drake's verse or hook? Those cuts wouldn't be the same.
With the release of Take Care, Drake cemented himself as a powerful commercial force in hip hop and by showing just how easily he could make and give away hits to his peers, Drake proved himself the rap game kingmaker and as one of the best rappers of 2012.
2. Nas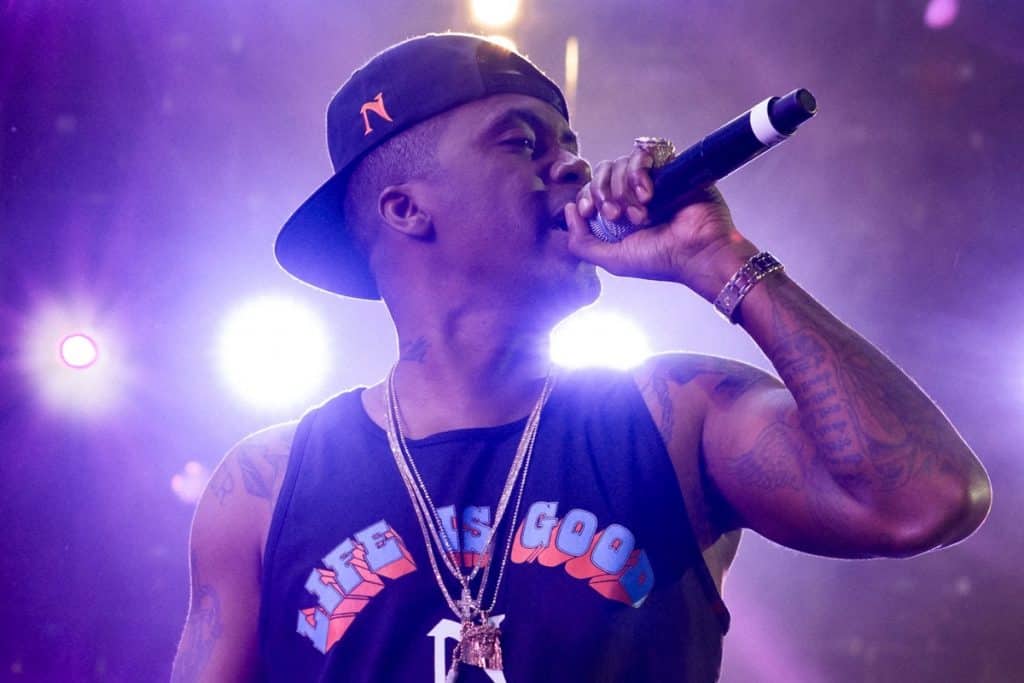 Notable releases: Life Is Good.
Key guest appearances: DJ Khaled's "Hip Hop," DJ Premier & Bumpy Knuckles' "Turn Up The Mic," Maybach Music Group's "This Thing Of Ours," Meek Mill's "Maybach Curtains," Nicki Minaj's "Champion," Rick Ross' "Triple Beam Dreams," Tyga's "King And Queens."
Nearly 20 years removed from his 1994 debut, Illmatic, who would have expected Nas to drop an album as good as Life Is Good? Nas fans all around the world were waiting nervously, hoping for the best but knowing not to expect too much. Who can blame them though?
While he's unarguably one of the greatest rappers of all time, Nas' discography has had some very patchy moments. But starting from 2011, Nas started on a guest appearance blitz – bodying feature after feature on records with Lil Wayne, Common, Raekwon and Mobb Deep.
Then at the start of 2012, he jumped on Rick Ross' "Triple Beam Dreams" and delivered perhaps one of his greatest verses of all time, building up fans' hopes for Life Is Good.
After that the cuts started leaking – "Nasty," "The Don," "Loco-Motive," "Accident Murderers," "Daughters," – and fans were pleasantly surprised. Where was the cheesy pop single? Where was the muddled-message track that had Nas preaching to hip-hop? It seemed like for the first time in years, Nas was back in his creative zone.
Life Is Good finally dropped in July and fans began quietly whispering – is this the best Nas album since God's Son? Stillmatic? It Was Written? Fuck yeah.
Nas' rhyming abilities have never gone anywhere ever since his debut in '91, but on Life Is Good, Nas was super-focused, balancing his trademark, irreverent braggadocio with nostalgic memories of hip-hop's golden age and Queensbridge.
Tracks like "Stay" and "The Don" and "Daughters" confirmed the legend's incredible range and proved that when he's in his zone, no one can touch Nas lyrically. Not Jay-Z, not Kanye West. No one.
The greatest thing about all this is the fact that Nas dropped Illmatic in 1994, nearly 20 years before Life Is Good and he's still up there amongst the best rappers alive today.
1. Kendrick Lamar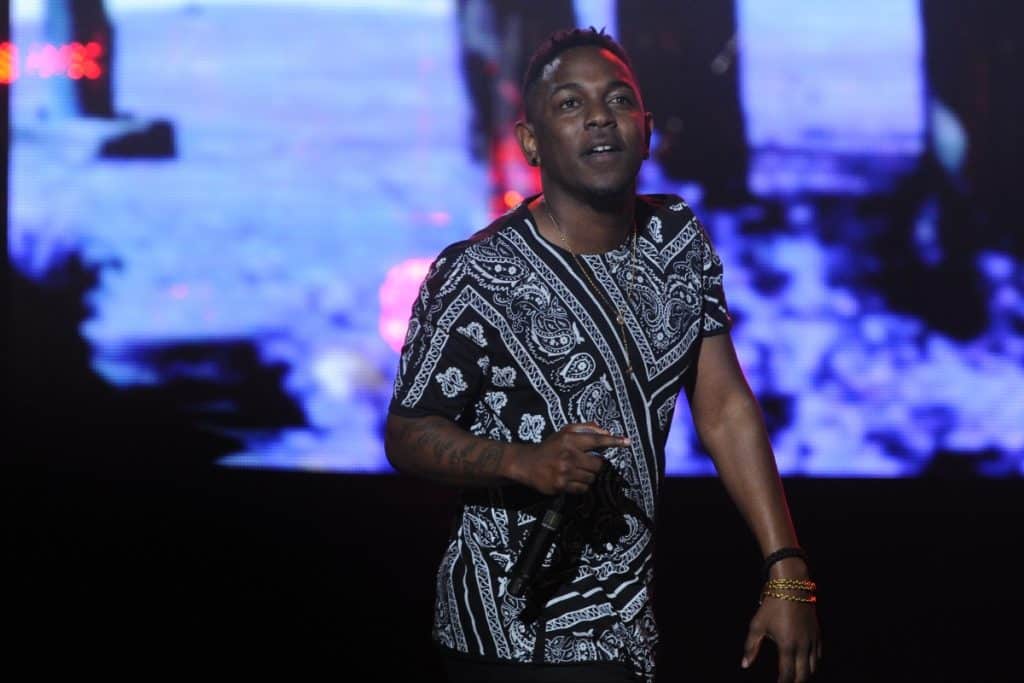 Notable releases: good kid, m.A.A.d city; "Look Out For Detox," "Cartoon & Cereal," "Westside, Right On Time."
Key guest appearances: A$AP Rocky's "Fuckin' Problems," Schoolboy Q's "Blessed," Meek Mill's "A1 Everything," Maybach Music Group's "Power Circle," Mac Miller's "Fight The Feeling," Ab-Soul's "Illuminate," DJ Drama's "My Way," The Game's "See No Evil."
Was there really any surprise here? Hip-hop has been hyping up Kendrick as one of the best rappers of his generation since Section.80 was released and with the release of good kid, m.A.A.d city, the Team Kendrick train is just unstoppable now.
Is Kendrick the best rapper of 2012 because his album was an amazingly crafted concept album that gave us this generation's Illmatic. Or because he's touted by Dr. Dre and other West Coast artists as one of the best new rappers to come from the West side? Or because good kid, m.A.A.d city managed to move nearly 250,000 units in its first week without a traditional hit single?
No. Kendrick Lamar was the best rapper of 2012 because he truly is the best rapper of the year.
The art of rapping has evolved drastically since the Kool Moe Dee / Busy Bee era. It started out as who can rock the crowd the best – in this era, the best party MC was the best rapper. Then it evolved into the Rakim, Big Daddy Kane, KRS-One and Kool G Rap phase. This was all about who can rap the best, with the most rhymes, with the nicest punchlines and illest metaphors. This phase pretty much continued into the Nas, Jay-Z, Biggie, Tupac, Wu-Tang era, with slight derivations.
It wasn't until 50 Cent came through as the full package – rapper, hook-writer, song-writer, hit-make – that rappers began to step up their other skills. Then Kanye dropped 808s and Heartbreak and showed the world just how much rapping could encompass.
We're now in that era. If we only judge who the best rapper is by how many rhymes they have, then we need to bring people like Papoose and other underground, super lyrical rappers into the conversation. But it's not about that anymore. That's why Kendrick is the best rapper of 2012.
good kid, m.A.A.d city was a masterful display of everything that makes hip-hop great these days. It featured Kendrick's incredible rapping skills – his relentless flow, use of multiple voices, unique rhyme schemes – his singsong hooks on "Swimming Pools (Drank)" and "Bitch, Don't Kill My Vibe" and his amazing grasp of narrative and skits to further the story.
It's hard to determine how successful an artist will be given the fickle nature of the music industry and even more so, the rap game. But what Kendrick has shown us on good kid, m.A.A.d city, and to a lesser extent on Section.80, the TDE has the potential to truly become one of the greatest rappers of all time.