You can't talk about hip hop history without talking about the East Coast-West Coast rivalry; and you can't talk about that, without talking about Tupac Shakur and The Notorious B.I.G.
It wouldn't be an overstatement to say that they were the two of the most important figures in hip hop history, their impact extended far beyond beats and rhymes, and the music in general. They were icons, who accomplished in a few years more than what most rappers could have achieved in a lifetime.
So while this article focuses on Pac and Big, it will also include major moments in the East Coast-West Coast beef because there's no escaping it. This is a story about Pac and Big, but it's also a story about New York and L.A., a story about Suge Knight and Puffy, a story about Snoop Dogg and Nas.
1993: Tupac and The Notorious B.I.G. meet for the first time on the set of Poetic Justice , a 1993 John Singleton-directed film starring Janet Jackson alongside Pac and Regina King. In a later interview, Big would recall Pac bumping his debut single "Party and Bullshit" repeatedly. "I always thought it to be like a Gemini thing," Big said. "We just clicked off the top and were cool ever since."
In an interview with Ben Westhoff for the book, Original Gangstas: The Untold Story of Dr. Dre, Eazy-E, Ice Cube, Tupac Shakur, and the Birth of West Coast Rap , Outlawz member E.D.I. Mean recalled Biggie not being happy with the way his recording career was moving and asking Pac to be his manager.
"Biggie looked like he was wearing the same pair of Timberlands for a year, [while] 'Pac was staying at the Waldorf‑Astoria and buying Rolexes and dating Madonna," EDI Mean said. But Tupac advised Big to stay with Puffy, saying that the Bad Boy founder "will make you a star."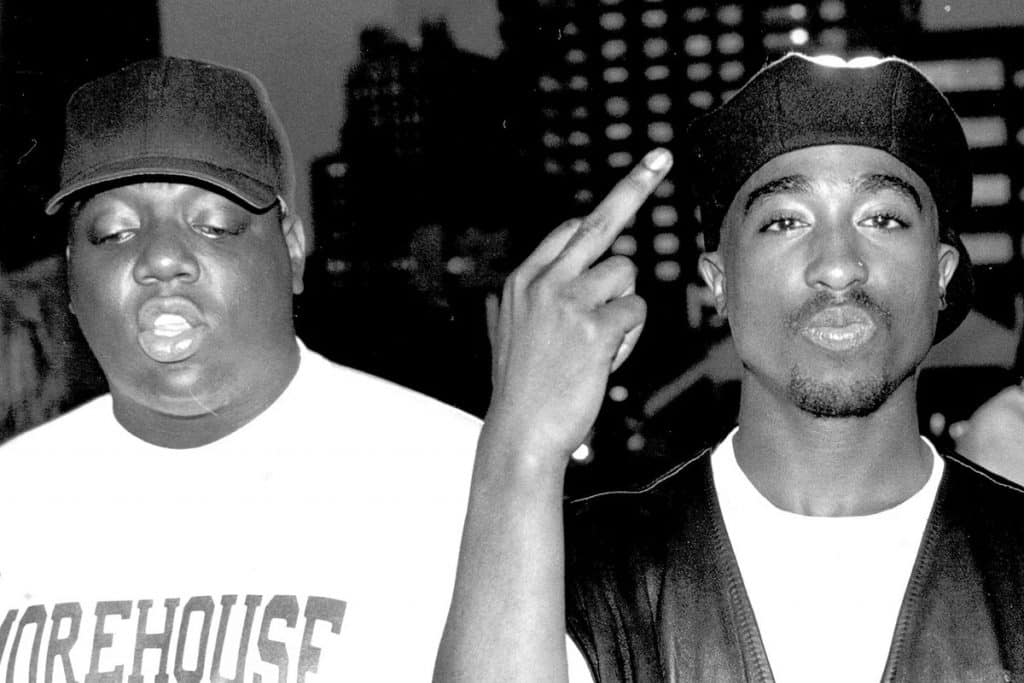 1993: While in New York to shoot Above the Rim , Pac connects with a group of local gangsters, including Jacques "Haitian Jack" Agnant, Walter "King Tut" Johnson and Jimmy "Henchman" Rosemond. Biggie tries to warn Pac about hanging out with them but Pac doesn't take his advice.
March 22, 1994: The Above the Rim soundtrack drops featuring songs from 2Pac, Tha Dogg Pound, Thug Life, Treach, Snoop Dogg, as well as the Warren G's double-platinum single, "Regulate."
September 13, 1994: Big drops Ready to Die , which moves slowly at first, selling only 57,000 units in its first week of release, but thanks to the hit singles "Big Poppa" and "One More Chance / Stay with Me (Remix)", the album goes double platinum in a little over a year.
September 26, 1994: Pac drops Thug Life: Volume 1 , the only album from his group Thug Life which was made up of: Stretch, Big Syke, Mopreme, Macadoshis, and The Rated R.
Big Syke: If you're rapping this hard stuff, you have to live it. Otherwise people check your résumé and say, 'You don't look like you're hard from your résumé, let's see if you are.' Pac always felt he had to prove something to his homeboys." He points to the "rags," or bandannas, Tupac wore. "He started wearing red around Crips, and blue around Bloods—so that when he was around Crips, Bloods wouldn't think he was a Crip, and blue around Bloods, so Crips wouldn't think he was a Blood. His behavior was not right; he was on the edge. But they just figured he was Tupac the Rapper.

The Takedown of Tupac | The New Yorker
November 30, 1994: The Quad Studios shooting. While there were many events that led to the tragic East Coast-West Coast beef, 2Pac getting shot while on his way to lay down a verse for Little Shawn, a client of Jimmy Henchman, was the spark that set everything in motion. Pac would later use this incident as the catalyst to attack Big and Puffy, who he claimed knew about the set-up beforehand and didn't warn him.
In 2011, XXL reported that Dexter Isaac, an imprisoned murderer serving a life sentence, confessed that he was one of the men who robbed and shot Pac at Quad Studios shooting, on orders from Henchman.
Dexter Isaac: In 1994, James Rosemond hired me to rob 2Pac Shakur at the Quad Studio. He gave me $2,500, plus all the jewelry I took, except for one ring, which he took for himself.

Pit Of Snakes: Tupac's Quad Studios Shooting [Feature From Sept. 2011 Issue] | XXL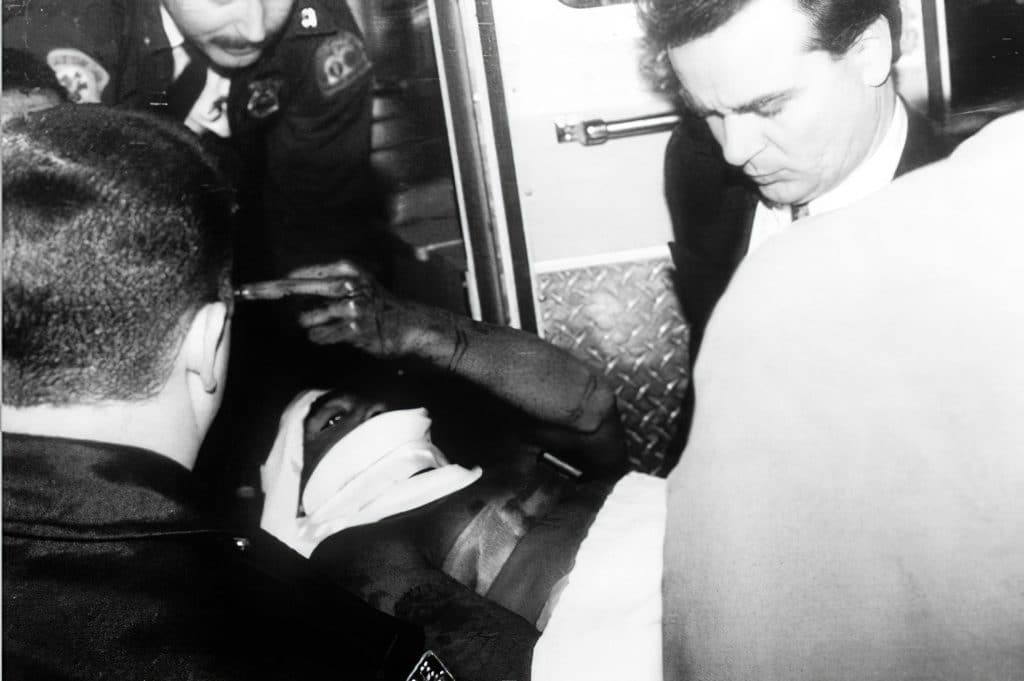 February 7, 1995: Tupac is sentenced to 18 months to 4 1/2 years in prison for two counts of first-degree sexual abuse. He began serving his sentence at Clinton Correctional Facility one week later.
February 20, 1995: Big drops "Who Shot Ya?" as the B-side to his 1994 hit single "Big Poppa." While Big and Puff would deny that the song was related to Pac's Quad Studios shooting, the subject matter and timing of the song's release would enrage the imprisoned rapper.
2Pac: Niggas been talking shit all while I was in jail. "Who Shot Ya?" L.L. got a song "I Shot Ya." Even if it ain't about me, nigga, you should be like, I'm not putting it out cause he might think it's about him.

Tupac Talks 'Hit Em Up' Vs. 'Who Shot Ya?' (Pg. 2) | Vibe
March 14, 1995: Pac drops Me Against the World while in prison. Bolstered by the top 10 single, "Dear Mama," the album became Pac's first number one release , and he became the first artist to have a chart-topping album while serving a prison sentence.
April 1995: Vibe publishes an interview between Pac and Kevin Powell, conducted in January of that year while the rapper was still at Rikers Island. This is the first time Pac has spoken publicly since his 1994 shooting.
Pac: I was with my homeboy Stretch, his man Fred, and my sister's boyfriend, Zayd. Not my bodyguard; I don't have a bodyguard. We get to the studio, and there's a dude outside in army fatigues with his hat low on his face. When we walked to the door, he didn't look up. I've never seen a black man not acknowledge me one way or the other, either with jealousy or respect. But this guy just looked to see who I was and turned his face down. It didn't click because I had just finished smoking chronic. I'm not thinking something will happen to me in the lobby.

Revisit Tupac's April 1995 Cover Story: 'READY TO LIVE' | Vibe
August 3, 1995: The 1995 Source Awards, a historic event in hip hip history and the moment the East Coast-West Coast rivalry escalated to a new level. This is when Suge Knight stood on stage and dissed Puffy, although he would later claim those remarks were aimed at Jermaine Dupri, and also when Snoop angrily confronted the East Coast-heavy crowd on their own turf.
I'll let Questlove recount his perspective at the awards.
Questlove: The ideology of what I considered "real" hip-hop died at the 1995 Source Awards. I was literally at its funeral – I sat three rows behind Nas. In the audience, the Bad Boy camp was on the far right, all the West Coast and the Southern rappers were in the middle, and on the far left were all the New York underground rappers like Wu-Tang, Mobb Deep, Nas, Busta Rhymes, and us. That was the day when Suge called out Puffy, and there were fights in the audience. I felt like a bomb was going to detonate.

?uestlove: 15 Years | Pitchfork
September 23, 1995: At the Platinum House in Atlanta following a Jermaine Dupri party, Suge Knight affiliate and Death Row employee Jai Hassan-Jamal Robles aka Big Jake is shot and killed. Investigations of shooting say witnesses reported Puffy's bodyguard, Anthony "Wolf" Jones, was the shooter. A 2001 Village Voice article reported the incident:
According to police reports and the Fulton County medical examiner, as Robles was getting into a limo, a man with a semiautomatic ran up and riddled him with gunfire. He was shot twice in the stomach and once in the back. "Nobody even knew 'Money' [Big Jake] was shot, until the owner of the Platinum Club ran over to him and cradled him," Jones's friend recalls. "He was just trying to keep Big Jake down, saying, 'Don't move!' and yelling, 'Someone call an ambulance!' Robles died two weeks later in a hospital.

Big Bad Wolf | The Village Voice
October 12, 1995: Pac is released from Clinton Correctional Facility with a $1.4 million bond posted by Suge Knight. The first thing he does? Head to the studio to record "Ambitionz Az a Ridah" and "I Ain't Mad at Cha" in one night .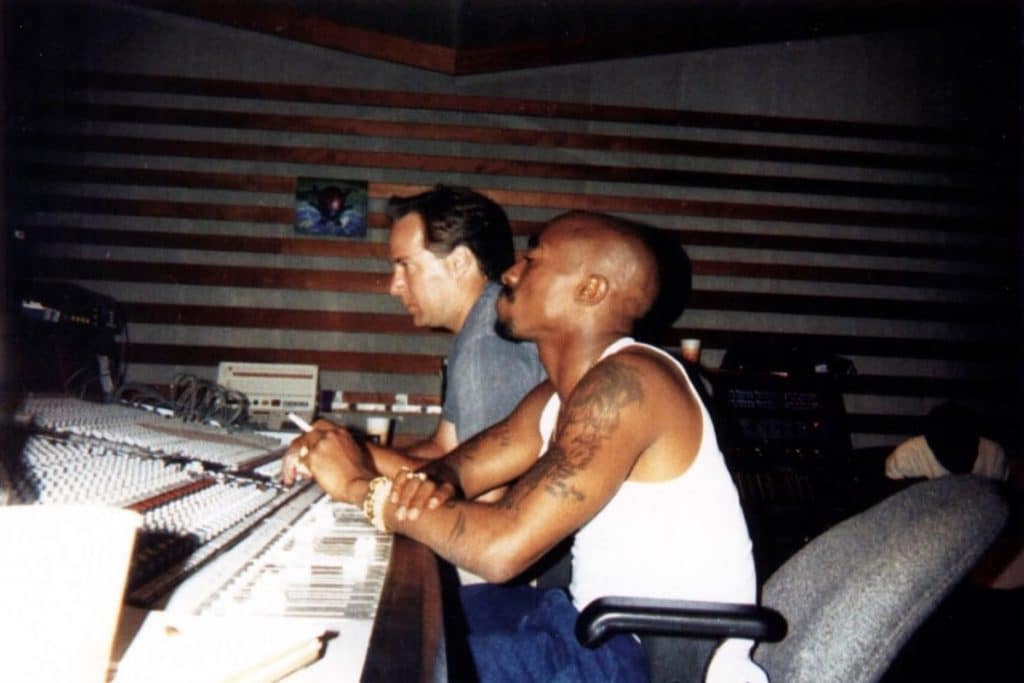 November 30, 1995: Exactly a year after Pac was shot at the Quad Studios, Stretch is gunned down and killed in Queens. Stretch was working with Nas on It Was Written and had just dropped the rapper off home before he was murdered.
Nas: Stretch was really hurt by 2Pac. I would hear him talking about how 'Pac was so mad at him because Stretch was with 2Pac when he got set up and robbed in the lobby of Quad Studios in Manhattan, in Nov. 1994. 'Pac was mad at everyone after that. I felt bad for Stretch because he really had a lot of love for 'Pac and couldn't believe that 'Pac thought he had something to do with it. Stretch dropped me off at home, then went home and was killed [in Dec. 1995, in Queens]. That was a real great guy. He produced "Take It in Blood" and "Silent Murder"—the irony. It was just a messed up moment for me. It was the last work he did.

The Making of Nas' 'It Was Written' | Complex
December 16, 1995: While filming the music video for their single "New York, New York" in Red Hook, Brooklyn, Tha Dogg Pound and Snoop Dogg's trailers are fired upon. No one was hurt, but the shots were a clear message to the West Coast rappers: you're not welcome here.
February 13, 1996: Pac drops All Eyez on Me and it's an instant phenomenon. The album sell 566,000 copies in the first week and becomes Pac's second Billboard chart topper, after Me Against the World .
March 29, 1996: At the 1996 Soul Train Music Awards, Pac and Big would come face-to-face for the first time since the Quad Studios shooting at the end of 1994.
"You seen the movie," Lil Cease recalled in an interview years later. "It was after B.I.G. won the award and we was outside the back waiting for our car to pull up, him and Suge had pulled up in a Hummer and were just yelling a bunch of shit to us. But you know, nothing happened. All the securities and people got in-between. We all got in the car. I had my words to say too. We was just yelling a bunch of shit at them."
Big talks about the incident in a Vibe interview shortly afterwards:
Big: I felt the darkness when he rolled up that night. Duke came out the window fatigued out, screaming 'West Side! Outlaws!' I was, like, 'That's Bishop [Tupac's character in the movie Juice]!' Whatever he's doing right now, that's the role he's playing. He played that shit to a tee. He had his little goons with him, and Suge was with him and they was like, 'We gonna settle this now.'

Biggie & Puffy Break Their Silence — '96 VIBE Cover Story [PG.4] | Vibe
June 4, 1996: Pac drops "Hit 'Em Up" as the b-side to "How Do U Want It." The track is a response to "Who Shot Ya?" and features disses aimed Big, Puffy and the Bad Boy team as well as Mobb Deep.
June 25, 1996: Jay-Z drops his debut Reasonable Doubt which features a notable appearance from Big on "Brooklyn's Finest." Big would slyly refer to his beef with Pac with the line "If Fay' had twins, she'd probably have two Pacs / get it? Tupac's?" This song would result in Jay-Z getting dragged into the beef with Pac.
July 2, 1996: Nas drops his sophomore It Was Written , which becomes one of the biggest rap albums of the year. With the Lauryn Hill-featured single "If I Ruled the World (Imagine That)" and "Street Dreams," the Queensbridge poet transforms into the King of New York with his first number one album . The opening track, "The Message" includes shots fired at his East Coast rivals, but they're interpreted by Pac as shots towards him.
August 1996: Pac starts going into the studio to record The Don Killuminati: The 7 Day Theory under the alias Makaveli.
September 4, 1996: 1996 MTV Video Music Awards. There have been varying accounts of the legendary confrontation between Pac and Nas at Bryant Park , following the awards. But all of the versions end up with the two rappers shaking hands and ending their beef.
September 7, 1996: After attending the Bruce Seldon vs. Mike Tyson boxing match, Pac and Suge leave the venue in a BMW to go to Club 662. While stopped at a red light at East Flamingo Road and Koval Lane, a white Cadillac pulls up and a gunman shoots into the BMW, hitting Pac twice in the chest, once in the arm and once in the thigh. Suge is hit in the head by ricochets.
Chris Carroll, a retired sergeant with the Las Vegas Metropolitan Police Department who was the first officer to arrive, recalled the scene years later.
Chris Carroll: And he went from struggling to speak, being noncooperative, to an 'I'm at peace' type of thing. Just like that. He went from fighting to 'I can't do it.' And when he made that transition, he looked at me, and he's looking right in my eyes. And that's when I looked at him and said one more time, 'Who shot you?'. He looked at me and he took a breath to get the words out, and he opened his mouth, and I thought I was actually going to get some cooperation. And then the words came out: 'Fuck you.' After that, he started gurgling and slipping out of consciousness."

Tupac's final words revealed by police officer on scene of murder | CNN
September 13, 1996: After being placed on life support and in a medically induced coma, Tupac Shakur passes away at the age of 25 years old. After Pac was shot in Vegas, there are reports of a gangland war breaking out in L.A. This is believed by many to be retaliation, as Orlando "Baby Lane" Anderson, from the rival Southside Crips gang, was the prime suspect involved the shooting.
In Compton, a bloody war broke out between the North and South Sides. Over the next few days, police counted 12 shooting incidents and three fatalities. Paranoia gripped the neighbourhood. There were rumours that Bloods were being offered $10,000 for every South Side Crip killed.

Life and death in South Central LA | The Guardian
November 5, 1996: The Don Killuminati: The 7 Day Theory is released as Pac's first posthumous album. While Pac had intended to remove the disses against Nas from the album, the rapper's untimely death prevented him from doing so.
February 1997: Big travels to L.A. to promote his upcoming sophomore album, Life After Death , and to film a music video for its lead single, "Hypnotize.
March 1, 1997: Big does his final radio interview with The Wake Up Show, where he addresses rumours of him being connected to Pac's murder.
March 8, 1997: Big attends an after-party hosted by Vibe magazine and Qwest Records at the Petersen Automotive Museum in West Los Angeles. Other guests included Faith Evans, Aaliyah, Sean Combs, Chris Tucker, The Wayan Brothers, Ginuwine, Missy Elliot, DJ Quik, Ed Lover, and members of the Bloods and Crips gangs.
March 9, 1997: After attending a Vibe after-party, Big leaves with his entourage in two Chevrolet Suburbans. A black Chevy Impala pulls up alongside and a gunman fires into Big's vehicle, hitting the rapper four times. He's rushed to Cedars-Sinai Medical Center, but pronounced dead shortly afterwards.
March 25, 1997: Life After Death is released 16 days after Big's death. Featuring an all-star guest line-up that includes 112, Jay-Z, Lil' Kim, Mase, Bone Thugs-n-Harmony, Too $hort, and The LOX, the double album becomes the biggest rap release of 1997 and eventually goes diamond.