One of the most important acts to emerge from hip hop's golden age, Boogie Down Productions forever altered the course of rap culture when they debuted with the game-changing "South Bronx." Anchored by KRS-One and the late DJ Scott La Rock, the group ushered in an era of politically-charged, street-wise rap that not only inspired countless MCs that followed, but also brought a fresh perspective to the complexities of life in New York during the '80s.
Boogie Down's catalogue offers a panoramic view of the evolving consciousness of hip hop culture, intertwining raw street tales with profound social commentary. KRS-One's transformation into "The Teacha" signaled a significant shift in the rap narrative, broadening the scope of themes explored within the genre.
From the hard-hitting rawness of their 1987 debut, Criminal Minded, to the socially-conscious lyricism of 1988's By All Means Necessary, BDP's influence was continually evolving with each release. Even when they delved into more provocative territories, as they did in their 1992 release Sex and Violence, or embraced a more intellectual approach in 1990's Edutainment, BDP remained consistent in delivering incisive, thought-provoking content.
So let's get into it. From Criminal Minded to Ghetto Music: The Blueprint of Hip Hop, Edutainment to Sex and Violence, we rank every Boogie Down Productions album, from worst to best.
Edutainment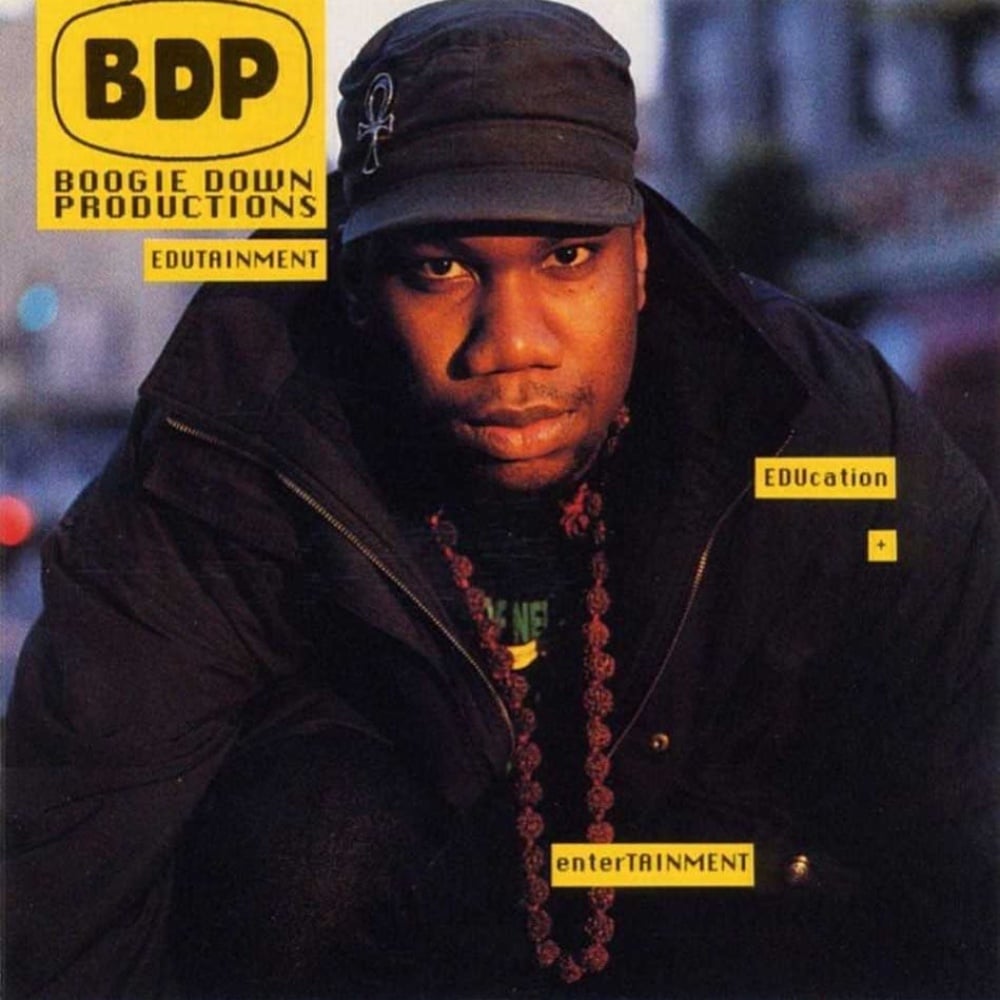 Released: July 17, 1990
Label: Jive
Singles: "Love's Gonna Get'cha (Material Love)", "Ya Know the Rules"
In the pantheon of Boogie Down Productions' discography, Edutainment unmistakably stands out as a strong albeit flawed release. With this fourth studio album, KRS-One adeptly sustained his artistic momentum, a consummate demonstration of his lyrical prowess, particularly his remarkable ability to weave social issues into hip-hop narratives. Edutainment delves into deep, diverse themes including black history, homelessness, racism, police brutality, and rampant materialism. Though occasionally compared to Public Enemy's Chuck D for his unswerving dedication to sociopolitical commentary, KRS distinguished himself through his eclectic fusion of black nationalism, Eastern religion, and Rastafarian philosophy. Despite its limited commercial success, largely due to its intellectually-driven content, Edutainment continues to resonate with listeners for its captivating insight and unyielding artistic integrity.
Ghetto Music: The Blueprint of Hip Hop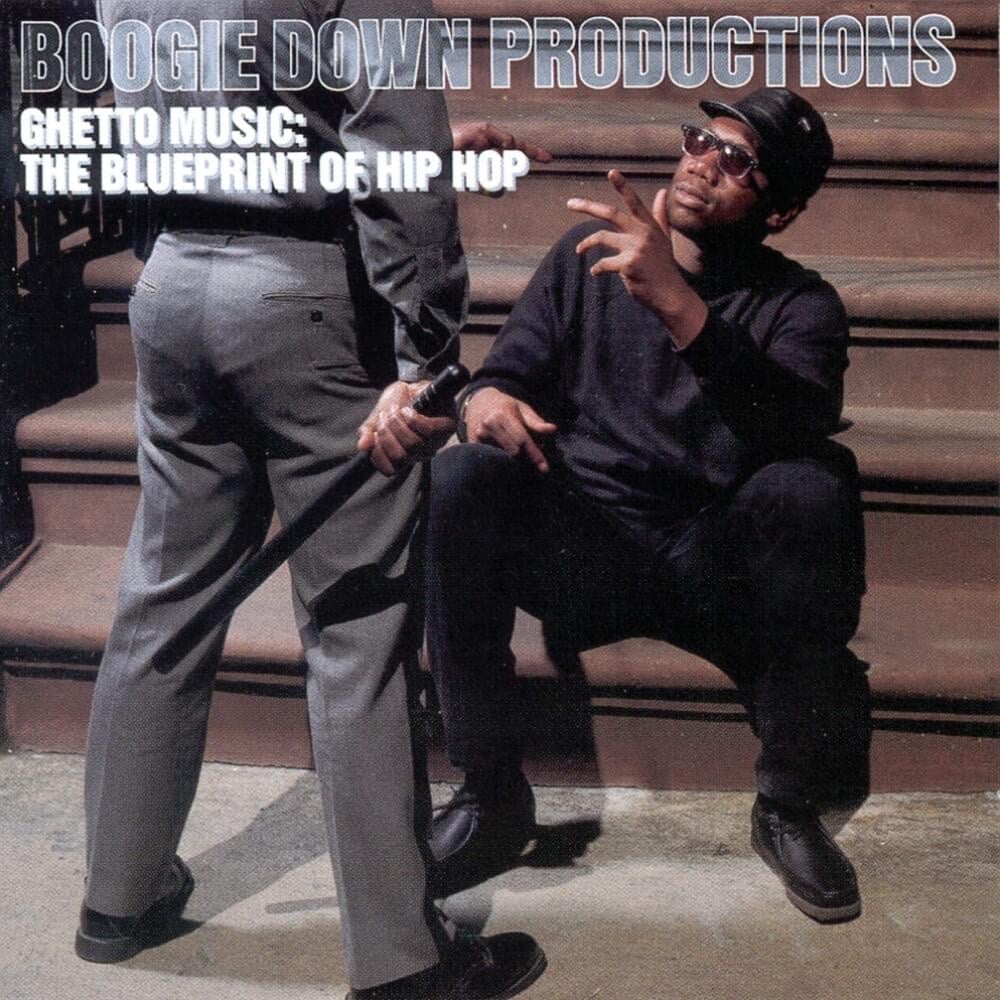 Released: July 4, 1989
Label: Jive
Singles: "Jack of Spades", "Why Is That?", "You Must Learn"
Ghetto Music: The Blueprint of Hip Hop, BDP's third studio album, is an exceptional showcase of KRS-One's evolution as a conscious rapper and fervent advocate for his community and the essence of hip hop. His concern about the pop culture's encroachment on rap's core identity is apparent throughout the album. Ghetto Music is punctuated by battle rhymes and impressive displays of lyrical technique, embracing the fundamental elements of the music. The production remains unapologetically minimalist, refusing to kowtow to pop or R&B tendencies. It's here where KRS's reggae inflections become even more prominent, bringing a distinct flavor to the album's overall sound. Overall, while the album shows signs of KRS-One's self-importance, Ghetto Music: The Blueprint of Hip Hop remains another milestone in BDP's catalogue.
Sex and Violence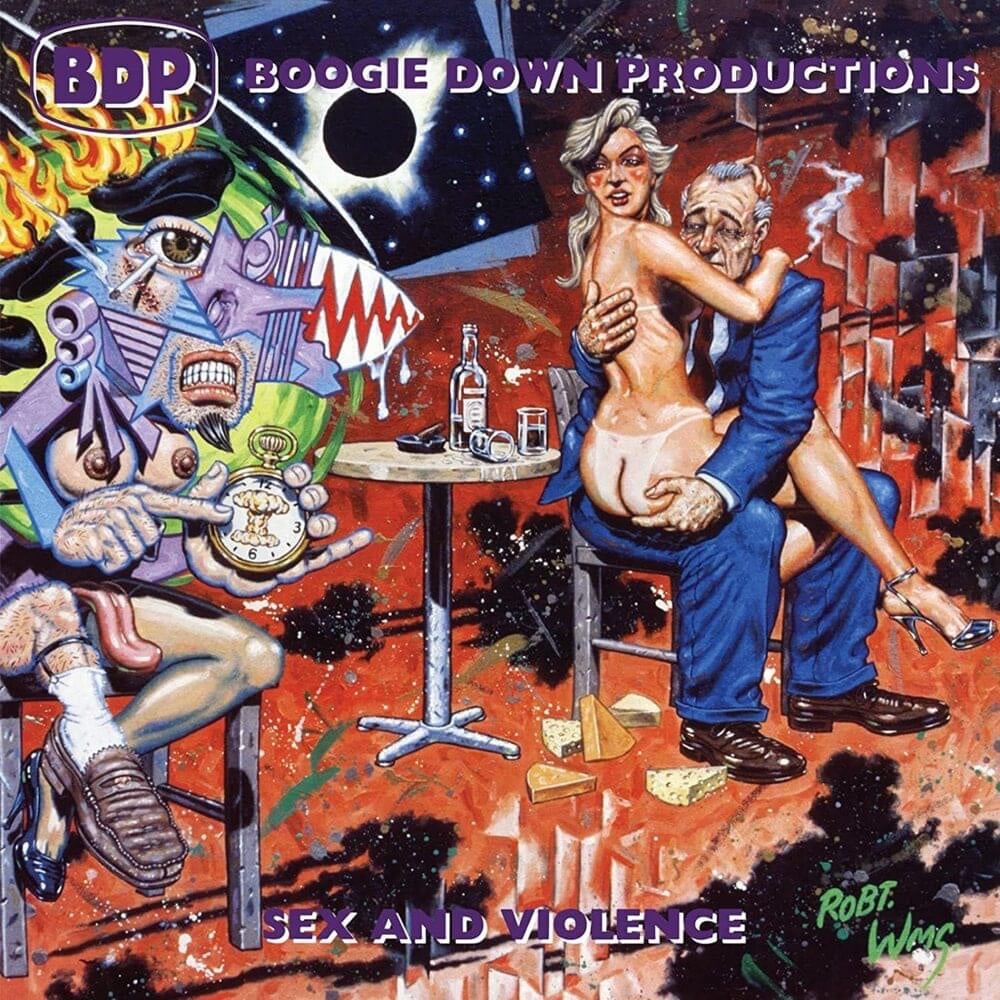 Released: February 25, 1992
Label: Jive
Singles: "13 and Good", "Duck Down", "We in There"
Sex and Violence occupies a unique position as the final album released under the Boogie Down Productions banner. This offering was seen as a recalibration, stepping back from the didactic excesses of Edutainment and harking back to the raw energy of KRS-One's early work, albeit with a modernized sonic palette. For the first time, BDP leaned on multiple outside producers, a strategy that breathed new life into the group's sound. However, the album is not without its shortcomings. There's an inconsistency in the coherence of its vision, resulting in a mix of standouts and less successful efforts. Tracks like "Duck Down," "Like a Throttle," and "Poisonous Products" showcase the Blastermaster at his lyrical best, but others reveal controversial perspectives that are more incendiary than insightful. While Sex and Violence offers plenty of dope beats and rhymes, it's just a notch or two beneath Boogie Down Productions' best albums.
By All Means Necessary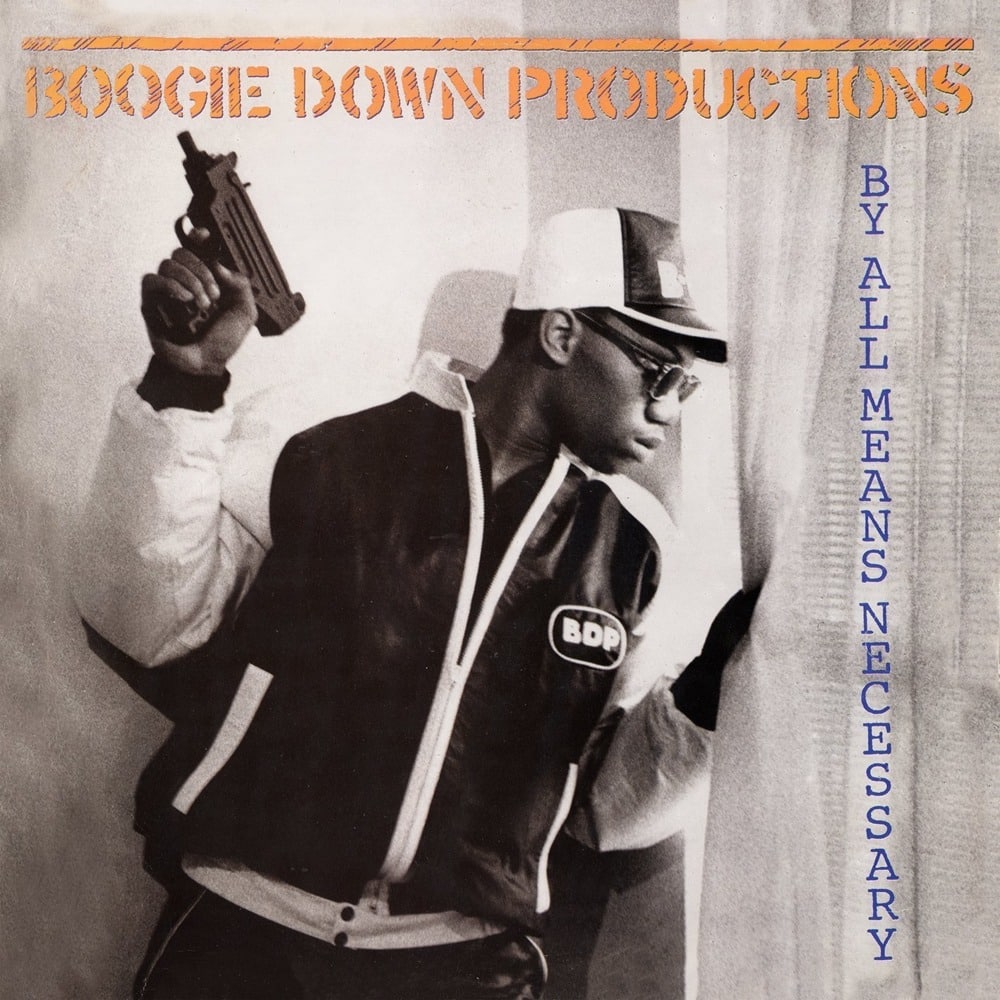 Released: April 12, 1988
Label: Jive
Singles: "Stop the Violence", "My Philosophy"
The tragic death of DJ Scott La Rock acted as a catalyst for KRS-One's transformation, leading to a fundamental shift in his musical persona and narrative. With By All Means Necessary, KRS took on the mantle of the Teacha, primarily tackling issues relevant to the black community. This album's reality rhymes lack the moral ambiguity of previous works. KRS' deliberate adoption of Malcolm X's famous photo pose for the cover signifies his newfound political consciousness and his commitment to societal commentary. Despite the dark backdrop of Scott La Rock's passing, the album's minimalist production and hard-hitting 808 drum beats are a fitting tribute to his influential style. La Rock's spirit permeates tracks like "My Philosophy," which serves as a manifesto for socially conscious hip-hop. From the heart-rending plea for peace on "Stop the Violence" to the sobering critique of systemic corruption on "Illegal Business," the Bronx rapper's lyrical brilliance shines throughout the album. Ultimately, By All Means Necessary stands as one of the group's most powerful statements and an essential cornerstone in the pantheon of conscious and political rap.
Criminal Minded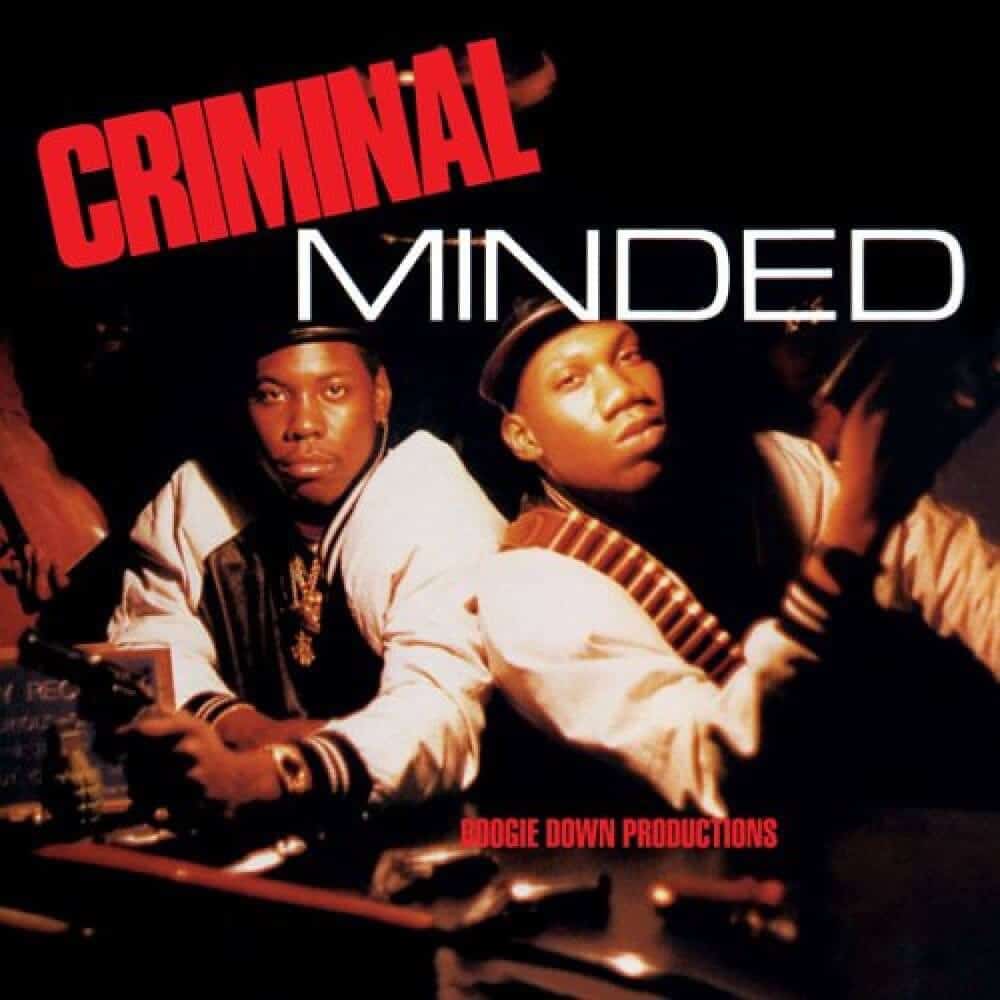 Released: March 3, 1987
Label: B-Boy
Singles: "South Bronx", "The Bridge Is Over", "Super-Hoe"
Hardcore rap found its roots in Criminal Minded, an album that has left an enduring impact on hip hop. Released in 1987, this revolutionary record turned heads with its audacious cover art, showcasing KRS-One and Scott La Rock provocatively wielding weapons. Musically, Criminal Minded carved out new thematic space within the rap scene. Around the same time Schoolly D was pioneering the art of the gansta rap in Philly, and Ice-T on the West Coast, KRS-One was doing it in New York. Though not the first to narrate the struggles of inner-city life and drug culture, BDP's debut amplified these themes to a level that hadn't been previously witnessed. Tracks like "South Bronx" and "The Bridge Is Over" represent the album's confrontational spirit, fueled by a feud with Queens-based MC Shan. These vitriolic dis tracks set the tone for the album and, along with the unsettling narrative of "9mm Goes Bang," helped the album reach its zenith. However, Criminal Minded is not all harsh realities. Tracks like "Poetry" and the title track offer a platform for KRS' formidable rhyming prowess. Bottom line: Criminal Minded is one of the most influential rap albums of all time and unarguably BDP's best release ever.