Love him or hate him, Kanye West has left an enduring impact on hip culture as he's evolved over the decades from a renowned Chicago beat-maker to one of the most influential global rap superstars of all time. With a discography that is as extensive as it is diverse, his albums have consistently pushed the boundaries of music, challenging listeners while always staying true to the essence of hip hop.
The journey began with The College Dropout, an album that introduced us to Kanye's unique blend of insightful lyricism and innovative production, while championing the everyday working man. Subsequent releases such as Late Registration and Graduation showcased an artist maturing and refining his craft, blending thought-provoking narratives with his increasingly sophisticated and daring approach to production. Albums like 808s & Heartbreak and Yeezus signaled a willingness to break from tradition and explore new sounds, further cementing Kanye's reputation as a fearless innovator.
Yet, amid this diverse collection of albums, each with its own unique character, it's My Beautiful Dark Twisted Fantasy that stands as Kanye's magnum opus. A tour de force of musical creativity that is as sprawling and complex as a baroque painting, it's an album that encapsulates Kanye's journey as an artist and his impact on the music industry.
So, let's dive in. From his game-changing debut The College Dropout to his 2010 masterpiece My Beautiful Dark Twisted Fantasy, we rank every Kanye West album, from worst to best.
12. Jesus Is King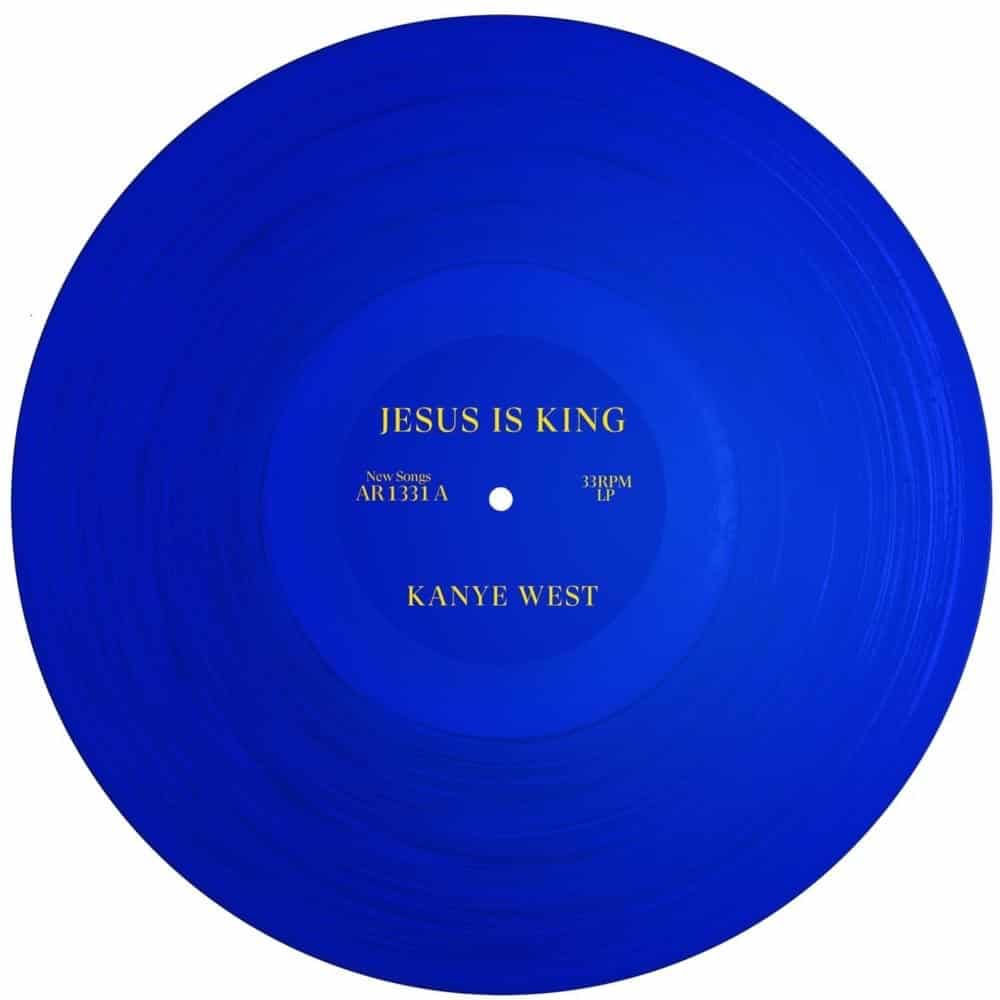 Released: October 25, 2019
Label: GOOD Music, Def Jam
Best songs on the album: "Follow God", "Use This Gospel"
Jesus Is King isn't bad. I would be very hard-pressed to ever say an album that Kanye West puts out is bad. But it definitely does feel rushed and distracted, which is typical for Kanye during this era of his music. Still, there are some moments on Jesus Is King that feature that classic Kanye sound, especially with it being a gospel album and all. It's just one of those moments where the idea was great, but the execution was off.
11. Ye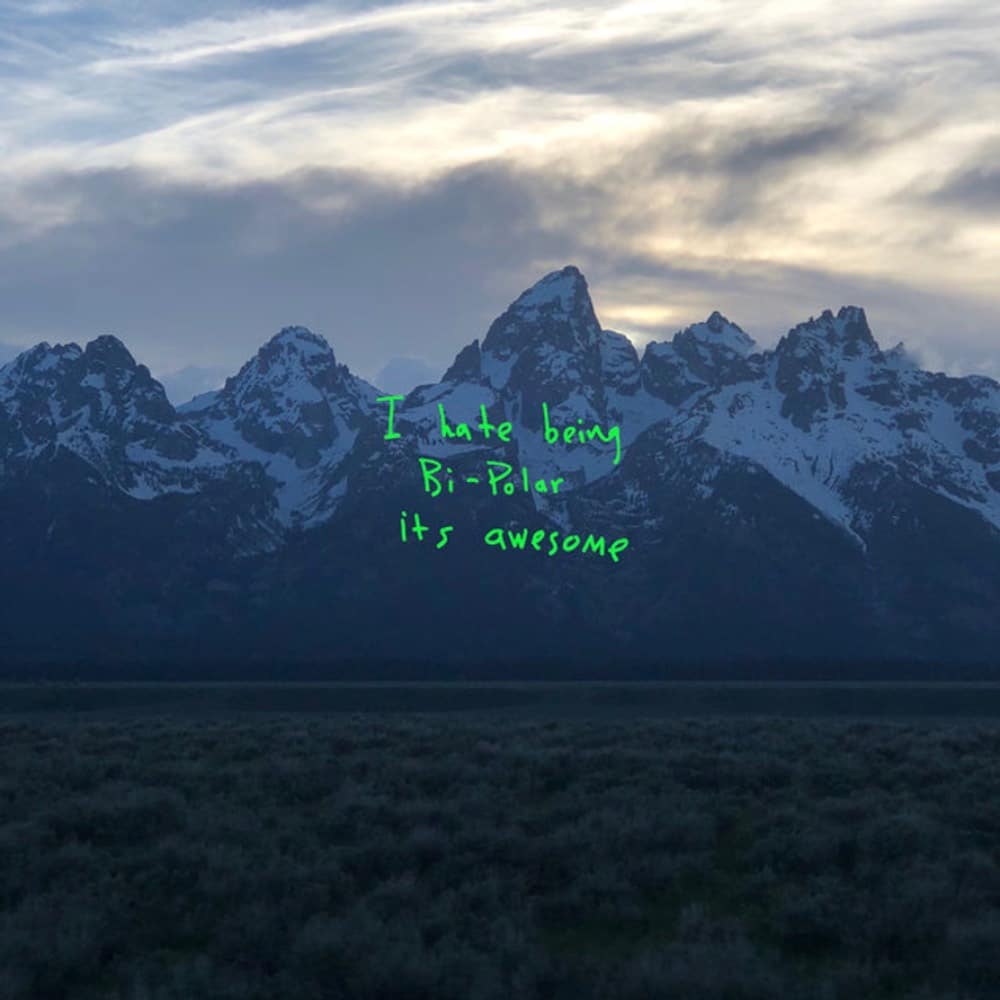 Released: June 1, 2018
Label: GOOD Music, Def Jam
Best songs on the album: "I Thought About Killing You", "All Mine", "No Mistakes", "Violent Crimes"
Bit of a tangent here, but I've always had a problem with the way GOOD Music rolled out the Wyoming Sessions. I'm fine with Daytona coming out first, that really kicked off the hype into overdrive for the rest of the albums. But then it should have been Teyana Taylor's K.T.S.E. to balance out the cocaine edge of Pusha T, then Nasir (because you put the weakest project in the middle), then Ye, and then you close the show with Kids See Ghosts (the second best album of the lot). I say all this to say that Ye is just a fine project, it doesn't inspire much conversation, the production is cool, the rapping is ok, and half the songs are memorable. That's about it really.
10. Kids See Ghosts (with Kid Cudi)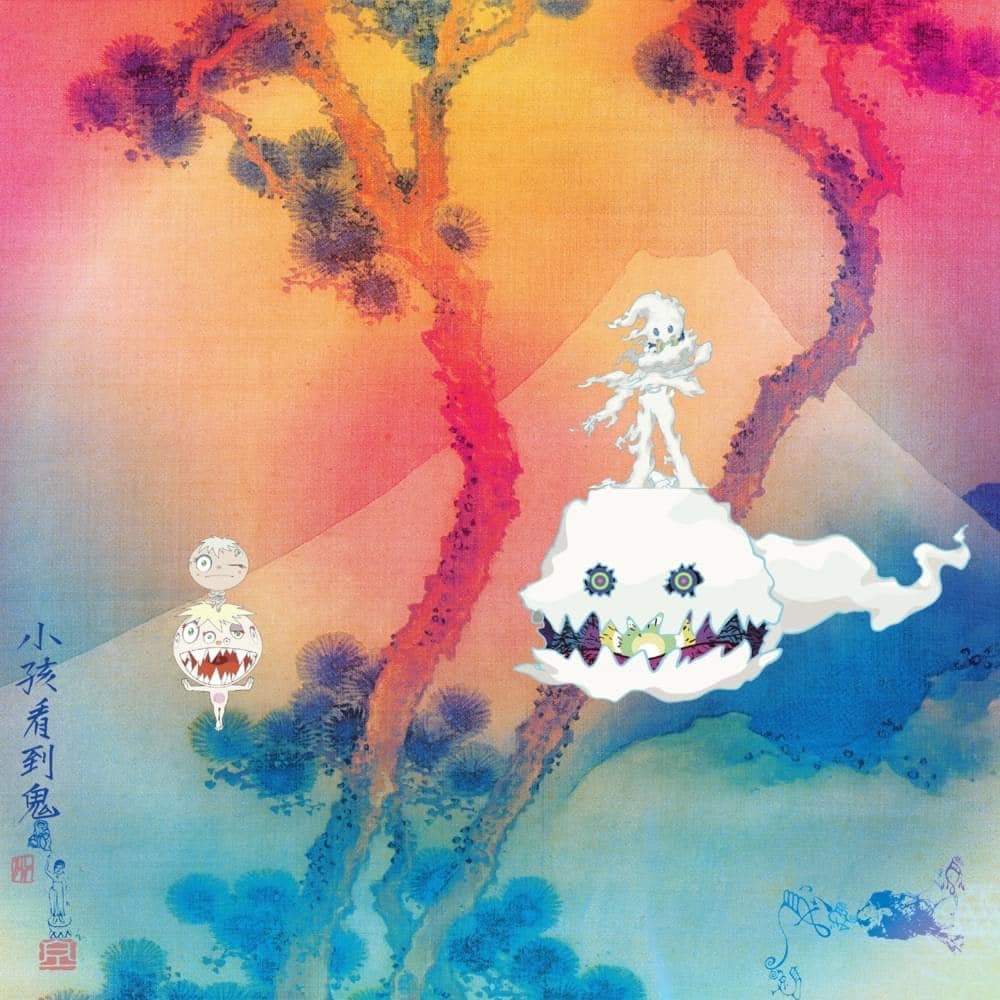 Released: June 8, 2018
Label: Wicked Awesome, GOOD, Def Jam
Best songs on the album: "Feel the Love", "4th Dimension", "Freeee (Ghost Town, Pt. 2)", "Reborn"
10 years after Kanye and Kid Cudi first worked together on "Welcome to Heartbreak" on 808s & Heartbreak, the two artists linked back up for Kids See Ghosts. This album is just a reminder of the wonderful chemistry these two artists have with each other. Even with just seven tracks, Kids See Ghosts is a sweeping, psychedelic trip that finds Kanye chopping up the perfect samples for Cudi's hymn-like vocals.
9. 808s & Heartbreak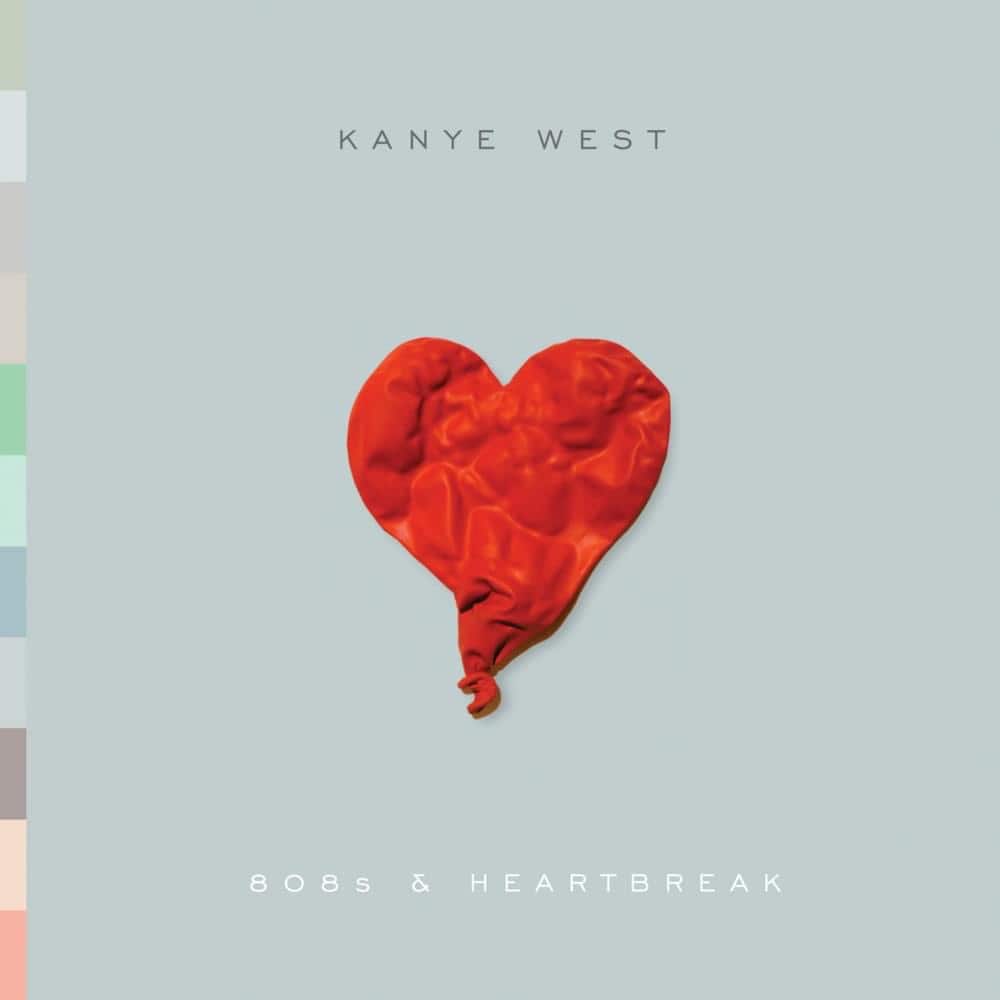 Released: November 24, 2008
Label: Def Jam, Roc-A-Fella
Best songs on the album: "Say You Will", "Heartless", "Amazing", "Love Lockdown", "RoboCop", "Coldest Winter"
808s & Heartbreak has aged perhaps the best out of all of Kanye's albums. Looking back at 2008, fresh off the immense success of Graduation, Kanye decided to do a complete pivot of his sound and aesthetics. While the album wasn't received as well as the preceding college trilogy, over time, 808s & Heartbreak has emerged as one of the most influential albums in recent history.
8. Donda

Released: August 29, 2021
Label: GOOD Music, Def Jam
Best songs on the album: "Jail", "Off the Grid", "Hurricane", "Jesus Lord"
The truth is, Donda is My Beautiful Dark Twisted Fantasy if Kanye didn't edit the latter album. All the elements are there – the maximalist ethos, the star-studded cast, the production, the rapping – to craft a masterpiece, but at 27 tracks (32 on the deluxe edition), it's just way too long to be a top Kanye album. If you trim Donda down to the best 10-12 songs, you've got an incredible piece of work, and quite possibly a top three Kanye album.
7. The Life of Pablo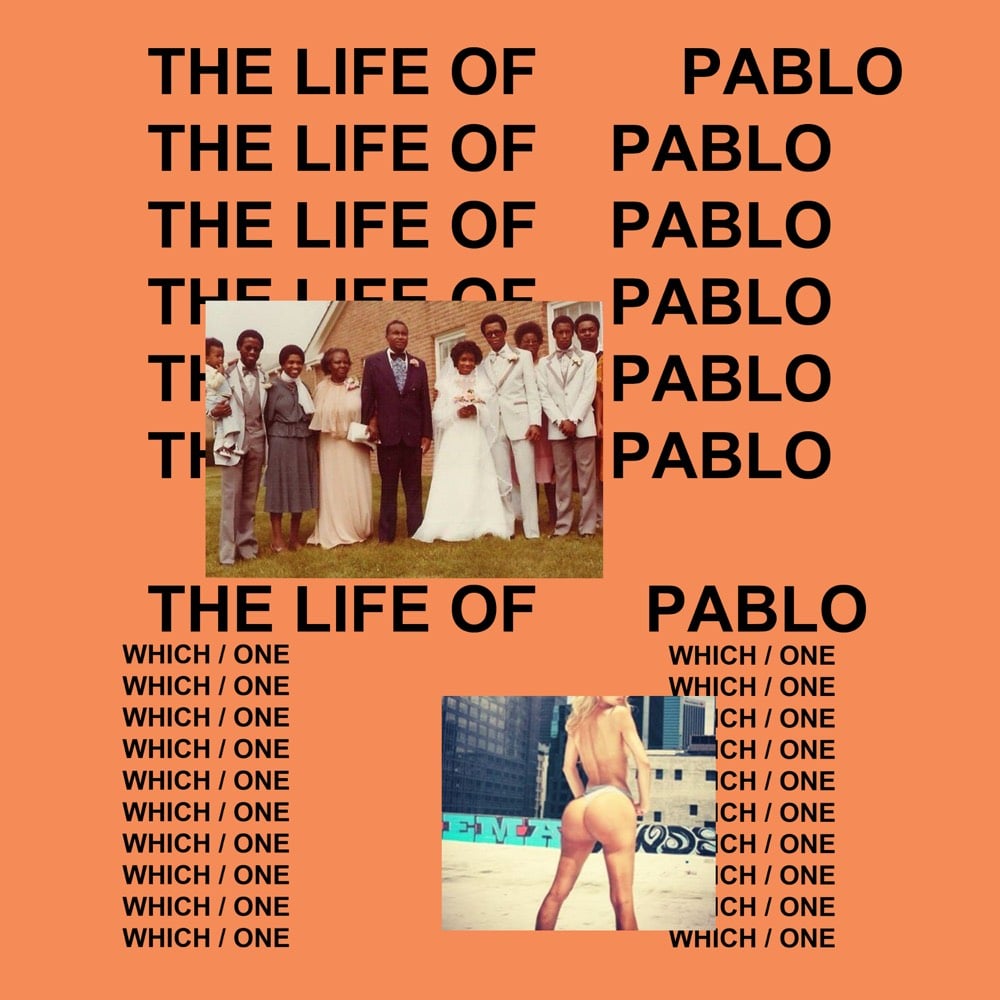 Released: February 14, 2016
Label: GOOD Music, Def Jam
Best songs on the album: "Ultralight Beam", "Father Stretch My Hands, Pt. 1", "Famous", "Freestyle 4", "Real Friends", "No More Parties in LA"
Like all of his albums post-Yeezus, The Life of Pablo sounds like an album crafted by an artist who's trying to juggle too many things at once. The moments of filler and spots that sound rushed would have never escaped early Kanye, who was a perfectionist with his music. But still, for all the flaws on this album, I think it's the most fun I've ever had listening to a Kanye album. There are some truly brilliant moments on here: Chance's verse on "Ultralight Beam", the Metro Boomin tag before Kid Cudi starts the hook on "Father Stretch My Hands, Pt. 1", the Sister Nancy sample on "Famous", Havoc's drums on "Real Friends", the list goes on.
6. Watch the Throne (with Jay-Z)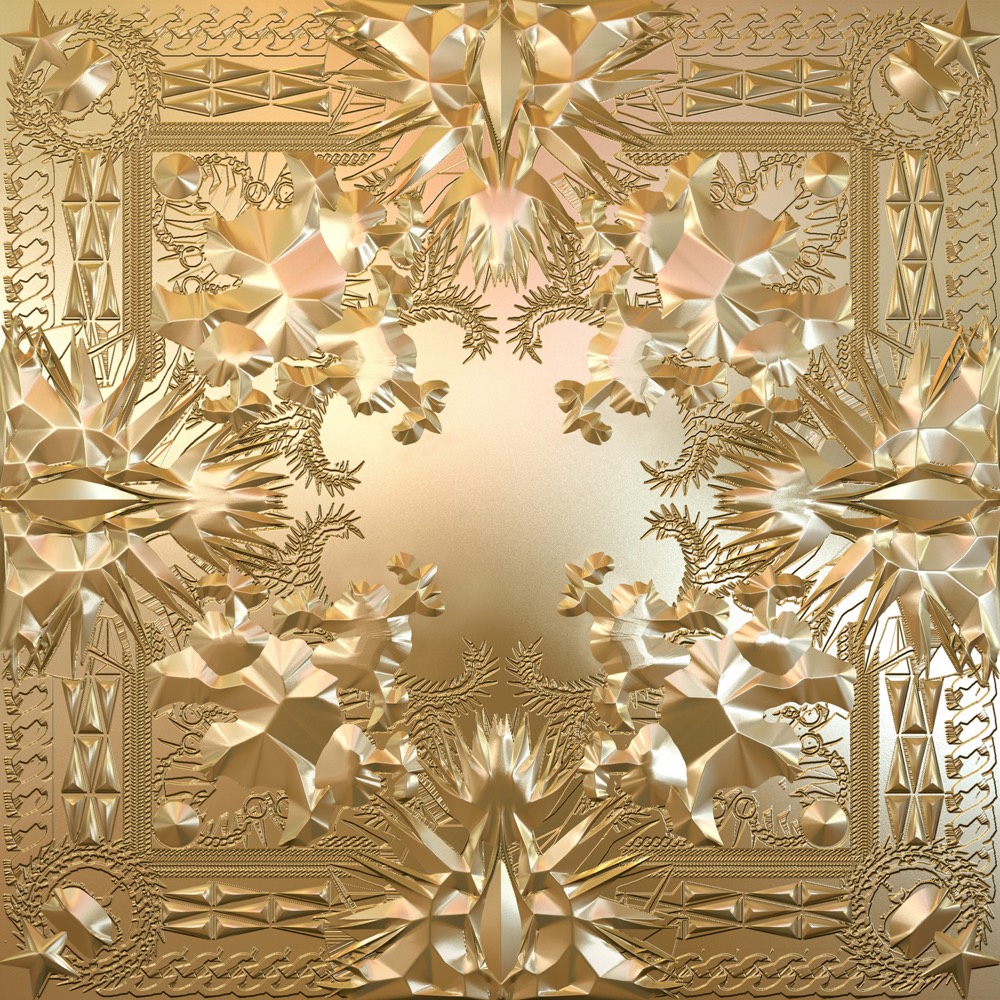 Released: August 8, 2011
Label: Def Jam, Roc Nation, Roc-A-Fella
Best songs on the album: "No Church in the Wild", "Niggas in Paris", "Otis", "New Day", "Who Gon Stop Me", "Murder to Excellence"
The hype for this album was unbelievable. How could it not be? The greatest rapper of all time, linking up with the best producer (and best rapper) at the time. The most amazing part about this is that Kanye and Hov really delivered. Some rap fans may not have thought so right after the album dropped, but as time as gone by, Watch the Throne has aged beautifully. What other album by any other rappers could have songs like "No Church in the Wild" or "Niggas in Paris" or "Otis" or "New Day" or "Who Gon Stop Me" or "Murder to Excellence" and be rated as "disappointing"?
5. Yeezus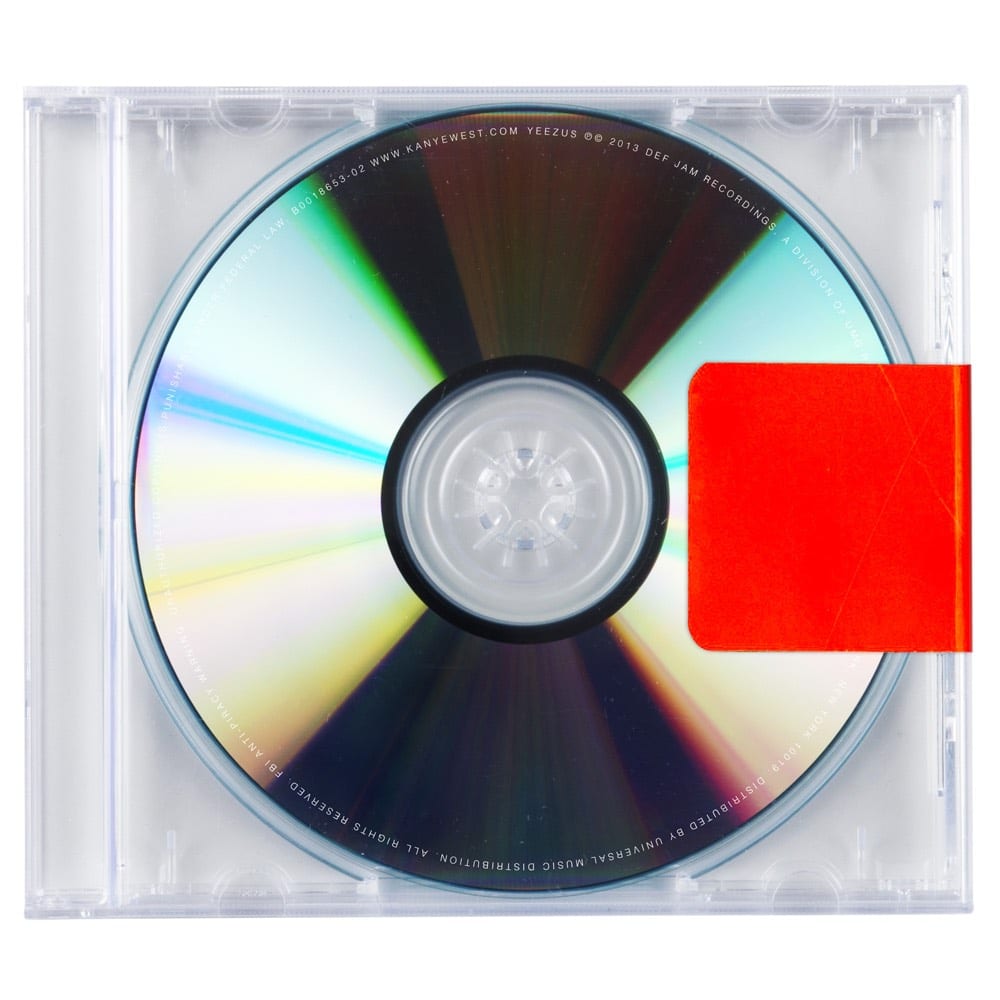 Released: June 18, 2013
Label: Def Jam, Roc-A-Fella
Best songs on the album: "Black Skinhead", "I Am a God", "New Slaves", "Hold My Liquor", "Blood on the Leaves", "Bound 2"
Following a run of fan favourite albums like My Beautiful Dark Twisted Fantasy, Watch the Throne and even Cruel Summer (there are some classic bangers on here, you can't deny that), Kanye decided to flip everything on its head. Pulling in Rick Rubin and Daft Punk, Hudson Mohawke and Travis Scott, King Louie and Chief Keef, Kanye crafted an industrial, sonically barren landscape that stood up against everything he had made prior in his recording career. Kanye has created some of the most dynamic and enduring pieces of art throughout his time, but in my opinion, Yeezus was a moment that really separated him from the rest of the hip hop artists and moved him into a different tier. And as the years go by, time is only going to prove that point.
4. Late Registration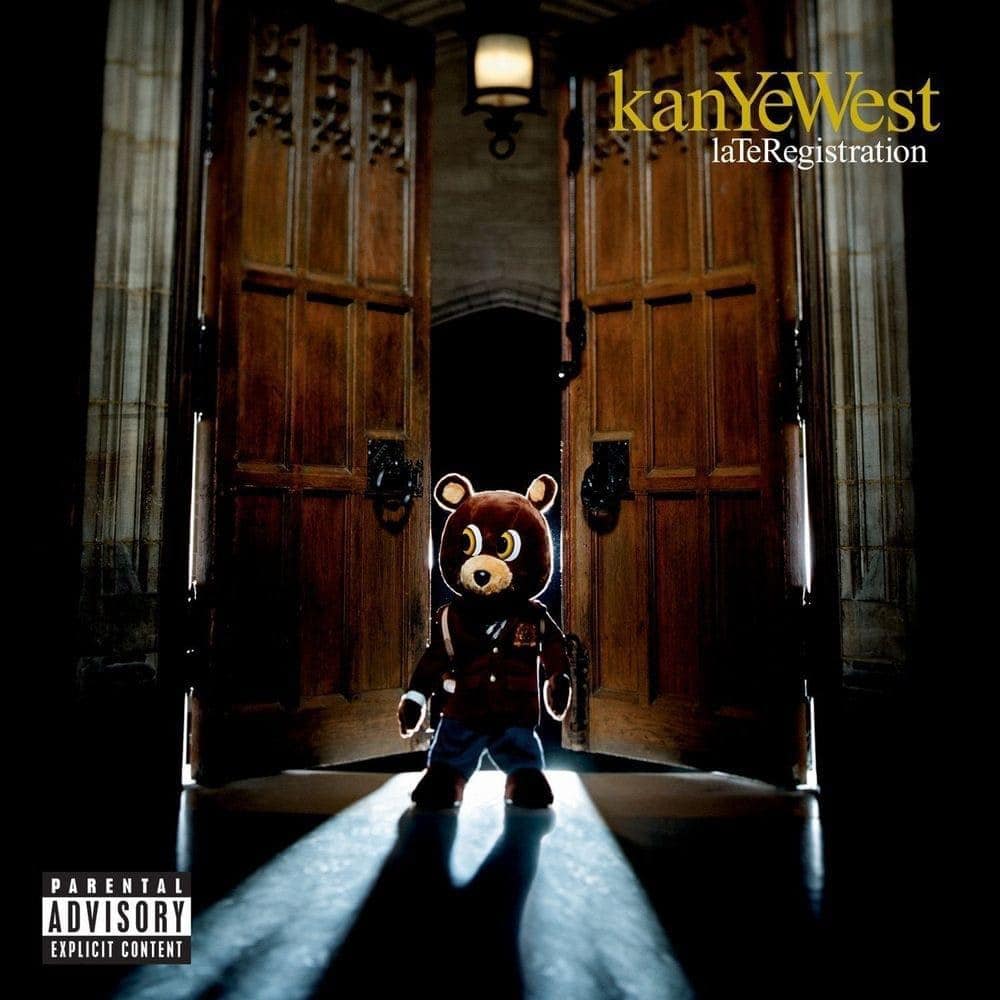 Released: August 30, 2005
Label: Def Jam, Roc-A-Fella
Best songs on the album: "Heard 'Em Say", "Touch the Sky", "Drive Slow", "Diamonds from Sierra Leone (Remix)", "Hey Mama", "Gone"
Grander, bolder and more adventurous than his 2004 debut, Late Registration saw Kanye enlisting Jon Brion to brings a level of production sophistication that few hip-hop artists could match. Ever single track on the album goes beyond a sample loop and beat; instead songs build up and break down, usually with an orchestral accompaniment, multi-instruments weave in and out and they all sound incredibly layered. Kanye almost completely ditches the sped-up soul samples, favouring lush symphonies ("Gone", "Diamonds from Sierra Leone"), percussion heavy club bangers ("Gold Digger") and trippy jazz psychedelia ("Drive Slow") instead.
3. The College Dropout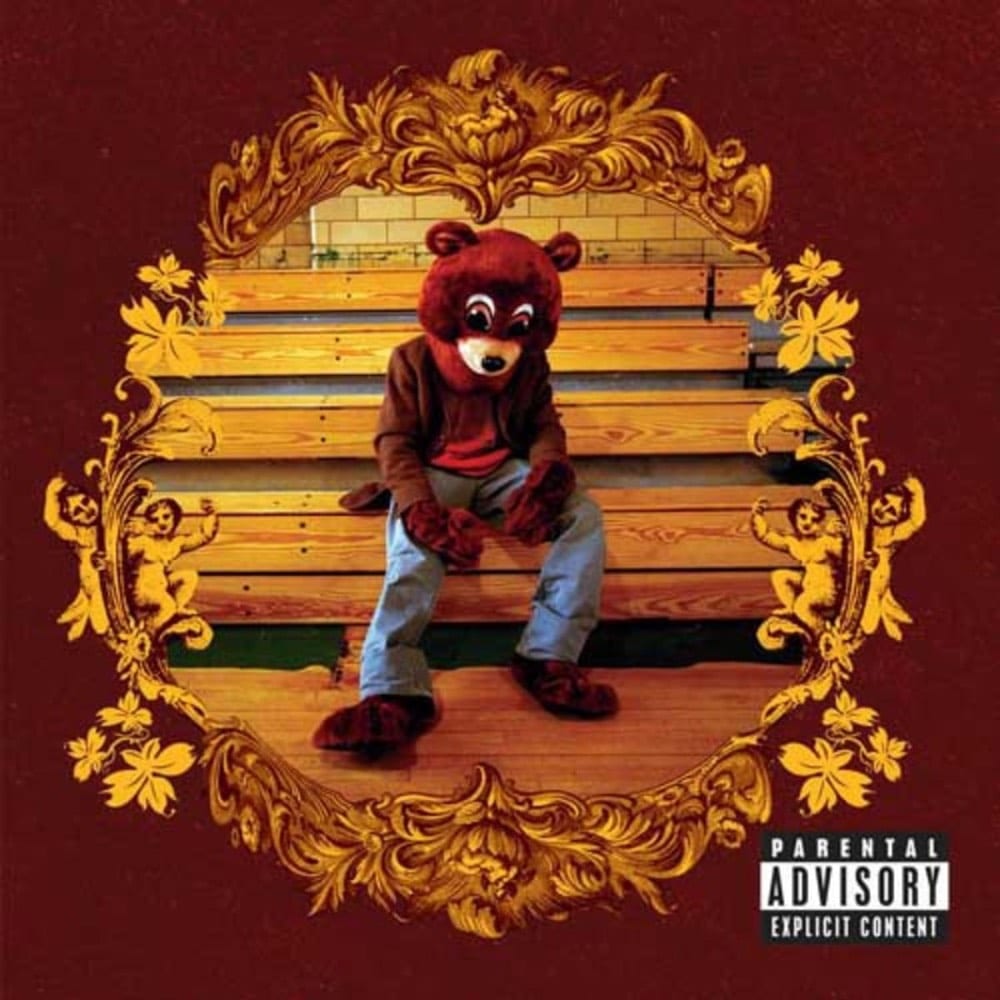 Released: February 10, 2004
Label: Def Jam, Roc-A-Fella
Best songs on the album: "All Falls Down", "Spaceship", "Jesus Walks", "Never Let Me Down", "Two Words", "Through the Wire"
Kanye took Talib Kweli, Mos Def and Common, threw them on the same record as Jay-Z and Freeway, successfully merging the world of hardcore, street rhymes with conscientious poetry like no one else had been able to do before him. Backed by chipmunk soul samples, gospel soundscapes and highly-addictive funk grooves; Kanye clobbered listeners with huge hits like "Jesus Walks" and "Slow Jamz" while getting introspective, examining blue collar dreams, working class dilemmas and the daily hustle.
2. Graduation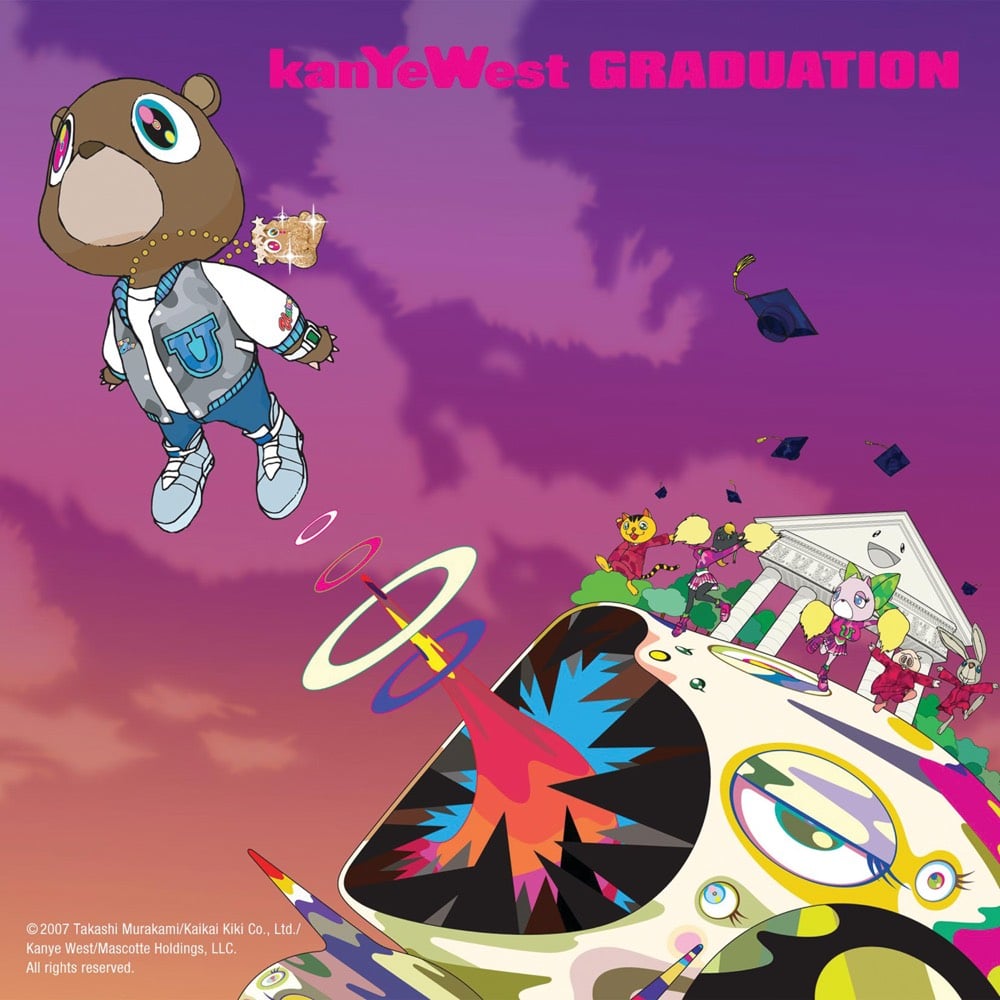 Released: September 11, 2007
Label: Def Jam, Roc-A-Fella
Best songs on the album: "Good Morning", "Stronger", "Good Life", "Can't Tell Me Nothing", "Flashing Lights", "Everything I Am"
This was the moment where hip hop fully shifted into Kanye's world. For the first few years since dropping his debut, Kanye was still climbing up the ranks. He had established himself as one of the leading artists of the 2000s, but the landscape was still being dominated by the Aftermath, Shady and G-Unit three-headed monster. But in 2007, everything clicked for Kanye. Suddenly, he was a stadium artist, making global anthems that transcended anything that was being created in rap music. The fact that he beat out 50 Cent in their sales battle was just the icing on the cake.
1. My Beautiful Dark Twisted Fantasy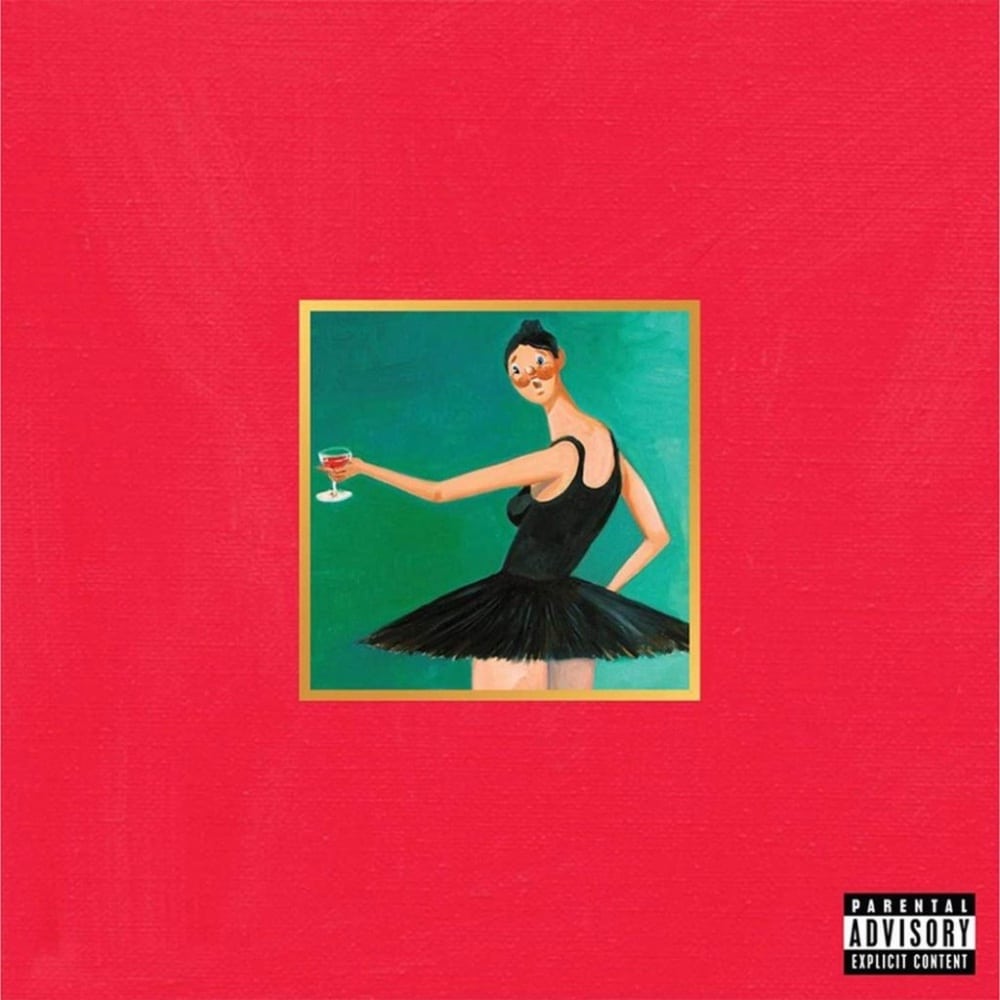 Released: November 22, 2010
Label: Def Jam, Roc-A-Fella
Best song on the album: "Dark Fantasy", "Gorgeous", "Monster", "Devil in a New Dress", "Runaway"
My Beautiful Dark Twisted Fantasy is as close to a perfect hip hop record as you can get. It has everything you could hope for from a Kanye West project. Actually, scratch that. It has everything you could for from a piece of artwork. Redemption story? Check. Star-studded cast? Check. An incredible roll-out? Check. The final product delivering on the highest of expectations? Check. Everything that has needed to be said about My Beautiful Dark Twisted Fantasy has been said already. The fact is: not only is this album the best Kanye album, it is the best hip hop album of the 2010s, and one of the greatest albums in music, period.