Released on a day scarred into history – September 11, 2001 – Jay-Z sixth studio album stood as a beacon of creativity, audacity, and unabashed New York swagger in a city that desperately needed an escape. From its soulful samples to its incisive raps and powerhouse production line-up, The Blueprint was more than just another album; it was a statement from the King of New York .
Peppered with moments of braggadocio and introspection alike, this classic serves as both a declaration of Hov's preeminence in the rap game and an open letter to the streets from where he emerged. From the anthem-like resonance of "Izzo (H.O.V.A.)" to the evocative storytelling featured on "Song Cry," and the fiery Nas-directed disses delivered throughout "Takeover," each song is a testament to Jay-Z's command over hip hop's lyrical and sonic domains.
So let's get into it. From the opening track "The Ruler's Back" to the soulful "Girls, Girls, Girls" and two bonus tracks — "Breathe Easy (Lyrical Exercise)" and "Girls, Girls, Girls (Part 2)" — we rank every song off Jay-Z's The Blueprint .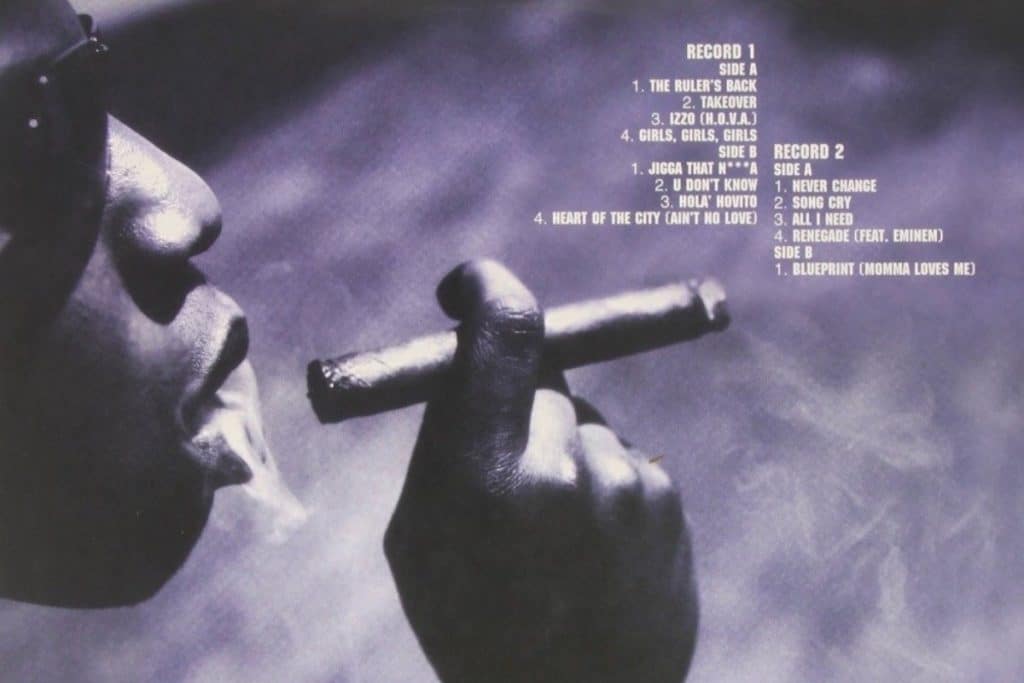 15. "Jigga That Ni**a"
Producer: Trackmasters
Track eight on The Blueprint , "Jigga That Ni**a" is Jay-Z at his most chill, rolling out verses over a killer beat from Poke and Tone of Trackmasters. This ain't Jay getting all emotional or dropping some kind of deep story. Nah, it's just him kicking back and reminding everyone who's the top dog in the game. It might not be the heart and soul of the album, but it sure does show off how smooth Jigga's flow can be when he's in his element.
14. "Girls, Girls, Girls (Part 2)"
Producer: Kanye West
"Girls, Girls, Girls (Part 2)" is the album's hidden gem, a remix that rolls out a more laidback beat while Jay-Z dives back into his complex relationship with women. Kanye West provides the soulful backdrop for this one, and the Brooklyn MC brings both humor and a touch of reality into his verses. It might not be as punchy as the other tracks, but it's a fun ride that adds some extra flavor to the mix.
13. "All I Need"
Producer: Bink
"All I Need" is pure, uncut businessman Jay-Z, bursting with ambition and a hunger for success. Bink gives us an epic backdrop while Jay lays out his hustler's mindset that's been with him from the Marcy days. This track is Jay showing off his storytelling skills, giving us a front-row seat to his journey from the Marcy projects to rap royalty. If you want to understand Jay's grind and his vision, "All I Need" is your go-to track on The Blueprint . It's an essential part of the album's whole vibe.
12. "Hola' Hovito"
Producer: Timbaland
Stepping into the ring with "Hola' Hovito," Jay-Z doesn't pull any punches. Every line feels like a jab, and his braggadocious swagger lands like a right hook over this bouncy, infectious Timbaland beat. Sure, it might not be Jay at his most profound, but who cares when he's having this much fun? This track's charm is in its brazenness; it's Jay-Z's victory lap and he doesn't even blink while claiming he's better than Big.
11. "The Ruler's Back"
Producer: Bink
Bringing the royal vibes and paying homage to Slick Rick, "The Ruler's Back" sets the tone for the entire album. Jay-Z announces his return over a triumphant sample-laden beat, asserting his reign in the rap game. The brilliance here lies in Jay's brash, unapologetic lyricism, each line delivered with an air of authority. It's the hip-hop equivalent of a king reclaiming his throne, and it's absolutely impossible to ignore.
10. "Breathe Easy (Lyrical Exercise)"
Producer: Just Blaze
"Breathe Easy (Lyrical Exercise)" finds Jay-Z strutting his stuff, showing off his verbal acrobatics on a menacing Just Blaze beat. This isn't the big, boastful Jay-Z from the previous track; here, he's more of a gymnast, working out on the bars and demonstrating his dexterity. The brilliance of this track is how it underscores that, for Hov, rapping is as natural as breathing.
9. "Girls, Girls, Girls"
Producer: Just Blaze
"Girls, Girls, Girls" is Jay-Z dipping his toes into the charmingly absurd. With a line-up of rap legends — Q-Tip, Slick Rick and Biz Markie — harmonizing on the hook, the track is a testament to Jay's wide-ranging appeal. As he playfully dissects his international love affairs over the soulful, melodious beat, you can't help but chuckle and shake your head at Hov's audacious candor.
8. "Blueprint (Momma Loves Me)"
Producer: Bink
Next up, we're hit with an unexpected emotional gut-punch, "Blueprint (Momma Loves Me)". Jay gets introspective, painting a vivid portrait of his upbringing and acknowledging those who helped shape him along the way. A love letter to his roots, this track showcases Jay's storytelling skills over a stripped-down beat that lets his narrative shine. Bink's production on here might the best one on an album full of bangers.
7. "Izzo (H.O.V.A.)"
Producer: Kanye West
Debuting as the lead single of 'The Blueprint,' "Izzo (H.O.V.A.)" isn't just a smash hit—it's a statement. With Kanye West's Jackson 5-laced backdrop, Jay-Z masterfully chronicles his ascension from the streets to stardom. The chorus? Pure earworm. Its magnetism lies not just in its melody, but in the raw authenticity of Jay's narrative. The result? A track that's not just catchy, but a testament to Jay's tenacity and irresistible charm.
6. "Takeover"
Producer: Kanye West
This song is a scorcher, marking one of the most memorable moments in rap beef history. Over a raw, biting Kanye West beat sampling The Doors, Jay-Z fires back at Nas and Mobb Deep with barbed verses that left the rap game reeling. More than just a diss track, "Takeover" showcases Jay's sharp wit, lethal pen game, and unmatched bravado.
5. "Song Cry"
Producer: Just Blaze
We hit number 5 with "Song Cry," a track that is quintessential Jay-Z in its fusion of vulnerability and braggadocio. The brilliant Just Blaze beat underscoring Jay's introspective lyrics tug at the heartstrings, showing us that even the biggest rap mogul can still feel the sting of heartbreak. It's an intimate portrait of the man behind the music, cementing The Blueprint as an album that isn't afraid to touch on the full spectrum of emotions.
4. "Renegade"
Featuring: Eminem
Producer: Eminem, Luis Resto
Standing tall at number 4 is "Renegade", a powerhouse collab with the one and only Eminem. Both rappers bring their A-game, delivering hard-hitting verses over an atmospheric, haunting beat. Em's guest verse is often the talking point , but don't overlook Jay's contribution. The narrative he weaves about the struggles of his come-up, contrasted with his then-present status, is pure lyrical gold.
3. "Heart of the City (Ain't No Love)"
Producer: Kanye West
"Heart of the City (Ain't No Love)" lands in our number 3 spot with a certain charm that's hard to ignore. This track's raw, soulful sample from Bobby "Blue" Bland serves as a perfect backdrop for Jay's musings on success, envy, and the fickleness of the rap game. It's Jay-Z at his most introspective, backed by Kanye's early signature style – a perfect blend of classic soul and hard-hitting hip hop.
2. "Never Change"
Producer: Kanye West
Clocking in at number 2 is "Never Change", a testament to Jay-Z's relentless consistency. Over a bluesy, soulful beat, Jay emphasizes his unwavering commitment to the code of the streets and the values he's held since his hustling days. It's a deeply personal track, imbued with a sense of nostalgia, but also a firm assertion of who Jay is at his core.
1. "U Don't Know"
Producer: Just Blaze
And finally, crowning our list at number 1 is the blistering "U Don't Know". Backed by a ferocious beat that knocks you off your feet, Jay spits flames about his hustler past and mogul present. This is Jay-Z in beast mode, bragging about his business acumen, flaunting his wealth, and serving a dose of reality to anyone who dares doubt his genius. It's an anthem that encapsulates the essence of The Blueprint – a rags-to-riches tale told with unapologetic swagger, marking its deserving place as our top pick.