The question of who are the best rappers right now is a hard one to answer. Ask 10 different hip hop heads who their top five best rappers alive are, and you might get 50 different names.
The question was a difficult one to answer back in the 1990s when you had so many dope MCs competing against each other, but it's damn near impossible to answer now with how much the culture has evolved with so many different sounds and variety of artists.
But this is hip hop and the battle of being the top dog has always been around. At any given point in time, there are countless rappers gunning for the top spot, whether it was KRS-One making his come-up by dissing MC Shan in the '80s, or Lil Wayne rapping over Hov's "Show Me What You Got" back in 2007 or Drake and Pusha clashing in 2018. The spirit of competition is heavy in hip hop.
In 1997 on "Where I'm From," Hov asked: "Who's the best MCs, Biggie, Jay-Z or Nas?" Over 15 years later, Kendrick answered the question with: "Kendrick, Jigga, and Nas." Then just under a decade onwards, Joey Badass gave his take on it: "Kenny, Joey and Cole."
So now it's our turn to answer the question. From Lil Baby, Denzel Curry and Lil Durk, to Kendrick Lamar, J. Cole and Drake, here are the 50 best rappers right now, the 2020s edition.
Before we get into the 50 best rappers right now, here are the honourable mentions.
Moneybagg Yo
Albums: Time Served, A Gangsta's Pain
Mixtapes: Code Red (with Blac Youngsta)
Moneybagg Yo's earliest work gave a hard gangsta trap view from the streets of Memphis. Throughout the late 2010's, with that sound he made inroads into the upper echelon of the hip-hop world. His success included high-profile collaborations with the likes of Youngboy NBA, Future, and Yo Gotti, the latter to whom he was signed with.
Things really took off for Moneybagg in the 2020s with a string of hit singles and albums. With success came artistic growth. His hard sound, which was had long been defined by bangers, began developing more dimensions, especially on his 2021 blockbuster album, A Gangsta's Pain, which also became his first number one release. Not only is Moneybagg position to be one of the hottest artists in the game, he's also one of the best Memphis rappers doing it right now.
EST Gee
Albums: I Never Felt Nun
Mixtapes: Ion Feel Nun, I Still Don't Feel Nun, Bigger Than Life or Death, Bigger Than Life or Death, Pt. 2, Last Ones Left (with 42 Dugg)
Hailing from Louisville, Kentucky, EST Gee saw Lil Baby rapping on TV one day while on house arrest in 2016 and was inspired to pursue a recording career. Within a few years EST Gee had signed a deal with Yo Gotti's Collective Music Group (CMG), and become a staple voice on the label – CMG's latest release, Gangsta Art, features him prominently on the album. With his snarling rumble of a voice and a knack for delivering memorable one-liners, EST is now a major player in the rap game and certainly one of the most popular and best rappers right now.
Gunna
Albums: Wunna, Slime Language 2 (with YSL Records), DS4Ever
Mixtapes: N/A
Gunna isn't worried about being the hardest rapper or the best MC, he's here to get paid, rock outrageous outfits and stay fly. Blessed with the smoothest voice in hip hop right, Gunna has found success at the very top of the music industry, even though it was quickly marred by his RICO indictment. The YSL artist's third album, DS4Ever, became the first number one album of his recording career while Future and Young Thug-featured "Pushin P" became engrained in the culture shortly after release.
Roddy Ricch
Albums: Live Life Fast
Mixtapes: Feed Tha Streets III
Roddy Richh made his major label debut in late-2019 with the album Please Excuse Me for Being Antisocial, after a string of indie successes. Raised in Compton, the birthplace of both N.W.A. and Kendrick Lamar, the rapper's style and persona land somewhere between the hard gangster lean of the former and the more cerebral introspection of the latter, while blending in his unique melodies and catchy hooks. Lyrically, Roddy Ricch regularly transforms his persona to reflect a different side of his personality. The former gang member is still very much a product of his surroundings. Sometimes insightful and thought-provoking, at other times his rhymes are raw and violent.
DaBaby
Albums: Blame It on Baby, Baby on Baby 2
Mixtapes: Better than You (with YoungBoy Never Broke Again)
DaBaby entered the 2020's riding a wave of wins. Early hustling at SXSW in 2015 led to a string of successful indie mixtapes. He made his major label debut in 2019 with Baby on Baby. The North Carolina native closed out the decade with his sophomore album Kirk debuting at number one on the Billboard album chart. With a distinctly southern trap sound, an undeniable flow and a raw confessional lyrical style, DaBaby struck a chord with hip hop fans around the world. His third album Blame it on Baby dropped in 2020 and once again the rapper found himself at the top of the charts. Earlier this year he released Better Than You, his much anticipated joint album with NBA YoungBoy, as he continued his consistent streak of dropping hot music.
Jay Electronica
Albums: A Written Testimony (2020), Act II: The Patents of Nobility (The Turn) (2020)
Mixtapes: N/A
Hip hop history is littered with names of dope rappers who didn't blow up the way we thought they would Whether it's Papoose, Saigon or Vic Mensa, these rappers for one reason or another missed their window of opportunity to truly capitalise on their buzz and become major stars. Jay Electronica technically belongs on that list – the best time for his debut album to have come out was right after 2009's "Exhibit C" – but I just don't feel right putting him alongside those names. Even after missing his optimal album release date by more than a decade, the New Orleans rapper has still been able to capture hip hop's attention whenever he feels like. Maybe it's because, besides his timeless flow and aesthetic, Jay Electronica is a really, really great rapper. As shown on A Written Testimony, where he more than held his own against the greatest rapper of all time across most of the tracks, Jay Electronica's fluid rhyming skills and intelligent knowledge dropping makes him a formidable MC at all times.
50. Megan Thee Stallion
Albums: Suga (EP), Good News, Traumazine
Mixtapes: N/A
Megan Thee Stallion entered 2019 as an Instagram famous rapper from Houston on an indie label. By the end of 2020 Hot Girl Meg was one of the biggest names on the planet. Her fame has only grown since. Two albums in, a couple of number one hit singles and an endless string of superstar collabs have kept the Houston MC at the top of the charts. A master freestyler, Megan Thee Stallion's ad-lib rhymes are the stuff of legend. Gaining the respect of fans and the industry alike she has won numerous awards, including three Grammys, while retaining her gritty lyrical style that doesn't betray any sign of crossing over.
49. Fivio Foreign
Albums: 800 B.C. (EP), B.I.B.L.E.
Mixtapes: N/A
On his 2022 debut album B.I.B.L.E, Fivio Foreign dropped a sound lifted directly from the streets of Flatbush. The Brooklyn rapper first made noise in 2019 with his single "Big Drip." A string of high-profile features and collaborations followed, before he put his name on the global map with a stunning feature appearance on Kanye's "Off the Grid," which was one of the best guest verses ever. Fivio made sure to strike when the iron was hot. B.I.B.L.E introduced a complex mix of gospel vibes, drill production and hometown pride. Throughout the album the versatile rapper slid smoothly between hard bar and melodic, R&B-infused rhymes. On his hit single "City of Gods," Fivio never looked more comfortable than when he was sharing the spotlight with superstars like Kanye and Alicia Keys.
48. G Herbo
Albums: PTSD, 25, Survivor's Remorse
Mixtapes: N/A
Coming up with Lil Bibby as part of the Chicago drill wave after Chief Keef, Lil Durk, Lil Reese, and Fredo Santana had kick down the door, G Herbo (formerly known as Lil Herb) had always been one of the more thoughtful rappers to emerge from that scene. While his catalogue never lacked bangers (the entire Welcome to Fazoland is a highlight reel), Herbo has consistently pushed back against stereotypes of the drill movement with deep cuts about survivor's guilt, PTSD and personal trauma.
47. Meek Mill
Albums: Quarantine Pack, Expensive Pain
Mixtapes: Flamers 5
Meek Mill established his formula early on in his recording career and was content to stick with it. Blending aggressive turn-up tracks with a few introspective cuts and throwing in a couple of joints for ladies, the Philly spitter never deviated much from his lane. It's the reason why a rapper of his enormous talent isn't higher up on this list, once you've heard one Meek album, you've heard them all. That's not to say that he hasn't been consistent, dropping five albums and four mixtapes over the past decade, with his latest, Expensive Pain, being another solid effort.
46. Travis Scott
Albums: N/A
Mixtapes: N/A
While Travis Scott hasn't dropped an album since his 2018 masterpiece Astroworld, the Houston rapper-producer has been a constant presence in the game thanks to a steady release of high-profile singles and strategically placed feature appearances. From the chart-topping "The Scotts" and high-octane "Franchise" to "Praise God" with Kanye and "Fair Trade" with Drake, Travis has managed to stay at the top of hip hop with just a handful of songs. There are probably two or three other rappers who would have been able to do the same. Expect Travis' ranking to rise on this list after he drops the highly anticipated Utopia to cement his position as one of the best rappers right now and most important Texas rappers ever.
45. Maxo Kream
Albums: Weight of the World
Mixtapes: N/A
Growing up in Southwest Houston, Maxo Kream has seen a lot and been through a lot. You can hear it all through his music, whether it's his world weary, pain-infused delivery, or the storytelling lyrics sprinkled throughout his songs. Hip hop heads don't have to listen too closely to see the resemblance between Maxo and fellow Houston OG Scarface when it comes to their rapping. After hitting a new level with his writing and album-crafting on 2019's Brandon Banks, Maxo dropped the fantastic Weight of the World and firmly established himself as one of the top rappers to watch in the game right now.
44. Larry June
Albums: Game Related (with Cardo, Payroll Giovanni and HBK Kid), Adjust to the Game, Cruise USA (with Cardo), Keep Going (with Harry Fraud), Orange Print, Into The Late Night (ITLN) (with Cardo), Spaceships on the Blade, 2 P'z In A Pod (with Jay Worthy)
Mixtapes: Numbers
San Francisco-born rapper Larry June has low-key been building one of the best catalogues in hip hop today. After a disappointing stint on Warner Records during the 2010s, June picked himself back up, took his experience and hit the independent grind hard. The payoff was worth it – thanks to the freedom that independence grants him, the West Coast MC has dropped close to a dozen projects since the start of the 2020s. With his slick talk on the mic, soulful cadences and distinct Bay Area aesthetic, Larry June has grown to be a fan favourite and one of the best rappers doing it right now.
43. Skyzoo
Albums: The Bluest Note (with Dumbo Station), Milestones, All the Brilliant Things
Mixtapes: N/A
Easily one of the most underrated rappers of all time, Skyzoo has been doing this rap shit at the highest level since the mid-2000s and he's still going from strength to strength. A traditional wordsmith moulded by the classic rap albums of Jay-Z, Nas and Biggie, the Brooklyn rapper's pen game and lyrical technique have always been immaculate, and he's not showing any signs of slowing down. In the 2020s alone, Skyzoo has dropped three great projects – The Bluest Note with Dumbo Station, Milestones and All the Brilliant Things. Here's to more on the way.
42. Lloyd Banks
Albums: The Course of the Inevitable, The Course of the Inevitable 2
Mixtapes: N/A
A lot of the rappers running around these days would have most likely grown up listening to Lloyd Banks spit punchline after punchline alongside 50 Cent and Tony Yayo on classic G-Unit mixtapes, especially if they grew up in New York. They probably have some early memories of the Queens MC dropping bars on "U Should Be Here" or murdering Puffy's "Victory" with his own "Banks Victory." Not much has changed over the past 20 years – the punchline king stays the punchline king. After taking over a decade in between albums, Lloyd Banks has been going through a resurgence as of late, with the highly acclaimed The Course of the Inevitable and its 2022 sequel. Maybe the voice is a little huskier and his lyrics a lot more reflective, but Banks' technique on the mic is immaculate and his pen game is superb as ever. Every bar that he spits is just proof to the young bucks that he's still one of the best rappers right now, a couple decades since his debut.
41. 42 Dugg
Albums: N/A
Mixtapes: Young & Turnt, Vol. 2, Free Dem Boyz, Last Ones Left (with EST Gee)
42 Dugg was still a child when he was sent to prison. By the time he was just 22 years-old, the Detroit rapper had spent six years behind bars, where he started writing rhymes during a long stint in solitary confinement. The former gang member's incarceration also provided the central lyrical theme of his work. With his memorable voice, talent for crafting catchy hooks and weaving in melodies with heart-on-the-sleeve raps, Dugg quickly established himself as a fan favourite. After a string of successful singles and mixtapes, he dropped his hugely successful debut album Free Dem Boyz, a record dedicated to his friends and all of the young men in lock-up. His success continued with the release of Last Ones Left, a collab with EST Gee.
40. Playboi Carti
Albums: Whole Lotta Red
Mixtapes: N/A
After grinding away at his music and uploading it to SoundCloud of most of the 2010s, Playboi Carti began to gain traction towards the end of the decade. Strengthened by his relationship with A$AP Mob – he appeared on Cozy Tapes Vol. 1: Friends and signed to their AWGE imprint – the eccentric rapper began making waves on the scene. Once he dropped "Magnolia" and "Wokeuplikethis" in 2017, he became a household name and there was no escaping Playboi Carti's voice if you were listening to hip hop at the time. Over the past few years, he has continued to push the boundaries of his creativity, experimenting with different production, voices and flows as he lived out his rockstar persona.
39. Che Noir
Albums: Juno, As God Intended (with Apollo Brown), Food for Thought, The Last Remnants
Mixtapes: N/A
Che Noir isn't just one of the best female rappers in the game today, she's one of the best rappers right now, bar none. Born on the exact same day that Nas' landmark Illmatic dropped (April 19, 1994), Che was destined for rap greatness. Ever since her collaboration album with Apollo Brown, As God Intended, dropped in 2020, the Buffalo rapper has been making statement after statement, whether it's verbally sparring with lyrical heavyweights like Benny the Butcher and Ransom or dropping straight-up masterpieces like 2022's Food for Thought.
38. YoungBoy Never Broke Again
Albums: Top, Sincerely, Kentrell, The Last Slimeto, I Rest My Case
Mixtapes: Still Flexin, Still Steppin, 38 Baby 2, Until I Return, Colors, Nobody Safe (with Rich the Kid), From the Bayou (with Birdman), Better than You (with DaBaby), Realer 2, 3800 Degrees, Ma' I Got a Family
There are very few rappers today who can boast of having a fanbase as fiercely loyal as NBA YoungBoy. Blessed with a distinctive voice and the ability to balance both high-energy rapping and catchy melodies, he's one of the most versatile artists in the game at the moment. Even with no real global hit single to his name, aside from the the Juice Wrld-featured "Bandit", the Baton Rouge rapper has managed to surpass all his peers from a commercial standpoint. With four number one albums and six platinum releases, YoungBoy proved that all you really need at the end of the day are your fans.
37. 21 Savage
Albums: Savage Mode II (with Metro Boomin), Her Loss (with Drake)
Mixtapes: N/A
Over the past decade, since debuting with The Slaughter Tape in 2015, the Atlanta rapper has evolved from a cold-blooded trapper with a permanent sneer on his face to a full-blown artist, capable of crafting thoughtful masterpieces. 21 Savage showed raps what he was capable of when he dropped I Am > I Was at the end of the 2018, then he linked up with longtime collaborator Metro Boomin for the 2020 masterpiece Savage Mode II. In between releases, he stole the scene from a number of artists on their own song, including Drake, J. Cole, JID, the late King Von, Rick Ross and plenty more.
36. Polo G
Albums: The Goat, Hall of Fame
Mixtapes: N/A
Polo G's ascension to the top of the rap game has been incredible. Uploading his first ever song "ODA" to YouTube and SoundCloud in 2018, the Chicago rapper started racking up millions of plays on subsequent releases. Things really popped off for him with the success of multiplatinum singles "Finer Things" and "Pop Out" which led to a major label deal with Columbia. While Polo started off initially with the drill sound popularised by his hometown, he quickly realised that it was in his melodic talents where his greatest strength laid. Inspired by Lil Wayne and 2Pac, as well as Lil Durk and G Herbo, he has since embraced a straight-shooting lyrical approach with unforgettable hooks and commercial appeal. It wasn't long before he earned himself a number one album with Hall of Fame and a pop chart topper with "Rapstar." Polo G is firmly entrenched as one of the best rappers in the game right now.
35. Lil Durk
Albums: Just Cause Y'all Waited 2, The Voice, The Voice of the Heroes (with Lil Baby), 7220
Mixtapes: Loyal Bros (with Only the Family)
The fact that Lil Durk is not only still around, but actually thriving both commercially and critically is a testament to his staying power and resilience in the face of overwhelming odds. Take a look around at the other artists who came up around him during the early 2010s. Chief Keef is doing his thing on the independent tip, but while his music is still as striking as ever, he's been long gone from the mainstream eye. Fredo Santana sadly passed away from a fatal seizure in 2018, Lil Reese seems unable to escape from the street life, and King Louie never managed to breakthrough like he was poised to do in 2012. But 10 years after Durk debuted as part of the Chicago drill movement, he's bigger than ever. Combining a relentless work ethic – which saw him release four albums over two years – with strategic collaborations with buzzing rappers like Lil Baby, Polo G and Moneybagg Yo, Durk has managed to evolve his sound to a perfect blend of pained, melodic performances and turn-up street anthems. It's been a long road full of ups and downs, twists and turns, but at this point in time, Lil Durk is absolutely one of the most popular and best rappers in the game right now.
34. Little Simz
Albums: Drop 6 (EP), Sometimes I Might Be Introvert, No Thank You
Mixtapes: N/A
UK rapper Little Simz put herself on the map during the 2010s with three independent releases – A Curious Tale of Trials + Persons, Stillness in Wonderland and Grey Area – but it was her fourth album, Sometimes I Might Be Introvert, released in 2021 that made everyone in hip hop take notice. Over the course of an hour, the UK MC bared her confessional songwriting over lush production, with the confidence and slickness of someone who's been doing this for more than 10,000 hours. Little Simz may have entered the 2020s as an unknown entity, but she proved real quick that she belonged here with the crème de la crème, and is certainly one of the best rappers right now.
33. Young Thug
Albums: Slime Language 2 (with YSL), Punk
Mixtapes: Slime & B (with Chris Brown)
Young Thug should have been a superstar the very moment he entered the hip hop consciousness. He was the complete package – the voice, the different flows, the look, the gift to make hit songs – but for one reason or another, things just never really took off for him. Even with brilliant mixtapes like Rich Gang: Tha Tour Pt. 1 and the Slime Season series or show-stopping features like "About the Money", "I Know There's Gonna Be (Good Times)" and "Pick Up the Phone", Thugga couldn't quite break through as a superstar. This all changed at the beginning of the decade. Following the massive success of his debut album, So Much Fun, which also became his first number one release, Young Thug continued to rack up the accolades and recognition. He dropped two more number one records Slime Language 2 and Punk, while continuing to evolve his eclectic sound, dabbling in indie rock, dark pop and soulful r&b vibes on his latest release.
32. Westside Gunn
Albums: Pray for Paris, Who Made the Sunshine
Mixtapes: Flygod is an Awesome God II, Hitler Wears Hermes 8: Sincerely, Adolf, Hitler Wears Hermes 8: Side B, PEACE "FLY" GOD, 10
No other rapper had done more for underground hip hop in the 2020s than Westside Gunn. Building upon the foundations laid down by East Coast stalwarts like Roc Marciano and Ka, the Buffalo rapper-turned-mogul shone a spotlight on the oft-neglected city as he and his Griselda crew – comprised of the lyrical killers Benny the Butcher and Conway the Machine – began taking over the industry, one bar at a time. In between landmark deals with Roc Nation and Shady Records, West also managed to find time to drop a steady stream of dope releases, including his 2021 magnum opus Hitler Wears Hermes 8. It was just like Conway and Benny said, West was the brains behind it all.
31. Lil Uzi Vert
Albums: Eternal Atake, Lil Uzi Vert vs. the World 2, Pluto x Baby Pluto (with Future), Red & White EP
Mixtapes: N/A
Lil Uzi Vert was already a leading voice in hip-hop at the dawn of the 2020s. His 2015 debut Love is Rage immediately established the rapper as a pioneer of the then burgeoning emo trap sound. Five years of multi-platinum singles, mixtapes, EPs and albums followed. In that time, Uzi has collaborated with everyone from Bieber to Future, and is a fan favourite where he goes. The Philly MC has, both literally and figuratively, outlived many of his peers. While other genre and gender-bending artists like Juice WRLD and XXXTentacion have met their tragic fates, Lil Uzi Vert has become a music and fashion icon.
30. Stove God Cooks
Albums: Reasonable Drought
Mixtapes: N/A
Not since A$AP Rocky has a debuting artist arrived on the scene with such a fully-formed aesthetic. But it was a rocky start to his recording career for Stove God Cooks. Formerly going by the name Aaron Cooks, the New York MC had a few label situations going on – one with Lord Jamar, another with Busta Rhymes – but nothing really panned out. It was only until he hooked up with underground OG Roc Marciano that Stove was able to tap into his full potential. On his debut album, Reasonable Drought, Stove realised that potential, displaying a gift for murderous one-liners, an intoxicating voice, and a keen sense for melody, making him one of the most exciting underground rappers to watch right now.
29. Baby Keem
Albums: The Melodic Blue
Mixtapes: N/A
Baby Keem first made some noise in 2018 with his debut EP Hearts and Darts. Over the next two years the rapper-producer would release a string of singles and mixtapes, while working alongside his cousin, the Pulitzer Prize-winning icon Kendrick Lamar. Talk about having a lot to live up to in the family. After making waves in 2021 with his feature on Kanye's "Praise God" and his single "Family Ties" which featured Keem going bar-for-bar with his cousin, the West Coast MC dropped his debut album The Melodic Blue, and the reception couldn't have been better. One gold record and a Grammy Award later, and it's clear to see that Keem is going to be sticking around for a while, and is undoubtedly one of the best rappers right now.
28. Ransom
Albums: Se7en, Heavy Is the Head (with Big Ghost Ltd), Coup De Grace (with Rome Streetz), No Rest For The Wicked
Mixtapes: N/A
Ransom has been around for a while but he's been experiencing a resurgence as of late. With his smooth-yet-rugged flow and ability to pile on complex, multisyllabic rhymes like it was second nature, everything seems to be clicking in place for the rap veteran. Ransom's output in 2021 alone is enough to warrant his placement on this list. In fact, I'm just going to leave his verse on Conway's "Kill All Rats" for you to be the judge on why Ransom is one of the best rappers right now.
The lifestyles of the cold and heartless
My truth don't come to the light, I write with a soul of darkness
Throw your carcass back of the alley, right by them golden arches
Rolled in carpet, body is rotten, shockin' to know the charges
So accomplished, the corner store is like my Oval Office
Slow and cautious, meticulous and sick when I load the cartridge
Blow your cartilage in a million pieces, with a brilliant thesis
I'm a god to these gangsters like a Sicilian Jesus
Still a creature, spittin' firе 'cause I'm filled with ethеr
Steel'll greet you, give 'em sixteen with the beam and spill his features
Fill the bleachers, like I'm Jordan shootin', I'm the raw pollution
Call the troops in, the greatest, so what we all disputin'?
Ni**a, I never lost a victim
The Larkin ripped 'em, then it's back to the long-nose like I'm Larsa Pippen
Bars are sickenin', I got across the system
Y'all ni**as lost your vision, read it in braille, I'll be the source of wisdom, ni**a

- Big Ghost LTD & Conway the Machine - "Kill All Rats" // If It Bleeds It Can Be Killed (2021)
27. Mach-Hommy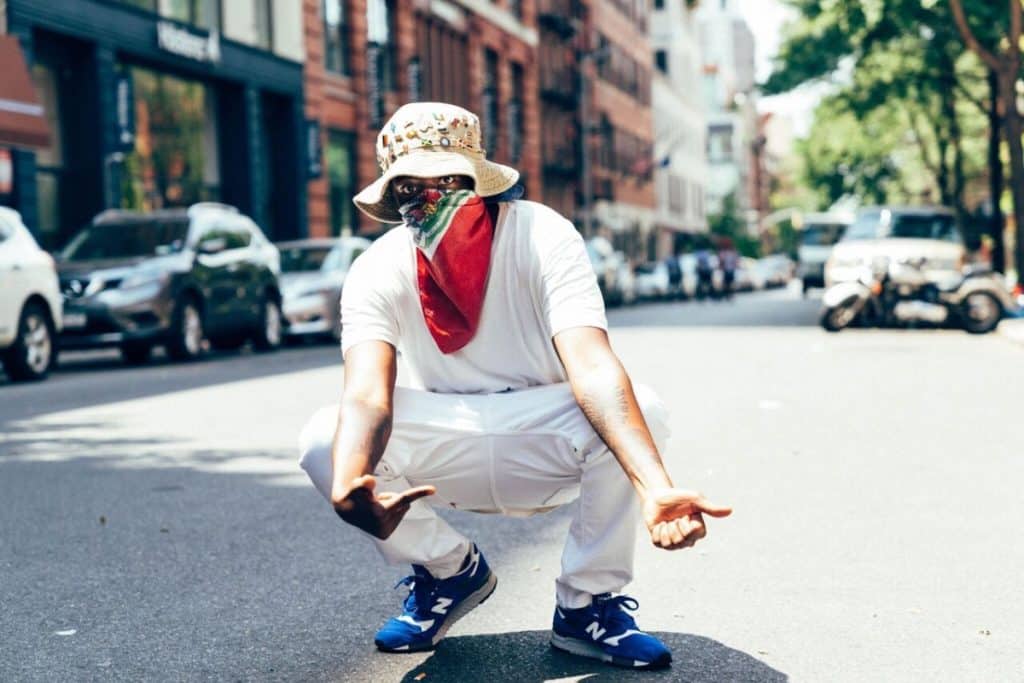 Albums: Mach's Hard Lemonade, Pray for Haiti, Balens Cho (Hot Candles)
Mixtapes: N/A
The most common word journalists use to describe Mach-Hommy is "enigmatic," and there's a good reason for that. The Haitian-born, New Jersey-raised rapper is famous for his elusive behaviour, concealing his face in all public appearances and not revealing much of his personal life. But as long as he continues dropping music at the rate and quality that he's been giving us, who cares what he looks like or what his real name is? Since the early 2010s, Mach has been blessing fans with a treasure trove of high art, but ever since linking back up with Griselda his music has reached another level. Mach's 2021 album, Pray for Haiti, executive produced by Westside Gunn was a tapestry of alluring lofi production, complex lyricism, and of course, references to Haiti. It doesn't matter whether Mach is going to reveal his face and tell rap fans more about himself, as long as the music keeps dropping.
26. Lil Wayne
Albums: Funeral
Mixtapes: No Ceilings 3, Trust Fund Babies (with Rich the Kid)
If you base Lil Wayne's standing on this list on his own output during the 2020s, then it's really nothing special. There's the decent Funeral, the strong No Ceilings 3 and average collaboration mixtape with Rich the Kid, Trust Fund Babies. An ok showing but nothing to warrant his placement this high. No, to understand that you need to look at his feature appearances during this decade so far. Two decades deep in his career, Lil Wayne has recently embarked on a guest verse wrecking tour so vicious that it's reminding his fans of the 2000s-version of mixtape Weezy. In 2021 alone, Wayne was responsible for some of the best guest verses of the year, including Nicki Minaj's "Seeing Green", Tyler's "Hot Wind Blows", Westside Gunn's "Bash Money", Drake's "You Only Live Twice", and plenty others. The point is, Weezy is sounding hungrier and more passionate for his rapping than ever before.
25. Blu
Albums: Miles (as Blu & Exile), The Color Blu(e)
Mixtapes: Soul Amazing Volume 9 (with DJ Cristano)
In 2007, Blu & Exile dropped Below the Heavens, which went on to become one of the most beloved and most important independent rap records of all time. 13 years later, they were back at it again with Miles: From an Interlude Called Life like they never lost a step, cementing themselves as one of the greatest rap duos of all time. Backed by Exile's gorgeous soul samples and chopped up production, Blu floats from track to track as he raps about navigating the life of a blue-collar MC just trying to pursue his passion with no strings attached.
24. Eminem
Albums: Music to Be Murdered By, Music to Be Murdered By – Side B
Mixtapes: N/A
Eminem may be well past his prime – artistically and commercially – but please don't ever in your life think that he's not one of the best rappers alive, every year that he decides to continue doing this rhyming shit. At this point in his life, like many other legends who are still active, Em's rapping for the love of the sport and spirit of competition. The terrible reception to 2017's Revival seemed to have given him renewed focus, which would explain why he's lined up his last two albums with absolute lyrical killers like Royce da 5'9″, Black Thought, Kxng Crooked, Joell Ortiz and Joyner Lucas.
23. Royce da 5'9″
Albums: The Allegory
Mixtapes: N/A
Royce da 5'9″ making the decision to sign with Tommy Boy Records instead of Aftermath Entertainment back in the day was the best thing that ever happened to him in the long-term. Sure, he might have missed out on the multi-million dollar recording budgets, private jets and access to top-notch producers, but there's a strong chance that he probably wouldn't have released an album. After all, this is Aftermath we're talking about – a record label that once had Rakim, Raekwon, Joell Ortiz, Hittman, Bishop Lamont, Jon Connor, and never did anything with them. By making that decision back in the late '90s, the esteemed Detroit spitter's career has taken a number of twists and turns which have led him to this position today: a self-sufficient independent artist who can rap and produce with the best of them. Ever since Royce's career resurgence during the late 2000s, it was clear that he was one of the finest MCs in the game, but his latest album, The Allegory, showcased a depth and thoughtfulness in his album-crafting ability that wasn't previously seen. The fact that it was also nominated for a Grammy Award for Best Rap Album is just the icing on the cake.
22. Billy Woods
Albums: Shrines (as Armand Hammer), BRASS (with Moor Mother), Haram (as Armand Hammer), Aethiopes, Church
Mixtapes: N/A
Even some of the most diehard hip hop heads scratch their heads when the name Billy Woods is brought up in conversation. But as the New York underground's best kept secret, this verbal assassin has been doing this rap shit and holding down the scene since the early-2000s. Woods has been dropping dope shit for over the past decade, but it's coming into the 2020s, it seems like he's really levelled up with his bars and storytelling rhymes. As part of the duo Armand Hammer, he dropped Shrines and Haram – this Alchemist-helmed project was one of the best releases of 2021 – and then dropped Aethiopes as a solo rapper in 2022. Over dusty drum loops and fractured samples, Woods sounds best as he waxes philosophical and weaves in narratives like a ghost on a track.
21. Joey Badass
Albums: The Light Pack (EP), 2000
Mixtapes: N/A
On the opening track off 2000, Joey Badass starts off by saying, "I can take five years off 'cause my shit is timeless / My core got my back so I'm standing on my promise." Ain't that the damn truth? The Brooklyn rapper has always been content to take his time in between projects because he understands making the type of music he makes requires patience and thought, which is something that his fanbase has learned to appreciate. It's an approach that only the most confident of MCs – like Pusha, Cole and Kendrick – can take. A decade after releasing his now-classic mixtape, 1999, Joey is now a certified OG in the rap game, with the catalogue and audience to match, while still rapping and crafting albums in top form.
20. Lil Baby
Albums: My Turn, The Voice of the Heroes (with Lil Durk)
Mixtapes: N/A
Young Thug has to have one of the best eyes for talent in hip hop right now. The Atlanta rapper and YSL Records head honcho spotted Lil Baby hanging around Quality Control Records and saw something in the seventeen year-old. At the time, Lil Baby still had one foot in the street life while trying to rap on the side, so Thugga sat him down and paid him to focus entirely on his passion. Since then, the trajectory that Lil Baby has been on since breaking into the rap game in 2017 has been astounding. Moulded by his influences – Young Thug and Lil Wayne – the Atlanta rapper is the total package, with a dexterous rapping technique and gift for songwriting that he's used to craft some of the most iconic anthems of the 2020s. After spending a few years perfecting his voice on various mixtapes, Lil Baby shot to the top of the rap game with 2020's My Turn, which ended up becoming the most streamed album of the year. With his eye focused on the prize, there's nothing stopping Lil Baby from achieving best rapper alive status in no time.
19. Rome Streetz
Albums: Noise Kandy 4, Kontraband (with Farma Beats), Razor's Edge (with Futurewave), Death & The Magician (with DJ Muggs), Coup De Grâce (with Ransom), Genesis 1:27 (with ANKHLEJOHN), Kiss the Ring
Mixtapes: N/A
If I was putting together an Avengers-type team of rappers to go up against hip hop's Thanos, Rome Streetz would definitely be manning the lyrical guns in that crew. Along with Stove God Cooks, Rome is one of the leading figures of Griselda's new wave of verbal killers and he's getting ready to destroy any doubt left in naysayers and haters. Channelling that classic '90s feel in his music, the Queens rapper marries his outstanding rhyming talent with an unstoppable work ethic – in 2021 alone, he dropped four projects – Razor's Edge with Futurewave, the DJ Muggs-helmed Death & The Magician, Coup De Grâce with Ransom, and Genesis 1:27 with ANKHLEJOHN.
18. Drake
Albums: Scary Hours 2 (EP), Certified Lover Boy, Honestly, Nevermind, Her Loss (with 21 Savage)
Mixtapes: Dark Lane Demo Tapes
Drake is always going to be Drake. The Toronto rap megastar has been at the top of the music game for over 10 years and his grip hasn't loosened one bit. Even with emerging superstars while Lil Baby and Lil Durk making their way up to the top, and rivals like Kendrick on the comeback trail, Drake has continued to reign over rap with an iron fist. Even with his highly anticipated 2021 album, Certified Lover Boy, following much of the blueprint set out by Views and Scorpion – stacking up the track listing with something for everyone – receiving criticism for retreading the same sound and themes, there's still enough gems on there to warrant a sleeper. While Drake certainly does sound like he's coasting in a few spots this decade, he's still dropping enough lyrical heat like "Champagne Poetry", "7AM on Bridle Path" "You Only Live Twice" "Wants and Needs" "Lemon Pepper Freestyle" to earn this position on the list.
17. Earl Sweatshirt
Albums: Sick!
Mixtapes: N/A
Earl Sweatshirt is the purest rapper on this list. There's never any fluff, filler or extraneous material on his songs – just cold bars over bare-knuckled production. If MF DOOM ever had a descendent to his unique lyrical style, it would be Earl. While the Odd Future rapper's catalogue might not be as deep as others, when you spit rhymes as dense and complex as he does, you don't need to drop too much to prove why you're one of the best rappers in the game right now. Every couple years, Earl will come out and bless hip hop heads with some audio dope – I Don't Like Shit, I Don't Go Outside in 2015, Some Rap Songs in 2018 and Sick! in 2022 – before retreating back into his world. We wouldn't have it any other way.
16. Freddie Gibbs
Albums: Alfredo (with The Alchemist), Soul Sold Separately
Mixtapes: N/A
For a rapper who debuted in the late-2000s and dropped his magnum opus nearly a decade ago, Freddie Gibbs is rapping like he's just entering his prime. And that's scary, because Freddie Gibbs already raps really fucking good. Like, really really fucking good. Entering the new decade off the back of the now-classic Bandana, Gibbs went straight to dropping another collaboration album, this time with the always-reliable Alchemist who laced him with the perfect backdrop to flip flows and twist melodies. Side note: Gibbs' "1985 – the opening track to Alfredo – is one of the best lyrical performances in recent times. Now, with a major label deal signed with Warner Records and his follow-up getting ready to drop, Gibbs has been on a tear with new singles ("4 Thangs", "Gang Signs", "Big Boss Rabbit"), headline-making freestyles ("Vice Lord Poetry"), and murderous feature appearances (Westside Gunn's "$500 Ounces", Conway the Machine's "Seen Everything but Jesus", Benny the Butcher's "One Way Flight", Boldy James' "Fake Flowers").
15. Jay-Z
Albums: N/A
Mixtapes: N/A
The fact that Jay-Z is the only rapper to make this list without a project to his name should be enough to tell you why he's the greatest ever. After closing out the 2010s as an elder statesman of the rap game and countless business ventures taking up his time, the Brooklyn rapper no longer feels the need to drop a project to stay relevant – he's always going to be in the conversation because he's Hov. Whether it's his sublime guest verses – on Pusha T's "Neck & Wrist" or Khaled's "God Did" – that always manage to whip the internet into a frenzy, or guest-starring on Jay Electronica's A Written Testimony, Hov doesn't need to do much to stay in the conversation of best rapper alive.
14. Tyler, the Creator
Albums: Call Me If You Get Lost
Mixtapes: N/A
In an IG Live session after dropping the album, Tyler shouted out all the people who inspired him to rap again. "From all the Waynes, all the Dedications, from P the In My Mind Prequel mixtape, to Clipse for the We Got It For Cheaps, from Lupe mixtape run all the Farenheits, the Revenge of the Nerds, to JAY-Z, to Andre, to Westside Gunn for making me wanna just rap again. I love it. I love rap." The transition Tyler, the Creator made between 2019's Igor and his 2021 album, Call Me If You Get Lost, is one of the most striking transformations ever by a hip hop artist. From an album that barely featured any rapping, and was more R&B, funk and neo-soul, to an album that was all bars, all day. And not only that, it had DJ Drama yelling all over it like it was a motherfucking Gangsta Grillz mixtape from the 2000s era. At this point in time, there's nothing Tyler can't do. He is the ultimate hip hop artist – he's got the rhymes, he's got the melodies, the visuals are on-point, the artwork is always evocative, the production is superb – and absolutely one of the best rappers right now.
13. Future
Albums: High Off Life, Pluto x Baby Pluto (with Lil Uzi Vert), I Never Liked You
Mixtapes: N/A
Kanye wasn't lying when he proclaimed on Drink Champs that Future was "the most influential artist of the past 10 years." It's the very same reason we had him in the top three for the best rappers of the 2010s. Half the rappers on this list have been shaped by the Atlanta pioneer in some form or another. While there were rappers who sang (and singers who rapped) way before Future came around, the way he managed to blur the lines between hard bars and pained melodies has impacted an entire generation of artists. A decade on since his debut album and 7 years since the landmark DS2 dropped, Future is still going stronger than ever. He recorded his biggest first week album sales with I Never Liked You, scored his first solo number one hit ("Wait for U"), and released one of his best songs in recent history with "Puffin on Zootiez."
12. Benny the Butcher
Albums: Burden of Proof, The Plugs I Met 2, Pyrex Picasso, Tana Talk 4
Mixtapes: Searchin' for a Purpose (with Black Soprano Family), Da Respected Sopranos (with Black Soprano Family and DJ Drama)
The hardest working rapper in the game today is continuing to go hard. Ever since his landmark 2018 album, Tana Talk 3, Benny the Butcher has gripped the torch for the Griselda crew and sprinted with it. There hasn't been a year since then that Benny hasn't dropped a quality project – whether it was Burden of Proof and the Black Soprano family tapes in 2020, The Plugs I Met 2 with Harry Fraud in 2021, and the highly anticipated Tana Talk 4 this year. Now, with a Def Jam deal under his belt, expect the Buffalo shooter to go even harder and get more shine moving forward. The Butcher coming!
11. Denzel Curry
Albums: Unlocked (with Kenny Beats), Unlocked 1.5 (with Kenny Beats), Melt My Eyez See Your Future
Mixtapes: 13lood 1n + 13lood Out Mixx
Denzel Curry has always been a dope MC. That's a given fact. From Nostalgic 64 to Ta13oo, Zuu to Unlocked, the Florida rapper has always been dropping bars over banging production. But it was on his latest album, Melt My Eyez See Your Future, that Denzel took his songwriting and album craftsmanship to a whole new level. In fact, the quality of that record is playing a huge factor for why he's so high up on this list. Enlisting collaborators like Cardo, FnZ, Thundercat, JPEGMafia, and Kenny Beats, Denzel floated over jazz-inspired bangers while still retaining his slick wordplay, immaculate vocal technique and dexterous storytelling abilities. Melt My Eyez See Your Future was an artistic statement but Denzel Curry succeeded on all fronts to cement his position as one of the best rappers in the game right now.
10. Pusha T
Albums: It's Almost Dry
Mixtapes: N/A
On August 20, 2002, Pusha T along with Malice dropped Lord Willin', a monumental release in the coke rap sub-genre with a lead single so infectious and innovative that it changed the entire hip hop production landscape. On April 22, 2022, Pusha T dropped It's Almost Dry, an instant masterpiece that rivals the rapper's best work over the past two decades. That's 20 years in the game and Pusha T is still rapping with the same hunger and, more importantly, freshness as he did as a debuting artist. Like fellow OGs on this list like Nas and Lloyd Banks have experienced a resurgence in recent years, it's mainly been through tapping into a sense of nostalgia with their music. Banks revived his killer punchlines over gritty boom-bap loops, while Nas is in full sepia-toned reflection mode, especially on Magic, which harks back to '90s era Queensbridge and dusty Preemo cuts. For Pusha though, there is no reflection, there is no nostalgia, there's just forward motion. Have a listen to the Clipse MC play around with different flows and cadences while juggling Pharrell's menacing futuristic funk and Kanye's dusty soul samples, and tell me how Pusha T isn't one of the best rappers doing it right now.
9. Conway the Machine
Albums: Lulu (with The Alchemist), No One Mourns the Wicked (with Big Ghost), From King to a God, If It Bleeds It Can Be Killed (with Big Ghost), God Don't Make Mistakes, What Has Been Blessed Cannot Be Cursed (with Big Ghost)
Mixtapes: La Maquina, Greetings Earthlings
There isn't a rapper on this list who wears their heart on their sleeve more than Conway the Machine. While 2020's From King to a God felt like his crowning achievement so far of the decade, his Shady Records debut God Don't Make Mistakes was a brutally honest listen that gave fans a further glimpse into the Buffalo MC's tortured mind state. Listening to the album, it feels like Conway has lost more than he has won, even though he's achieved his dream of becoming a successful rapper on his own terms. While Benny has the most mainstream appeal and West is an underground icon, Conway's pen game is undisputedly the best of the Griselda crew, and highlight tracks like "Stressed" and "God Don't Make Mistakes" are just a couple examples of what he can do in the booth.
8. JID
Albums: Spilligion (with Spillage Village and EarthGang), D-Day: A Gangsta Grillz Mixtape (with Dreamville), The Forever Story
Mixtapes: N/A
In terms of pure rhyming talent and his skillset on the mic, there are very few rappers from his generation who are able to compete with JID. But with his latest album, The Forever Story – an ambitious, sprawling Atlanta epic that gives rap fans a glimpse of where he came from – the Dreamville spitter has elevated his craft into a truly great artist. JID's elastic delivery and creative flows are on full blast, in addition to a stronger sense of melody and thematic cohesiveness. You take all that, and put it together with his recent feature blitz – highlights include Conway's "Scatter Brain", Lute's "Still Dreamin", Denzel Curry's "Ain't No Way" – and it becomes very clear why JID is one of the best rappers right now.
7. Boldy James
Albums: The Price of Tea in China (with The Alchemist), Real Bad Boldy (with Real Bad Man), Bo Jackson (with The Alchemist), Super Tecmo Bo (with The Alchemist), Killing Nothing (with Real Bad Man), Fair Exchange No Robbery (with Nicholas Craven), Mr. Ten08 (with Futurewave), Be That as It May (with Cuns)
Mixtapes: Manger on McNichols, The Versace Tape
Boldy James' rapping technique is that of someone who has the utmost confidence that his listener is going to hang on to every single word, no matter how softly he raps. The Griselda rapper has been grinding since the early 2010s, and long been one of the best rappers to emerge from Detroit, but it's been his work in the 2020s that has made every hip hop head pay attention. Teaming up with The Alchemist and Real Bad Man on multiple releases per year, Boldy James demonstrated his superior rhyming technique and ice-cold flow time and time again. There's a good argument to be made that Boldy has dropped an album of the year contender, every year since 2020 with The Price of Tea in China, Bo Jackson and Killing Nothing.
6. Vince Staples
Albums: Vince Staples, Ramona Park Broke My Heart
Mixtapes: N/A
Vince Staples has always felt like an outsider in the hip hop world. A 2016 Vogue article named him the "Anti-Rapper" for our time. Born in Compton but raised in North Long Beach, he was heavily involved with the gang life growing up, but has never drank alcohol or used drugs in his life. These contradictions manifested themselves in his music later on, with albums like Summertime '06 and Big Fish Theory making it impossible to put Vince Staples into a category. Coming into the 2020s, he's steadily earned the reputation of the most consistent artist of his generation, and with the two albums he's dropped so far this decade – the highly acclaimed Vince Staples and fantastic Ramona Park Broke My Heart – the Long Beach rapper has solidified his place as one of the best rappers right now.
5. Lupe Fiasco
Albums: Drill Music in Zion
Mixtapes: N/A
Lupe Fiasco hasn't lost a step since 2005's Food & Liquor. In fact, if anything, he's continued to improve with each passing release. While the Chicago rapper made his biggest impact with his first three albums, via Atlantic Records, it has been as an independent artist that he's quietly made the biggest impact on the rap game. Like fellow lyrical killer, Earl Sweatshirt, Lupe doesn't drop too frequently, but when he does, it's guaranteed that you'll be hitting replay a whole lot of times. Lupe's latest album, Drill Music in Zion, might be his best release in recent history – although that's hard to say definitively given how strong his catalogue is – with the Chi-town MC showcasing his always-impeccable lyricism and thought-provoking bars with just enough pop appeal to keep the listener on the hook for the whole album. Nearly 20 years in the game and Lupe is still at it and representing as one of the best rappers right now.
4. Black Thought
Albums: Streams of Thought, Vol. 3: Cane & Able, Cheat Codes (with Danger Mouse)
Mixtapes: N/A
In 1987, while attending the Philadelphia High School for the Creative and Performing Arts, Tariq Trotter aka Black Thought met Ahmir Thompson aka Questlove, and together they formed a drummer-MC duo to perform at talent shows and on the streets of Philly. In 2022, Black Thought teamed up with producer Danger Mouse to release Cheat Codes, a phenomenal album that featured the Philly MC going bar-for-bar with rappers like Raekwon, MF DOOM, Conway the Machine, Run the Jewels and Joey Badass. Just think about that for a second – Black Thought has been rapping at the highest level for the past 30 years and he's not showing any signs of slowing down. Whether it's bodying a Funkmaster Flex freestyle or dropping dope projects consistently, Black Thought is definitely one of the best rappers right now and unarguably one of the best Philly rappers of all time.
3. Kendrick Lamar
Albums: Mr. Morale & the Big Steppers
Mixtapes: N/A
The 2010s wrapped up with Kendrick Lamar standing tall as definitely the best rapper of the decade. There was a lot of tough competition, each one coming at the other's neck, but the Compton rapper's rhyming technique was pristine, the commercial appeal was on-point, and his catalogue was unfuckable with. There's a strong argument that Kendrick dropped 3 or 4 classics in a row last decade with Section.80, good kid, m.A.A.d city, To Pimp a Butterfly, DAMN., and that's not to mention the very solid untitled unmastered., made up of leftover tracks. Coming into the 2020s, Kendrick hadn't dropped a full-length project since 2017. He was suffering from writer's block, and confessed that he spent most of his days with "fleeting thoughts." But when Mr. Morale & the Big Steppers finally arrived on May 13, 2022, preceded by "The Heart Part 5" a week before it, one thing was clear: Kendrick Lamar never went anywhere. All it took was one album, or one song really, to remind people that the TDE (now PGLang) rapper was one of the best rappers of his generation, and one of the greatest rappers of all time, and that's never going to change, even if he never drops another album again in his life.
2. Nas
Albums: King's Disease, King's Disease II, Magic, King's Disease III
Mixtapes: N/A
What rap fans are seeing with Nas right now has never been witnessed before in hip hop music. A 49-year old rapper who debuted in 1991, years before most of the rappers on this list were born, is dropping with the frequency and consistency of an up-and-coming, hungry artist. And let's be clear, the Queensbridge legend doesn't need to be rapping, not for the money anyway. He's been deep in the tech game for a few years, and via his venture capital firm Queensbridge Venture Partners, Nasty Nas has made several smart investments, including the home security and smart home company Ring, which earned him a $40 million payout when Amazon acquired them. So when Nas is out here dropping incredible albums like King's Disease, King's Disease II, Magic, and King's Disease III, you know it's purely for the love of rapping.
1. J. Cole
Albums: Lewis Street (EP), The Off-Season
Mixtapes: D-Day: A Gangsta Grillz Mixtape (with Dreamville)
I've been accused of being a J. Cole hater in the past. Like that one time we put Future ahead of him on the best rappers of 2010s list. Or when we didn't include him on the ranking for the best rappers of all time. But while it's true that I'm not the biggest fan of his music – I loved 2014 Forest Hills Drive, 4 Your Eyez Only put me to sleep, hated KOD, and thought The Off-Season was dope – I'm always one to give up the props if the person is deserving. After all, we did name Cole the best rapper alive in 2014. So, all of this is to say that there's no denying the fact that this Fayetteville legend is simply the best rapper right now. The best thing Cole did for his rapping career was launch Dreamville Records and sign a bunch of killers on the mic to label. From Bas to Cozz, JID to EarthGang, Dreamville is full of dope MCs who are constantly in Cole's orbit pushing him to stay sharp. The result is he's been in the zone these past couple of years now. Whether it was dropping the fantastic Off-Season or quarterbacking group albums, Cole is sounding focused and hungry. And that's not even talking about his phenomenal feature run, which started back in 2018. Doesn't matter if you're Benny the Butcher or Wale, 21 Savage or Young Thug, if Cole is jumping on your track, you're getting lit the fuck up.