From the gritty streets of Atlanta to the upper echelons of the hip-hop universe, Clifford Joseph Harris Jr., better known as T.I., has carved out an enduring influence in the hip hop world. One of the greatest Southern rappers to ever grip a mic, Tip has built up a catalogue that can rival any of the best rappers of all time.
The self-proclaimed King of the South first grabbed the spotlight with his 2001 debut I'm Serious, but it was the release of Trap Muzik in 2003 that solidified his status as a significant voice in Southern hip hop. T.I. pushed the envelope further with Urban Legend and King, etching his lyrically dexterous and trap-infused style into the cultural zeitgeist. Later, Paper Trail, one of his most commercially successful albums, epitomized his ability to merge storytelling and superior hitmaking without compromising his street-rooted authenticity. Tip's discography, peppered with chart-topping hits and introspective deep cuts, serves as a roadmap to the evolution of trap music in the wider music world.
So let's get into it. From his debut album, I'm Serious, to his 2006 magnum opus, King, and 2020's The L.I.B.R.A., we rank every T.I. album, from worst to best.
No Mercy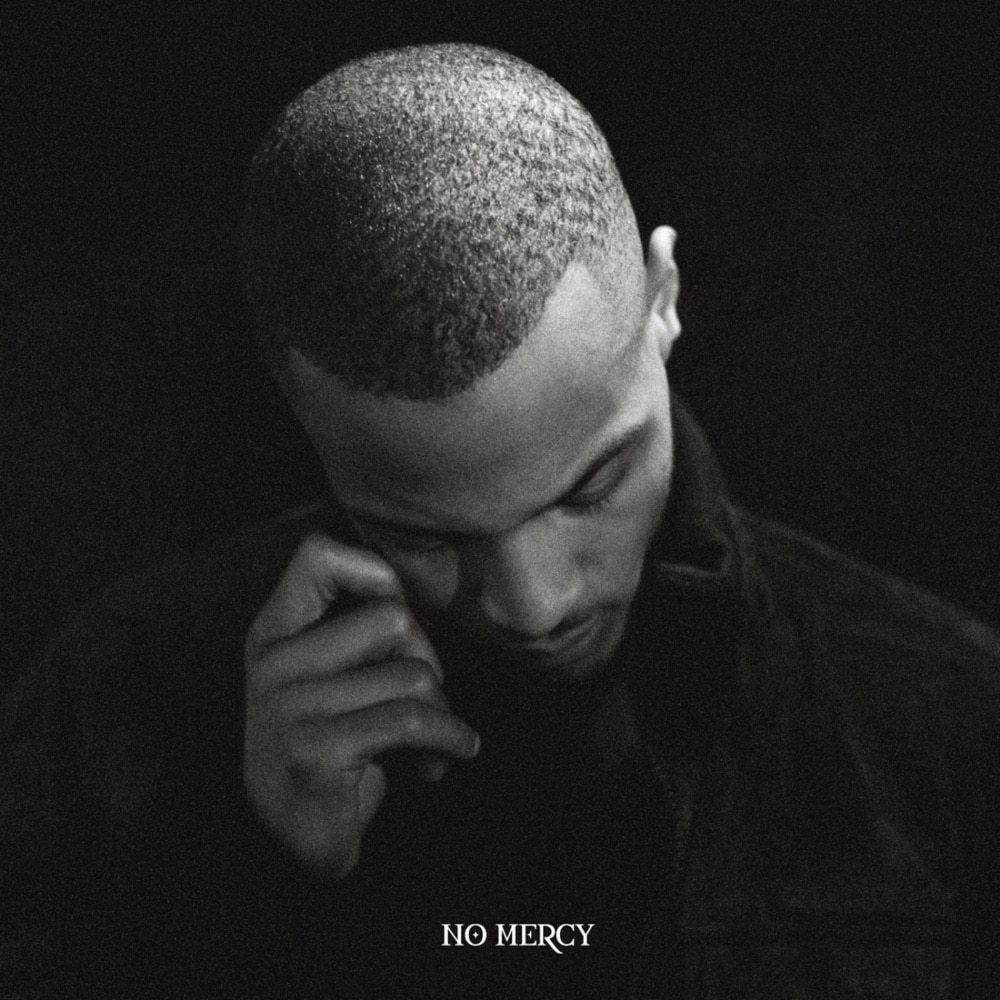 Released: December 7, 2010
Label: Grand Hustle, Atlantic
Singles: "I'm Back", "Yeah Ya Know (Takers)", "Got Your Back", "Ya Hear Me", "Get Back Up", "I Can't Help It", "No Mercy", "That's All She Wrote"
Features: Kanye West, Kid Cudi, Scarface, Chris Brown, Eminem, The-Dream, Trey Songz, Pharrell, Drake, Christina Aguilera and Rick Ross.
At its core, No Mercy stands as a testimony to T.I.'s resilience in the face of adversity. The Grand Hustle kingpin's journey took a detour, as he was dealing with legal troubles during its production. The result was an album that felt scattered, like Tip was trying to reconcile his reality with the expectations of his rap persona. Not to say the album was bereft of gems – tracks like "Salute" still held the rugged edge of the Atlanta rapper's early trap era, while "Castle Walls" showcased a more introspective side. Yet, it didn't quite hit the cultural pulse the way his previous works had. With features from Kanye West to Christina Aguilera, No Mercy proved that T.I. was still in the conversation, but it lacked the cohesive vision that was such a hallmark of his best works.
T.I. vs. T.I.P.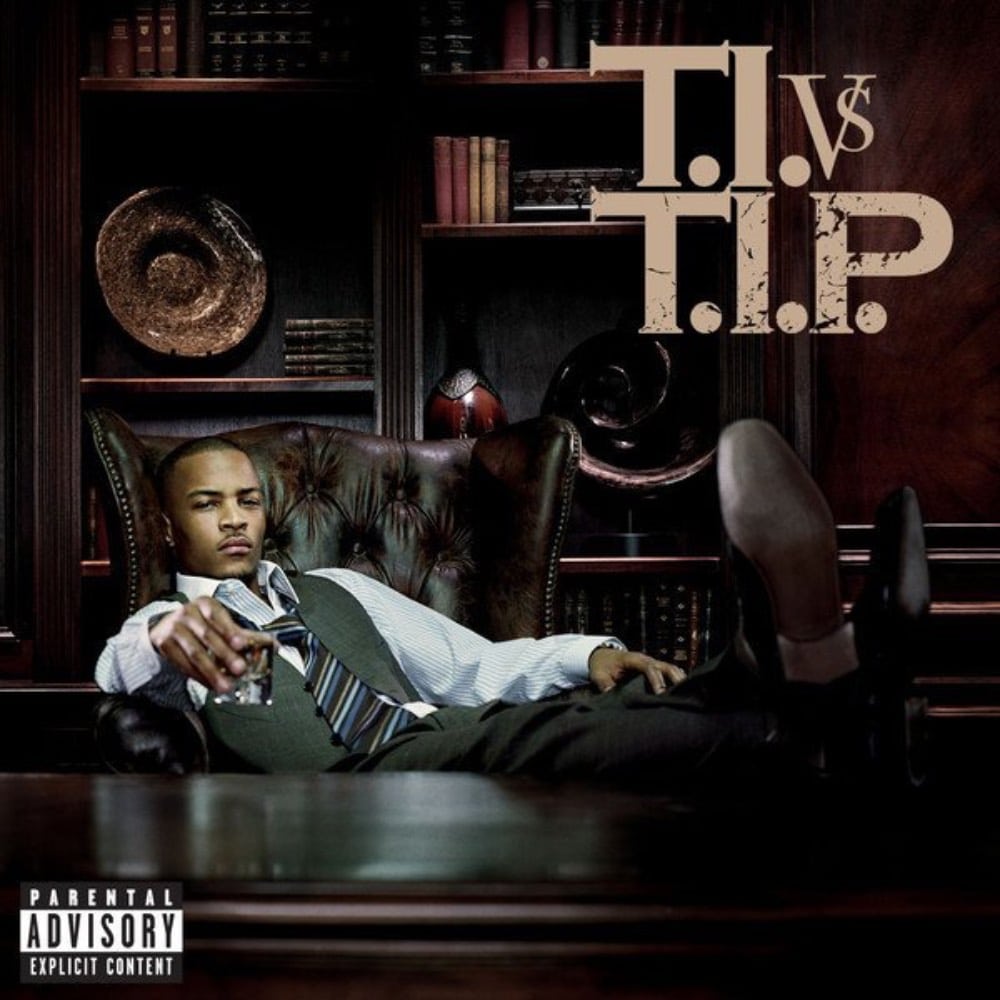 Released: July 3, 2007
Label: Grand Hustle, Atlantic
Singles: "Big Things Poppin' (Do It)", "You Know What It Is", "Hurt"
Features: Wyclef Jean, Jay-Z, Alfa Mega, Busta Rhymes, Nelly, Eminem
T.I. vs. T.I.P. lands at number ten, an intriguing concept album that endeavored to delve into the dichotomy of the artist – T.I., the more polished, industry-comfortable figure, and T.I.P., the street-hardened hustler. The exploration of these personas gave us hits like "Big Things Poppin'" and "You Know What It Is," and while these tracks held their weight, the rest of the album suffered from a degree of inconsistency. It was an ambitious move to balance the street grit of T.I.P. and the commercial shine of T.I., but the album ultimately seemed divided, not quite hitting the mark on either front. Nevertheless, T.I. vs. T.I.P. offered glimpses of the Southern rapper's artistic prowess, laying the groundwork for the direction he would take in later years. It was the sound of a hip hop artist in transition, searching for the sweet spot between commercial viability and street authenticity.
Trouble Man: Heavy Is the Head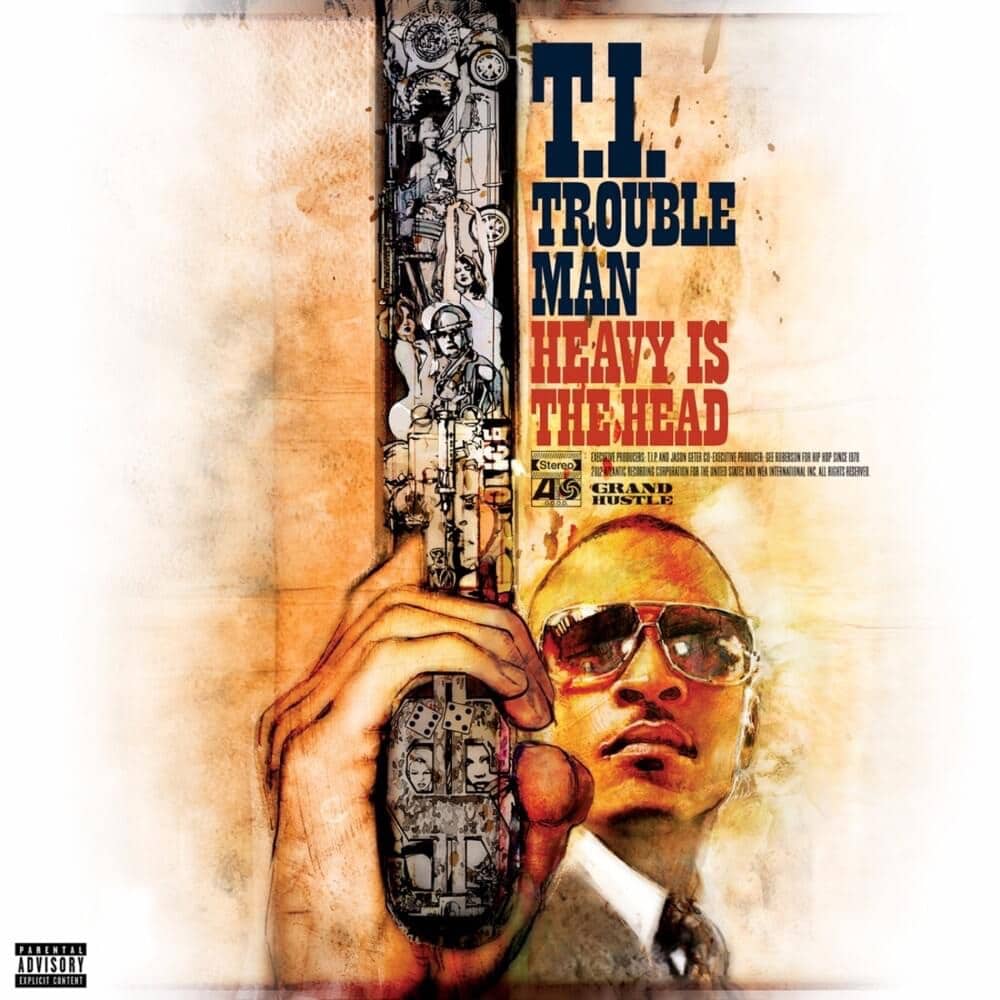 Released: December 18, 2012
Label: Grand Hustle, Atlantic
Singles: "Go Get It", "Ball", "Trap Back Jumpin", "Sorry", "Hello"
Features: P!nk, Lil Wayne, André 3000, R. Kelly, Akon, Meek Mill, CeeLo Green, ASAP Rocky, Trae tha Truth, Victoria Monet and D.O.P.E.
When T.I. dropped Trouble Man: Heavy Is the Head, fans saw a rejuvenated artist who had come to terms with his dual persona. Ranking ninth in the Tip album hierarchy, Trouble Man is an ode to the Marvin Gaye album of the same name, a nod to the rapper's struggles, triumphs, and tribulations. With this project, Tip was looking to reclaim his crown in the rap game. Standout tracks like "Go Get It" and "Ball" featuring Lil Wayne showcased the Atlanta rapper's effortless flow and his knack for catchy hooks, but there were moments where the album felt a bit formulaic. The production was solid and star-studded, but there was a sense of trying to cast the net too wide, resulting in an uneven project. Yet, the spirit of T.I.'s street charisma and cocky wordplay shone through, making Trouble Man a testament to his staying power in the ever-evolving hip-hop landscape.
Paperwork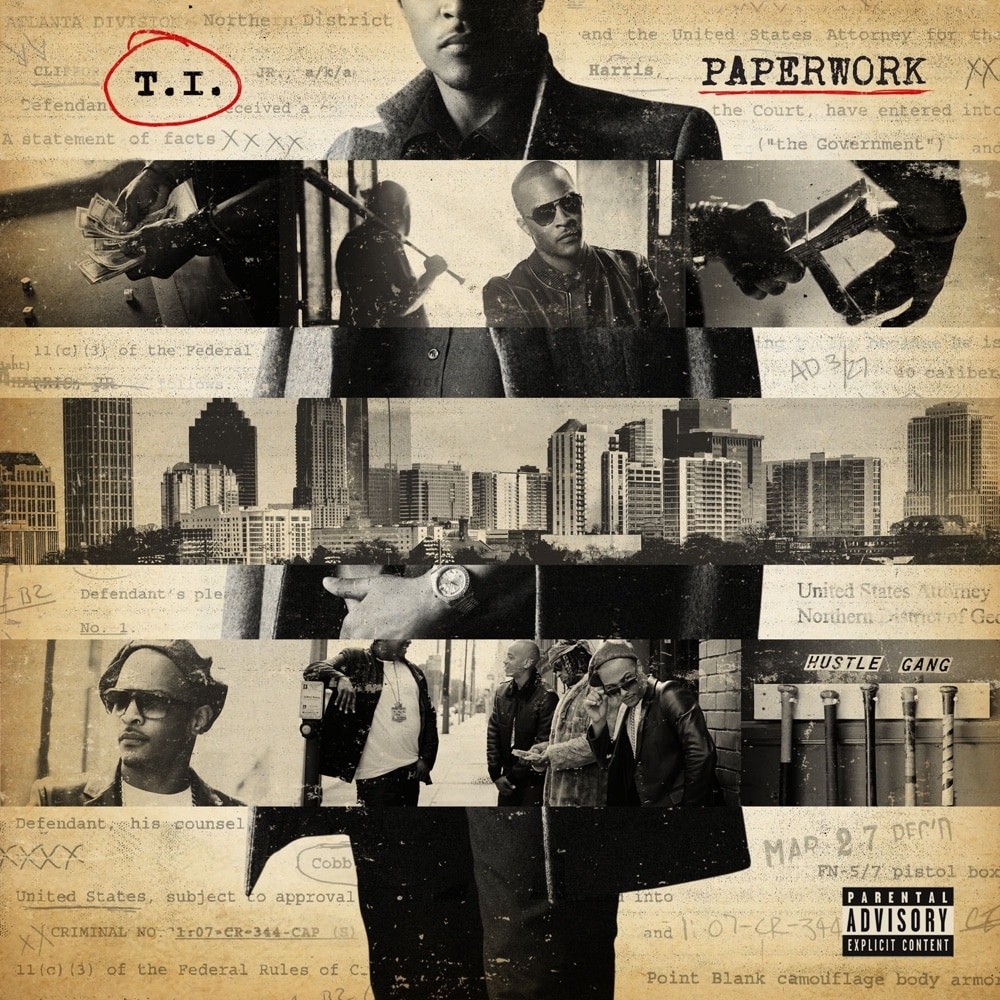 Released: October 21, 2014
Label: Grand Hustle, Columbia
Singles: "About the Money", "No Mediocre", "Private Show"
Features: Chris Brown, The-Dream, Jeezy, Skylar Grey, Nipsey Hussle, Rick Ross, Victoria Monet, Trae tha Truth and Pharrell Williams.
A solid eighth spot goes to Paperwork, an album that attempted to blend T.I.'s hard street persona with a more refined, mature outlook. On this project, Tip was again trying to balance his street credibility with commercial appeal. The Pharrell Williams executive-produced album brought forth hits like "No Mediocre" and "About the Money," proving T.I.'s continued knack for creating bangers. However, some of the deeper cuts on the album lacked the same punch. While Paperwork was a valiant attempt at blending the cinematic with the streetwise, it fell short of the heights of T.I.'s earlier work. The album felt like a transitional phase, T.I. trying to break new ground but not quite leaving his old habits behind. Despite its shortcomings, Paperwork is a solid effort, demonstrating T.I.'s hunger and his relentless pursuit of innovation within his craft.
The L.I.B.R.A.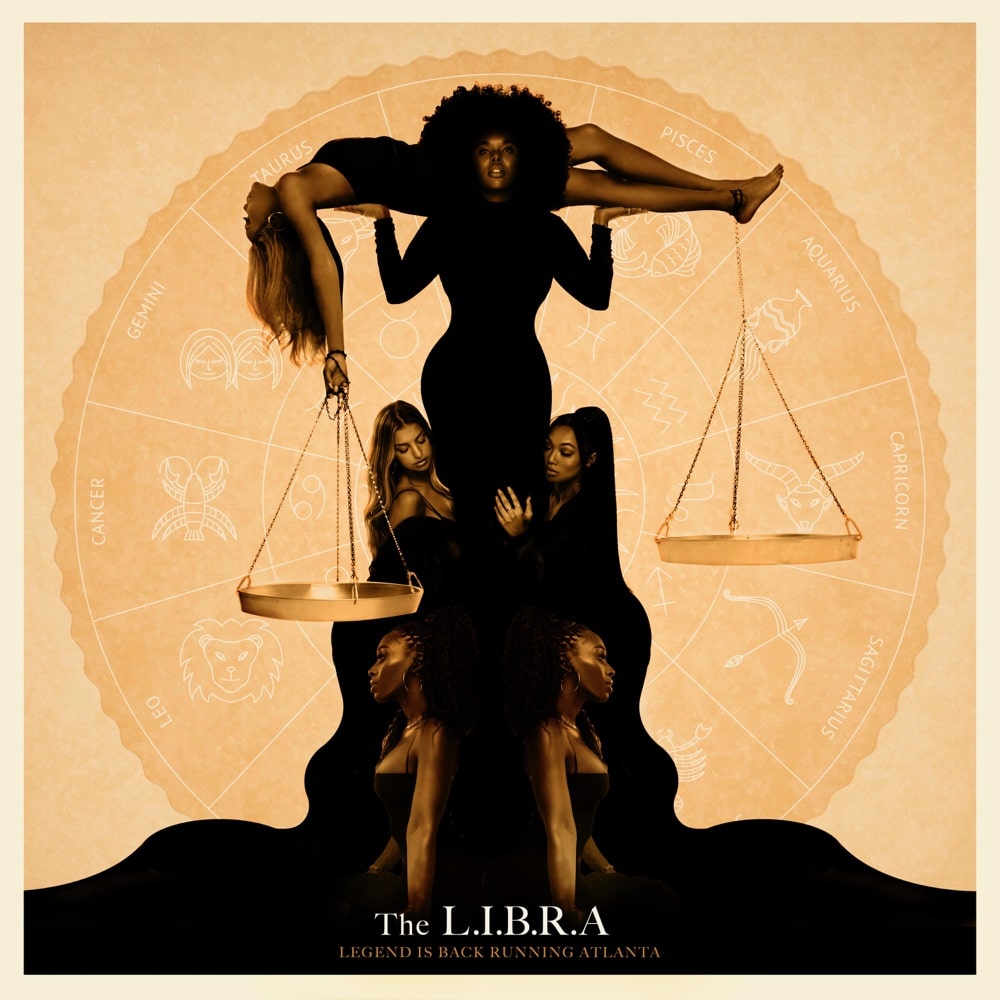 Released: October 16, 2020
Label: Grand Hustle, Empire
Singles: "Ring", "Pardon"
Features: 21 Savage, 42 Dugg, Benny the Butcher, Conway the Machine, Eric Bellinger, Jadakiss, Jeremih, John Legend, Killer Mike, Lil Baby, London Jae, Mozzy, Rapsody, Rick Ross, Snoop Dogg, Young Thug.
Ranking at number seven, The L.I.B.R.A. sees the Atlanta rapper once again balancing the scales between the commercial appeal and the street narrative. Featuring an impressively diverse roster of guests including Young Thug, Benny the Butcher, and John Legend, The L.I.B.R.A. is a testament to Tip's evergreen influence on the hip-hop scene. The album serves as a musical collage, pulling from his past, reflecting on his present, and casting a vision of his future. Tracks like "Pardon" and "On the Hood" embody the album's essence: raw, gritty, yet imbued with a sense of refinement that has come with experience. While some might argue the album falls into the trap of trying to appeal to too many demographics, it can't be denied that T.I.'s veteran savvy and lyrical prowess make The L.I.B.R.A. a compelling listen.
Dime Trap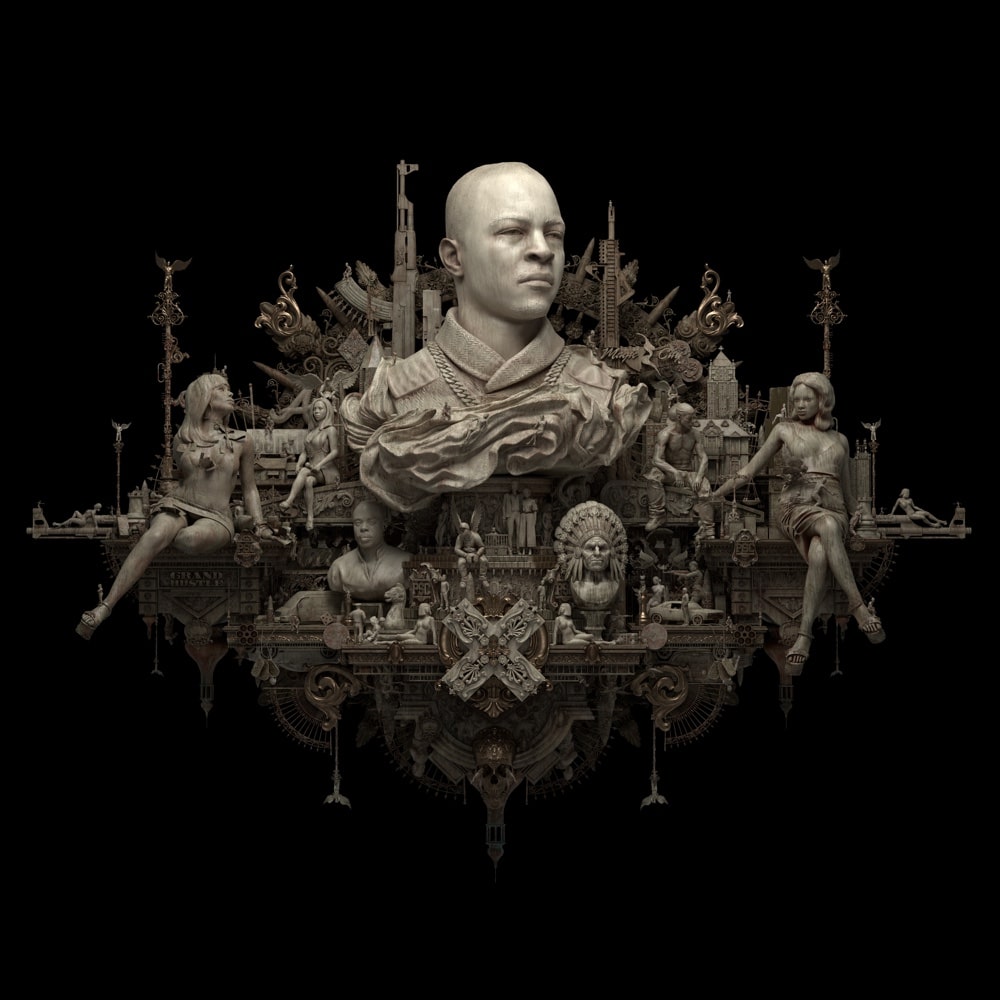 Released: October 5, 2018
Label: Grand Hustle, Epic
Singles: "Jefe", "Wraith", "The Weekend"
Features: Yo Gotti, Teyana Taylor, Jeezy, Meek Mill, Young Thug, YFN Lucci, Anderson .Paak, Victoria Monét, Watch the Duck, Sam Hook and London Jae.
Dime Trap, landing at number six, is a journey into the mind of an older, wiser T.I., a seasoned veteran who's seen it all in the rap game. The album serves as an introspective exploration, delving deep into the rapper's personal life and his experiences in the music industry. Tracks like "The Amazing Mr. Fuck Up" and "Wraith" offer glimpses into the Atlanta MC's personal growth, his mistakes, and his successes. In Dime Trap, we see T.I. at his most vulnerable, revealing a more personal side that we rarely get to witness. Despite its introspective bent, the album never strays too far from the rapper's street roots, blending personal revelations with the hustler's ambition that's been a cornerstone of his music. While it might not boast the chart-topping bangers of his earlier works, Dime Trap is a mature, thoughtful project that solidifies T.I.'s place in hip-hop royalty.
Urban Legend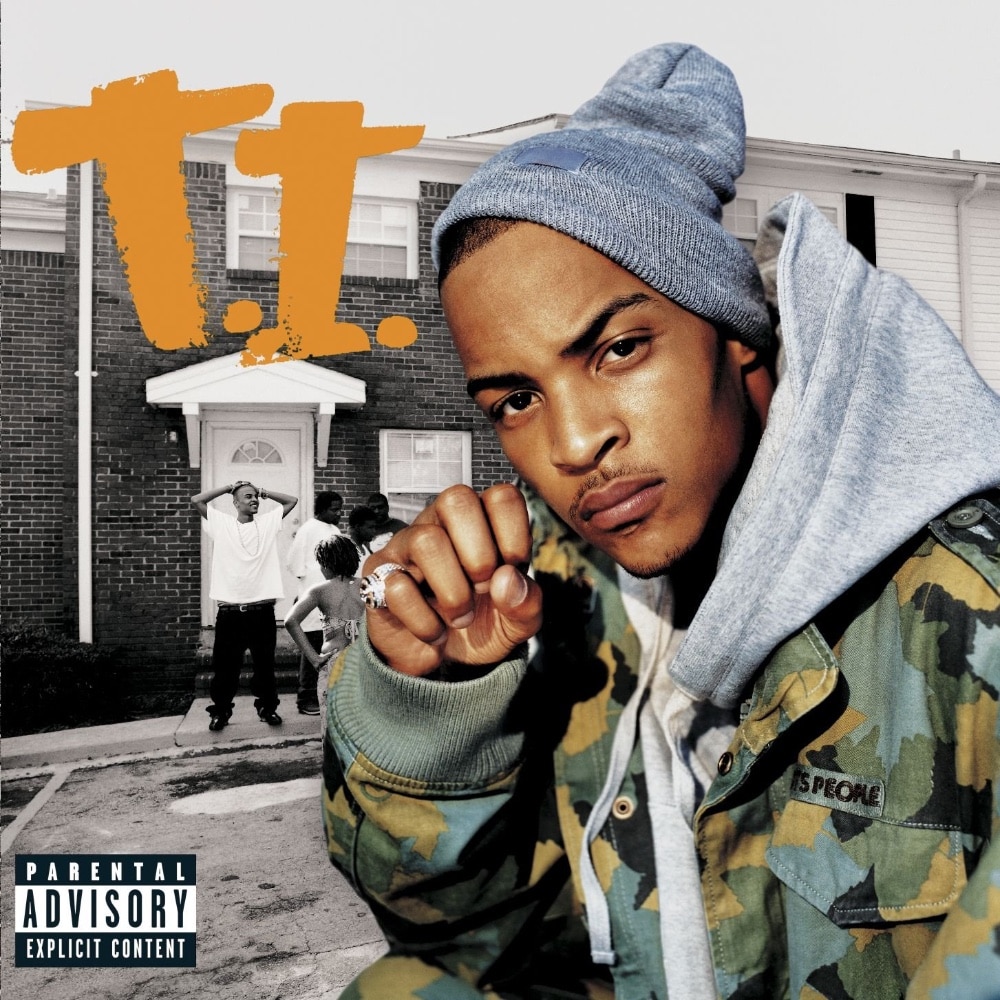 Released: November 30, 2004
Label: Grand Hustle, Atlantic
Singles: "Bring Em Out", "U Don't Know Me", "ASAP"
Features: Trick Daddy, Nelly, Lil Jon, B.G., Mannie Fresh, Daz Dillinger, Lil Wayne, Pharrell Williams, P$C, Jazze Pha and Lil' Kim.
Situated at the fifth place, Urban Legend is a quintessential T.I. album that presents the rapper in his element. It is this album where T.I. fine-tuned his blend of Southern swagger and mainstream appeal, firmly planting his footprints in the hip-hop landscape. A balance of hard-hitting anthems like "U Don't Know Me" and "Motivation" alongside radio-friendly hits like "Bring Em Out" and "ASAP", Urban Legend showcases the rapper's versatility and ability to command the mainstream while keeping his street credentials intact. Yet, the album is more than just a collection of singles; it's a statement, a bold assertion of T.I.'s self-anointed King of the South title, which, retrospectively, seems less of a boast and more of a prophetic claim.
Paper Trail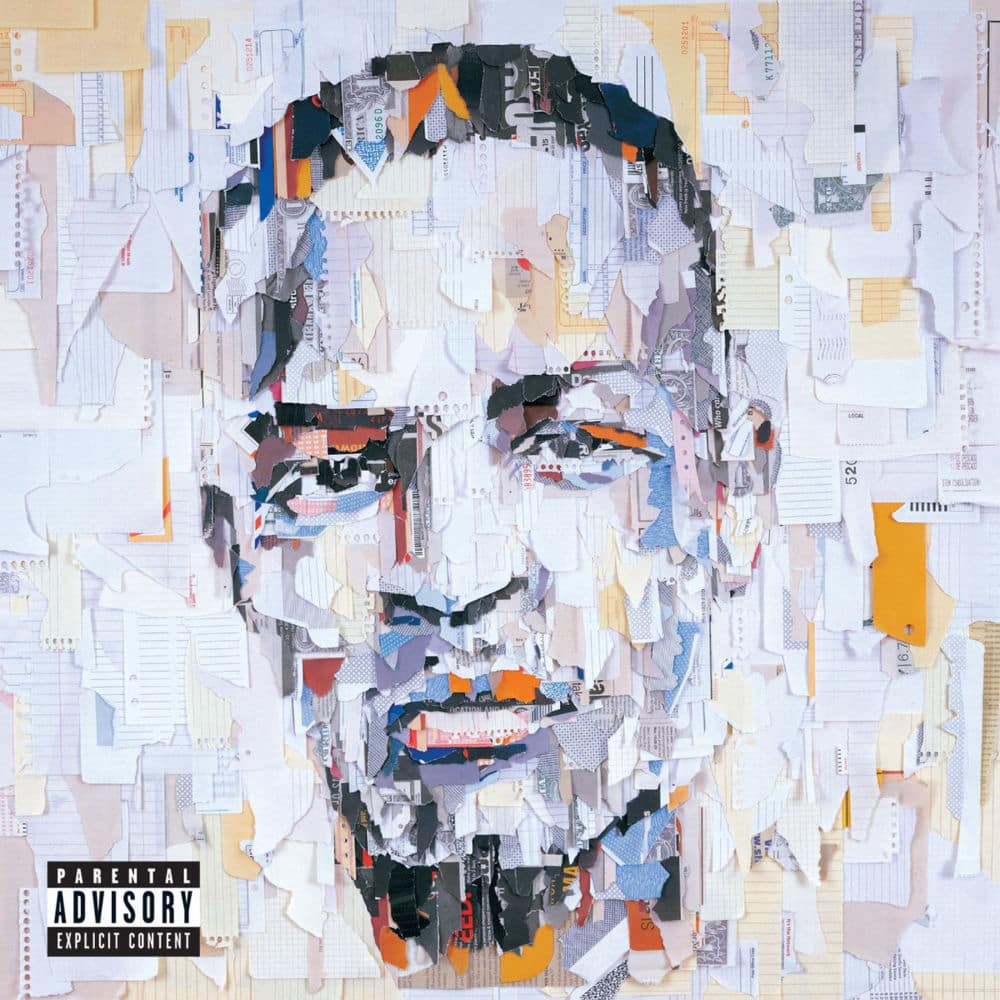 Released: September 30, 2008
Label: Grand Hustle, Atlantic
Singles: "No Matter What", "Whatever You Like", "Swing Ya Rag", "What Up, What's Haapnin'", "Swagga Like Us", "Live Your Life", "Ready for Whatever", "Dead and Gone"
Features: B.o.B, Ludacris, Rihanna, Usher, Ricco Barrino, Swizz Beatz, Jay-Z, Kanye West, Lil Wayne, M.I.A., John Legend, Justin Timberlake.
Coming in at the fourth spot, Paper Trail remains a high point in T.I.'s discography. Marked by introspective lyrics, catchy hooks, and commercial success, the album is T.I. at his most accessible, but it never feels like a sellout. Instead, it's a testament to his ability to fuse his street narratives with mainstream sensibilities. On tracks like "Dead and Gone" and "Live Your Life", T.I. reflects on his past and lays out his hopes for the future over beats that are equally fit for the radio and the club. Moreover, "Swagga Like Us", featuring an all-star line-up of Jay-Z, Kanye West, and Lil Wayne, underscores T.I.'s standing in the hip-hop lyrical elite. Paper Trail presents an artist who can look back at his past, understand his present, and envision his future, all while delivering hit after hit. It's an album that confirms T.I.'s status as not just a rapper, but a bona fide superstar.
I'm Serious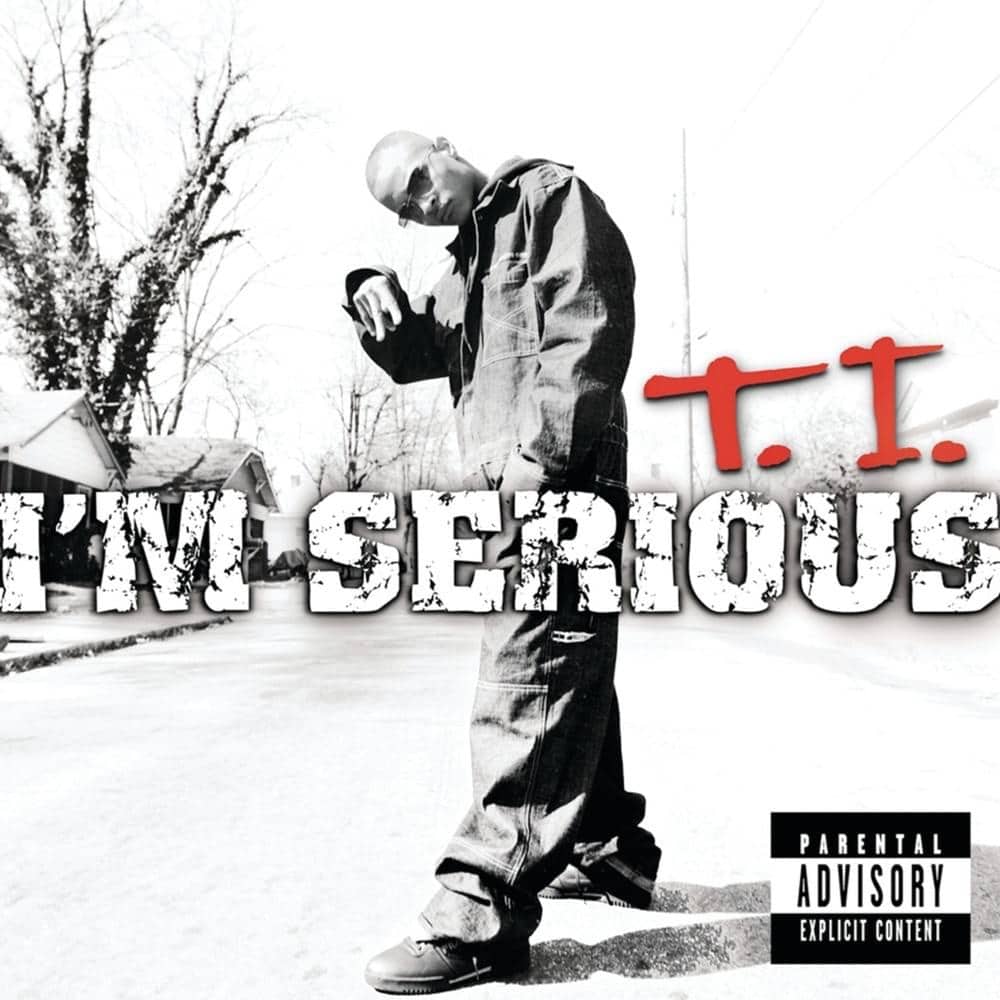 Released: October 9, 2001
Label: Arista
Singles: "I'm Serious"
Features: Pharrell, Jazze Pha, Too Short, Bone Crusher, Lil Jon, Mac Boney, Pastor Troy, P$C and Youngbloodz.
Slotting in at number three, I'm Serious was the world's first real taste of T.I.'s potential. This debut album, a pure embodiment of unfiltered Southern hip-hop, catapulted the then-unknown Clifford Harris into the mainstream. The title track, featuring Beenie Man, was a clear indication of the future heavyweight T.I. would become, while "Still Ain't Forgave Myself" showcased his introspective side that would later become a key component of his artistry. Tip's lyrical dexterity and profound delivery over bass-heavy beats and soulful hooks make I'm Serious a standout, even when pitted against his later, more polished works. It was raw, it was gritty, and it was real; it was T.I. in his purest form, giving us a glimpse of the King of the South he would soon become.
Trap Muzik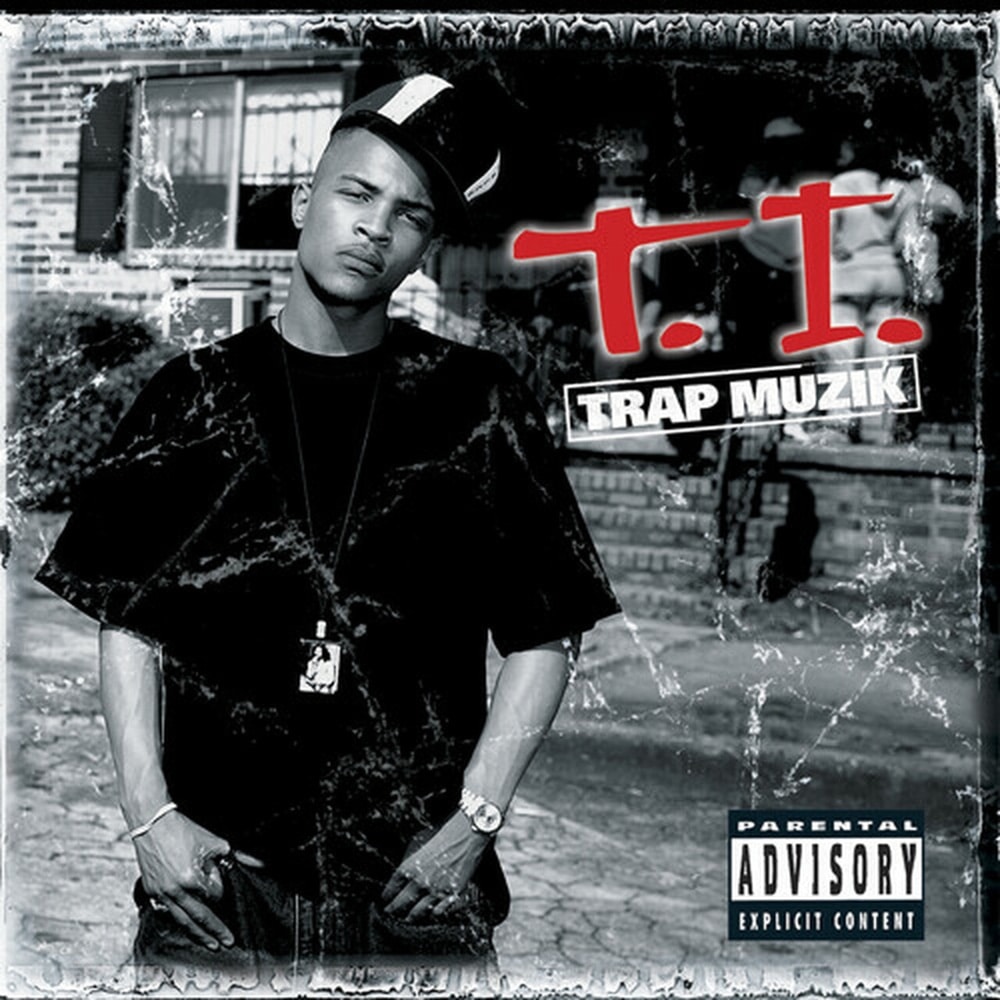 Released: August 19, 2003
Label: Grand Hustle, Atlantic
Singles: "24's", "Be Easy", "Rubber Band Man", "Let's Get Away"
Features: 8Ball & MJG, Jazze Pha, Bun B and Mac Boney.
Just missing the top spot, Trap Muzik claims the second position. As the name suggests, this album was instrumental in the formation and popularization of the trap subgenre — making it one of the most influential Atlanta rap albums ever. Tip painted vivid, cinematic portraits of life in the trap with a kind of authenticity that only someone who's lived it could. The hit singles "24's" and "Rubber Band Man" serve as microcosms of the album as a whole – they're filled with the kind of bounce that's tailor-made for club play, yet they're underscored by a sense of melancholy that speaks to the harsh realities of the life they depict. Ultimately, Trap Muzik was not just an album; it was a cultural movement, spearheading a new direction in hip-hop and solidifying T.I.'s legacy as a pioneer and an innovator.
King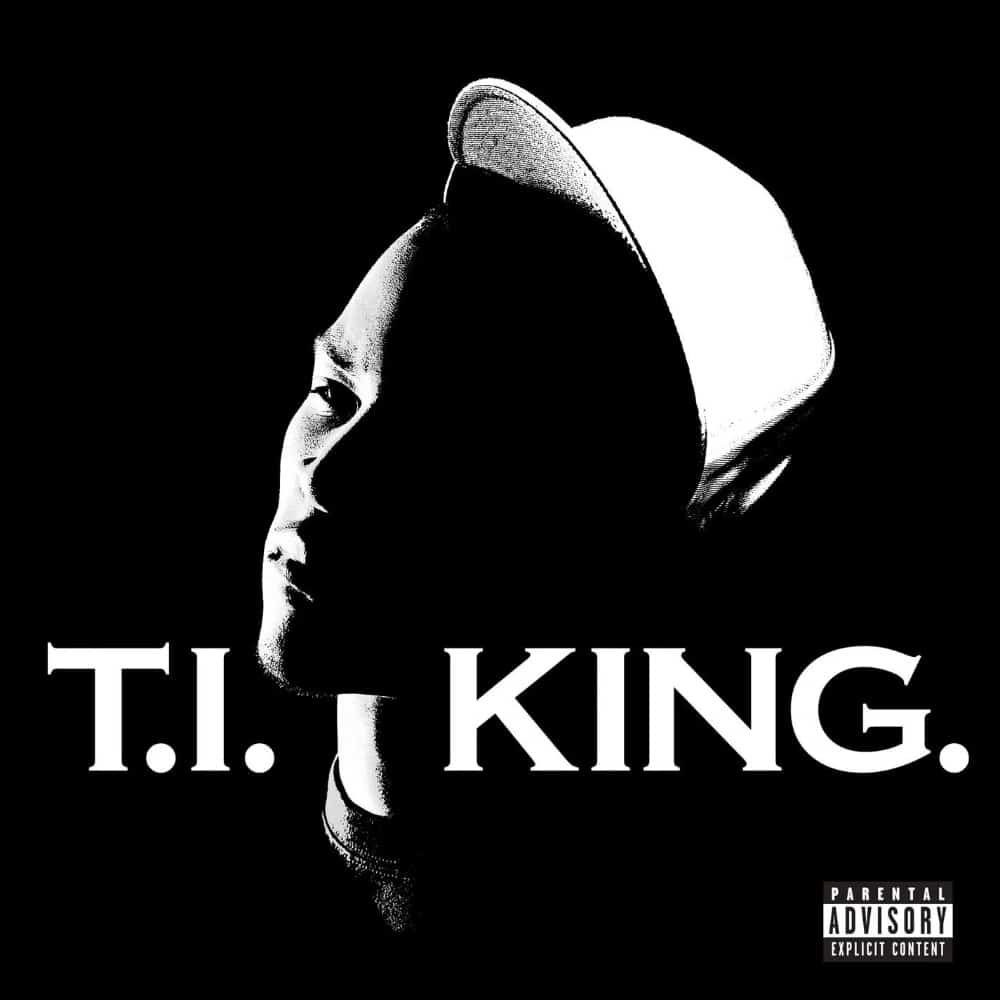 Released: March 28, 2006
Label: Grand Hustle, Atlantic
Singles: "What You Know", "Why You Wanna", "Live in the Sky", "Top Back (Remix)"
Features: UGK, Jamie Foxx, Mike Epps, B.G., Young Jeezy, Young Buck, Young Dro, DJ Drama, Pharrell, Common, Governor, P$C
Claiming the crown — and rightfully so — King is, without a doubt, T.I.'s magnum opus. Dropping in 2006 at the peak of his career, the album is the epitome of Tip's artistic prowess, where the charisma, street wisdom, and lyrical versatility collide. The album kicks off with "King Back," a triumphant declaration of the Atlanta rapper's reign over Southern hip-hop. T.I. flexes his storytelling abilities in "Live in the Sky," where he paints a heartfelt tribute to his fallen friends, while "What You Know" is a braggadocious, coronation anthem that you'd expect from the King of the South. The production on King is impeccable. Whether it's the synths on "What You Know," the soulful sample in "Why You Wanna," or the frenzied beat of "I'm Talkin' to You," T.I. flows effortlessly over each beat, showcasing his adaptability. King was not just another hip-hop album; it was a statement. The lyrical prowess, the versatility, the storytelling — this album encapsulated it all and set a standard that not only T.I. but other Southern rappers would be held to in the years that followed.