Founded in 1991 by The D.O.C., Dr. Dre, Suge Knight, and Dick Griffey, few labels have come to define a decade in the way Death Row Records shaped the '90s. A powerhouse of creativity, audacity, and fearless innovation, the label was a major player during the golden era of hip hop, churning out GOAT-level rappers and producers like clockwork.
The defining sounds of the West Coast — the rolling G-funk basslines, whining synthesizers, and gangsta rap lyricism — were popularized and perfected within Death Row's hallowed studios. To kick things off, Dr. Dre's The Chronic ignited the West Coast revolution, becoming an emblem of the era and singlehandedly shifting the mainstream's attention from New York to L.A. Snoop Dogg's debut Doggystyle built upon Dre's groundbreaking work, and continued to double down on the success of the G-funk movement with one of the biggest rap albums of all time.
But the resonance of Death Row's impact extends beyond these two colossal figures. The roster's depth was its power, as seen with Tha Dogg Pound's Dogg Food, the Murder Was the Case soundtrack and The Lady of Rage's Necessary Roughness. Even amidst the controversies and turbulence that ultimately brought the label down by the end of the '90s, the Death Row's brand and influence still resonates deeply across the hip hop world to this day.
So let's get into it. From Dr. Dre's game-changing The Chronic to Snoop Dogg's 1993 debut, Doggystyle and 2Pac's monumental All Eyez on Me, we rank the top 10 best Death Row Records albums of all time.
10. Daz Dillinger – Retaliation, Revenge and Get Back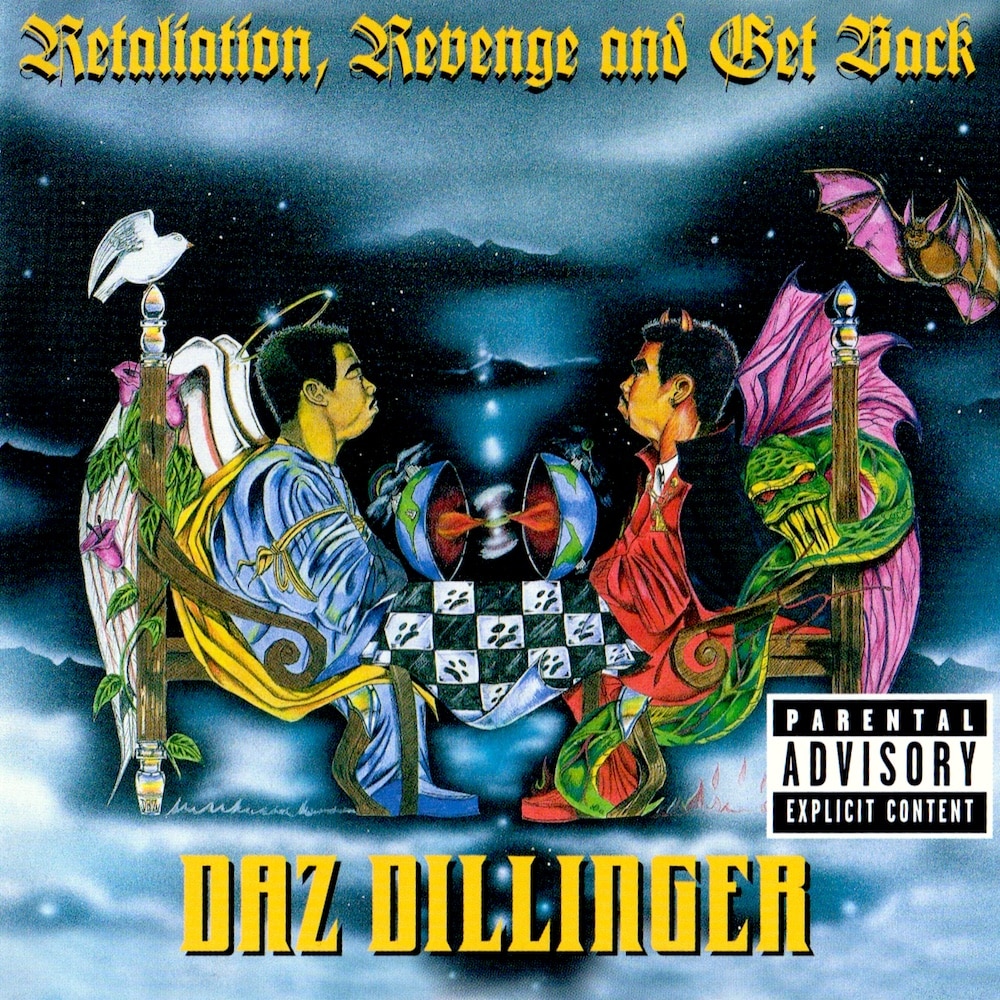 Released: March 31, 1998
Daz Dillinger's Retaliation, Revenge and Get Back hit the streets in '98 when Death Row was dealing with its fair share of dramas. But let's be real, the Long Beach rapper-producer stood out in the midst of it all. He showed the game he wasn't just a dope producer; he could also spit bars with the best of 'em. The album is laced with Daz's production expertise. The beats thump hard, capturing that quintessential Death Row sound we all know and love. Tha Dogg Pound rapper's clever wordplay, storytelling abilities, and no-nonsense attitude are present throughout, pushing the album into the upper echelon of the Death Row catalog. Standout tracks like "In California" and "It Might Sound Crazy" feature Daz's dynamic rhymes and rhythmic flow, delivering the quintessential G-funk experience.
9. Various Artists – Above the Rim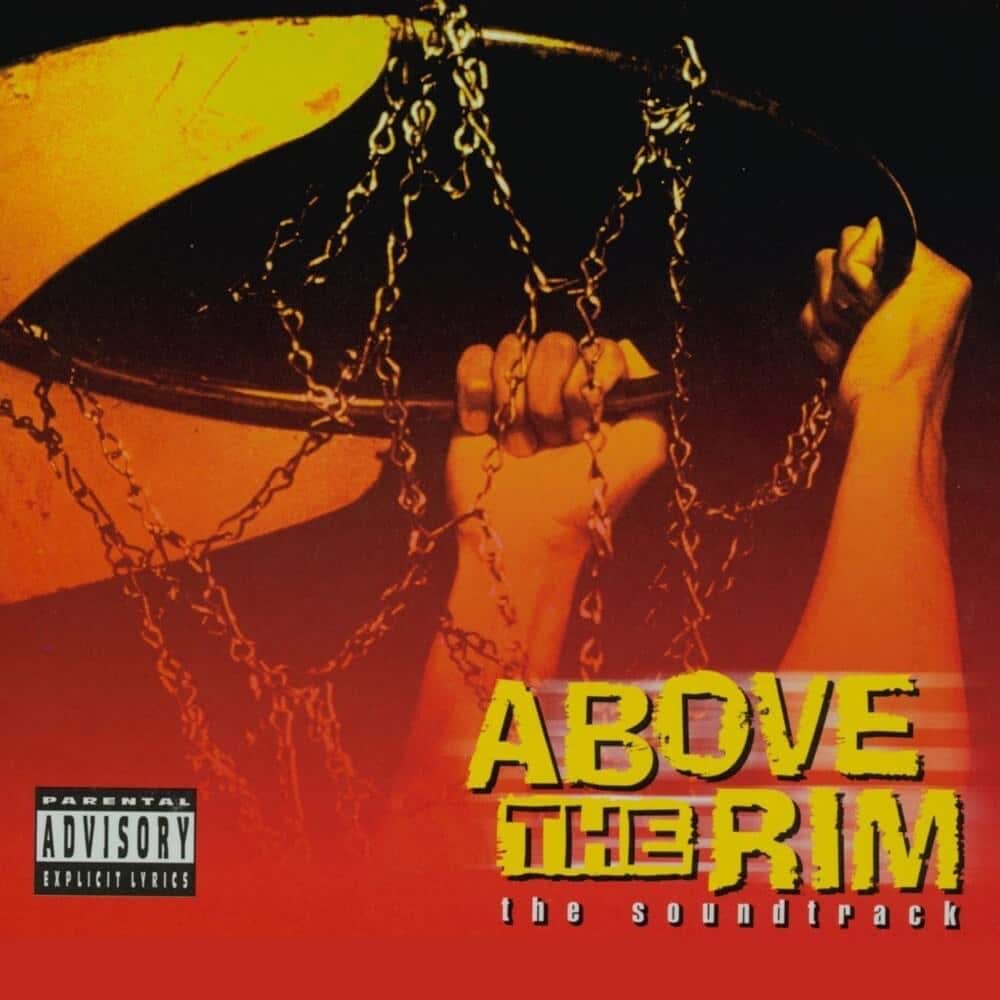 Released: March 22, 1994
Above the Rim was more than just a movie soundtrack. Released in 1994, this compilation album was a showcase of Death Row's knack for blending hard-hitting gangsta rap with smooth R&B grooves, capturing the street life essence and balling lifestyle in perfect harmony. The roster of artists featured reads like a who's who of '90s hip-hop: 2Pac, Snoop Dogg, Dr. Dre, Lady of Rage, Nate Dogg, and many others made their mark on this one. You've got Pac's iconic "Pour Out a Little Liquor," the funk-drenched "Afro Puffs" by The Lady of Rage, and the timeless "Regulate" by Warren G and Nate Dogg. It's a total package of bangers that reflect the era's vibes perfectly. Above the Rim wasn't just a soundtrack – it was a cultural touchstone, encapsulating the Death Row ethos in all its raw, unfiltered glory and pristine production.
8. Nate Dogg – G-Funk Classics, Vol. 1 & 2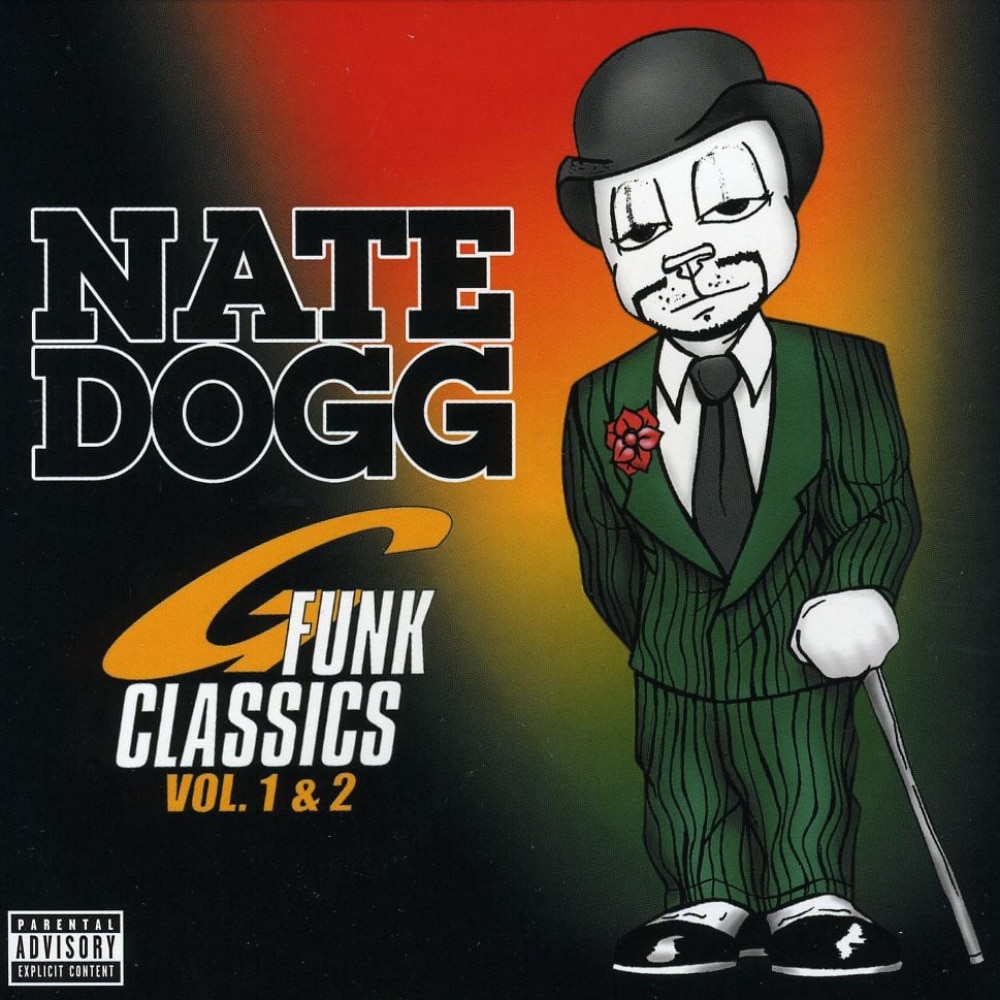 Released: July 21, 1998
It's impossible to talk about the West Coast G-funk era without mentioning the velvety vocal cords of Nate Dogg. On G-Funk Classics, Vol. 1 & 2, the man took center stage, proving that he was more than just a featured artist, showcasing his ability to carry an album with soulful crooning over funky, bass-heavy beats. The double album came out in '98, an admittedly challenging period for Death Row, but Nate's charismatic presence on this record proved irresistible. The classic tracks "Nobody Does it Better" and "These Days" embody Nate's signature style, combining melodic hooks with classic West Coast vibes.
7. The Lady of Rage – Necessary Roughness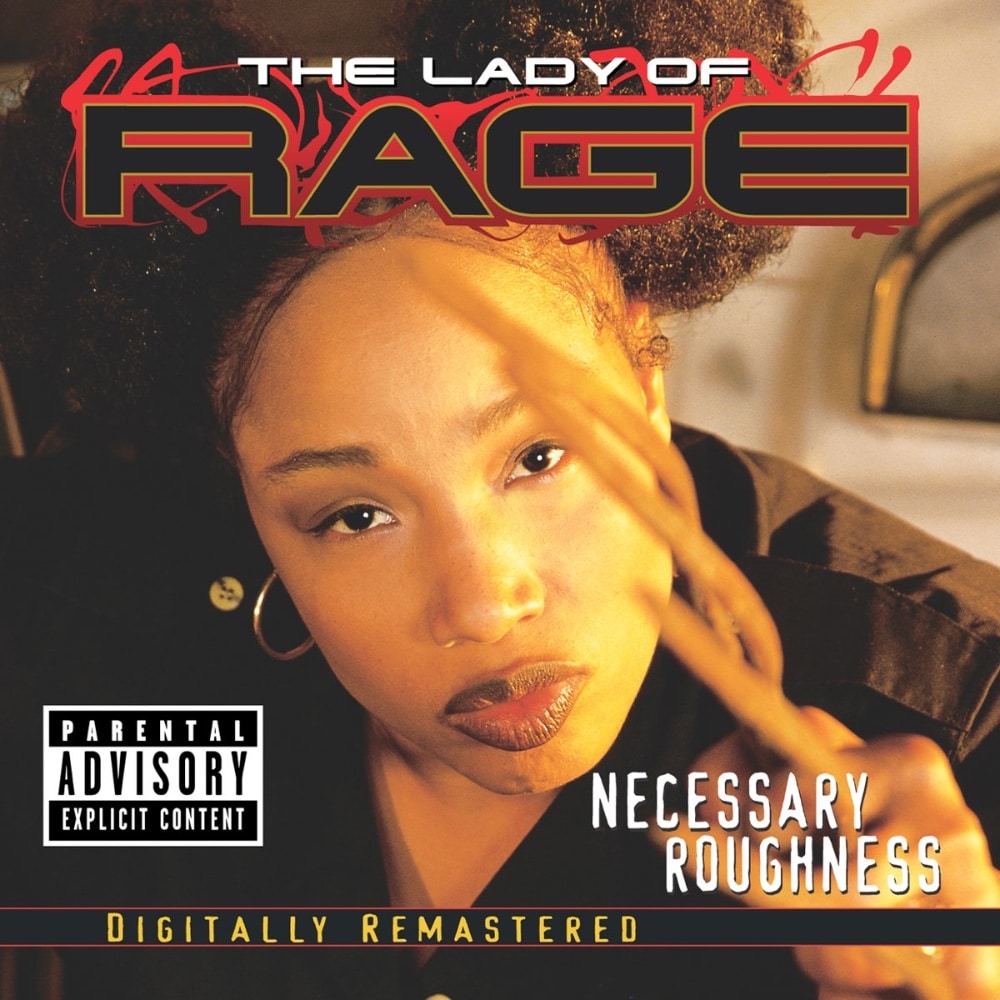 Released: June 4, 1997
The Lady of Rage exploded into the scene with a fierce lyrical prowess, leaving no doubt about her place in a male-dominated game. Necessary Roughness, her debut album, further solidified her as a formidable lyricist within the Death Row empire. This album is a definitive statement from Rage, her rhymes aggressive yet finessed, her flow fierce yet fluid. The beats, ranging from G-Funk to hard-hitting boom-bap, provide the perfect backdrop for the Virginia-born MC's rugged lyricism. And who could forget her explosive single "Afro Puffs"? It's an anthem of empowerment, showcasing her talent as not only a rapper but also a figure of female power in hip-hop. Necessary Roughness stands tall as a symbol of women's strength in rap. With its hard beats and tougher bars, this record proves The Lady of Rage was no background character; she was a leading lady in the saga of Death Row.
6. Death Row Records – Murder Was the Case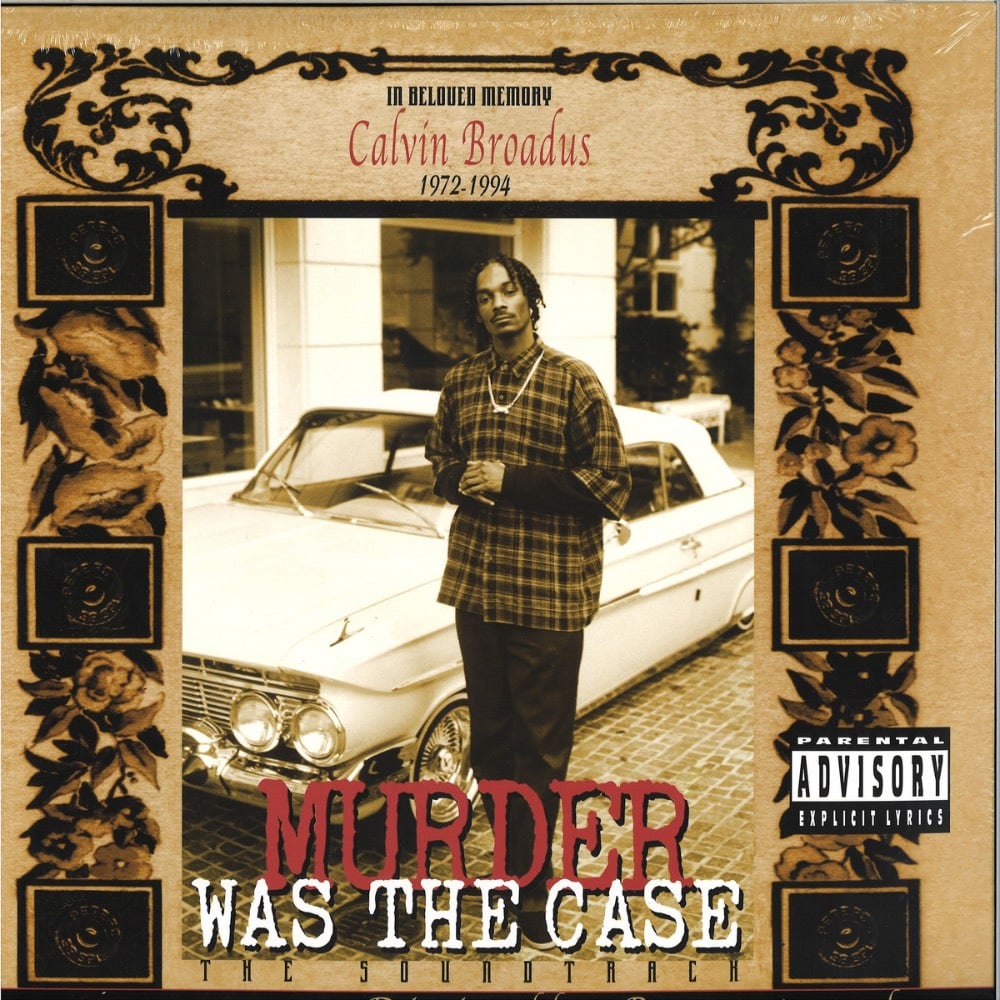 Released: October 15, 1994
When you listen to Murder Was the Case, you're stepping into a pure sonic cinematic experience. Death Row took their A-game to the studio and spun out an album that perfectly complements its short film counterpart. Let's be real, the whole vibe is dark and gritty, painting a vivid image of street life with every track. Who could forget Snoop Dogg's chilling remix to the title track or the all-powerful collab between Dr. Dre and Ice Cube with the classic "Natural Born Killaz"? And let's not overlook that every track on this album carries its weight, creating a storyline you can't ignore. It's not just a soundtrack; it's one of the cornerstone West Coast releases from the '90s.
5. Tha Dogg Pound – Dogg Food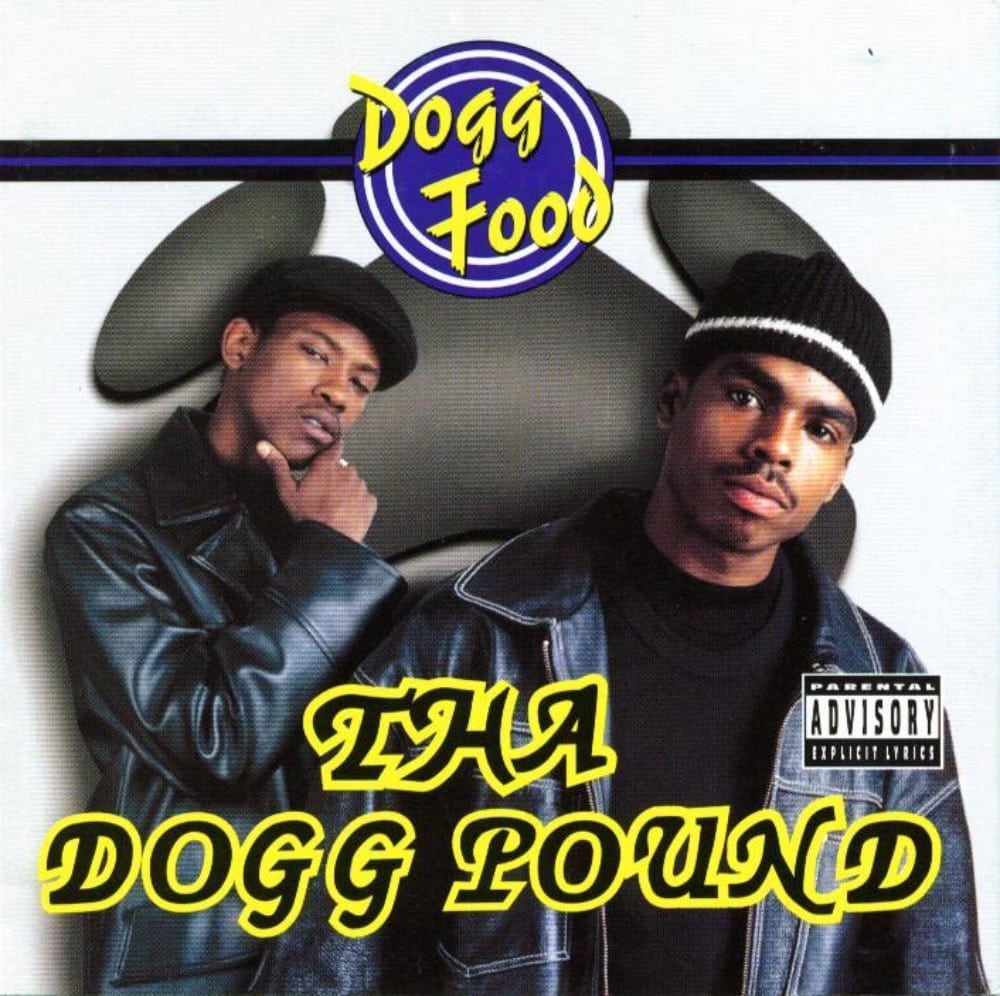 Released: October 31, 1995
Dogg Food is the G-Funk bible you didn't know you needed. You've got Kurupt delivering those razor-sharp rhymes while Daz dishes out production that just melts into your ears. This album is the epitome of that mid-90s West Coast vibe, unfiltered and raw, yet bouncy and catchy. From the undeniable production on "Let's Play House" to the slick wordplay on "New York, New York," it's clear that Kurupt and Das were born to make this album together. Whether the duo were painting a picture of gang life or just delivering a West Coast anthem, this record delivered 100% on their intentions. Amidst a lineup of Death Row giants, Tha Dogg Pound made sure Dogg Food would be a West Coast classic that fans couldn't skip.
4. Snoop Doggy Dogg – Doggystyle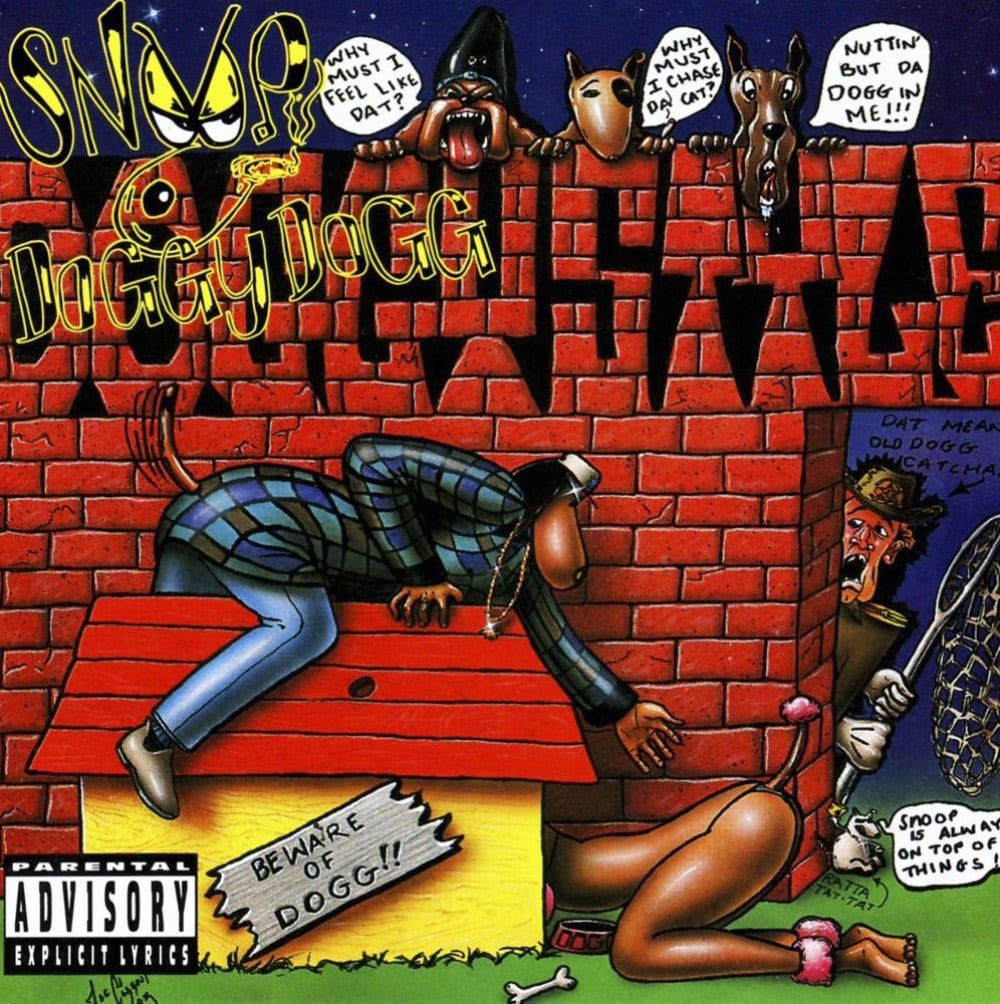 Released: November 23, 1993
A sun-soaked, laid-back vibe envelops Snoop Doggy Dogg's debut, Doggystyle. Imagine it: lowriders bouncing, palm trees swaying, and the hypnotic lull of G-funk radiating from every corner of L.A. That's Doggystyle in a nutshell – an auditory postcard from the Long Beach, California. Snoop's smooth delivery and crackling flow on tracks like "Lodi Dodi" and "Serial Killa" form the heart of the album, while smash hits like "Gin and Juice" and "Who Am I? (What's My Name?)" turned up first week sales to over 800,000 copies. Even with a murderers row of West Coast rappers — Tha Dogg Pound, RBX, The Lady of Rage, Nate Dogg, Warren G — at the end of the day, it's undeniably Snoop, that swaggering, lanky rapper with his ice cold voice that seems to effortlessly slink over Dr. Dre's G-funk production.
3. 2Pac – The Don Killuminati: The 7 Day Theory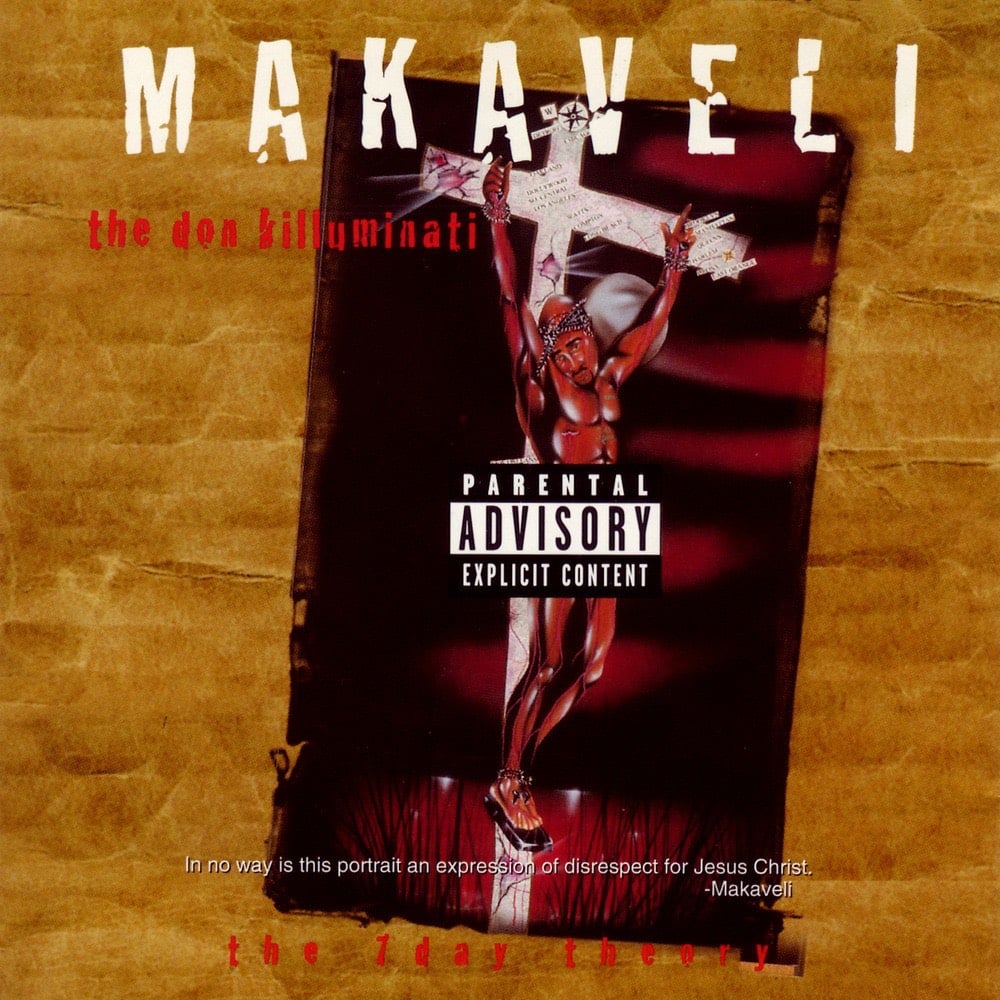 Released: November 5, 1996
What can be said about 2Pac's The Don Killuminati: The 7 Day Theory that hasn't been already? It's as complex, controversial, and compelling as the man himself. Released just months after his tragic death, this album paints a raw, unsettling portrait of an artist at war with the world and, often, himself. Recorded in a whirlwind seven days, the urgency is palpable. Pac bares his soul, spitting verses like fiery arrows. There's anger, there's defiance, but there's also vulnerability, a peek behind the thug-life persona that adds depth to tracks like "Hail Mary" and "Blasphemy." The production on the album is also top-notch, steeped in the rawer, darker sound than Pac's previous releases. From the haunting choir on "Hail Mary" to the bare, poignant melodies on "Krazy," the beats form the perfect backdrop for his recording booth confessions. In a career marked by seminal works, The 7 Day Theory holds a special place. It's 2Pac at his most exposed and vulnerable, wrestling with his inner demons and reflecting on his place in a world he often found himself at odds with.
2. 2Pac – All Eyez on Me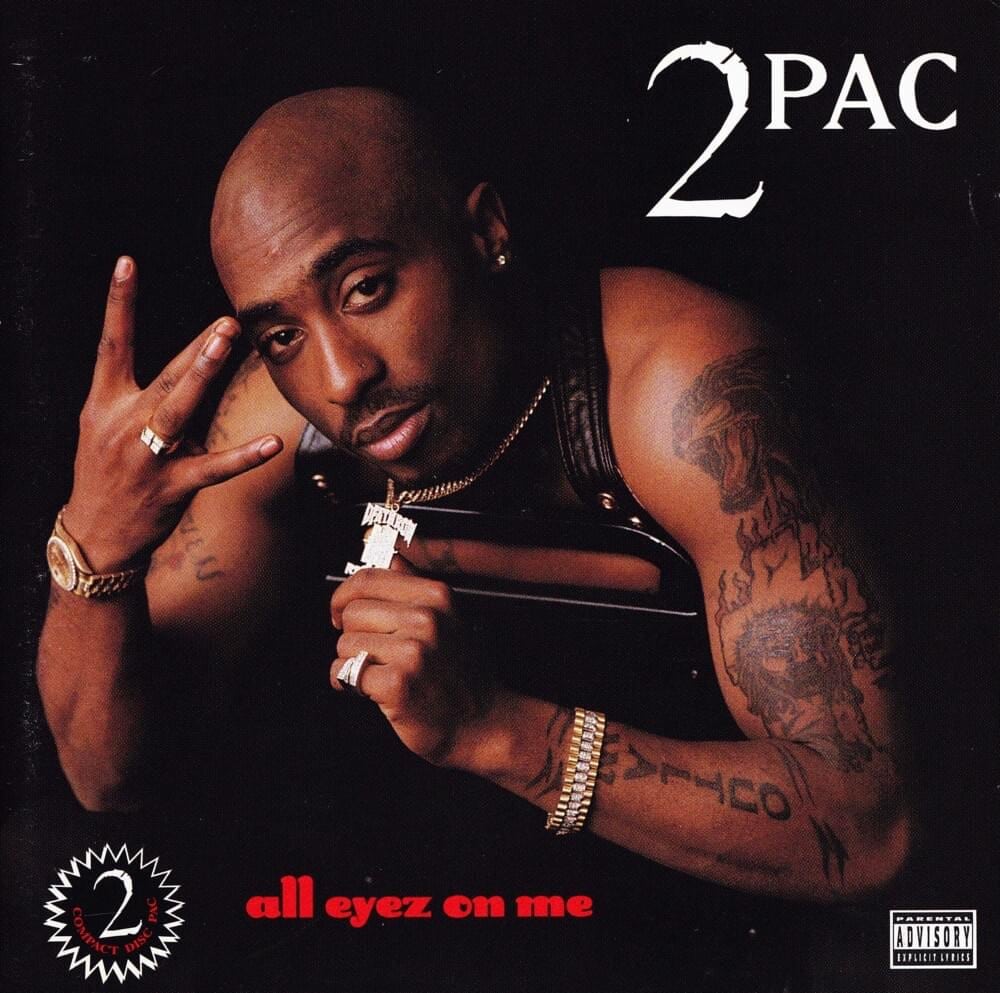 Released: February 13, 1996
All Eyez on Me is not only one of the defining albums of Death Row Records but also one of the landmark moments in '90s rap music. 2Pac's first release after his prison stint, it's a double album filled with bravado, confrontation, and an unyielding will to win. It is, in many ways, the sonic embodiment of the 'ride or die' ethos of the '90s West Coast rap game. From the anthemic title track and the classic "California Love" to more poignant tracks like "Life Goes On" and "I Ain't Mad at Cha" every song on this album was a statement from Pac. At its core, All Eyez on Me was a coronation of the new king of rap — not only was Pac the best rapper alive in 1996, he was also the biggest.
1. Dr. Dre – The Chronic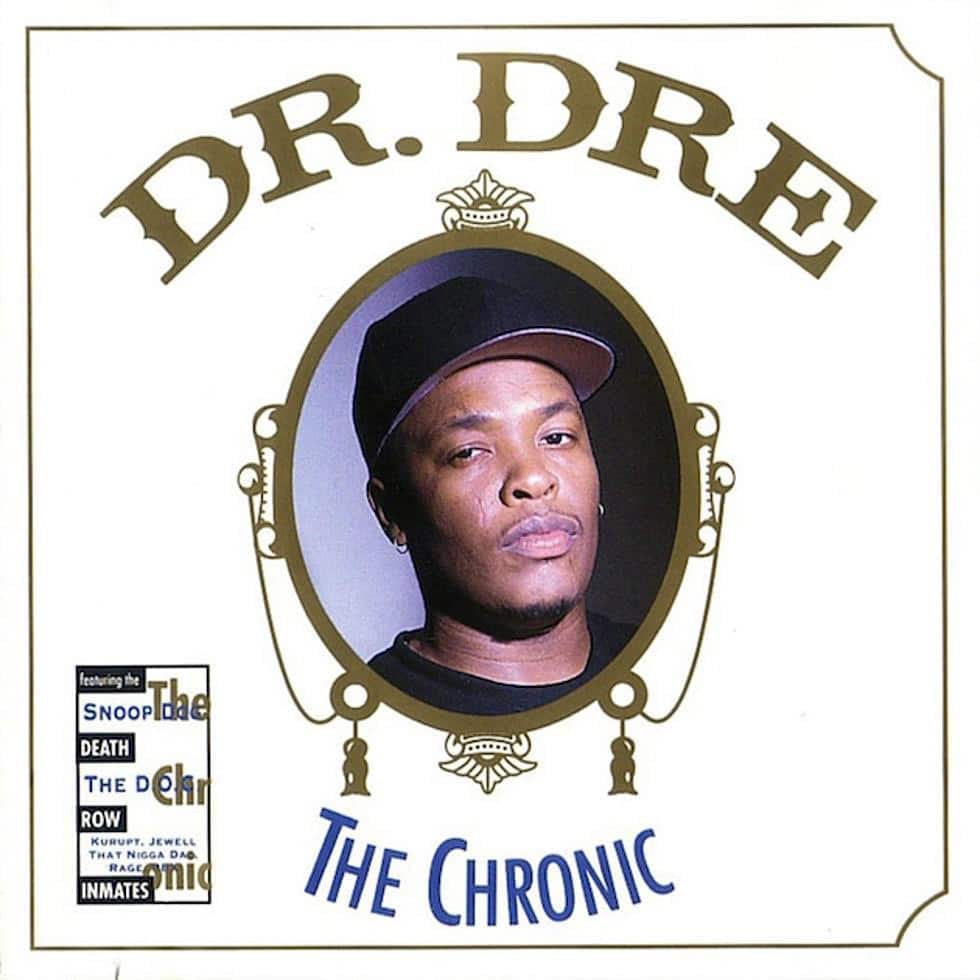 Released: December 15, 1992
The apex of the G-funk era, The Chronic, is nothing less than a sonic masterpiece. Dr. Dre's production genius ushered in a seismic shift in hip-hop's soundscape, and the reverberations are still felt today. From the Parliament-Funkadelic-infused beats and the seamless integration of live instrumentation to the album's commercial success and introduction of a young Snoop Doggy Dogg, The Chronic was a game-changer in every sense of the word. Tracks like "Nuthin' but a 'G' Thang" and "Let Me Ride" are engraved in the DNA of West Coast hip-hop, defining anthems that still feel as fresh as they did in '92. The first and quintessential Death Row Records release, The Chronic is also arguably the greatest West Coast rap album of all time.