The 1990s were not just a golden era for hip hop music; they were an age of alchemy. The greatest hip hop producers of that time were the magicians turning raw elements into gold, fusing hard-hitting drums with undeniable melodies that linger on, long after the track has ended. This was a decade when sonic architects were bending boundaries, introducing samples in creative ways, and crafting the unique soundscapes that would come to define an entire generation.
From the grime-infused symphonies of RZA's Staten Island to the G-funk that Dr. Dre was brewing on the sun-soaked streets of Compton; from DJ Premier's boom-bap heartbeat pulsing through New York City to Organized Noize infusing the Atlanta air with their southernplayalistic tones — these were the laboratories of sound that would shape the hip hop landscape for the decades to follow. Then there were other legendary producers like Pete Rock, whose soulful horns painted the poetic backdrop for rappers to wax lyrical, and Q-Tip, who built a bridge from jazz's past to hip hop's future.
Every one of these producers brought their distinct twist, their signature style, and their passion for the beat to the forefront, leaving an enduring impact on the rap game. With their MPCs, turntables, and ever-expanding crates of vinyl, these were the sonic maestros who gave us the wonderfully diverse soundscapes that the greatest '90s rappers rhymed over.
So let's get into it. From DJ Premier, Dr. Dre, RZA and Q-Tip, to Mannie Fresh, DJ Quik, The Bomb Squad and Organized Noize, here are the top 25 best hip hop producers of the '90s.
Honorable mentions:
Swizz Beatz
Notable production credits: DMX – "Ruff Ryders' Anthem", Noreaga – "Banned from T.V.", Busta Rhymes – "Tear da Roof Off", Jay-Z – "Money, Cash, Hoes", Drag-On – "Down Bottom", Eve – "Gotta Man" / "Love Is Blind", Memphis Bleek – "Memphis Bleek Is…", Jay-Z – "Jigga My Ni**a", DMX – "Party Up (Up in Here)"
Kasseem Dean, better known as Swizz Beatz, emerged in the late '90s as the linchpin of the Ruff Ryders collective. While technically not a '90s mainstay — Swizz had more of an impact in the 2000s rap era — the waves he created at the tail-end of the decade were enough to secure his place on this list. Swizz Beatz's productions, defined by their anthemic choruses, gritty drum loops and heavy synthesizers, revolutionized the soundscape of East Coast hip hop as we transitioned into the new millennium. Iconic hits like DMX's "Ruff Ryders Anthem" and Jay-Z's "Money, Cash, Hoes" showcase the high energy and raw feel that is signature to Swizz Beatz's production style.
Kay Gee
Notable production credits: Naughty by Nature – Naughty by Nature / 19 Naughty III / Poverty's Paradise / Nineteen Naughty Nine: Nature's Fury , Queen Latifah – "U.N.I.T.Y.", Run-D.M.C. – "Hit 'Em Hard"
As part of the Grammy-winning trio Naughty by Nature, Kay Gee was instrumental in defining the sound of the early '90s rap game. Kay Gee's productions, characterized by their smooth melodies and hard-hitting drum patterns, provided the perfect backdrop for Treach's rugged lyricism. In addition to his work with Naughty by Nature, Kay Gee also achieved considerable success producing for other artists, most notably Zhane's R&B classic "Hey Mr. DJ." His ability to blend elements of soul, funk, and jazz into his hip-hop beats made him a versatile force during this golden era of production.
25. Timbaland
Notable production credits: Missy Elliott – Supa Dupa Fly , Timbaland & Magoo – Welcome to Our World , Jay-Z – "Ni**a What, Ni**a Who (Originator 99)" / "Paper Chase", Nas – "You Won't See Me Tonight", Missy Elliott – Da Real World , Nas – "You Owe Me", Jay-Z – "It's Hot (Some Like It Hot)" / "Big Pimpin'"
Coming up in mid-90s primarily producing for R&B acts, Timbaland ascended to the top-tier of hip-hop production by the end of the decade with his genre-defying production. Known for his experimental approach to sound, he would incorporate unconventional instruments and sounds—like the baby coo in Aaliyah's "Are You That Somebody?"—into his productions. His beats, often layered with syncopated rhythms, skittering hi-hats, and unpredictable melodic shifts, carried a unique bounce that was infectious. With his innovative soundscapes in tracks like Missy Elliott's "The Rain" and Jay-Z's "Big Pimpin'", Timbaland not only left a lasting mark on the '90s but also shaped the sound of hip-hop for decades to come.
24. Sir Jinx
Notable production credits: Ice Cube – AmeriKKKa's Most Wanted / Kill at Will / Death Certificate , Yo-Yo – Make Way for the Motherlode , WC and the Maad Circle – Ain't a Damn Thang Changed , Kool G Rap & DJ Polo – Live and Let Die , Xzibit – "Chamber Music" / "Shroomz" / "Inside Job" / "Don't Let the Money Make You"
You want to talk about the pulse of West Coast hip-hop in the '90s? Let's discuss Sir Jinx. The man behind the magic of Ice Cube's legendary triumvirate — AmeriKKKa's Most Wanted , Kill at Will , and Death Certificate — as well as Kool G Rap's masterpiece, Live and Let Die , Sir Jinx crafted beats that made heads nod without fail. The funk and soul of yesteryears got a fresh lease of life in his capable hands as he sliced, diced, and stitched together samples into unforgettable grooves. Jinx's style wasn't just about laying down a beat; it was about telling narratives through sound, a technique that cemented Ice Cube's place as one of the greatest rap storytellers of all time .
23. Dame Grease
Notable production credits: Mase – "Ni**az Wanna Act", The LOX – "If You Think I'm Jiggy" / "We'll Always Love Big Poppa", DMX – It's Dark and Hell Is Hot , Fat Joe – "Triplets", DMX – "Dogs for Life", Noreaga – "Body in the Trunk", Nas – "Ghetto Prisoners", DMX – "Fame" / "D-X-L (Hard White)"
Not many producers can claim to have shaped the sound of an entire era, but Dame Grease can. The architect behind much of DMX's debut album, It's Dark and Hell is Hot , Grease brought a gruff, atmospheric style to the hip hop landscape of the late '90s. His grimy yet melodic beats provided the perfect backdrop for DMX's gritty lyrics, setting a new benchmark for East Coast hip-hop. The echoing drums and haunting synthesizers of "Get at Me Dog" and "How's It Goin' Down" are quintessential Dame Grease, full of raw energy and deep emotional resonance.
22. Da Beatminerz
Notable production credits: Black Moon – Enta da Stage / Diggin' in dah Vaults / War Zone , Smif-N-Wessun – Dah Shinin' , Mic Geronimo – "Lifecheck" / "Men Vs. Many", Heltah Skeltah – "Clan's, Posse's, Crew's & Clik's", Sadat X – "The Interview", O.C. – "Dangerous" / "Stronjay" / "It's Only Right"
Known for their production on iconic underground rap albums of the '90s, Da Beatminerz crafted a soundscape that became synonymous with the gritty New York rap game. Comprising of brothers Mr. Walt and DJ Evil Dee, the Beatminerz were pivotal in shaping the raw and gritty sounds of Black Moon's debut album Enta Da Stage , and continued to evolve their craft with an extensive resume that included work with Smif-N-Wessun, Heltah Skeltah, and more. Their aesthetic, marked by jazz samples and a gritty boom-bap drum style, perfectly captured the vibe of '90s Brooklyn, adding a layer of atmospheric grime to the lyrical street tales spun by the MCs they collaborated with.
21. Ant Banks
Notable production credits: Spice 1 – Spice 1 / "Clip & the Trigga" / "Face of a Desperate Man" / "Doncha Runaway" / "Give the 'G' a Gat", E-40 – "Rapper's Ball", Mack 10 – "Can't Stop" / "Tonight's the Night" / "Dopeman", MC Ren – "Ni**a Called Ren" / "All the Same", WC – "The Shadiest One", B-Legit – "Hood Ratz & Knuckle Heads", E-40 – "Earl, That's Yo' Life" / "Big Ballin' with My Homies", MC Eiht – "Murder at Night"
If the sound of Bay Area hip-hop in the '90s had a specific touchstone, Ant Banks would be a prime contender. With a career deeply rooted in funk-infused beats, he crafted a distinctive West Coast sound that was both smooth and hard-hitting. His production prowess can be heard on tracks like Too $hort's "Get In Where You Fit In" and E-40's "1-Luv," where his understanding of rhythm and blues merged seamlessly with a gangsta rap ethos. By blending funky basslines with dynamic percussions, Ant Banks made an undeniable contribution to the G-funk sub-genre, establishing a timeless sound that's still influential today.
20. Diamond D
Notable production credits: Diamond D – Stunts, Blunts and Hip Hop / Hatred, Passions and Infidelity , Lord Finesse & DJ Mike Smooth – "Funky Technician" / "Here I Come" / "I Keep the Crowd Listening" / "Bad Mutha" / "Keep It Flowing", Showbiz and A.G. – "Hard to Kill" / "Soul Clap", Brand Nubian – "Punks Jump Up to Get Beat Down (Remix)", Fat Joe – "Flow Joe" / "Da Fat Gangsta", Ed O.G. & Da Bulldogs – "Streets Of The Ghetto" / "Busted" / "Love Comes And Goes", Fu-Schnickens – "Aaahh Ooohhh!", The Pharcyde – "Groupie Therapy", KRS-One – "Build Ya Skillz" / "Squash All Beef", Tha Alkaholiks – "Let It Out" / "The Next Level", Fugees – "The Score", Ras Kass – "Soul On Ice Remix", Busta Rhymes – "What the Fuck You Want!!", Mos Def – "Hip Hop", Pharoahe Monch – "The Ass" / "The Light" / "The Truth"
A pillar of New York's golden age hip-hop scene, Diamond D's unmistakable sonic signature was rooted in the '90s. As a key member of the Diggin' In The Crates (D.I.T.C.) crew, his work was instrumental in shaping the boom-bap aesthetic that has since become synonymous with East Coast rap. His work on classics like Fat Joe's debut Represent and his own Stunts, Blunts, & Hip Hop cemented his reputation for soulful beats with crisp drums and well-placed samples. With a unique knack for creating catchy, loop-based beats that perfectly framed the lyrical prowess of the MCs he worked with, Diamond D's influence extends well beyond the '90s.
19. Warren G
Notable production credits: Warren G – Regulate… G Funk Era / Take a Look Over Your Shoulder , Twinz – Conversation , MC Breed – "Gotta Get Mine", Thug Life – "How Long Will They Mourn Me?", Slick Rick – "Behind Bars (Dum Ditty Dum Mix)", Kam – "Keep Tha Peace", Nate Dogg – "No Matter Where I Go" / "Friends" / "Nobody Does It Better", Kurupt – "That's Gangsta", Mac Dre – "Fast Money"
Coming up alongside giants like Dr. Dre and Snoop Dogg, Warren G emerged as a central figure in defining the G-funk sound that dominated the West Coast in the '90s. From his iconic debut Regulate…G Funk Era , it was clear that Warren G's talent for blending laid-back grooves, smooth synth lines, and funk samples was second to none. Tracks like "Regulate" and "This D.J." showcased his knack for creating catchy hooks, while his melodic production style added a touch of relaxed Southern California vibes to the harder-edged gangsta rap aesthetic. Warren G's contribution to the landscape of '90s hip-hop, both as a producer and rapper, cannot be understated.
18. Prince Paul
Notable production credits: Prince Paul – Psychoanalysis: What Is It? / A Prince Among Thieves , De La Soul – De La Soul Is Dead / Buhloone Mindstate , Gravediggaz – 6 Feet Deep
Prince Paul is your favorite producer's favorite producer, the one who elevated the game with his left-of-center approach and brilliant mind for audio narratives. With a production that was audacious and wholly original, a Prince Paul signature beat was marked a meticulous attention to details and a knack for discovering obscure samples. After producing the pivotal De La Soul album, 3 Feet High and Rising , in 1989, Paul went on to produce two more equally brilliant albums for the group — De La Soul Is Dead and Buhloone Mindstate . In between, he also managed to contribute production credits to his other groups Stetsaonic (on Blood, Sweat & No Tears ) and Gravediggaz (on 6 Feet Deep ), in addition to his own solo projects — A Prince Among Thieves is one of the greatest conceptual rap albums of all time.
17. Large Professor
Notable production credits: Kool G Rap & DJ Polo – Wanted: Dead or Alive , Main Source – Breaking Atoms , Akinyele – Vagina Diner , Large Professor – The LP , Eric B. & Rakim – "No Omega" / "In the Ghetto" / "Step Back", Diamond D – "Freestyle (Yo, That's That Shit)", Pete Rock & CL Smooth – "Act Like You Know", A Tribe Called Quest – "Keep It Rollin'", Nas – "Halftime" / "One Time 4 Your Mind" / "It Ain't Hard to Tell"
A true artisan of the beats, Large Professor's work during the '90s showcased a masterful ability to breathe new life into old soul and jazz samples. A member of Main Source and a sought-after collaborator, Large Pro played a crucial role in projects like Nas' classic Illmatic , Rakim's Let the Rhythm Hit 'Em , and A Tribe Called Quest's Midnight Marauders . Extra P's beats, often characterized by intricate layering and a clear appreciation for musical history, provided a richly textured backdrop for MCs to shine. The jazz-tinged flavor he brought to his beats proved instrumental in the evolution of the East Coast hip hop sound. A professor indeed, his work remains a masterclass in the art of hip hop production.
16. Trackmasters
Notable production credits: Chubb Rock – I Gotta Get Mine Yo , Red Hot Lover Tone – Red Hot Lover Tone , Foxy Brown – Ill Na Na , Nas – It Was Written , Will Smith – Big Willie Style , Kool G Rap & DJ Polo – "Straight Jacket" / "Ill Street Blues" / "Fuck U Man", Big Daddy Kane – "Looks Like a Job for…" / "How U Get a Record Deal?", The Notorious B.I.G. – "Juicy" / "Respect" / Who Shot Ya?, LL Cool J – "Make It Hot" / "Hip Hop" / "Hey Lover" / "I Shot Ya", Jay-Z – "Face Off", Cam'ron – "Horse & Carriage", Noreaga – "N.O.R.E.", 50 Cent – "Ghetto Qu'ran" / "How to Rob", Slick Rick – "Bring It to Your Hardest"
The duo of Poke & Tone, known as Trackmasters, were instrumental in crafting the sonic landscape of '90s hip-hop, straddling the line between the street sensibilities of rap and the appeal of pop. Working with legendary lyricists like Nas, Kool G Rap and LL Cool J, the production duo provided infectious, sample-heavy beats that drove many chart-topping hits. Their style, a blend of glossy R&B sensibilities and boom-bap drum patterns, propelled tracks like "If I Ruled the World (Imagine That)" and "Juicy" and made superstars of the MCs. With their deft touch, Trackmasters managed to keep the essence of hip-hop intact while reaching a broader audience, cementing their legacy in the '90s rap game.
15. DJ Muggs
Notable production credits: Cypress Hill – Cypress Hill / Black Sunday / Cypress Hill III: Temples of Boom / Cypress Hill IV , House of Pain – House of Pain / Same as It Ever Was , Ice Cube – "Now I Gotta Wet 'Cha" / "We Had to Tear This Mothafucka Up" / "Check Yo Self", Xzibit – "The Foundation", MC Eiht – "Can I Get Mine" / "Got Cha Humpin'" / "Tha Way We Run It" / "When All Hell Breaks Loose"
The architect of Cypress Hill's groundbreaking sound, DJ Muggs brought a darker, more cinematic tone to the hip hop of the '90s. Think of him as the West Coast version of RZA. With a sonic arsenal that included deep, rumbling basslines, grimy beats, and a clever usage of samples ranging from jazz to rock, Muggs' sound was as eclectic as it was influential. Albums like Cypress Hill's self-titled debut and Black Sunday stand as testaments to his innovative approach, fusing elements of psychedelic funk, heavy metal, and gangsta rap into a potent musical blend. And let's not forget the monster hit he produced for House of Pain — the timeless "Jump Around."
14. Easy Mo Bee
Notable production credits: The Genius – Words from the Genius , Big Daddy Kane – "Stop Shammin'" / "Rest in Peace" / "Here Comes Kane, Scoob and Scrap", LL Cool J – "Pink Cookies in a Plastic Bag Getting Crushed by Buildings (Remix)", The Notorious B.I.G. – "Party and Bullshit", Craig Mack – "Get Down" / "Flava in Ya Ear" / "Judgement Day" / "Mainline" / "When God Comes", Da Brat – "Give It 2 You (Easy Mo Remix)", The Notorious B.I.G. – "Gimme the Loot" / "Machine Gun Funk" / "Warning" / "Ready to Die" / "The What" / "Friend of Mine", Thug Life – "Str8 Ballin'", 2Pac – "If I Die 2Nite" / "Temptations", Das EFX – "Knockin' Ni**az Off" / "Microphone Master" / "40 & a Blunt" / "Alright" / "Hold It Down", Busta Rhymes – "Everything Remains Raw" / "It's a Party", Lost Boyz – "Jeeps, Lex Coups, Bimaz & Benz" / "Lifestyles of the Rich & Shameless" / "Is This da Part", The Lady of Rage – "Necessary Roughness" / "Breakdown", The Notorious B.I.G. – "I Love the Dough" / "Going Back to Cali", Kurupt – "Light Shit Up"
Witness the might of "Flava in Ya Ear" or the hypnotic grit of Biggie's "Warning," and you're vibing with the craft of Easy Mo Bee. This musical virtuoso molded soundscapes that pushed hip-hop into uncharted territories. His legacy from the '90s rests on an uncanny ability to weave together intricate samples and hard-hitting drums that managed to straddle street rawness and sophisticated musicality. From 2Pac's Me Against the World to Biggie's Ready to Die , some of the greatest and most influential rap albums of the '90s bear the production touch of Easy MO Bee.
13. Beats by the Pound
Notable production credits: TRU – "I'm Bout' It, Bout It" / "Mobbin Through My Hood", Master P – "Playaz from the South" / "Bounce That Azz", Mia X – "Wanna Be With You", Master P – "Mr. Ice Cream Man" / "No More Tears", Silkk – "The Shocker", Kane & Abel – "Gangstafied", TRU – "I Always Feel Like", Mystikal – "Ain't No Limit", Master P – "I Miss My Homies", Master P – "Make 'Em Say Uhh!", Young Bleed – "Times So Hard", Silkk the Shocker – "Just Be Straight with Me" / "It Ain't My Fault", C-Murder – "A 2nd Chance" / "Making Moves", Fiend – "Take My Pain", Soulja Slim – "From What I Was Told"
Comprised of KLC, Mo B. Dick, Craig B., and Odell, Beats by the Pound was the production powerhouse behind No Limit Records during its heyday in the '90s. These masterminds produced over 20 gold and platinum records for the label, paving the way for the Dirty South's takeover. Their sound—a thunderous mix of rolling basslines, propulsive drum patterns, and soulful samples—provided the perfect canvas for the raw storytelling of artists like Master P and Mystikal. Listen to tracks like Master P's "Make 'Em Say Uhh!" or Mystikal's "Danger", and you'll find the unique blend of southern grit and musical complexity that defined Beats by the Pound.
12. Erick Sermon
Notable production credits: EPMD – Business as Usual / Business Never Personal / Back in Business / Out of Business , Redman – Whut? Thee Album / Muddy Waters / Doc's da Name 2000 , Keith Murray – The Most Beautifullest Thing in This World / Enigma / It's a Beautiful Thing , Erick Sermon – No Pressure / Double or Nothing , Def Squad – El Niño , K-Solo – "Spellbound", Run-D.M.C. – "Can I Get It, Yo", Method Man & Redman – "How High", LL Cool J – "4, 3, 2, 1", Jay-Z – "Reservoir Dogs"
Erick Sermon, one half of the celebrated hip-hop duo EPMD, shaped the sound of the '90s with his funky, hard-hitting beats that got heads nodding from Long Island to Compton. Known as the "Green-Eyed Bandit," Sermon brought a unique flavor to the production game, merging infectious funk samples with raw drum loops to create a sound that was distinctly his. Sermon's production style was the foundation for EPMD's success. Tracks like "Rampage", "Crossover" and "Head Banger" were visceral anthems that embodied the streetwise grittiness of East Coast rap, balanced by a funky charm that set them apart. Outside of EPMD, the Long Island rapper-producer also crafted timeless hits for the likes of Redman, Keith Murray, K-Solo, LL Cool J, and plenty others. The way Sermon was able to bridge the gap between hip-hop and funk, marrying the rawness of the former with the groove of the latter, cemented him as one of the greatest '90s producers.
11. The Hitmen
Notable production credits: The Notorious B.I.G. – Ready to Die / Life After Death , Puff Daddy – No Way Out / Forever , Mase – Harlem World / Double Up , The LOX – Money, Power & Respect
The chronicles of Bad Boy's golden age are incomplete without acknowledging The Hitmen's inescapable influence. This formidable collective of sonic alchemists, under Puffy's guidance, furnished the soundtrack to the '90s rap game, blending the vigor of hip hop with smooth R&B elements and classic soul samples. From the monumental Life After Death to No Way Out and Harlem World , their polished production helped shape the signature Bad Boy sound. Puffy ran the late '90s with a string of chart-topping hits and multi-platinum albums, and a big part of that credit should go to the Hitmen, whose cuts were large than life, impeccably polished and unforgettably catchy.
10. Organized Noize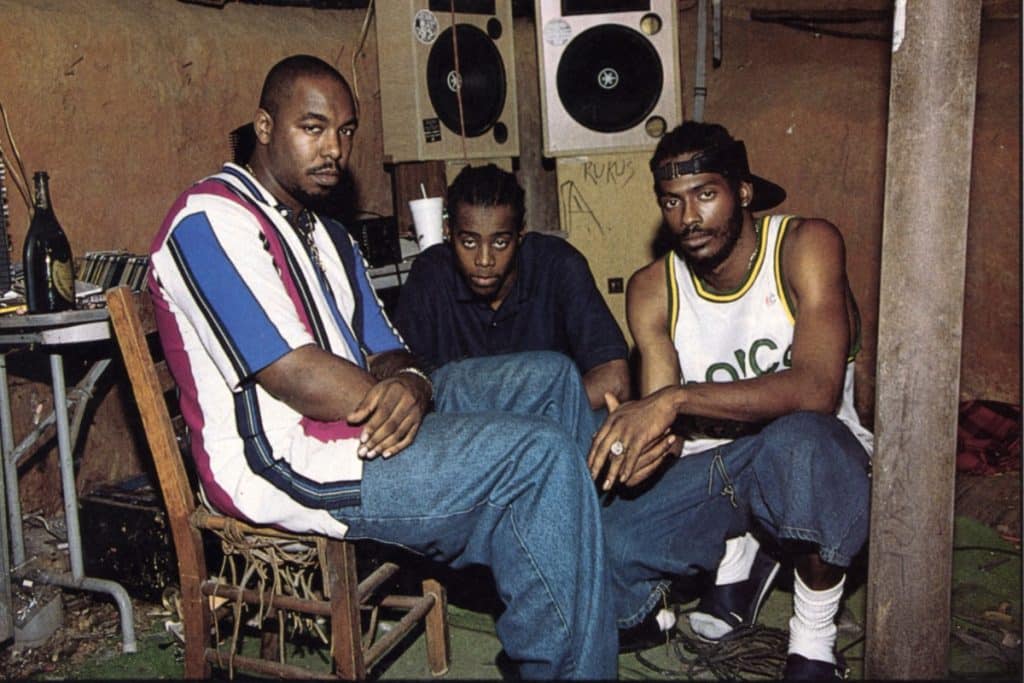 Notable production credits: OutKast – Southernplayalisticadillacmuzik / ATLiens / Aquemini , Goodie Mob – Soul Food
Organized Noize, the trio of Sleepy Brown, Rico Wade, and Ray Murray, hit a sweet spot in the '90s with their unique blend of live instrumentation and southern-fried soul. This wasn't your run-of-the-mill production team; their style was marked by a refusal to conform to hip hop's established norms. Working as the sonic architects behind OutKast and Goodie Mob, they birthed the classic Dirty South sound, with its thick basslines, funk-infused rhythms, and soulful melodies. Their standout works like OutKast's "Player's Ball" and Goodie Mob's "Cell Therapy" serve as quintessential examples of their ability to create rich, multifaceted soundscapes that defined an era and region.
9. Mannie Fresh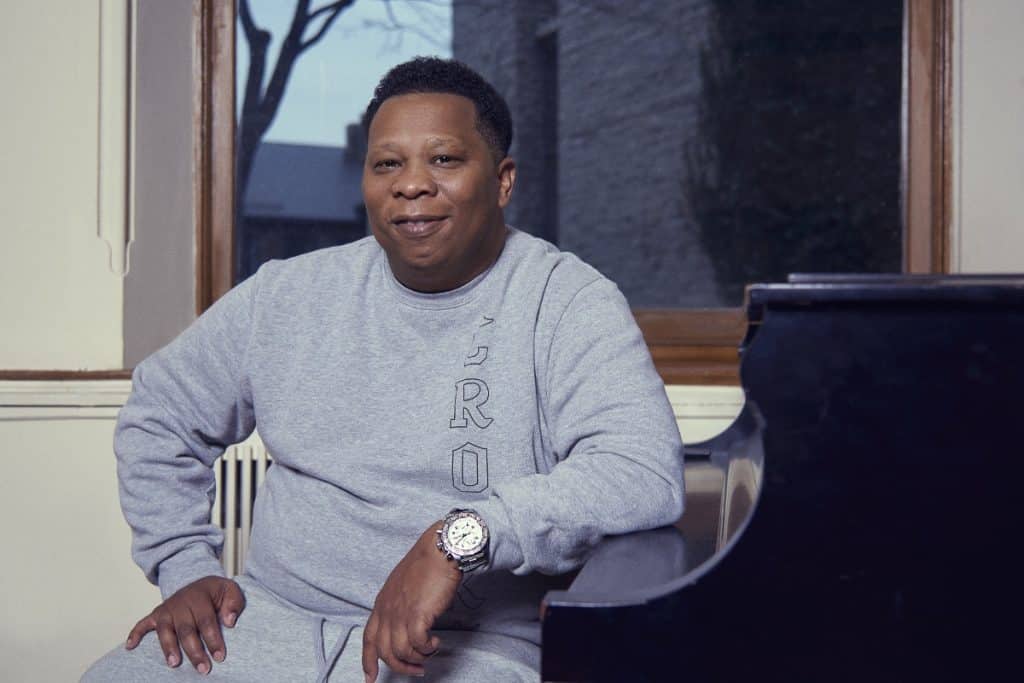 Notable production credits: B.G. – True Story / Chopper City / Chopper City in the Ghetto , Big Tymers – How You Luv That , Juvenile – 400 Degreez / Tha G-Code , Hot Boys – Guerrilla Warfare , Lil Wayne – Tha Block Is Hot
One of the cornerstones of '90s Southern hip hop , Mannie Fresh stands as a beacon of creativity and originality. His mastery of blending the old and new brought about the distinct bounce sound that propelled Cash Money Records into the stratosphere. Mannie played an integral role in shaping the sound of Southern hip hop with his synth-heavy beats, brassy hooks, and his knack for making songs that both bang in the clubs and hit hard in the streets. Timeless tracks like "Ha," "Back That Azz Up" and "Bling Bling" exemplify his production wizardry, ushering in a sonic revolution that remains influential to this day. Without Mannie Fresh's production that skyrocketed Cash Money's success, you could argue that there wouldn't be a Lil Wayne, Drake or Nicki Minaj today.
8. DJ Quik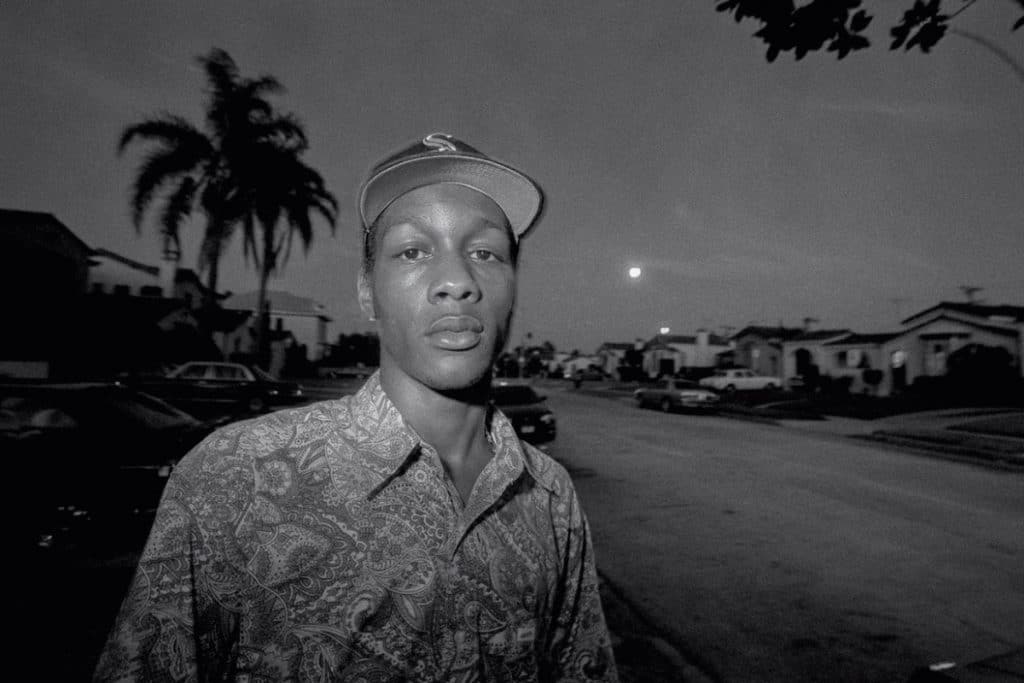 Notable production credits: DJ Quik – Quik Is the Name / Way 2 Fonky / Safe + Sound / Rhythm-al-ism , Suga Free – Street Gospel , 2nd II None – Classic 220 , 2Pac – "Heartz of Men", Jermaine Duper – "Three The Hard Way", Snoop Dogg – "Doin' Too Much" / "Buss'n Rocks" / "Don't Tell"
When you talk about the architects of West Coast G-funk, DJ Quik's name undoubtedly springs to mind. His love for funk and soul shines brightly in his production style, which artfully melds infectious basslines, guitar riffs, and the iconic laid-back vibes of California. Quik's production can be described as smooth yet punchy, a characteristic that defined a significant part of the '90s West Coast sound. His works on records such as "Tonite" and "Dollaz + Sense" are testament to his ingenious creativity and unparalleled ear for rhythm and melody.
7. Pete Rock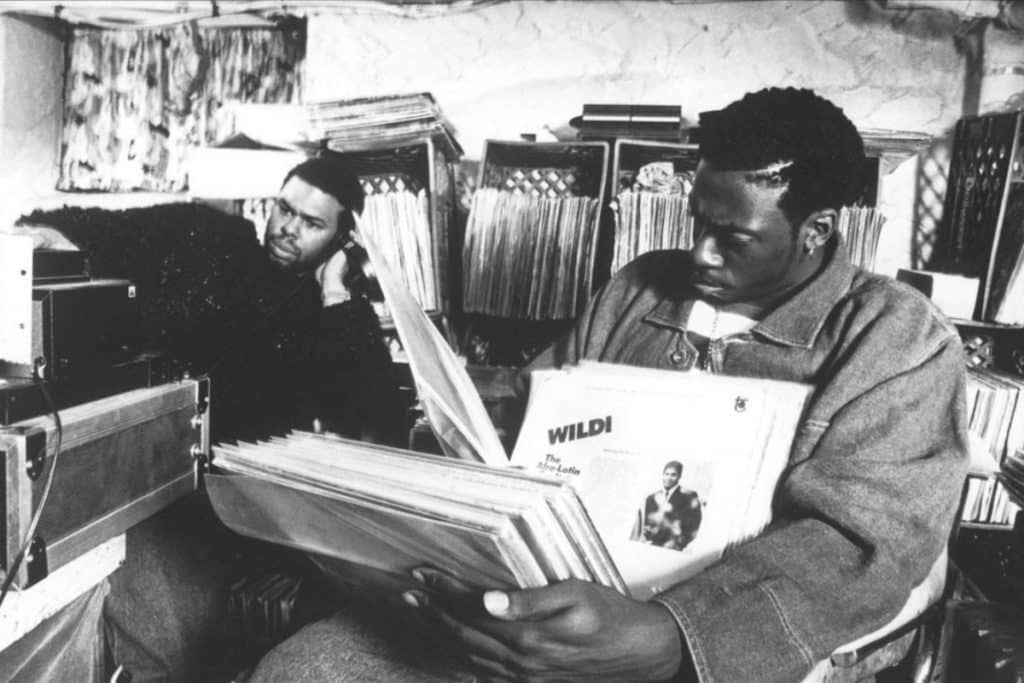 Notable production credits: Pete Rock & CL Smooth – All Souled Out / Mecca and the Soul Brother / The Main Ingredient / Soul Survivor , Heavy D & the Boyz – "Don't Curse", Main Source – "Vamos a Rapiar", Public Enemy – "Shut Em Down (Pe-te Rock Mixx)", House of Pain – "Jump Around (Pete Rock Remix)", Redman – "How to Roll a Blunt", Naughty by Nature – "Hip Hop Hooray (Pete Rock Remix)", Run-D.M.C. – "Down with the King", Jeru The Damaja – "You Can't Stop the Prophet (Pete Rock Remix)", Nas – "The World Is Yours", The Notorious B.I.G. – "Juicy (Remix)", AZ – "Gimme Yours" / "Rather Unique", Das EFX – "Real Hip-Hop [Pete Rock Remix]", Common – "The Bitch in Yoo", Rakim – "The Saga Begins" / "When I'm Flowin'", Black Star – "Respiration (Flying High Radio Mix)", Inspectah Deck – "Trouble Man", Raekwon – "Sneakers"
Pete Rock's soul-sampling production style was not just groundbreaking in the '90s, it was downright transformative. Infusing elements of jazz and soul, Rock became synonymous with creating smooth, layered beats that felt warm, inviting, and always undeniably hip hop. His penchant for finding the perfect break and weaving together intricate samples created a rich tapestry of sound that became his signature. From his work with C.L. Smooth on "They Reminisce Over You (T.R.O.Y.)" to the production on Nas's "The World is Yours," Rock's footprint on '90s hip hop is undeniable and enduring.
6. The Bomb Squad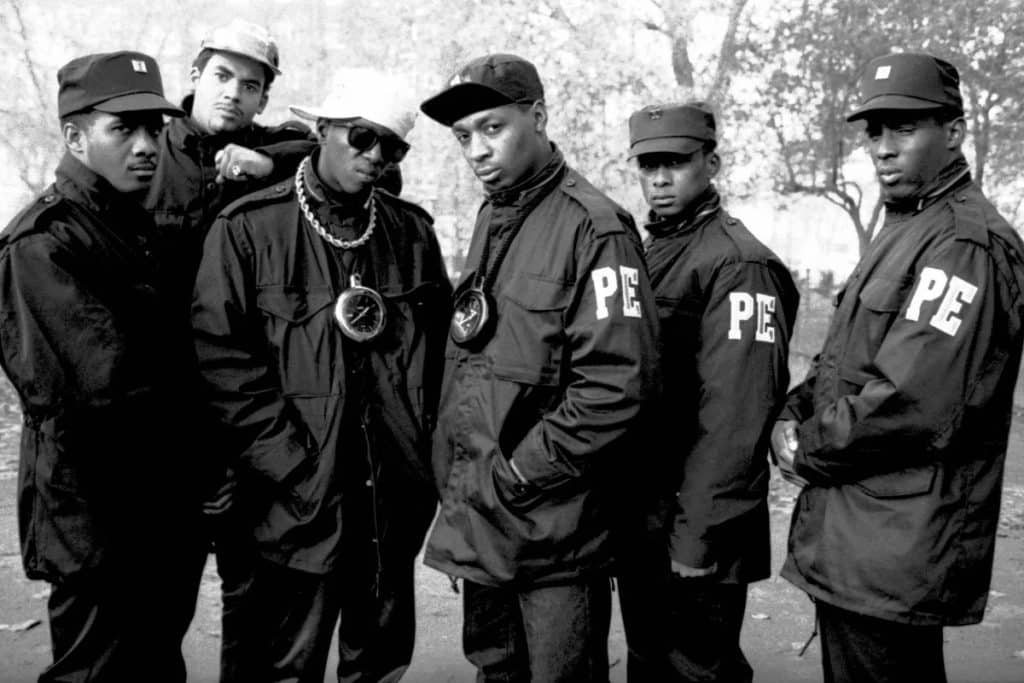 Notable production credits: 3rd Bass – The Cactus Album , Public Enemy – Fear of a Black Planet / Apocalypse 91… The Enemy Strikes Black / Muse Sick-n-Hour Mess Age / He Got Game , Ice Cube – AmeriKKKa's Most Wanted , Leaders of the New School – "Just When You Thought It Was Safe…" / "Sobb Story" / "Trains, Planes and Automobiles", Run–D.M.C. – "3 in the Head" / "Ooh, Whatcha Gonna Do"
Aggressive, revolutionary, and unapologetic – these words capture the essence of the sonic powerhouse that was The Bomb Squad. As the primary production team for Public Enemy, The Bomb Squad birthed a chaotic and densely layered style that sonically represented the turbulent themes of the group's music. Harnessing heavy drum beats, scratching, and frenetic loops, they pioneered a confrontational and disruptive style that shaped the soundtrack of the golden era. Records like "Fight The Power" and "Bring The Noise", as well as their work on Cube's debut album, serve as testament to their genius, a chaotic harmony that incites as much as it intrigues. Their impact reverberates, making them one of the defining forces in the '90s hip hop production.
5. Havoc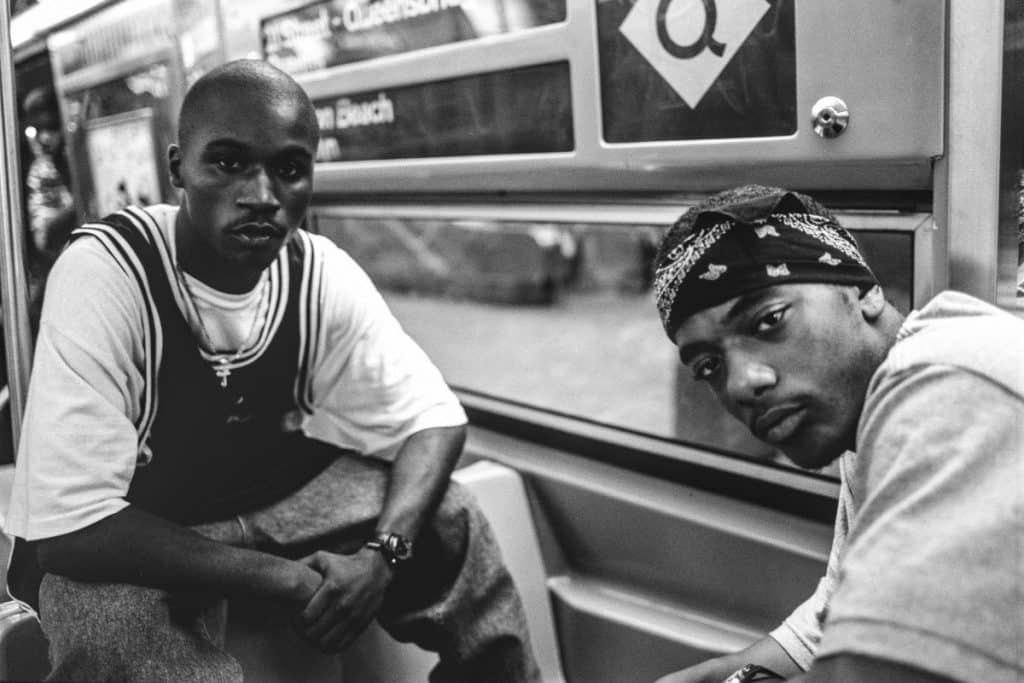 Notable production credits: Mobb Deep – The Infamous / Hell on Earth / Murda Muzik , Big Noyd – Episodes of a Hustla , Nas – "The Set Up" / "Live Ni**a Rap", Foxy Brown – "The Promise", The Notorious B.I.G. – "Last Day", Cormega – "Thun & Kicko" / "Killaz Theme II", Mic Geronimo – "Survival", Capone-N-Noreaga – "Illegal Life", Method Man – "Play IV Keeps", Nas – "Shoot 'Em Up"
Step into the gritty, raw, and ominous soundscapes of Mobb Deep, and you're experiencing Havoc's signature production style. A true embodiment of the grimy Queensbridge sound, Havoc's beats were as stark and menacing as the tales spun by him and Prodigy. His uncluttered, haunting loops and hard drum patterns on cuts like "Shook Ones, Pt. II" and "Survival of the Fittest" were bone-chilling in their effect, setting the perfect stage for Mobb Deep's street narratives. It's this no-frills aesthetic that secured Havoc's place as one of the '90s definitive hip-hop producers. His raw, stripped-back beats were the quintessential backdrop for the hardcore lyricism of the era.
4. Q-Tip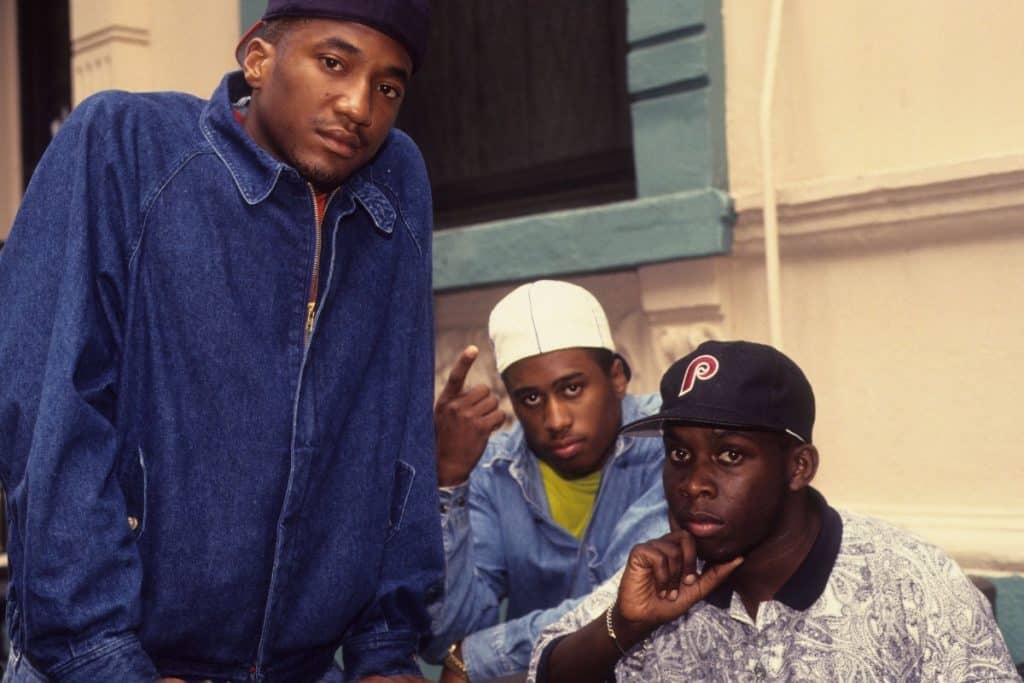 Notable production credits: A Tribe Called Quest – People's Instinctive Travels and the Paths of Rhythm / The Low End Theory / Midnight Marauders / Beats, Rhymes and Life / The Love Movement , Diamond D – "K.I.S.S. (Keep It Simple Stupid)", Apache – "Gangsta Bitch", Run-D.M.C. – "Come on Everybody", Craig Mack – "Get Down (Q-Tip Remix)", Nas – "One Love" / "The World Is Yours (Tip Mix)", Mobb Deep – "Give Up the Goods (Just Step)", "Temperature's Rising", "Drink Away the Pain (Situations)", Busta Rhymes – "Ill Vibe"
A genius of subtlety and nuance, Q-Tip as a producer is every bit the luminary he is as an MC. His work with A Tribe Called Quest is the stuff of legend, crafting a sonic landscape that combined jazz samples, snappy breaks, and smooth grooves that felt innovative, and more importantly, timeless. With an uncanny ear for layering and integrating samples, Q-Tip was instrumental in making ATCQ's Low End Theory and Midnight Marauders the celebrated classics they are today. Tracks like "Electric Relaxation" and "Check the Rhime" epitomize his mastery, resulting in a sound that was warm, infectious, and endlessly soulful. Not to mention he produced the game-changing "One Love" off Illmatic and also guided Mobb Deep's production artistry on The Infamous .
3. DJ Premier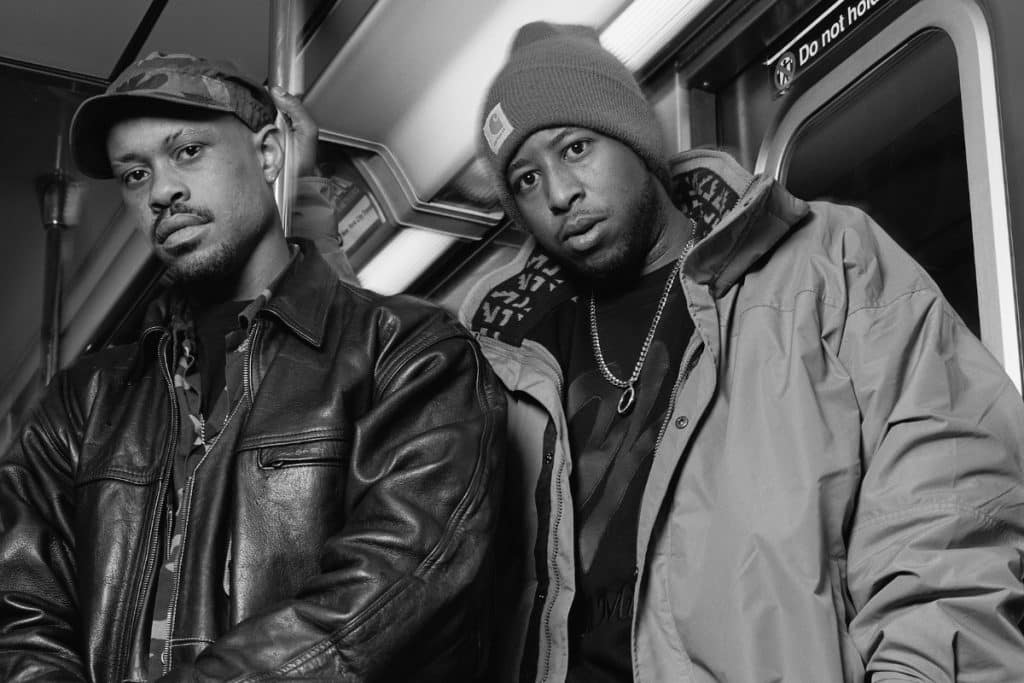 Notable production credits: Lord Finesse & DJ Mike Smooth – Funky Technician , Gang Starr – Step in the Arena / Daily Operation / Hard to Earn / Moment of Truth , KRS-One – Return of the Boom Bap , Jeru the Damaja – The Sun Rises in the East / Wrath of the Math , Group Home – Livin' Proof , Nas – "N.Y. State of Mind" / "Memory Lane (Sittin' in da Park)" / "Represent", Big Daddy Kane – "Show & Prove", The Notorious B.I.G. – "Unbelievable", KRS-One – "Rappaz R. N. Dainja" / "MC's Act Like They Don't Know"/ "Wannabemceez", Fat Joe – "The Shit Is Real (DJ Premier Remix)" / "Success (DJ Premier Remix)", Jay-Z – "D'Evils" / "Friend or Foe" / "Bring It On", Nas – "I Gave You Power", The Notorious B.I.G. – "Kick in the Door" / "Ten Crack Commandments", Jay-Z – "A Million and One Questions / Rhyme No More" / "Friend or Foe '98", Rakim – "It's Been a Long Time" / "New York (Ya Out There)"
DJ Premier. The name alone evokes a whole era of raw, unadulterated hip hop. Half of the celebrated duo Gang Starr, Premier crafted beats that were more than just music; they were a gritty, hard-nosed reflection of the streets. His scratch-heavy aesthetic, signature chopped samples, and boom-bap beats became his sonic signature. Premo was a wizard at mining jazz, funk, and soul records, distilling their essence into pulsating hip hop anthems. Think Gang Starr's "Mass Appeal", Nas' "N.Y. State of Mind", or Biggie's "Unbelievable" — the beats throbbed with life, loaded with Premier's slick scratches and intricate sample manipulation. His production style is storytelling in itself, augmenting the lyricism of any MC fortunate enough to flow over his beats. One of the greatest hip hop producers of the '90s? Nah. One of the greatest hip hop producers of all time.
2. Dr. Dre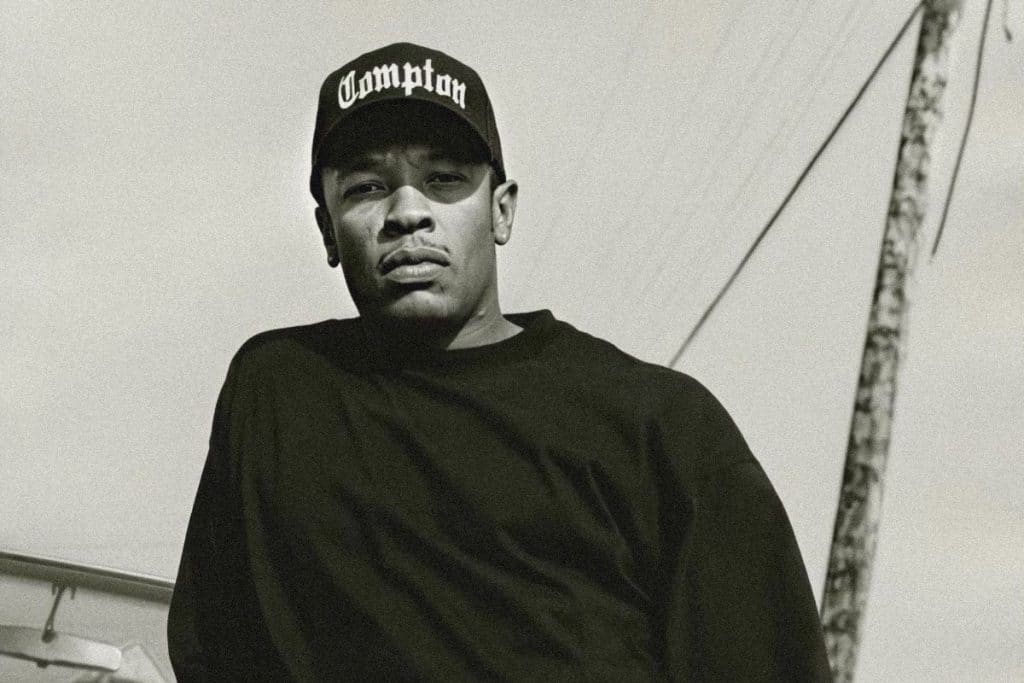 Notable production credits: Above the Law – Livin' Like Hustlers , N.W.A – 100 Miles and Runnin' / Niggaz4Life , Dr. Dre – The Chronic / Dr. Dre Presents the Aftermath / 2001 , Snoop Dogg – Doggystyle , The Firm – The Album , King Tee – The Kingdom Come , 2Pac – "California Love" / "California Love (Remix)" / "Can't C Me", Nas – "Nas Is Coming", Scarface – "Game Over", Eminem – "My Name Is" / "Guilty Conscience" / "Role Model", Snoop Dogg – "Buck 'Em" / "Bitch Please" / "Just Dippin'", Kurupt – "Ho's a Housewife"
Arguably the most important rap figure to ever emerge from the West Coast, Dr. Dre proved to be an indispensable force behind the surge of '90s hip hop. With an approach that combined James Brown's sense of rhythm with Parliament Funkadelic's cosmic sensibilities, Dre conceived a sleek soundscape that would go on to define an entire era. From N.W.A.'s Straight Outta Compton to his own seminal work The Chronic , and not to forget Snoop Dogg's Doggystyle , Dre's influence is undeniable. His production, notable for its melodic bass lines, high-pitched synthesizers, and groovy percussions, elevated hip hop to new heights and gave rise to a wave of West Coast hip hop that conquered both the streets and the charts. Dre's uncanny ability to create hard-hitting tracks that were as much gangster as they were groovy solidified his place as a musical pioneer. Dre wasn't just producing music, he was sculpting the sonic identity of the West Coast, making his work essential in any conversation about the greatest hip hop producers.
1. RZA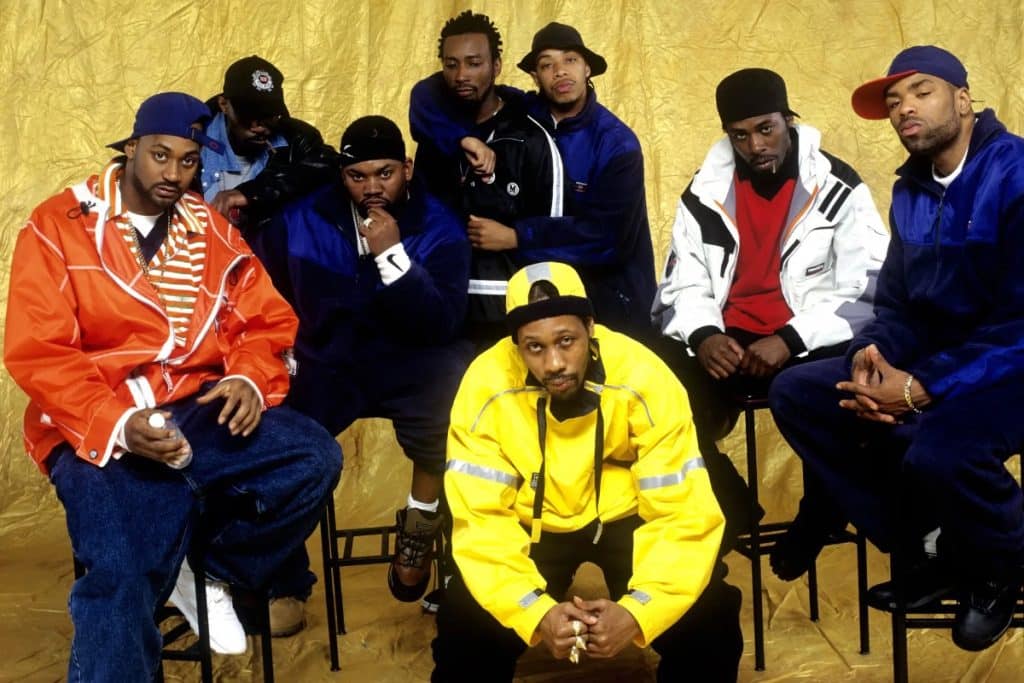 Notable production credits: Wu-Tang Clan – Enter the Wu-Tang (36 Chambers) / Wu-Tang Forever , Method Man – Tical , Ol' Dirty Bastard – Return to the 36 Chambers: The Dirty Version , Raekwon – Only Built 4 Cuban Linx… , GZA – Liquid Swords , Ghostface Killah – Ironman , RZA – Bobby Digital in Stereo , Gravediggaz – "Diary of a Madman" / "Graveyard Chamber" / "6 Feet Deep", Shaquille O'Neal – "No Hook", Cypress Hill – "Killa Hill Ni**as", Method Man – "I'll Be There for You/You're All I Need to Get By (Razor Sharp Mix)", AZ – "Doe Or Die (RZA Remix)", The Notorious B.I.G. – "Long Kiss Goodnight", Big Pun – "Tres Leches (Triboro Trilogy)", Inspectah Deck – "Movas & Shakers" / "Friction", Method Man & Redman – "Cereal Killer" / "Run 4 Cover"
RZA, the central force and chief architect behind the Wu-Tang Clan, claims our number one spot as the quintessential '90s hip hop producer. Setting the blueprint for the Wu-Tang's groundbreaking sound, RZA's productions went beyond the conventional. They were a gritty, raw, and intricate blend of martial arts movie snippets, soul, and jazz samples, topped with dusty drum loops, all forming the Clan's mystical Shaolin aura. RZA's knack for dark, haunting beats that still resonate with visceral energy solidified Wu-Tang's place in the pantheon of hip-hop greatness. Beyond the Wu, RZA's distinctive style spilled over into numerous solo projects for the Clan's members, most notably GZA's Liquid Swords and Raekwon's Only Built 4 Cuban Linx , both now regarded as cornerstone records of '90s hip hop . It's RZA's profound understanding of hip hop as a cultural art form, his skill in capturing and amplifying the raw energy of New York City's streets into a soundscape, that propels him to the apex of this list. His sound, unique and iconic, signifies the golden age of hip hop, and for that, we crown RZA the best hip hop producer of the '90s.