During the '70s, the Big Apple, with its boom boxes, park jams, and lyrical cyphers, became the birthplace and incubator for a culture that would shake the world. The Bronx, Brooklyn, Queens, Harlem, and Staten Island: each borough played a part in the creation of hip hop. It was in the parks of the Boogie Down that DJ Kool Herc introduced the "break" in beats, giving birth to breakdancing and the very foundation of rap music. A few boroughs over, in Brooklyn and Queens, lyrical battles and sound system clashes became rites of passage.
Pioneers like Kool Moe Dee and Melle Mel didn't just rap; they were wordsmiths forging the art of MCing. Their braggadocio battles laid the foundational pillars, on which storytellers like Spoonie Gee draped cinematic tales and lyricists like T La Rock wrote timeless bars. Then, the Golden Era ushered in. Rakim, with his intricate lyricism, changed the game's cadence. Big Daddy Kane brought a suave, unmatched finesse, adding layers to what it meant to be an MC. But it wasn't just about lyricism— it was an attitude, a swagger, a state of mind.
Then the '90s rolled around and New York was booming. From Nas' poetic tales of Queensbridge and Biggie's Bed-Stuy chronicles to the gritty chambers of Wu-Tang and the haunting alleys of Mobb Deep's Queens—it was a renaissance. Jay-Z, with his hustler-turned-business-mogul narrative, and DMX's raw, unfiltered energy, gave hip-hop new directions.
The 2000s saw a blend of gangsta bravado and chart-topping hits. Ja Rule was belting anthems; 50 Cent's bulletproof tales took over the airwaves, taking his neighbourhood of South Jamaica, Queens worldwide. As the digital age dawned, New York adapted. A$AP Rocky merged Harlem's swagger with Houston trill vibes and internet distribution, while Joey Badass brought back that boom-bap essence with a progressive twist. And then there was Pop Smoke, introducing the world to Brooklyn drill, a testament to NYC's ever-evolving soundscape.
So let's get into it. From Nas, Jay-Z, Raekwon and Biggie, to Rakim, Big Daddy Kane, Kool G Rap and Slick Rick, here are the top 100 best New York rappers of all time.
100. Remy Ma
Essential listening: There's Something About Remy: Based on a True Story (2006)
Bronx-raised and battle-tested, Remy Ma carved a space for herself in a game dominated by heavy-hitters. An alumni of Big Pun's Terror Squad, her verses are packed with a punch that rivals the best in the game. Remy's single "Conceited" was an anthem, empowering a legion of women to feel themselves and know their worth. But don't get it misconstrued; Remy's pen game goes deeper than hits. Her storytelling, especially in tracks like "Thug Love," serves up narratives that resonate. In a world where many MCs get lost in the shuffle, Remy stands tall, a testament to perseverance, skill, and unapologetic realness, and undoubtedly one of the greatest New York rappers of all time.
99. N.O.R.E.
Essential listening: N.O.R.E. (1998)
N.O.R.E., or Noreaga, the Lefrak City representative, has a story that's nothing short of hip-hop legend. Half of the rugged duo Capone-N-Noreaga, N.O.R.E. made major waves in the mid to late '90s, coming through with that raw street energy on bangers like "T.O.N.Y." and "Bloody Money." Beyond the hits, the dude was always about bridging gaps, uniting the city with tracks like "Banned from TV" – an East Coast anthem that boasted talents like Big Pun, Nature, Cam'ron, Jadakiss, and Styles P. But N.O.R.E. wasn't just about the bars; he knew how to rock a party. Remember "Nothin'" or "Superthug"? Whoo, those Neptunes beats banged hard in every whip. Today, he's not just known for his bars but has transitioned into a respected hip hop media figure with Drink Champs, ensuring his influence remains stamped in the culture.
98. Jim Jones
Essential listening: El Capo (2019)
Jim Jones, Harlem's own and one of the main soldiers from the Diplomats camp. Capo's swagger is the epitome of Uptown vibes – flashy, gritty, and unapologetically New York. While more casual rap fans recognize him from the iconic "We Fly High (Ballin')," Jones' dedication to the craft runs deeper. Albums like "Hustler's P.O.M.E." and "El Capo" showcased his ability to evolve without losing that signature Harlem edge. His anthems not only filled the clubs but also echoed in the streets, making him a fixture in NY's hip-hop narrative. 
97. Flatbush Zombies
Essential listening: 3001: A Laced Odyssey (2016)
Meechy Darko's gravelly voice, Zombie Juice's unpredictable flow, and Erick Arc Elliott's production genius create this trifecta that channels the spirit of NY's golden era while keeping it fresh for the new generation. They emerged from the Beast Coast movement, spitting conscious bars while staying deeply rooted in the psychedelic. BetterOffDEAD and 3001: A Laced Odyssey aren't just albums; they're experiences. Fusing elements of trap, boom bap, and rock, the Zombies go beyond the boundaries, making music that's as much about vibes as it is about lyrics. They're the embodiment of NY's underground spirit, showing love to the past while shaping the future of East Coast hip-hop.
96. Pop Smoke
Essential listening: Shoot for the Stars, Aim for the Moon (2020)
The rapid rise and tragic fall of Pop Smoke marked a fleeting yet colossal moment for NYC's drill movement. Hailing from the heart of Brooklyn, Pop Smoke's deep, gravelly voice over those thumping drill beats turned heads from the jump. With anthems like "Welcome to the Party" and "Dior," he had the streets and the clubs on lock. It was more than just music; it was a whole vibe, a refreshing departure from the norm. The Woo brought an aggressive energy that echoed legends from the Golden Era, but with a new age twist. His debut album Shoot for the Stars, Aim for the Moon just further solidified his position, proving he wasn't a one-hit drill wonder. Unfortunately, the narrative of potential cut short looms over his legacy. Still, in such a brief time, Pop Smoke carved out a name that won't soon be forgotten in the corridors of New York hip-hop.
95. Your Old Droog
Essential listening: Tha Wolf on Wall St. (2021)
Talk about a rapper who brings that raw, unapologetic NY energy to the table, and Your Old Droog's name rings bells. Stepping onto the scene and causing a stir with speculations of being another hip-hop great in disguise says a lot about his bars and delivery. Albums like Packs and It Wasn't Even Close showcase Droog's knack for weaving intricate narratives, reminiscent of a golden era where lyricism reigned supreme. That Eastern European flavor in his stories, mixed with gritty New York landscapes, has carved out a unique niche for him in the vast hip-hop mosaic. In an age flooded with mumble and auto-tune, Droog reminds heads of the essence, of what it feels like to listen to rap that makes you nod in acknowledgment of pure skill.
94. CL Smooth
Essential listening: Mecca and the Soul Brother (1992)
CL Smooth: the name itself is a testament to this man's silky flow and unparalleled lyrical finesse. Hailing from the hard streets of New Rochelle, CL merged his pen game with the legendary Pete Rock to craft anthems that forever changed the hip-hop landscape. Think about "They Reminisce Over You (T.R.O.Y.)" – that joint didn't just give us a beat to nod to; it handed us raw emotion, painting pictures of loss and nostalgia with every bar. It's about more than just music with CL; it's about stories, history, and legacy. One of the most underrated NY rappers, his verses danced on the line between socially conscious narratives and that straight New York swagger, all while staying deeply rooted in the culture. While many chased trends, CL was out here setting the gold standard, pushing the envelope with every rhyme.
93. Immortal Technique
Essential listening: Revolutionary Vol. 1 (2001)
Roll back to the early 2000s, when the streets of NYC were buzzing with a raw, confrontational sound, far from the commercial glam. Enter Immortal Technique, with bars sharper than a blade and political commentary that could ignite a revolution. Underground to the core, this Harlem MC wasn't about to candy-coat his messages. "Dance With the Devil" — one of the best storytelling rap songs ever created — is a harrowing narrative of society's underbelly that left listeners shook. His masterpieces, Revolutionary Vol. 1 and Revolutionary Vol. 2, solidified his rep as one of hip-hop's fiercest political voices. No radio plays, no major label backing, just pure grassroots hustle. A conscious warrior in the truest sense, Immortal Technique is NY's embodiment of hip-hop as a tool for awakening.
92. Killah Priest
Essential listening: Heavy Mental (1998)
A cornerstone of the Sunz of Man and arguably the best Wu affiliate rapper, Killah Priest brought the Bible to the booth, injecting spiritual and metaphysical bars into the rugged landscape of NY hip-hop. When Heavy Mental dropped, it was scripture for the streets, a spiritual journey shrouded in raw boom-bap aesthetics. And who could forget the haunting lyricism of "B.I.B.L.E.", a song so poignant that GZA used it to close off his magnum opus, Liquid Swords. With intricate wordplay interwoven with theological references, Killah showcased a depth that made many of his contemporaries look surface-level, cementing himself as one of New York's best rappers.
91. Juelz Santana
Essential listening: From Me to U (2003)
Harlem's own Juelz Santana, with his signature bandana and undeniable swagger, became synonymous with the Diplomats' rise to the top. From From Me to U to What the Game's Been Missing!, Juelz wasn't just rapping; he was painting the town red with anthems that echoed across boroughs. Those electric verses on tracks like "Dipset (Santana's Town)" and "Mic Check"? Pure, unfiltered Santana. But it wasn't just about the bangers; it was about capturing the essence of a Harlem hustler, bringing that Uptown energy to the masses. Whether he was going bar-for-bar with Cam'ron or dropping solo heat, Juelz embodied a specific time in NY hip-hop, reminding us of the era when the Diplomats had the city on lock.
90. Action Bronson
Essential listening: Blue Chips (2012)
When you talk about that raw Queens flavor, you gotta bring Action Bronson into the cipher. This Flushing representative, who once hustled as a gourmet chef, flipped the script and started cooking up bars instead of dishes. With a voice and flow reminiscent of the legendary Ghostface Killah, Bronson's unique style and outrageous lyrics made him a standout. The man's been painting pictures with his words since Dr. Lecter, taking listeners on wild rides through his imaginative world of food, women, and wild escapades. Whether he's rapping about diving off of yachts or exotic dishes, the vibrant imagery is real. Collaborations with producers like Alchemist and Harry Fraud only magnified his presence.
89. Papoose
Essential listening: The Nacirema Dream (2013)
When you talk raw lyricism and unadulterated wordplay straight from the boroughs of New York, Papoose stands tall. Earning his stripes in the mixtape circuit, Pap's pen game was nothing short of legendary, making noise with freestyles that many still can't decode to this day. "Alphabetical Slaughter" was a masterclass in linguistics, showing you can run through the ABCs and still sound harder than concrete. Yet, beyond the bars, it's the heart of Brooklyn that beats in his narratives. From love tales with his queen Remy Ma to detailing street sagas, Papoose painted pictures that were unmistakably NY. While the industry played hot potato with his debut album's release, the streets knew—Papoose was and always will be a New York treasure in the hip-hop cipher.
88. Dres
Essential listening: A Wolf in Sheep's Clothing (1991)
Dres, one half of the iconic duo Black Sheep, proved that the Big Apple wasn't just about the grit and grind but also about the groove and finesse. With joints like "The Choice Is Yours" and "Strobelite Honey," Dres slid through tracks with an unmatched charisma that set parties off. This man's flow? Smoother than butter on a hot skillet. The Native Tongues collective brought that eclectic, jazzy vibe to hip-hop, and Dres made sure he stamped his signature style all over it. When heads reminisce over the '90s golden era, they gotta give it up to Dres for dropping anthems that still get love in today's playlists.
87. Canibus
Essential listening: Rip the Jacker (2003)
Canibus, a true gladiator of battle rap, wielded a pen so ferocious that it's no wonder he had the whole industry on its toes. Repping Washington Heights, this lyrical juggernaut launched into the scene with a hunger, dropping bombs that had other MCs rethinking their whole strategy. Remember "2nd Round K.O."? That was more than just a track; it was a gauntlet thrown, a challenge to anyone claiming the throne. Canibus' unmatched lyrical dexterity and penchant for weaving intricate schemes and metaphors separated him from the pack. While the industry landscape shifted and trends came and went, Canibus stayed relentless, never compromising his craft for mainstream appeal. Even with the drama and the beefs, it's impossible to deny that he's one of the greatest rappers from New York.
86. R.A. the Rugged Man
Essential listening: Legends Never Die (2013)
Similar to Canibus, R.A. the Rugged Man is a straight-up lyrical monster. Born to spit bars that often sound like lyrical haymakers, R.A. embodies that raw, underground energy that's become a rarity in today's hip-hop scene. From his lyricism to his collabs to his NY swagger, everything about R.A. is about being a master of his craft. He's the type to serve you some brutal truths wrapped in metaphors and punchlines, making every verse an adrenaline rush. Ever hear "Uncommon Valor"? If you haven't, you're sleeping on a story-telling masterclass. R.A. hasn't just been repping NY; he's holding down that old school ethos that made hip-hop the force it is today. Whether he's talking politics, war, or the rap game itself, trust that R.A. will bring that rugged authenticity every damn time.
85. Jeru the Damaja
Essential listening: The Sun Rises in the East (1994)
Emerging during the '90s, Jeru the Damaja carved a strong niche out for himself with the critically acclaimed The Sun Rises in the East. With DJ Premier's impeccable boom-bap production providing a backdrop, Jeru's lyrical dexterity was evident. His content wasn't just about street tales; it was infused with social commentary, spiritual musings, and a critical examination of hip-hop itself. While his mainstream presence might have waned post the '90s, Jeru's impact on the underground rap circuit is undeniable — his commitment to lyricism, coupled with his disdain for commercialism, has made him an emblematic New York rap figure.
84. Onyx
Essential listening: Bacdafucup (1993)
The pure embodiment of grimy, uncut energy, Onyx turned the hip-hop scene upside down with their raw aggression and unruly anthems. Fredro Starr, Sticky Fingaz, Sonsee, and Big DS – this collective wasn't just about spitting bars; they were about sparking mosh pits and igniting rebellions. When "Throw Ya Gunz" blared through the speakers, you could feel that electric charge, that kinetic energy ready to pop off. "Slam," another staple, wasn't just a song; it was a battle cry for an entire generation looking to let loose and break free. Through the shifting sands of hip-hop eras, Onyx remained a force, never losing that raw essence that made them icons in the concrete jungle of New York.
83. Brand Nubian
Essential listening: One for All (1990)
Now, here's a trio that was doing way more than just rocking mics. Grand Puba, Sadat X, and Lord Jamar came through with the pro-Black, Five-Percent knowledge, weaving it into their bars in a way that educated while it captivated. Tracks like "Slow Down" and "All for One" weren't just ear candy; they were anthems for enlightenment, blending jazz samples with messages of empowerment and self-awareness. Brand Nubian had that uncanny ability to get you nodding your head while you were nodding in agreement. They used their platform not just to flex lyrical muscles but to uplift and awaken the masses, and for that, they've etched their place in hip-hop lore.
82. Sheek Louch
Essential listening: Wu Block (2012)
One-third of The LOX, Sheek often gets overshadowed by the magnetic personalities of Jadakiss and Styles P, but make no mistake, the man's got bars for days. With a voice as rugged as NY's back alleys and a flow that's undeniably street, Sheek has dropped jewels that resonate deeply with those who've navigated the urban labyrinth. Whether he's dropping solo projects like "Silverback Gorilla" or spitting alongside his LOX brethren on joints like "Money, Power & Respect", Sheek always holds his own weight. When it comes to representing NY's gritty essence, Sheek Louch is more than just a name; he's an institution.
81. MC Shan
Essential listening: Down by Law (1987)
Let's journey back to the mid-80s, where MC Shan was one of the key rap figures to put Queensbridge on the map with "The Bridge". But Shan wasn't just about territorial anthems; the dude was emblematic of the Golden Age's fiery essence. Under Marley Marl's guidance, Shan dished out tracks that are pure New York, a blend of bravado and storytelling that showcased his lyricism. And while history often shines its light on the Juice Crew's brighter stars, those in the know recognize MC Shan's undeniable influence in shaping the very core of NY hip-hop. Just ask Nas.
80. Havoc
Essential listening: Hell on Earth (1996)
Half of the infamous duo Mobb Deep, Havoc's legacy isn't just spitting cold verses but crafting some of the most haunting beats hip-hop has ever heard. Dive into the grimy world of The Infamous and the haunting Hell on Earth, and you're hearing Havoc's genius on full display. His production is like NY's underbelly come to life, while his bars on tracks like "Temperature's Rising" and "Front Lines (Hell on Earth)" are street tales that hit you in the gut. Havoc didn't just represent Queensbridge; he gave it a pulse, a rhythm, and a voice, ensuring that the legacy of Mobb Deep would be immortalized in the annals of hip-hop greatness.
79. Heavy D
Essential listening: Peaceful Journey (1991)
Heavy D was more than just a rapper; he was an entire vibe. A trailblazer from Mount Vernon, this beloved rapper was serving that crossroad of hip-hop, R&B, and New Jack Swing. By blending butter-smooth vocals with a hard-edged rap, he set many a dancefloor alight. "Big Tyme" wasn't just a statement of intent; it was a crown jewel in late 80s rap. Hev made big dudes feel fly and showcased that a heavyweight could have agility, both on the mic and with his moves. While the Overweight Lover's gone, tracks like "Now That We Found Love" still resonate, proving that real music transcends eras.
78. Joey Badass
Essential listening: 1999 (2012)
Joey Badass burst onto the scene as a prodigious talent, channeling that raw essence of 90s NY hip-hop while just a teenager. But don't get it twisted; this Pro Era frontman wasn't just about nostalgia. Joey crafted new age classics that spoke to a generation while giving nods to the architects. 1999 was more than a mixtape; it was a time capsule with a fresh twist. While still relatively young in the game, Joey's wisdom and prowess on the mic solidified him as not just a nod to New York's glorious past, but as a beacon for its vibrant future.
77. Ja Rule
Essential listening: Pain Is Love (2001)
Hailing from Hollis, Queens, Ja Rule burst onto the scene with that raspy voice and thug-love anthems, solidifying his status in the early 2000s rap game. While heads can clown on his beef with 50 Cent or his involvement in that Fyre Festival fiasco, let's not play: Ja gave us some of the most iconic hooks of his era. Collaborating with R&B heavyweights like Ashanti and J.Lo, the man was essential in crafting tracks that dominated both street corners and radio airwaves. Though he dipped his toes into the Hollywood waters, the essence of Ja Rule lies in joints like "Holla Holla" and "I'm Real." And hey, even amidst the beefs and controversies, nobody can take away the Murder Inc. days when Ja was on top of the world, uniting hip-hop and R&B like few could.
76. Ol' Dirty Bastard
Essential listening: Return to the 36 Chambers: The Dirty Version (1995)
There isn't another soul in hip-hop quite like Ol' Dirty Bastard. ODB, or Dirt McGirt, or Big Baby Jesus – whatever you wanna call him – he was Wu-Tang Clan's wild card. With a flow as unpredictable as his antics, ODB's raw energy and unfiltered style made joints like "Shimmy Shimmy Ya" and "Brooklyn Zoo" undeniable anthems. Return to the 36 Chambers: The Dirty Version was a wild ride through the uncharted terrains of a mad genius's psyche. His raucous delivery, often toeing the line between insanity and genius, brought a certain rugged charm to Wu's arsenal. The grimy landscape of NY hip-hop owes a toast to ODB – 'cause ain't no father to his style.
75. Benny the Butcher
Essential listening: Tana Talk 4 (2022)
From the snow-covered streets of Buffalo, Benny the Butcher emerged, blade sharp and ready to carve his name into hip-hop's pantheon. As a core member of the Griselda collective, Benny brought a blue-collar work ethic to the game, spitting tales of hustling and ambition. With projects like Tana Talk 3 and The Plugs I Met, he delivered a brand of street realism that felt like vivid vignettes from the darkest corners of New York's underworld. His bars? More like knife cuts—precise, deep, and leaving a mark. Benny's rise wasn't just about his individual brilliance, but a collective movement from upstate NY to reintroduce that raw, unfiltered essence to the rap game.
74. Roxanne Shante
Essential listening: Bad Sister (1989)
Enter the arena of battle raps and fierce lyrical duels, and there's one queen who undeniably set the stage ablaze – Roxanne Shante. This Queensbridge MC didn't need the bling or the glamor; her weapon of choice was raw, unfiltered bars. Just tune into Roxanne's Revenge, and witness the birth of a diss track phenomenon that changed the game. Shante wasn't here for play; she was a force, a young prodigy tearing up stages and putting would-be challengers in their place. With a fierce tenacity and a no-holds-barred approach to the mic, Roxanne Shante secured her throne, making damn sure everyone recognized her reign in the hip-hop kingdom.
73. Spoonie Gee
Essential listening: The Godfather of Rap (1987)
Talk about foundational pillars, and Spoonie Gee's name's gotta be carved in the Mount Rushmore of hip hop. Dubbed the "love rapper" in the late 70s and early 80s, Spoonie was among the first to blend smooth talk with raw rap, making him a forerunner in a genre that would later birth many lyricists. The Godfather of Rap wasn't just a title; it was a testament to his early influence on the culture. Tracks like "Love Rap" and "Spoonin' Rap" showcased his unique style, laying down verses that felt like the precursor to what many of today's MCs would call game. For real, Spoonie's impact can't be understated; he was storytelling when most were still figuring out the narrative.
72. Cam'ron
Essential listening: Purple Haze (2004)
Dipset's head honcho, Cam'ron, is Harlem incarnate. Pink furs, audacious bars, and an unmatched swagger, Killa Cam brought an unparalleled aesthetic to the game. From Purple Haze to Come Home With Me, this dude painted New York's streets with memorable tales of hustle and hilarity. But it wasn't all flamboyance and flash; Cam's pen game was razor-sharp. A diplomat in his own right, Cam'ron redefined what it meant to be a New York rapper in the 2000s.
71. Foxy Brown
Essential listening: Ill Na Na (1996)
Coming straight outta Brooklyn, Foxy Brown burst onto the scene with a bravado and finesse that made her an immediate heavyweight. This femme fatale didn't come to play; she was here to reign. With Ill Na Na, Foxy introduced us to a world where lyrical prowess met unapologetic sensuality. Teaming up with the likes of Jay-Z and Nas, she held her own and then some, laying down verses that were as venomous as they were sultry. But beyond the hits, Foxy painted narratives of a NY lifestyle, dripping in designer, yet always ready for the street's call. The Firm, her supergroup stint, further solidified her position among rap royalty. While controversies and setbacks might've swayed her journey, Foxy's impact on the NY soundscape remains undeniable.
70. Mase
Essential listening: Harlem World (1997)
Harlem World, stand up! When Mase stepped into the spotlight, he brought a smooth, almost laid-back flow that contrasted sharply with the aggressive bars dominating New York's rap scene. Don't get it twisted, though; beneath that shiny Bad Boy exterior, Mase had bars for days. Harlem World was a statement, solidifying Mase's position as Harlem's prodigal son, and the heir apparent to Bad Boy's empty throne. Tracks like "Feel So Good" and "What You Want" were anthems, blending club-ready beats with Mase's nonchalant delivery. His sudden switch from the glitz of hip-hop to the pulpit surprised many, but it's a testament to Mase's complexity.
69. Smif-N-Wessun
Essential listening: Dah Shinin' (1995)
Brooklyn's own Tek and Steele, better known as Smif-N-Wessun, brought that gritty, boot camp steez to hip-hop like a breath of fresh air. Their debut, Dah Shinin', was a rugged audio-movie of NYC street tales layered over haunting beats. With tracks like "Bucktown" and "Sound Bwoy Bureill," these MCs schooled everyone on how to keep it thorough while repping their borough to the fullest. Meshing reggae vibes with that unmistakable BK energy, they became staples in the Golden Age, embodying New York's undying spirit. While many flaunted luxury, Smif-N-Wessun reminded the world that raw lyricism and authenticity would always have a home in the Empire State.
68. Fat Joe
Essential listening: Jealous Ones Still Envy (J.O.S.E.) (2001)
From the Bronx's concrete jungles, Fat Joe carved out a legacy that's as hefty as his moniker suggests. Starting with Represent, Joey Crack showcased an ability to blend aggressive bars with catchy hooks, setting the stage for a career that would span decades. Who could forget the anthems like "Lean Back" and "What's Luv?" But Fat Joe was more than radio hits; he was a storyteller, a guardian of NY's hip-hop heritage. Collaborations with Big Pun further solidified his position, proving that two Puerto Rican powerhouses from the Bronx could dominate the charts while keeping it lyrical. Fat Joe wasn't just in the rap game; he was, and remains, an embodiment of New York's hustler spirit, proving that longevity and adaptability can coexist in the rap game.
67. T La Rock
Essential listening: Lyrical King (From the Boogie Down Bronx) (1987)
The pioneer who kick-started the Def Jam legacy, T La Rock, isn't just a name; he's an institution. His seminal track, "It's Yours," changed the game, laying the groundwork for the Golden Age of hip-hop. Dropping knowledge over innovative beats, T La Rock exemplified what it meant to be a groundbreaking MC. Before your favorite rapper's favorite rapper, this Bronx native was mastering the mic, blending braggadocious lyrics with that unapologetic NYC swag. While some might credit others for NY's dominance, T La Rock was there, laying the foundation brick by brick. In a world of fleeting moments and one-hit wonders, his influence remains an unwavering testament to New York's indomitable spirit.
66. A$AP Rocky
Essential listening: AT.LONG.LAST.A$AP (2015)
ASAP Rocky, straight out of Harlem's asphalt jungle, embodies the evolution of New York rap. The very essence of Rocky's artistry splices the DNA of the city's gritty lyricism with a fresh, fashion-forward aesthetic. His sonic landscape isn't just about bars; it's a melting pot—combining the trill of Houston, the sunny vibes of LA, and the gritty heart of NY. While his mixtape, LIVE.LOVE.A$AP, helped to change the city's landscape by introducing a wave where NY's boom bap met cloud rap's hazy atmospherics, it was Rocky's consistent evolution — from LONG.LIVE.A$AP to AT.LONG.LAST.A$AP — that's cemented him as one of the greatest rappers from New York.
65. M.O.P.
Essential listening: Warriorz (2000)
Lil Fame and Billy Danze, better known as M.O.P., brought to hip-hop an unrivaled rawness that defined Brownsville. From the first notes of To The Death, it was clear: these cats were about to set the streets ablaze. Their anthems like "How About Some Hardcore" and "Cold as Ice" weren't just songs; they were war cries, narrating the grind and grit of Brooklyn. But if you're talking M.O.P., you can't skip over "Ante Up." That joint was the quintessential stick-up anthem, an explosive display of energy that made the whole block wanna wild out. Their union with DJ Premier gave birth to some of the most ferocious tracks the East Coast ever witnessed. M.O.P. embodies that gritty essence, where Timberlands meet the asphalt – raw, uncut, and always street-certified.
64. Grandmaster Caz
Essential listening: Wild Style Original Soundtrack (1983)
One of the Cold Crush Brothers, Caz was instrumental during hip-hop's embryonic phase, setting standards in both MCing and DJing. While some claim to be pioneers, Caz lived and breathed it. His lyrical prowess? Legendary. His influence in the game? Immeasurable. Tracks like "Wild Style" remain etched as monumental pieces in hip-hop's tapestry. Stories of stolen rhymes and uncredited contributions only add to the mystique of Caz's legacy. But even without the drama, his craftsmanship alone speaks volumes. Before the glitz, glam, and the million-dollar deals, Caz was there, channeling the Bronx's raw energy into rhythms and rhymes that laid the groundwork for what hip-hop would become.
63. Jean Grae
Essential listening: Attack of the Attacking Things (2002)
Dive into the underground circuit of New York's lyrical labyrinth, and you're bound to collide with the titan that is Jean Grae. This MC's pen game? Nothing short of astronomical. With a catalog that spans from Attack of the Attacking Things to Jeanius, Jean's been serving lessons in lyricism, unapologetically carving her space in a game often overshadowed by male dominance. Her bars are dense, introspective, often grappling with existential dilemmas while simultaneously tackling societal issues. In a world of bling and braggadocio, Jean Grae keeps it grounded, unfiltered, always pushing boundaries with an audacity that commands respect.
62. Kurtis Blow
Essential listening: Kurtis Blow (1980)
Talk about laying down the foundation! Kurtis Blow was out here pioneering when hip-hop was still finding its feet on wax. With "The Breaks," he gave the game its first certified gold rap joint, a momentous occasion for the culture. This Harlem ambassador wasn't just an MC; he was a B-boy, a DJ, a producer, and a true innovator. While many from his era got lost in the sands of time, Blow's influence persisted, echoing through the genre's evolution. Hip-hop owes a debt to pioneers like him, who turned park jams and break beats into a global phenomenon. King Kurtis, the OG, forever in the annals of rap history.
61. MC Lyte
Essential listening: Lyte as a Rock (1988)
MC Lyte shattered ceilings and paved lanes when the game was still largely a boys' club. A trailblazer, no doubt. Lyte as a Rock, her debut project, wasn't just a title—it was a declaration of her rock-solid presence in hip-hop's pantheon. With joints like "Paper Thin" and "Cha Cha Cha," Lyte flexed unparalleled lyrical prowess, schooling her peers with a mix of wisdom and finesse. This queen wasn't just rapping; she was setting foundations. MC Lyte's narratives? Stories from the heart of BK, draped in elegance yet so real. She isn't just one of the best female MCs—nah, scratch that gender qualifier—Lyte is one of the best to ever do it, period.
60. Buckshot
Essential listening: Enta da Stage (1993)
A general in the Boot Camp Clik army, Buckshot was a driving force in the heart of Brooklyn's hip-hop renaissance. With his group Black Moon and the monumental project Enta Da Stage, Buckshot displayed a lyrical prowess that resonated in every borough and beyond. "Who Got Da Props?" wasn't a question; it was a declaration of arrival. His raspy voice and calculated flow made tracks like "How Many MC's…" feel like doctrine for hip-hop purists. While the 90s were packed with MCs clamoring for the crown, Buckshot stood distinct, ensuring that the Boot Camp Clik flag was planted firmly on hip-hop's ever-changing landscape.
59. RZA
Essential listening: Bobby Digital in Stereo (1998)
RZA, Wu-Tang's maestro, was always a fascinating enigma on the mic. Now, while he might not have been the sharpest lyricist in the Wu-Tang arsenal — especially when you stack him next to lyrical samurais like GZA or Method Man — the Abbott brought a unique flavor that was undeniably captivating. When RZA got on his scientific tip, he dropped knowledge with the best of 'em. Take joints like "4th Chamber" or his verse on "Impossible." Here's a dude spitballing about astronomy, metaphysics, and history, often in the same bar. Even though he might've gotten overshadowed by some of his Clan brethren, don't get it twisted: RZA's pen game had moments of pure brilliance.
58. Conway the Machine
Essential listening: From King to a God (2020)
Out of the grimy streets of Buffalo, Conway the Machine, another Griselda powerhouse, consistently drops lyrical bombs, hard enough to leave craters. Diagnosing the rap game like a heart surgeon with precision and raw emotion, Conway's From King to a GOD and Blakk Tape showcase an artist who's not afraid to bleed on tracks. With a bullet scar serving as a constant reminder of life's fragility, his verses are packed with tales of pain, hustle, and redemption. Hip-hop's not just about flexing and flaunting; sometimes, it's the scars, both visible and hidden, that tell the most profound stories. Conway's artistry bridges that gap between old-school lyricism and contemporary grit, serving as a testament to New York's unyielding spirit.
57. Melle Mel
Essential listening: The Message (1982)
Melle Mel, the godfather lyricist, is an undisputed cornerstone of the rap game, helping pave the asphalt of this hip-hop highway. As the lead MC of Grandmaster Flash and the Furious Five, he wasn't just rapping; nah, he was orchestrating masterpieces, pushing past party anthems to drop socio-political bombs. "Don't push me 'cause I'm close to the edge" – every word, an iconic testament to the realities of urban life captured forever on hip hop wax. His voice, that powerful cadence, echoes through generations, serving as a stark reminder that rap has roots, and Melle Mel's hands were deep in that soil, nurturing its growth.
56. Lord Finesse
Essential listening: Funky Technician (1990)
Diggin' in the Crates's crown jewel, Lord Finesse, is hip-hop's dual-threat, masterfully juggling the mic and the MPC. With a charisma that's both smooth and street-smart, Finesse's wordplay is nothing short of, well, finesse. Albums like The Funky Technician and Return of the Funky Man brought that raw Bronx boom-bap to the forefront, schooling young bucks on how to drop knowledge while keeping heads nodding. And his production? Man, just ask Big L or The Notorious B.I.G. about those beats. Lord Finesse's impact isn't just in the bars he's spit, but in the beats that have shaped careers and the younger MCs he's mentored. A true hip-hop architect, Finesse's fingerprints are all over the blueprint.
55. Joell Ortiz
Essential listening: The Brick: Bodega Chronicles (2007)
Brooklyn's own Joell Ortiz, a lyrical samurai armed with a razor-sharp tongue, carved out a niche that's deep in the trenches of NY's hip-hop scene. His come-up tales, interspersed with clever wordplay and unyielding authenticity, redefined what it meant to represent the BK. His debut, The Brick: Bodega Chronicles was a gritty love letter to the hood, blending passion with the hustle. As one quarter of the supergroup Slaughterhouse, Ortiz further demonstrated his pen prowess, holding his own alongside other lyrical giants. There's a raw honesty in his bars, a mix of vulnerability and victory, reminding everyone that the heart of hip-hop is still very much alive in the streets of New York.
54. EPMD
Essential listening: Strictly Business (1988)
Proudly representing Brentwood, Long Island EPMD – Erick Sermon and Parrish Smith – redefined the concept of duo dynamism in hip-hop. With their iconic bucket hats and unparalleled chemistry, these two legends brought a unique energy to the scene. Strictly Business and Unfinished Business are testament to their revolutionary approach, blending funk grooves with relentless rhymes. And let's talk about that name: Erick and Parrish Making Dollars, a mantra for the hustle if there ever was one. But beyond the hits and swag, EPMD's legacy is etched in their consistency. Over a career spanning decades, they never lost sight of their foundation, proving that the essence of real hip-hop can weather any storm and still come out swinging.
53. Skyzoo
Essential listening: Music for My Friends (2015)
From the heart of Brooklyn, Skyzoo brought jazz-infused aesthetics to hip-hop, painting an evocative image of the city's rhythm and blues. With a pen game as smooth as Coltrane's sax, Sky solidified himself as a wordsmith's wordsmith. Music For My Friends and In Celebration of Us are not just albums; they're sonnets to the street corners and rooftops of NY. Amidst the bling era's shine, Skyzoo stayed true, delivering bars layered with introspection, social commentary, and unfiltered BK swagger. When scholars dissect NY hip-hop in its rawest form, best believe Skyzoo's name is echoed in those hallowed halls.
52. Phife Dawg
Essential listening: The Low End Theory (1991)
A Tribe Called Quest's very own lyrical dynamo, Phife Dawg, represented Queens to the fullest, infusing Caribbean flavor with that classic NY grit. Standing beside Q-Tip's laid-back flow, Phife's high-pitched, energetic voice was the perfect counter, delivering punchy, playful lines that made tracks like "Award Tour" and "Buggin' Out" legendary. With lines as unforgettable as "Microphone check, one two, what is this?", Phife's legacy was immortalized in the pantheon of hip-hop deities. Ventilation: Da LP solidified his solo dexterity, but it was within Tribe where he truly shone. The Five Foot Assassin's untimely passing left a void, but his impact on NY's soundscape is eternal. In the dance between jazz beats and street tales, Phife Dawg was the heartbeat.
51. Tragedy Khadafi
Essential listening: Tragedy: Saga of a Hoodlum (1993)
Hailing from the underbelly of Queensbridge, Tragedy Khadafi – originally known as the Intelligent Hoodlum – was far more than just another mic controller; he was an architect of the bridge's gritty lyrical blueprint. Dripping with street wisdom and a rebellious spirit, Tragedy's bars on Intelligent Hoodlum and Tragedy: Saga of a Hoodlum shaped the narratives for many QB legends who'd rise in his wake. Tragedy's influence isn't just in his rhymes – it's in the entire fabric of that Queens sound, with fingerprints on classics from the likes of Mobb Deep and Capone-N-Noreaga.
50. Biz Markie
Essential listening: Goin' Off (1988)
The Clown Prince of Hip-Hop, Biz Markie, brought a flavor to the game that was truly one-of-a-kind. Beyond just spitting bars, Biz was an entertainer in the fullest sense. With tracks like "Just A Friend," he showcased that hip-hop could be both humorous and heartfelt, a juxtaposition rarely executed so flawlessly. But don't sleep on his beatboxing skills; dude was an original human beat machine. While Goin' Off was a testament to his raw talent, it was his larger-than-life persona that made him iconic. The Biz never played by the rules, he just rewrote them, ensuring that hip-hop had a smile on its face and a bounce in its step.
49. Lloyd Banks
Essential listening: The Course of the Inevitable (2021)
Lloyd Banks, aka the "Punchline King," burst onto the scene with a ferocity that was felt from the blocks to the radio airwaves. As a core member of G-Unit, Banks' lyricism was like a razor blade—sharp, precise, and leaving an enduring impact. His debut, The Hunger for More, was more than an album, it was a statement that G-Unit's best rapper could also sell records. With tracks like "On Fire" and "Karma," he showcased an ability to craft radio hits without losing that street edge. But beyond the singles, deep cuts like "Southside Story" reminded the world that Banks' pen was soaked in Queens' raw essence. His ability to mix introspection with braggadocio made him a heavyweight in an era dominated by giants.
48. Nicki Minaj
Essential listening: The Pinkprint (2014)
Repping the borough of Queens with her Trinidadian flair, Nicki Minaj stepped into the hip-hop arena and single-handedly redefined what it meant to be a female MC in the modern era. With a flow that could switch from sultry to savage in a heartbeat, her bars on tracks like "Monster" proved she could stand toe-to-toe with the game's juggernauts. Her debut, Pink Friday, was a colorful explosion of versatility, blending hardcore rap with pop sensibilities. But don't get it twisted, Nicki's foundation is pure NY. Tracks like "Did It On'em" cemented her status, reminding everyone that beneath the wigs and alter egos was a lyricist with Queens running deep in her veins. From mixtape dynamo to global icon, Nicki changed the game without breaking a sweat.
47. Fabolous
Essential listening: The S.O.U.L. Tape 2 (2012)
Coming up in the late '90s, Fabolous slid into the rap game with a style as smooth as butter and a penchant for punchlines that'd make even the illest MCs do a double-take. Whether he's giving us summer anthems like "Can't Deny It" and radio smashes like "So Into You" or getting barred up with classic mixtapes like the There Is No Competition and The Soul Tape series , Loso always made sure he had the streets and the airwaves in a chokehold. One of the most consistent New York rappers of the past two decades, Fab's dedication to his craft, draped in that classic NY attitude, is what makes him one of the illest MCs to ever do it.
46. Ka
Essential listening: Honor Killed the Samurai (2016)
In the vast landscape of NY hip-hop, Ka emerges as a sage, weaving tales with a precision and depth that's unparalleled. Brownsville's finest, Ka is the epitome of a wordsmith, painting bleak yet poignant pictures of street life with every verse. Timeless albums like The Night's Gambit and Honor Killed the Samurai were cinematic experiences broadcast through Ka's whispering flow while echoing the grim corridors of NYC's underworld. No flashing lights, no frills, just the undiluted essence of New York in every bar—Ka is the embodiment of the city's spirit, quiet yet profound, often overlooked but impossible to forget once experienced.
45. Keith Murray
Essential listening: The Most Beautifullest Thing in This World (1994)
From the Def Squad camp, Keith Murray rolled out with an articulate fury that was unmatched in its prime. His debut, The Most Beautifullest Thing in This World, wasn't just an album title; it was a declaration. Murray wielded a vocabulary that seemed plucked straight from a thesaurus, giving birth to lines that would twist your brain in knots before making you nod in appreciation. You talk about wordplay and linguistic gymnastics? Keith was in a league of his own. But beyond the lyrical acrobatics, it was that raw, East Coast energy, that "Get Lifted" vibe, which solidified Murray as a force. In an era dominated by lyrical giants, he carved out his lane, affirming his place among NY's finest wordsmiths.
44. Kool Moe Dee
Essential listening: How Ya Like Me Now (1987)
Before your favorite rapper's favorite rapper, there was Kool Moe Dee. A pioneer from the old school, Moe Dee was slinging bars when hip-hop was still finding its feet. As a member of the Treacherous Three, he laid down foundations, but solo? That's where he took it to another level. Tracks like "How Ya Like Me Now" and "Wild Wild West" were definitive moments, pushing the culture forward. With his trademark shades and that audacious Kangol, Moe Dee wasn't shy about his skills, famously beefing with LL Cool J in one of rap's earliest battles. The man had flow, style, and an intellect that set him apart. When you talk about the architects of this game, Kool Moe Dee's name is etched in stone, representing a time where lyricism and innovation were king.
43. El-P
Essential listening: Cancer 4 Cure (2012)
El Producto, or as the world knows him, El-P, isn't just a rapper; he's a visionary. Coming up with the seminal Company Flow, his beats and rhymes painted a dystopian soundscape that was way ahead of its time. Funcrusher Plus? That record shifted paradigms, pushing boundaries of what hip-hop could sound like. But don't get it twisted, El-P's solo ventures, especially I'll Sleep When You're Dead, echoed a similar sentiment of experimental genius. Then he hit another zenith partnering with Killer Mike, forming Run The Jewels. Their chemistry? Electric! El-P's production, combined with his potent bars, crafts a sound that's both ethereal and gritty. A Brooklyn native with a global appeal, El-P's influence isn't just monumental; it's revolutionary.
42. O.C.
Essential listening: Word…Life (1994)
One of the brightest gems of traditionalist New York rap, O.C. is a lyricist's lyricist. When he dropped Word…Life, heads knew that this was someone special. With classics like "Time's Up" serving as an indictment of wack MCs, O.C. set a bar for raw, undiluted lyricism. Repping the D.I.T.C. crew, his pen game was a force, leaving an indelible mark on the golden era. Albums like Jewelz further cemented his reputation as one of the elite wordsmiths. His collaborations with producers like DJ Premier and Buckwild showcased his versatility and undeniable ear for beats. O.C.'s voice, dripping with authenticity, made every bar resonate, proving time and time again that in the pantheon of NY greats, his name deserves its shine.
41. Talib Kweli
Essential listening: Train of Thought (2000)
Talib Kweli is one of those rare breeds of lyricists who can drop knowledge while still making heads bob. With Train of Thought and Quality, Talib schooled us, intertwining philosophy with street parables, always keeping it 100. When he linked with Mos Def for Black Star, oh man, that was some next-level brilliance. "Definition" and "Respiration" weren't just tracks; they were manifestos. Whether addressing social injustice or reflecting on Brooklyn blocks, Talib's pen game's been sharp, always slicing through the beats, demanding listeners to think deeper. One of the truest torchbearers of conscious hip-hop and absolutely one of the greatest New York rappers of all time.
40. Sean Price
Essential listening: Mic Tyson (2012)
Brownsville's own Sean Price, affectionately known as Ruck from Heltah Skeltah, was the embodiment of raw, unfiltered NY hip-hop. With a voice that could command a room and a lyrical prowess that could body anyone on the mic, Sean P was a force. From the Boot Camp Clik days to his solo ventures, tracks like "Onion Head" and albums like Monkey Barz showcased a unique blend of humor, street tales, and sheer lyrical dominance. Price's untimely passing left a void, but his legacy? Man, it's rock solid. An MC's MC, with bars that could make the toughest heads nod in reverence, Sean Price's spot among NY's elite is ironclad. Rest in power, Ruck.
39. Roc Marciano
Essential listening: Reloaded (2012)
When you're talking about underground hip hop, especially in New York, there's no denying the looming presence of Roc Marciano. This Long Island MC has, over the years, become an archetype for an entire movement within the rap genre. In an era where hip-hop was becoming increasingly polished and commercially driven, Marciano harkened back to a rawer, grittier sound, reminiscent of New York's golden era, yet entirely his own. His stark, cinematic beats—often self-produced—coupled with his intricate storytelling, set a blueprint for the underground, fostering a revivalist movement. Marciano's influence seeped through the underground circuit, leading a wave of artists who embraced this raw aesthetic. Names like Ka, Mach-Hommy, and Griselda's Westside Gunn and Conway can, in part, trace their roots back to the groundwork Roc laid.
38. Cormega
Essential listening: The Realness (2001)
Queensbridge's unsung hero, Cormega, has forever been that silent storm in the New York rap scene. With a narrative that's as raw as it gets, Mega's life tales resonate deep, making joints like The Realness and The True Meaning essential listens for any student of the game. His tales aren't just about the hustle; they're steeped in introspection, reflecting on choices, loyalty, and the relentless grind. Cormega's ability to transform pain into poetry set him apart. While mainstream accolades might've evaded him, in the streets and among purists, Cormega's legacy stands undebatable, a testament to keeping it authentic in an ever-changing rap landscape.
37. Guru
Essential listening: Jazzmatazz, Vol. 1 (1993)
When you talk about Guru, you're discussing more than just a rapper; you're touching on an entire era. Half of the legendary Gang Starr, Guru's distinct voice was synonymous with that raw, authentic East Coast sound. With Premier on the beats, Guru spit wisdom, and they created timeless masterpieces together. Moment of Truth and Daily Operation are like sacred texts in the hip-hop canon. "Mass Appeal", "Above The Clouds" — these weren't just songs, they were scriptures. Guru's Jazzmatazz projects? Pioneering. He blended jazz and rap way before it was the wave. His impact? Undeniable. His voice? Unforgettable. Guru was the embodiment of "Gifted Unlimited Rhymes Universal."
36. Inspectah Deck
Essential listening: Czarface (2013)
Rebel INS, the unsung hero of the Wu-Tang Clan! Inspectah Deck might've been the most slept-on member, but every time he touched the mic, it was straight fireworks. Who could forget his explosive opener on "Protect Ya Neck" or that monumental verse on "Triumph"? Deck had this unique ability to weave intricate stories, delivered with an unmatched clarity. While his solo debut, Uncontrolled Substance, was a solid entry to his catalog, it was Deck's late-career resurgence with Czarface that really cemented him in the history books. From slinging darts with the Wu to standing tall on his own, Deck always brought that Shaolin flavor to the forefront. Often underappreciated, but never outshined, Inspectah Deck was a secret weapon in the Wu arsenal.
35. De La Soul
Essential listening: Stakes Is High (1996)
Straight outta Long Island, De La Soul wasn't just a rap group; they were a movement, a psychedelic trip in a culture fixated on being hard. When Posdnuos, Dave, and Maseo came onto the scene, they brought a fresh, vibrant energy with 3 Feet High and Rising, flipping the game on its ear. With the D.A.I.S.Y. Age, these rappers were operating on a different wavelength, merging playful, smart lyricism with eclectic, groundbreaking production. The trio's stylistic progression from their debut to the darker De La Soul Is Dead and incredible Buhloone Mindstate showcased their capacity to evolve with the times, proving their longevity wasn't accidental. They were always relevant, always sharp, always De La.
34. Styles P
Essential listening: The World's Most Hardest MC Project (2012)
If the LOX was hip-hop's triumphant trio, then Styles P was its raw, unfiltered essence. The Ghost. Dark, gritty tales of street warfare intertwined with introspective thoughts on life and death made Styles one of the realest to ever grip the mic. While Jada might've been the face, Styles was often the spirit. His pen was sharp; every line dripped with authenticity. A Gangster and a Gentleman? That album gave us both sides of the coin. "Good Times" was the weed party joint, while "The Life" was the anthem for every block, every hood, every corner where struggles met hope.
33. Lil' Kim
Essential listening: Hard Core (1996)
Before Cardi, Nicki, and Meg, there was a Queen Bee that made her presence known in a male-dominated rap game. Lil' Kim, the First Lady of Junior M.A.F.I.A., didn't just kick open the door for female rappers; she blew it off the hinges. With Hard Core, she delivered explicit bars with a fierceness that dared anyone to question her seat at the table. Queen Bee's opulence and brazenness redefined what it meant to be sexy and powerful in hip-hop. She draped herself in high fashion, all while dropping lines that could stand toe-to-toe with the hardest MCs. Kim was more than Biggie's protégé; she was a force, an icon, a blueprint.
32. Billy Woods
Essential listening: Hiding Places (2019)
For those in the know, Billy Woods is like the best-kept secret in New York's underground. This dude is a wordsmith, an enigma, wrapping complex narratives in layers of intricate lyricism. Albums like History Will Absolve Me and Hiding Places are deep dives into sociopolitical landscapes, personal traumas, and the inner workings of Woods' profound mind. Unlike mainstream acts, Woods doesn't drop bars for the radio; he crafts for the thinkers, the heads nodding in dimly lit rooms absorbing every word. A master of the abstract and the profound, Billy Woods is a testament to hip-hop's depth and range.
31. AZ
Essential listening: Doe or Die (1995)
When heads discuss NY's golden era, if they're not mentioning AZ in the same breath as some of the greats, they're tripping. This man dropped his immaculate verse on Nas' Life's a Bitch and cemented his legacy from jump. But it isn't just about that one verse. With Doe or Die, AZ showcased his buttery flow, introspective bars, and that mafioso rap essence that had the East Coast in a chokehold. Visualizing the realism of life in actuality, AZ's pen game has always been about depth, street wisdom, and lyrical dexterity. The Brooklyn-raised lyricist has been an underappreciated gem, standing tall among NY's elite without ever losing his authentic touch.
30. 50 Cent
Essential listening: Get Rich or Die Tryin' (2003)
When Curtis "50 Cent" Jackson stormed the scene, hip hop didn't just experience a wave, it got hit with a tsunami. The South Jamaica, Queens titan's narrative was the stuff of urban legends: surviving nine shots and flipping that tale into one of hip-hop's most iconic come-ups. Get Rich or Die Tryin' was a mantra for the hustlers and money-getters, and when "In Da Club" blared through the speakers, it was a universal call to arms. But don't let the commercial bangers misguide you; Fif's street anthems like "Many Men" and "Heat" bore testament to a life lived in the trenches. His success isn't just limited to the mic; from G-Unit Records to Hollywood to the business realm, 50's acumen knows no bounds. A juggernaut in every sense, 50 Cent embodies the New York hustle.
29. Kool Keith
Essential listening: Dr. Octagonecologyst (1996)
If hip-hop had a wild card, it'd be stamped with Kool Keith's face. One of the most important underground rappers to ever emerge, this Bronx native is the epitome of eccentric, avant-garde, and unapologetically outlandish. From his time with Ultramagnetic MCs to his extraterrestrial alter ego Dr. Octagon, Keith's been pushing boundaries since day one. Albums like Dr. Octagonecologyst were psychedelic journeys through twisted realms that only Keith could craft. His unpredictability is his genius. The man's got flows and lyrical constructs that'd make an English professor's head spin. In the vast universe of hip-hop, Kool Keith is that unidentified flying object that nobody can quite explain, but everybody's gotta respect.
28. Big L
Essential listening: Lifestylez ov da Poor & Dangerous (1995)
Harlem's very own, Big L, was a comet in the hip-hop sky—burning bright but gone too soon. One of the most devastating lyricists the game's ever seen, L was the embodiment of that raw New York punchline rap. Every bar felt like a haymaker. Tracks like "Put It On" and "Ebonics" displayed his unerring knack for clever wordplay and menacing delivery. His debut, Lifestylez ov da Poor & Dangerous, is a stone-cold classic, period. Though his life was tragically cut short, his legacy is undeniable. In a parallel universe, Big L's name is ringing out in every GOAT conversation.
27. Slick Rick
Essential listening: The Great Adventures of Slick Rick (1988)
When you talk storytelling in hip-hop, Slick Rick is the gold standard, the blueprint. Straight out of The Bronx with an accent dipped in British finesse, Rick The Ruler's narrative prowess is legendary. With classics like "Children's Story" and "La Di Da Di," he spun tales that painted vivid pictures, each bar crafted with meticulous detail and dripping with swag. The gaudy chains, the eye-patch, Rick's whole aesthetic was emblematic of hip-hop's flashy yet conscious roots. Let's not forget, though: while he was laying down those buttery tales, he schooled a generation on how to craft a story over a beat.
26. Jadakiss
Essential listening: Kiss tha Game Goodbye (2001)
Jadakiss, one-third of The LOX, rocks that raspy voice, an audible trademark signaling real talk. Straight from Yonkers, Jada's been giving heads those raw bars for decades. Whether he's on a D-Block joint or going toe-to-toe with legends like Nas, Hov and Big, his lyrical prowess stands tall. Known to rip apart any feature and leave his raspy mark on countless tracks, it's no cap to say Jada's one of the fiercest lyricists to ever grip a mic. While many have tried to challenge his spot, when that signature laugh hits your ears, you know the game is checkmated.
25. Pharoahe Monch
Essential listening: Internal Affairs (1999)
Monch is straight up lyrical gymnastics. The Queens native's intricate wordplay, complex rhyme schemes, and conscious content elevated him to a revered space in hip-hop. With Organized Konfusion and then solo, Monch delivered tracks that weren't just songs but masterclasses. "Simon Says"? Come on! That joint not only banged in the club but showed he could flip a Godzilla sample into a hip-hop classic while tearing up the charts. And let's not sleep on Desire or PTSD, where he tackled deep subjects while still slaying beats. The man's range is vast. It's clear – Pharoahe Monch ain't just a rapper, he's a profound lyricist, an MC in the purest form.
24. Aesop Rock
Essential listening: Labor Days (2001)
In a realm where wordplay and lyrical density reign supreme, Aesop Rock stands as a titan. The Long Island native weaves a tapestry of intricate tales that demand not just a listen but a deep dive. With albums like Labor Days and The Impossible Kid, Aes is not here to serve you simple bars; he's here to challenge your intellect. His abstract storytelling is in a league of its own, rife with profound metaphors and references that keep heads nodding and minds racing. While many may boast about their vocabulary, Aesop's lexicon game? Unmatched. In the vast mosaic of NY hip-hop, he's that intricate corner piece that completes the picture.
23. Big Pun
Essential listening: Capital Punishment (1998)
When we talk about legends gone too soon, Big Pun is undeniably top-tier. A Bronx behemoth in every sense, Pun was a master of the mic, serving raw, uncut lyrical prowess. With Capital Punishment, he wasn't playing; he was cementing his name among the greats, and with tracks like "Still Not a Player", he showed he could bridge hardcore lyricism with mainstream appeal. Pun's flow? Relentless. His punchlines? Brutal. And that breath control? Man, it's still a wonder how he spat those rapid-fire verses. While his time here was brief, Pun's heavyweight influence in the game is everlasting.
22. Masta Ace
Essential listening: A Long Hot Summer (2004)
Brooklyn's very own Masta Ace, a rap scholar if there ever was one. From his beginnings with the Juice Crew to his solo ventures, Ace epitomized the essence of a true MC. Albums like Disposable Arts and A Long Hot Summer ain't just records; they're a curriculum for hip-hop 101. Masta Ace's storytelling is impeccable, painting evocative scenes with every bar. And longevity? Most can't hold a candle to Ace's consistency over the decades. His influence runs deep, schooling the next gen while still dropping gems. Masta Ace is like that OG in the park playing chess; always ten steps ahead, forever schooling the rookies.
21. Busta Rhymes
Essential listening: When Disaster Strikes… (1997)
Busta is hip hop energy personified. This Dungeon Dragon has been tearing apart tracks since the days of Leaders of the New School. When he hits the scene with The Coming, you knew it was a seismic shift in the game. Every verse, every hook, pure adrenaline. And those visuals? Busta's videos were like mini blockbuster films. His rapid-fire delivery, that unmistakable gravelly voice, and his knack for weaving between the rawest underground sounds and chart-topping anthems make him one-of-a-kind. Whether he's serving you raw bars or collaborating with the likes of Janet Jackson, Busta's versatility is unmatched. A living legend, continuously evolving, always explosive.
20. Method Man
Essential listening: Tical (1994)
There's no mistaking that raspy voice and laid-back swagger. Meth, one part of the mighty Wu-Tang Clan, had an aura that made him stand out even among those giants. His debut, Tical, wasn't just an album; it was a smoke-laden journey into the depths of Shaolin. From "Bring the Pain" to his iconic duet with Mary J. Blige, "I'll Be There for You/You're All I Need", Meth showcased range and raw emotion with every verse. His charisma? Off the charts. On the mic, on screen, Meth is that rapper that's cooler than the other side of the pillow. Whether it's solo, with Wu, or Reggie, Method Man's legacy is iron-clad.
19. Mos Def
Essential listening: Black on Both Sides (1999)
In the mid-90s, this Brooklyn poet stepped on the scene and blessed us with jewels that melded social consciousness, lyrical dexterity, and that undeniably fresh BK flavor. From a conscious rap point of view, Mos Def's debut album, Black on Both Sides, was a seismic shift in hip-hop's landscape. With tracks like "Mathematics" and "Ms. Fat Booty", Mos illustrated his prowess to provoke thought while still keeping it street. And let's not forget about his dynamic duo action with Talib Kweli as Black Star. Together, they brought a gravity to the game that's hard to match. Mos' eloquence and steadfast commitment to truth have solidified his place among rap's elite.
18. Q-Tip
Essential listening: The Renaissance (2008)
Enter The Abstract! Q-Tip, the unmistakable voice behind A Tribe Called Quest, seamlessly blended jazz rhythms with profound bars during hip-hop's renaissance. The Low End Theory and Midnight Marauders had Tip, in tandem with Phife Dawg and Ali Shaheed Muhammad, crafting sonic masterpieces. His flow? Silky yet precise. Whether he's serenading "Bonita Applebum" or diving deep on "Check the Rhime", Q-Tip's genius always felt ahead of the curve. As a trailblazer, a tastemaker, and a connective tissue between eras – Tip's imprint on the culture is as indelible as those iconic Tribe vibes.
17. Raekwon
Essential listening: Only Built 4 Cuban Linx… (1995)
Raekwon the Chef carved his place in the hip-hop pantheon with his brilliant storytelling and gritty mafioso rhymes. As a vital component of the Wu-Tang Clan, he spat fiery verses on tracks like "C.R.E.A.M." and "Protect Ya Neck". But it was his solo masterpiece, Only Built 4 Cuban Linx…, that set the streets ablaze. With joints like "Knowledge God" and "Incarcerated Scarfaces", Rae painted visceral scenes from the block, providing an unfiltered window into the urban jungle. One of the most consistently brilliant and respected New York rappers of all time, Chef's unique blend of street wisdom and intricate lyricism makes him an enduring icon in the game.
16. Prodigy
Essential listening: The Infamous (1995)
One half of the infamous Mobb Deep, Prodigy remains one of the illest lyricists New York has ever produced. Born in Hempstead, Long Island, but repping QB to the death of him, P had that cold, piercing delivery that could send shivers down your spine. His bars were raw, authentic, and chillingly vivid. With Havoc on the beats, tracks like "Shook Ones, Pt. II" and "Survival of the Fittest" emerged as dark anthems for the streets. Prodigy's solo venture, H.N.I.C., showcased his unapologetic griminess with bangers like "Keep It Thoro". Despite facing personal demons, Prodigy never lost that edge, always keeping it a hundred with his artistry. His legacy? Undeniably colossal. Rest in power, P.
15. Beastie Boys
Essential listening: Paul's Boutique (1989)
The Beastie Boys weren't just a group; they were a cultural phenomenon. MCA, Ad-Rock, and Mike D shifted the paradigms, showcasing that hip-hop had no color boundaries. With tracks like "No Sleep till Brooklyn" and "Paul Revere", they flipped the script, merging punk rock ethos with hip-hop beats. Their opus, Licensed to Ill, still stands tall as a beacon of their audacity. And who could forget the layered genius of Paul's Boutique? Beyond the jams, they were pioneers, opening doors for countless acts and proving that innovation and authenticity reign supreme in hip-hop.
14. GZA
Essential listening: Liquid Swords (1995)
The Genius of the Wu-Tang Clan, GZA's lyrical prowess is unparalleled. With a pen game sharper than a sword, GZA dissected topics with intellectual depth and precision. Liquid Swords, his magnum opus, is a testament to this, blending gritty tales with philosophical insights. Tracks like "Gold" and "Labels" remain timeless, oozing with sharp wit and intricate wordplay. While the entire Wu ensemble was loaded with talent, GZA always stood out with his cerebral approach to rhyming. He didn't just spit bars; he painted masterpieces with words, making him a cornerstone in the NY hip-hop history.
13. DMX
Essential listening: Flesh of My Flesh, Blood of My Blood (1998)
Dark Man X, the Ruff Ryder's anthem creator, embodied raw emotion like few ever did. Every bark, every growl, every prayer was the voice of the streets made flesh. Released in 1998, DMX's debut, It's Dark and Hell Is Hot, was a searing testament of pain, struggle, and redemption, while simultaneously topping the Billboard charts. Tracks like "Ruff Ryders' Anthem" and "How's It Goin' Down" are undeniable classics, but it's cuts like "Slippin'", featured on his sophomore album, that show the heart beneath the tough exterior. DMX was a hurricane of energy, authenticity, and passion, lighting up hip-hop with a fire that still burns bright. A true warrior poet, X left an indelible mark that won't ever fade. Rest in peace to one of the greatest New Yorkers to ever grip a mic.
12. Run-D.M.C.
Essential listening: Raising Hell (1986)
The trifecta of Run, D.M.C., and Jam Master Jay was the stuff of legends, cementing their legacy by kicking down the doors of mainstream America with unlaced Adidas and gold chains. The Hollis, Queens trio didn't just make hip-hop tracks; they sculpted anthems. Who can forget the ground-shaking "It's Tricky" or the genre-blending mastery of "Walk This Way"? But let's not get it twisted, while they had crossover appeal, tracks like "Sucker M.C.'s" and "Peter Piper" showcased their lyrical prowess and nod to hip-hop's roots. Run-D.M.C. was about bridging gaps without losing essence. They took the raw energy of block parties and made it resonate on global stages, ensuring the name "Run-D.M.C." would forever echo in the halls of rap royalty.
11. MF DOOM
Essential listening: Madvillainy (2004)
The enigmatic villain, the masked marvel – Daniel Dumile's lore is as intricate as his bars. Born in the UK, raised in Long Island, MF DOOM crafted a legacy that's shrouded in mystique. The rapper's lyrical style was dense, layered, and dripping with references that'd have you reaching for the dictionary or a comic book. Peep tracks like "Accordion" or "Rhinestone Cowboy" from Madvillainy; they're masterclasses in abstract storytelling. DOOM wasn't just a rapper; he was an architect, building complex lyrical structures with a flow that zigzagged like a jazz solo. His personas – Viktor Vaughn, King Geedorah – showcased his versatility. While mainstream accolades might've eluded him, in underground circles, DOOM's crown remains untouchable. A supervillain with the pen, his verses were spells that still enchant heads to this day.
10. Chuck D
Essential listening: It Takes a Nation of Millions to Hold Us Back (1988)
When you talk about hip-hop's generals, Chuck D's name reverberates like an 808 in a '95 Jeep. The frontman of Public Enemy, Chuck didn't just rap; he delivered sermons. Armed with a voice that could shake the very foundation of the establishment, he took on societal issues with a militancy that was unmatched. "Fight the Power" and "Bring the Noise" weren't just tracks; they were battle cries. While many were spitting braggadocio bars, Chuck was sounding the alarm, educating the masses on political warfare. His lyricism wasn't about intricate wordplay; it was about impact. Every bar hit hard, every word mattered. His place in the rap pantheon? Undisputed.
9. Ghostface Killah
Essential listening: Supreme Clientele (2000)
Where do you even start with Tony Starks, aka Ghostface Killah? One of the most versatile lyricists the game's ever seen. Ghost's narrative skills are next level; he paints pictures so vivid you'd think you're watching a Scorsese film. Dive into Supreme Clientele or Fishscale; every track is a journey. From heartbreaking tales like "All That I Got Is You" to cinematic street chronicles like "Shakey Dog", Ghost has done it all. And his flow? Unpredictable as a NY minute. While many of his Wu-Tang brethren are celebrated for their unique styles, Ghostface arguably has the most diverse catalog. He can get introspective, grimy, soulful, and abstract — often on the same track. In the Wu hierarchy, Ghost's name shines bright, and in the larger rap context, he's a living legend. Period.
8. Big Daddy Kane
Essential listening: It's a Big Daddy Thing (1989)
If there's one MC who epitomized smoothness in the Golden Age of hip-hop, it's Big Daddy Kane. When the BK rapper said, "Ain't No Half Steppin'," he meant that in every sense. With his razor-sharp lyrics and flow smoother than butter, Kane was the ladies' man who could still body any MC in a cypher. The Long Live the Kane album? A masterclass. His delivery on tracks like "Raw", "Ain't No Half Steppin'" and "Wrath of Kane" is just supreme. But, Kane wasn't just about the bars; his on-stage charisma and those dance breakdowns? Electrifying! While many will always debate where he stands in the GOAT conversation, one thing's undeniable – Big Daddy Kane is a foundational pillar in the house of hip-hop.
7. LL Cool J
Essential listening: Mama Said Knock You Out (1990)
Ladies Love Cool James – and for good reason. Bursting out of Queens with a Kangol hat, a gold chain, and a lip lick that'd send female fans into a frenzy, LL was the original hip-hop heartthrob. But, don't get it misconstrued; beneath that charming exterior was a lyrical beast. Just throw on "Rock The Bells" or "I'm Bad" or "Mama Said Knock You Out" and witness the unrelenting energy. Yet, LL's versatility was his magic; he could battle with the best, then switch it up with joints like "I Need Love" – one of the earliest hip-hop ballads. From radio (remember Radio?) to the big screen, LL's influence stretches far and wide. He set the blueprint for longevity in a game notorious for short-lived careers.
6. Kool G Rap
Essential listening: Live and Let Die (1992)
When we talk about that mafioso rap, that intricate storytelling, that jaw-dropping lyricism dripping with multisyllabic rhymes, we're talking about Kool G Rap. The Queens OG is the sensei of the street tales, painting vivid, gritty pictures of the NYC underbelly with his pen. Tracks like "Road to the Riches" or "Streets of New York" ain't just songs; they're cinematic masterpieces. And let's get this straight – many of your favorite rappers took notes from G Rap. His impact on the likes of Nas, Big Pun, and even Jay-Z is evident. While he might've never blown up on the mainstream scale, in the underground, Kool G Rap is royalty. There's a reason he's called the "Godfather of Mafioso Rap."
5. KRS-One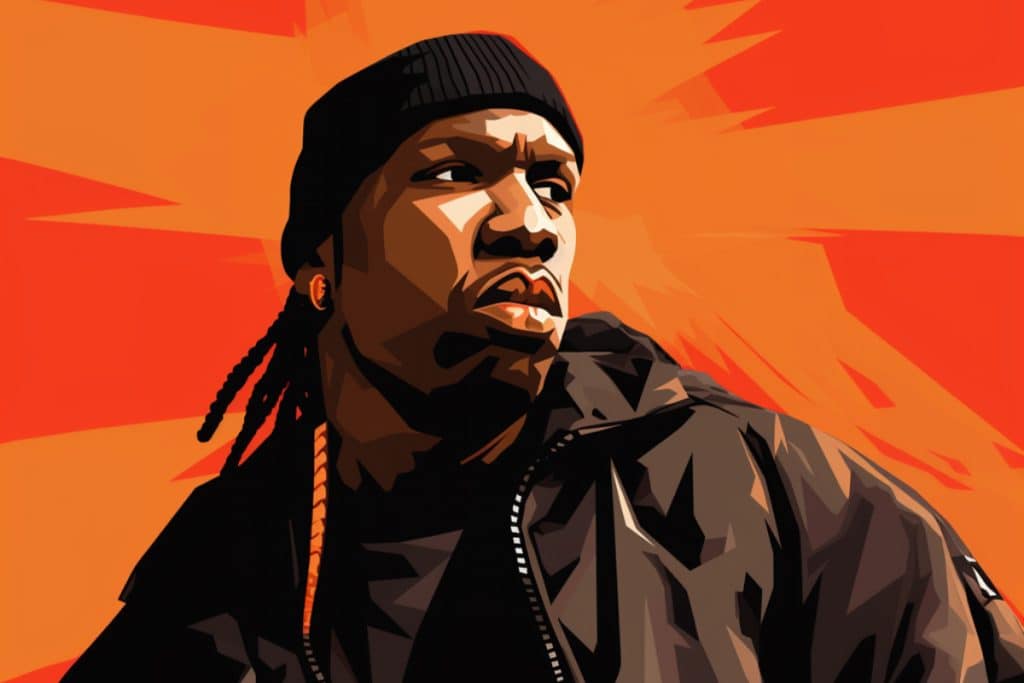 Essential listening: Return of the Boom Bap (1993)
Let's break it down: Knowledge Reigns Supreme Over Nearly Everyone. KRS-One, aka the Teacha, didn't just come to play; he came to school. When hip-hop needed a philosopher, a beacon to cut through the fog of the streets and the industry's glitz, KRS stepped up. Criminal Minded wasn't just a debut; it was a declaration – a new era of rap, merging consciousness with raw street tales. But the Teacha didn't stop there. With tracks like "My Philosophy" and "Sound of da Police," KRS was always on a mission, spitting bars that made you nod your head and, more importantly, think. There's a reason every hip-hop head nods in respect at the mention of his name. Whether leading the Stop the Violence Movement or bodying an opponent in a battle, KRS-One stood tall, a titan with a mic. His contribution to the culture? Immense. His legacy? Undeniable. Remember, "Rap is something you do; hip hop is something you live." KRS lived it, breathed it, and made sure we never forgot its essence.
4. Rakim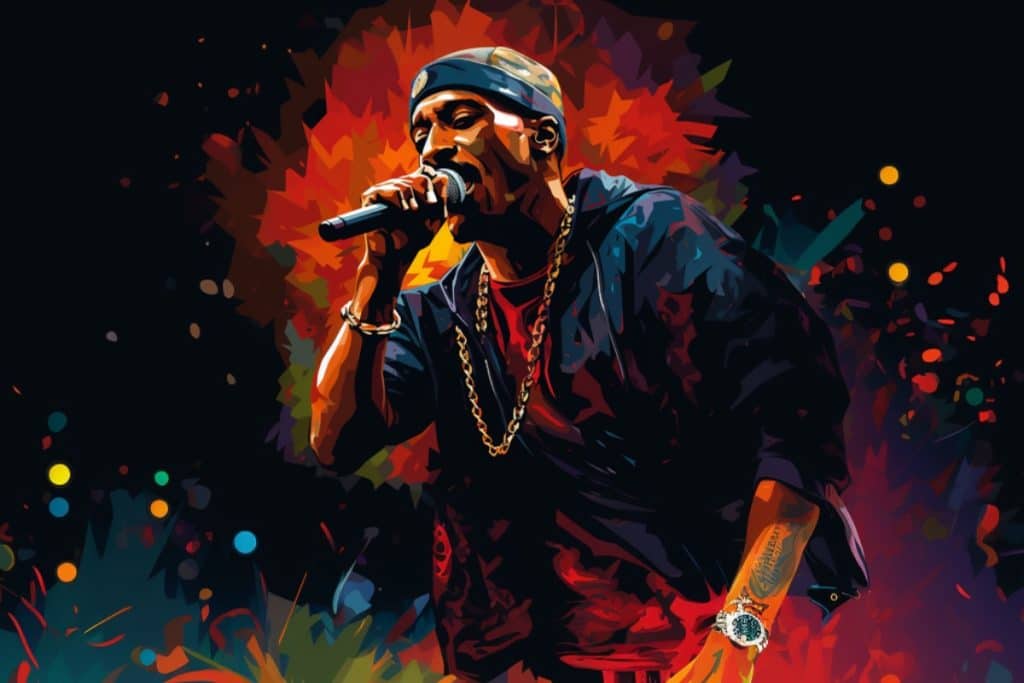 Essential listening: Follow the Leader (1988)
God MC. The lyrical deity. When Rakim touched the mic with Eric B., he fundamentally transformed how bars got spit. Before Rakim, the game was about simple rhymes and cadences; post-Rakim, MCs had to step up. With a laid-back demeanor and an intricate flow, Ra elevated lyricism with a precision and complexity previously unheard of. "I Ain't No Joke," "Paid in Full," "Microphone Fiend" – each track, a testament to a rapper taking his craft to unprecedented heights. His pen game was advanced; his style, like a chess grandmaster playing 4D chess while others were still figuring out checkers. In a world of "party and bullshit," Rakim was the sage, spitting lines that made you rewind the tape just to catch the layers. And it wasn't just about the words; it was the delivery, the confidence, the aura. The essence of Rakim was about mastery, about showing the world that rap wasn't just street poetry; it was an art form to rival any. The bars were cool, calculated, but still dripped with swagger. Rakim didn't just rap; he showed MCs the path to becoming lyrical architects. The game hasn't been the same since.
3. Jay-Z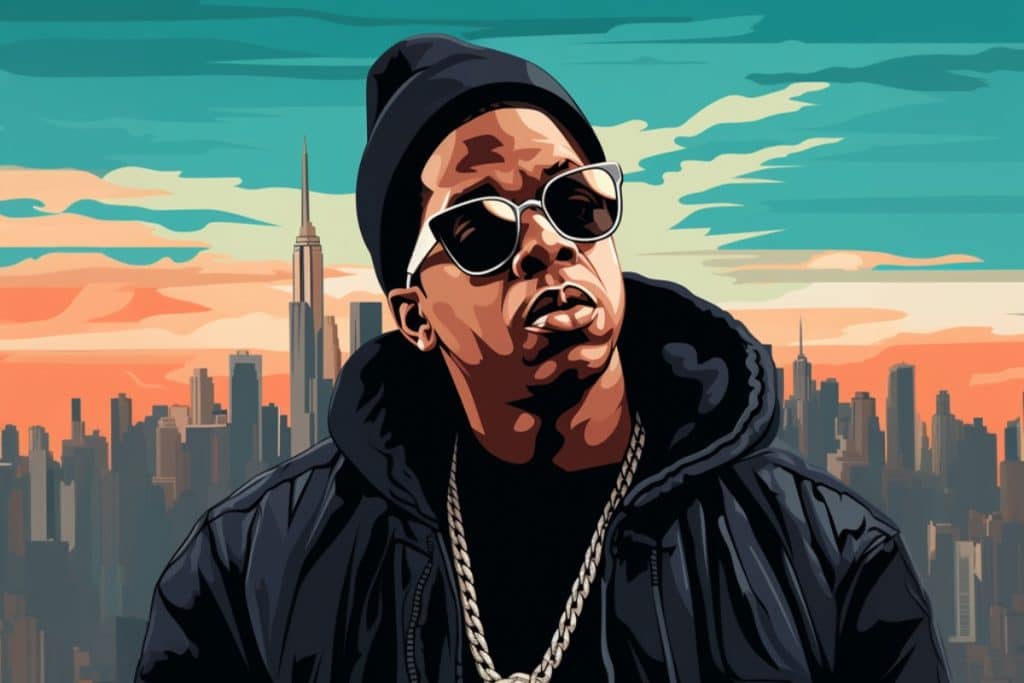 Essential listening: The Blueprint (2001)
Hov. Jigga. Shawn Carter. Few have mastered the craft, diversified their empire, and remained as razor-sharp as Jay-Z. Bursting outta Marcy Projects in Brooklyn, Jay-Z became the very embodiment of a hustler turned MC. With his debut, Reasonable Doubt, the world didn't just hear a rapper; they heard the introspective thoughts of a street poet detailing the intricate dynamics of the hustle. The masterful storytelling in "D'Evils" or the haunting pain in "Regrets" set the foundation for a king to rise. By the time The Blueprint dropped, Jay's influence was undeniable. His ability to juxtapose pop hits like "Izzo (H.O.V.A.)" with raw, lyrical exercises like "Renegade" where he went toe-to-toe with Eminem, displayed his versatility. Jay wasn't just a rapper; he was a businessman, a brand, and a mogul, laying down gems like "I'm not a businessman; I'm a business, man!" And that was Jay's genius – bridging street authenticity with boardroom acumen. Yet, even with global acclaim, he never strayed too far from lyrical excellence. Whether we're talking the poignant "December 4th," anthemic "Public Service Announcement," or the introspective "4:44" – the breadth of Jay-Z's discography is unparalleled. While others might have flashier bars, few can match Jay's blend of wit, wisdom, and sheer audacity. Every time he rapped, he painted a mural of ambition, struggle, and black excellence, reminding us that no other rapper in history has a stronger claim to the title of greatest rapper of all time than Hov.
2. Nas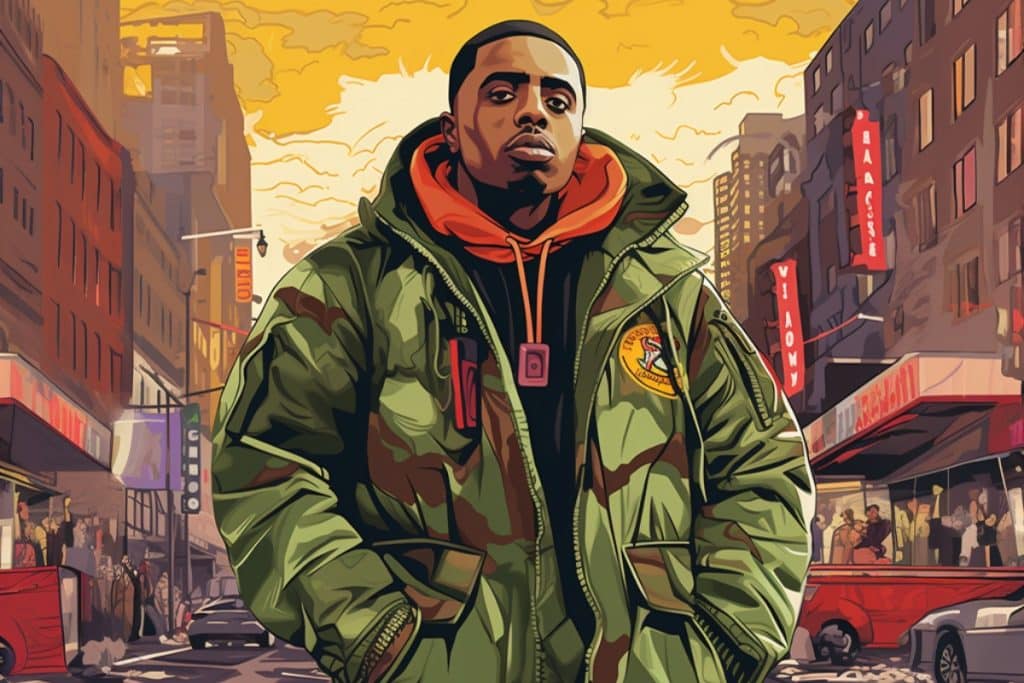 Essential listening: Illmatic (1994)
Nasir Jones stepped into the spotlight as a teenage prodigy from Queensbridge and promptly changed the face of hip-hop forever. Illmatic wasn't just a debut; it was a whole testament to New York life, a lyrical painting of the hood, raw and unfiltered. From the brooding opener "N.Y. State of Mind" to sublime "It Ain't Hard to Tell", the young Nas displayed a sophistication and wisdom that felt way beyond his years. That poetic penmanship, drenched in gritty realism and metaphoric brilliance, had heads calling him the second coming of Rakim. As the years progressed, Nas constantly evolved, never stagnating. It Was Written brought street heat like "The Message" and Mafioso rap flair before it was even a recognized sub-genre. And who can forget "Ether"? Going toe-to-toe with Jay-Z in one of the most iconic beefs in hip-hop history, Nas solidified that he wasn't just about the art; he could get down and dirty when the situation demanded. Whether reminiscing about his roots in "Memory Lane" or diving into the socio-political with "I Can," Nas remains an undisputed beacon of lyricism. While many have tried, few can match the depth, the wordplay, and the sheer weight of his bars. Nas embodies hip-hop's soul, a timeless storyteller who continues to school the new gen while keeping his throne intact.
1. The Notorious B.I.G.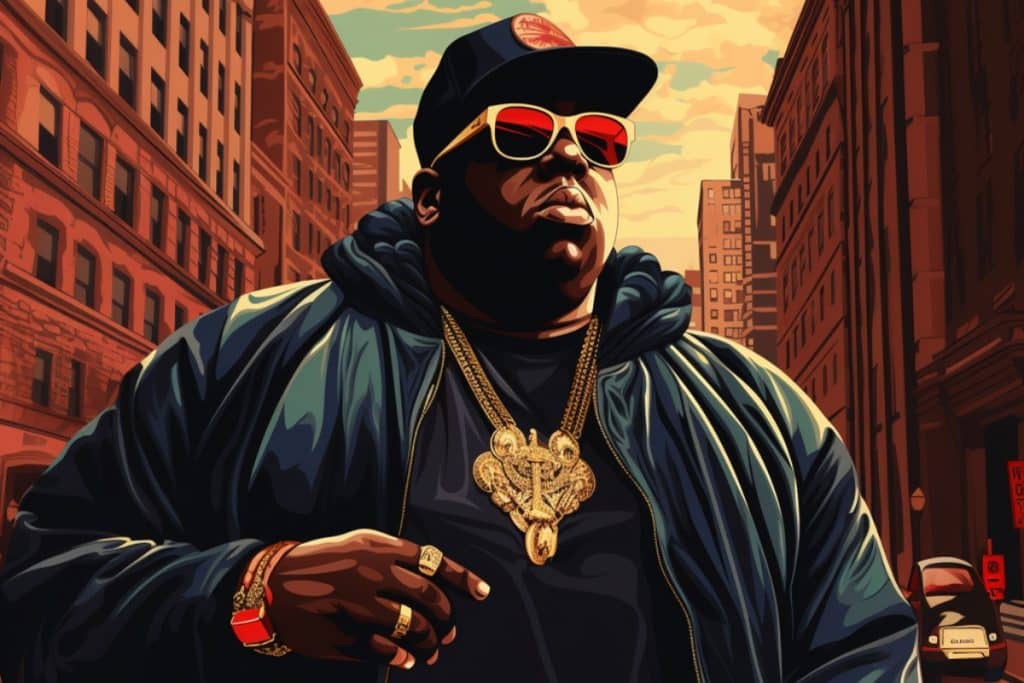 Essential listening: Life After Death (1997)
Christopher Wallace was a force of nature, a gargantuan presence that cast a monumental shadow over hip-hop. Born and raised in Brooklyn, Biggie brought tales from the streets with an unmatched blend of vivid realism and wit. The charm wasn't just in his stories, but in how he told 'em – that buttery flow, every word meticulously chosen and delivered with a gravitas only the Bed–Stuy MC possessed. When Ready to Die hit the airwaves, it was over for every other New York rapper in the game at the time. "Juicy" was the embodiment of the rags-to-riches dream, while "Gimme the Loot" showcased his versatility with its split-personality narrative and "Warning" was a storytelling masterclass from the BK lyricist. Biggie's second offering, Life After Death, was a magnum opus. Dropping hits like "Mo Money Mo Problems" and "Hypnotize," he proved that commercial success could still be achieved without sacrificing lyrical prowess. And when he flowed on "Notorious Thugs" alongside Bone Thugs-n-Harmony, switching up his cadence, it was clear: there wasn't a rapper in the game touching Big. His untimely passing left an unfillable void in hip-hop, but Biggie's influence is immeasurable. Biggie doesn't just sit at the table – he's at the head of it, always and forever. King of New York? Nah, try King of Hip-Hop.