Despite it's relatively young age, compared to other music genres, hip hop has had rich, diverse history.
From the culture's beginnings at block parties and park jams, to its current position as the dominant genre across Billboard and streaming charts, hip hop has come a long way.
This list of important moments is by no means definitive, and we'll continue to add to it as time goes by. Let's not waste any more time, here are the most important hip hop moments, from 1973 to today.
1520 Sedgwick Avenue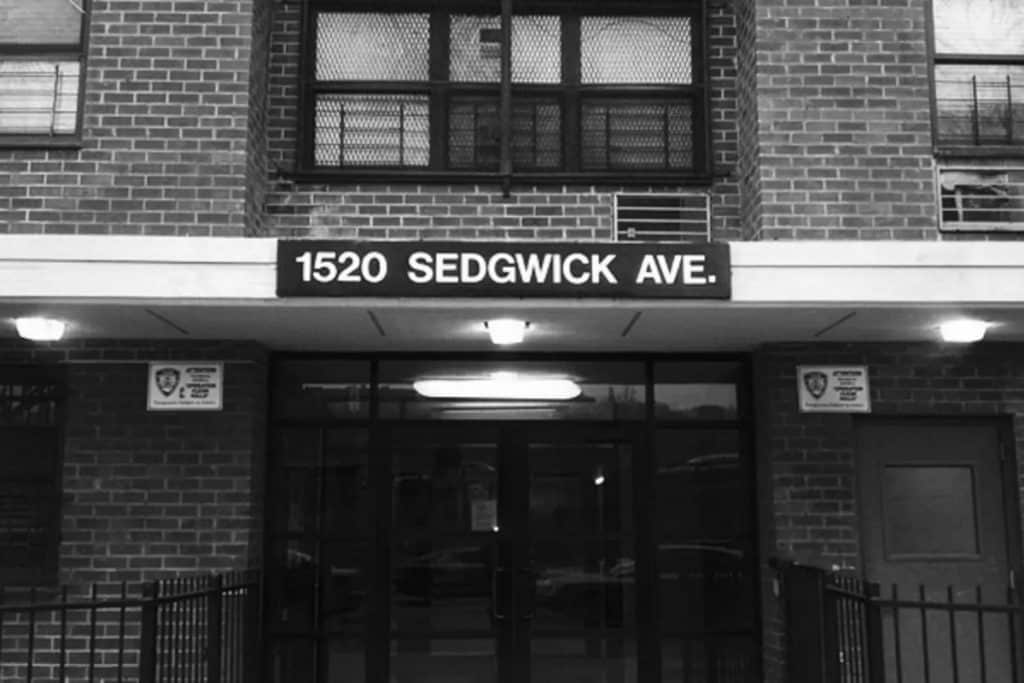 August 11, 1973: There were a lot of moments, people and events leading up to the creation of hip hop, but when DJ Kool Herc and his sister, Cindy Campbell, threw a block party in the recreation room of their apartment building at 1520 Sedgwick Avenue in the Bronx, it would mark the official birthplace of the culture.
"This is where it came from," Kool Herc said in an interview with The New York Times about the historic address. "This is it. The culture started here and went around the world. But this is where it came from. Not anyplace else."
Using two turntables, Herc was able to isolate the breakbeats of popular records like James Brown's "Give It Up or Turnit a Loose" and The Incredible Bongo Band's "Bongo Rock", creating what he called "The Merry-Go-Round" technique. This innovation is considered the origin of hip hop DJing and production.
Kool Herc: Hip-hop started when my father brought a PA system and didn't know how to hook it up. I was messing around with the music and I started out by buying a few records to play at my house. When I was doing that I saw a lot of kids playing outside in the backyard. My sister asked me to give a party one day. Actually, she wanted me to play at a party [1520 Segdwick Ave] and I went out and got around twenty records that I felt was good enough and we gave a party and charged about twenty five cents to come in and made 300 dollars.

Interview w/ DJ Kool Herc | Davey D
DJ Hollywood introduces rapping over breakbeats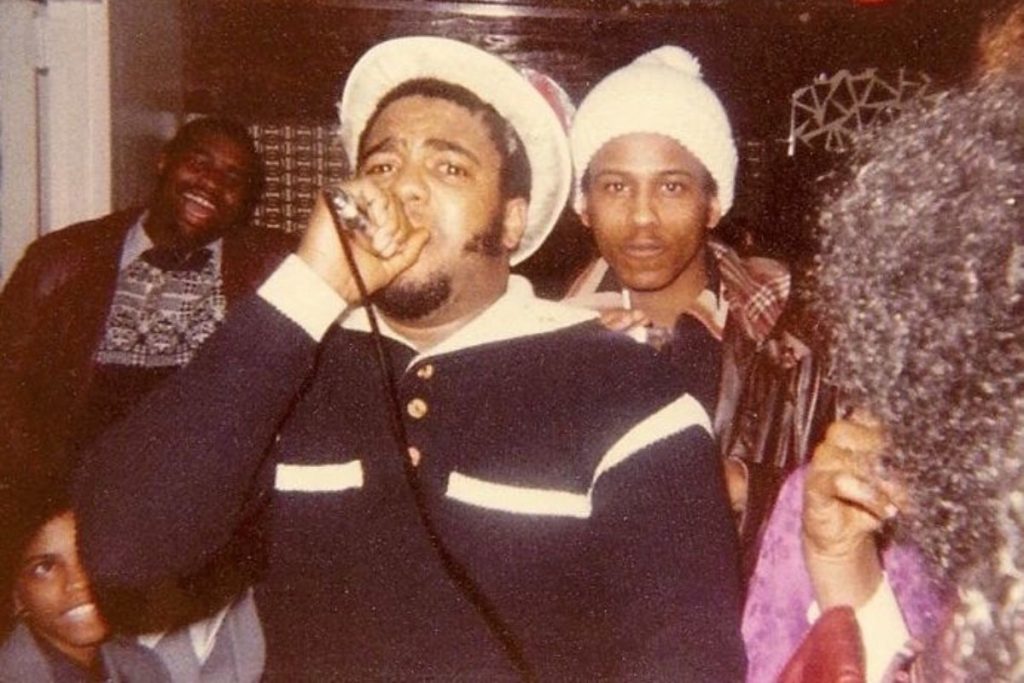 1975: A couple of years after Kool Herc popularised extending record breakbeats, DJ Hollywood, who hailed from Harlem, came up with the idea of rapping Isaac Haye's lyrics from "Good Love 6-9969" over the percussion section of MFSB's "Love is the Message."
It was the first time anyone who ever rapped entire lyrics over a record. Before Hollywood, DJs would usually shout out refrains like "Rock on, my mellow", "To the beat, y'all," or "You don't stop." This was a game-changing moment for hip hop as it now brought the rapping aspect to the forefront of the music.
DJ Hollywood: Nobody was doin' the turntables and the microphone before me. Nobody. Don't get me wrong, they had people [who] rapped before me—syncopated and unsyncopated. I can't take nothin' away from people like Oscar Brown Jr., Pigmeat Markham, the Last Poets, Gil Scott Heron, the Watts Prophets, Rudy Ray Moore, I used to listen to all of 'em. I can't take nothin' from none of 'em, but none of 'em was doin' what I was doin' with the turntables and a mic.

DJ Hollywood: The Original King of New York | Medium
The Fatback Band drop the first rap record, "King Tim III (Personality Jock)"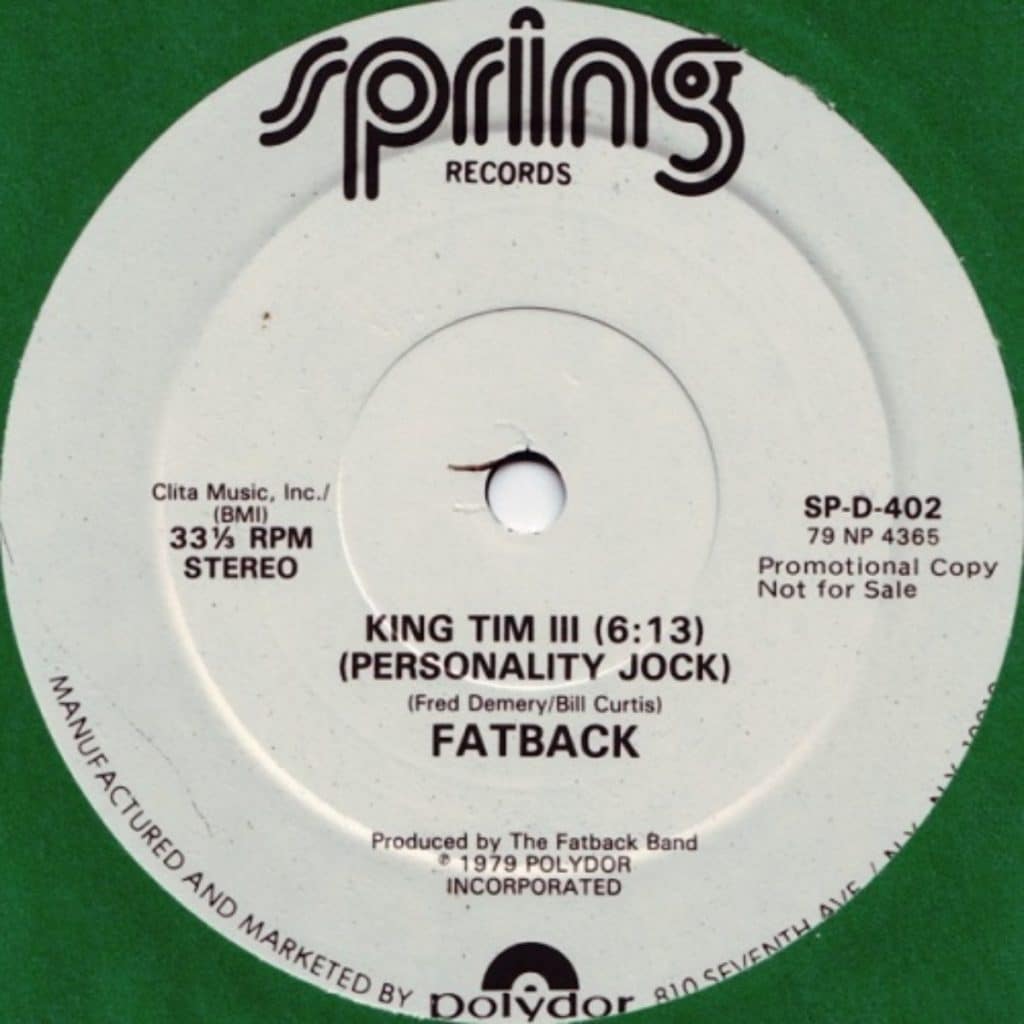 March 25, 1979: While "Rapper's Delight" (dropped a few months later after this record) would become the rap song that introduced hip hop to a mainstream audience, it was the The Fatback Band who officially dropped the first recorded hip hop song in history. "King Tim III (Personality Jock)" marked the beginning of a new era; no longer was hip hop music confined to local park jams and block parties, it was now on wax ready to be distributed to the rest of the world.
Bill "Fatback" Curtis: I had this one tune in there which was kind of like an instrumental called 'Catch the Beat.' I said, 'Jerry, let's do a rap.' First thing Jerry said, 'Can't nobody in the band rap. What do you mean, let's do a rap?' In the meantime, one of the roadies was in the studio with me and heard me say that. He said, 'I have a friend that lives in the projects that can rap.' I said, 'Yeah, bring him in tomorrow night.' And he brought in Timothy Washington. That's his name. He brought Timothy in and I said, 'Go in the studio and start rapping.' And he went in there and laid it down in two shots. Bang! Then we changed his name to King Tim III.

The first rap record didn't come from the Sugarhill Gang. It came from Fayetteville's Bill Curtis and his Fatback Band | The Fayetteville Observer
"Rapper's Delight" introduces hip hop to a mainstream audience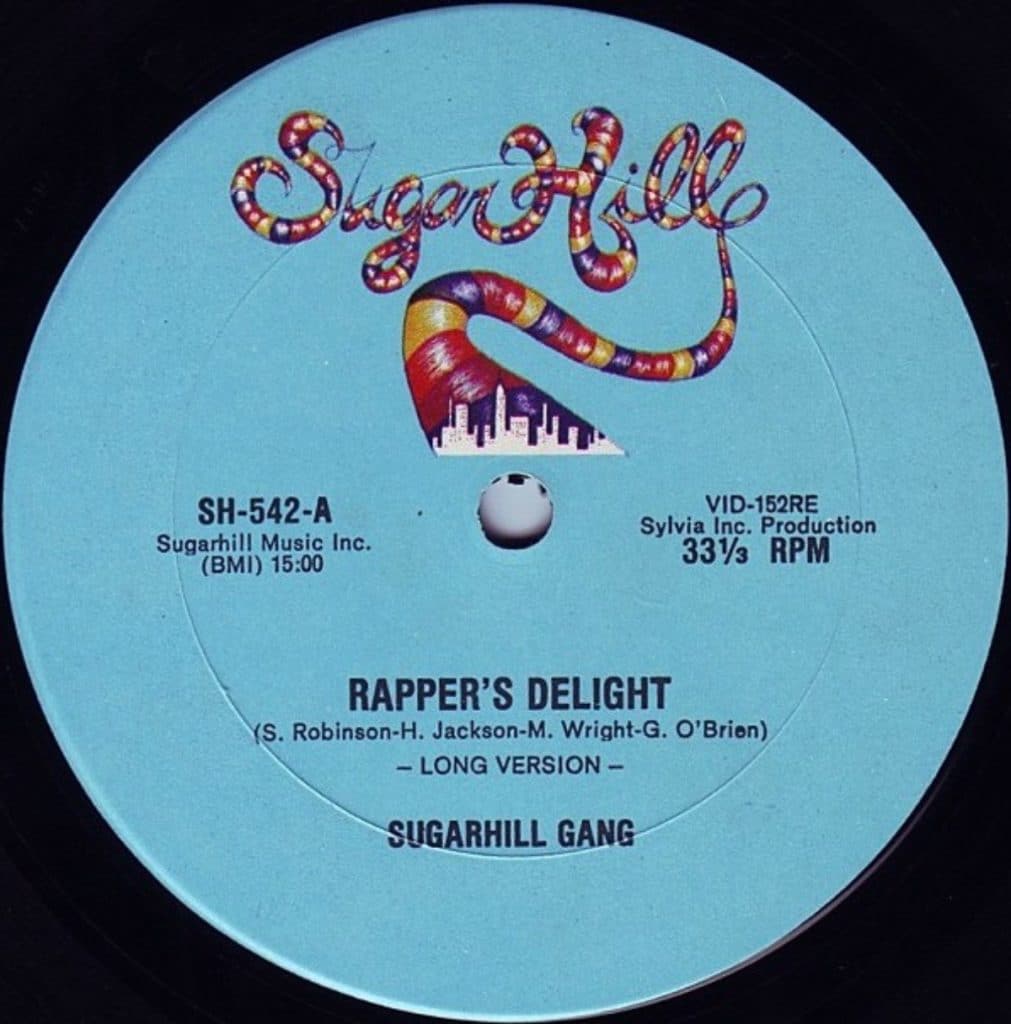 September 16, 1979: While "King Tim III (Personality Jock)" preceded "Rapper's Delight" by a few months, it was this song that received all the mainstream attention. Using an interpolation of Chic's "Good Times" and lyrics "borrowed" from Grandmaster Caz's rhyme book ("Check it out, I'm the C-A-S-AN, the O-V-A and the rest is F-L-Y"), "Rapper's Delight" became the first hip hop single to reach the Billboard Top 40.
Guy 'Master Gee' O'Brien: Chic's Good Times was great to rap to. The tempo was right and the bassline was high. That became the basis of Rapper's Delight. The intro came from Here Comes That Sound Again by a British group named Love De-Luxe. There were no samplers at the time, so the backing track was laid down by Sugar Hill signees Positive Force, who played the Chic rhythm, which we rapped over. I was unknown, but figured if I rapped about "foxy ladies and pretty girls" it would get me more attention. It worked. My line about being the "baddest rapper" was wishful thinking, though.

Sugarhill Gang: how we made Rapper's Delight | The Guardian
Kurtis is the first rapper to sign to a major label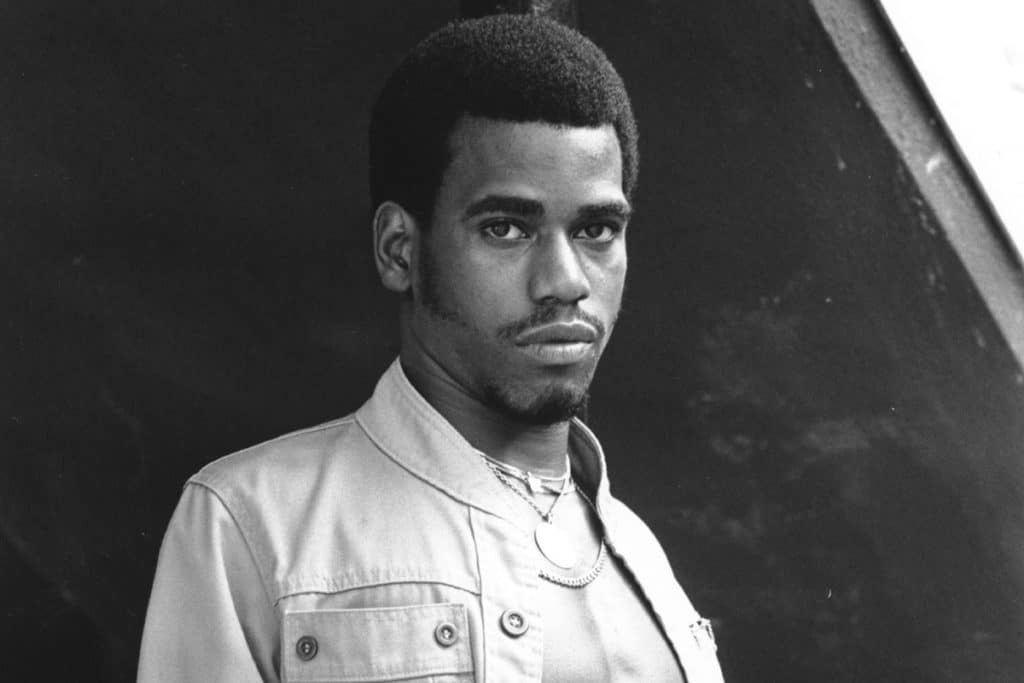 1979: Even though hip hop had been born during the 1970s at New York block parties and park jams, it wasn't until '79 with the release of The Sugarhill Gang's "Rapper's Delight" that the genre had a commercial foothold.
Around this time, a young aspiring rapper by the name of Kurtis Blow, inspired by the likes of Kool Herc, Grandmaster Flash and DJ Hollywood, began making his way into the rap world. Blow became the first rapper to be signed by a major label when he inked a deal with Mercury in 1979. Shortly after signing the deal, Blow released "Christmas Rappin'" on the label, which became a huge success, selling over 400,000 copies.
Kurtis Blow: It was huge for hip-hop because being on a major label means major press, major publicity, major offices in every major city. I just went and worked the system. Being in communications, I went to the publicity and promotions department and my thing was, "Send me everywhere! I'll go anywhere and everywhere."

Hip-Hop Legend Kurtis Blow: The Interview | PopMatters
"The Breaks" becomes the first rap song to go gold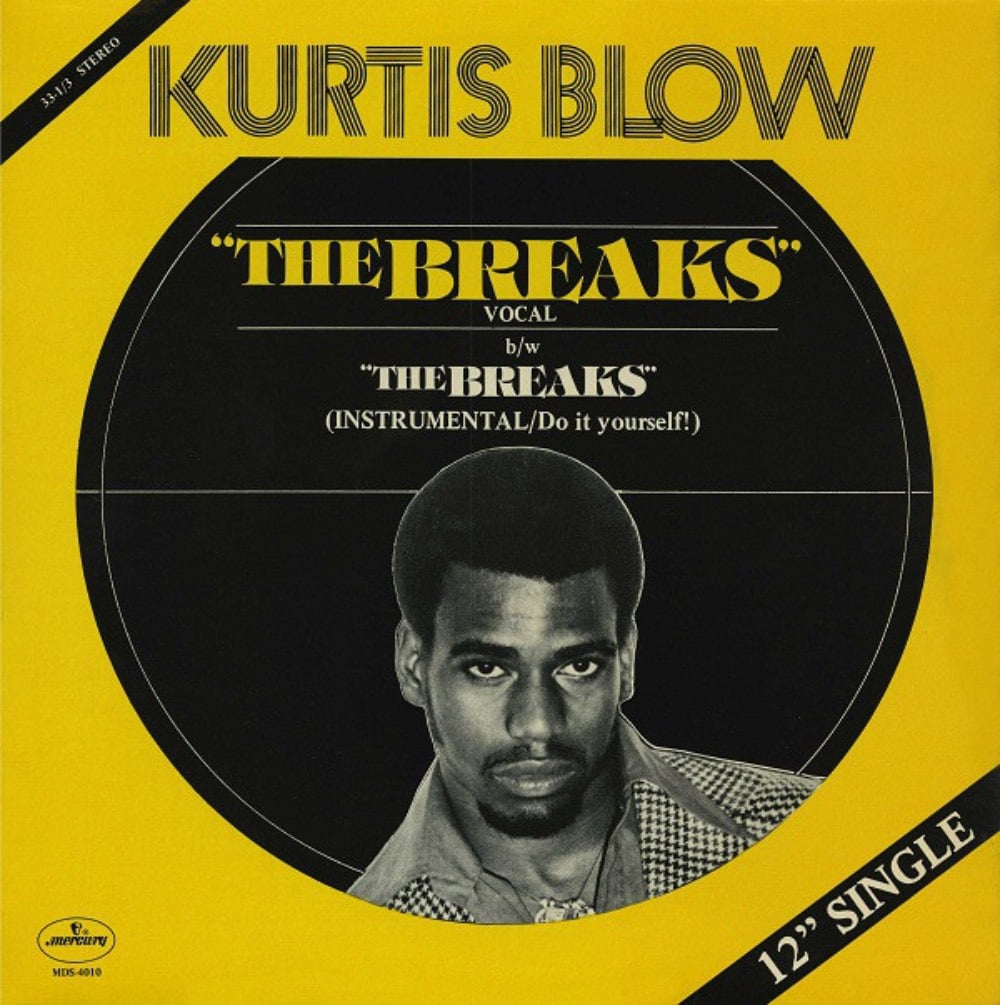 June 14, 1980: A few months after signing to Mercury and the success of "Christmas Rappin'" Kurtis Blow dropped "The Breaks," which was became an even bigger single than his debut. "The Breaks" quickly sold over 500,000 copies, becoming the first hip hop song to be certified gold.
Kurtis Blow: It was a huge radio record, and opened the door to radio for [hip-hop]. I think it was the seventh or eighth rap record ever made. So you had this possibility of careers happening. We opened the door for radio to say, "Okay, this is normal and not a flash in the pan – and we can support this thing." I became a big radio artist for a couple of years after that. I was the only [rap] artist on the radio nationally between 1980 to 1983.

40 Years of 'The Breaks': Kurtis Blow Remembers the 'Dream World' Surrounding Rap's First Gold Hit | Billboard
Kool Moe Dee vs. Busy Bee Starski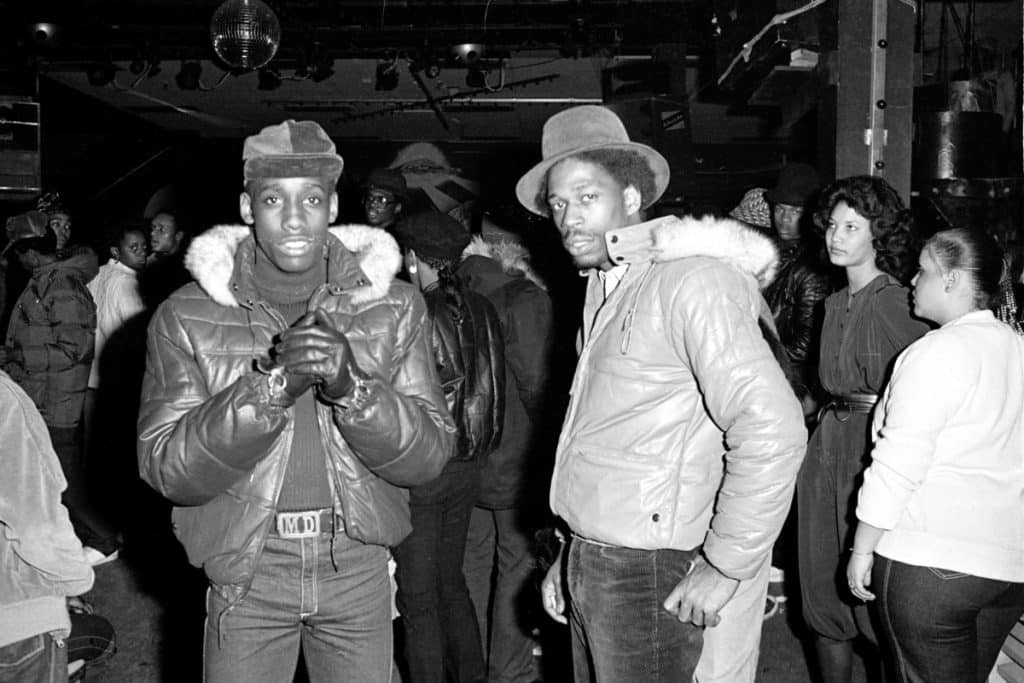 December 1, 1981: Kool Moe Dee vs. Busy Bee was the official changing of the guard from the old school party rocker MC to the more lyrical-focused, poetically inclined one. It happened during a live set at Harlem World, where Busy Bee was performing his usual routine – hyping up the crowd, rocking the party and calling out names.
Unfortunately for Busy Bee, one of the names he called out was Kool Moe Dee, a member of the Treacherous Three, who was known for his precise rhyming skills and sharp wit. After Busy was done with his set, Moe Dee jumped on stage and destroyed his unwitting opponent with vicious raps:
Hold on, Busy Bee, I don't mean to be bold
But put that "ba-ditty-ba" bullshit on hold
We gonna get right down to the nitty-grit
Gonna tell you little somethin' why you ain't shit
It ain't a emcee's jock that you don't hug
You even bit your name from the "Lovebug"

- Kool Moe Dee, Battle w/Busy Bee (Harlem World, 1981)
"It's like a jungle sometimes"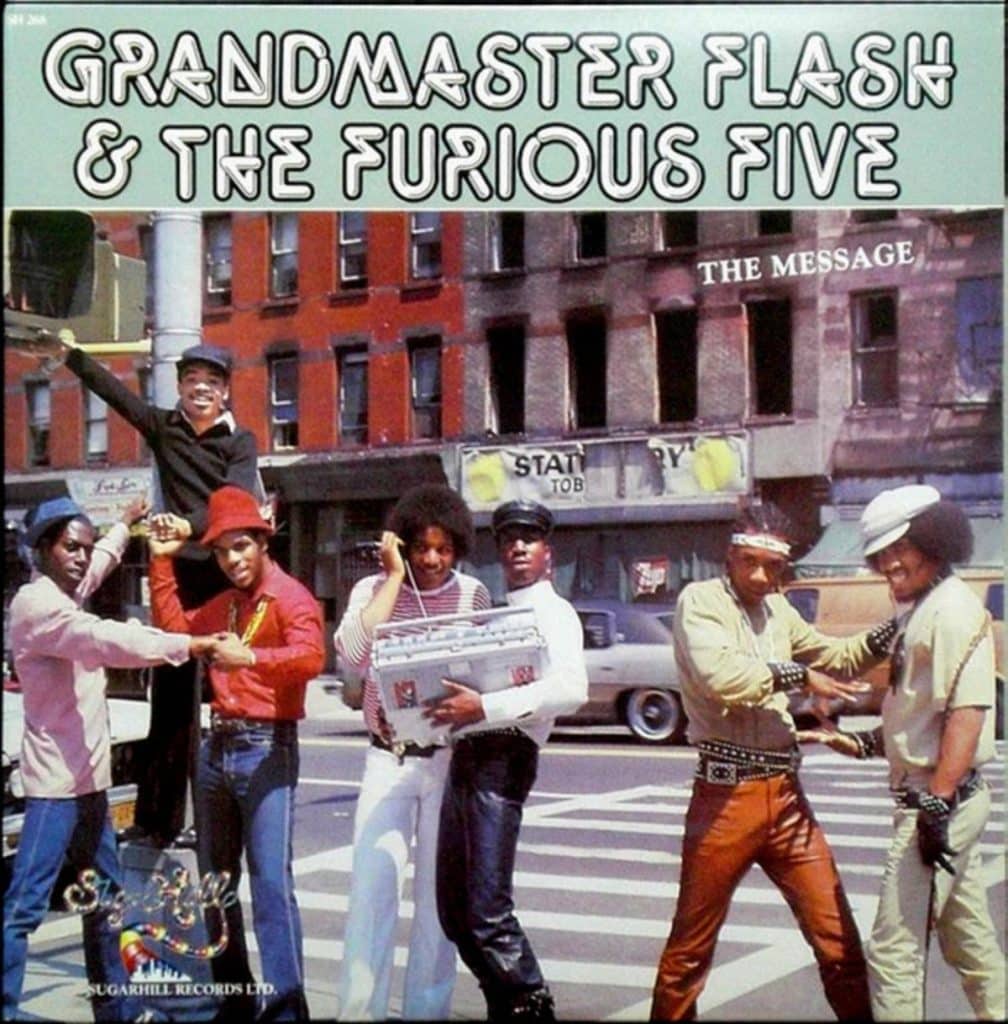 July 1, 1982: Before "The Message," rap music was dominated with lyrics largely concerned with having a good time or an MC's prowess on the mic. Then Melle Mel came through and rapped about about inner-city life ("broken glass everywhere") and the stress of living in the ghetto ("It's like a jungle sometimes"), creating the first mainstream rap song with social commentary.
The New York City Rap Tour is the first international hip-hop tour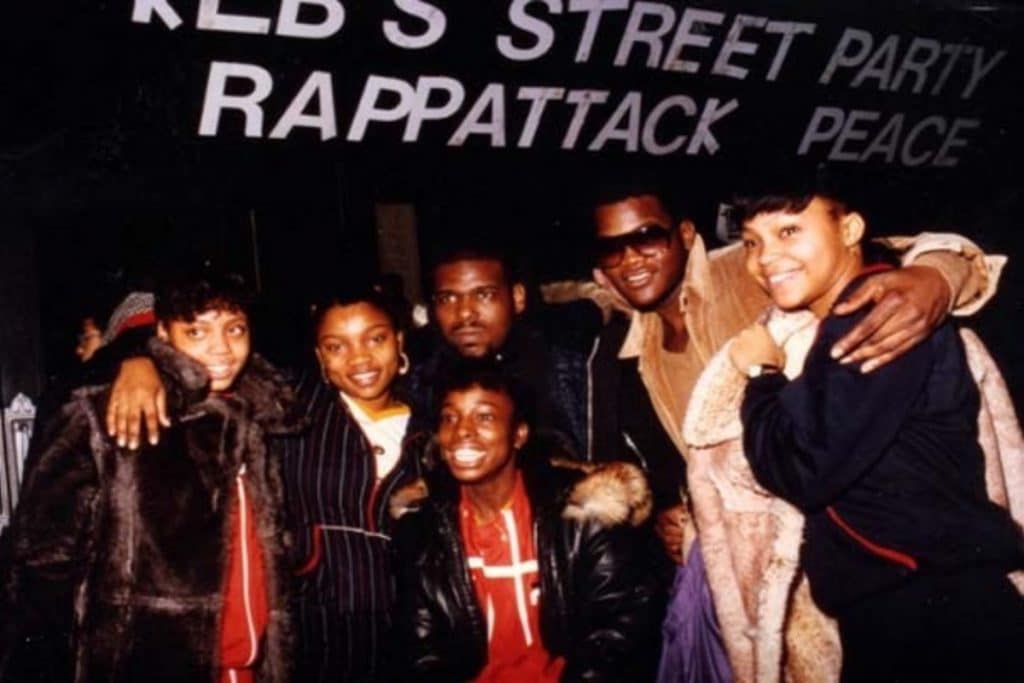 1982: Featuring a large cast of the some of the most popular hip hop figures at the time, including DJ Afrika Bambaataa, Fearless Four, Grand Mixer D.ST and the Infinity rappers, The Rock Steady Crew, Futura 2000, Dondi, Phase 2, Fab 5 Freddy, Rammellzee, and the Fantastic Four, The New York City Rap tour became the first international hip hop tour, bringing the culture across the Atlantic to cities like Paris and London.
Wild Style is released as the first hip hop movie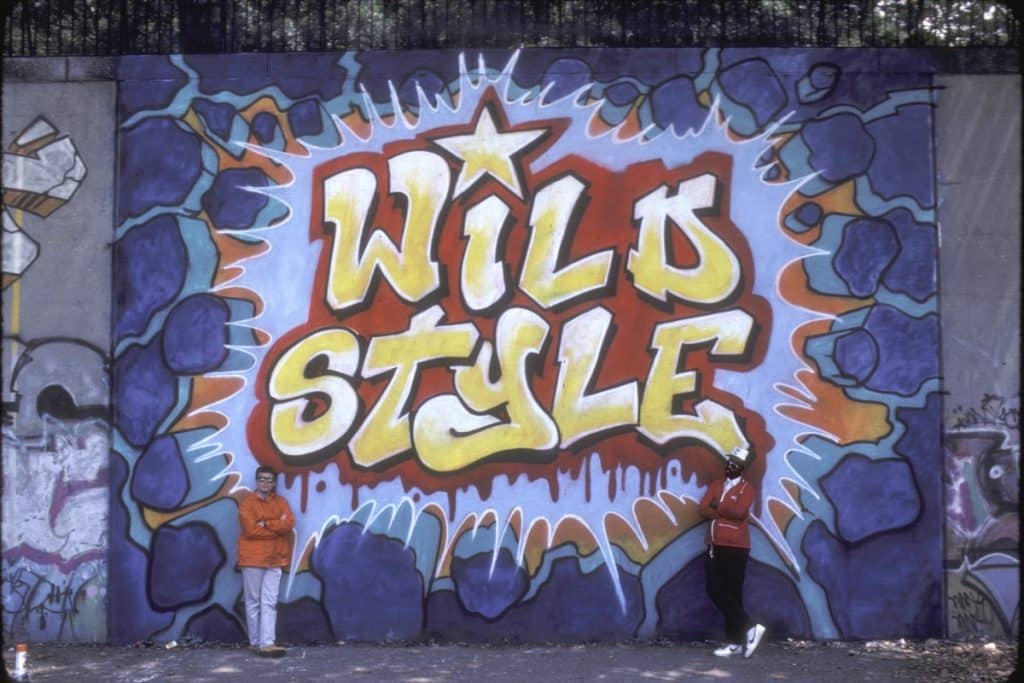 March 18, 1983: Written, produced and directed by New York film maker, Charlie Ahearn, Wild Style featured appearances from a large array of hip hop icons like Fab Five Freddy, The Cold Crush Brothers, Grandmaster Flash and Busy Bee Starski. The movie, and it's soundtrack, has been sampled by the likes of Nas ("The Genesis" off Illmatic is perhaps the most well-known hip hop reference to Wild Style), A Tribe Called Quest, Cypress Hill, Common, and MF Doom.
Fab 5 Freddy: Nas started off Illmatic with a scene from the film. It was perfect. When I was on Yo! MTV Raps, he told me how his father took him to see Wild Style when he was 8 or 9, and it had this crazy impact on him. That was special to me. I told him I wanted to work together, and I ended up directing the video for "One Love."

The Oral History of "Wild Style" | Complex
Rock Steady Crew have a cameo in Flashdance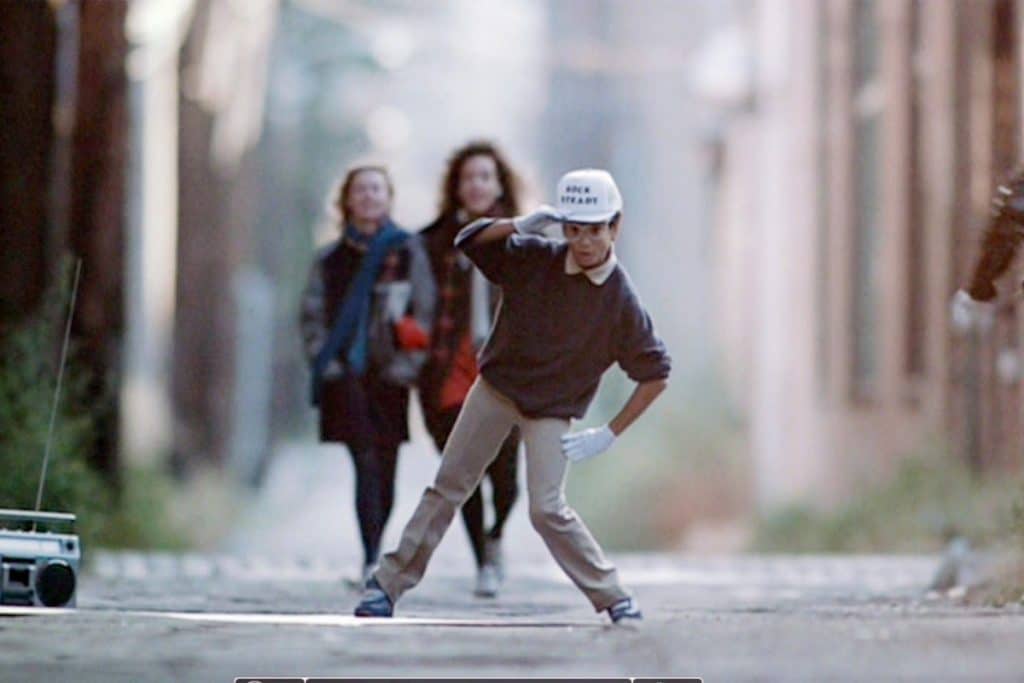 April 15, 1983: It was a small scene, but when audiences watched members of breakdancing group, Rock Steady Crew, performing moves in Flashdance, it was a pivotal moment for hip hop culture. The movie was a worldwide box office smash, becoming the third-highest grossing film of the year, and thanks to the Rock Steady crew scene, breakdancing became an overnight, global phenomenon.
Crazy Legs: There wasn't anything about selling out back then. We had no concept of what was going on and what we were getting into. There was no conscious effort by anyone to say 'Yo! Forget these people, I'm gonna go get paid'. It was very rare when you came across someone like that. Yes, Flashdance created opportunities for us. But we never had to hear anything about us selling out. It probably had a lot to do with the way we did it. We went up there raw dog. We didn't go up there and try and candy coat it or anything like that. The only time things got weird was when we were tied into Virgin records and they wanted us to do some flimsy stuff. We were always against that.

Crazy Legs Interview | Davey D
Rick Rubin launches Def Jam Recordings with LL Cool J's "I Need a Beat"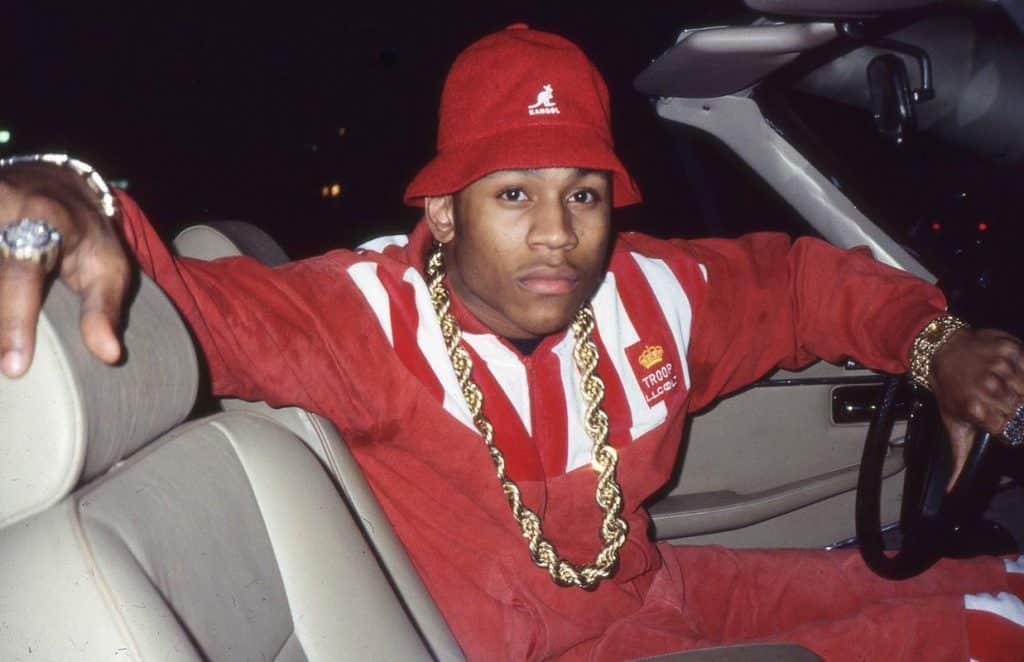 1984: Founded in Rick Rubin's dormitory in Weinstein Hall at New York University, Def Jam would go on to become the hip hop record label for the next few decades. While "It's Yours" was technically the first single to feature a Def Jam logo, the T La Rock & Jazzy Jay single was distributed by Partytime Records.
"I Need a Beat" was the first official Def Jam release, featuring a brash 16-year old LL Cool J over a sparse Rubin and Jazzy Jay production. With over 100,000 copies sold, the single established Def Jam and played role in helping the label sign a distribution deal with Columbia Records
Rick Rubin: It was a beat that I programmed at the dorm room on a DX drum machine. I think that was the first one that we ever recorded with LL. He came over with lots of lyrics, just pages and pages of lyrics, though not necessarily arranged into songs. I helped pick some of the lyrics and arranged them into a song. Back then, I would say LL was kind of a nerdy 16-year-old kid. He was really smart, well read. He came to the dorm room and was very motivated. He's one of the more hardworking artists I've worked with, even from then. And I felt like he really kept to himself. He was friendly with the other artists, but I felt like he was a little bit of a loner type guy. He was in his head a lot. It was different than so many artists that were much more outgoing.

Rick Rubin: My Life in 21 Songs | Rolling Stone
Run-D.M.C. becomes the first rap album to be certified gold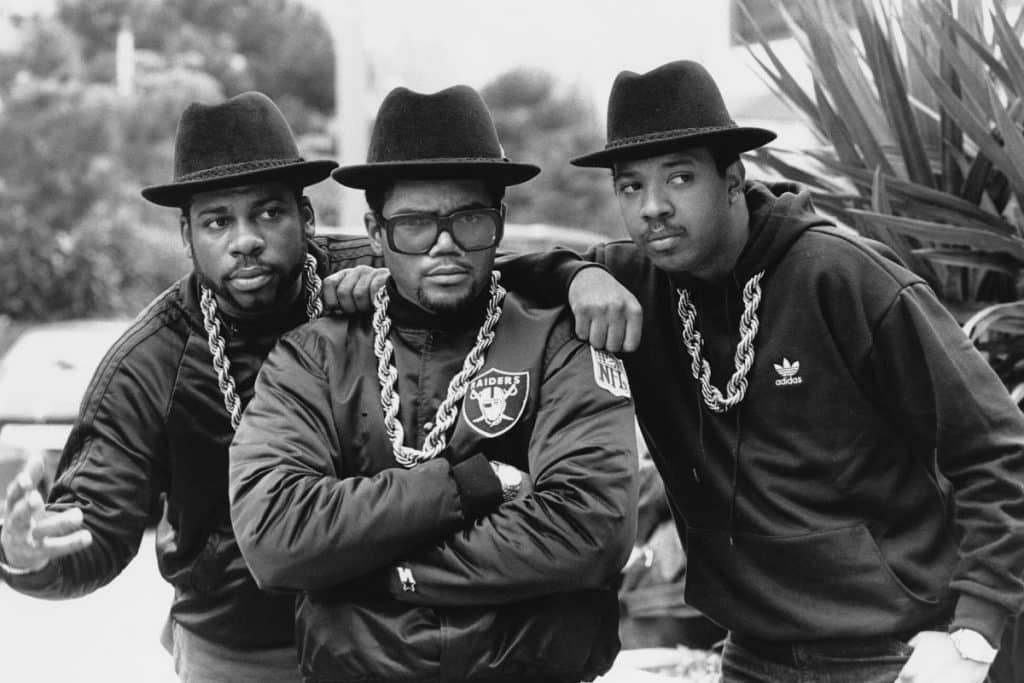 December 17, 1984: Run-D.M.C.'s debut becoming the first rap album to be certified gold was only one of the many milestones the trio set with this project. Coming straight outta Hollis, Queens, Run-D.M.C. presented a tougher, b-boy look than the disco-inspired rappers before them; created the first rap-rock song with "Rock Box" and built on Melle Mel's socio-political content with "It's Like That."
"La Di Da Di"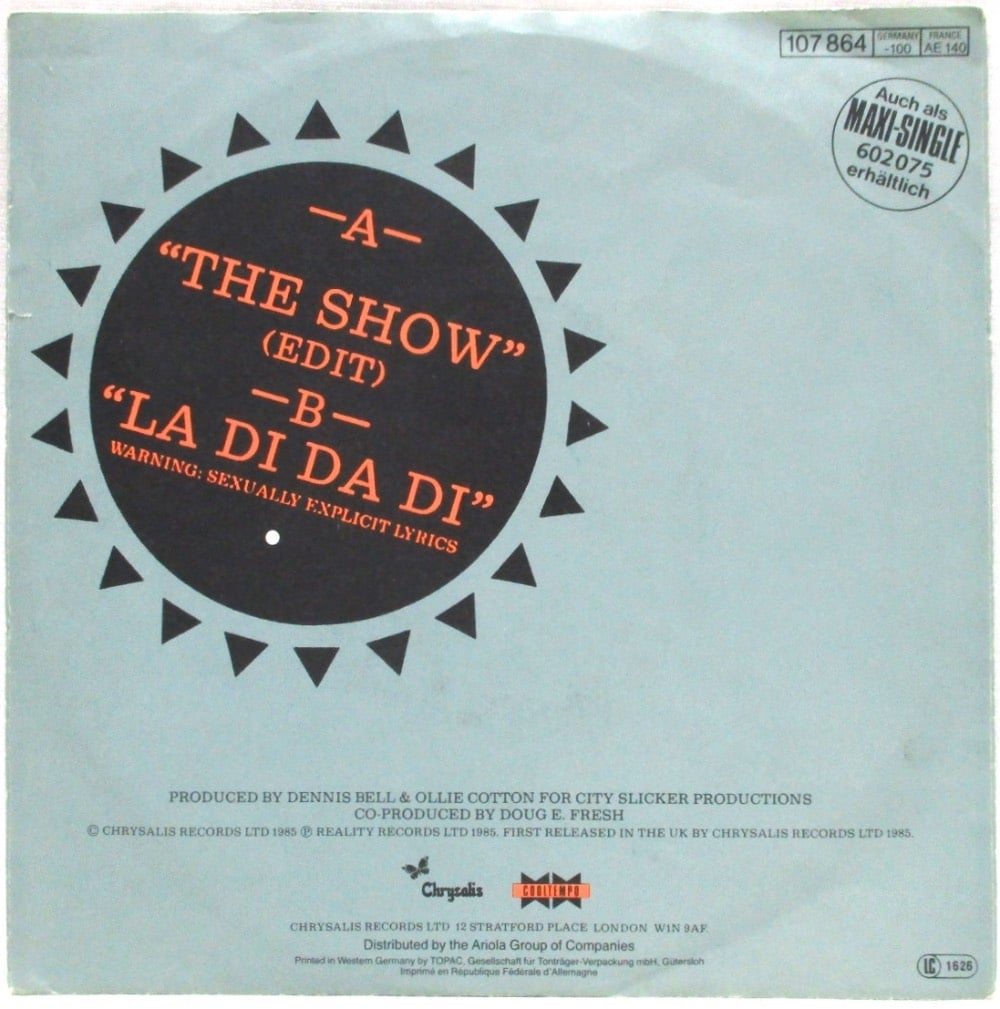 August 13, 1985: When Doug E. Fresh and MC Ricky D (later known as Slick Rick) dropped "The Show" back in 1985, they couldn't have imagine that the record's b-side "La Di Da Di" would go on to become the most sampled hip hop songs of all time. The record would also introduce the world to Slick Rick, who later became rap's most imaginative storytellers with his debut album, The Great Adventures of Slick Rick inspiring a whole new generation of rappers, from Nas to Raekwon to Jay-Z.
Slick Rick: Doug E Fresh was the Human Beat Box, which means we didn't need to hire anybody. He would just do his beat box, and I'd do a story on top of it, and there it was. You could go to any club and as long as they had two microphones we could make a party. Doug was already signed to a record label, and I wasn't, so Doug decided that he wanted to make a record. He stepped to the people that he had to, and they agreed to let him make the record. You know, you tell Doug E what record to mimic, like I'd say mimic "Impeach the President," which is what "La Di Da Di" was based on, and he would do it with his mouth. So he mimicked the record and I did the rap that I had already wrote and knew by heart, and it took off right away.

Slick Rick the Ruler | SubMerge
Schoolly D kicks off gangsta rap with "P.S.K. What Does It Mean?"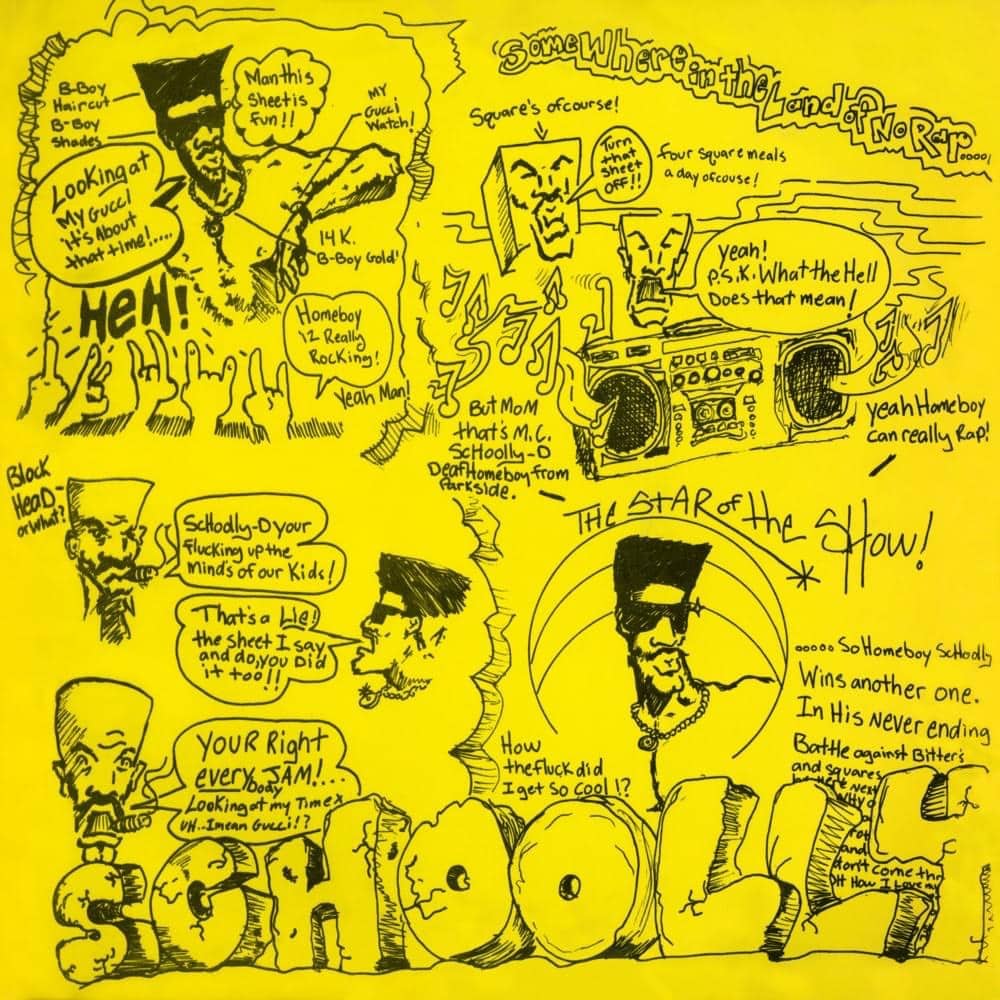 1985: The birth of gangsta rap didn't happen in L.A., as it's so commonly believed, but rather in Philadelphia, when a local rapper by the name of Schoolly D released a single via his independent label Schoolly D Records. The booming "P.S.K. What Does It Mean?" with drums so hard they threatened to blow your speakers, became the blueprint for Ice-T, who became the blueprint for Ice Cube, who became the blueprint-you know how the story goes.
Ice-T: Now, I was inspired by Schoolly D. Schoolly D made a record called "P.S.K," which was about the Park Side Killas. I was at a club, first time I heard "P.S.K," and I was like, "This is the dopest shit."

Ice-T | Red Bull Music Academy
Marley Marl discovers sampling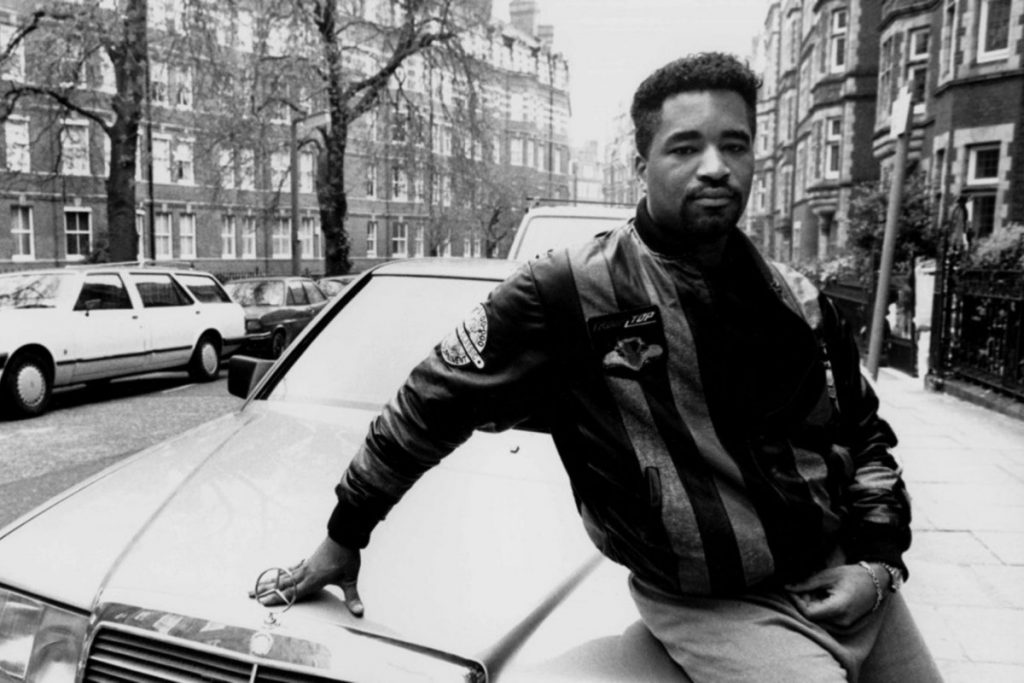 1985: Before Marley Marl discovered sampling, hip hop producers were basically just looping up breakbeats and extending them with two turntables. But one day, during an internship at Unique Studios where he was working on a Captain Rock record ("Cosmic Blast"), he discovered, by accident, that he could take a kick or snare from any record and reprogram his own beat.
Marley Marl: One day I was in the studio, and I was working on a Captain Rock record. And what happened, I was actually trying to get a riff off of a record. I made a mistake and got the snare in there before the sound came. I was truncating the vocal part but the snare was playing with the beat — we was truncating while the beat was playing. Thank God the beat was playing, because it probably wouldn't have happened if the beat wasn't playing. So I was playing it and the snare sounded better than the snare that I had from the drum machine when I was popping it. I was like, "Yo, hold on." I started rocking it — and then it just smacked me in the face what just happened. I was like, "Hold up!" This will enable me to take any kick and a snare from any record that people love and make my own beat.

Marley Marl On The Bridge Wars, LL Cool J And Discovering Sampling | NPR
KRS-One ignites The Bridge Wars with "South Bronx"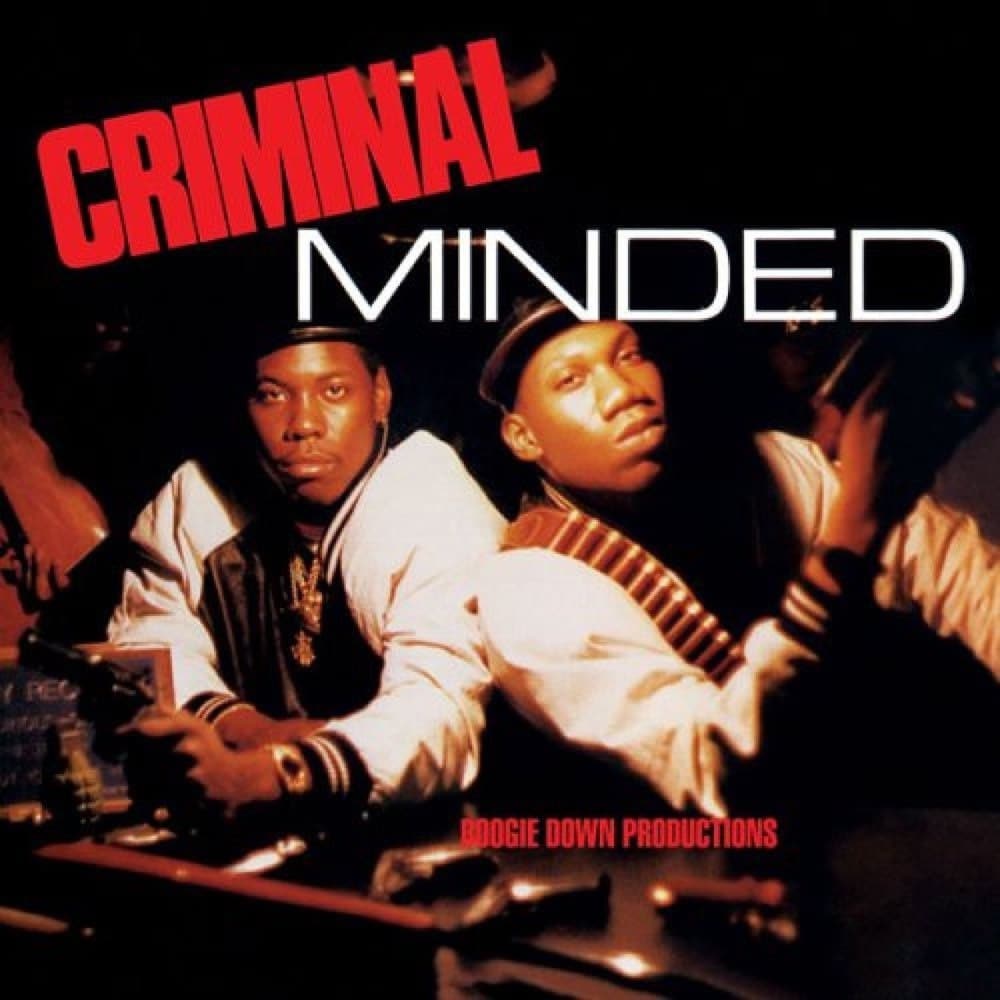 1986: MC Shan was never the same after this. The Queensbridge legend would go on to have a very successful career – he produced and rapped on the 1992 number one hit "Informer" by by Canadian reggae musician Snow – but was never mentioned in the same breath as KRS-One, Rakim, Kane or Kool G Rap.
KRS-One: It was real for a good year – maybe six months – it was real in the field. Bronx was lookin' at Queensbridge, Queensbridge was lookin' at Bronx, you couldn't go into certain neighborhoods, it was real for a minute. We managed to get past that, because there were certain rules. Zulu Nation was more respected then by the artists than now, and we would never go past peace, love and unity and safely having fun. So we were able to have a battle without throwing guns, because the first one who drew the gun, Zulu Nation would punk you right there on the spot.

KRS-One – The Unkut Interview | unkut.com
Ice-T defines West Coast gangsta rap with "6 in the Mornin'"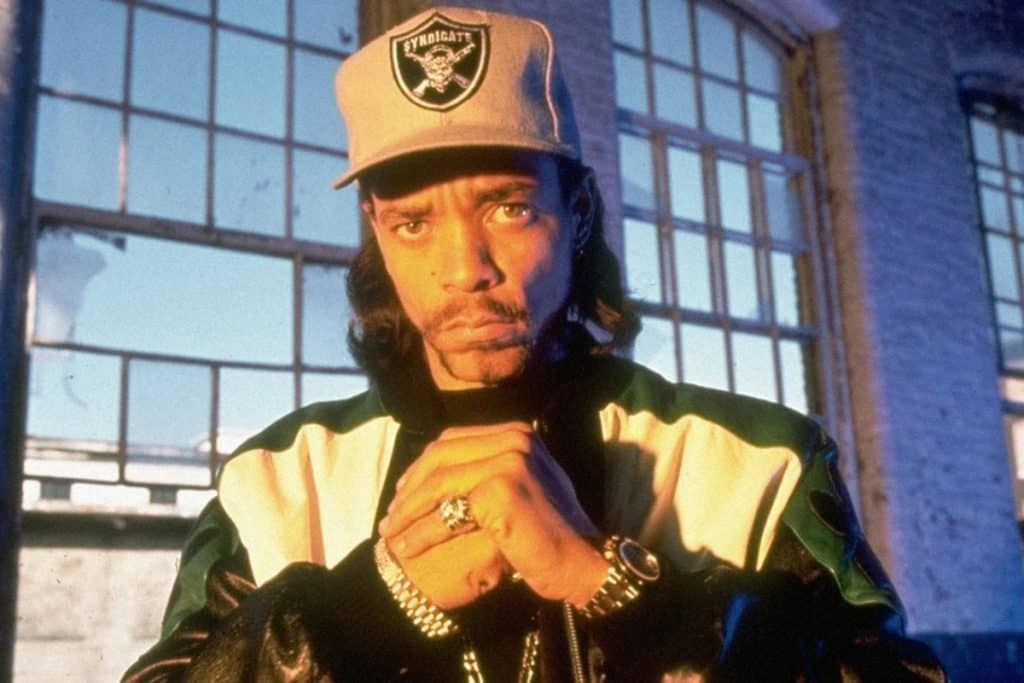 1986: Inspired by Philly rapper Schoolly D's "P.S.K. What Does It Mean?", L.A. rapper Ice-T (who was born in New Jersey) wrote "6 In The Mornin'" in his Hollywood apartment and paired it with a funky, minimalistic beat by The Unknown DJ. The song took off and became the defining gangsta rap record, paving the way for up-and-coming generations of rappers, including Ice Cube and Eazy-E, to incorporate L.A. gang culture into their lyrics.
Ice-T: The B side wins again, "6 In The Mornin'" is just an adventure of one person's journey but it's really, I write faction. It's a fictional story using factual occurrences but the occurrences could've happened from a lot of different people, but it makes a good adventure. So all the things in the story happened but maybe not to me but Ice-T lived this adventure.

Ice-T | Red Bull Music Academy
Rakim takes the art of rapping to another level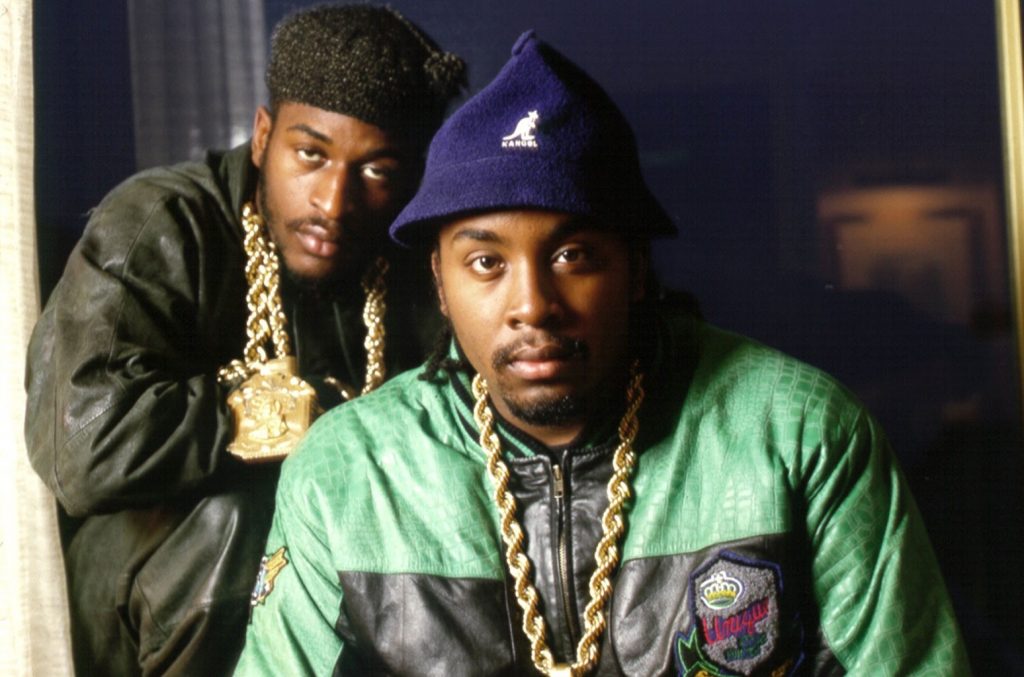 1986: "I came in the door, I said it before / I never let the mic magnetize me no more." Rap was never the same after Rakim uttered those lines in his smooth, laid-back flow on Paid in Full. Suddenly the loud, brash simplistic rhyme patterns of rappers like Run-D.M.C. and LL Cool J felt old school, while a new generation of top-tier lyricists were beginning to form. You can trace a direct line from Rakim to Nas to Kendrick, and it all starts with this album.
Rakim: When I started writing rhymes, the closest thing I could identify as being like what I was trying to do was Coltrane. I started incorporating into my delivery how Coltrane played the sax. Like, I tried to rhyme so you couldn't hear me take a breath. I was implementing different rhythms, syncopated rhythms, and different styles into my delivery. You could say I was feeding my ego and building a style at the same time. As the albums went on, it got more intricate, but it all came from mastering time and space through jazz. Listening to Coltrane—unless he was playing a hook, you'd never hear him play the same riff twice. So I trained myself to never spit the same style in a song twice. I would start with one style and never repeat it.

An Interview with Rakim | Believer Magazine
Raising Hell becomes the first rap album to be certified platinum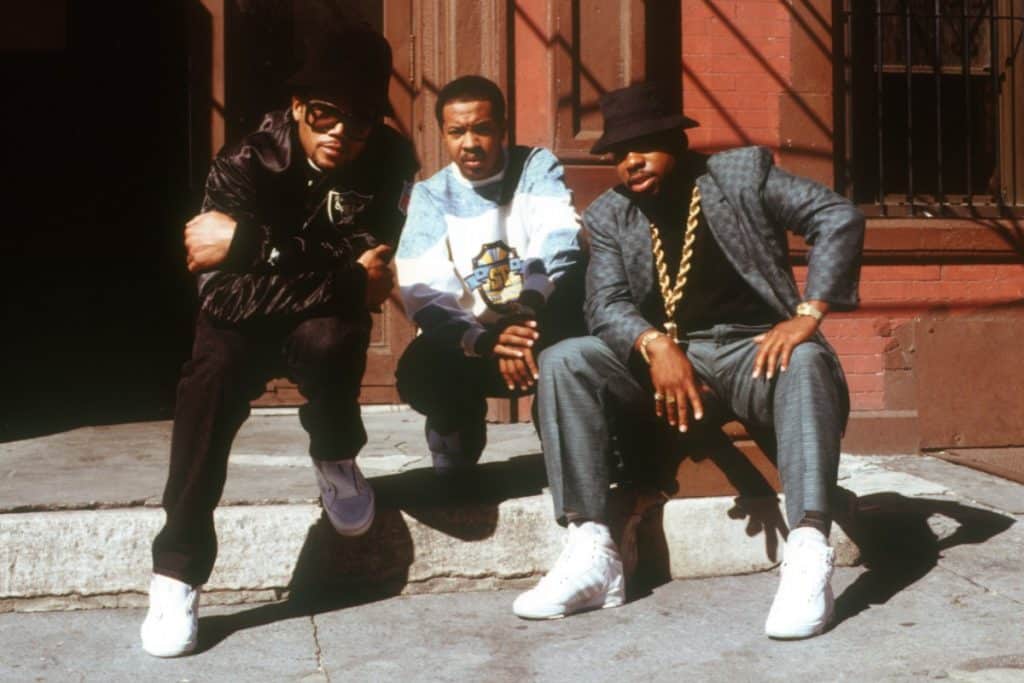 July 15, 1986: Following the success of their first two albums, Run-D.M.C. returned home to Queens after months of touring, where they wrote the majority of Raising Hell.
The first single "My Adidas" made some noise, and led to their partnership with the brand (more on that later), but it was their collaboration with Aerosmith on "Walk This Way" that really took Run-D.M.C., and hip hop as a culture, to the next level.
The song was the first time rap rock collaboration that got everyone's attention, and it propelled the album to the stratosphere; Raising Hell became the first hip hop record to go platinum after less than two months.
Licensed to Ill becomes the first rap album to top the Billboard 200
February 2, 1987: Raising Hell might have been the first hip hop record to go platinum, but it was the Beastie Boys' debut album, Licensed to Ill, that became the first rap chart topper. The album was certified diamond in 2015 after moving over 10 million units in the U.S.
Russell Simmons: They showed us that their brand of Hip Hop was more interesting to the core Hip Hop fans than I thought. It was for people who loved Hip Hop, but for alternative and a big part of the critics and the support for Hip Hop that was coming out of the punk clubs, Chester Lounge, Danceteria, and all these alternative downtown clubs. The Beastie Boys had created their brand of Hip Hop. But then the bridge between their brand and the core for what we understood was the best of both worlds. When I saw it, I understood it.

Russell Simmons, Chuck D, DMC & More Examine Beastie Boys' "License To Ill" Impact | HipHopDX
Salt-N-Pepa break down barriers with Hot, Cool & Vicious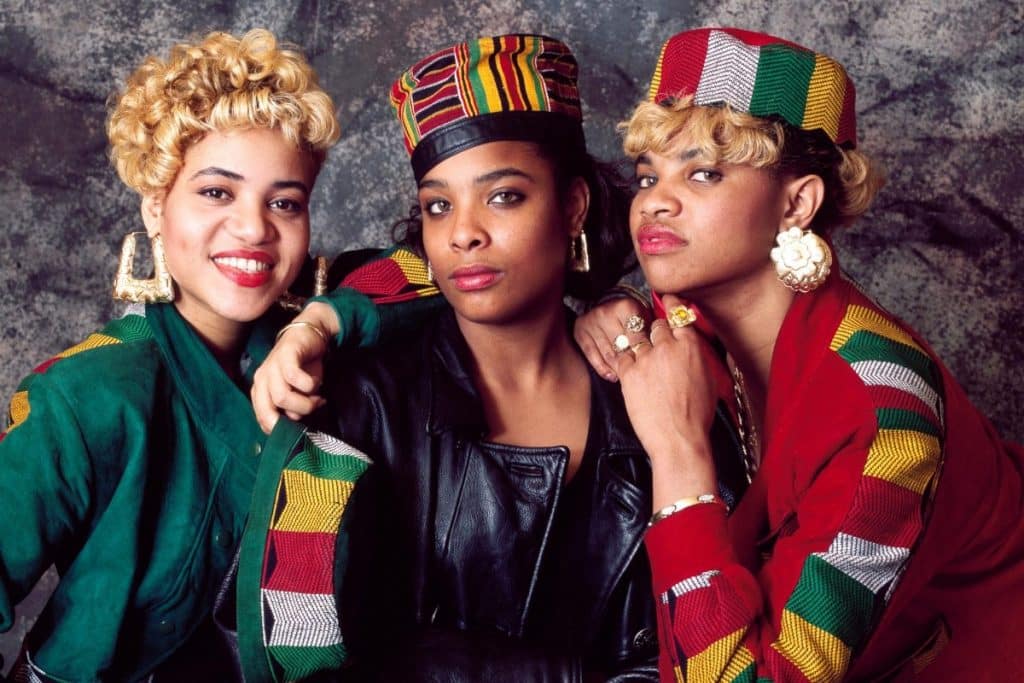 1987: After Brooklyn native Cheryl James met Queens resident Sandra Denton at Queensborough Community College, the pair decided to join forces and work on music together under the name Salt-N-Pepa. The result was their debut album, Hot, Cool & Vicious, which became the first rap album by female act to achieve gold and platinum status.
Yo! MTV Raps premieres on MTV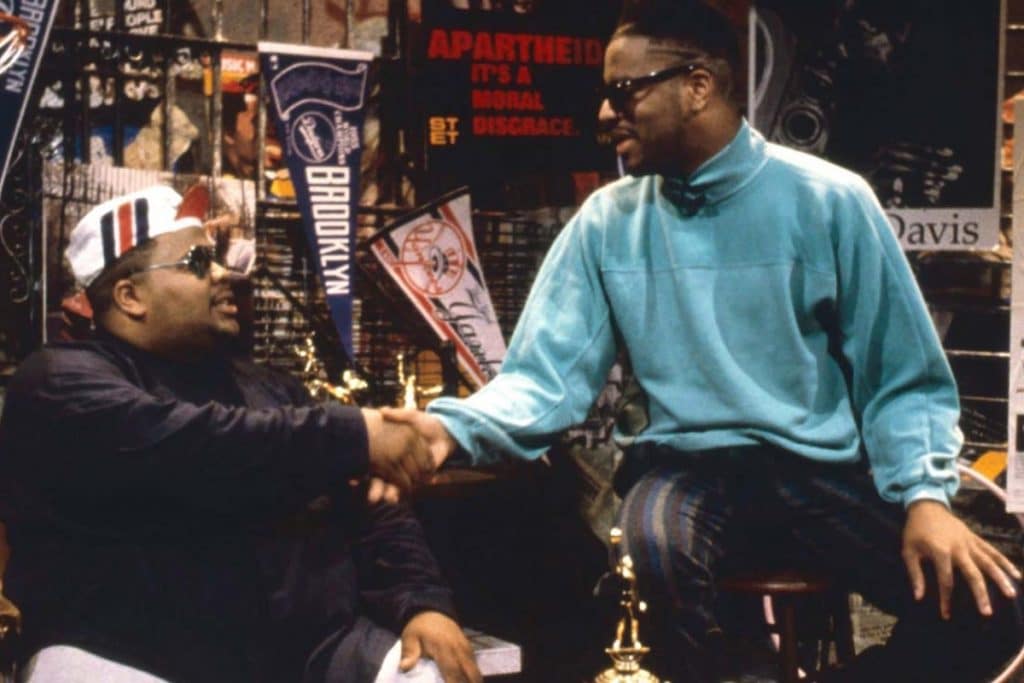 August 6, 1988: Looking back at it now, it's hard to believe, but when Yo! MTV Raps became broadcasted on the network, it was the first national hip hop show in history. With hosts Fab 5 Freddy, Ed Lover and Doctor Dré, the show featured interviews with legendary rap acts like N.W.A, Public Enemy, LL Cool J, Ice-T, De La Soul, Eric B. & Rakim and EPMD. Yo! MTV Raps was also there to capture the break-up of The Leaders of the New School.
Fab 5 Freddy: It was amazing, man. Some of the most touching stuff that still happens to this day is somebody from a foreign country–like, I just met this chick from Russia who was telling me that people she was related to in other parts of Europe would tape my show and mail my VHS tapes to Russia and like her whole neighborhood, they would come and watch the videos or whatever and got done with the culture that way. So those type of stories, people in Africa getting a chance to see the show and diving in without knowing the English language, it still blows my mind 'til this day.

The Amazing Oral History Of 'Yo! MTV Raps' | Vibe
Tone Loc's "Wild Thing" becomes the first rap single to be certified platinum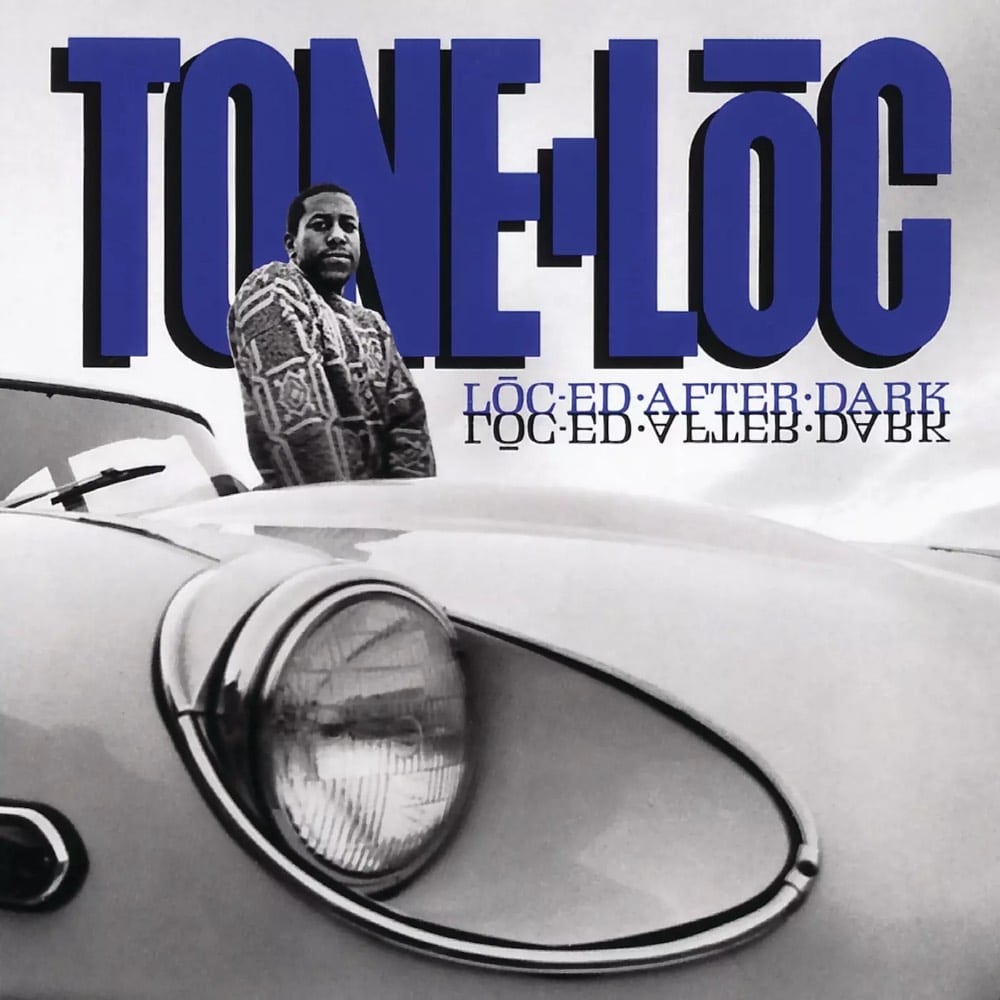 1988: Released on independent record label Delicious Vinyl and featured on Tone Loc's debut album, Lōc-ed After Dark, "Wild Thing" peaked at number two on the Billboard Hot 100 in February 1989 and quickly sold a million copies. The single was produced by Matt Dike and Michael Ross with additional writing credits from Young MC, best known for his 1989 hit "Bust a Move". The album itself also did very well on the charts, hitting number one on the Billboard 200 and spawning other successful singles – "Funky Cold Medina" and "I Got It Goin' On."
DJ Jazzy Jeff & The Fresh Prince become the first hip hop artists to win a Grammy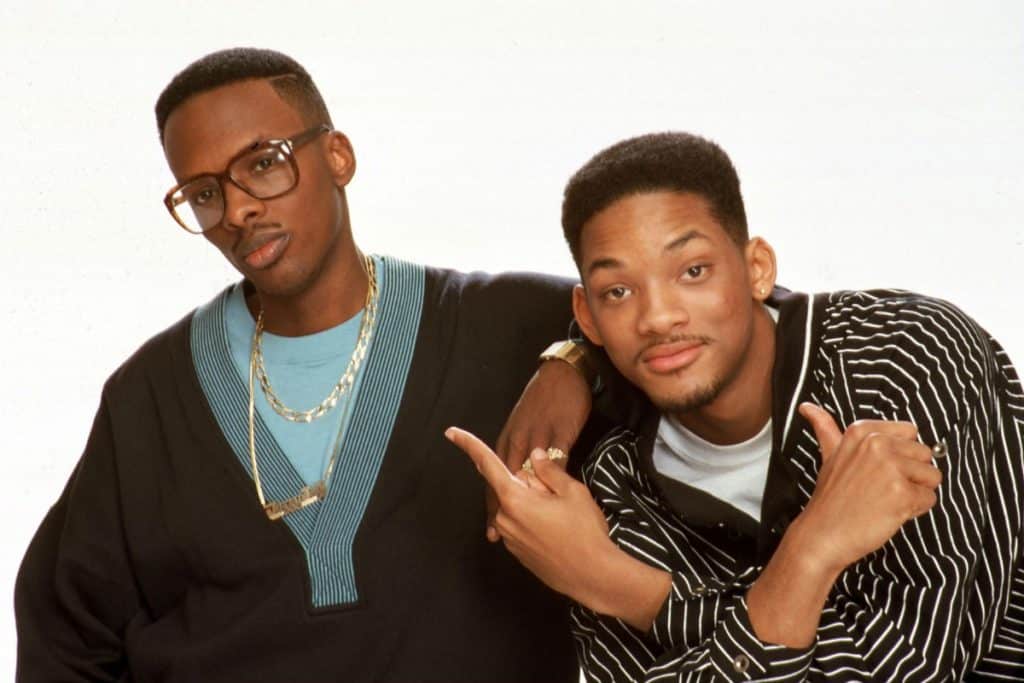 February 22, 1989: When DJ Jazzy Jeff & The Fresh Prince become the first hip hop artists to win a Grammy for Best Rap Performance, it was a bittersweet moment for the culture. At first, it was validation by a prestigious institution for an art form that had only been around commercially for a decade, but when the awards presentation wasn't televised, the duo decided to boycott the ceremony.
"Self Destruction" tops the Billboard Hot Rap Songs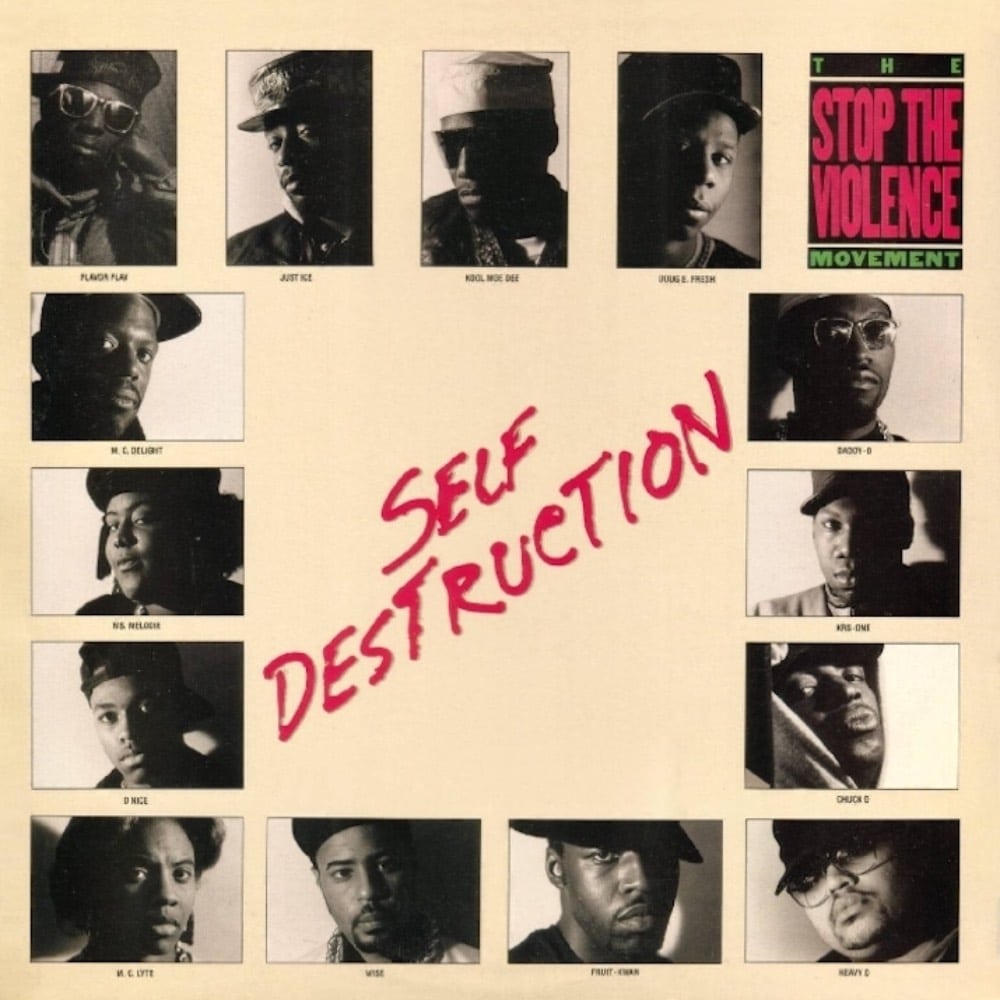 March 11, 1989: With hip hop's growing presence in the music industry, Billboard introduced a new chart under the name Hot Rap Singles. The first rap to top the chart was born out of tragedy; when a young fan was killed at a Boogie Down Productions and Public Enemy show, KRS-One gathered his peers together to record a song about anti-violence and donate the money to a charity.
The record included appearances from KRS-One, D-Nice, Ms. Melodie, MC Delite, Daddy-O, Wise, Frukwan, Kool Moe Dee, MC Lyte, Doug E. Fresh, Just-Ice, Heavy D, Chuck D and Flavor Flav.
"Fight the Power" / Do the Right Thing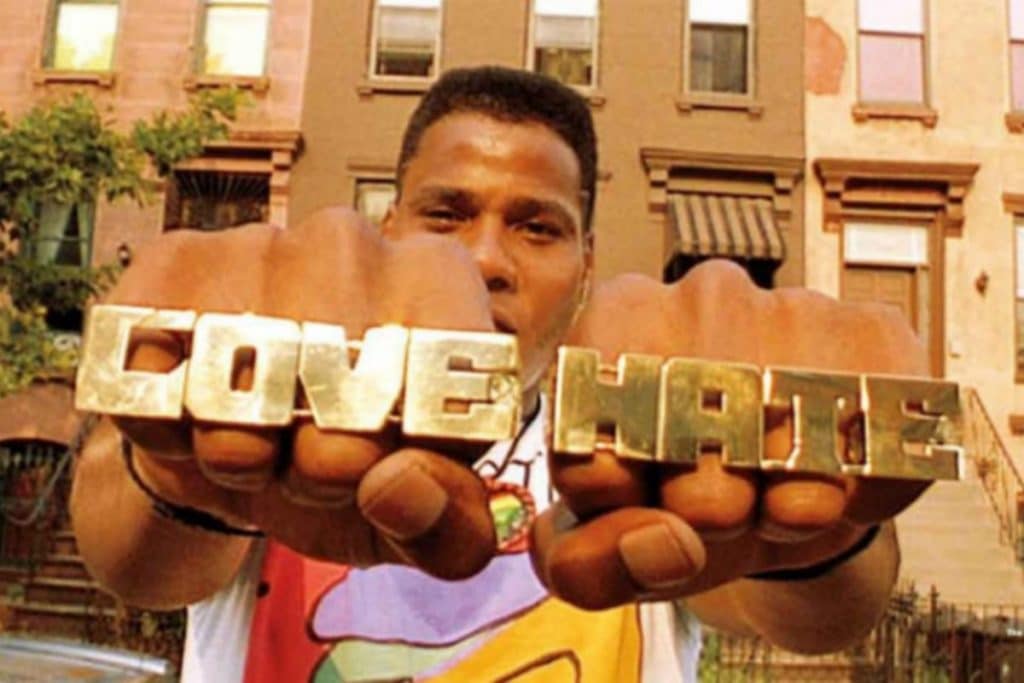 1989: It's hard to appreciate the truly great moment of one of the greatest Public Enemy songs appearing in arguably the greatest Spike Lee movie. As the story goes, Spike Lee was looking for a musical theme for Do the Right Thing and asked Public Enemy to compose a fitting song, and thus "Fight the Power" was born. The song was later featured on their 1990 album, Fear of a Black Planet.
N.W.A's Straight Outta Compton goes platinum despite limited radio play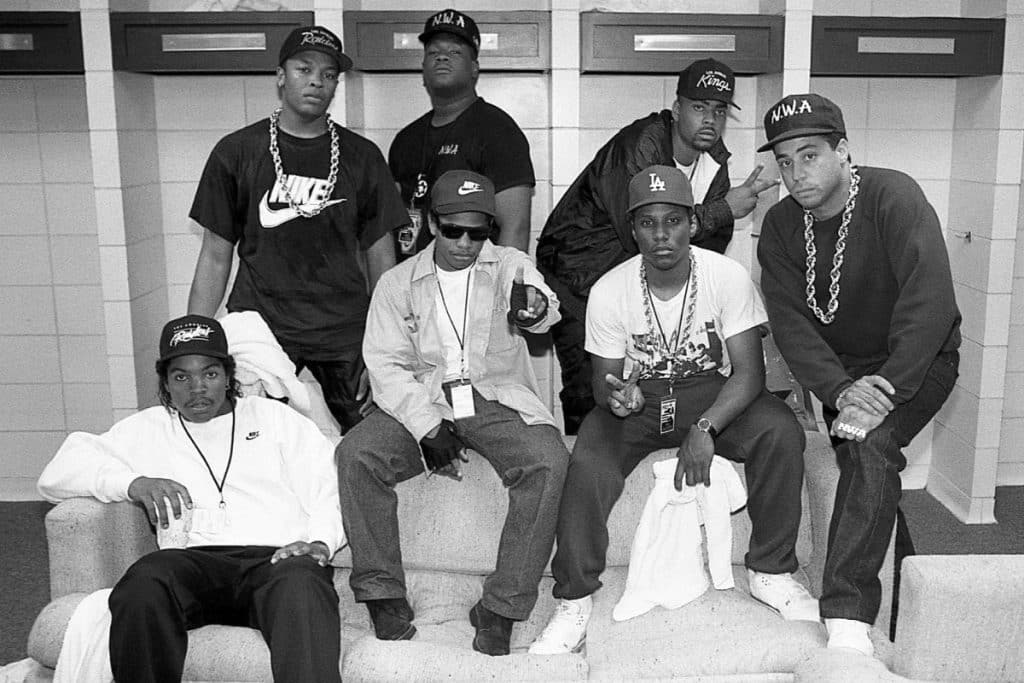 July 1989: Released on August 8, 1988, Straight Outta Compton spawned three singles – "Straight Outta Compton", "Gangsta Gangsta" and "Express Yourself" – although none of them received any significant airplay.
But it didn't matter, the FBI gave N.W.A. better publicity than any radio station could have, sending them a warning letter about "Fuck tha Police," which only added to the group's street legend. Just under a year later, the album received gangsta rap's first platinum certification.
Ice Cube links up with The Bomb Squad for AmeriKKKa's Most Wanted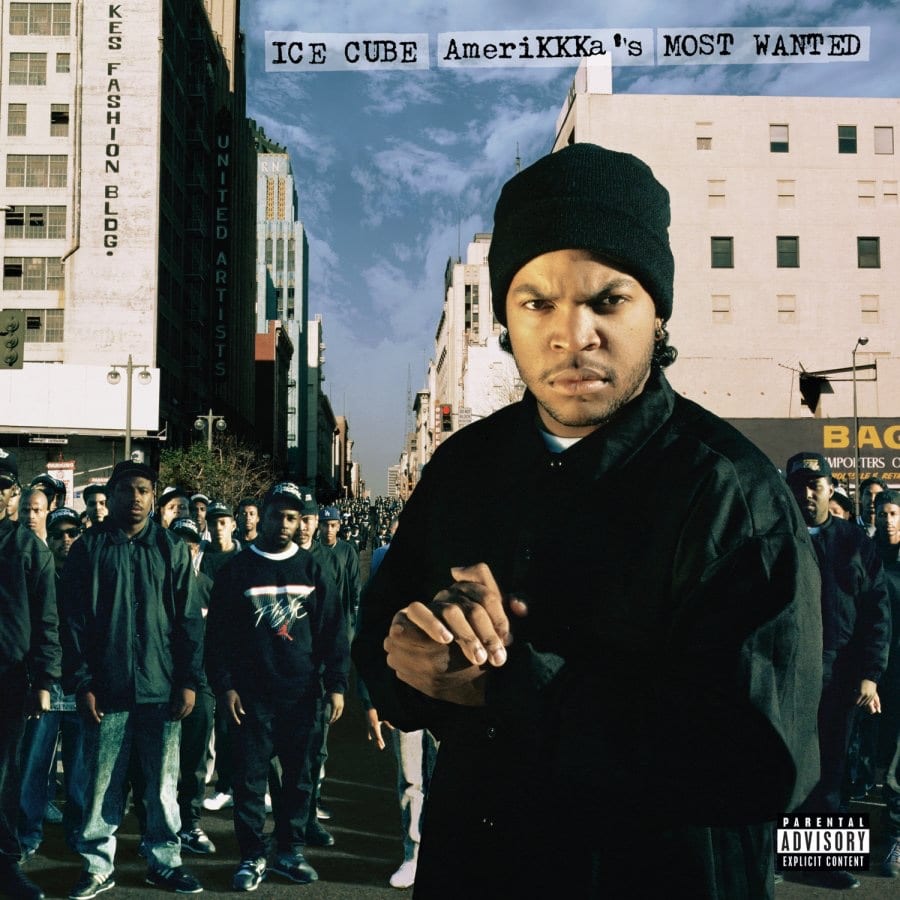 May 16, 1990: On the outs with his former group, N.W.A., Ice Cube was now on the solo tip. The Compton rapper originally wanted Dre to produce his album but Jerry Heller blocked that, so he turned to the next best thing – The Bomb Squad over on the East Coast. AmeriKKKa's Most Wanted merged the chaotic funk of The Bomb Squad with Cube's incendiary vocals, resulting in quite possibly one of the greatest debuts of all time.
Ice Cube: I think Dre's sound was heavier, crisper, but I just thought the Bomb Squad had the complicated funk. So I was happy either way. I wanted Dre to work because I knew what I was getting with Dre. I didn't know what I was getting with the Bomb Squad. I didn't know if they even wanted to do my whole record, I was just hoping to get them to do two or three songs. So, when they agreed to do the whole thing, I fuckin' did a backflip.

SPIN 30: Ice Cube Reflects On His Back-Against-The-Wall Debut, 'AmeriKKKa's Most Wanted' | SPIN
Grand Upright Music, Ltd. v. Warner Bros. Records Inc.
December 17, 1991: When old heads sit around complaining about hip hop, they usually talk about how there's no more soul left in the music these days. A big reason for that is because of this lawsuit, which made sampling very expensive overnight. After Biz Markie sampled the Gilbert O'Sullivan song "Alone Again (Naturally)", he was sued by the songwriter and the court ruled that sampling without permission constituted copyright infringement.
This changed everything in hip hop production – once it became necessary to clear every song used with the original rights holders, it was no longer viable to create dense sample collages. Producers started moving from The Bomb Squad style of production to Dr. Dre's use of interpolation, and then eventually to the Swizz Beatz and Neptunes style, which rarely relied on other records.
In 1991, O'Sullivan sued Markie over the "Alone Again" sample. This case came hot on the heels of a $1.7 million settlement between members of '60s rock group The Turtles and the rap group De La Soul all stemming from a few seconds of a Turtles' song sampled by De La. With the O'Sullivan/Markie case, one complication was that Markie and his label did initially try to clear the sample through O'Sullivan but when the singer-songwriter declined to do so, the label released the song anyway. This set up the eventual legal showdown which, unlike the previous cases, didn't get settled out-of-court but instead, ended up being decided by judge Kevin Duffy in a far-reaching decision for future sampling practices.

20 Years Ago Biz Markie Got The Last Laugh | NPR
"Deep Cover" establishes Death Row Records and Snoop Dogg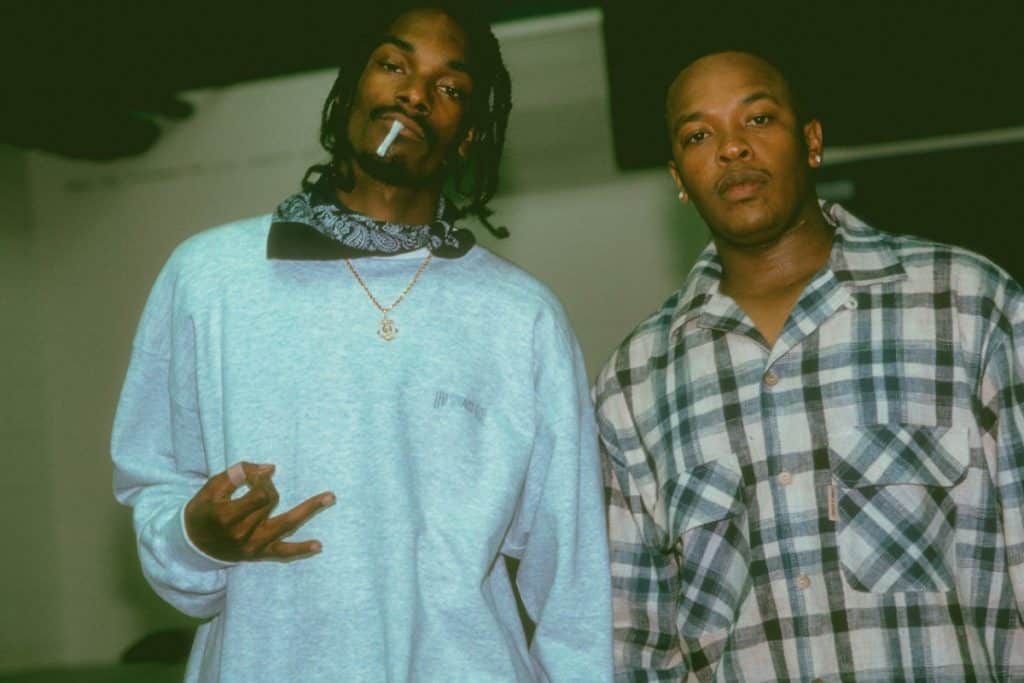 April 9, 1992: Has there been a stronger debut on record than Snoop Dogg's "Deep Cover" entrance? After leaving N.W.A. shortly after Ice Cube, Dre linked up with Suge Knight, The D.O.C. and Dick Griffey to form Death Row Records. The label's first release was "Deep Cover" which featured Dre's East Coast-inspired production with an eerie West Coast vibe, and a lanky rapper from Long Beach who sounded like the gangsta version of Slick Rick.
"Deep Cover" established Dre and Snoop as solo artists and Death Row as a record label to watch. Not long after, Death Row released The Chronic and Doggystyle in back-to-back years, with both albums hitting multiplatinum status and cementing them as the top dogs in the rap game.
Hot 97 radio station transitions to hip hop and R&B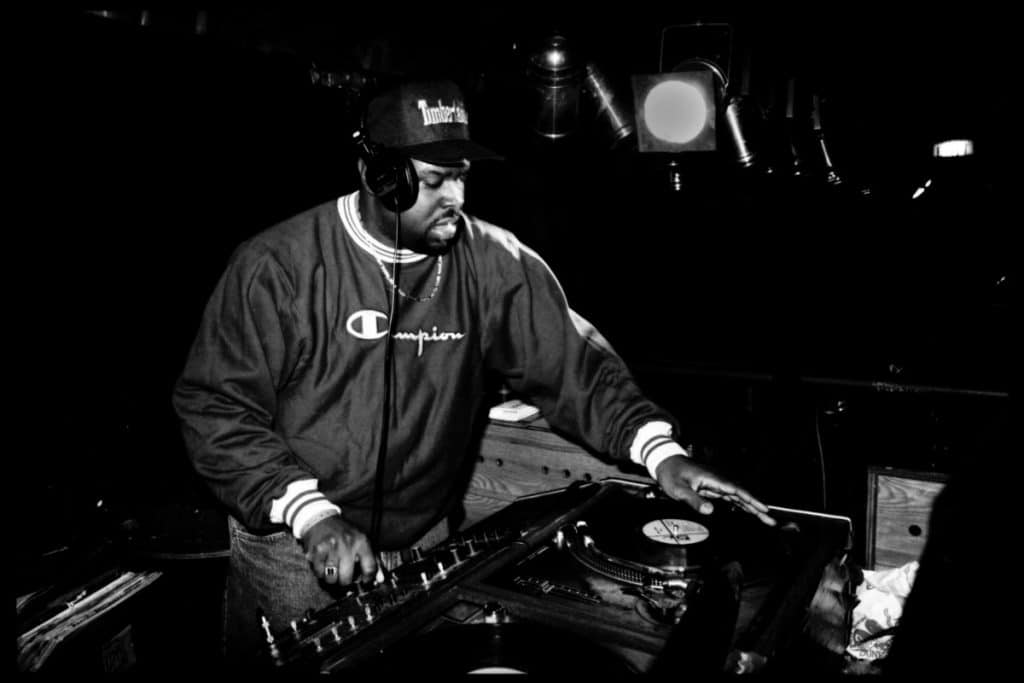 1993: It's hard to imagine now, but there was a time when Hot 97 was the radio station for hip hop music, much like The Source was the hip hop bible. In 1993, the station transitioned from playing dance and pop music to hip hop and R&B, around the same time the culture was exploding into the mainstream, thanks largely to Dre's The Chronic.
Hot 97 evolved to become one of the most important platforms for showcasing hip hop culture, and was responsible for putting the spotlight on rap acts like Nas, Biggie and Wu-Tang. The station was also responsible for nurturing multiple generations of hip hop broadcasters, DJs and journalists like Funkmaster Flex, DJ Snuff, Angie Martinez, DJ Kay Slay, Ebro Darden, Peter Rosenberg, Cipha Sounds, Miss Info, DJ Mister Cee, Ralph McDaniels, DJ Whoo Kid and plenty others.
Wu-Tang Clan and A Tribe Called Quest drop on the same day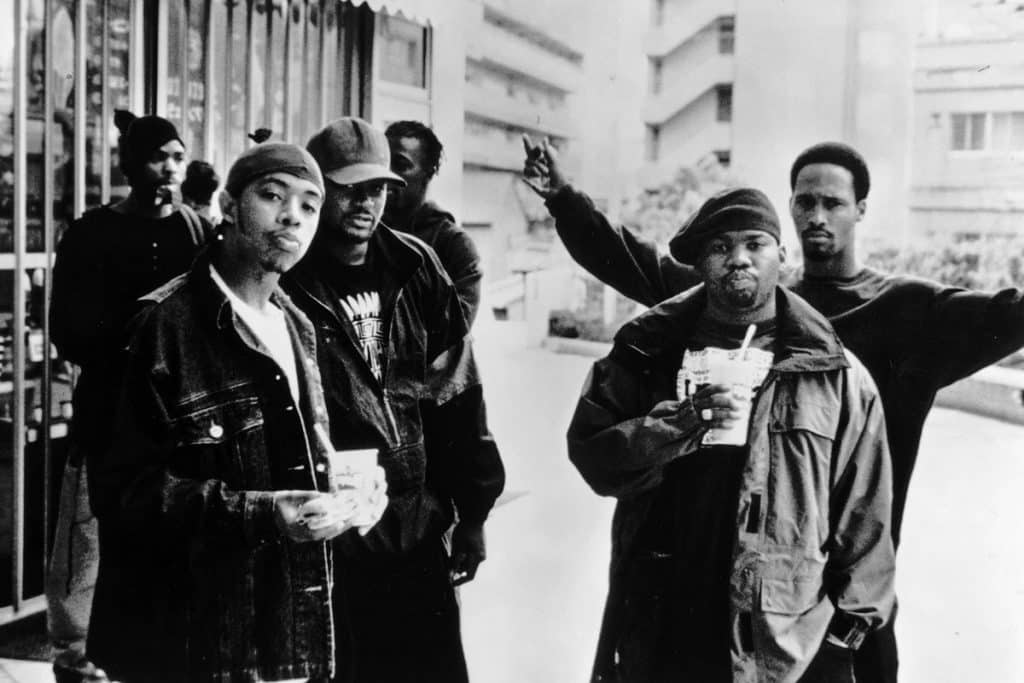 November 9, 1993: Has there been a greater release date than this? Two of the greatest hip hop albums of all time from two of the greatest rap groups of all time. To top it all off, Snoop dropped Doggystyle just a couple weeks later.
While Tribe was already established and Midnight Marauders would represent their peak form, Enter the Wu was just the start of the Wu takeover. Five years from appearing as masked figures on their album cover, the nine Shaolin rappers would appear on top of the charts, overseas festivals, spawning merchandise, movies, video games, clothing brands.
Q-Tip meets J Dilla at Lollapalooza '94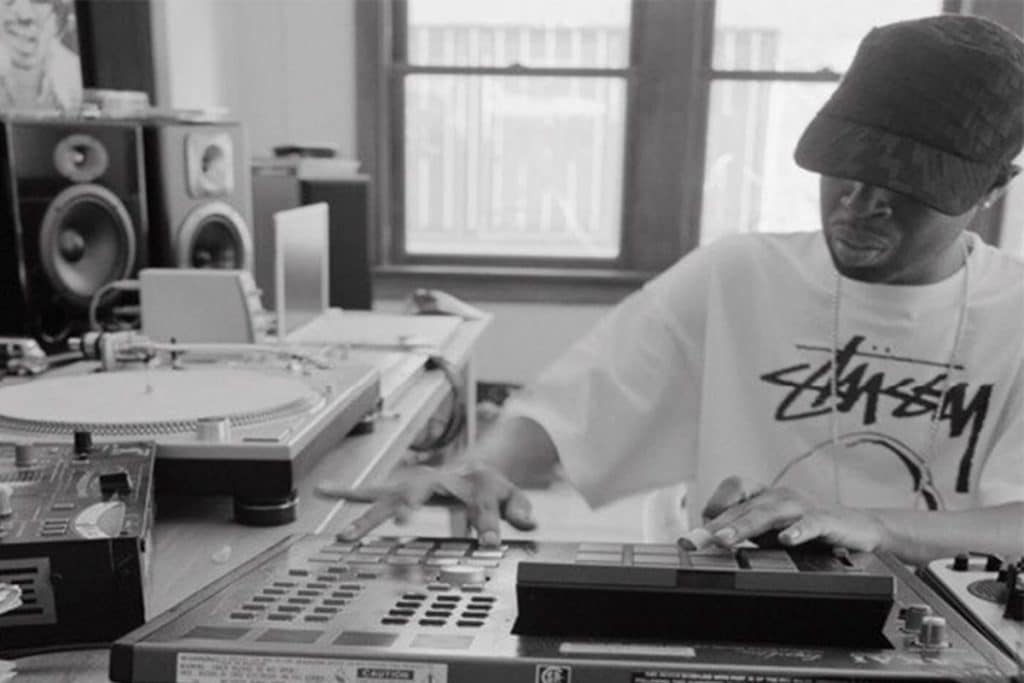 1994: After being introduced to the Detroit producer's Slum Village demo back in '94 at Lollapalooza, Tip was impressed with the beats and wanted to link up with Dilla. The two rapper-producers would work together on Tribe's last two albums – Beats, Rhymes and Life and The Love Movement, as well as Tip's solo debut Amplified. Tip also introduced Dilla to The Pharcyde, who would go on to produce seven tracks on Labcabincalifornia: "Bullshit", "Splatittorium", "Somethin' That Means Somethin'", "Drop", "Y?" and of course "Runnin'."
Dilla's production for The Pharcyde would be his highest profile placements to date – "Runnin'" peaked at no. 55 on the Billboard pop charts – and quickly made him an in-demand name for artists like Busta Rhymes, Common, The Roots, Erykah Badu and De La Soul.
Q-Tip: I'm on the tour bus, we just got off, whatever, and then he comes on. I remember Dilla had on some glasses. He came on smiling. The first thing I saw was a smile. It was like, "Oh, man. Oh, man." I was like, "What's up, man?" And he gave me his tape personally and we were doing secondary shows in certain markets with De La. I started listening to it in the back. I had my whole set-up in the back of the bus and we're driving off to the next city. And at night I was listening to it and I was like, "Ahh, what the fuck is this shit?" It was the Slum Village demo and I was like, "Damn, this shit is crushin'." And then I looked around to see if anyone was around and I was like, "This shit's ill."

Q-Tip | Red Bull Music Academy
"Flava in Ya Ear" puts Bad Boy Records on the map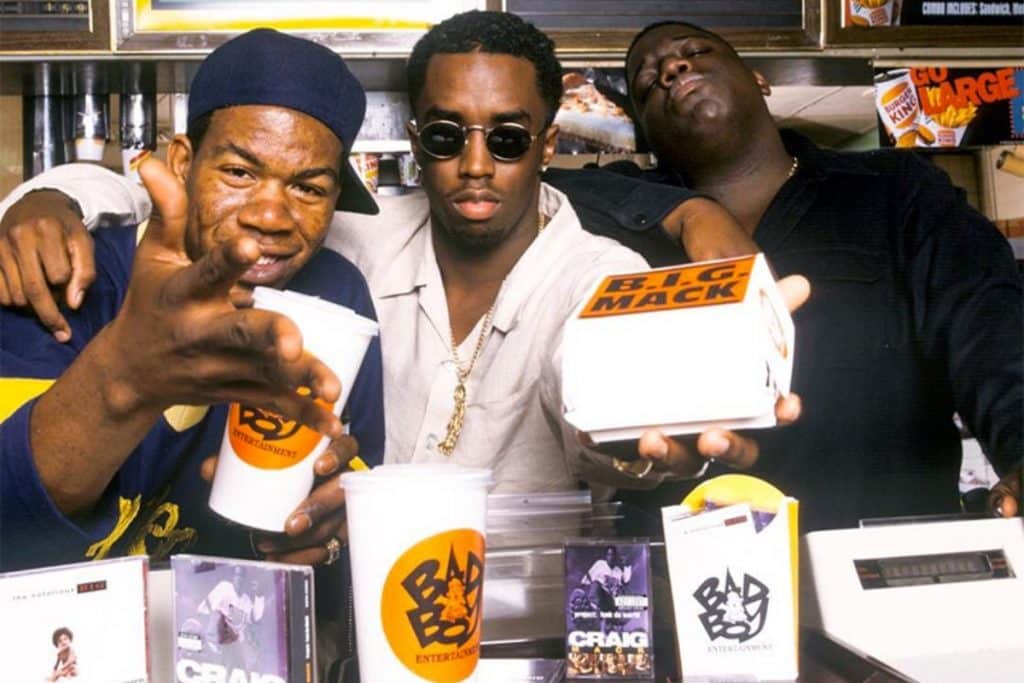 July 26, 1994: History might remember The Notorious B.I.G. as the biggest Bad Boy superstar, but in mid-1994, it was Craig Mack's "Flava in Ya Ear" – the record label's first ever release – that had everybody standing up and take notice. The platinum single peaked at number nine on the Billboard Hot 100, Big's moment wouldn't come until a few months later when "Juicy" hit the top 40.
The funny thing is that Craig Mack didn't even want to rap over the Easy Moe Bee-produced beat. Poke and Tone of the production duo Trackmasters recalled in an interview with Complex:
Craig Mack is like, 'This Mickey Mouse beat man, I don't know what the fuck I'ma do on this.' I was like, 'You are bugging!' And so we had this 30 to 50 minute argument. Puff was jumping up and down kicking the walls like, 'Ni**a, if you don't rhyme on this fucking record!' He was going in. Craig was like, 'This beat is wack, I don't know what to do on this.' Puff is like, 'You rap! Ni**a, that's what you do.' And Craig is like, 'Where's the instruments, where's the bass?' We were like, 'Ni**a, you don't feel that?' Puff basically had to drag him in the booth kicking and screaming to get on the beat. Craig didn't see it. But [in the end] he did it and it did what it did.

Trackmasters Recall The Making of Craig Mack's "Flava In Ya Ear" | Complex
First female rap acts to win a Grammy Award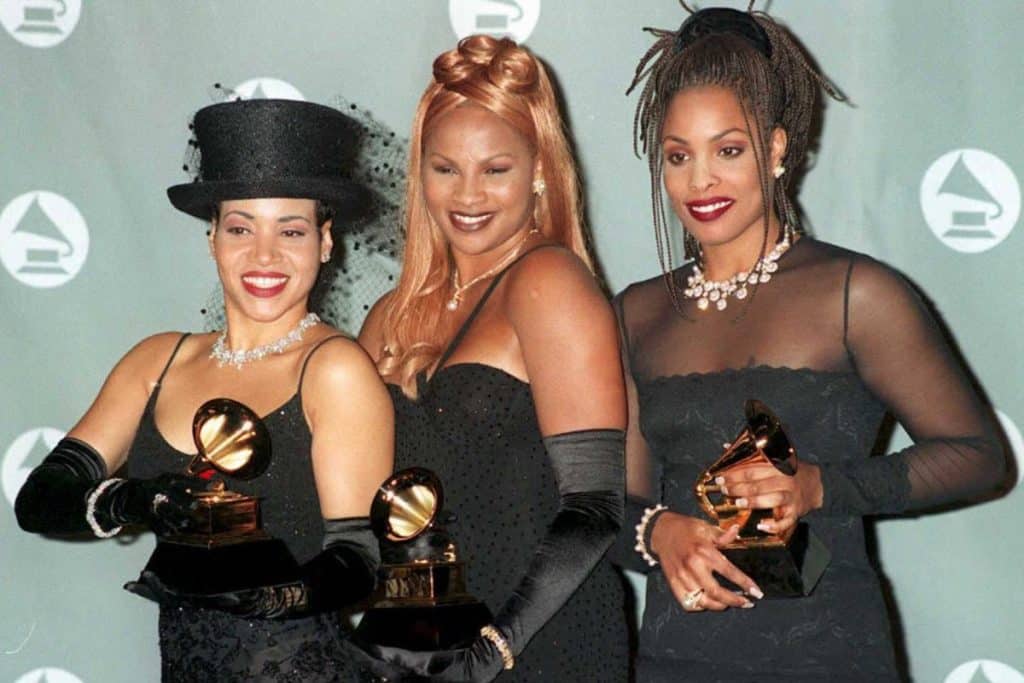 March 1, 1995: The trio won the 1995 Grammy Award for Best Rap Performance by a Duo or Group for their song "None of Your Business", making them one of the first female rap acts to win a Grammy Award, along with Queen Latifah, who won during the same year.
The 1995 Source Awards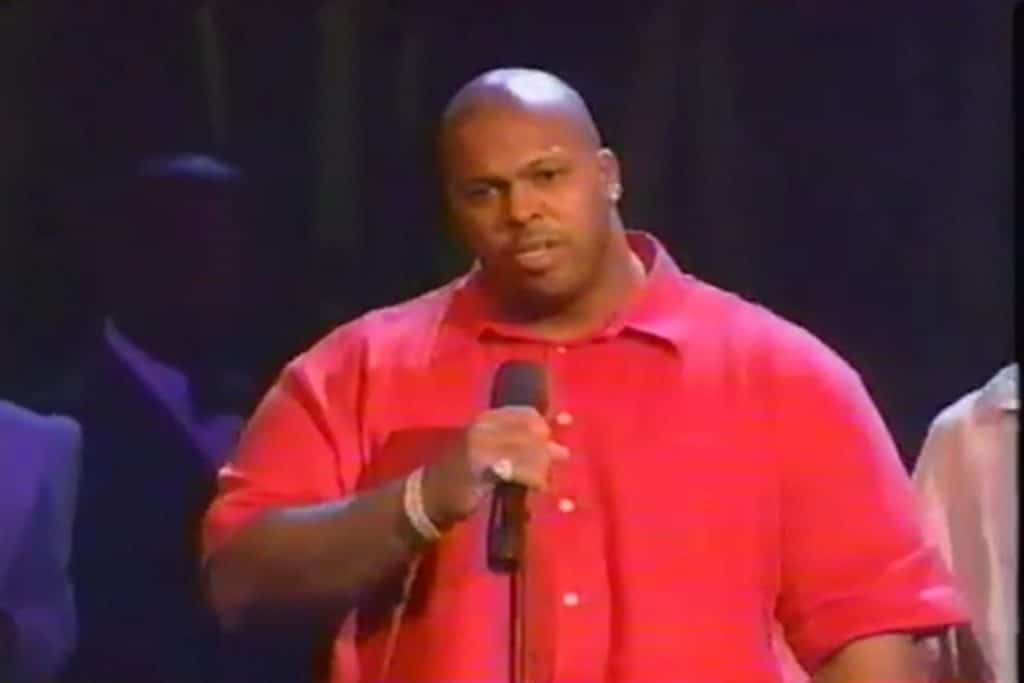 August 3, 1995: The 1995 Source Awards simultaneously revealed some of the best and ugliest things about hip hop culture. On one hand, the awards ceremony was celebrating some of the greatest talents the music had ever seen – Nas, OutKast, Biggie, Snoop Dogg, Dr, Dre, Ice Cube and Run-D.M.C., just to name a few.
On the other hand, we had Suge Knight standing on stage, in New York City, throwing sneak disses at the Puffy, while Snoop and Dre would later get booed by the majority-East Coast crowd. While all this was happening, OutKast – who had won Best New Rap Group – let everyone watching know that the South had something – a prophecy that would shift the entire rap landscape from New York to Atlanta within a decade.
Questlove: The ideology of what I considered "real" hip-hop died at the 1995 Source Awards. I was literally at its funeral – I sat three rows behind Nas. In the audience, the Bad Boy camp was on the far right, all the West Coast and the Southern rappers were in the middle, and on the far left were all the New York underground rappers like Wu-Tang, Mobb Deep, Nas, Busta Rhymes, and us. That was the day when Suge called out Puffy, and there were fights in the audience. I felt like a bomb was going to detonate. Nas' body language that day told the whole story of where we were about to go. The more he got ignored for Illmatic, I literally saw his body melt in his seat. Almost like he was ashamed. He just looked so defeated. I was like, "Yo, he's not gonna be the same after this shit." None of us were the same after that day. I feel like the true underground lost its oxygen that night.

?uestlove: 15 Years | Pitchfork
Jay-Z, Damon Dash and Kareem "Biggs" Burke launch Roc-A-Fella Records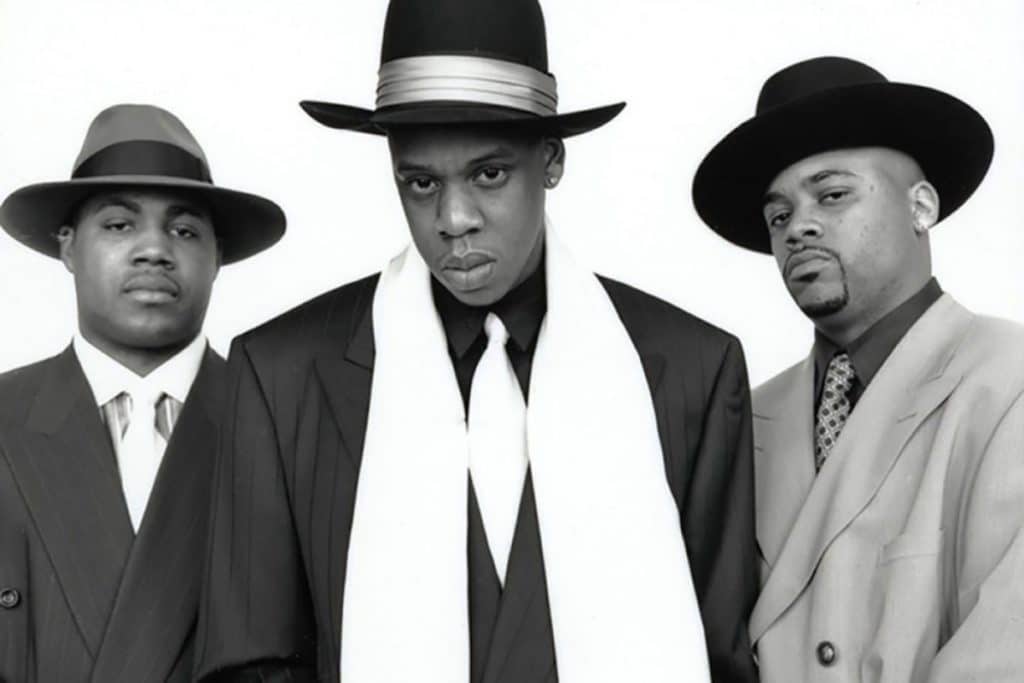 1995: "I went to every single record label, and they was like, 'This guy is terrible. He's nothing,' " Jay told MTV News prior to the release of The Blueprint in 2001. "I had to put [Reasonable Doubt] out myself, because nobody would sign me."
It's hard to believe now, with Jay-Z's simultaneous billion and GOAT status, but back in the mid-90s, while Nas and Big were blowing up, the Marcy rapper was having trouble getting a record label to back him. After a decade of juggling his drug dealing hustle and music ambitions, Hov linked up with Damon Dash and Kareem "Biggs" Burke, to form their own independent label, Roc-A-Fella Records.
Not long after the moderate success of Reasonable Doubt, Def Jam came calling and offered Roc-A-Fella a 50-50 partnership and distribution deal.
DJ Clark Kent: It was so hard for me to get Jay to rap. After he started to enterprise [sell drugs], he was extremely comfortable. He never really stopped enterprising while we were in the beginnings of making the Jay-Z that you know.

The Book of Jay | Rolling Stone
Nas goes to war with New York on "The Message"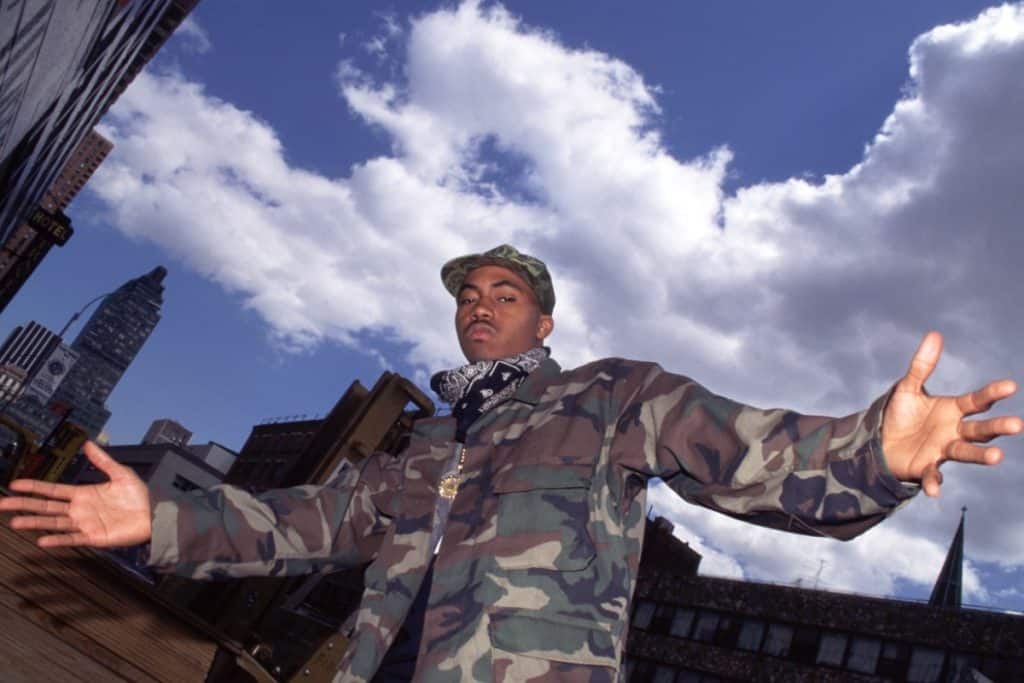 July 2, 1996: Before Kendrick ignited a firestorm with his "Control" verse, it was Nas out here throwing shots at everyone. After the disappointing commercial success of Ilmatic, and seeing Biggie suck up all the air in the room with Ready to Die, Nas was determined to take back the spotlight on his next album. The first track off It Was Written, "The Message" was a warning shot to every rapper coming up in New York, but particularly his main rival, Biggie, and the up-and-coming Jay-Z. This would be one of the first subliminal shots before Nas' showdown with Hov a few years later for the King of New York crown.
Nas: There were lots of new rappers in the game and lots of us were making noise. You had Jay Z, Mobb Deep, Raekwon. 2Pac was going crazy. Everybody was gunning for position. That was my feeling on "The Message" like, "Yo, back up, everybody."

The Making of Nas' 'It Was Written' | Complex
The murder of Tupac Shakur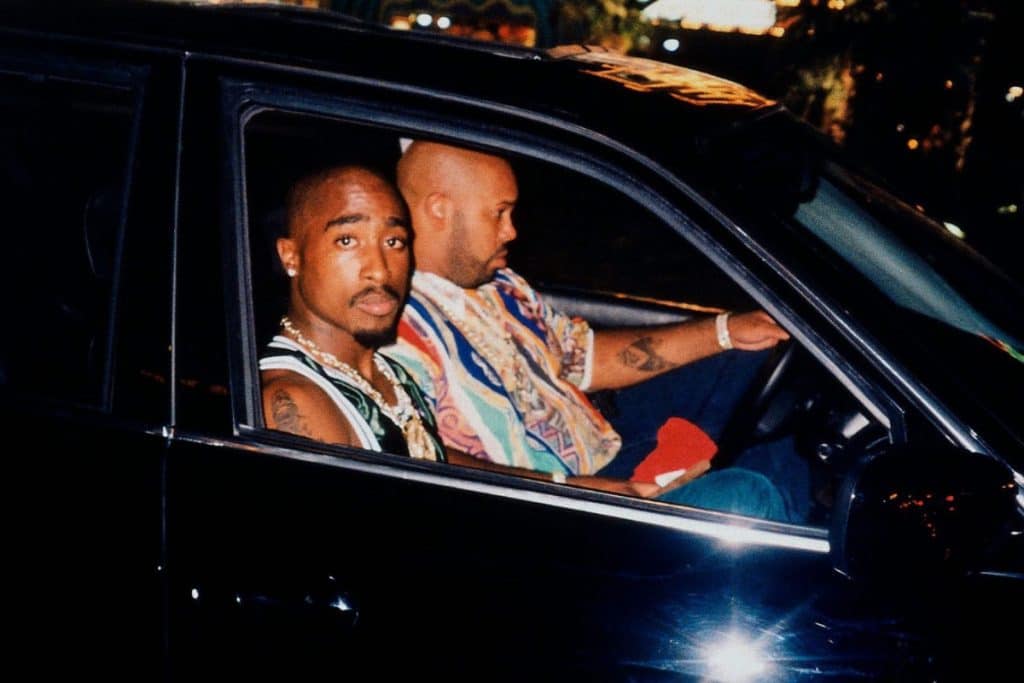 September 13, 1996: Rest in peace to Tupac Shakur, one of the greatest of all time.
The murder of The Notorious B.I.G.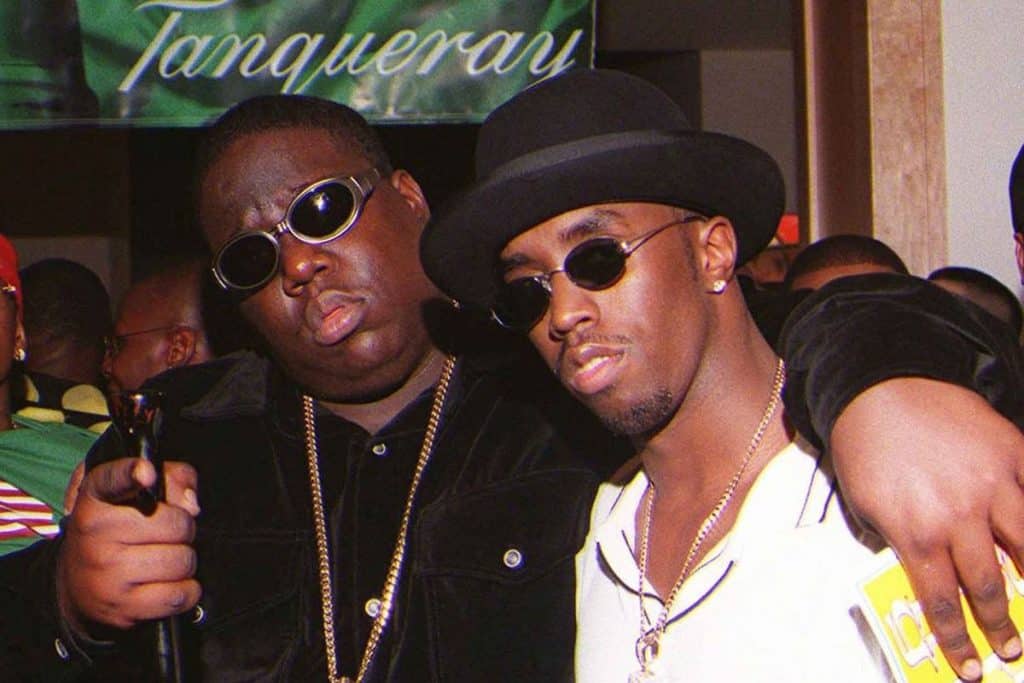 March 9, 1997: Rest in peace to Christopher Wallace, one of the greatest of all time.
The Rap Olympics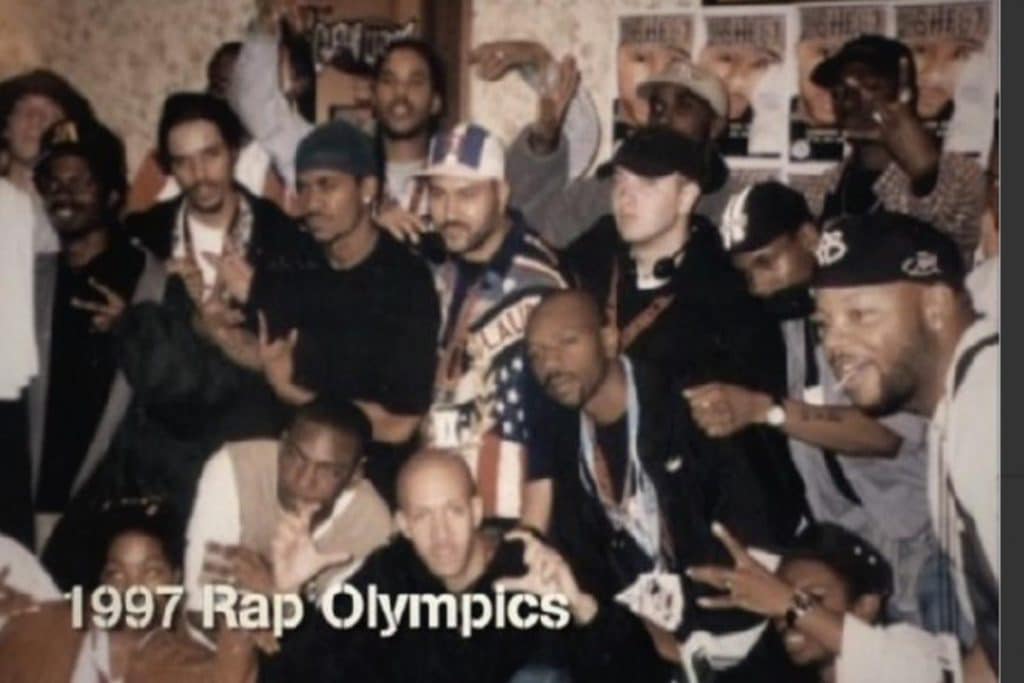 1997: The 1997 Rap Olympics would have been just a footnote in hip hop history, if it wasn't for the fact that a rapper by the name of Eminem was discovered by Dr. Dre there. Industry legend and OG, Wendy Day, had organised the event to showcase the Detroit MC's extraordinary skills, which in turned led him to signing a deal with Aftermath and Interscope Records.
Wendy Day: We tried getting him [Eminem] write up in The Source but that didn't help. We did Unsigned Hype, that didn't help. At that time, music was going from being lyrical on the underground like backpack type rap to Gangster and mainstream. More like bad boy type rap. So I decided to do an event called 'Rap Olympics' to bring attention and press to real lyrical guys to show the world that they are still there and to showcase Eminem cause he is lyrical and it worked. It got him signed to Dre, to Interscope, to Aftermath.

Wendy Day: Nobody Wanted To Sign Eminem, Wendy Breaks Down How She Got Eminem To Aftermath | B High Atl
Cash Money-Universal Records $30 million deal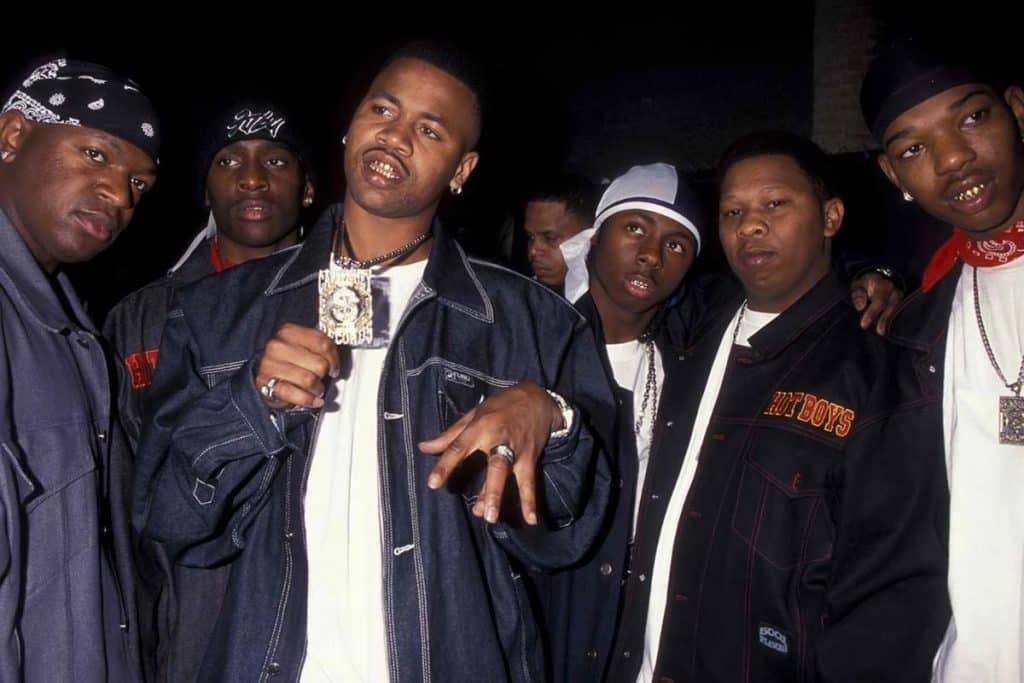 1998: Started in the early '90s out of New Orleans, Louisiana by brothers Ronald "Slim" Williams and Bryan "Birdman" Williams, Cash Money Records quickly became the hottest record label in the region, only rivalled by Master P's No Limit. With a growing roster of local talent that included Lil Wayne, B.G., Juvenile and Turk, the label attracted the attention of Universal Records.
In an interview with Wendy Day, who brokered the deal between Cash Money and Universal Records, she explained how Slim and Baby created the leverage to dictate such favourable terms.
"Cash Money had sold over 31 releases over a six-year period of time," Day said. "Those releases sold anywhere from 5,000 CDs to 25,000 CDs on each release. When I was in the midst of shopping their deal, I helped them sell 75,000 CDs on a release by expanding their marketing area into the Midwest from the south. Once they had a large buzz in the south and in the Midwest, the rest was easy."
Universal signed Cash Money to a $30 million partnership, which included a $3 million advance, 85% of royalties, 50% of publishing revenues, and most importantly, ownership to all their master recordings.
Lauryn Hill becomes the first rapper to win Grammy Award for Album of the Year
February 24, 1999: Lauryn Hill is one of the greatest rappers in history off of two albums – Fugees' The Score and her solo debut The Miseducation of Lauryn Hill. Both albums were incredible successes, but the reception of her debut was simply extraordinary. Not only did the album debut at number one on the charts (it broke the first week sales record for a female artist), it also spawned the hit singles "Doo Wop (That Thing)", "Ex-Factor", and "Everything Is Everything."
At the 41st Annual Grammy Awards, The Miseducation of Lauryn Hill earned 10 nominations and won five awards – Best New Artist, Best R&B Song, Best Female R&B Vocal Performance, Best R&B Album, and the ultimate category: Album of the Year.
Ms. Lauryn Hill: There were definitely things I enjoyed about stardom, but there were definitely things I didn't enjoy. I think most people appreciate being recognized and appreciated for their work and sacrifice. That, to me, is a given, but living a real life is essential for anyone trying to stay connected to reality and continue making things that truly affect people. This becomes increasingly harder to do in the "space" people try to place "stars" in.

Ms. Lauryn Hill Speaks in Depth About Fame, Racism, and 'Miseducation' | Rolling Stone
Nas vs. Jay-Z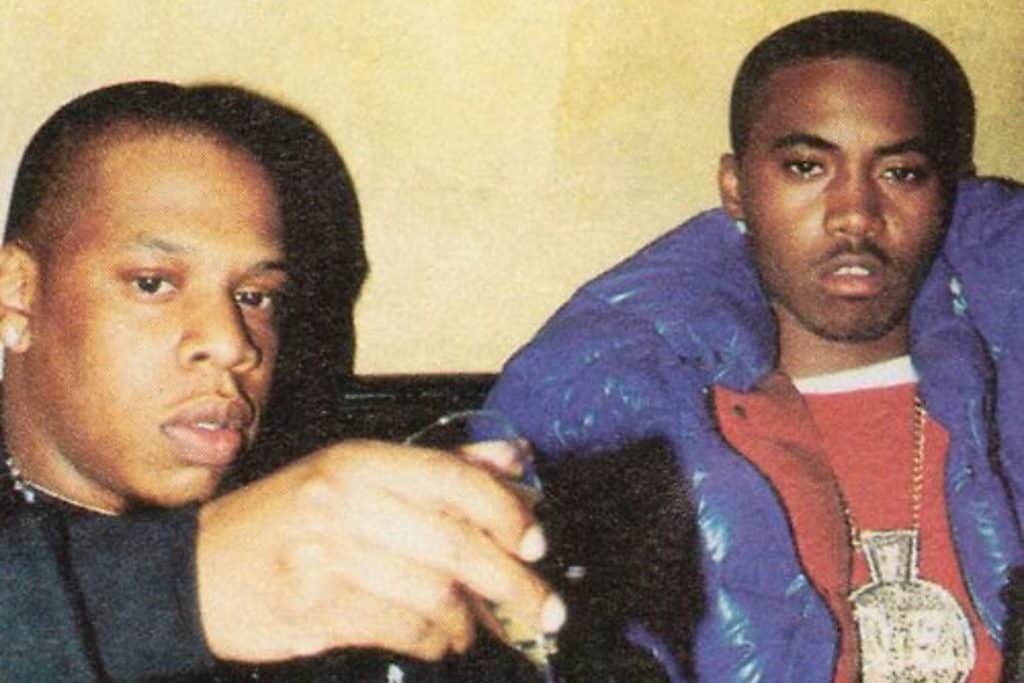 2001: Nas vs. Jay-Z is the greatest rap battle of all time, simply for the fact that they both came out of it stronger. Unlike 2Pac vs. Biggie, which had too much venom and not enough bars, or LL Cool J vs. Canibus, where one rapper was relegated to the footnotes, Nas vs. Jay-Z strengthened both man's careers. There were great records made in the process, there wasn't any significant violence that ensued, and 20 years later, the two rappers have collaborated numerous times and both paving the way for hip hop's evolution into grown up music.
Nas: The art of emceeing was right there on full display. It was like, if you're in the rap game, this could happen, a battle. It was like, 'This rap thing is real. A battle could really happen.' So I was honored to have that part of my life happen because that's how I saw the greats do it coming up. I saw some of the greats do it.

Episode 86 – Nas | Broken Record
50 Cent changes the mixtape game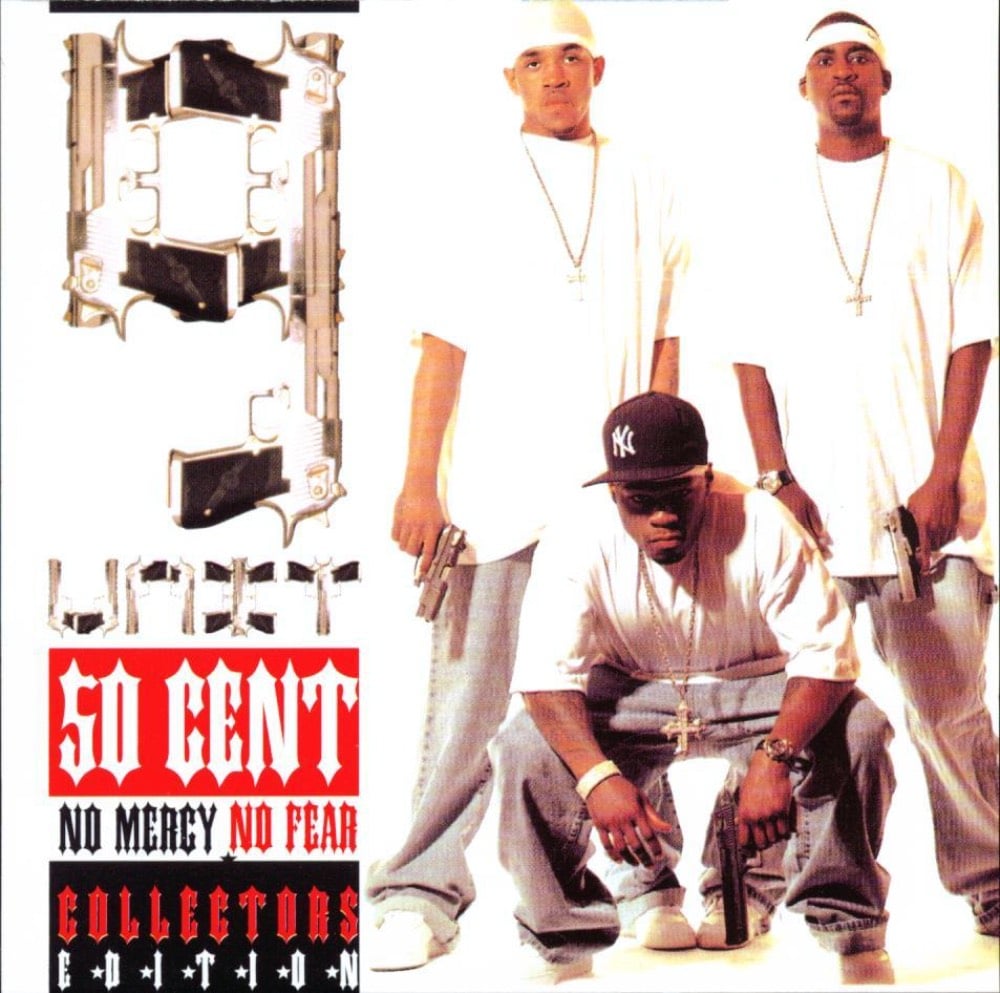 April 26, 2002: Before 50 Cent came through with his G-Unit crew, mixtapes were largely DJ-driven – think Kid Capri, Ron G, Doo Wop, and DJ Clue. Granted, The Diplomats were technically the first to create artist-driven mixtapes, but the way 50 did it – taking rapper's songs and making them entirely his own – took things to another level. Suddenly, mixtapes weren't just a bunch of freestyle compilations and DJ shout-outs – they became almost like street albums with strong promotional value. Rappers like Young Jeezy, Lil Wayne and Drake have all followed 50's mixtape blueprint on their way to multiplatinum success.
DJ Drama: There's the mixtape game pre-50 Cent and post-50 Cent. There was the era from Clue and Doo Wop, when so many rappers came and spit 16s on beats that weren't theirs, into 50 turning them into his own records. Instead of just spitting a 16, he started to re-do people's hooks and make his own songs to the point where as DJs we wanted to play his versions in the club.

The Evolution of the Mixtape: An Oral History With DJ Drama | Billboard
Eminem becomes the first rapper to win the Academy Award for Best Original Song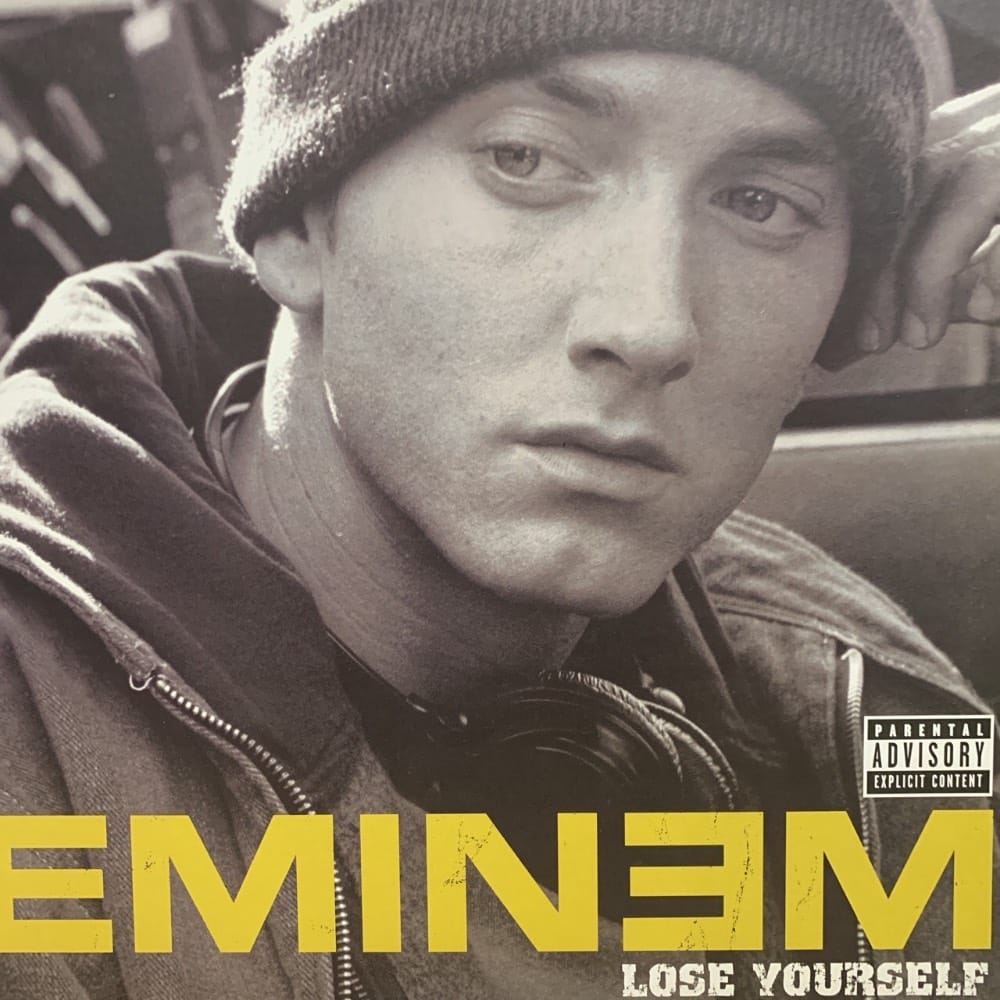 March 23, 2003: We're never going to see a higher peak for a rapper than Eminem during 2002-2003. Following the enormous success of The Eminem Show, and his movie, 8 Mile, the soundtrack's single "Lose Yourself" would become Eminem's first Billboard Hot 100 number-one single, and also won him the Grammy Award for Best Rap Song and Best Rap Solo Performance, as well as the first Oscar for hip hop, when it was awarded the Academy Award for Best Original Song.
The College Dropout changes the rap landscape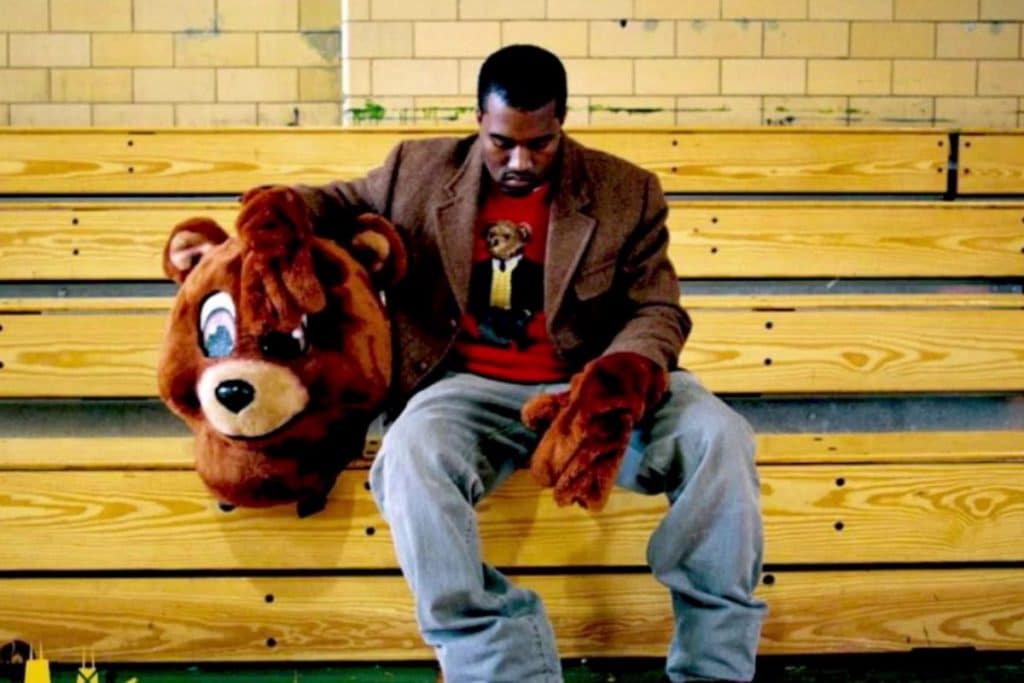 February 10, 2004: The shift from the gangsta era of Dr. Dre, Eminem and G-Unit to the more diverse landscape of Kanye, Lil Wayne and Drake wasn't overnight, but it was definitely noticeable. Kanye took rappers like Ludacris and Jay-Z and threw them on an album that also featured Common and Talib Kweli, and in doing so, created a clear pathway for up-and-coming artists who didn't want to just rap about guns, drugs and cars. All the top rappers in the game right now – from Kendrick to Drake to J. Cole – all owe some part of their career to this album's success.
Common: The night Kanye played SOBs in New York [a few months before the album dropped], I knew that hip-hop was about to change. He was the first artist to bring together the backpack crowd along with the Roc-A-Fella ballers. I remember seeing people throwing up the Roc, but it was all underground hip-hop backpackers doing it. That album, he bridged the gap.

The Making of Kanye West's "The College Dropout" | Complex
Jay-Z reconciles with Nas at his "I Declare War" concert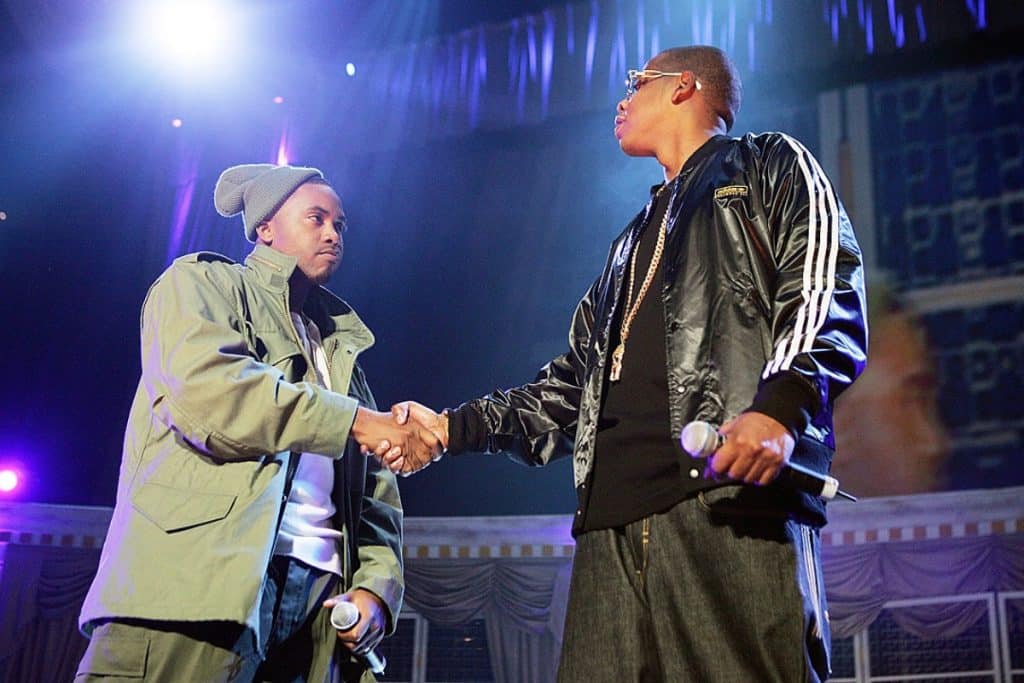 2005: It was a beautiful moment for hip hop and the perfect ending to a long-lasting feud that, at one point, had all of hip hop's attention. In reconciling their differences after over a decade of rivalry, Jay-Z and Nas would lead the way for rappers on how to age gracefully in a culture that puts an emphasis on youth, and the hottest, newest thing out.
Three 6 Mafia wins an Academy Award for Best Original Song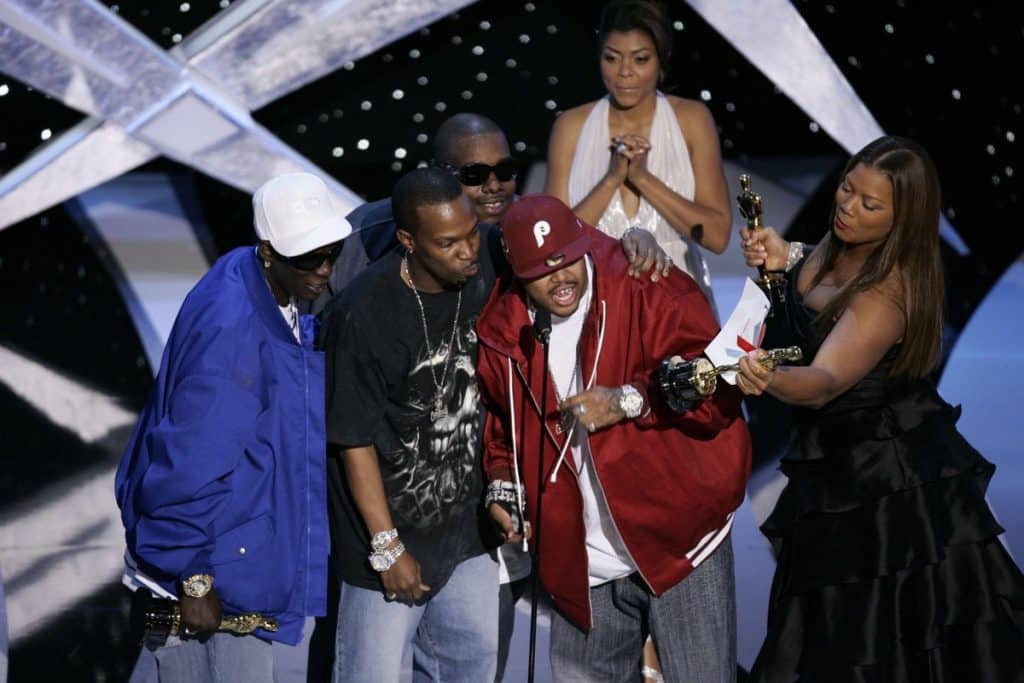 March 5, 2006: Watching the legendary Memphis rap group, Three 6 Mafia, burst onto the stage of the 78th Academy Awards to claim their Oscar was one of the greatest moments in hip hop ever. They may not have been the first rappers to win an Academy Award, but their reactions sure made it feel like they were. Not only did they win an Oscar, but Three 6 Mafia were the first hip hop group to perform at the award ceremony, and Queen Latifah was the first rapper to host the Oscars.
DJ Paul: I'm still trying to figure out how it happened. It was just so out of the ordinary, one of those out-of-nowhere, boom-in-your-face kinda things. Common won, and John Legend, but that I can see. But us? Some gangsta dudes winning an Oscar with a song about pimpin'? Nobody saw that one coming.

Three 6 Mafia Remember Their Shocking Oscar Win for 'It's Hard Out Here for a Pimp': 'Nobody Saw That One Coming' | Variety
Grandmaster Flash and the Furious Five become the first rappers to be inducted into the Rock and Roll Hall of Fame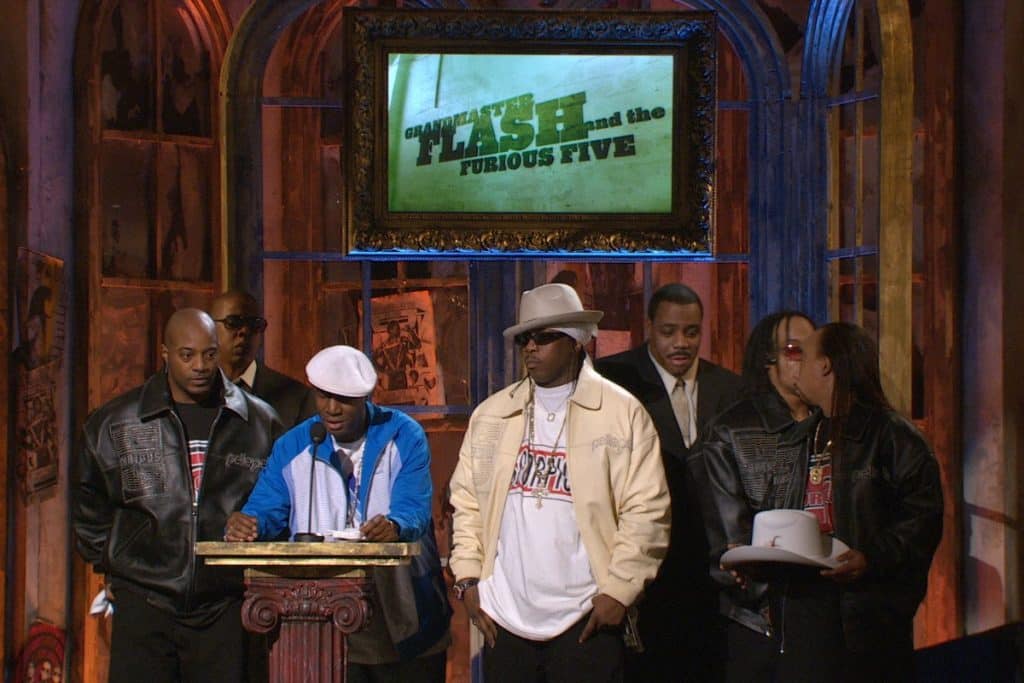 March 12, 2007: Grandmaster Flash and the Furious Five is one of the most influential hip hop groups of all time, and their induction into the Rock and Roll Hall of Fame is a testament to their lasting legacy. It also opened up the door for future rap acts to be inducted, including Run-D.M.C., Beastie Boys, Public Enemy, N.W.A, 2Pac and The Notorious B.I.G.
"I am the beast, feed me rappers or feed me beats"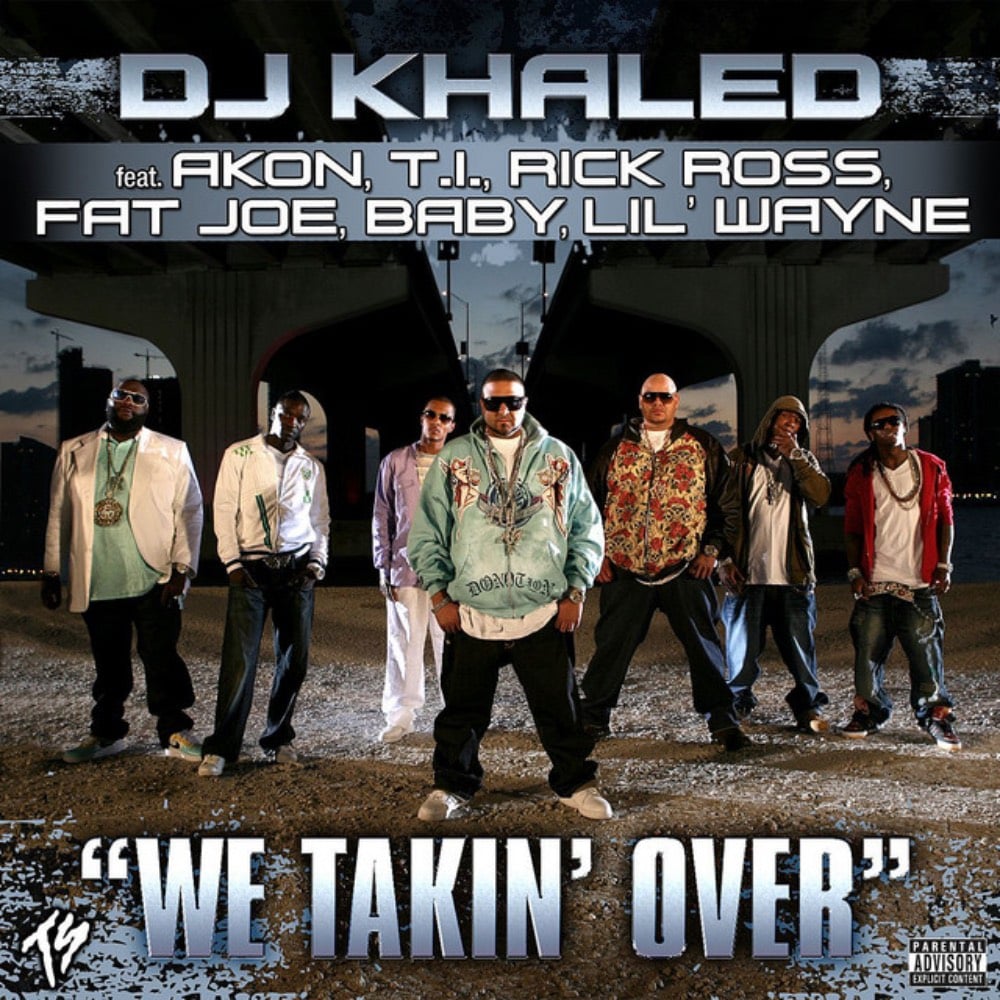 March 27, 2007: Lil Wayne had been telling people he was the best rapper alive since Tha Carter II, but he cemented his claim with this moment. This is Wayne's greatest verse of all time, just off impact alone. It also launched the DJ Khaled's career, and set the foundation for the Young Money empire later on.
DJ Khaled: It changed my life. That's when I knew they let me in. I broke the barriers, the circle. That's when I said it's gonna be on and poppin'. And I knew it on the video set when me and Ross was driving the convertible Bentley backwards. I told Ross, "Oh, it's on now." I remember that day. It's a certain feeling: people were rooting for me. And it felt good. And I ain't never turned back since. That record [was] Wayne's best verse of the year at that time—shit, maybe the decade.

How DJ Khaled Won Friends, Money, And Power | The FADER
Souljaboytellem.com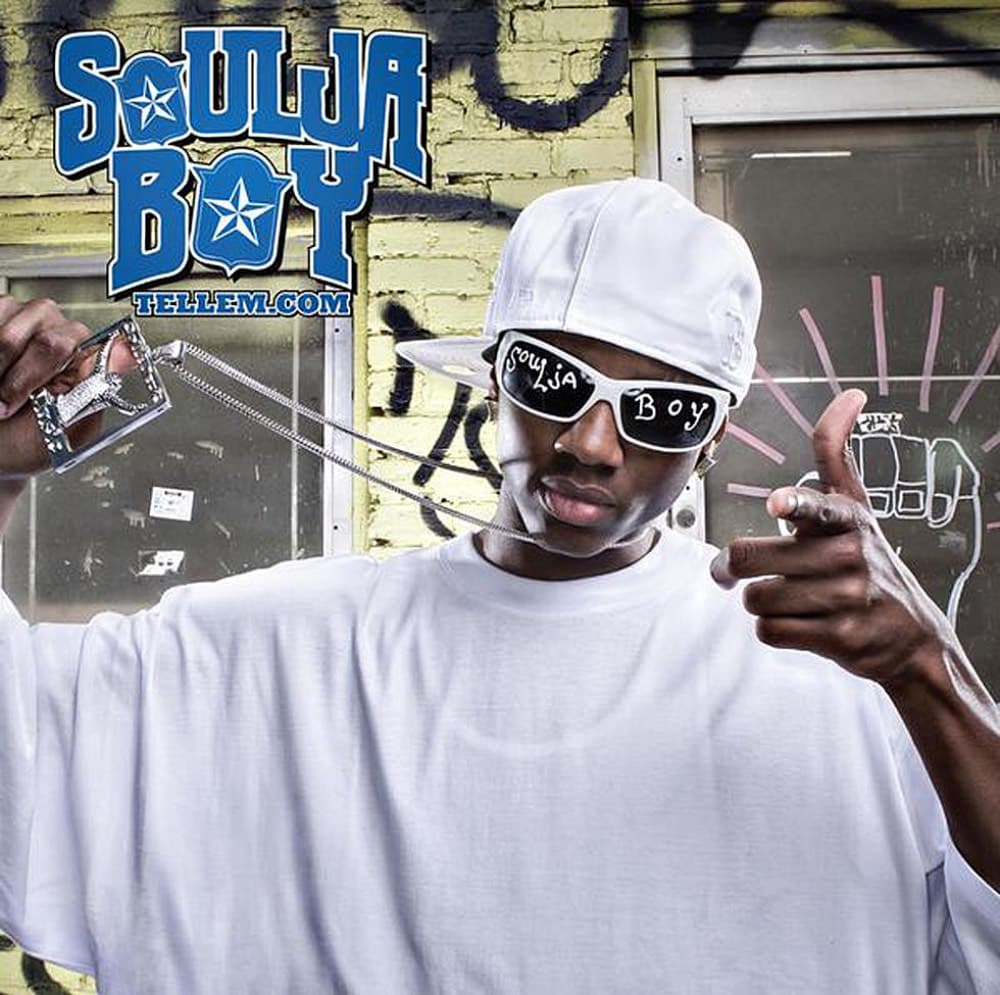 May 2, 2007: Say what you want about his antics, but Soulja Boy laid down the blueprint for internet rappers for the next decade. After watching Soulja Boy's success, no longer were rappers putting out demos and mixtapes, and hoping to get signed – they were taking things into their own hands. As the online world flourished and recording equipment became cheaper, creating music independently and distributing it to the masses became easier and more convenient. This is a great thing, as well as a bad thing, depending on how you look at things.
Kanye West: He came from the hood, made his own beats, made up a new saying, new sound and a new dance with one song. If that ain't Hip Hop then what is?

The Influencer: A Decade of Soulja Boy | Pitchfork
Kanye's Graduation beats 50 Cent's Curtis sales numbers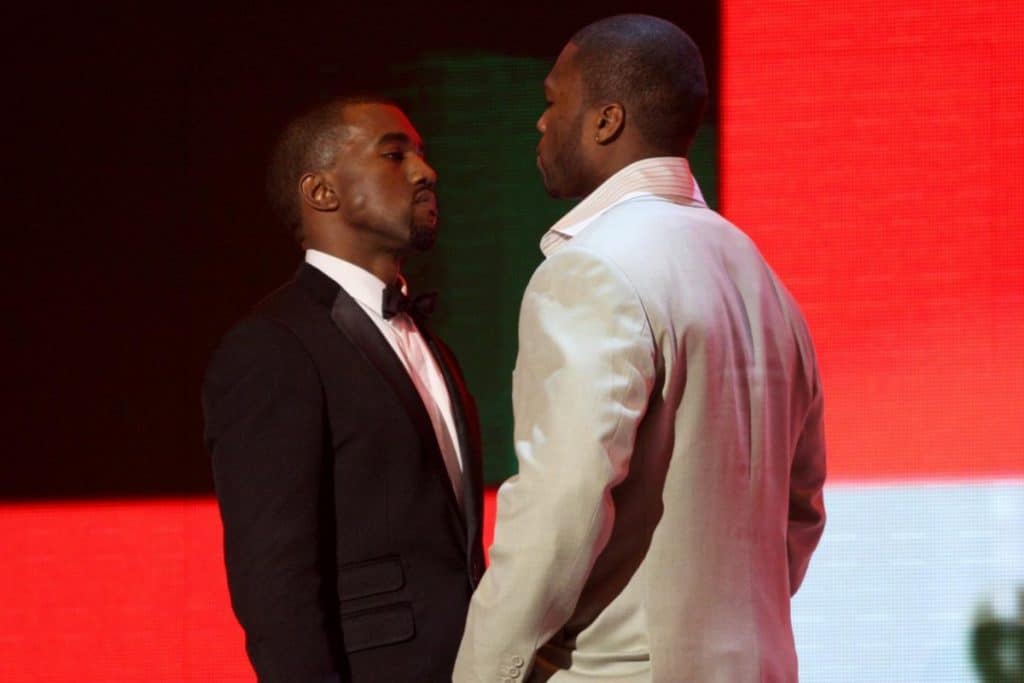 September 11, 2007: While The College Dropout planted the seed to change the rap landscape, rap was still dominated by gangsta rap. It wasn't until 2007 when Kanye's third album went up against 50's third album, and beat it by over 300,000 units that the tide changed for good. Suddenly tired gangsta cliches and violent lyrics of G-Unit were relics of a past era, while Kanye's futuristic production and relatable lyrics continued to push hip hop forward.
Kanye: 50 said "Can't Tell Me Nothing" was his favorite song, so I said, 'OK, that's my first single.' We push each other. Biggie used to do that. He'd go over and play 'Mo Money, Mo Problems' for Jay-Z, and it would fuck him up.

Kanye vs. 50 Cent | Rolling Stone
808s & Heartbreak opens the door for a new generation of rappers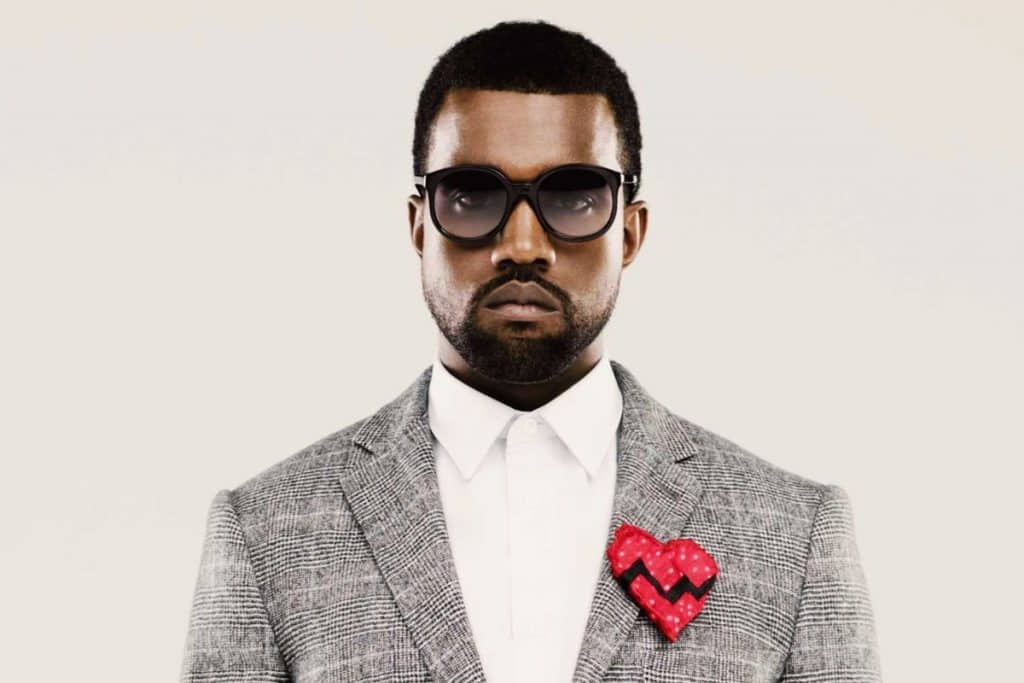 November 24, 2008: It wasn't long after Kanye's genre-shifting Graduation that the Chicago artist decided to pivot once again, this time with 808s & Heartbreak. There's a strong argument to be made that, while not commonly referred to as his best album, this album is his most influential. You can draw a direct line from 808s & Heartbreak to the sound and aesthetics of the current biggest rapper in the game right now. Drake's longtime producer, 40, has often acknowledged Kanye's influences on their sound.
Drake: Before I ever got the chance to meet him, Kanye West shaped a lot of what I do, as far as music goes. We always, always, always took the time to listen to Kanye's music and appreciate it beyond. We searched the samples and we find out where his inspiration came from, because he has one of the best ears in music, period. He knows how to recognize great music that's not his. He knows how to utilize great sounds and great music. So before I met him, I had the utmost respect for Kanye West. I'd even go as far as to say he's the most influential person as far as a musician that I'd ever had in my life.

Drake Says Kanye West Is 'The Most Influential Person' On His Sound | MTV
Nicki Minaj murders everyone on "Monster"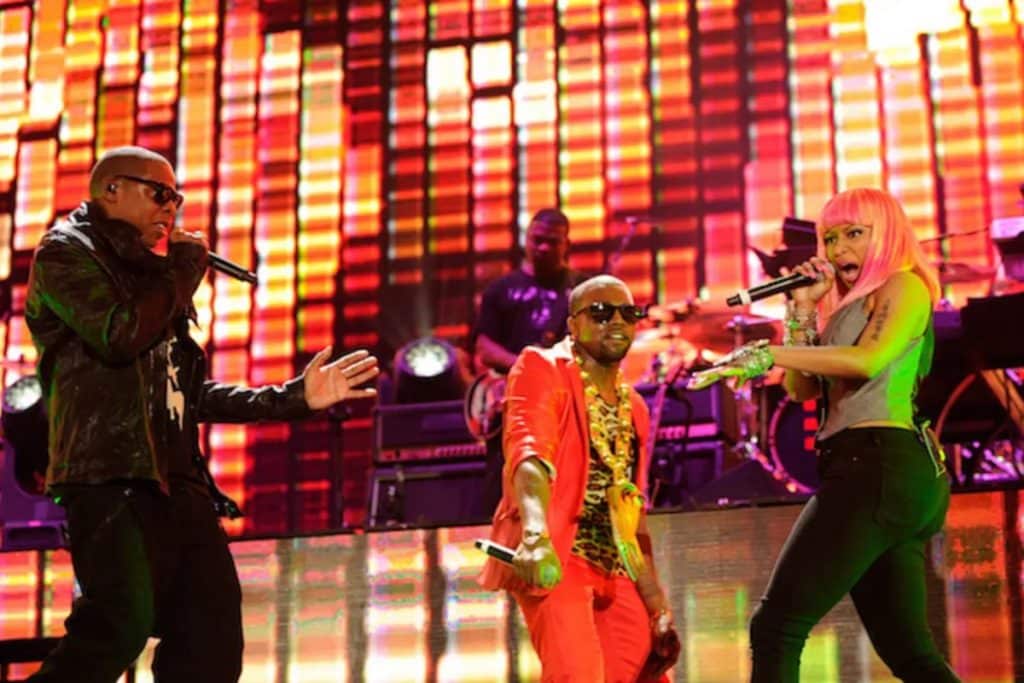 October 23, 2010: On a track which featured brilliant rappers like Jay-Z, Kanye and Rick Ross, Nicki Minaj came through and just blew everyone away. This is the single greatest guest verse of the 2010s, and probably a top five guest verse of all time.
Rick Ross: I was actually in the studio with Kanye in Hawaii when he played the concept for me. I was blown away. I had the opportunity to sit in the studio while Nicki wrote her verse just off the record. That was when she earned my respect as a lyricist. She was a dope entertainer up until that day that I sat in the studio and watched her come up with what I feel is one of the dopest verses of the year.

Rick Ross Says "Monster" Proves Nicki Minaj Is "One Of The Greatest" | MTV
Drake takes a shot at The Throne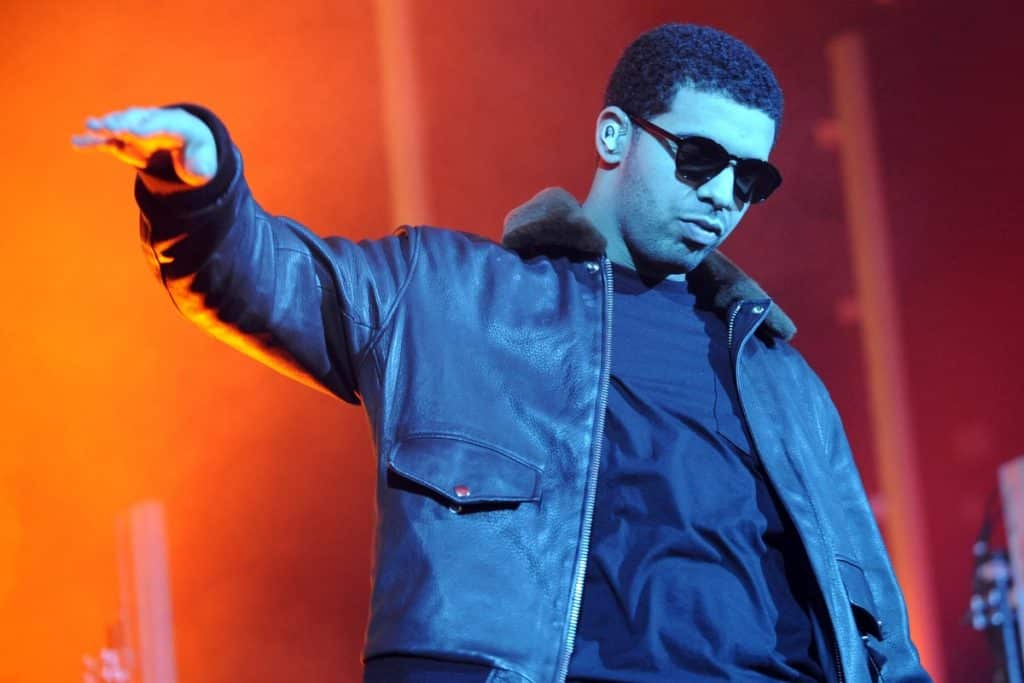 May 20, 2011: "I'm just feeling like the throne is for the taking—watch me take it." It was just a little shot, but it was a significant moment, especially when you look back at what Drake's done since 2011 – this was Drizzy at the beginning of his decade-long reign over hip hop. This wasn't necessarily the exact Drake became king, but it was certainly when he gained the confidence to go at his idols-turned-rivals, Hov and Ye, to take the crown.
Drake: When I was a kid trying to figure out what I liked, it was 'Ye who I related to the most. He was an artist, in every sense, from his cover art to his music. Now, I would say, he is really great competitor and friend, at the same time. My goal is to surpass everything he's accomplished. I don't want to be as good as Kanye, I want to be better.

Drake Calls Kanye a "Great Competitor" in 'The Source: Power 30' | MissInfo.tv
Snoop Dogg, The Game and Kurupt pass the torch to the new West Coast king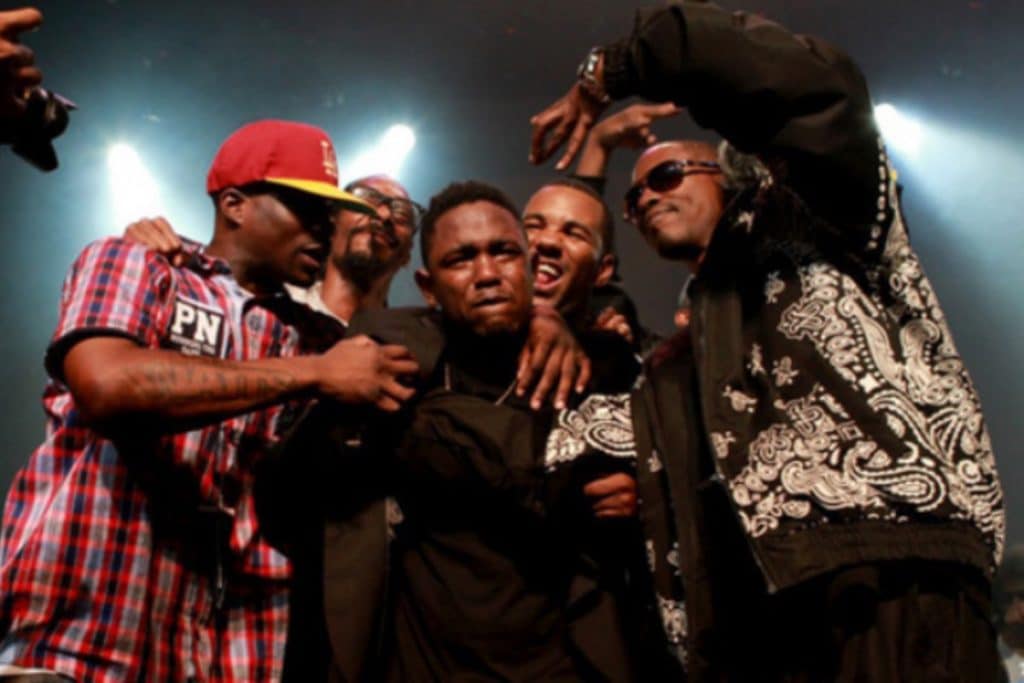 August 19, 2011: In one of the most touching moments ever in hip hop history, Kendrick Lamar, surrounded by his West Coast idols, struggles to hold back tears as these legends surround him and pass him the torch. For a kid who grew up in Compton and had visions of 2Pac telling him to rap, there was no other moment that could have surpassed this.
Chief Keef releases "I Don't Like" while under house arrest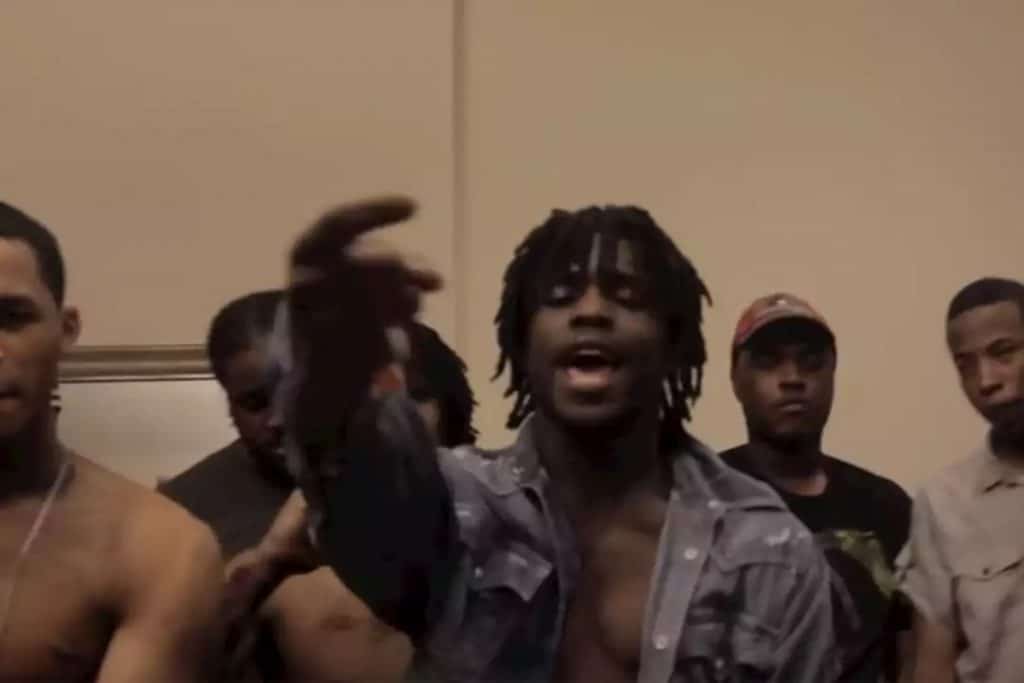 March 11, 2012: Not only did this record spearhead the Chicago drill movement in 2012, with a number of rappers signing record deals following Chief Keef's success, including Lil Durk, King Louie, Fredo Santana, and Lil Reese, it also took the Soulja Boy blueprint to the next level. Hip hop writer, David Drake, writing for The Outline in 2018, talks about Keef's impact on a generation of rappers:
David Drake: In 2017, the emulation continued, as a wave of "SoundCloud rap" stars built on the swag and style of Keef and other Chicago drill artists, but aimed towards a suburban market; the slang of Keef and co. proliferates throughout this sphere, as does a reliance on mumbled and melodic styles and an obsession with the drugs popularized by traumatized artists with a Chiraq background.

How Chief Keef became the most influential hip-hop artist of his generation | The Outline
Kendrick Lamar tells "Flex to drop a bomb on this shit"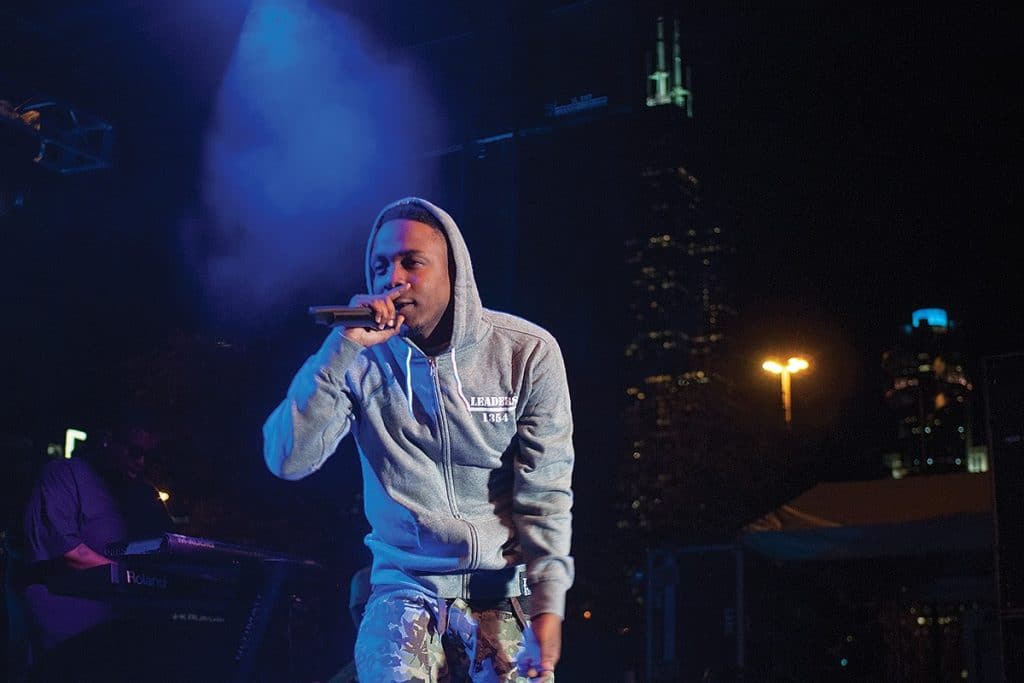 August 14, 2013: Is there any surprise that 50 Cent was a big fan of what Kendrick did on "Control"? For a rapper who came up dissing everyone in sight, 50 was almost giddy when he spoke about Kendrick's monumental verse on "Control" which featured the Compton rapper going at all of his peers, including Drake (the beginnings of a cold war between the two rappers), J. Cole, Big Sean, Pusha T, Jay Electronica, and others.
Kendrick: This is culture. This is not something you just play with and get a few dollars and get out. People live their lives through this music. My partners in the hood right now, they listen to rap every day, because it's the only thing that can relate to their stories and their tribulations. They live and breathe it. You can't play with this, and you have to take in consideration what you write down on that paper. If you're not doing it to say the most impactful shit or doing it to be the best you can be for the listener to live their lives through, what are we doing here?

Kendrick Lamar Stands by His 'Control' Verse, Explains Story Behind 'Duckworth' with Beats 1's Zane Lowe | Billboard
Drake vs. Meek Mill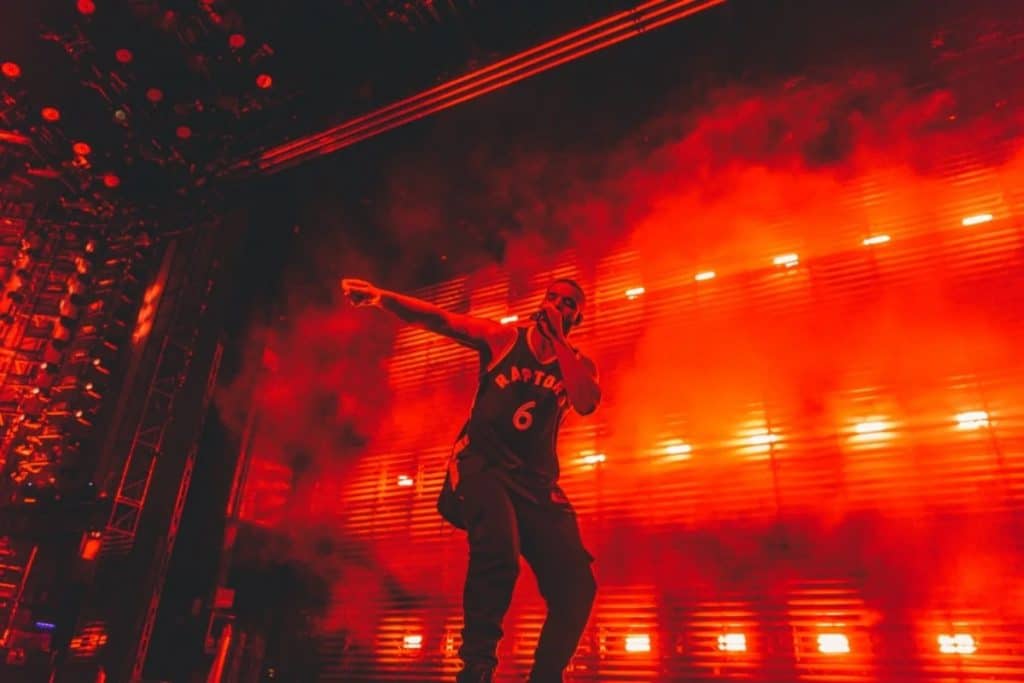 2015: Drake's battle with Meek Mill was just one moment in an incredible year. 2015 was peak-Drake, there's no doubt about it. Drizzy would go on to have bigger years, commercial-wise, but 2015 was when everything lined up perfectly – he dropped two number one albums, If You're Reading This It's Too Late was one of his hardest projects to date, he proved his mettle by clashing heads with the battle-proven Meek Mill and came out on top, and to top it all off, "Hotline Bling" became one of his biggest singles ever.
Drake: You guys are gonna leave this for me to do? This is how you want to play it? You guys didn't think this through at all—nobody? You guys have high-ranking members watching over you. Nobody told you that this was a bad idea, to engage in this and not have something? You're gonna engage in a conversation about writing music, and delivering music, with me? And not have anything to put forth on the table?

Peak Drake | Fader
Westside Gunn drops Flygod, sows the seed for Griselda's takeover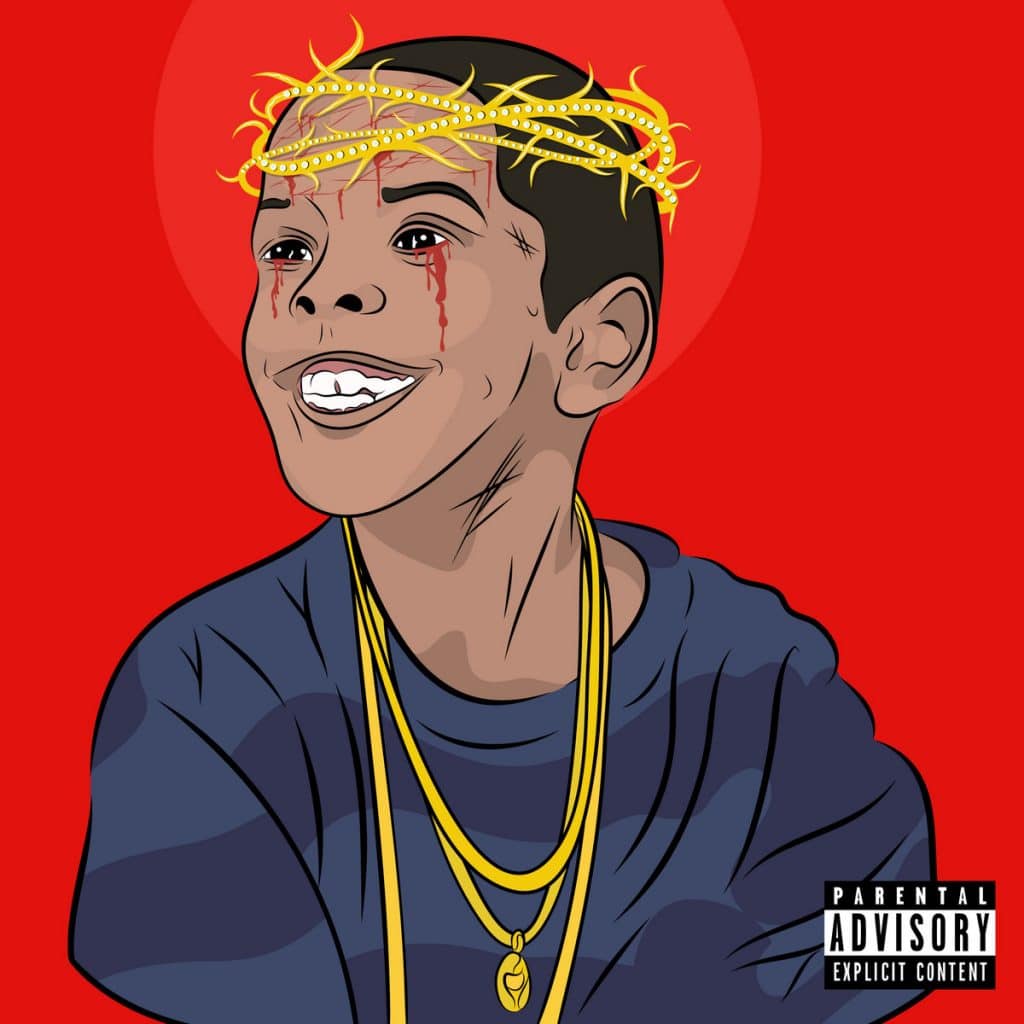 March 11, 2016: Westside Gunn didn't even want to rap. It was only after his half-brother, Conway The Machine was shot, that Westside had to pick up the baton. Following a string of his Hitler Wears Hermes mixtapes, West released Flygod, a gritty, modern take on classic '90s New York records.
Featuring production from Griselda in-house producer Daringer as well as Roc Marciano, Apollo Brown, Statik Selektah and the Alchemist, with outside features from Your Old Droog, Mayhem Lauren, Danny Brown and Skyzoo, Flygod put Griselda Records on the map.
This was the album that led to more classics from Griselda like Supreme Blientele, Tana Talk 3 and From King to a God, as well as co-signs from Drake, record deals with Eminem, management deals with Jay-Z and Paris Week with Virgil Abloh.
Westside Gunn: We're really tapping into the culture. We really grew up hearing that music in the late '80s all through the grimy '90s. We come from that same cloth. That Wu-Tang cloth? We're cut from it. Mobb Deep, Nas, all them people that people love. The Kool G era — all of that. We was alive for it, we was around for it, we heard it soon as it came out, just like when they did it. Griselda could have came out in the '90s.

Griselda Set Out To Be Your Favorite Rapper's Favorite Rappers. It's Paying Off | NPR
Chance the Rapper reaches new heights for independent artists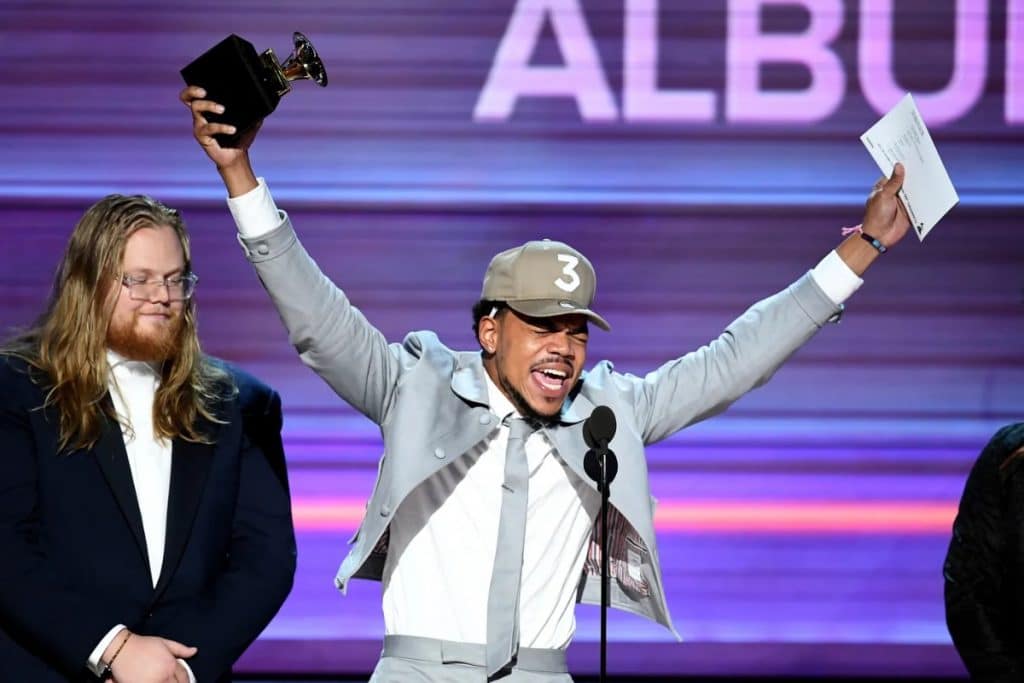 February 12, 2017: Chance the Rapper winning the Grammy for Best Rap Album wasn't significant just because Coloring Book was the first streaming-only album ever to receive the award; it was also symbolic of the growing independent movement in hip hop. While OGs like E-40, Tech N9ne and Currensy had been running indie for decades before Chance won the Grammy, the Chicago rapper took it to the next level, setting the blueprint for up-and-coming rappers on how to monetise their craft through touring, merchandise and brand partnerships.
Chance: After I made my second mixtape and gave it away online, my plan was to sign with a label and figure out my music from there. But after meeting with the three major labels, I realized my strength was being able to offer my best work to people without any limit on it. My first two projects are on places where you can get music for free. With Coloring Book, Apple had it on their streaming service exclusively for two weeks for free—and then it was available on all the places my earlier work is still available on. I make money from touring and selling merchandise, and I honestly believe if you put effort into something and you execute properly, you don't necessarily have to go through the traditional ways.

Why Chance the Rapper Makes Music for Free (and How He Actually Makes Money) | Vanity Fair
DAMN. wins a Pulitzer Prize for Music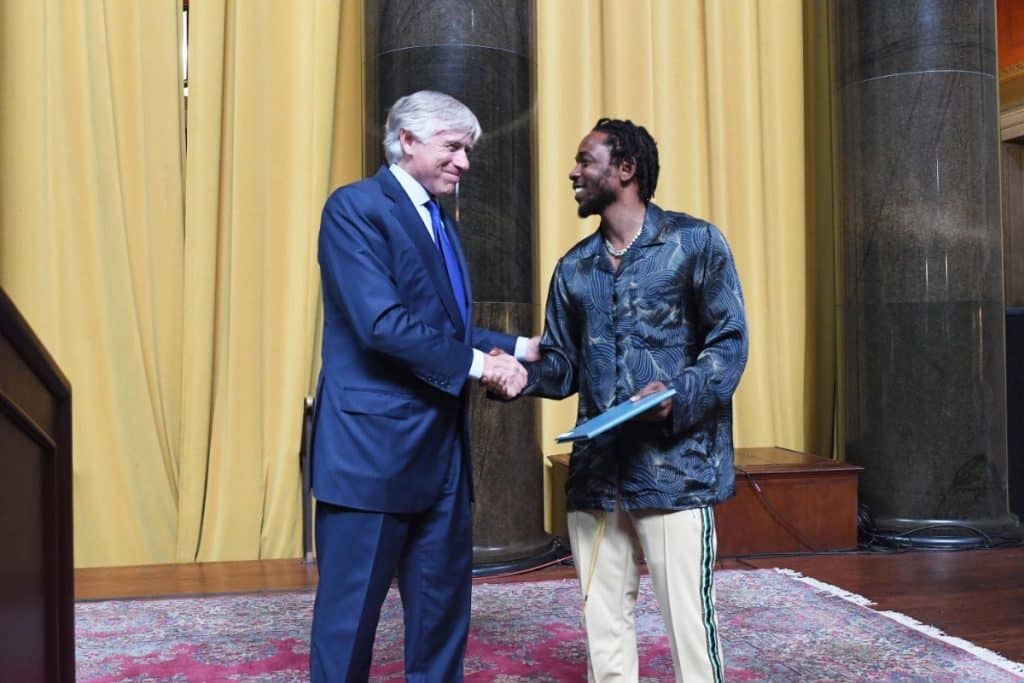 April 16, 2018: Accolades for Kendrick's career over the past decade haven't exactly been lacking. I mean, the man has 13 Grammy Awards, two American Music Awards, five Billboard Music Awards, a Brit Award, 11 MTV Video Music Awards, and an Academy Award nomination. Not bad when it comes to being recognised by the industry. But there was just something about the Compton rapper 2017 masterpiece, DAMN., becoming the first non-classical and non-jazz album to Pulitzer Prize for Music that made this award extra special.
Kendrick: It took a long time for people to embrace us – people outside of our community, our culture – to see this not just as vocal lyrics, but to see that this is really pain, this is really hurt, this is really true stories of our lives on wax. And now, for it to get the recognition that it deserves as a true art form, that's not only great for myself, but it makes me feel good about hip-hop in general. Writers like Tupac, Jay-Z, Rakim, Eminem, Q-Tip, Big Daddy Kane, Snoop. It lets me know that people are actually listening further than I expected.

Kendrick Lamar Talks Kanye West, Fan's Use of N-Word, Pulitzer Prize | Rolling Stone
Drake vs. Pusha T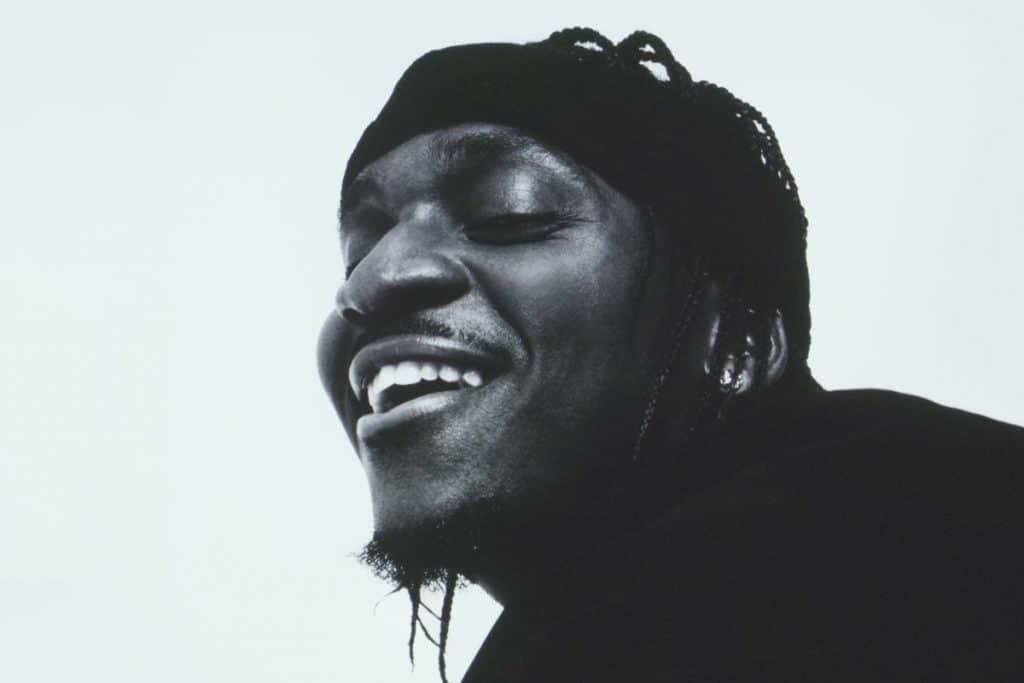 2018: In the grand scheme of things, this beef did very little to impact Drake's overall standing in the music industry. He's achieve worldwide pop superstardom, and a rap battle with someone like Pusha T wasn't going to lose him any fans. In fact, he had one of the biggest years of his career in 2018, with an indomitable presence on the Billboard charts and a string of strong verses on songs with BlocBoy JB, Migos, Travis Scott and former rival Meek Mill.
But Drake would be lying if he said Pusha didn't momentarily stun him with "The Story of Adidon." Over the instrumental of "The Story of O.J.", Pusha revealed to the world that Drake had a son with former pornstar Sophie Brussaux; ruined his planned rollout with Adidas; sent shots at Dennis Graham; and made Drake explain his blackface photoshoot before he tapping out of the battle. It was about as perfect an outcome for a diss song as you could ever imagine.
For a rapper like Pusha, who had been carrying his beef for over 15 years – it all started when Birdman refused to pay The Neptunes for a beat back in the '00s – this was a watershed moment in a year where he was undoubtedly the best rapper alive.
Pusha T: I was in it for the long haul, for hip-hop. I thought this was going to be a running thing, back-and-forth. I was sure he'd have a rebuttal. I did what I wanted to do. I only deal in truth, how I see things. When you're dealing with words, it's a way of dealing with truth and how the pubic process that, how they interpret that. And what touches them and what touches the person you're going against. I actually thought we were going to keep on.

Why 2018 Was Pusha T's Year | Variety