Boom-bap, G-funk, Atlanta soul, New Orleans bounce, and all that jazz – the '90s saw hip-hop skyrocketing from the streets into the mainstream consciousness, serving as a bold and unfiltered soundtrack of the era. This golden age of rap, marked by boundary-pushing creativity, lyrical complexity, and genre-fusing experimentation, produced some of the most influential and enduring works in the history of hip-hop.
Take, for instance, Dr. Dre's The Chronic, a game-changing magnum opus that cemented the '90s West Coast sound, flipping the music world upside down with its laid-back grooves, melodic hooks, and stark narratives. The '90s also ushered in the gritty, hard-hitting realism of Nas's seminal debut Illmatic, a masterpiece of poetic storytelling that resonates to this day. And who could forget the paradigm-shifting Enter the Wu-Tang (36 Chambers), a record that introduced us to an unparalleled supergroup of Shaolin swordsmen.
Yet, the '90s weren't all about hard realities and street philosophies. OutKast's Aquemini exhibited a brilliant blend of southern swagger and cosmic philosophizing, while De La Soul's Buhloone Mindstate offered an alternative view of hip-hop that was as playful and eclectic as it was insightful and thought-provoking. The decade was as diverse as it was revolutionary, serving up everything from the soulful meditations of Lauryn Hill's The Miseducation of Lauryn Hill to the flamboyant excesses of Puff Daddy's No Way Out.
So let's get into it. From the bohemian boom-bap of A Tribe Called Quest's Midnight Marauders to the Bomb Squad-backed rage of Ice Cube's AmeriKKKa's Most Wanted, here are the top 100 best '90s rap albums.
100. Showbiz & AG – Runaway Slave
Showbiz & AG's Runaway Slave stands as the embodiment of the boom-bap era, a raw and unfiltered page ripped straight from the heart of the early '90s East Coast scene. Drenched in soulful samples and blessed with poignant lyricism, the album encapsulates the essence of New York street tales. The duo's ability to carve gritty narratives around beats that slam with the weight of subway cars, creating a sonic journey that's as captivating as the cityscape it reflects, is an achievement worthy of note. The album served as a beacon for the Diggin' In The Crates crew, solidifying their spot in hip-hop's lineage.
99. Camp Lo – Uptown Saturday Night
Uptown Saturday Night by Camp Lo is a vibrant exploration of the '70s Blaxploitation era through a '90s hip-hop lens. The Bronx duo, Sonny Cheeba and Geechi Suede, weaved an intricate tapestry of slick lingo and nimble wordplay over Ski Beatz's jazzy, soul-drenched production. Their distinctive cadence and sophisticated rhymes, packed with cultural references, gave us a dazzlingly unique vision of hip-hop. This album wasn't just a nod to nostalgia; it was a perfect fusion of the old school's grandeur with the genre's modern evolution.
98. 8Ball & MJG  —  Comin' Out Hard
Comin' Out Hard, the breakthrough album from 8Ball & MJG, not only fortified the duo's place in the South's rap pantheon but also put Memphis hip-hop on the map. Laced with gritty tales of hustling and survival, the album was a seismic shift in the Southern soundscape, effectively fusing bluesy elements with trunk-rattling bass lines. 8Ball's deep, languid flow danced perfectly over the beats, while MJG's sharper, quicker delivery provided the necessary contrast, making each track a study in dynamic synergy.
97. Silkk the Shocker — Charge It 2 da Game
Silkk the Shocker's Charge It 2 da Game, in contrast, is a product of the No Limit era, a gilded artifact of the label's late '90s dominance. Silkk's offbeat flow, bouncing over Master P's beats, defined a unique style that quickly became a signature No Limit sound. The album was a roller-coaster ride through the streets of New Orleans, featuring everything from the bravado-laden tracks like "I'm a Soldier" to more introspective cuts like "Give Me the World." Silkk proved that he could hold his own in the crowded No Limit roster, and Charge It 2 da Game remains a stand-out release from the label's golden era and absolutely one of the best '90s rap albums.
96. Digital Underground – Sex Packets
Digital Underground's Sex Packets hit the rap game with a blast of infectious funk and mischievous humor that was unmistakably Bay Area. Lead by the creative prowess of Shock G (also known as his alter ego Humpty Hump), the album was a psychedelic journey through P-Funk samples and playful narratives, with tracks like "The Humpty Dance" and "Freaks of the Industry" showcasing the group's ability to craft memorable hooks without sacrificing lyrical substance. This album was proof positive that hip-hop could be deeply layered, riotously funny, and undeniably danceable all at the same time.
95. Soulja Slim — Give It 2 'Em Raw
Down in New Orleans, Soulja Slim was forging his own path with Give It 2 'Em Raw, a classic No Limit Records release that announced Slim's arrival in the rap game with unapologetic force. His gritty lyricism, underscored by the hypnotic production of Beats By The Pound, laid bare the harsh realities of street life, with tracks like "From What I Was Told" and "Street Life" becoming anthems for those living on the edges. Soulja Slim's direct, no-frills approach to storytelling was a breath of fresh air in the glossy landscape of late '90s rap, marking him as a formidable talent and making Give It 2 'Em Raw a cornerstone in the pantheon of Southern hip-hop.
94. Foxy Brown – Ill Na Na
With Ill Na Na, Foxy Brown stormed the scene, staking her claim in the male-dominated world of '90s rap. Laced with unabashed sexuality and unshakeable confidence, Foxy's debut was a breath of fresh air that further diversified the East Coast sound. Beyond her controversial and captivating persona, Foxy proved she could rhyme with the best of them, trading bars with heavyweights like Method Man and Jay-Z with ease. Cuts like "Get Me Home" and "I'll Be" not only cemented Foxy's position as a formidable MC but also showcased her knack for crafting radio-ready hooks, making Ill Na Na a notable standout of the era.
93. B.G. — Chopper City In The Ghetto
Meanwhile, down South, B.G.'s Chopper City In The Ghetto was serving up a grittier, rawer side of the rap spectrum. As a member of the New Orleans-based Cash Money Records, B.G. helped lay the groundwork for the label's dominance in the late '90s and early 2000s. His unflinching depictions of the struggles and realities of street life, paired with Mannie Fresh's banging beats, resulted in a timeless Southern classic. The standout track "Bling Bling" not only introduced a new phrase into the hip-hop lexicon but also encapsulated an entire era of extravagant and flashy hip-hop culture.
92. Three 6 Mafia — Mystic Stylez
Bubbling up from the underground Memphis scene, Three 6 Mafia's Mystic Stylez marked the birth of a darker, grittier southern sound. The record blended the aggressive energy of gangsta rap with occult, horror-film imagery, creating a haunting yet captivating atmosphere. Three 6 Mafia's use of bone-chilling piano melodies and grim lyrics on tracks like "Tear da Club Up '95" and "Live By Yo Rep" are harbingers of modern trap music. A key cornerstone of the southern rap narrative, Mystic Stylez spotlighted the potential of a then-underappreciated rap scene.
91. MC Eiht – We Come Strapped
Flipping to the West Coast, Compton's own MC Eiht and his debut solo album We Come Strapped provided a raw portrayal of life in L.A. The record echoed the struggles and harsh realities of gang culture, bolstered by Eiht's gritty storytelling and a classic G-funk backdrop. The result was a full-bodied chronicle of the era and location, from the confrontational "All for the Money" to the more introspective "Nuthin' But the Gangsta". As part of the larger tapestry of '90s era gangsta rap, We Come Strapped stands as a pillar of authenticity in a sea of imitation.
90. Mase – Harlem World
If there's one album that perfectly encapsulates the glitz and glamour of the late '90s Bad Boy era, it's Mase's Harlem World. This Harlem native, with his laid-back flow and penchant for designer threads, quickly became a favorite among rap and pop fans alike. Songs like "Feel So Good" and "What You Want" featured catchy hooks and glossy beats, a perfect match for Mase's smooth, easygoing delivery. Yet, the album wasn't all about shiny suits; tracks like "24 Hrs. to Live" and "Take What's Yours" showcased the Bad Boy rapper's impeccable flow and street sensibilities, reminding everyone that beneath the suave exterior was a rapper who could hang with the best of them.
89. E-40 – In a Major Way
On the opposite coast, E-40's In a Major Way marked a significant moment in the expansion of the West Coast's sonic landscape. Dripping with Bay Area swagger, E-40's innovative wordplay and unique delivery shone across the album. His fast-talking, slang-heavy style might have made him an acquired taste for some, but those who tuned in were treated to tracks like "Sprinkle Me" and "1-Luv," staples in the hyphy movement that still resonate today. E-40's unorthodox style was indeed in a major way, pushing the boundaries of the genre and solidifying the Vallejo rapper's place in hip-hop history.
88. Lord Finesse & DJ Mike Smooth – Funky Technician
Lord Finesse & DJ Mike Smooth's Funky Technician is a masterclass in pure, uncut boom-bap. Released at the very beginning of the decade, Finesse dropped knowledge over jazzy, sample-heavy beats — courtesy of DJ Premier, Diamond D and Showbiz — helping to cement the duo's place in '90s rap era. This album resonated in the streets of the Bronx, sending vibrations throughout the hip-hop world and beyond. The brilliance of Funky Technician lies not just in its timeless quality, but also in its inspirational influence on subsequent generations of punchline MCs, lyricists and beatmakers.
87. Compton's Most Wanted – Music to Driveby
Out on the West Coast, Compton's Most Wanted were making noise of their own with Music to Driveby. This album served as a dark, uncensored snapshot of life in Compton, delivered through MC Eiht's gritty street tales. Eiht's narratives were as potent as they were poignant, providing a stark contrast to the more party-centric West Coast tracks of the time. Tracks like "Hood Took Me Under" and "Straight Checkn 'Em" were as much reports from the front lines of gang-infested neighborhoods as they were head-nodding bangers. The strength of Music to Driveby is in its unapologetic honesty, showing a side of the West Coast that was often hidden beneath the palm trees and sunny skies.
86. Big L – Lifestylez ov da Poor & Dangerous
Straight outta Harlem, Big L's Lifestylez ov da Poor & Dangerous came like a storm on the East Coast, delivering street realities through razor-sharp punchlines and dazzling wordplay. L's dark and gritty rhymes, combined with a tongue-twisting flow, made this album one of the strongest showcase of supreme New York lyricism. Despite its bleak outlook, the record radiates an undeniable charisma thanks to Big L's relentless delivery and ice-cold punchlines.
85. The Pharcyde – Labcabincalifornia
Switching coasts, The Pharcyde's Labcabincalifornia brought a different flavor to hip-hop's golden era. Drenched in the sun-soaked realities of Southern California, the album seamlessly blended clever, introspective rhymes with jazzy, laid-back beats. This was the soundtrack to lazy afternoons and long summer nights – a departure from the gangsta narratives prevalent in West Coast rap of the time. Standout tracks like "Runnin'" and "Drop" showcased The Pharcyde's knack for evocative storytelling, wrapped in their signature humor and insight.
84. EPMD – Business As Usual
When you're talking about EPMD's Business As Usual, you're talking about a lyrical exercise in true-school bravado. This duo's third album remained rooted in their time-tested formula: funk-laden samples, tight rhymes, and an unyielding respect for the streets. Erick Sermon and Parrish Smith brought their A-game with back-and-forth wordplay that, although simple, was executed with a precision that made this album a hip-hop mainstay. Business As Usual is an album that resisted the emerging gloss of mainstream rap, staying true to the duo's funky roots. And for that, it remains an essential '90s listen, a testament to a time when hip-hop was as gritty as it was glorious.
83. Master P – MP da Last Don
As the boss of No Limit Records, Master P was arguably the most important figure of the late-'90s Southern rap explosion. Released in '98, MP da Last Don is a behemoth of a double album, boasting star-studded features and hard-hitting tracks. It's a testament to the No Limit boss' business acumen and his knack for crafting catchy, street-oriented bangers. Tunes like "Thinkin' Bout U" and "Goodbye to my Homies" showcase P's versatility, proving that this album is more than just a commercial juggernaut – it's a crucial slice of Southern hip-hop history.
82. Lil' Kim – Hard Core
Straight out the gate, Lil' Kim's Hard Core was a statement piece. This wasn't just a debut album; it was the queen bee's proclamation to the world, a raunchy, explicit affair that upended gender norms in the male-dominated rap game. The Brooklyn rapper held her own with her razor-sharp wordplay and unapologetic, in-your-face lyrical style. Hard Core cemented her position as a leading female MC, showing that she could go toe-to-toe with the hardest and come out on top.
81. Redman – Whut? Thee Album
Taking a turn into the funky side of the street, Redman's Whut? Thee Album proved an adrenaline shot to hip-hop's heart. The Newark MC's debut was filled with funky, sample-heavy beats that paid homage to his EPMD forebears, while his playful, often absurd lyricism and wild flow had listeners hooked from the jump. From head-nodding party jams to grimy street tales, Redman offered a little something for everyone and in doing so, helped redefine the sound of East Coast rap.
80. Capone-N-Noreaga – The War Report
The hard-hitting beats and gritty street tales of Capone-N-Noreaga's The War Report were an immediate hit in the late '90s hip-hop scene. The duo from Queens, New York painted an evocative picture of the underworld with their intricate storytelling and raw lyricism. The orchestration of beats is exceptional, with production titans like Marley Marl, Havoc, Buckwild, and Lord Finesse supplying the grimy, cinematic backdrop that intensifies the narrative. Tracks like "T.O.N.Y. (Top of New York)" and "Live On Live Long" are poignant tales of survival and loss, capturing the essence of street life in stark realism.
79. Diamond D – Stunts, Blunts and Hip Hop
In 1992, Diamond D dropped Stunts, Blunts and Hip Hop, a collection of '90s era boom-bap anthems that still knock today. A member of the legendary Diggin' in the Crates Crew, the rapper-producer brought his A-game on the boards and behind the mic. This is an album that oozes authenticity. Diamond D didn't need to posture or pretend. His rhymes were as real as the concrete beneath his feet, delivering an unadulterated perspective of a hustler turned beatsmith. On the production side, Diamond's skills were unmatched. The beats were gritty yet smooth, textured with jazz samples that made your head nod and your mind travel. Every scratch and sample, every boom and bap, were meticulously arranged, creating a sonic experience that was equal parts raw and refined.
78. Scarface – Mr. Scarface Is Back
Scarface's Mr. Scarface Is Back is one of the most seminal works in Southern rap history. With the Houston rapper's gravelly voice and evocative rhymes, listeners were given a front-row seat into the raw reality of life in the 5th Ward. His narratives were chilling, his delivery, impassioned. Every line painted vivid, often grim, portraits of street life, laced with socio-political commentary that was just as cutting today as it was back then. From the thumping basslines to the menacingly soulful grooves, the production on Mr. Scarface Is Back perfectly underscored Face's rugged narratives. His tales were hard, but the beats were even harder. This album marked a shift in the tides, proving that the South had something to say, and the world would be better off listening
77. Beastie Boys – Check Your Head
On the other end of the spectrum, Check Your Head by the Beastie Boys demonstrates the group's knack for blending genres and pushing the boundaries of what hip-hop could be. Melding elements of punk rock, jazz, and funk into their hip-hop foundation, the Beastie Boys created a sonic stew that was utterly unique. The album's diverse musical palette and innovative approach to songcraft were brilliant showcases of the trio's restless creativity and fearlessness in bending the rules. It is as much a love letter to music as it is an exploration of their maturing artistry.
76. Black Sheep – A Wolf in Sheep's Clothing
A Wolf in Sheep's Clothing by Black Sheep is a prime example of the cleverness and light-hearted spirit of the Native Tongues collective. Black Sheep duo, Dres and Mista Lawnge, created an album that was comedic, provocative, and thought-provoking all at once. The album's cheeky humor, coupled with Dres's smooth and articulate flow, lent the project a distinct personality in the crowded field of early-'90s hip-hop.
75. Freestyle Fellowship – Innercity Griots
Pivoting to the West Coast, Innercity Griots by Freestyle Fellowship embodies the spirit of the '90s underground LA hip-hop scene. The album is a tour de force of rapid-fire, jazz-infused rap, with the quartet delivering complex, acrobatic rhymes over beats that feel more akin to a smoky jazz club than the streets of South Central. The title itself, a nod to the storytellers of West African tradition, speaks to the group's role as narrators of the city's grittier, lesser-known tales. The Fellowship's avant-garde approach to hip-hop was a potent reminder of the genre's limitless potential and diversity.
74. Gang Starr – Hard to Earn
Slide into any true hip-hop head's conversation about impeccable lyricism and stone-cold production, and you'll find Gang Starr's Hard to Earn album rolling off tongues. Released in '94, this masterpiece is a testament to the undiluted chemistry between one of the greatest duos in rap history – Guru and DJ Premier. Hard to Earn sees Guru in his rawest form yet, spitting game about street life, loyalty, and everything in between over Premier's icy beats. His distinctively mellow voice becomes a stark contrast to the heavy subject matter, making tracks like "Mass Appeal" and "Tonz 'O' Gunz" all the more impactful. Let's not forget about Preemo though. His production on this album is akin to a maestro leading an orchestra, layering each beat with precision and intent. The way he chops up samples is nothing short of genius, pushing boom-bap to new frontiers and creating an almost hypnotic backdrop for Guru's rhymes.
73. Arrested Development — 3 Years, 5 Months & 2 Days in the Life Of…
Back in '92, Arrested Development's 3 Years, 5 Months & 2 Days in the Life Of… came through as a breath of fresh air in the midst of gangsta rap's dominance. The group's debut album was a cornucopia of soulful melodies, afrocentric themes, and palpable positivity that stood in stark contrast to the prevalent narratives of the era. Spearheaded by Speech, the group explored societal and racial issues with sensitivity and insight, all while keeping the grooves irresistibly catchy. The success of singles like "Tennessee" and "People Everyday" cemented the group's place in hip-hop history and validated their conscious, uplifting approach to the genre.
72. Big Pun – Capital Punishment
Big Pun, a Puerto Rican MC hailing from the Bronx, dropped a bomb on the hip-hop scene with his debut album, Capital Punishment. Released in '98, Pun's rapid-fire flow and clever wordplay were in full display, delivering multisyllabic rhymes that left jaws on the floor. With the LP boasting hits like "Still Not a Player" and "Twinz (Deep Cover 98)", the Bronx rapper etched his name as one of the greatest rap lyricists to touch a mic. In a tragically short career, Big Pun proved he could hold his weight among the best, leaving an enduring impact that still resonates today.
71. Company Flow – Funcrusher Plus
Company Flow's Funcrusher Plus is a stark, dystopian soundscape that hits you like a brick wall. When it dropped in '97, it turned heads and twisted minds, existing on the fringes of the hip-hop scene while simultaneously redefining it. The trio, made up of El-P, Bigg Jus and DJ Mr. Len, conjured up an album that's like an out-of-control subway train, hurtling through the grimy underbelly of New York, filled with raw, unfiltered emotion and disconcerting sonic architecture. Funcrusher Plus is the antithesis of mainstream '90s rap, rejecting the burgeoning bling era in favor of a gritty, underground aesthetic. It's a headfirst dive into the deep end of experimental hip-hop, a tour-de-force that left a mark on the landscape that's still visible to this day.
70. Jay-Z – Vol. 2… Hard Knock Life
Vol. 2… Hard Knock Life is the reason why Jay-Z became who he is today. Launched in 1998, this album sees Jigga flexing his ability to create anthems and introspective tracks with equal panache. The title track, "Hard Knock Life (Ghetto Anthem)," became an international hit, and songs like "Money, Cash, Hoes" and "Can I Get A…" contributed to its commercial success. But the album isn't just about catchy hooks – Jigga's narratives of his former life on the streets offer poignant insights and societal critique. Without the multiplatinum success of Vol. 2, the Brooklyn lyricist wouldn't have ascended to the upper echelon of the rap game and become the King of New York.
69. N.W.A. – Efil4zaggin
Dropping in '91, smack in the middle of the Rodney King uproar, N.W.A. laid out their anger and frustration with brutal honesty, stirring up controversy while pushing the rap game into uncharted territories. Efil4zaggin was a direct challenge to the systemic oppression faced by Black communities in America. The Compton crew's vitriolic lyricism and uncompromising attitude, coupled with Dr. Dre's gritty, sample-heavy production, resonated with many and ruffled just as many feathers. Tracks like "Real Ni**az" and "Appetite for Destruction" laid bare the harsh realities of life in South Central LA, making it clear they wouldn't be silenced or sanitized.
68. Brand Nubian – One for All
A founding cornerstone of conscious hip-hop, Brand Nubian's One for All is an album that profoundly impacted the budding sub-genre. Debuting in 1990, the record's blend of Five-Percent Nation teachings, thought-provoking rhymes, and jazz-funk samples was refreshingly distinctive. Each member of the quartet contributed unique elements, resulting in a rich, diverse sound that was both socially aware and pleasingly musical. Hits like "Slow Down" and "Wake Up" exemplified their ethos, fusing potent commentary with potent hooks.
67. Ol' Dirty Bastard – Return to the 36 Chambers: The Dirty Version
An entirely different beast, Ol' Dirty Bastard's Return to the 36 Chambers: The Dirty Version embodies the wild, unpredictable, and endearing spirit of its creator. Launched in '95 as his solo debut, it's a chaotic, raw, and profoundly unique record, much like ODB himself. Bursting with off-kilter rhymes, eccentric vocal styles, and grimy production, the album pushed boundaries of what a rap album could be. Whether it's the infectious "Shimmy Shimmy Ya" or the confrontational aggression of "Brooklyn Zoo", ODB never fails to leave an indelible mark on your consciousness.
66. Naughty by Nature – Naughty by Nature
Naughty by Nature, with their self-titled release, didn't just create an album – they served up a dish of street anthems that defined an era, and in the process created a blueprint for rap moving forward. Dropped in '91, the record was the perfect blend of accessible and hardcore, with rhymes you couldn't help but recite and beats that refused to leave your system. "O.P.P." and "Ghetto Bastard," anthems in their own right, turned the trio from New Jersey into household names. But more than the hits, it was their grasp on the pulse of the streets that set them apart.
65. Pete Rock & CL Smooth – The Main Ingredient
On the other hand, Pete Rock & CL Smooth's The Main Ingredient is an often-undersung jewel in the crown of '90s hip-hop. Laced with Pete Rock's sublime, soul-drenched beats, it is the perfect canvas for CL Smooth's velvet voice and thoughtful lyricism. His words weave intricate stories of life, love, and hardship, painting an evergreen picture of New York life that is just as potent today. This record is a reminder that hip-hop's essence lies in its ability to meld the raw with the smooth, to create a soundtrack for the streets that also resonates in the heart.
64. Souls of Mischief – 93 'Til Infinity
Bucking the trend of gangsta rap dominating the West Coast at the time, Oakland's very own Souls of Mischief decided to kick back and let their lyrical prowess do the talking instead. The title track, with its chill vibes and smooth lyricism, became an anthem for the generation, encapsulating the free-flowing essence of hip-hop at the time. From the opening bars to the closing echoes, 93 'Til Infinity stands out as an album that was well ahead of its time. It merged the worlds of jazz and rap with a seamlessness that few others could match, creating a sound that was uniquely their own.
63. Ice T – Original Gangster
On the same coast, but with a wholly distinct flavor, Ice T's Original Gangster was another game-changer from the New Jersey-born, West Coast-raised rapper. As one of the progenitors of gangsta rap, Ice T didn't pull any punches on this '91 release. Telling gritty tales of street life with an unparalleled rawness, the album was pivotal in shaping the direction of hip-hop in the '90s. Ice T's forthright storytelling and aggressive delivery on tracks like "New Jack Hustler" and "Original Gangster" solidified his status as one of rap's most influential voices. This album is a stark reminder of the grim realities that birthed the genre, highlighting Ice T's role as a storyteller, a social critic, and arguably the most important West Coast rapper ever.
62. O.C. – Word…Life
With his debut album Word…Life in 1994, O.C. helped solidify the standing of D.I.T.C (Diggin' in the Crates Crew) in hip-hop's underground scene. This lyrical masterclass fused thought-provoking, intricate rhymes with premier boom-bap production. The standout track, "Time's Up," became an emblem of the time, challenging the flashy, commercial direction hip-hop was beginning to take and standing up for the essence of the genre.
61. Main Source – Breaking Atoms
A little earlier in the decade, Main Source delivered a seismic shift to the landscape of hip-hop with Breaking Atoms in 1991. The album's jazzy loops and innovative sampling techniques became an inspiration for an entire generation of producers. Frontman Large Professor's smooth flow and witty wordplay proved he was more than capable on the mic. With a guest appearance from a then-unknown Nas on "Live at the Barbeque," this album was not just a moment in hip-hop history, it was a launchpad. It's safe to say that without Breaking Atoms, hip-hop as we know it would look quite different.
60. Smif-N-Wessun – Dah Shinin'
In 1995, Smif-N-Wessun arrived with Dah Shinin', a gritty gem that was as hard-hitting as it was lyrically compelling. The duo, composed of Tek and Steele, offered a detailed tour of Brooklyn's mean streets through their densely woven narratives and ominous soundscapes. The soulful beats were overlaid with the raw energy of their lyrics, making tracks like "Bucktown" and "Sound Bwoy Bureill" unforgettable. Dah Shinin' was an embodiment of East Coast hardcore rap, adding a significant chapter to the book of '90s New York hip-hop.
59. Eric B. & Rakim – Let the Rhythm Hit 'Em
1990's Let the Rhythm Hit 'Em, the third studio album from Eric B. & Rakim, was a perfect example of how they pushed the boundaries of hip-hop during their '80s reign. Rakim's razor-sharp lyrics sliced through the booming beats, courtesy of Large Professor and the late Paul C, creating a masterful blend of thought-provoking poetry and infectious rhythm. From the title track to "In the Ghetto," Rakim's vivid storytelling and intricate rhyme schemes were unparalleled, painting vivid pictures of street life over the soulful, funk-infused production. With this album, the duo further cemented their position as innovators and standard bearers of the culture.
58. Black Star – Mos Def & Talib Kweli Are Black Star
Black Star's eponymous album, Mos Def & Talib Kweli Are Black Star, broke barriers and challenged norms in the game. It's more than just an album – it's a zeitgeist moment in the '90s that introduced Mos Def and Talib Kweli to the world. Lyrically dense, socially conscious, and deeply layered, the album added fresh and novel dimensions to hip-hop. Kweli's articulate aggression complemented Mos Def's laid-back jazziness, together delivering a masterpiece that pushed the needle of hip-hop into the realm of intellectual artistry. But don't get it twisted, the beats on this record got heads nodding too – and it's that sweet marriage of thought-provoking lyricism and top-notch production that grants this album its high placement on this list.
57. Jeru the Damaja – The Sun Rises in the East
Meanwhile, The Sun Rises in the East introduced Jeru the Damaja to the world. A raw, rugged, no-frills representation of East Coast boom-bap at its finest, this album brought Jeru's lyrical prowess to the forefront. Dropping jewels of wisdom and tales of the street in equal measure, the Brooklyn MC brought a level of authenticity that was rare, even for its time. The iconic DJ Premier laced the beats on this joint, crafting an atmospheric backdrop that was sparse yet head-nodding, further amplifying Jeru's messages. It's the hip-hop equivalent of a powerful stage play – minimal props, maximal delivery, and a performance that still resonates through the ages.
56. Dr. Octagon – Dr. Octagonecologyst
When Dr. Octagon's Dr. Octagonecologyst dropped, it was like a UFO had landed in the hip-hop scene, laden with oddball, off-kilter rhymes and futuristic beats. The alter ego of Kool Keith, Dr. Octagon came through with this wildly inventive, almost psychedelic album that smashed the box of conventional rap. His rhymes were strange, the production was far-out, and the subject matter – well, let's just say it was alien territory for most. Still, the album has earned its place in hip-hop lore, and while it may not be for everyone, it remains a brilliant snapshot of a moment when hip-hop dared to push the boundaries of weird. Nearly 30 years since the album's release, it's safe to say Dr. Octagonecologyst is one of the most significant underground rap records of all time.
55. Nas – It Was Written
Following his classic debut Illmatic, Nas returned to the scene with It Was Written, proving that lightning can indeed strike twice. This is an album that shows the growth and evolution of an artist, the transformation of Nasty Nas into Nas Escobar. We got tracks like "If I Ruled the World (Imagine That)" with Lauryn Hill, offering a vision of an alternate universe where the street hustle is no longer a necessity, a world where dreams of success are not just dreams, but reality. Meanwhile, the eerie "The Message" pulls no punches, and "Street Dreams" paints a evocative picture of a world many of us only ever see in movies. This is Nas at his most cinematic, his rhymes telling stories that captivate and enthral, backed by beats that bounce and flow with the rhythm of the city streets.
54. Ghostface Killah – Ironman
Straight from the chambers of Wu-Tang Clan, Ghostface Killah delivered a masterstroke with his debut Ironman. With a soundscape as rich and varied as the Wu rapper's storytelling, the album mixed soul samples and street tales into a potent brew. Ghost's razor-sharp flow over RZA's gritty, cinematic production created an opus that balanced rugged street narrations with emotional vulnerability, a testament to Ghostface Killah's multidimensional artistry. It was raw, real, and undeniably soulful, making it a standout in the Wu's vast discography.
53. A Tribe Called Quest – People's Instinctive Travels and the Paths of Rhythm
A Tribe Called Quest's debut People's Instinctive Travels and the Paths of Rhythm was a breath of fresh air, ushering in a new era of jazz-infused hip-hop. Q-Tip, Phife Dawg, Ali Shaheed Muhammad, and Jarobi White combined their distinct talents to create an album that celebrated life, love, and consciousness. Their lighthearted, clever lyricism, coupled with innovative sampling of jazz and funk, put Tribe on the map and helped redefine the sound of hip-hop. From "Bonita Applebum" to "Can I Kick It?," the tracks were musical journeys, steering away from the prevalent gangsta rap narrative and steering hip-hop into a new direction of conscious vibes.
52. Organized Konfusion – Stress: The Extinction Agenda
Talk about a high-stakes second act; Organized Konfusion's Stress: The Extinction Agenda didn't just meet expectations, it shattered them. A far cry from the frolics of their self-titled debut, the duo's sophomore album delved deep into the societal pressures that could drive a man to his breaking point. Prince Po and Pharoahe Monch's complex rhymes, weaving intricate narratives and metaphors, perfectly mirrored the album's dark, gritty production. This was grim, cerebral hip-hop that refused to shy away from harsh truths, a standout masterpiece that was as challenging as it was rewarding.
51. Eminem – The Slim Shady LP
Then there's Eminem's The Slim Shady LP. Raw, audacious, and overflowing with personality, this debut catapulted Eminem into the spotlight. With his uncanny knack for crafting intricate rhyme schemes and his unapologetic exploration of his troubled past, the Detroit rapper staked his claim as a force to be reckoned with. Unfiltered and unflinching, The Slim Shady LP was a vivid tableau of suburban decay, presented through the twisted lens of its provocateur. Whether you loved him or loathed him, after this album dropped, there was no denying that Eminem had arrived.
50. Mobb Deep – Hell on Earth
Mobb Deep's Hell on Earth didn't just perpetuate their street-credible narrative; it darkened the ink. Havoc and Prodigy's sharp lyricism portrayed the harsh realities of Queensbridge projects in stark detail. Hell on Earth was that rare album that could unnerve and enthrall in equal measure, its gothic beats and haunting rhymes creating a chilling depiction of urban life. The duo's sophomore effort was even more austere, even more coldly fatalistic than The Infamous, leaving no doubt that the Infamous Mobb Deep brand was synonymous with East Coast hardcore hip-hop.
49. KRS-One – Return of the Boom Bap
KRS-One's Return of the Boom Bap was just another addition to his growing legacy as one of the pioneers of the rap game. The Blastmaster wasn't just paying homage to the classic boom bap sound; he was reclaiming it, reminding us all of hip-hop's roots. Filled with biting social commentary, complex lyricism, and head-nodding beats, courtesy DJ Premier, Showbiz and Kid Capri, Return of the Boom Bap encapsulated the true essence of hip-hop. It was a quintessential KRS-One album that served as a litmus test for purists and a masterclass for the up-and-coming emcees.
48. Black Moon – Enta da Stage
Enta da Stage by Black Moon is a raw embodiment of the grimy, visceral energy of early '90s East Coast hip-hop. The album features Beatminerz's brooding, bass-heavy beats and Buckshot's aggressively nimble flow, resulting in a hardcore sound that's both potent and infectious. Tracks like "Who Got Da Props?" and "How Many MC's…" are quintessential boom-bap, exemplifying the kind of hardcore hip-hop that made Black Moon a revered name in the underground scene.
47. The Roots – Do You Want More?!!!??!
On the other end of the spectrum, The Roots' Do You Want More?!!!??! is a sonic buffet of jazz-infused hip-hop that shook up the genre's fundamentals. With Questlove's intricate production mind and Black Thought's lyrically dense verses, The Roots pioneered a live-instrumentation approach in hip-hop. The album's jazzy inflections and improvisational flair, particularly on tracks like "Proceed" and "Mellow My Man", showcased The Roots' musical prowess and set them apart from their contemporaries, making them one of the most innovative rap acts of the '90s.
46. Common – Resurrection
There's something spellbinding about the way Common spun his rhymes on Resurrection, a point of evolution in his discography, where he turned philosophical and introspective. This Chi-town poet pulls you into his mind with sharp observations and rich imagery. The lead single "I Used to Love H.E.R." personifies hip-hop as a woman, a singular embodiment of his unending love for the craft. Common's lyricism, intertwined with No I.D.'s production, set this album apart as a classic piece of '90s conscious rap.
45. 2Pac – Me Against the World
On the flip side, we got Me Against the World, a defining chapter in 2Pac's legacy. Here's Pac at his most vulnerable, his most reflective, shedding the hardcore exterior to reveal a man grappling with life's brutalities. It's a raw and unfiltered journey into his soul, with tracks like "Dear Mama" that offer a heart-rending tribute to his mother. The album's release while Pac was incarcerated added to its gravitas, immortalizing it as a beacon of resilience in the face of adversity. Me Against the World marked a shift in 'Pac's music, bringing the depth of his lyrical content to the forefront over some of the best production he would ever rap on in his short-lived career.
44. Juvenile – 400 Degreez
For the turn of the millennium, Juvenile heated up the scene with 400 Degreez, a steamy gumbo of southern hip-hop that put Cash Money Records and the New Orleans scene on the map. An explosion of brash beats, infectious hooks, and Juvenile's signature slurred delivery, the album's standout hits like "Ha" and "Back That Azz Up" have become synonymous with late '90s Dirty South vibes. As gritty as it is bouncy, 400 Degreez is a snapshot of a time when the South was beginning to assert its dominance in the culture.
43. The Roots – Things Fall Apart
At its core, Things Fall Apart is a captivating exploration of urban consciousness and existential angst. This Philly crew led by Black Thought and Questlove set the gold standard for live instrumentation in hip-hop with their fourth studio album. Packed with introspective lyrics, jazzy rhythms, and soulful hooks, this album's resounding influence can still be heard in contemporary hip-hop. With cuts like "You Got Me" and "The Next Movement," Things Fall Apart represents the convergence of intellectualism and musicality in hip-hop, while giving The Roots their biggest look to date.
42. Geto Boys – We Can't Be Stopped
Unapologetic and visceral, Geto Boys' We Can't Be Stopped is a cornerstone in the world of southern hip-hop. Straight from the streets of Houston's Fifth Ward, this project is as real as it gets. With the unsettling cover art to the raw narratives inside, it pulls no punches. The chilling track "Mind Playing Tricks on Me" stands as a cornerstone of the genre, a perfect embodiment of the gritty reality that Geto Boys never shied away from presenting in their work.
41. Wu-Tang Clan – Wu-Tang Forever
Arriving at the peak of their powers, Wu-Tang Forever, the sophomore release by the iconic Shaolin group, further propelled these lyrical samurais into the hip-hop stratosphere. This ambitious double album brought all the raw energy, rugged lyricism, and unique personalities of the nine swordsman into the limelight — from Method Man's nimble wordplay to Raekwon's cinematic storytelling, from GZA's sharp lyrical insights to the late Ol' Dirty Bastard's wild, unhinged energy. With RZA directing the soundscape, the album traverses through narratives of street wisdom and philosophical introspection. Undeniably ambitious and occasionally sprawling, Wu-Tang Forever is a magnum opus that reaffirms the Wu's legacy – ain't nothing to f**k with.
40. The Pharcyde – Bizarre Ride II the Pharcyde
Bizarre Ride II the Pharcyde is a joyride through the eccentric and eclectic minds of The Pharcyde. Delightfully off-kilter and brimming with humor, this album blazes its own trail in the hip-hop landscape. The Pharcyde's fusion of jazz beats and quirky, rapid-fire rhymes in tracks like "Passin' Me By" and "Ya Mama" makes this album a funhouse mirror reflection of the '90s West Coast scene. It's a vibrant, colorful masterpiece that gave a counter-narrative to the prevalent gangsta rap discourse.
39. MF DOOM – Operation: Doomsday
Hip hop's masked marauder, MF DOOM, detonated on the scene with Operation: Doomsday, a cataclysmic cocktail of clever wordplay, comic book references, and a pervading sense of mystery. This enigmatic figure, formerly known as Zev Love X of the group KMD, reinvented himself as the villainous DOOM after a hiatus following personal tragedy. He used this album as an expression of his return, presenting a distinct persona that was as cartoonish and eccentric as it was deep and introspective. DOOM's complex rhymes flow over a bedrock of eclectic beats, featuring samples ranging from Saturday morning cartoons to 80s R&B classics, crafting a soundscape that feels nostalgic yet progressive at the same time. The album is filled with hidden lyrical gems and complex verses, each line revealing more about DOOM's cryptic character. Operation: Doomsday is an unforgettable introduction to one of underground's rap most influential figures, a record that doesn't just stand the test of time but defies it, existing in its own fantastical dimension.
38. Scarface – The Diary
Contrasting with DOOM's labyrinthine lyricism, Scarface's The Diary hits with an unvarnished look at street life, demonstrating why Brad Jordan is regarded as one of the greatest storytellers in hip-hop. Brutally honest, Scarface never sugarcoats his experiences, whether he's painting bleak portraits of the ghetto or revealing his inner emotional turmoil. Tracks like "I Seen a Man Die" and "Hand of the Dead Body" exemplify his ability to create wildly creative narratives with a chilling sense of reality, reaffirming the fact that the South boasts some of the strongest lyricists of all time.
37. De La Soul – Buhloone Mindstate
In a similar vein of bold creativity, De La Soul delivered Buhloone Mindstate, a triumph of innovation. This album saw the trio step away from the sample-heavy approach of their previous works, instead opting for live instrumentation and complex song structures. Melding jazz, funk, and soul elements, De La Soul crafted a layered and expansive soundscape that allowed their wordplay to shine. The album, with tracks like "I Am I Be," speaks volumes of the trio's introspective streak and maturation as artists. Truly, a mindstate worth visiting.
36. Gang Starr – Moment of Truth
Talk about a moment of truth — Gang Starr's 1998 album is a touchstone of rap's golden era, the perfect brew of DJ Premier's scratch-heavy boom-bap and Guru's contemplative lyricism. Each track is a hard-hitting lesson on life's harsh realities, epitomized by the title track and "Above the Clouds", which features the indomitable Inspectah Deck of the Wu-Tang Clan. Gang Starr managed to synthesize the rawness of street rap with an almost philosophical depth, creating a masterpiece that still reverberates throughout rap culture.
35. Fugees – The Score
Following their underwhelming debut album, Blunted on Reality, the Fugees returned in 1996 with The Score, the record that skyrocketed the New Jersey-based group into the stratosphere. The trio—comprising Wyclef Jean, Pras, and a young, fierce Lauryn Hill—created a timeless piece that transcended the genre. With its seamless blend of hip-hop, soul, and reggae, the album was a cultural landmark, extending far beyond the realm of rap. "Killing Me Softly", Lauryn Hill's mesmerizing reinterpretation of Roberta Flack's original, became the group's signature. Yet the album's real genius lies in its synergy, the perfect union of three distinct voices across classic tracks like "Fu-Gee-La", "Ready or Not", "Zealots" and "How Many Mics."
34. DMX – It's Dark and Hell Is Hot
As gritty as it is grand,It's Dark and Hell Is Hot remains one of the most haunting and honest portrayals of inner-city life ever recorded. DMX, with his rough-around-the-edges flow and a gruff voice that sounds like it was forged in fire, carved out a lane for himself that was distinctly against the grain. In an era dominated by the shiny suits and champagne of the jiggy era, X chose to bare his soul, showcasing a tumultuous world of street tales, spiritual struggles, and raw emotion. Tracks like "Ruff Ryders' Anthem" and "Get At Me Dog" exemplify the Yonkers rapper's high-octane, aggressive style, but it's the introspective cuts like 'How's It Goin' Down' and 'Stop Being Greedy' that add depth to his artistry. It's Dark and Hell Is Hot is a deep dive into the psyche of one of hip-hop's most enigmatic and enduring figures.
33. Redman – Muddy Waters
The swampy terrain of Redman's Muddy Waters gave rise to one of the grimiest, funniest, and most innovative albums of the decade. Reggie Noble, with his witty lyricism and impeccable comedic timing, spit a relentless torrent of funk-infused punchlines over dank, grimy beats. Muddy Waters is quintessential Redman—a rapper's rapper with a unique ability to make you think, laugh, and vibe, all at the same time. The album remains a touchstone in East Coast hip-hop, reminding us of a time when the beats were hard, the lyrics were raw, and the New Jersey rapper was the undisputed king of the funk.
32. Cypress Hill – Cypress Hill
A trailblazer in its own right, Cypress Hill's self-titled debut album remains one of the most iconic works in '90s hip-hop. Melding hardcore street narratives with psychedelic overtones, B-Real, Sen Dog, and DJ Muggs introduced audiences to a sonic world unlike any other. Their signature spanglish lyricism, spun over Muggs' eerie, funk-infused beats, created an intoxicating blend that resonates even today. "How I Could Just Kill a Man" and "Hand on the Pump" aren't just songs—they're testaments to Cypress Hill's revolutionary spirit, a rebellious antidote to the status quo.
31. Pete Rock & CL Smooth – Mecca and the Soul Brother
When you're talking about albums that define the golden era of hip-hop, Pete Rock & CL Smooth's Mecca and the Soul Brother has to be part of that conversation. It's a profound exhibition of the duo's musicianship—the synergy between Pete Rock's jazzy, soul-drenched instrumentals and CL Smooth's introspective lyricism creates an atmosphere that is as thought-provoking as it is head-nodding. From the mournful tribute "They Reminisce Over You (T.R.O.Y.)" to the life-affirming "Lots of Lovin," the album is an exploration of life's highs and lows, an intimate reflection of the human experience set to a boom-bap beat.
30. Bone Thugs-N-Harmony – E. 1999 Eternal
"Cleveland, is the city where we come from so run run…" goes the line on "East 1999" off E. 1999 Eternal, the magnum opus of Bone Thugs-N-Harmony. The gritty street anthems, laced with melodic harmony, give this album an almost paradoxical aura. The quick-tongued, chopper-style verses from Krayzie, Layzie, Bizzy, Wish, and Flesh meld with the soulful harmonies to craft a sonic tapestry that's grimy yet gorgeous. This album is an ode to the streets, a requiem for the lost souls, and a testament to Bone Thugs' influential position in hip-hop history.
29. Mos Def – Black on Both Sides
Mos Def's Black on Both Sides is an album that's akin to an enlightening journey through the backstreets of Brooklyn and the corners of consciousness. The budding BK poet drops wisdom like he's the professor of a hip-hop masterclass, stirring your soul with narratives wrapped in slick wordplay on tracks like "Ms. Fat Booty", then serving you raw facts on societal struggles with "Mathematics". Black on Both Sides is a profound narrative, an unapologetic proclamation of black identity, and a timeless testament to the power of lyricism. Mos Def didn't just make an album, he crafted a compass for those lost in the maze of the '90s urban jungle.
28. Goodie Mob – Soul Food
Coming straight outta the heart of Atlanta, Goodie Mob arrived with Soul Food like a home-cooked meal for the soul. The Mob, consisting of CeeLo Green, Big Gipp, Khujo, and T-Mo, served up hearty plates of Southern wisdom mixed with observations on poverty, racism, and urban decay. The quartet's chemistry was undeniable, and the use of live instrumentation made Soul Food not just a rap album but a deep dive into the rugged, soulful sounds of the ATL. These rappers told it like it was, showing the world that Atlanta wasn't just peachy – it was complex, layered, and real.
27. Dr. Dre – 2001
A seamless fusion of G-funk and modern gangsta rap, Dre delivered a sophomore album that was as slick, cinematic, and impactful as you would expect from the legendary Compton rapper-producer. With star-studded features and gritty narratives, 2001 was less of an album and more of a blockbuster movie for the ears. Dre's production was pristine, making each track feel like a finely tuned muscle car cruising down the streets of South Central. Eminem, Snoop Dogg, Kurupt, Nate Dogg and a league of other heavy hitters lent their voices, but it was the Doctor's orchestration that cemented 2001 as an iconic slice of West Coast rap history.
26. LL Cool J – Mama Said Knock You Out
When LL Cool J dropped Mama Said Knock You Out, he wasn't just making a statement; he was issuing a warning. This was a comeback album, a flex of lyrical muscle that screamed, "Don't call it a comeback, I've been here for years!" The title track remains an anthem for defiance, a soundtrack for every underdog who's been dismissed, disregarded, or underestimated. LL's blend of aggressive wordplay, coupled with Marley Marl's trunk-rattling, funky production, created an album that not only revitalized his career but also solidified his place in the rap pantheon.
25. DJ Quik – Quik Is the Name
From the streets of Compton to the airwaves, DJ Quik's Quik Is the Name played a pivotal role in shaping the G-funk era with party-ready anthems and magnetic storytelling. The Compton artist's virtuosic ability to turn his turbulent experiences into catchy, groove-infused tunes established him as one of West Coast hip-hop's most distinctive voices. Whether it's the exuberant "Born and Raised in Compton" or the funk-laden "Tonite," Quik didn't just drop beats, he orchestrated a hip-hop symphony. Quik Is the Name marked the arrival of a master producer and rapper who could flip the script, proving that West Coast rap could be both gangsta and groovy.
24. OutKast – ATLiens
Picture this: OutKast's sophomore offering ATLiens serving as the dawn of a new era in Southern hip-hop, seamlessly blending East Coast-level lyricism with funky Atlanta roots, and spiced with a dash of extraterrestrial vibes. Andre 3000 and Big Boi stepped up their game, ushering us into their unique, eclectic universe. The album spun tales of introspection, street wisdom, and alien abduction over cosmic production that still sounds fresh decades later. From the sci-fi infused title track to the introspective 'Elevators (Me & You)', ATLiens was an audacious leap into uncharted cosmic territories.
23. GZA – Liquid Swords
A linchpin of the Wu's prodigious output during the decade, Liquid Swords features GZA at his most cerebral, serving up dense, intricately-crafted rhymes over RZA's sinister beats. The album is cinematic in its scope, presenting a dystopian landscape through the Genius' grim narratives. Its stories are populated by samurai, gangsters, and chess players—all set against RZA's bleak and grungy soundscapes. "Duel of the Iron Mic" and "4th Chamber" hit hard with sharp wordplay and killer guest spots from the Wu collective, while the chilling "Cold World" paints a vivid picture of street life in the dead of winter. A seminal work that showcases the incredible potential of hip-hop when guided by masters of the craft, there should be no doubt that Liquid Swords is one of the greatest '90s rap albums ever.
22. Missy Elliott – Supa Dupa Fly
In 1997, the game was irrevocably changed when Missy "Misdemeanor" Elliott dropped her groundbreaking debut Supa Dupa Fly. Working in lockstep with Timbaland, the Virginia-born MC showcased her dynamic artistry – seamlessly transitioning from spitfire raps to sultry R&B vocals. The album was a nonstop carnival of innovative beats, quirky rhymes, and futuristic visuals. It was a breath of fresh air, bringing a unique, often overlooked perspective – that of a confident, creative woman – to the forefront of hip-hop. From the infectious bounce of "The Rain (Supa Dupa Fly)" to the sassy anthems like "Sock It 2 Me", Missy's debut proved that she was not only a phenomenal artist but also a trendsetter. The album's influence transcended the confines of the hip-hop world, giving us a taste of what was possible when genre lines are blurred and creativity is allowed to run wild.
21. UGK – Ridin' Dirty
The South's got something to say, and UGK's Ridin' Dirty said it loud and clear. Bun B and Pimp C showed the world that Southern hip-hop wasn't just a subgenre—it was a lifestyle. With a sound steeped in blues and soul, Ridin' Dirty spun tales of life in the South, from the candy-painted Cadillacs to the gritty realities of the streets. Pimp C's laid-back delivery juxtaposed perfectly with Bun B's hard-hitting bars, creating a dynamic interplay that would shape Southern hip-hop for decades. Ridin' Dirty is a potent blend of swagger and storytelling—a testament to UGK's ability to reflect the beauty and struggle of the Houston experience.
20. Snoop Dogg – Doggystyle
Two words – "Gin and Juice." If that doesn't instantly teleport you back to the heart of the '90s, you're missing out. Snoop Dogg's Doggystyle was a titan, roaring outta Long Beach, stamped with the seal of Dr. Dre's G-funk sound. What really made 'Doggystyle' unforgettable though, was Snoop's laid-back flow and knack for storytelling, painting vivid pictures of the California streets. You had anthems like "Who Am I (What's My Name?)" that hit the hip-hop scene with seismic force. A quarter-century later, it still holds sway – a testament to the Doggfather of rap.
19. The Notorious B.I.G. – Ready to Die
The Notorious B.I.G.'s debut album Ready to Die is the stuff of hip-hop lore – a magnum opus that's as heartbreaking as it is electrifying. Infused with stark tales of street life, Biggie's inimitable flow, and a lyrical prowess that was both relatable and unparalleled, this record cemented the Bed-Stuy rapper's place as one of the greatest rappers of all time. From the jump, Biggie's cinematic storytelling sets a gritty, raw narrative. Songs like "Gimme the Loot" and "Warning" offer up a grim portrayal of the realities of inner-city life, punctuated by Big's brilliant lyricism and unrivaled charisma. However, Ready to Die isn't just a compendium of hard-knock tales. Biggie also showcased his range and versatility on tracks like "Big Poppa" and "Juicy," the latter serving as an autobiographical tale of his rise from rags to riches. Bottom line — Ready to Die remains a defining record of the '90s rap scene, showcasing the promise of a prodigious talent whose life was cut tragically short."
18. Lauryn Hill – The Miseducation of Lauryn Hill
The Miseducation of Lauryn Hill was Lauryn Hill's definitive statement, a genre-bending masterpiece that traversed the realms of hip-hop, soul, and reggae, all underlined by her poetic lyricism and introspective storytelling. The ex-Fugees artist wore many hats on this album: singer, rapper, songwriter, producer, drawing from her experiences as a young Black woman navigating love, motherhood, fame, and spirituality. From the empowering "Doo Wop (That Thing)" to the heartfelt "Ex-Factor," Lauryn Hill crafted an intimate narrative that resonated with a universal audience. This album redefined what a hip-hop artist could achieve and firmly planted Lauryn's flag in the pantheon of hip-hop greatness.
17. OutKast – Southernplayalisticadillacmuzik
Just as pivotal to the '90s hip-hop soundscape was OutKast's debut album, Southernplayalisticadillacmuzik. Andre 3000 and Big Boi took the world by storm with their unique blend of dirty South hip-hop, funk, and soul. The album was a proud proclamation of their Southern roots, introducing the world to Atlanta's vibrant culture and dialect. Tracks like "Player's Ball" and the title track were laden with their youthful, energetic flows and ear-catching Southern slang, establishing OutKast as the refreshing new voice of the South, and forever altering the trajectory of hip-hop. The Atlanta rap game is now the epicentre of the culture, and it all started with these two ATLiens.
16. Public Enemy – Fear of a Black Planet
Public Enemy's Fear of a Black Planet was a bolt of lightning in the hip-hop landscape, a raw and electrifying manifesto of Black pride and defiance against systemic oppression. Chuck D's unflinching socio-political commentary was backed by the Bomb Squad's riot-inducing and densely-layered sonic collage, including sirens, scratching, and funk samples. From the declaration of "Fight the Power" to the unsettling truths of "911 Is a Joke," the album was a revolutionary clarion call, the impact of which can still be felt in the politically-charged bars of today's emcees.
15. 2Pac – The Don Killuminati: The 7 Day Theory
Released just weeks after his untimely demise, 2Pac – now Makaveli – made a chilling last stand. Embracing themes of mortality, revenge, and paranoia, The Don Killuminati: The 7 Day Theory showcased the late rapper at his most raw and unfiltered. The brooding "Hail Mary," the aggressive "Bomb First (My Second Reply)," and the introspective "Against All Odds" underscored 2Pac's lyrical depth and unmatched charisma, while giving rap fans a peek into his state of mind at the time. The album was a haunting sign-off from an artist who had transformed into an icon, a legend, and one of the greatest MCs of all time.
14. Ice Cube – Death Certificate
Ice Cube's Death Certificate was nothing short of a seismic event in hip-hop. On his sophomore, Cube delivered a hard-hitting commentary on racial tension, ghetto life, and systemic injustice with unflinching honesty. With the lyrical prowess of a seasoned poet and the raw anger of a man scorned, the West Coast MC shed light on the stark realities of being Black in America. Death Certificate was divided into 'Death' and 'Life' sides, showcasing both Cube's anger and his vision for upliftment. It was abrasive, aggressive, and at times uncomfortable to digest, but that was Ice Cube's point: he wanted listeners to feel the urgency, the desperation, the reality.
13. De La Soul – De La Soul Is Dead
De La Soul Is Dead, on the other hand, was an audacious riposte to the 'D.A.I.S.Y. Age' expectations set by the trio's debut. Ditching the psychedelic and carefree vibes of 3 Feet High and Rising, De La Soul crafted a darker, more cynical project that highlighted the underbelly of hip-hop and society. Despite the heavy themes, the album was laced with De La Soul's signature playful skits and layered samples. De La Soul Is Dead was the trio's conscious effort to murder their own constructed image and return to the raw essence of hip-hop, resulting in a profound and influential album.
12. Jay-Z – Reasonable Doubt
With "Reasonable Doubt" in 1996, Jay-Z was just starting to make his mark on the hip-hop world, but the album proved he was anything but a novice. The album is a gritty tale from the streets, spun with a veteran's finesse. Jigga's cool, calculated delivery on tracks like "Dead Presidents II" and "Can't Knock the Hustle" made clear his dexterity on the mic, and his candid depiction of the hustler's lifestyle set a new standard for street-wise lyricism. Moreover, Reasonable Doubt boasts an impressive production lineup, with DJ Premier, Ski, and Clark Kent providing an impeccably sleek soundscape that oscillates between jazzy sophistication and gritty boom-bap. A magnum opus in every sense, Reasonable Doubt was Jay-Z at his rawest, most vulnerable, and arguably his best.
11. A Tribe Called Quest – The Low End Theory
For A Tribe Called Quest, their sophomore album, The Low End Theory, released in 1991 was where the group truly found their stride. They artfully blended jazz-infused soundscapes with the boom-bap rhythm of hip-hop, paving the way for an entirely new sub-genre, while also influencing the likes of Dr. Dre. Lyrically, Q-Tip and Phife Dawg elevated their rap game, with their wordplay and themes becoming more complex and intricate, while also locking in with their chemistry. With anthems like "Scenario" and "Check the Rhime," Tribe didn't just deliver an album, they gifted hip-hop a timeless masterpiece, one that resonates just as strongly over three decades later.
10. 2Pac – All Eyez on Me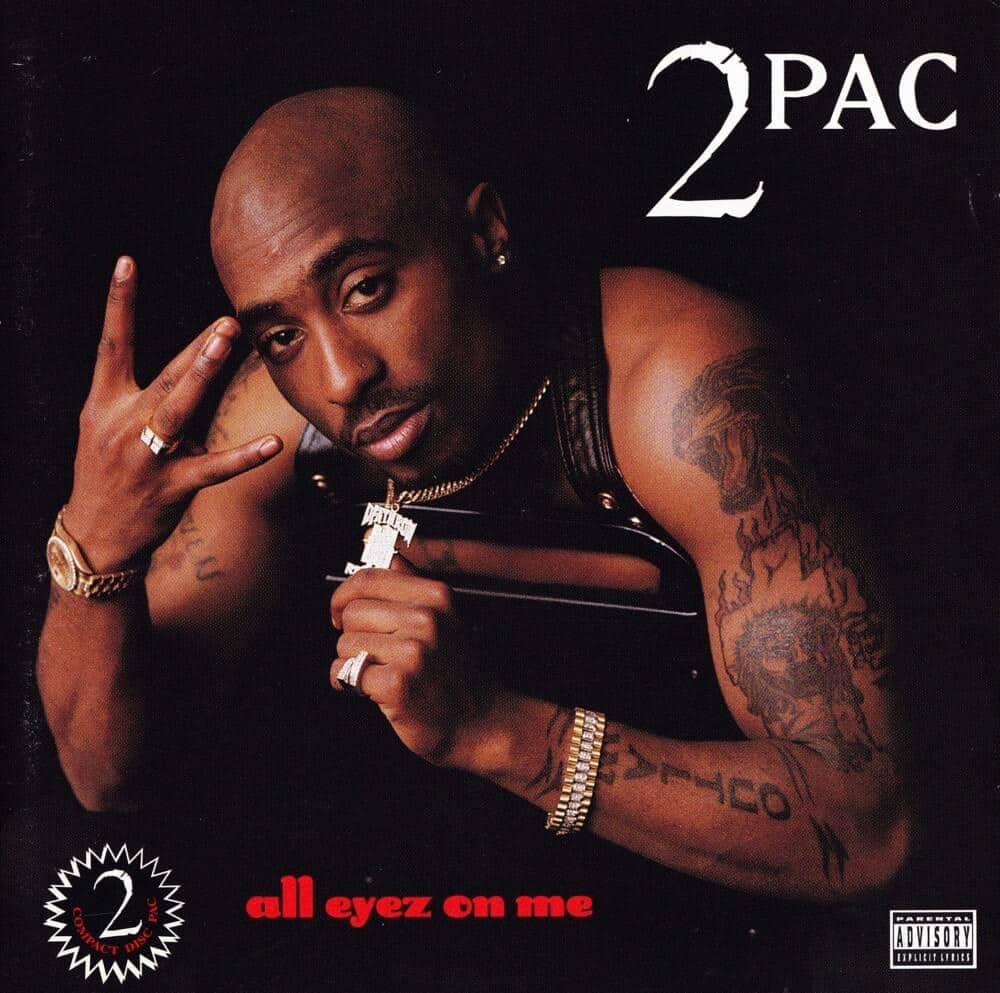 Released: February 13, 1996
Label: Death Row, Interscope
All Eyez on Me, Pac's iconic double album that marked his transformation from hip hop artist to a cultural icon, sees the rapper operating with an urgency and intensity that was unparalleled. Straight off the bat with the opening bars on "Ambitionz Az a Ridah," Pac unloads a barrage of introspective verses, defiant threats, and irresistible hooks. The sheer range of emotion and subject matter across the double-disc set, from the eerie introspection of "Only God Can Judge Me" to the summer barbecue bounce of "How Do U Want It," showed a man who was complex, multifaceted, and human above all else. It's 2Pac at his most vulnerable, his most bold, and arguably his most brilliant.
9. Mobb Deep – The Infamous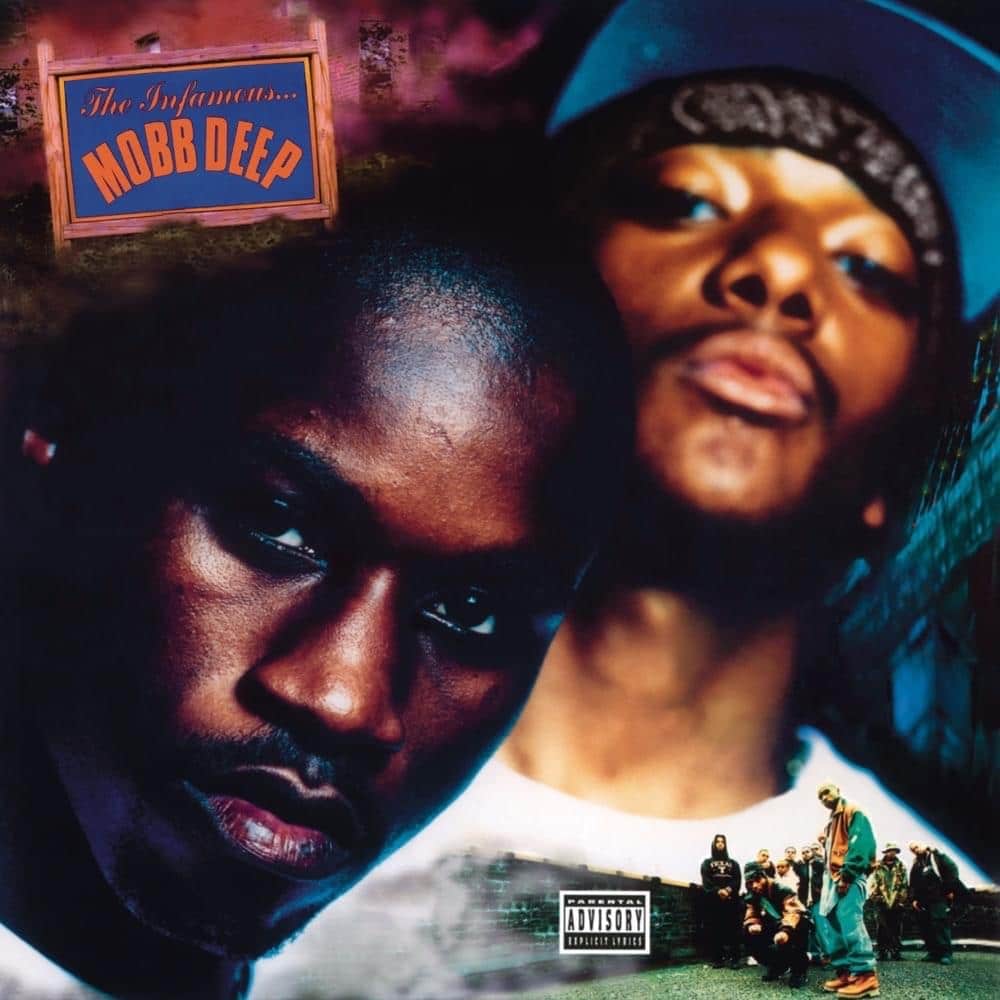 Released: April 25, 1995
Label: Loud, RCA
On the opposite side of the country, Mobb Deep's The Infamous played a similar role in defining the sound and narrative of East Coast hip-hop. This is the concrete jungle in sonic form. Havoc's menacing, stripped-down production provides the perfect backdrop for Prodigy's poetic street tales. From the foreboding keys on 'Shook Ones Pt. II' to the chilling verses on 'Survival of the Fittest,' every aspect of this album is designed to pull you into Mobb Deep's world. But it's not all gloom and doom. There's a profound honesty and insight that runs through the record. On tracks like "Temperature's Rising" and "Up North Trip," we hear intimate tales of loyalty, paranoia, and the consequences of life in the fast lane. The Infamous is more than just a collection of songs—it's a vivid snapshot of a time, place, and mindset. P and Hav didn't just create a rap album; they crafted an influential touchstone that would resonate across the landscape of hip-hop for decades to come.
8. The Notorious B.I.G. – Life After Death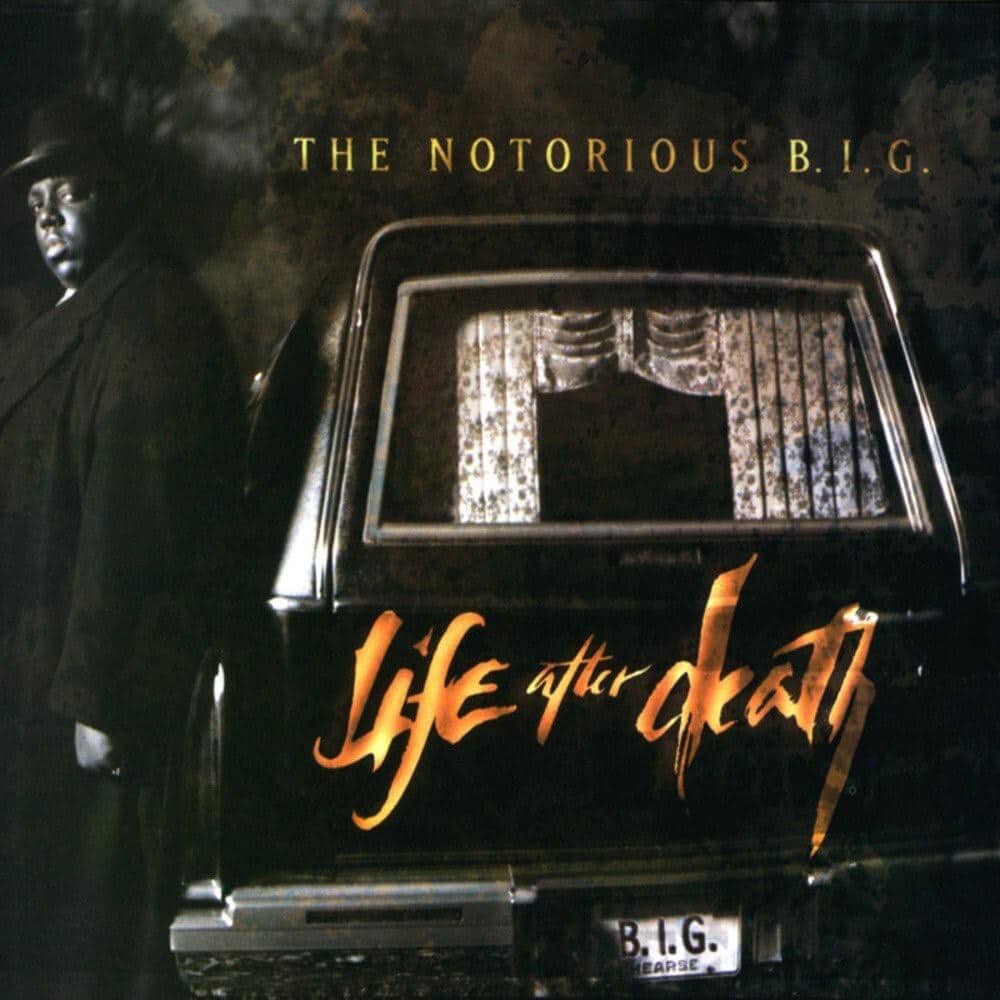 Released: March 25, 1997
Label: Bad Boy, Arista
Life After Death, the eerily prophetic final album from The Notorious B.I.G., is nothing short of monumental. Released just weeks after his tragic murder, this magnum opus confirmed Biggie's indisputable rank among rap's pantheon. The Brooklyn MC's profound lyricism, unrivaled flow, and sheer storytelling genius continue to resonate decades later, while the album's expansive two-disc format reveals his wide-ranging musical ambitions. Drenched in cinematic flair, Life After Death oscillates between hedonistic party anthems like "Hypnotize" and "Mo Money Mo Problems;" storytelling masterclasses such as "Somebody's Gotta Die" and "Ni**as Bleed;" as well as lyrical onslaughts like "Kick in the Door" and "Long Kiss Goodnight." Life After Death is a singular testament to Biggie's enduring impact, underscoring the profound loss his untimely death was to the world of hip-hop. It's an essential chapter in the genre's rich narrative, a touchstone that embodies the spirit of '90s rap.
7. Raekwon – Only Built 4 Cuban Linx…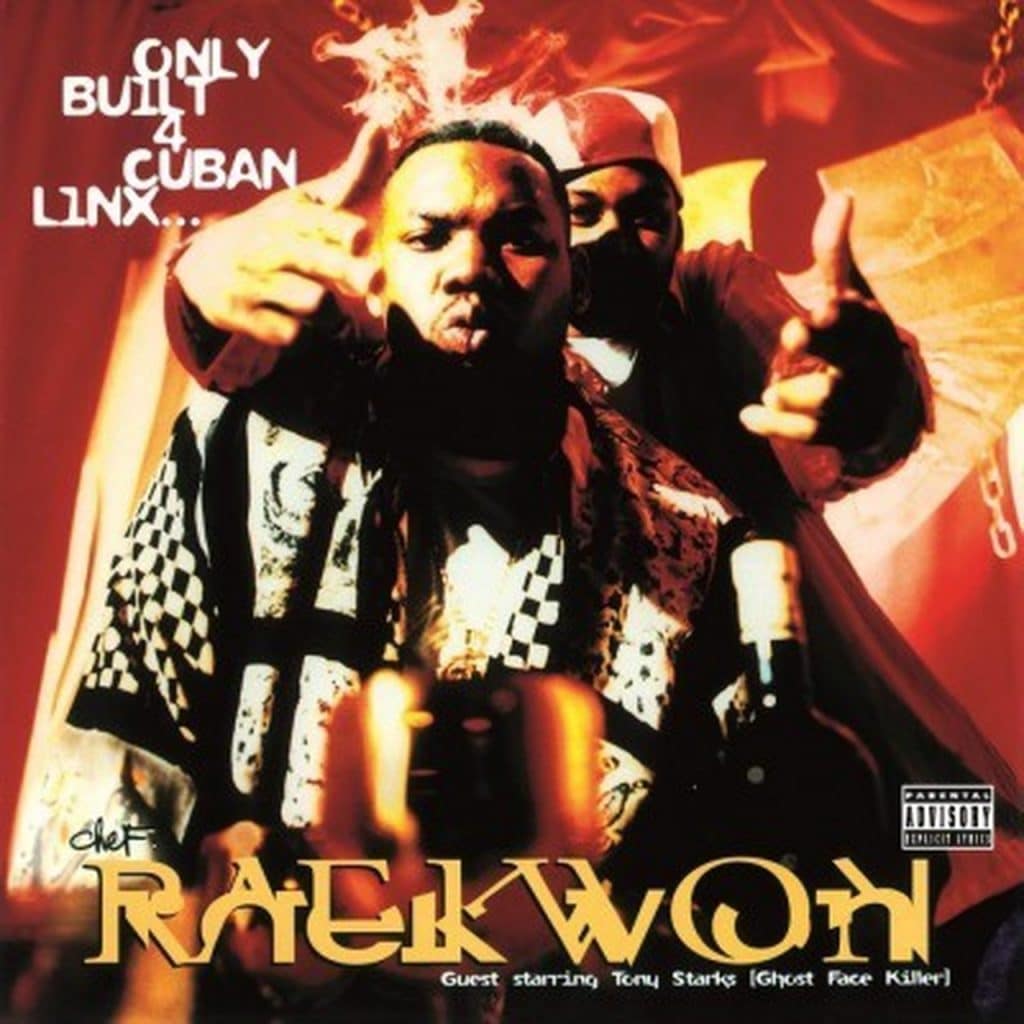 Released: August 1, 1995
Label: Loud, RCA
An audio-movie presented to rap fans on a purple cassette, Raekwon's Only Built 4 Cuban Linx… brought listeners into the heart of New York's underbelly, taking them on a mafioso rap journey guided by Rae and his partner-in-rhyme, Ghostface Killah. A masterpiece in grimy, cinematic storytelling, the album was steeped in dense street linguistics and harrowing depictions of the drug trade. Cuts like "Criminology" and "Ice Cream" showcased the swordsman lyricism and distinct slang of the Wu members, whilst the production from RZA added a haunting, cinematic backdrop. This wasn't just a rap album – it was an immersive experience, a time capsule preserving the rough-edged essence of '90s New York hip-hop.
6. Dr. Dre – The Chronic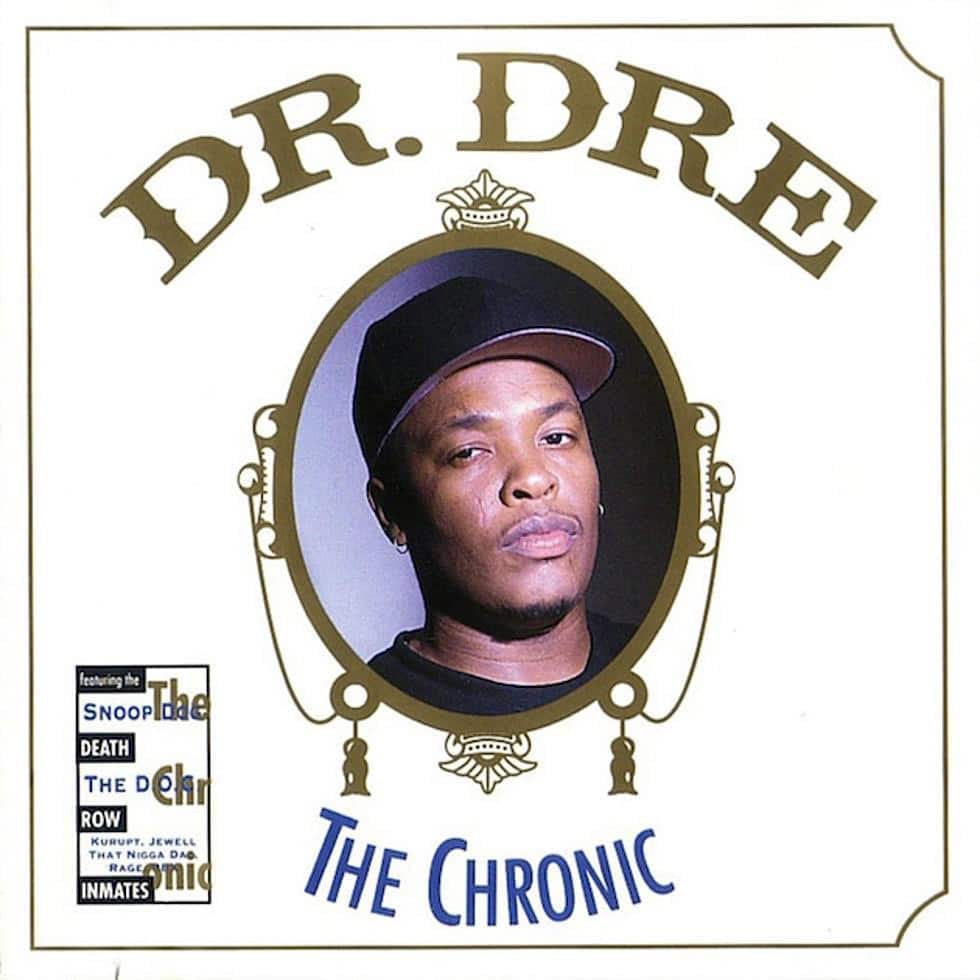 Released: December 15, 1992
Label: Death Row, Interscope, Priority
When Dr. Dre dropped The Chronic, he didn't just release a highly-anticipated album, he shifted the entire rap culture. Dre's G-funk masterpiece, named after the high-grade cannabis running through its veins, presented an intoxicating blend of smooth grooves and gangsta rap that came to define the West Coast sound and beyond. Every aspect of The Chronic was a revolution. Dre's production was nothing short of transformative, blending slow-burning P-Funk samples with trunk-rattling basslines. Tracks like "Nuthin' but a 'G' Thang" and "Let Me Ride" are quintessential examples of the G-funk sound that would come to dominate the 90s hip-hop scene. More importantly, though, the album served as a launchpad for future rap legends, primarily Snoop Dogg who brought his laid-back, almost languid flow to the record, offering the perfect counterpoint to Dre's intense, hard-hitting style. An absolute masterpiece in hip hop production, The Chronic isn't just one of the best '90s rap albums, it's one of the best albums of all time, period.
5. A Tribe Called Quest – Midnight Marauders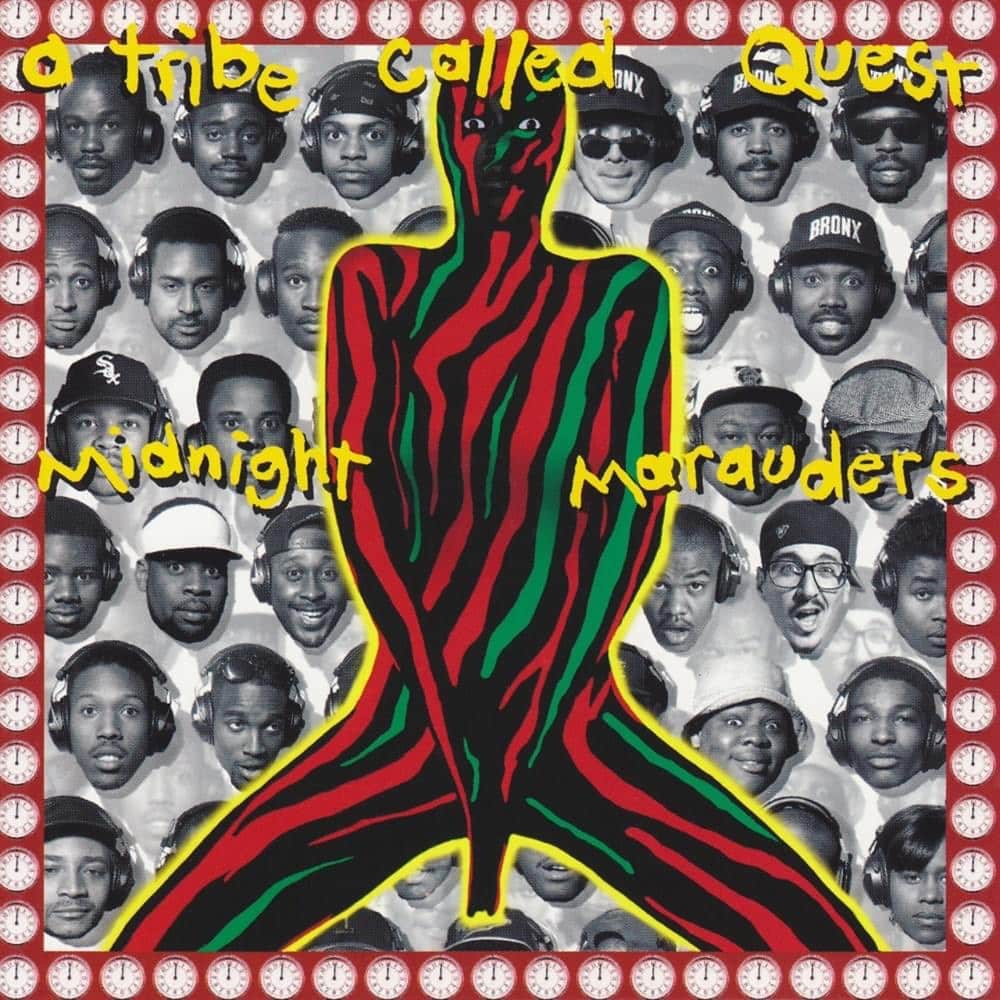 Released: November 9, 1993
Label: Jive
A Tribe Called Quest's Midnight Marauders is an unequivocal cornerstone of the '90s golden era of hip-hop, an album that flawlessly marries profound lyrical content with irresistible rhythm. Right from the kick-off with "Steve Biko (Stir It Up)", Tribe deftly showcase their knack for delivering head-nodding beats coupled with thoughtful, socially conscious lyrics – a beacon of intellect and creativity in an increasingly commercialized genre. This record isn't merely a collection of songs, but a cohesive journey through a vast spectrum of human experiences. Q-Tip, Phife Dawg, and Ali Shaheed Muhammad push their artistic boundaries to explore themes such as love, race, and industry politics, all delivered with their distinctive blend of wit and wisdom. Standout tracks like "Award Tour" and "Electric Relaxation" exhibit Tribe's unmistakable jazzy beats, infectious hooks, and clever wordplay that continue to resonate decades after the album's release. No question, Midnight Marauders is an enduring embodiment of Tribe's undeniable impact on the musical and cultural landscape of the '90s and beyond.
4. Wu-Tang Clan – Enter the Wu-Tang (36 Chambers)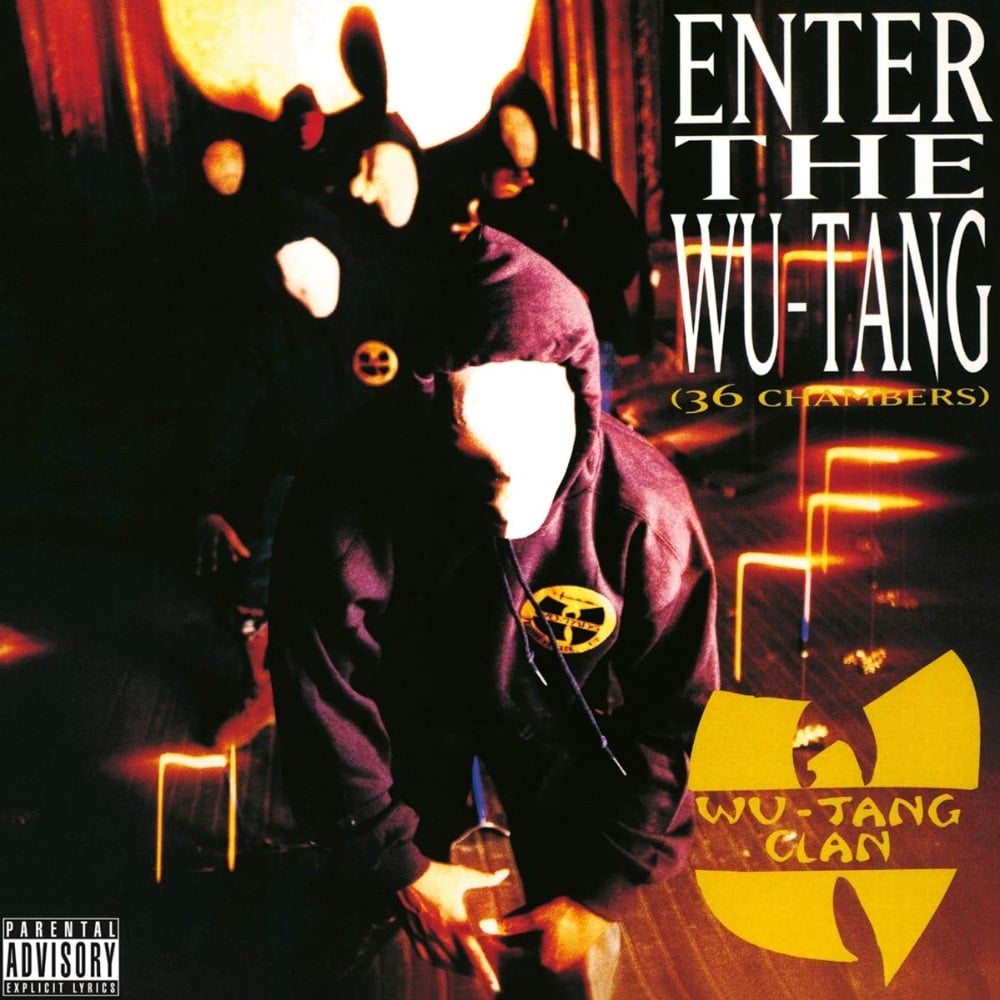 Released: November 9, 1993
Label: Loud, RCA
When Wu-Tang Clan stormed onto the scene with Enter the Wu-Tang (36 Chambers), the world wasn't ready. Crafted in the grit and grime of New York's Staten Island, aka Shaolin, the album is an mind-bending display of raw lyricism and groundbreaking production. RZA, the Wu's sonic architect, concocts a landscape of eerie samples, off-kilter piano loops, and hard-hitting beats that echo the urgency and chaos of the streets. On the other side of this sonic tapestry, the Clan's MCs – from GZA's cerebral wordplay to ODB's unhinged delivery, Ghostface's emotive storytelling to Raekwon's streetwise narratives – brought their A-game, creating an eclectic, multifaceted lyrical assault. The resulting synergy is a collage of street tales, braggadocious rhymes, and philosophical musings that strike a balance between the cerebral and the visceral. Enter the Wu-Tang remains a quintessential embodiment of '90s New York hip-hop, a gritty, grimy, raw piece of art that perfectly encapsulates the spirit and essence of the streets from which it was born.
3. OutKast – Aquemini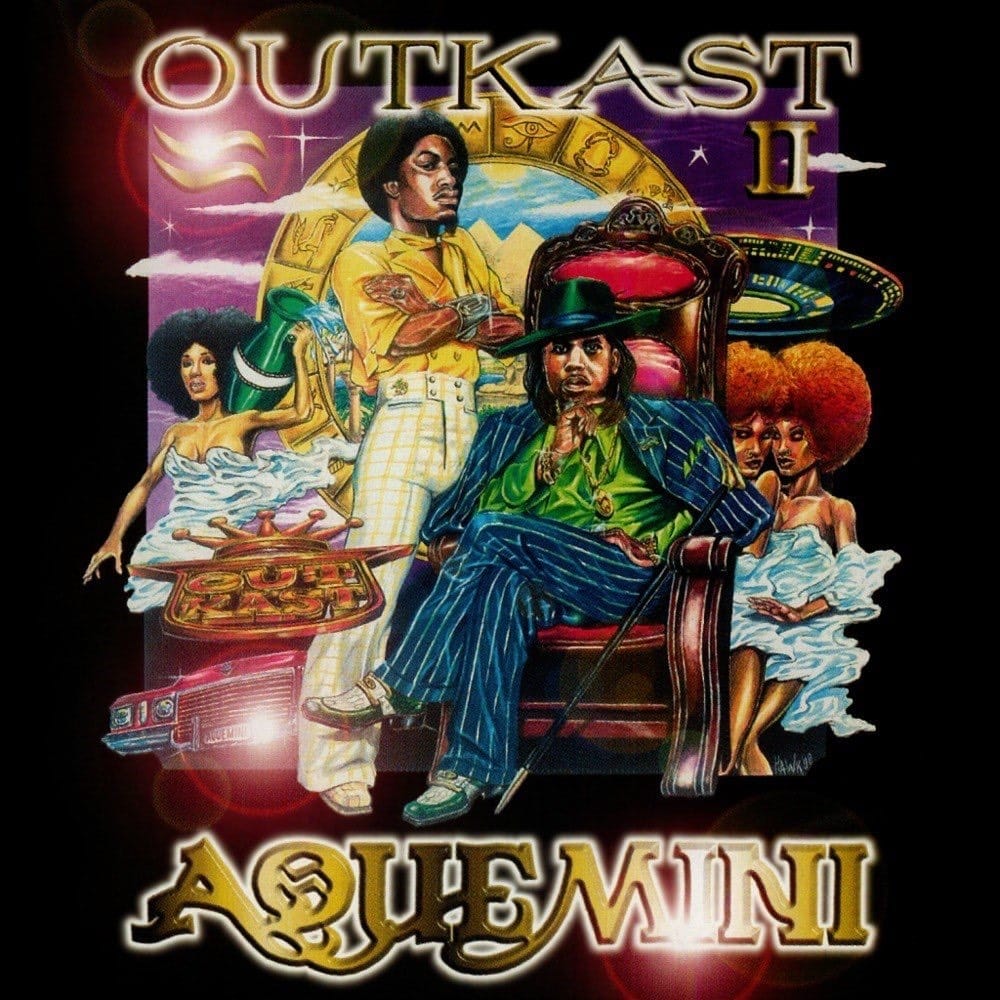 Released: September 29, 1998
Label: LaFace, Arista
Weaving together an intricate tapestry of southern-fried funk, P-Funk allusions, and science-fiction-tinged lyricism, André 3000 and Big Boi crafted a sprawling, ambitious opus that transcended the regional boundaries of the Dirty South. Aquemini is a kaleidoscopic journey, replete with haunting synthesizers, bluesy guitars, and thumping 808s, underscored by the ATL duo's virtuosic lyricism. With tracks like "Rosa Parks," with its harmonica-laced funk, and the sprawling, 7-minute "SpottieOttieDopaliscious," OutKast were telling us they refused to play by the rulebook, bending genres and flipping conventions. Lyrically, Big Boi's down-to-earth street narratives and André's extraterrestrial musings prove that opposites not only attract but can blend into an enthralling whole. Aquemini dismantled and reconstructed the possibilities of hip-hop, expanding its sonic and thematic palette. The record cemented the Dirty South as a crucial player in the game, not as a follower, but as a trendsetter, proving that hip-hop's future was as unlimited as OutKast's imagination.
2. Ice Cube – AmeriKKKa's Most Wanted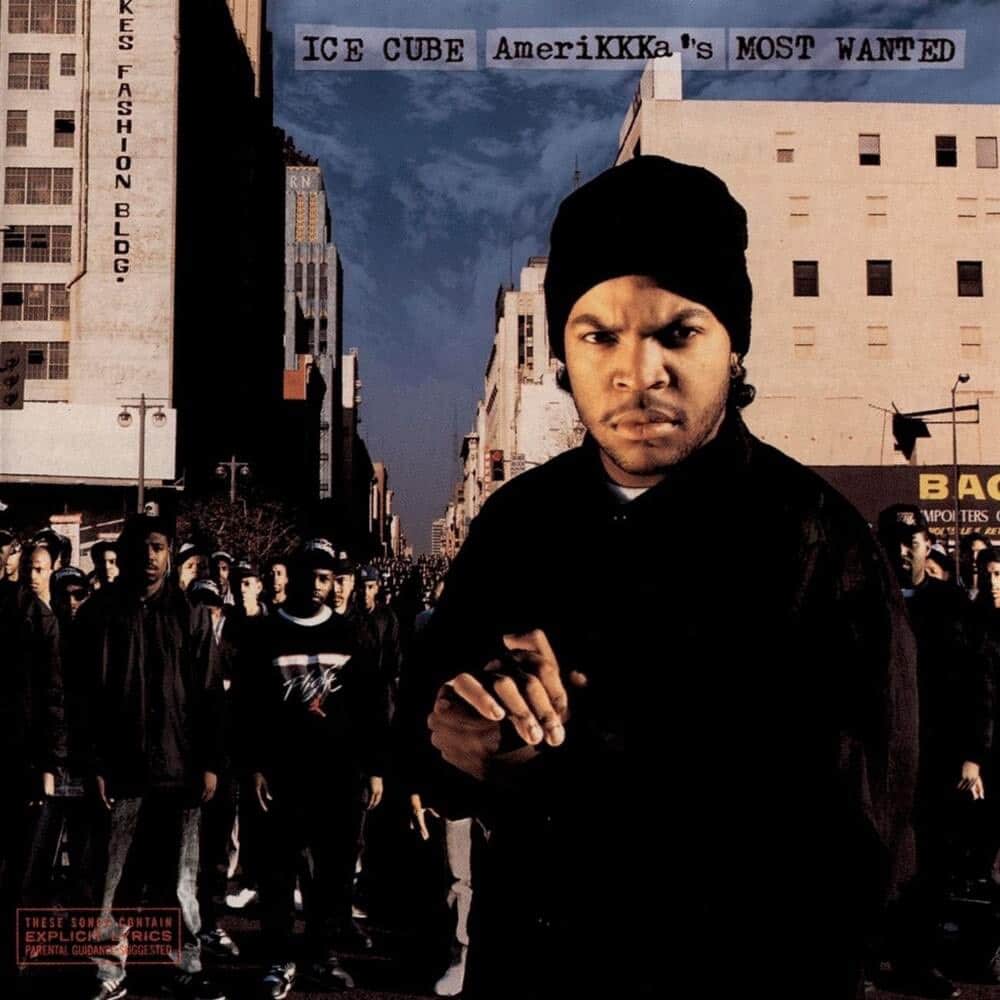 Released: May 16, 1990
Label: Lench Mob, Priority
Ice Cube's solo debut, AmeriKKKa's Most Wanted, was a sonic grenade tossed into the rap game. Cube came with an unfiltered rawness, his bars packed with social commentary, political insight, and brutal depictions of life in South Central LA. Linking up with Public Enemy's production team, The Bomb Squad, the sound was a hard-hitting blend of funk samples and harsh beats, a sonic backdrop that intensified Cube's uncompromising lyrics. This album was Ice Cube staking his claim, not just as a rapper, but as a voice of the streets, an urban griot narrating the realities of Black America. More than just a solo debut of the most important West Coast rapper of the '90s, AmeriKKKa's Most Wanted was a declaration — Cube was the most needed, most influential.
1. Nas – Illmatic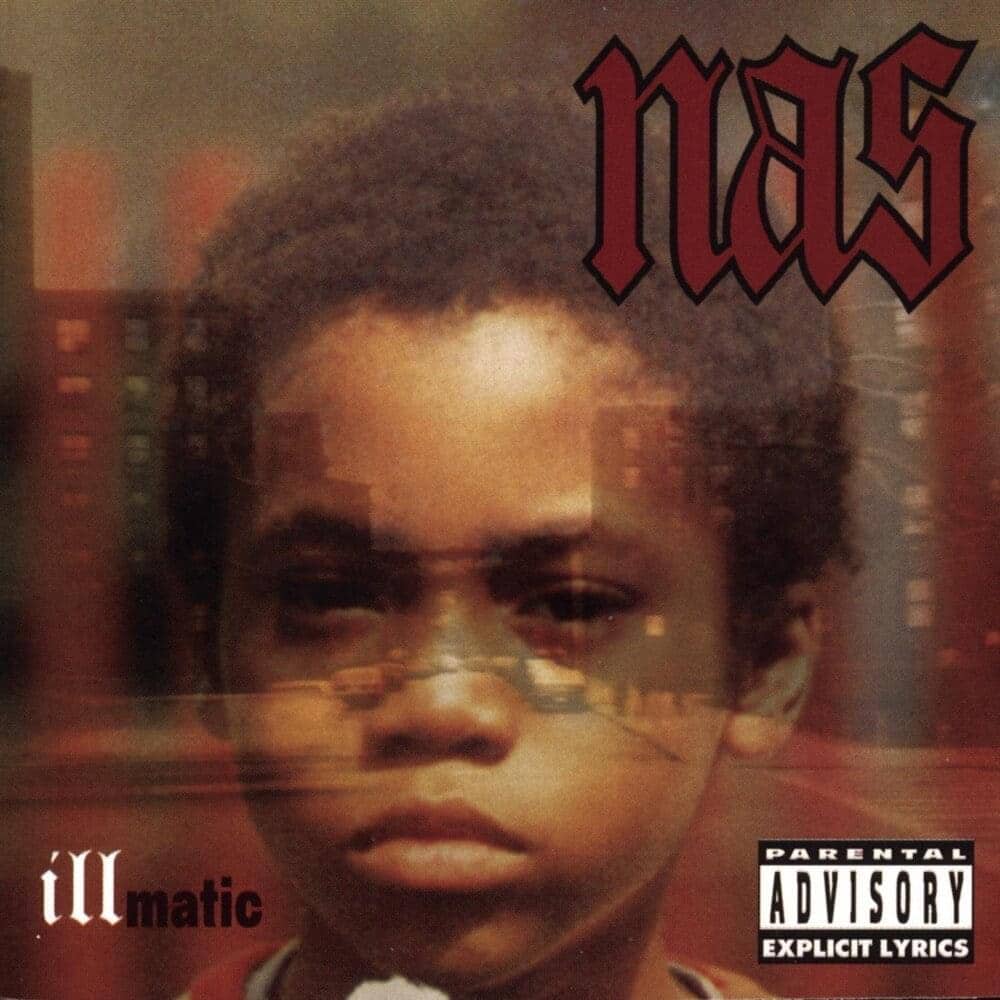 Released: April 19, 1994
Label: Columbia
An unflinching document of life in the Queensbridge projects, told through the eyes of a gifted storyteller just barely out of his teens, Illmatic is a masterpiece of lyricism and production. Backed by a murderers' row of beat-making talent (DJ Premier, Large Professor, Pete Rock, Q-Tip, and L.E.S.), Nasir Jones weaved intricate tales of urban life, marked by despair, resilience, and an unyielding quest for survival. From the gripping narratives on "N.Y. State of Mind" to the uplifting message of "The World Is Yours," and the poignant reflection of "One Love," Nas showcased a range and depth beyond his years. Illmatic was and remains a defining album of 90's hip-hop – a tour de force that encapsulated the grit, the struggle, and the spirit of an entire generation. It was more than just Nas' debut; it was the genesis of a legend, and the benchmark against which all subsequent rap albums would be judged.