The evolution of hip-hop over the decades has seen a plethora of shifts in style, subject matter, and production techniques. From the socially conscious and politically charged messages of its early years to the braggadocious and materialistic themes of the '90s, and the diverse array of subgenres and styles that characterize the genre today, hip-hop has proven itself to be an art form that is continually evolving and redefining itself.
From the golden era classics like Public Enemy's It Takes a Nation of Millions to Hold Us Back to the game-changing Illmatic by Nas, and the innovative sounds of Kendrick Lamar's To Pimp a Butterfly , the best rap albums have not only reflected the zeitgeist of their respective eras but have also pushed the boundaries of what is possible within the culture. Whether we're talking about the neo-soul vibes of The Miseducation of Lauryn Hill or the raw intensity of Enter the Wu-Tang (36 Chambers) , and the lyrical shape-shifting of Paid in Full , the albums featured in this collection represent the pinnacle of hip-hop excellence.
So let's get into it. From underground staples like El–P's Cancer 4 Cure to landmark debuts like Big's Ready to Die and regional classics like Juvenile's 400 Degreez , here are the top 250 best rap albums all time.
250. 2 Chainz – Pretty Girls Like Trap Music
Released: June 16, 2017
Label: Def Jam
Opulent, introspective and packed full of vintage Tity Boi one-liners, Pretty Girls Like Trap Music is easily the best 2 Chainz album to date. After reinventing himself and going on a legendary features run in 2011-2012, the Atlanta rapper made his solo debut with Based on a T.R.U. Story and cemented himself as a staple in the hip hop world, but it was with this album that it felt like 2 Chainz finally hit his stride as an album artist.
249. Ludacris – Word of Mouf
Released: November 27, 2001
Label: Disturbing tha Peace, Def Jam South
The album that solidified Ludacris as one of the most important Southern rappers of his generation, Word of Mouf is the perfect blueprint of what makes him such a great MC and entertainer. In between massive hit singles like "Area Codes" and "Rollout (My Business)," Luda sneaks in deceptively complex rhymes delivered in his signature dizzying flow.
248. Joey Badass – All–Amerikkkan Badass
Released: April 7, 2017
Label: Pro Era, Cinematic
Sometimes an album doesn't need to be impactful to be among the best, and the quality of All-Amerikkkan Bada$$ is enough for it to make the list. It's a political assault on American society, with Joey delivering some of his most impassioned and vicious verses of his career. The host of features is legendary, with J. Cole, Styles P and Meechy Darko being a few examples of guests on this star-studded modern classic.
247. Gucci Mane – The State vs. Radric Davis
Released: December 8, 2009
Label: 1017 Brick Squad, Asylum, Warner Bros.
Gucci Mane had already become a local Atlanta legend by the time The State vs. Radric Davis came out, but this was the album that put him into the spotlight. One of the most beloved projects in his extensive catalogue, the album featured blissfully ignorant cuts like "Wasted," the unlikely collaboration "Spotlight" with Usher, and of course, "Lemonade," a song in the running for the greatest Gucci Mane track of all time. For the most part, Gucci is turnt up and running amok throughout the album, although there are enough introspective moments on here that make you realise he's more self-aware than people give him credit for. Guwop would go on to become arguably the most influential Atlanta rapper of all time , and this album undoubtedly helped kick everything off.
246. The Pharcyde – Labcabincalifornia
Released: November 14, 1995
Label: Delicious Vinyl
Following the success of their debut album, Bizarre Ride II the Pharcyde , released in 1992, the group were hoping to connect with Q-Tip to produce their next body of work. The fact that they had split up with their previous producer J-Swift probably prompted the move. Instead of agreeing to work with them, the Tribe frontman pointed them in the direction of an up-and-coming Detroit producer by the name of Jay Dee, who would go on to produce a number of tracks on Labcabincalifornia and score the first hit ("Runnin'") of his young career. While Dilla's production on here is often lauded as the highlight of the album, The Pharcyde more than keep up their end of their bargain with their trademark nonsensical raps and infectious energy.
245. Playboi Carti – Die Lit
Released: May 11, 2018
Label: AWGE, Interscope
On his 2018 debut album, Die Lit , Playboi Carti takes everything in the traditionalist hip hop playbook and throws it out while doing a stage dive. A product of the burgeoning SoundCloud rap movement of the 2010s, Carti was quickly catapulted into the spotlight off the back of two hits "Magnolia" and "wokeuplikethis*" before dropping Die Lit . Everything that made Carti a beloved figure of the new rap generation shows up in full force on this album – the verbal tics, twitchy adlibs, and penchant for catchy melodies over brazen soundscapes – and cemented him as one of the most daring artists of his generation.
244. Busta Rhymes – Extinction Level Event: The Final World Front
Released: December 15, 1998
Label: Flipmode, Elektra
Following two solid releases – his debut The Coming in 1996 and When Disaster Strikes… in 1997 – Busta Rhymes dropped his third album Extinction Level Event: The Final World Front , which also happens to be his best release. Playing on the disaster-themed movies that were all the rage at the time, Busta harnessed that energy and unleashed it over some of the funkiest futuristic production, courtesy of Nottz, Swizz, Rockwilder and DJ Scratch.
243. Lil Uzi Vert – Luv Is Rage 2
Released: August 25, 2017
Label: Generation Now, Atlantic
Preceded by the spectacular "XO Tour Llif3" which go on to become Lil Uzi Vert's signature song, Luv Is Rage 2 would cement the Philly rapper's position as a natural born rock star and one of his generation's most forward-facing artists. From the banging, trap inspired experimental production to Uzi's blazing performances on each track, Luv Is Rage 2 is absolutely one of the best hip hop albums of all time.
242. DJ Quik & Kurupt – Blaqkout
Released: June 9, 2009
Label: Mad Science, Pentagon, Fontana Distribution
DJ Quik and Kurupt's Blaqkout is a dynamic and experimental hip hop album that showcases the duo's complex and undervalued careers. Quik's production takes risks and subverts expectations, while Kurupt's lyrics embrace rap-for-rap's-sake experimentalism. With a mix of confrontational funk, dubbed-out interludes, and thudding basslines, Blaqkout is an underrated West Coast record that highlights two legends at the peak of their craft.
241. Kool Moe Dee – How Ya Like Me Now
Released: November 3, 1987
Label: RCA
An absolute legend of the old school hip hop era, Kool Moe Dee was one of the few MCs who managed to transition from rocking block parties and live shows to dropping commercially successful albums. On his sophomore album, Moe Dee, who was in the middle of a feud with the up-and-coming LL Cool J, took the opportunity to show that he could create complete bodies of work while maintaining his deadly lyrical abilities. Hits like "Wild Wild West" proved the Harlem rapper was a viable commercial force while the title track is one of the best rap diss tracks ever .
240. Digable Planets – Blowout Comb
Released: October 18, 1994
Label: Pendulum, EMI
The sophomore album of jazzy alternative hip hop trio, Digable Planets, following the well-received debut, Blowout Comb takes everything that made Reachin' (A New Refutation of Time and Space) great, and added more textures and experimental grooves, resulting in their best release ever. With lyrical themes of inner-city life and black nationalism dominating the album, Blowout Comb is also Digable Planets' most ambitious work, from a production as well as rapping standpoint.
239. Travis Scott – Astroworld
Released: August 3, 2018
Label: Cactus Jack, Grand Hustle, Epic
Travis Scott had been grinding away in the rap game since the late 2000s before breaking through with his 2013 mixtape, Owl Pharaoh . But even after making it big with his well-received debut, Rodeo , which cracked the Billboard top 5, it still felt like everything leading up to 2018's Astroworld was a warm-up for the Houston rapper-producer. As soon as you heard the beat switch on the opening track "Stargazing," you knew this listening experience was going to be different from all his other projects. From Frank Ocean's surprise visit on "Carousel" to the Drake-assisted blockbuster "Sicko Mode" to the beautifully woozy "Stop Trying to Be God," everything on Astroworld was a goddamn moment.
238. The Diplomats – Diplomatic Immunity
Released: March 25, 2003
Label: Def Jam, Roc-A-Fella, Diplomat Records
Released at the peak of their powers during their tumultuous stay on Roc-A-Fella Records, The Diplomats' 2003 debut album is a tour-de-force of 2000s New York hip hop. Backed by the hard-hitting, soul-sampling production of Just Blaze and The Heatmakerz, Dipset strut their way through 27-tracks of violent energy like they run the city. In a way, they totally did.
237. Heltah Skeltah – Nocturnal
Released: June 18, 1996
Label: Duck Down, Priority
One of the hardest rap duos to ever grace a mic, Heltah Skeltah (comprised of Jahmal "Rock" Bush and Sean "Ruck" Price) sprung from the seeds of the legendary Boot Camp Clik, a primarily Brooklyn-based supergroup which also included members of Black Moon, Smif-N-Wessun and O.G.C. On the duo's debut, Nocturnal , is one of the many peaks of mid-90s underground New York hip hop: the production is minimalistically layered and thumping while Rock and Ruck go for each other's throats on every track.
236. Murs & 9th Wonder – Murs 3:16: The 9th Edition
Released: March 23, 2004
Label: Definitive Jux
Hailing from the West Coast but fitting right in at the home of underground New York hip hop, Murs 3:16: The 9th Edition is a prime showcase of the L.A. rapper's traversing lyrical style. Paired up with celebrated Little Brother producer, 9th Wonder, who provides the hard-hitting funk, Murs taps into his everyday man persona as he waxes lyrical about life, love and loss. Stylish, intelligent and always of substance, Murs 3:16: The 9th Edition is one of Murs' most iconic releases and definitely one of the best hip hop albums of all time.
235. Arrested Development – 3 Years, 5 Months and 2 Days in the Life Of…
Released: March 24, 1992
Label: Chrysalis, EMI
Dropped a couple of years before OutKast came out with their landmark 1994 release, the debut of this underrated Atlanta hip hop group is often overlooked when we look back at the South's rise. Built on the samples of timeless acts like Sly & the Family Stone, Earth, Wind & Fire, Minnie Riperton and The Persuaders, 3 Years, 5 Months and 2 Days in the Life Of… captures all the funky grooves and soulfulness of past decades, with the rappers establishing themselves as a new voice in hip hop. With huge singles like "Tennessee," "People Everyday" and "Mr. Wendal," the album wasn't just acclaimed, it took over the mainstream airwaves, selling over 4 million copies.
234. Sticky Fingaz – Black Trash: The Autobiography of Kirk Jones
Released: May 22, 2001
Label: Universal
Black Trash: The Autobiography of Kirk Jones is a cinematic concept album with an all-star cast, but Sticky Fingaz never leaves the spotlight. This is his impactful debut structured like a movie, following the life of ex-con Kirk Jones. From its glamorous sound to vivid storytelling, it plays just like a film, making for one of hip hop's most cohesive and engaging concept albums. With it, Sticky Fingaz redefined just how imaginative album concepts could be.
233. Cam'ron – Purple Haze
Released: December 7, 2004
Label: Diplomats, Roc-A-Fella, Def Jam
Dipset frontman and renowned Harlem tongue-twisting spitter Cam'ron has always been one of the most naturally talented MCs in the game , and nowhere does this show up more than on his fourth album, Purple Haze . Released six years after his debut and two years after his commercial breakthrough, the album finds Killa Cam doing what he does best: talking shit effortlessly with copious internal rhymes over the soul-seeped production of The Heatmakerz, Kanye West, and others. While lacking the hits that propelled Come Home with Me into a platinum record, Purple Haze is the quintessential Cam'ron album and unarguably features his best work ever.
232. Method Man & Redman – Blackout!
Released: September 28, 1999
Label: Def Jam
During the mid-90s, Method Man and Redman were at the height of their rap careers. Meth, fresh off dropping his chart-topping "I'll Be There for You/You're All I Need to Get By" with Mary J. Blige, was by far and away the biggest rapper to emerge from the Wu-Tang Clan. Red, on the other hand, had dropped two gold albums and made high-profile features on EPMD records. They were two of the most exciting and best rappers of the '90s and their collaboration, Blackout! , captures all of the energy of "How High" and then some. Maybe the most enjoyable rap record of the '90s, the album is pure funk and fun, with Meth and Red flexing their superb rapping talents over the production genius of Erick Sermon, Rockwilder, DJ Scratch and RZA.
231. The LOX – Money, Power & Respect
Released: January 13, 1998
Label: Bad Boy, Arista
Coming straight outta Yonkers, New York, The LOX had spent a better part of the mid-90s building a buzz for themselves by dominating the underground rap circuit and spitting fire on DJ Clue mixtapes. After signing to Bad Boy Records, the trio were on a superstar trajectory with big features on "It's All About the Benjamins," Mariah Carey's "Honey" and Mase's "24 Hrs. to Live." The LOX's debut wasn't what hardcore hip hop heads were expecting from the street-oriented group, but that doesn't stop it from being a '90s classic. While the shiny suit era production perhaps hasn't aged as well, Money, Power & Respect features some of the hungriest raps from Jadakiss, Styles P and Sheek Louch as they were determined to fill the huge void left by Big's untimely death.
230. Schoolboy Q – Blank Face LP
Released: July 8, 2016
Label: TDE, Interscope
Setbacks put him on the map, Habits & Contradictions made him a star, Oxymoron solidified him as one of the biggest rappers of his generation, but Blank Face LP is the best Schoolboy Q album, bar none. A sprawling, cinematic album that features some of the darkest imagery Q has conjured up on wax, Blank Face LP checks all the boxes for pristine production and vivid rapping. While Kendrick opted for a jazz-funk inspiration on To Pimp a Butterfly , Q dives headfirst into psychedia on here; from the smoky Anderson .Paak-featured "TorcH" to the ominous "Tookie Knows II," the album is Q's most complete and ambitious work to date.
229. Pete Rock & CL Smooth – The Main Ingredient
Released: November 8, 1994
Label: Elektra
While the duo's debut album, Mecca and the Soul Brother , gets all of the praise and recognition, in my opinion, their sophomore album is right up there with it. In fact, The Main Ingredient is my favourite project from the duo's unfortunately limited catalogue. While there's nothing on here that transcends the album like "They Reminisce Over You (T.R.O.Y.)," overall the production – made up of warm soul and lush jazz samples – and rapping – CL Smooth is in prime form here – just feels more polished and satisfying. It's a tragedy that Pete Rock and CL Smooth split up after this album, because they showed with two albums and one EP that they were one of the greatest hip hop duos to ever do it.
228. Waka Flocka Flame – Flockaveli
Released: October 5, 2010
Label: 1017 Brick Squad, Asylum, Warner Bros.
An absolute game-changing hip hop album that doesn't get the full credit it deserves, Waka Flocka Flame's 2010 debut laid down the foundation for trap music's dominance over the next decade. While the New York-born, Atlanta-raised hyperkinetic rapper is a whirlwind here with his cold intensity and reductive chants, the real MVP is Lex Luger, whose frenetic drum loops and thrilling synths would influence the likes of subsequent production maestros like Metro Boomin and Young Chop.
227. Whodini – Escape
Released: October 17, 1984
Label: Jive
One of the greatest yet unheralded rap groups of all time, Whodini's sophomore album, recorded over the course of 16 days in London, was a game-changer when it dropped in 1984. While rappers Jalil Hutchins and Ecstasy are spitting vintage, old school party raps here, it's producer Larry Smith (legendary for his work with Run-D.M.C.) who's the real MVP here. Drawing on a collage of soul, rock, R&B, Smith laces Escape with some of the funkiest, hypnotic production ever laid down on a hip hop album.
226. J. Cole – 2014 Forest Hills Drive
Released: December 9, 2014
Label: Dreamville, Columbia, Interscope
Inspired by his home in Fayetteville, North Carolina where J. Cole lived as a youth, 2014 Forest Hills Drive is an autobiographical masterpiece that firmly solidified the rapper's position at the top of his generation. While Cole's first two albums both had some great moments and delivered (somewhat) on his potential, it wasn't until the third time around that he proved he belonged up there with Kendrick and Drake as one of the best rappers alive . From a commercial standpoint, 2014 Forest Hills Drive was also Cole's biggest album to date and kicked off the whole "platinum with no features" trend.
225. The Roots – Game Theory
Released: August 29, 2006
Label: Def Jam
When J Dilla tragically passed away at the young age of 32, hip hop culture froze. The Roots' seventh album, Game Theory , dives into that grief, with a turbulent backdrop – lyrically and production wise – making for one of the group's most cohesive works to date. It's a touching tribute which sounds fantastic too, with Black Thought performing at his most lyrically profound. For its emotional depth and homage to Jay Dee, there's no denying the importance of Game Theory to the culture.
224. T.I. – Trap Muzik
Released: August 19, 2003
Label: Atlantic, Grand Hustle
How many rap albums have as much influence as Trap Muzik ? When it dropped, trap music was in its infancy. In 2003, T.I., along with the help of producers like DJ Toomp and Jazze Pha, helped shape the bombastic and hard-hitting sound of trap which hasn't left the mainstream since. And its impact doesn't end there – with this project, T.I. brought the phrase 'trap music' into the mainstream, which is now a term so common it's synonymous with hip hop. A key album in launching T.I. into the spotlight, the influence of Trap Muzik is unrivalled in the South. Not only is it one of the best hip hop albums of all time, this T.I. classic is one of the most influential Southern rap albums ever.
223. Big Boi – Sir Lucious Left Foot: The Son of Chico Dusty
Released: July 5, 2010
Label: Purple Ribbon, Def Jam South
Big Boi had a lot to prove with his solo debut, but thankfully, he didn't disappoint. Sir Lucious Left Foot captures all the glamour and braggadocious energy he portrayed on Speakerboxxx , amplified to the max. With long-time collaborators Organized Noize, Mr. DJ, Sleepy Brown and Big Rube, as well as guest stars like the scorching Gucci Mane, T.I. and Janelle Monae, coming along for the ride, it was like an OutKast family reunion with a few new faces. The album is a flashy celebration of the South and a pivotal moment for Big Boi's post-Andre career, kickstarting a consistent run of solo projects.
222. Digital Underground – Sex Packets
Released: March 20, 1990
Label: Tommy Boy, Warner Bros.
Hundreds of rappers have tried their hands at concept albums, but to debut with a wild concept is a risky move. Regardless, that's what Digital Underground did with Sex Packets , and the risk paid off, leading to an instant classic all about these fictional pleasure pills. Digital Underground helped define what a hip hop concept could be, pushing a wave of creativity never before seen in rap music. Fun, rambunctious and irreverent, Sex Packets is one of the most iconic rap releases of all time.
221. 2 Live Crew – As Nasty as They Wanna Be
Released: February 7, 1989
Label: Atlantic, Luke
As Nasty as They Wanna Be is so dirty that shopkeepers in Florida were arrested for selling it – that should be enough to understand the impact this album had. The lyrics are borderline disgusting, pushing the limits of how pornographic hip hop could be. But that's what makes the album so special: the fact it pushed so many boundaries was like an act of protest, just to annoy those who hated everything hip hop.
220. Young Thug – Barter 6
Released: April 17, 2015
Label: 300, Atlantic
Listen to Barter 6 and you'll get a full picture of Thug's unrivalled style at the prime of his recording career The mixtape has everything he is known for – fast, energetic beats, eccentric singing and an animated vocal style simply no other rapper could replicate. Thug's sound reached its peak here, making this a staple in trap music, and showcasing just how far the genre has evolved since its inception.
219. Eazy–E – Eazy–Duz–It
Released: November 23, 1988
Label: Ruthless, Priority
A few months after Straight Outta Compton dropped and rocked the music world, Eazy-E blasted right back into the studio and delivered one of the most explosive solo debuts of the '80s. The album is great for a number of reasons. Firstly, the production is vintage N.W.A. Dre, with thicker bass lines and even funkier samples than the group's debut. Secondly, as an MC, Eazy will never appear high on a list of the greatest rappers of all time, but his high-pitched voice and over-the-top, cartoonish raps were so undeniable that he became a West Coast icon. Even with barely any promotion on radio stations, Eazy–Duz–It tapped into the energy of the L.A. streets and went platinum in less than a year.
218. LL Cool J – Bigger and Deffer
Released: May 29, 1987
Label: Def Jam, Columbia
The '80s was full of hip hop stars who came and went, but Bigger and Deffer was LL Cool J's message that he was going nowhere. It was a massive success which allowed him to take over the hip hop mainstream, proving himself a legend of his era with songs to make the crowds move as well as ballads like "I Need Love" which appealed especially to women. While Radio established the Queens legend as an up-and-coming star in the rap game, Bigger and Deffer had LL laying down the blueprint for subsequent generations, cementing his own legacy in the process.
217. Del the Funky Homosapien – I Wish My Brother George Was Here
Released: October 22, 1991
Label: Elektra
This album is exactly why Del calls himself the Funky Homosapien – it's an animated journey into the world of boom bap with no shortage of funk influence. Del shows off all the skills which would make him such a legendary MC, with a flow as smooth as the funk he raps over. The project kick started his career and got him some mainstream clout from the beginning thanks to his biggest single ever, "Mistadobalina".
216. Kid Cudi – Man on the Moon: The End of the Day
Released: September 15, 2009
Label: Dream On, GOOD, Universal, Motown
Man on the Moon: The End of the Day is a psychedelic adventure into the dreams of Kid Cudi with a spacey, otherworldly sound which has become his iconic style. Cudi's melodic rapping and atmospheric sound have influenced hundreds of MCs, namely Travis Scott, Lil Yachty, Juice WRLD, Logic, and A$AP Rocky, just to name a few. While he may not be as lyrical or technically complex as others, the raw, emotional sound of his music has made such an impact, and it all started with Man on the Moon .
215. Westside Gunn – Flygod
Released: March 11, 2016
Label: Griselda, Empire
The album that set everything off for Griselda's takeover of the underground. Westside Gunn had been toiling in the murky shadows of the rap game for over a decade with his brother, Conway the Machine, but Flygod was the pivotal moment that set the Buffalo crew on their current trajectory.
A clear disciple of '90s-era New York rap, especially Rae's fly luxurious rap talk and Ghostface's unhinged, absurdist poetry, West weaves in bars about fashion and coke with the effortless grace. Backed by the lofi boom-bap of Griselda in-house producers Daringer and Camouflage Monk as well as Apollo Brown, Statik Selektah and The Alchemist, Flygod is one of the ages.
214. UGK – Too Hard to Swallow
Released: November 10, 1992
Label: Jive
In the early '90s, all you would hear about were the East and West Coasts, but UGK rose to show that the South had something to say. The Southern twang to their voices is something that puts a lot of people off, and for that reason, Too Hard to Swallow was overlooked in the '90s and continues to be underrated today. UGK helped shape the bombastic and funky sound that is the foundation for Southern hip hop.
213. Atmosphere – God Loves Ugly
Released: June 11, 2002
Label: Rhymesayers
Decades after God Loves Ugly dropped, its influence in the abstract scene is undeniable. It features dark, warped production which was a real departure from the boom bap of the '90s, opening the door for other rappers to explore stranger sounds instead of the classic styles hip hop was known for. Slug's storytelling is unique too , speaking from the perspective of an ordinary white man, showing rap music could always be entertaining, regardless of subject matter. One of the greatest underground rap albums ever, God Loves Ugly is an undeniable classic.
212. Tyler, the Creator – Flower Boy
Released: July 21, 2017
Label: Columbia
Inaccessible, vulgar, and edgy – those were the words used to describe Tyler before 2017. But with Flower Boy , Tyler turned his career around with his most lyrically mature and sonically beautiful project to date. The album is an essential in his catalogue, marking his transition from an edgy source of controversy to one of hip hop's greatest creatives, with gorgeous synth-heavy production and deeply personal writing Tyler fans didn't know he was capable of.
211. DJ Jazzy Jeff & The Fresh Prince – He's the DJ, I'm the Rapper
Released: March 29, 1988
Label: Jive, RCA
Love him or hate him, Will Smith is a crucial figure in hip hop, and it all stems back to this album. The Philly rapper's rhyming and storytelling is carefree, as are the funky beats he raps over, but it's not the style itself which makes this album so great, but its success. He's the DJ, I'm the Rapper went triple platinum, showing a lighter side of hip hop to the mainstream which helped the public accept and embrace rap music. The first double album in hip hop history, its second single, "Parents Just Don't Understand", won the first-ever Grammy Award for Best Rap Performance.
210. Mos Def – The Ecstatic
Released: June 9, 2009
Label: Downtown
Released 10 years after his universally acclaimed debut album, Black on Both Sides , Mos Def's fourth album, The Ecstatic , was a return to form for the Brooklyn rapper who had spent a better part of the past decade juggling his film and rap careers. Featuring standout guest appearances from Slick Rick and longtime collaborator Talib Kweli, as well as rich, esoteric production from Madlib, J Dilla, and Oh No, The Ecstatic is a triumph in beats and rhymes while solidifying Mos Def as the pre-eminent poet of his generation.
209. Method Man – Tical
Released: November 15, 1994
Label: Def Jam
The shining star on the Wu's debut, Method Man was only one of two members who had a solo track on Enter the Wu-Tang (36 Chambers) , the other one was GZA. Thanks to his distinctive husky voice, butter smooth flow and undeniable mic presence, the Ticallion Stallion was first off the block on the solo tip. While Tical may not be mentioned in the same breath as esteemed Wu solo albums like Only Built 4 Cuban Linx… , Liquid Swords and Supreme Clientele , the album is a strong offering from the Clan's most charismatic member and holds all the ingredients for a Wu classic – murky RZA production that knocks on the headphones, ill lyricism from Method Man and crazy features from Chef, Inspectah Deck and Streetlife.
208. Too Short – Life Is…Too Short
Released: January 31, 1988
Label: Dangerous Music, Jive, RCA Records
By the time 1988 rolled around, Bay Area rapper Too Short was already a local icon and veteran of the music industry. Long before Jive came calling, the Oakland native had already dropped several albums independently via his own label 75 Girls; legend has it he hustled 50,000 copies of his fourth album Born to Mack out the trunk of his car. By all measurements, Life Is…Too Short is Too Short's best and most well-known album out of his extensive catalogue. There's nothing groundbreaking or innovative here, Too Short is just being Too Short – outrageous, sexually explicit raps over some of the funkiest '70s production – but the Oakland rapper does it in such a stylish and commanding way that it's irresistible.
207. Salt–N–Pepa – Hot, Cool & Vicious
Released: December 8, 1986
Label: Next Plateau
When you think of '80s hip hop legends, it's mostly male rappers who come to mind – but when Salt-N-Pepa broke onto the scene with Hot, Cool and Vicious , that all changed. They brought a unique flavour of hip hop which didn't feel girly or manly – it's a compromise that everybody could enjoy, no matter who you were. With this album, women were finally given a voice and success in hip hop, influencing generations of female MCs.
206. Ice–T – Power
Released: September 13, 1988
Label: Sire
You could make a pretty strong argument for Ice-T's first four albums being included on this list. That's how strong the West Coast OG's early catalogue is. Ice's sophomore album, Power , is the pinnacle of late '80s gangsta rap – from the decadent artwork to the lyrical themes and sparse production. There are the usual sex, money, violence raps from the Los Angeles MC, of course, but delivered with enough intelligence and morality that the album doesn't descend into mindless gangsta stereotypes.
205. King T – Act a Fool
Released: November 15, 1988
Label: Capitol
Although he may not always get his flowers, King T is an unquestionable '80s legend for putting out Act a Fool . Groups like N.W.A. pushed a more violent, 'gangsta' sound, but T defied this – he used the same abrasive production and dark themes but with a playful style and lyricism which separated him from the rest. For his originality, Act a Fool is so important to the '80s scene.
204. Rick Ross – Teflon Don
Released: July 20, 2010
Label: Maybach Music Group, Slip-n-Slide, Def Jam
Everybody knows a song or two from Teflon Don , and that just goes to show the profound impact and success of this album. It's a militant run of nonstop bangers featuring guests from all over the culture. Teflon Don is almost cinematic with its bombastic production, waiting to see what superstar will be featured next. This is Rick Ross's magnum opus, and that should be enough to realise its greatness.
203. Kanye West – 808s & Heartbreak
Released: November 24, 2008
Label: Def Jam, Roc-A-Fella
Polarising and misunderstood when it was first released, 808s & Heartbreak has steadily grown to be recognised as one of Kanye's most influential albums ever. Enlisting moody singer-rapper Kid Cudi to help him sketch out the ideas for the album, Kanye abandoned plans for his planned fourth album, Good Ass Job , and looked to turn his grief into pop art. Even if 808s & Heartbreak 's only accomplishment was directly influencing the rise of Drake, then it would go down as a modern-day classic. But influence-aside, the album is a underrated gem of the 2000s, with beautiful melodies floating over moody soundscape and booming 808s.
202. Chief Keef – Finally Rich
Released: December 18, 2012
Label: Interscope, Glory Boyz
With timeless Chicago anthems like "I Don't Like" and "Love Sosa" preceding the album's release, Finally Rich would have been one of the biggest albums of the decade if it had dropped in the new streaming era. Instead, the album only did 50,000 in its first week and Chief Keef was seen as a commercial failure. Sometimes things just work out as they do for a reason. The Chicago rapper wasn't destined for the mainstream spotlight – if you look at him now, he's much happier doing his thing as an independent artist. As an album, Finally Rich is an undeniable classic and deeply influential. Chief Keef's adlibs, mesmerising melodies and dead-eyed one liners mesh perfectly with the genius of Young Chop's immediate production on this rap classic.
201. Slum Village – Fan–Tas–Tic (Vol. 1)
Released: July 11, 1997
Label: Counterflow, Donut Boy Recordings
Anything J Dilla touched turned to gold, so a whole album produced by Jay Dee was bound to be an instant classic. Part of why it's such an essential album in hip hop is the fact it was one of J Dilla's first ever projects, marking the start of the career of one of rap music's most inventive minds. It was an underground hit and paved the way for Slum Village to attract even more attention with Vol. 2 .
200. The Game – The Documentary
Released: January 18, 2005
Label: Aftermath, G-Unit, Interscope
One of the most important West Coast records to ever drop, The Game wasn't exaggerating when he claimed to have brought L.A. back with this album. After dominating most of the '90s, the West took a backseat leading into the 2000s as New York seized back control and the South began their rise. Released at the beginning of 2005, The Documentary was the fuel injection needed to revive the region. With a blend of Dre's menacing, stripped down production, 50 Cent's genius hooks , and Game's gruff but earnest raps, the album was a blockbuster straight out the gate, selling over half a million in its first week and announcing the arrival of a new Compton superstar.
199. Mobb Deep – Murda Muzik
Released: August 17, 1999
Label: Columbia, Loud
Coming off the acclaimed The Infamous and equally strong Hell on Earth , all eyes were on Mobb Deep as they readied their fourth album. Bolstered by the surprise hit single "Quiet Storm" which went platinum shortly after its release, Murda Muzik ended up becoming Mobb Deep's biggest album ever. Even with Havoc adding a little extra shine to his production, the duo remained grimey as ever, enlisting a range of guest features – from Nas and Raekwon to 8Ball and Lil' Kim – to help them depict vivid imagery of hood politics and violence. The Queensbridge duo would continue to release music for the next 15 years, but Murda Muzik was their last truly great album.
198. Vince Staples – Summertime '06
Released: June 30, 2015
Label: ARTium, Blacksmith, Def Jam
Picture a fusion of traditional hip hop, dance music, and trap, and you might imagine a complete mess – but Vince Staples made it work. His sound is kaleidoscopic, hopping across so many genres, and it all began with the relentless energy of Summertime '06 . The album brought new life into the mainstream with Vince's unique blend of rap and dance sounds, showing to the world nobody else is in his lane.
197. 8Ball & MJG  – Comin' Out Hard
Released: August 17, 1993
Label: Suave House
Not every classic record will make noise, and Comin' Out Hard is a great example of that. The sound of it is rustic and compressed, but that's because the entire thing was concocted in a single bedroom. It's a classic for its importance to the growing Southern scene, and it also shows off the power of the underground – 8Ball and MJG delivered a classic, despite not even having a studio to record in.
196. Queen Latifah – All Hail the Queen
Released: November 7, 1989
Label: Tommy Boy
Salt-N-Pepa may have put female MCs on the map, but Queen Latifah's All Hail the Queen is when they really started to gain the same respect as the men of hip hop. As part of Native Tongues, her style is jazzy, loud, and in-your-face, with a confident demeanour which puts her up there with the best of '80s MCs. Her raw dexterity is what makes this album so special, rightfully naming herself hip hop's queen.
195. A$AP Rocky – AT.LONG.LAST.A$AP
Released: May 26, 2015
Label: ASAP Worldwide, Polo Grounds, RCA
LIVE.LOVE.A$AP made A$AP Rocky a Harlem hero, LONG.LIVE.A$AP turned him into a superstar, but AT.LONG.LAST.A$AP is still the best showcase of the rapper's artistic depth and album-crafting talent. There may not be any tracks on here that are immediately grabbing as "Peso" or popular as "Fuckin' Problems," but from front to back AT.LONG.LAST.A$AP is a swirling, psychedelic masterpiece that has aged wonderfully. Guest stars Future, Schoolboy Q, Lil Wayne, and Mos Def all do some of their best work here as well.
194. O.C. – Word…Life
Released: October 18, 1994
Label: Wild Pitch
Word…Life may not be one of the first albums people mention when they think of '94, but let's not pretend it isn't a certified classic. The vintage boom bap beats and jazzy samples embody all the hard-hitting glory of Golden Age hip hop. Without this album, the Diggin' in the Crates Crew may never have risen to the same prominence, making it crucial for the come up of stars like Big L and Fat Joe.
193. Redman – Whut? Thee Album
Released: September 22, 1992
Label: Rush, Chaos
Few words can describe how wild and unpredictable Redman is. When he burst onto the scene with Whut? , there was frankly no other hip hop album like it. His one-of-a-kind delivery and audacious production choice is messy, but Redman thrived in that mess. He pushed the boundaries of what hip hop could be with his debut, encouraging a movement of unapologetic creatives, with Eminem among those stars he impacted.
192. Danger Doom – The Mouse and the Mask
Released: October 10, 2005
Label: Lex, Epitaph, Metalface Records
After a run of ground-breaking classics, The Mouse and the Mask is when DOOM got the attention he rightfully deserved. Thanks to it being a collaboration with producer Danger Mouse and television network Adult Swim, it got far more promotion than DOOM's previous works, pushing him into the limelight and getting him the praise and respect he should have got from the start. Full of classic DOOM rhymes and elegant production from Danger, the duo match perfectly.
191. Q–Tip – The Renaissance
Released: November 4, 2008
Label: Universal Motown
In the aftermath of A Tribe Called Quest's breakup, Q-Tip's solo career was quieter than most had hoped, but The Renaissance is when he finally dropped the classic fans wanted. The project has that signature pristine production Q-Tip is known for and his slick rap style, with a far more flashier sound than fans were used to. Despite having his previous projects shelved by labels, Q-Tip doesn't sound disheartened, and in fact, he sounds more determined than ever on The Renaissance .
190. Drake – Take Care
Released: November 15, 2011
Label: Young Money, Cash Money, Republic
Released in 2011, Take Care solidified Drake as a tour de force in the rap game, blending his emotive singing with introspective raps into Billboard chart-toppers. The Toronto native delved deep into themes of fame, heartbreak, and his struggle with success. With tracks like "Marvins Room" and "Headlines," Drake refined his style, interweaving vulnerability and braggadocio. Production-wise, it's a sonic marvel, mixing moody R&B, ambient soundscapes, and hard hip-hop beats. Is there was one thing that was certain after Take Care , it's that Drizzy Drake was here for the long haul.
189. Little Brother – The Minstrel Show
Released: September 13, 2005
Label: Atlantic
Even before The Minstrel Show released, fans knew it would be a classic. Little Brother's sharp and glamorous take on jazz rap makes it an essential for the 2000s, putting respect on the names of Phonte, Pooh and 9 th Wonder. This album was the make-or-break moment for them, and while it didn't do so well commercially, the talent on display made Little Brother a group everybody wanted to work with.
188. Run the Jewels – Run the Jewels 2
Released: October 24, 2014
Label: Mass Appeal, RBC
Louder and more bombastic, Run the Jewels 2 is everything that made the first one such a success, only this time everything is turned up a notch. With El-P manning the boards and delivering his anarchistic boom-bap, the duo's interplay and chemistry are on full blast here. Even while Killer Mike slips in some socially-charged lyrics, the music is just so fucking great you can't help but nod your head along to it. If Run the Jewels 2 established anything, it was that El-P and Killer Mike can do this shit together forever.
187. Showbiz & A.G. – Runaway Slave
Released: September 22, 1992
Label: Payday, London
If not for Runaway Slave , the sound of boom bap would be totally different. On this crisply-produced classic, Showbiz and A.G. showcase just how brilliant jazz rap can be, blending together old jazz sounds which come off more as a live backdrop than messily chopped samples. The crashing drums and prominent horns have become staples of boom bap, and if not for this album, the genre would not be the same.
186. Future – Hndrxx
Released: February 24, 2017
Label: A1, Freebandz, Epic
Outside of the brilliant DS2 , Hndrxx is the single finest example of Future's genius. Dropped a week after his eponymously titled album Future , which was jam-packed full of trap bangers and street anthems, Hndrxx is an gorgeous R&B record that highlights the depth of the Atlanta rapper's talent. As comfortable as he sounded going ignorant on tracks like "Good Dope" and "Draco," the Atlanta rapper sounded just as great on softer, more melodic pieces like "My Collection" and "Use Me." Within the hip hop world, you'd be hard-pressed to find many artists with the same sort of range Future was able to display across these two albums.
185. Guru – Jazzmatazz Volume 1 (An Experimental Fusion of Hip-Hop and Jazz)
Released: May 18, 1993
Label: Chrysalis
Although he may not get the praise he deserves, Guru's skills and impact as an MC run deep in the culture. Jazzmatazz is one of the first examples of hip hop using live band instrumentation, with Guru effortlessly performing over a summery backdrop of his jazz band. It's impressive in and of itself, but the impact this album had is even greater. Groups like The Roots would not exist if not for Guru and his ground-breaking ideas.
184. Noname – Room 25
Released: September 14, 2018
Label: N/A
"Y'all really thought a bitch couldn't rap, huh?" That's one of the first lines on Room 25 , and that alone should explain the album's importance. Past generations of female rappers had Queen Latifah and Nicki Minaj, and Room 25 is Noname's statement to the culture that she is the new rap queen. With a fusion of R&B elegance and old school swagger, she proved her unique ability on Room 25 .
183. Big K.R.I.T. – Live from the Underground
Released: June 5, 2012
Label: Cinematic, Def Jam
Live from the Underground is when Big K.R.I.T. really honed his sound, performing sharper than ever. His style isn't unique for the South, but it's brilliant, borrowing influence from Southern stars from UGK to Goodie Mob, taking what makes them great and combining them into something truly special. This is his studio album debut, finally giving his slick Southern swagger its much-deserved attention. The album is what put K.R.I.T. on the map as one of the South's modern legends.
182. Brand Nubian – One for All
Released: December 4, 1990
Label: Elektra
With a jazzy backdrop and politically-charged lyrics, Brand Nubian opened up the '90s and set the stage for the sounds of bouncing basslines and political rap to come. The powerful themes make this record the classic it is. Tracks like "Drop the Bomb" had their fair share of controversies at the time, but that's part of the appeal – Brand Nubian didn't care how the public viewed them, spitting whatever audacious lyrics came to mind.
181. Masta Ace – A Long Hot Summer
Released: August 3, 2004
Label: M3 Macmil Music
No album fits its title more than this one. A Long Hot Summer is a concept following Ace's life through the summer, and with its warm, soulful production, it makes you feel like you're in that summer alongside him. It may not have done well commercially, but real hip hop fans know the prowess of Masta Ace, and A Long Hot Summer is one of his most cohesive works to date.
180. Freestyle Fellowship – Innercity Griots
Released: April 28, 1993
Label: 4th & B'way, Island, PolyGram
In the early '90s, the East was known for jazz, and the West for funk, but Freestyle Fellowship broke down those labels with Innercity Griots . The album is crucial to the West Coast for helping introduce a harder sound, with less emphasis on funk and more on jazz and drums. On a more technical level, they helped push faster songs, breaking out from the constraints of slow R&B structures, making rap music a completely independent sound.
179. Pharoahe Monch – Internal Affairs
Released: October 19, 1999
Label: Rawkus, Priority
The switch-up in Monch's sound from his group work to his solo material would make you think he was a totally different artist. While Monch's albums with Organized Konfusion were quick, animated jazz rap, his solo debut is dark, gritty, and foreboding. It's an under-appreciated classic full of highlights, such as the earworm "Simon Says" which gave Monch a taste of mainstream success before he dove into the underground.
178. Lil Wayne – The Carter III
Released: June 10, 2008
Label: Cash Money, Universal Motown, Young Money
The Carter III isn't Lil Wayne's best album, but it sure was his biggest. After a decade of grinding his way in the rap game, first as the star of the Hot Boys then as a solo artist, Weezy finally had his moment to solidify all his hard work. The rapping talent was there, no doubt about that. The New Orleans-born MC had spent the past few years bodying guest features and destroying mixtapes to claim best rapper alive status; he just needed an extra push to become the biggest rapper alive. Tha Carter III was the push. First with the chart-topping "Lollipop" then with the ridiculous "A Milli," and before you knew it, Wayne had sold over a million in his first week and he was officially the new king of rap.
177. Jay Z – The Black Album
Released: November 14, 2003
Label: Roc-A-Fella, Def Jam
When Jay-Z emerged as a certified superstar off the back of Vol. 2… Hard Knock Life , he proceeded to take over the rap game in ways we'd never seen before. From the follow-up Vol. 3… Life and Times of S. Carter to The Blueprint 2: The Gift & The Curse , there wasn't a year during his legendary run that Hov wasn't the top dog. Sure, rappers like Ja Rule, DMX, Eminem, and Nelly came, but in terms of consistency and sheer dominance, no-one did it like the Brooklyn MC. That's why The Black Album was the perfect retirement album. It was a rapper truly going out at his artistic and commercial peak. Pulling in his most diverse line-up of producers to date – Just Blaze, Timbaland, Kanye, The Neptunes, Eminen, DJ Quik, Rick Rubin – Hov sought to make one final statement as the best rapper to ever do it. There are moments of introspection, just as there are moments of pure flexing, but as the album draws to a close with the aptly-titled "My 1st Song," you can't help but feel this was the perfect way to go out for Jay-Z.
176. Lupe Fiasco – Food & Liquor
Released: September 19, 2006
Label: 1st & 15th, Atlantic
Debut albums are difficult to pull off, but Lupe Fiasco makes it look easy. His debut made a splash in the mainstream, partly thanks to his previous work with Kanye, but the success of his album was not only commercial, but critical. Lupe's lyrical ability is unmatched, telling vivid stories with a clarity and rhyme skill unlike any other. This is his classic debut, showing the world his amazing potential.
175. Rapsody – Laila's Wisdom
Released: September 22, 2017
Label: Jamla, Roc Nation
When it comes to female MCs, Rapsody is someone who deserves her flowers. She's ferocious, with her sharp lyrical ability fully on show on Laila's Wisdom , joined by a host of guests who bring this album to classic status. With Kendrick Lamar and Black Thought among others, the album is stacked with talent, and Rapsody is just as skilled on the mic. Although it isn't mentioned enough, true hip hop fans know the greatness of Laila's Wisdom .
174. Biz Markie – Goin' Off
Released: February 23, 1988
Label: Cold Chillin', Warner Bros.
So many young hip hop heads have never heard a Biz Markie album, and they have no idea what they are missing out on. Goin' Off is a totally original debut that could have only been conceived by a rapper as unique and lovable as the Juice Crew MC. The soundscape is messy and rustic, but that's the appeal. It's organic hip hop with Biz rapping until he's out of breath. While it may not have revolutionised the genre, not every classic has to, as long as it's as consistent as this.
173. DMX – Flesh of My Flesh, Blood of My Blood
Released: December 22, 1998
Label: Def Jam, Ruff Ryders
Multiple drops a year is common practice nowadays, but in 1998, it was unheard of. With that in mind, Flesh of My Flesh releasing seven months after DMX's debut was a total surprise. The quality is almost on par with his debut, with DMX never losing that manic energy that makes him so unique. The album sold over double the units of his debut the first week, turning DMX from a rookie to a superstar in just one year.
172. Clipse – Lord Willin'
Released: August 20, 2002
Label: Star Trak, Arista
"Playas, we ain't the same, I'm into 'caine and guns / Chopard with the fishes make the facelift numb." As soon as you heard Pusha T's voice set off the track and The Neptune's shimmering keys drop, you knew this album was going to be different. There had been plenty of great coke rap albums before the Clipse – Raekwon's brilliant Purple Tape and Hov's Reasonable Doubt come to mind – but the Virginia duo took everything to the next level. The coke brothers were master craftsmen in the art of dealing and rapping about it – Pusha always with a sneer on his face, and Malice with a slight twinge of introspection. With The Neptunes providing the bouncy, futuristic funk, Lord Willin' turned coke rap into a top 40 staple with "Grindin'" and "Ma, I Don't Love Her" becoming big hits.
171. Black Sheep – A Wolf in Sheep's Clothing
Released: October 22, 1991
Label: Mercury
The Native Tongues movement reached its peak with A Wolf in Sheep's Clothing , one of the most creative and successful records to come out of the collective. Black Sheep's sound is brash and graphic at points, which was a refreshing departure from the more light-hearted nature of groups like Tribe. Black Sheep's debut shot them to the limelight in an instant, helping establish the collective's reign in the early '90s.
170. Ice Cube – The Predator
Released: November 17, 1992
Label: Lench Mob, Priority
This wasn't his first, nor his second, but Ice Cube's third classic in a row, and that's just counting his solo work. He has a knack for making explosive tracks that hit hard in any location from the club to the radio, and that's in full effect on The Predator . His political verses were heard worldwide as this became his most successful album, and for good reason. Its flashy sound and Cube's sharp pen deserved all that attention.
169. Reflection Eternal – Train of Thought
Released: October 17, 2000
Label: Rawkus
How do you follow up a collaboration as legendary as Black Star ? Talib Kweli's answer is Train of Thought : a collaboration which deserves all the same praise. Hi-Tek and Kweli work together perfectly. Picture the gorgeous, intricately detailed Hi-Tek beats from Black Star for a whole record, and the result is Train of Thought . The duo's debut was an instant classic, not just for its quality but its uniquely soulful sound that set it apart from traditional boom bap.
168. Jeru the Damaja – The Sun Rises in the East
Released: May 24, 1994
Label: Payday, FFRR, PolyGram
Take a hungry rookie MC and inject some vintage DJ Premier production, and you've got a classic. The Sun Rises in the East is a monster of a debut, with that slick, irresistible Preemo production, but also a dynamic performance from Jeru who makes a great first impression. It didn't reinvent the genre, but for introducing the world to Jeru and being fully produced by DJ Premier, its importance to '90s hip hop is unquestionable.
167. Common – Like Water for Chocolate
Released: March 28, 2000
Label: MCA
Look no further than Like Water for Chocolate to realise why people say Common has one of the best ears for beats. The production on this project is simply stunning, with that crisp J Dilla sound full of diced horns and chopped vocal samples making for some unforgettable beats. Couple that with Common's conscious lyricism, and you've got a masterpiece which proved Common's one-of-a-kind skill once again.
166. Sean Price – Mic Tyson
Released: October 30, 2012
Label: Duck Down
Before his untimely death in 2015, Sean Price blessed the culture with Mic Tyson . The project isn't as cutting edge and strange as Monkey Barz before it, but it's still quality Sean Price, with a range of talented producers helping out as Sean delivers his signature witty and animated verses. The context is really what makes this album special, being a consistent and fitting goodbye to the one and only Sean P.
165. Eminem – The Eminem Show
Released: May 26, 2002
Label: Shady, Aftermath, Interscope
The Eminem Show is prime Eminem. He switches up his flow more times on one song than some rappers could on a whole album. Words can't do justice to the impact this album had on hip hop in the 2000s. Hits like "Sing for the Moment" and "'Till I Collapse" were inescapable in 2003, helping define the cinematic sound of this record. This is Eminem reflecting on his fame, growing his empire in the process, and solidifying his claim as the best rapper alive .
164. Jungle Brothers – Straight out the Jungle
Released: November 8, 1988
Label: Warlock
If you don't know Jungle Brothers, then you don't know Native Tongues. The entire collective started with this record. It's a lot more stripped back and simple than what groups like Tribe would make later on, but for what Straight out the Jungle did for socially-conscious and alternative rap, its greatness and impact on '90s hip hop is undeniable.
163. Souls of Mischief – 93 'Til Infinity
Released: September 28, 1993
Label: Jive
There are too many reasons to count why 93 'Til Infinity is among the greatest hip hop albums ever. For a start, the alternative, more spacey sound Souls of Mischief went for is completely different to what West Coast giants like Dre and Snoop were making, showing that the West wasn't all about G-Funk. The album is iconic to the West for its fresh thinking, elite rapping, and profound impact on the underground scene.
162. Smif–N–Wessun – Dah Shinin'
Released: January 10, 1995
Label: Wreck, Nervous
The sound of this album is so dark and gritty compared to anything else before it, defining the style Boot Camp Clique would remake time and time again. What makes it even more impressive is the fact that Tek and Steele recorded all their verses in a single take, showing all the wack MCs how it's done. For the influence and sheer skill displayed, who could deny its importance in the culture?
161. The Alkaholiks – Coast II Coast
Released: February 28, 1995
Label: Loud, RCA
In an era where rap beefs were at their height, Coast II Coast was a refreshing departure where The Alkaholiks rapped about having fun and getting drunk. The album's impact was initially small because of the way Tupac and Death Row dominated the West. Either way, true hip hop fans know that all you need for a classic is some elite MCs, some slick production and a guest here or there. Coast II Coast is simple, addictive hip hop.
160. Lil Kim – Hard Core
Released: November 12, 1996
Label: Undeas, Big Beat, Atlantic
Combine the nonchalant Brooklyn swagger of Biggie Smalls with the empowering femininity of Foxy Brown, and you've got 'Lil Kim. Hard Core is her '96 classic which fully showcases her hypnotising ability as a rapper. Not only does it show off her supreme skill, but it popped off in the mainstream and went double platinum, making her career and certifying Lil' Kim as a hip hop titan and leading female MC .
159. dead prez – Let's Get Free
Released: February 8, 2000
Label: Loud
Two of the most politically-charged MCs in rap history, stic.man and M-1, met back in the early '90s at the Florida Agricultural and Mechanical University and bonded over their love of hip hop and similar ideologies. Fast-forward to 2000 and the duo were signed to Loud Records and getting ready to drop their debut, Let's Get Free .
With clear influences from N.W.A. and Public Enemy, though with a bit more research sprinkled on top, the album sounds urgent, both in production and message. While the topics can get quite heavy over the course of the 18-tracks, Let's Get Free is strong enough of an album to catapult dead prez as the most revolutionary hip hop to emerge in the 2000s.
158. Nas – God's Son
Released: December 13, 2002
Label: Ill Will, Columbia
Time and time again, Nas has proven himself one of the best rappers ever, and with God's Son , he decided to prove it further with yet another classic. The record isn't as influential as Illmatic or as iconic as Stillmatic , but God's Son may just be the MC's best written project. The lyrics read like a diary, diving into the turmoil of Nas losing his mother. Music so personal and heart-breaking was rare in hip hop at the time.
157. MC Lyte – Lyte as a Rock
Released: May 1988
Label: First Priority Music, Atlantic Records
The ingredients of Lyte's sound aren't unique: it's snappy and groovy, as all great '80s rap should be. But the fact that Lyte as a Rock was a successful album by a female MC makes it historic. Even on the cover, Lyte is off to the side while the male producers are centred, as if to trick listeners into buying it only to realise those ill rhymes are a woman's. It was a monumental moment for women of rap.
156. Camp Lo – Uptown Saturday Night
Released: January 28, 1997
Label: Profile, Arista
This is not your average jazz rap album, but a blast of summery sounds which brought new life to the genre just as the Native Tongues movement was drawing to a close. Camp Lo's brand of buttery smooth beats and animated rhymes made for an instant hit, putting a polished twist on a classic hip hop sound and helping keep jazz rap alive.
155. Onyx – Bacdafucup
Released: March 30, 1993
Label: JMJ, Rush Associated Labels, Chaos Recordings
Bacdafucup is the musical equivalent to being beaten up and left unconscious. This album is relentless, with Onyx delivering some of the most brutal verses in rap music and truly living up to their name as a hardcore hip hop group. Despite being so abrasive, hits like "Slam" were played worldwide, certifying Onyx as stars in the industry off their first album.
154. LL Cool J – Radio
Released: November 18, 1985
Label: Def Jam, Columbia, CBS
There aren't many albums you could say reset the culture the way Radio did. Imagine the year is 1985 – rap is known for its colourful grooves and danceable beats, then LL Cool J dropped the volatile rap rock classic Radio . It would have blown your mind. The rap rock style he developed became the norm for the rest of the '80s, making Radio one of hip hop's most important albums for taking the sound in a whole new direction.
153. Lord Finesse & DJ Mike Smooth – Funky Technician
Released: February 6, 1990
Label: Wild Pitch, EMI
Razor sharp lyrics and buttery smooth beats are sometimes all you need for a masterpiece. Funky Technician was the debut of both Finesse and Smooth, and there's no better way they could have kickstarted their careers. It's a masterclass in technical rapping ability, and that's not even mentioning the unforgettable beats laced with funk samples. This album helped shape the sound of '90s hip hop, where bars mattered more than ever, and funky beats would make a guaranteed hit.
152. Migos – Culture
Released: January 27, 2017
Label: Quality Control, YRN, 300
Iconic is an understatement. The debut from Migos skyrocketed the trio to fame, making them some of the most beloved faces in trap music with their luxurious style and hypnotically catchy sound. Whether it be their triplet flow, autotune-heavy voices or aggressive adlibs, every aspect of their style has become a staple of the genre. The DNA of Migos' music has been passed down to new generations of trap talent, making them the forefathers of today's trap icons.
151. Big L – Lifestylez ov da Poor & Dangerous
Released: March 28, 1995
Label: Columbia
For fifty minutes, Big L flexes his lyrical muscles and never tires out. There's a reason people hail L as one of rap's greatest lyricists off this one album, and that's because nobody since has been able to replicate the mastery of Lifestylez ov da Poor & Dangerous . Every bar is a double entendre, and each verse is packed with punchlines. Each song is a maze of complex rhymes. In his short time, Big L showed the culture what a true lyricist looked like.
150. Killer Mike – R.A.P. Music
Released: May 15, 2012
Label: Williams Street
The funky South and the gritty New York underground seem like styles which wouldn't mesh, but R.A.P. Music somehow pulls it off. Fully produced by El-P, R.A.P. Music is Mike and El's first collaborative project. El's futuristic sound and Mike's swagger fit together like jigsaw pieces, complementing each other perfectly. This was a crucial moment for both their careers. They worked so well together they quickly formed the duo Run the Jewels, inseparable for the next decade.
149. MF DOOM – Born Like This
Released: March 24, 2009
Label: Lex
MF DOOM has always called himself a supervillain, but Born Like This is the only instance of his music truly sounding evil. His voice is deep, the production is dark, and the violent themes of brutality are vivid. It's an exploration into how evil the MF DOOM persona can be, and the result is one of his most memorable projects. It isn't as influential as his other work, but for its uniqueness, it stands out as an immediate highlight.
148. Black Moon – Enta da Stage
Released: October 19, 1993
Label: Nervous
Not all classics can be a hit with the public, and Enta da Stage is an unfortunate example of that. But don't get it twisted – what Black Moon lacked in hit songs and huge sales, they made up for in the game-changing influence of Enta da Stage . With its snappy boom bap production and dark themes, Black Moon defined the tone for the rest of the '90s, setting the stage for the gritty sound of east coast rappers .
147. Jay–Z & Kanye West – Watch the Throne
Released: August 8, 2011
Label: Def Jam Roc Nation, Roc-A-Fella
Does the importance of Watch the Throne even need to be explained? Take the two biggest rappers in the world, have them collaborate, and the result is pure magic. The whole culture froze to see what masterpiece the duo would cook up, and they delivered. Watch the Throne is an hour of Kanye and Jay-Z bragging and inflating their egos until they're about to burst, but that confidence is what makes the record the gold-plated classic that it is.
146. Mac Miller – Swimming
Released: August 3, 2018
Label: REMember Music, Warner Bros.
Of all the talents we've lost these past few years, Mac Miller's death may have hit the hardest. That tragedy is what makes Swimming – his last album while he was alive – so powerful. It's about Mac's struggles, but rather than drowning in them, he wants to swim to safety. His blend of soulful singing and pop-rap production makes it equally beautiful and catchy. Swimming isn't all too influential, but it will always be remembered for being Mac's final work.
145. Phonte – Charity Starts at Home
Released: September 27, 2011
Label: Foreign Exchange Music
Loyal to his jazz rap roots, Phonte's debut has all the warm grooves and summery samples as Little Brother's classics. Charity Starts at Home should be the blueprint for how to start your solo career. It's quick and to the point, with Phonte using the opportunity to sharpen his skills and prove himself a worthy solo MC with some of the illest rhymes of his career. It's not reinventing the wheel, but it's Phonte doing what Phonte does best.
144. KRS–One – Return of the Boom Bap
Released: September 28, 1993
Label: Jive
KRS-One's first solo album is a menacing masterclass in aggressive delivery, with KRS rapping with a charisma few MCs could match. Return of the Boom Bap is rageful and dark, with KRS dropping some of the most bloodthirsty verses of his life. Like many early '90s classics, it helped define the hard-hitting East Coast sound that impacted rappers all over from Nas to DMX. Plus, as KRS-One's solo debut, it set the trajectory for the rest of his career.
143. Aesop Rock – Labor Days
Released: September 18, 2001
Label: Definitive Jux
When the 2000s hit, hip hop was in a strange place. Boom bap was dying out, trap music was just developing, and in the midst of that, legends like Aesop Rock were building their own underground sound. Aesop's quick-witted style is one thing, but his vocabulary is another. His bars are crammed with countless words, but the stories he tells are coherent and detailed. Labor Days pushed a wave of unorthodox rap and redefined what a lyricist could be.
142. Vince Staples – Big Fish Theory
Released: June 23, 2017
Label: Blacksmith, Def Jam
Head-bopping house beats, hard bass and beat switches seem like sounds only a DJ in a dance club could master, but somehow, with Big Fish Theory , Vince perfectly interpolated dance music into hip hop. His infectious brand of hip house went worldwide with hits like "Yeah Right" and "Big Fish", proving that Vince wasn't only an innovator, but a skilled hit-maker too. If not for Big Fish Theory , who knows if hip house would even be relevant today?
141. Ghostface Killah – Ironman
Released: October 29, 1996
Label: Epic, Razor Sharp
Ironman has that Wu-Tang bravado, injected with a little introspection and personal lyricism which make it stand out against the Wu's other projects. Ghostface's manic delivery is as animated as ever, but it's in those more personal moments which make Ironman a masterpiece. Without a doubt, every Wu-Tang album from 36 Chambers to Wu-Tang Forever is classic, but no other quite reaches the emotional heights of Ironman .
140. Danny Brown – Old
Released: October 8, 2013
Label: Fool's Gold, Goliath
Danny Brown is the last person you would expect to make a hit – with a yelpy delivery and unpredictable style too strange for the mainstream – but somehow, with Old , he managed to grab some commercial success. Old is surprisingly accessible, borrowing dance elements from the grime scene and trap from the South, making for a project full of bangers crafted for the club. It isn't overly influential, but Old is crucial for Danny, as he completely reshaped his style.
139. Kanye West – Yeezus
Released: June 18, 2013
Label: Def Jam, Roc-A-Fella
Yeezus is like the soundtrack to a nightmare, with screaming synths, roaring samples and a primal performance from Kanye making the foundations of this classic. Yeezus is his sound at its most futuristic, abandoning his chipmunk-soul roots in favour of a mind-bending journey in electronica. His hyper-sexual lyricism and huge ego are on full show here, with Yeezus marking the height of Kanye's fame and respect. With Yeezus , he pushed boundaries no other mainstream rapper would dare to.
138. Master P  – Ghetto D
Released: September 2, 1997
Label: No Limit, Priority
Take every element of what makes Southern hip hop unique, combine them, and you've got Ghetto D . From its smooth, soulful moments to the club-friendly New Orleans bangers, there's a little bit of everything, and that's what makes it such an important celebration of the South. It's a monumental moment which showed just how far the South had come: once a style disregarded as lesser than East or West, now the most popular style of rap in the world.
137. M.O.P. – Warriorz
Released: October 10, 2000
Label: Loud, Relativity
Casuals may not know M.O.P., but they definitely know Warriorz . Warriorz is their most popular album by a mile, partly thanks to the iconic single "Ante Up" which includes all the ferocious energy and limitless bravado the duo are known for. The whole album is like a punch to the face, with the duo yelling their lyrics over a variety of head-bopping beats. It's a landmark album for M.O.P. and finally got them their deserved moment in the spotlight.
136. Naughty by Nature – Naughty by Nature
Released: September 3, 1991
Label: Tommy Boy
Look no further than Naughty by Nature to see how to make a splash on the first album. Along with other early '90s classics, Naughty by Nature helped set the tone for hip hop in the new decade, setting a high standard for rhyme skill and technical ability for newcomers to match. The hit single "O.P.P" shot the trio to stardom, where they would stay throughout the '90s to dominate the radio.
135. Big Pun – Capital Punishment
Released: April 28, 1998
Label: BMG, RCA, Loud Terror, Squad
The first solo Latin hip hop record to hit platinum status, Big Pun's Capital Punishment was a landmark release when it came out in 1998. While the album is the quintessential showcase of the Bronx rapper's superb rapping technique – endless internal rhymes stacked on top of each other delivered breathlessly – it also proved that Pun was a natural-born superstar. With hits like "I'm Not a Player" and "Still Not a Player," Pun proved that he could make songs for the radio on one hand while going bar-for-bar with lyrical heavyweights like Black Thought, Prodigy, and Inspectah Deck on the other.
134. A Tribe Called Quest – People's Instinctive Travels and the Paths of Rhythm
Released: April 10, 1990
Label: Jive, RCA
Even on their debut, Tribe's music is stellar, creating a salad of chopped-up jazz samples and sprinkling a range of carefree verses on top. Their sound isn't violent or braggadocious; it's fun. They proved that hip hop isn't all glitz and glamour – sometimes all you need is a good groove and a fun story to tell. With hits like "Can I Kick It?", this album was monumental in getting Tribe the success to thrive and evolve their sound.
133. Company Flow – Funcrusher Plus
Released: July 22, 1997
Label: Rawkus
Funcrusher Plus sounds like a hip hop album from the future, sent back in time for us to hear its excellence early. The gritty, otherworldly production style of El-P may not be all too strange nowadays, but back in '97, it was like the beginning of a new era in hip hop. If not for Funcrusher Plus , the entire abstract scene – from Aesop Rock to billy woods – would not be the same.
132. Nas – Stillmatic
Released: December 18, 2001
Label: Ill Will, Columbia
"I've been fucked over, left for dead, dissed and forgotten" Nas declared resentfully on "Ether." While the Queensbridge rapper may have been exaggerating just a little when he rapped that – Nastradamus went platinum and his label compilation QB's Finest went gold so not exactly "left for dead – it summed up general sentiment of New York rap fans. After sparking prophecy on his debut album and becoming a mafioso kingpin on his second, Nas' rap career quickly descended to a point where his "bodyguard's 'Oochie Wally' verse better than yours" as one Jay-Z so articulately put it. But Nas came roaring back with Stillmatic , a defiant masterpiece that sounds triumphant and intense the whole way through. From the all-time great diss "Ether" to the storytelling classic "Rewind" to the incredible "One Mic," Nas recaptured the magic on Stillmatic and hasn't looked back since.
131. Rapsody – Eve
Released: August 23, 2019
Label: Jamla, Roc Nation
If Laila's Wisdom wasn't enough to prove Rapsody's multitalented ability, then Eve should make it undeniable. Whether it be the beats, the rapping, or the concept, Eve has it all – it's as smooth and luxurious as a classic R&B album but with the cold bars of a master MC. Each track celebrates a different black woman, making Eve so powerful thematically. It's Rapsody's message that she's coming for the crown to become the queen of rap.
130. Eminem – The Slim Shady LP
Released: February 23, 1999
Label: Aftermath, Interscope
What more can be said about The Slim Shady LP that hasn't been said already? It's a deep dive into the mind of maniac Slim Shady, exploring all the laughter and pain of the persona's wild life. Eminem is a monster on the mic, and while he would sharpen his skill even further on future projects, this is undeniably his most important album. This is the record which launched Eminem to the mainstream – and he's never left it since.
129. Little Brother – The Listening
Released: February 25, 2003
Label: ABB
In an era where hip hop was becoming a commercial powerhouse, Little Brother broke on to the scene to beg people to listen to the words and not just the sounds of rap music. The Listening is a modern twist on boom bap, carrying the essence of '90s hip hop into the 2000s and keeping that classic sound alive. More importantly, The Listening introduced the world to three legends – 9 th Wonder, Phonte, and Rapper Big Pooh.
128. Roc Marciano – Reloaded
Released: November 13, 2012
Label: Decon
Ask any modern underground rapper who inspired them, and the answer is more than likely to be Roc Marciano. Of all his projects, Reloaded is the most influential. It's a lyrical paradise where Roc's cold bars and sharp delivery take precedence over all else. His ambient choice of production paved the way for future rappers to adopt his style and evolve it, which many now call "drumless hip hop."
127. E–40 – In a Major Way
Released: March 14, 1995
Label: Jive, Sick Wid It
West Coast hip hop doesn't get more glamorous than In a Major Way . As E-40's first major label album, it shot him to the stars and gave his career more success than ever before. The project is like the soundtrack to a California party, with busy G-Funk production in the background and a crowd of guests taking turns on the mic from 2Pac to Suga-T. It's the West Coast at its best – full of funk and full of bangers.
126. Wu–Tang Clan – Wu–Tang Forever
Released: June 3, 1997
Label: Loud, RCA
If you're counting solo albums, Wu-Tang's run from 1993's Enter the Wu-Tang (36 Chambers) to 1997's Wu-Tang Forever is the greatest run by any rap act of all time. Their debut album making the rounds, the Shaolin crew dropped 6 Feet Deep , Tical , Return to the 36 Chambers: The Dirty Version , Only Built 4 Cuban Linx… , Liquid Swords , and Ironman in quick succession. They had gone from underground cult heroes to global superstars, so when the Clan were readying their sophomore album, expectations were through the roof. As an album, Wu-Tang Forever is a flawed masterpiece. There are enough dazzling moments on here for it not to be a classic – Deck's verse "Triumph," Ghost's heartbreaking tale on "Impossible," Ol' Dirty's presence throughout the album, RZA's tightly-refined production – but you can't help but think it would have an even stronger body of work if it was trimmed down. Cut the 27-track double album into 14-15 songs and Wu–Tang Forever would be right up there with their debut.
125. MF DOOM – Mm..Food
Released: November 16, 2004
Label: Rhymesayers
Mm..Food offers a platter of tracks with slick, buttery beats and bars sprinkled with food wordplay. For its constant reference to food, it's one of DOOM's most focussed records, though not in the way fans would have expected. It's DOOM's signature style mixed together with a poppier, more accessible sound. Mm..Food pulled DOOM out from the depths of the underground, making him a known and well respected rapper within the hip hop community.
124. AZ – Doe or Die
Released: October 10, 1995
Label: EMI
AZ's 1995 debut Doe or Die gets compared a lot to Nas' Illmatic – understandably given the two rappers' intertwined careers during the mid-90s – but the album's actually closer to Jay-Z's Reasonable Doubt . While Illmatic was a poet looking through his project window documenting life in Queensbridge over golden age boom-bap, AZ speaks on the finer things in life as he paints vivid poetry of underworld life. Illegal riches, expensive liquor and elaborate mob tales fill the album while production wizards like Pete Rock, Buckwild and L.E.S. provide the shimmering keys for AZ to let loose on. The Brooklyn rapper's album may sometimes get lost in the flood of classic albums that came out in 1995, but best believe Doe or Die is one of the best hip hop albums of all time.
123. J–Live – The Best Part
Released: May 1, 2001
Label: Triple Threat Productions
Shelved and shelved again, The Best Part is an album fans waited years to get their hands on, but the wait was worth it. The way J-Live raps is simply inhuman – the flows and speed of his bars makes it sound like he never breathes, rapping the album from start to finish without a moment of pause. While it didn't make the biggest splash commercially, the talent and passion in J-Live's music makes The Best Part a one-of-a-kind classic.
122. Freddie Gibbs & Madlib – Piñata
Released: March 18, 2014
Label: Madlib Invazion
The combination of Freddie Gibbs and Madlib is a duo so perfect that fans are always waiting anxiously for them to get together again (and again). Piñata was that lightning in a bottle moment for Freddie Gibbs, dropping the coke rap equivalent to Madvillainy . With Freddie's swaggering, melodic lyricism and Madlib's warped beats, the duo's music is as addictive as the coke Freddie raps about.
121. Mystikal  – Let's Get Ready
Released: September 26, 2000
Label: Jive
When Mystikal left No Limit Records, the future of his career seemed uncertain, but Let's Get Ready put his fanbase's hearts at ease. He raps like he's in the middle of a heated argument, with a raspy tone and booming anger to every word. It's that passion and messy, dirty South production that made Let's Get Ready a colossal success for Mystikal. The album made him even more famous, and helped shove the South even further into the mainstream.
120. The Roots – Do You Want More?!!!??!
Released: January 17, 1995
Label: DGC, Geffen
In '95, hip hop was more flashy and mainstream than ever. But with Do You Want More , The Roots decided to strip things back. With their laidback jazz beats and live band, nothing sounded more organic and authentic than The Roots. As their major label debut, this album got the ball rolling for the group. They were praised as innovators, using a live band to produce, showing hip hop didn't have to be all pop and funk.
119. Kool G Rap & DJ Polo – Live and Let Die
Released: November 24, 1992
Label: Cold Chillin' Records
If you don't know Live and Let Die , you need to catch up on your hip hop history. This album is Kool G Rap at his most vicious and abrasive, practically birthing the hardcore hip hop scene which would dominate the mainstream in the late '90s. The blend of chopped samples mixed with crashing drums and Kool G's raw delivery was a formula rappers would replicate for years to come.
118. Gang Starr – Step in the Arena
Released: January 15, 1991
Label: Chrysalis, EMI Records
You know what you're getting into when you listen to Gang Starr. No matter what album you pick, the quality never changes. With Guru spitting some wisdom on the mic and DJ Premier providing a range of brilliant beats with a storm of samples mixed together, Gang Starr set a gold standard for hip hop. Step in the Arena isn't their first record, but it showed the culture they meant business, hailed as one of their greatest works ever.
117. Nas – It Was Written
Released: July 2, 1996
Label: Columbia
How could anyone follow up a masterpiece as beloved as Illmatic ? There was so much pressure on Nas to deliver, and somehow, he pulled through. It Was Written is like the mature brother of Illmatic , with fewer punchy beats and instantly rewarding hooks, but more creative writing and production, and a list of guests to spice things up. It Was Written was crucial for Nas's career, as it showed the world he wasn't afraid to evolve.
116. Ol' Dirty Bastard – Return to the 36 Chambers: The Dirty Version
Released: March 28, 1995
Label: Elektra, WMG
ODB was always Wu-Tang's wildcard, so a solo project to let him out of the cage was bound to be memorable. Luckily, it's memorable in the best way possible. ODB is unpredictable, with an animalistic delivery and wild lyrics the faint of heart would call disgusting. But that's what makes his debut so special – it's a complete departure from the hard-hitting grime of Wu-Tang's old sound, and cemented ODB as a legend who could hold his own.
115. Marley Marl – In Control, Volume 1
Released: September 20, 1988
Label: Cold Chillin', Warner Bros.
In Control is like an assembly of '80s hip hop Avengers, curated by legendary producer Marley Marl. His beats are bouncy and bright, with a similar punch to his sound that would influence producers like DJ Premier. Speaking of influence, this album crashed into the hip hop culture – its impact can still be heard in legends like Nas, Pete Rock, and many more. It was such an exciting collaboration for the time, and still holds up.
114. Capone–N–Noreaga – The War Report
Released: June 17, 1997
Label: Penalty, Tommy Boy, Warner Bros.
There's no better title for this record than The War Report , because Capone and Noreaga treat every song like a battlefield, fighting it out for the best verse. The album has gone down as an underground classic which built on the foundations of hardcore hip hop and reshaped it into the luxurious, booming sound rappers like Jadakiss and DMX would embrace their whole careers.
113. Jedi Mind Tricks – Violent By Design
Released: October 3, 2000
Label: Superegular Records
Parts of Violent By Design sound like they're straight from a horror movie. The album is a nonstop barrage of brutal bangers where the listener doesn't get a moment to rest. Vinnie Paz and Jus Allah rap so violently it would be no surprise if they wrote their lyrics in blood. The main takeaway from the project – which defines it as a classic – is that ominous production from Stoupe which has had a lasting impact on the abstract scene.
112. A Tribe Called Quest – We Got It from Here… Thank You 4 Your Service
Released: November 11, 2016
Label: Epic
On the surface, We Got It From Here simply seems like another quality Tribe album (something we may have taken for granted over the years), but knowing the context, it's actually unbelievable how great this project turned out to be. It's a comeback after an almost twenty year hiatus, and Phife Dawg passed away halfway through recording, turning this from a comeback into a tribute record too. The result, against all odds, is a beautiful tribute and celebration of the Tribe and hip hop as a whole. Phife's memory lives on through this record.
111. LL Cool J – Mama Said Knock You Out
Released: September 14, 1990
Label: Def Jam, Columbia
Everyone handles criticism differently. Some will go on rants and humiliate themselves, and others will ignore it and continue putting out mediocre music. But when fans weren't feeling Walking with a Panther , LL Cool J took the criticism personally, and that anger resulted in Mama Said Knock You Out . It's his most enraged, explosive album to date. It was important for his career, proving to haters he wasn't a sellout, and proving to the world he still had it.
110. Young Jeezy – Let's Get It: Thug Motivation 101
Released: July 26, 2005
Label: Corporate Thugz, Def Jam South
No MC quite captures the swaggering glamour of the 2000s like Young Jeezy. His harsh delivery over an explosion of synths and hi-hats defined early trap music and paved the way for generations to build on his hard-hitting sound. Name any trap artist today and they're guaranteed to cite Jeezy as an influence – that's the level of impact Jeezy and Let's Get It had.
109. Future – DS2
Released: July 17, 2015
Label: A1, Freebandz, Epic
In eight months, Future dropped four projects defining his psychedelic brand of trap music, and DS2 is the masterpiece to cap off that run. It's all about drugs, sex, and addiction, but buried beneath those seemingly shallow topics is Future's misery which turns this compilation of party anthems into a tragedy. It's an emotional rollercoaster, a hard-hitting run of bangers, and a victory lap for Future where he solidified himself as the GOAT in modern trap music.
108. Diamond D – Stunts, Blunts and Hip Hop
Released: September 22, 1992
Label: Chemistry, Mercury, PolyGram Records
If you're looking for the definition of "smooth", go listen to Diamond D. There's a magic to D's music which brings out the best in his features, with guests from Whiz One to Brand Nubian delivering some of the slickest verses of their careers. This album was an event for the culture, putting D's lyrical and musical abilities on full display and introducing the world to D.I.T.C. legends like Fat Joe and Big L.
107. Organized Konfusion – Stress: The Extinction Agenda
Released: August 16, 1994
Label: Hollywood BASIC, Elektra Records
Stress: The Extinction Agenda offers a musical experience so unique you would have thought the album was an artefact from space. The performances from Pharoahe Monch and Prince Po are otherworldly, with deliveries so manic and flows so animated they sound like they're from another planet. This unpredictable classic is what certified Organized Konfusion as one of the best duos of the '90s. Since its release, you could count on one hand how many MCs have come close to matching their style.
106. Jay–Z – 4:44
Released: June 30, 2017
Label: Roc Nation
On 4:44 , Jay-Z reminds us that behind all that swagger and success is a human, and humans aren't perfect. This album almost plays out like a therapy session, with the listeners the therapists, and Jay-Z the patient, spilling out all his regrets and issues. It's by far his most personal project and that's what makes it an essential for his catalogue, standing out against all his braggadocious albums and showing he isn't afraid to be honest with his fans.
105. Isaiah Rashad – Cilvia Demo
Released: January 28, 2014
Label: Top Dawg Entertainment
Isaiah Rashad couldn't have joined TDE at a better time – with stars like Kendrick and ScHoolboy Q dominating the charts – but that made comparisons inevitable. It could have been intimidating to debut alongside such mainstream titans, but Isaiah pulled his weight with Cilvia Demo , a spacey project which showed a fresh, dark side to TDE. With this chilled out, confident debut, Isaiah started his career on the right foot and earned his place in the star-studded label.
104. Scarface – The Fix
Released: August 6, 2002
Label: Def Jam South, Def Jam
From an underground titan in Geto Boys to president of Def Jam South, Scarface had come a long way, and The Fix is his victory lap. It's his first project released under Def Jam, and with that bigger budget came a pristine and polished sound with help from the likes of Kanye and Mike Dean. The Fix is one of his best projects ever and a landmark album for Scarface when his success was at its height.
103. PRhyme – PRhyme
Released: December 9, 2014
Label: PRhyme, INgrooves
It should be common knowledge that any album with DJ Premier involved is an instant classic. PRhyme is no different, and Royce flows over the signature glamour and boom bap punch Preemo delivers on production. From MF DOOM to Phonte to Common, it seems like every hip hop legend wanted a feature on this project because the music is just that good. Gang Starr may be over, but PRhyme is Premier's message that he'll never retire from dropping classics.
102. Blackalicious – Nia
Released: August 30, 1999
Label: Mo' Wax, Quannum Projects
Many artists start their careers with a bang, but Blackalicious started theirs with a musical explosion. It's a tsunami of dynamic sounds, flowing from traditional boom bap bangers to abstract hip hop strangeness with compressed vocals and eerie production. The group certainly made an impact, defining a sound that no other group could replicate, and helping shape the unpredictable sound of rap music to come. Blackalicious proved you didn't need a conventional sound to find success in the culture.
101. MC Eiht – We Come Strapped
Released: July 19, 1994
Label: Epic Street
We Come Strapped is a lyrical slaughter where MC Eiht showcases all the raw passion of a determined MC. While the album heavily features his Compton's Most Wanted friends, MC Eiht makes it clear that this is his show, with a wild performance up there with the most vicious of '94. It's not as impactful as other '94 classics, but it was essential for Eiht, showing his skill as a solo rapper and allowing him to explore his own sound further.
100. OutKast – Southernplayalisticadillacmuzik
Released: April 26, 1994
Label: Arista, LaFace
This album should be in a museum because it's that important to hip hop history, but in terms of its sound, it hasn't aged a day. The smooth funk and Southern influence gives it an elegance, but it's the introspective writing where OutKast shines, proving the South has all the same lyrical prowess as the East or West. Without this record, Southern rap may never have gained the same mainstream dominance it has today. It all started with Southernplayalisticadillacmuzik .
99. De La Soul – De La Soul Is Dead
Released: May 14, 1991
Label: Tommy Boy, Warner Bros.
Despite what the title may suggest, on De La Soul Is Dead , the group sound more alive than ever. Their fast-paced raps and jazzy beats are just as immaculate as their last project, but the album creates a much darker atmosphere to its predecessor. De La Soul may have died, but this project is like their rebirth, abandoning the carefree sound they were known for and aiming for a more mature audience as the '90s began.
98. Lil Wayne – Tha Carter II
Released: December 6, 2005
Label: Cash Money, Young Money, Universal
Each Carter album has its strengths, but Tha Carter II is the crown jewel in Wayne's catalogue. You've not heard witty lyrics until you've heard Lil Wayne, and Tha Carter II is packed full of them. From the era-defining bangers like "Hustler Muzik" to deep cuts like "Receipt", Wayne doesn't hold back for over an hour. It's one of the greatest projects ever for pushing Wayne to superstar levels of success, and its consistency only makes it more notable.
97. Mobb Deep – Hell on Earth
Released: November 19, 1996
Label: Loud, RCA
Shut your eyes and listen to Hell On Earth and it will feel like you're in the middle of an action-packed mafioso movie. Havoc and Prodigy's depictions of the streets are incredibly vivid, forming this tense atmosphere with Havoc's dark twist on boom bap. It's as detailed as The Infamous but strips back the jazz in favour of a darker tone, making for another Mobb Deep classic and a masterclass in storytelling.
96. Slum Village – Fantastic, Vol. 2
Released: June 13, 2000
Label: GoodVibe
In the early 2000s, J Dilla was the hot topic everybody was anxious to work with, and much of that attention was drawn from Fan-Tas-Tic, Vol. 2 . J Dilla's sound was genius, able to splice together samples so seamlessly that the complexity of the soulful boom-bap beats went over listeners' heads. This summery record was finally his time to shine, leading to many going as far as to call Dilla the saviour of hip hop.
95. 2Pac – Me Against the World
Released: March 14, 1995
Label: Interscope, Jive
2Pac was already making waves in the West, but this record made a bigger splash than ever before, flooding the charts, the radio, and the culture. The album's content is some of Pac's most mature and vulnerable ever, talking about his struggles, successes, and life in such detail it sounds like a personal diary. Me Against the World was both a critical and commercial triumph, putting 2Pac on a pedestal as one of the greatest of all time.
94. Common – Be
Released: May 24, 2005
Label: Geffen, GOOD Music
When Chicago legend Common teamed up with up-and-coming producer Kanye West, what else could they have made but an instant classic? Take the warm, chipmunk-soul sound of Kanye's The College Dropout and insert a range of thoughtful Common verses, and you've got Be . It brought new life to Common's career and catapulted Kanye even further into the limelight as a legendary producer. Be was essential for both of them, showing off the supreme talent coming out of Chi City.
93. Jurassic 5 – Quality Control
Released: June 6, 2000
Label: Interscope
Unlike other projects which sound ahead of their time, Quality Control sounds like it should have released a decade earlier, but that's no insult. The Jurassic 5 gave us a jazzy throwback that teleports the listener to the early '90s, with that same carefree rapping and busy boom bap production to top it off. With their return to a classic sound, Jurassic 5 influenced a wave of MCs who wanted to continue embracing the sound of the '90s.
92. Compton's Most Wanted – Music to Driveby
Released: September 29, 1992
Label: Orpheus Records, Epic, Sony
An often overlooked masterpiece of '90 West Coast hip hop, the third album from Compton's Most Wanted, Music to Driveby , is also regarded as the group's most refined and complete work. While all members are on point here, it's MC Eiht who shines most brightly throughout the 18-track project. It wouldn't be a surprise to anyone that the Compton rapper kicked off his solo career not long after this album dropped. Wrapped up in rich, live instrumentation and classic funk samples, Music to Driveby is the group's best-produced album, providing the perfect template for their hyper-realistic gangsta raps.
91. Ghostface Killah – Supreme Clientele
Released: February 8, 2000
Label: Epic, Sony, Razor Sharp
At a time when the Wu-Tang flag was drooping sadly in the sky, the Clan's most reliable MC picked up the torch and started sprinting with it. A long-time fan favourite ever since he brought the ruckus on Wu's debut, Ghost's solo career was usually overshadowed by the likes of Method Man, Ol' Dirty Bastard, and Raekwon. Even his 1996 debut, Ironman , feels more like a Wu album with him headlining, than a true Ghostface project. That all changed with Supreme Clientele , an album that is violent, hilarious, soulful and absurdist, all at once. In other words, it's the quintessential Tony Starks album.
90. Dr. Dre – 2001
Released: November 16, 1999
Label: Aftermath, Interscope
The first half of 2001 , from "Lolo (Intro)" all the way to "The Next Episode" might be one of the strongest runs of all time on a hip hop album. If Dre had packaged up those 11 tracks, and then tacked on "The Message" at the end, there's no doubt 2001 would be right up there with The Chronic on this list (spoiler alert). No to say there's anything wrong with the second half of the album ("Some L.A. Ni**az" goes crazy hard), it's just that there's nothing that touches the magic of "Still D.R.E.," "What's the Difference" or "Forgot About Dre." Production-wise, 2001 is Dre at his peak as a genius producer and composer with stripped down, menacing chords and classic L.A. gangsta funk floating throughout the album. And while the lyrics can get tiresome by, like, the 16th track, standout features from Eminem, Kurupt, Snoop Dogg, Devin the Dude and Nate Dogg more than make up for it. A legendary gangsta classic and no doubt one of the greatest hip hop albums of all time.
89. DMX – It's Dark and Hell Is Hot
Released: May 12, 1998
Label: Def Jam, Ruff Ryders
If you're looking for violent hardcore bangers, this album is for you. If you're looking for slower, emotional tracks, this album is also for you. With his impassioned debut, DMX showed all his colours with a tight collection of tracks ranging from club hits to vulnerable ballads. This was crucial for X, achieving massive commercial success while also proving his versatility as an MC. DMX couldn't be boxed into one sound, and he made that clear from the very start.
88. Gravediggaz – 6 Feet Deep
Released: August 9, 1994
Label: Gee Street, Island, PolyGram
With violent lyrics, bloodthirsty rapping and haunting production, Gravediggaz reinvented the sound of horrocore with 6 Feet Deep . This masterpiece was the group's debut and a collaboration between legends like RZA and Prince Paul, but it's because of the influence 6 Feet Deep had that we call it an essential classic. From Geto Boys to Clipping., horrorcore groups across generations wouldn't exist if not for Gravediggaz.
87. Dr. Octagon – Dr. Octagonecologyst
Released: May 7, 1996
Label: Bulk, Mo' Wax
Back in the '80s, Kool Keith was a lyrical powerhouse with a bright future, but nobody could have predicted how strange his career would get. With its wacky concept and futuristic sound, Dr. Octagonecologyst follows the story of an alien surgeon, like a glimpse into an LSD trip. For its creativity alone, it's classic, but it's also a deeply impactful record too, giving a new voice to the underground and opening the door for rappers like El-P to thrive.
86. T.I. – King
Released: March 28, 2006
Label: Grand Hustle, Atlantic
There hasn't been a bigger or better statement dropped by a rapper claiming their rightful throne than when T.I. dropped album, King in 2006. Four albums deep in his recording career, the highly-talented Atlanta MC took a while to find his footing in the rap game, despite scoring a few hits like "24's" and "Bring 'Em Out" on earlier albums. But when King dropped, there was simply no denying him, T.I. was sitting on top of the Southern rap throne. Whether it was the scintillating Just Blaze-produced intro, UGK homage"Front Back," majestic "What You Know," confrontational "I'm Talkin' to You" or introspective "Live in the Sky," all facets of T.I. as an artist are on display here.
85. DJ Shadow – Endtroducing…..
Released: September 16, 1996
Label: Mo' Wax
The album cover of Endtroducing tells you everything you need to know – people scrambling through a record store, picking vinyl at random to remix and scratch. That's exactly what DJ Shadow did on Endtroducing , and instead of making a mess, he made one of the most intricately put together instrumental hip hop albums of all time. He helped put new respect on DJs and producers, proving not every hip hop album needs an MC to be brilliant.
84. Gang Starr – Moment of Truth
Released: March 31, 1998
Label: Noo Trybe, Virgin
"The rhyme style is elevated, the style of beats is elevated, but it's still Guru and Premier." Those are some of the first words Guru says on Moment of Truth , and it sums up the album perfectly. It's still that glamorous boom bap Gang Starr is known for, but flashier and bolder than ever. Thanks to its cleaner, more accessible style, Moment of Truth blew up in the charts and introduced a whole new audience to Gang Starr.
83. 2Pac – All Eyez on Me
Released: February 13, 1996
Label: Death Row, Interscope
In the modern era where double albums can be drawn out, bloated messes, we can look back on All Eyez On Me to see a double album done right. This behemoth of a project is an onslaught of G-Funk bangers where Pac fully embraces the thug lifestyle. It was the first double album in hip hop history and, tragically, the last album Pac would release alive. For that, it's a historic moment for rap music.
82. The D.O.C. – No One Can Do It Better
Released: August 1, 1989
Label: Ruthless, Atlantic
When the D.O.C. released his debut album in '89, nobody could have predicted the overwhelming impact it would have on the West Coast. From its heavy basslines to screeching synth melodies, he carefully crafted the poppy, head-bopping sounds of G-Funk with No One Can Do It Better . Although a car accident shortly after permanently damaged his voice (and his career), the impact of the D.O.C. lives on in the DNA of West Coast hip hop.
81. Main Source – Breaking Atoms
Released: July 23, 1991
Label: EMI
Coming up under the tutelage of the legendary Paul C (who sadly passed away in 1989 at the young age of 24), Large Professor cut his teeth doing uncredited production on Eric B. & Rakim's third album, Let the Rhythm Hit 'Em , where he worked on "In the Ghetto", "Step Back", "No Omega" and the title track.
So when it came time for Breaking Atoms , which dropped a year later, Large Pro was ready for the big leagues. While the rapping on this album is solid, bolstered by a young, reckless Nasty Nas in his debut appearance, there's no doubt the production work is the shining star. The samples are jazzy and funky, the drums hard-hitting; it's smooth enough to chill to, but also uptempo enough to bang your head along with it.
80. J Dilla – Donuts
Released: February 7, 2006
Label: Stones Throw
One of the greatest hip hop producers to have ever lived, J Dilla was the sound architect behind timeless rap songs like The Pharcyde's "Runnin'," De La Soul's "Stakes Is High," Q–Tip's "Vivrant Thing," Common's "The Light," and many, many more. But it was in the hospital where he lay dying from a rare blood disorder that he produced his magnum opus. With just a stack of vinyls and his trusty MPC , the legendary Detroit producer transformed samples from the likes of The Beastie Boys, Kool & the Gang, Frank Zappa, The Temptations, and Stevie Wonder into a tour de force personal statement. As a legacy project, Donuts is the single greatest example of why J Dilla was the most beloved beatmaker of his time.
79. El–P – Fantastic Damage
Released: May 14, 2002
Label: Definitive Jux
Adding to his catalogue of masterpieces, Fantastic Damage is El-P's long-awaited solo debut after cementing himself as an unstoppable creative with Company Flow and Cannibal Ox. Listening to El-P is like listening to a totally different genre – the soundscapes are disjointed and rustic, like a deliberate mess which sounds chaotic and genius at the same time. It's crazy, creative, and classic, which is a given when it comes to El-P.
78. The Roots – Phrenology
Released: November 26, 2002
Label: MCA
Following the monumental success of Things Fall Apart , fans expected a lot from The Roots. In response to those expectations, the group decided to be as unpredictable as possible. Listening to Phrenology is like spinning a roulette wheel where you can never know which direction its sound will go in next. From neo-soul to punk to techno, The Roots borrow influences from all across the musical spectrum, making for their most eclectic project ever.
77. Ultramagnetic MCs – Critical Beatdown
Released: October 4, 1988
Label: Next Plateau
When Ultramagnetic MCs broke on to the scene, they decided to break the mould with a cacophony of diced-up funk samples and lyrics more complex and strange than anyone else in the game could compete with. The impact of Critical Beatdown cannot be overstated. Funk samples and dense rhyme schemes are common practice nowadays, but it was Ultramagnetic MCs who pioneered that sharp and detailed sound with Critical Beatdown .
76. Three 6 Mafia – Mystic Stylez
Released: May 30, 1995
Label: Prophet
A masterclass in horrorcore, a historic moment in Memphis Rap, a '95 classic – there are dozens of reasons to praise Mystic Stylez because it is just that brilliant. Its production is dense and terrifying, with countless horror samples combined into a wall of terrifying noise. From Juicy J to Gangsta Boo, each MC plays into the dark sound with relentless verses. Mystic Stylez is the defining album in Memphis Rap and among the most influential of all time.
75. Warren G – Regulate… G Funk Era
Released: June 7, 1994
Label: Violator, Def Jam
At a time when the East Coast was all boom bap and jazz rap, Warren G entered the scene to inject a bit of G-Funk. With Dr Dre's blessing, Warren left his stepbrother's crew to make it in the East Coast, and the result is an album so popular it almost singlehandedly saved Def Jam from financial ruin. Warren G brought a flavour of pop appeal and catchiness the East Coast was severely lacking.
74. Freddie Gibbs & Madlib – Bandana
Released: June 28, 2019
Label: ESGN, Keep Cool, Madlib Invazion, RCA
Bandana checks all the boxes for a top tier hip hop record, but once you realise Madlib produced the whole thing on his iPad, it's even more impressive. The project captures all the same coke rap glory as Piñata , but Freddie sounds hungrier, and Madlib's soulful beats are smoother than ever. It hasn't had as much impact as their other work, but for Freddie and Madlib to outdo a classic like Piñata , how could it not rank this high?
73. Cypress Hill – Cypress Hill
Released: August 13, 1991
Label: Ruffhouse, Columbia
Cypress Hill fathered their own style on their self-titled debut, blending their Tribe and Public Enemy influences with an eccentric madness only Cypress Hill could create. From B-Real's cartoonish delivery to the messy beats, this record helped encourage generations to be as outlandish as possible on the mic. Not only that, but it was a creative and commercial triumph, becoming the first Latin hip hop album to achieve major success.
72. OutKast – ATLiens
Released: August 27, 1996
Label: Arista, LaFace
After getting booed at the Source Awards for winning Best New Artist, OutKast hopped back in the studio to deliver a classic so good their haters would never open their mouths again. ATLiens has this cold, atmospheric sound – far different to the smooth funk of their debut – but it was that stripped back style that put the duo's lyricism in the spotlight, showing the East and West Coasts that OutKast are some of the best lyricists of all time.
71. Big Daddy Kane – It's a Big Daddy Thing
Released: September 19, 1989
Label: Cold Chillin', Warner Bros.
Big Daddy Kane has taught generations how to MC, and It's a Big Daddy Thing is a quick lesson in how to become a lyrical mastermind. His flows are slick, and the beats are buttery, but it's those lyrics that really resonated with fans. When you listen to a single verse, it's easy to tell why Kane is so beloved, with an effortless knack for rhyme schemes and wordplay that inspired thousands to sharpen their lyrical tools.
70. Kanye West – Late Registration
Released: August 30, 2005
Label: Def Jam, Roc-A-Fella
On Late Registration , Kanye guides the listener through a lively concert hall as an orchestra takes the stage. The grand production of this project is so crisp and pristine it sounds like the players are right there in front of you. Late Registration was crucial in maintaining Kanye's success after his smash-hit debut. Hits like "Gold Digger" and "Touch the Sky" are essential Kanye, and there was no escaping them at the time.
69. 50 Cent – Get Rich or Die Tryin'
Released: February 6, 2003
Label: Interscope, Aftermath, Shady
50 Cent's journey from getting shot nine times in front of his grandmother's house to becoming the top dog of the rap game in just a matter of years is the greatest come-up story in hip hop history. Get Rich or Die Tryin' is the personification of that come-up. Following a year of blitzing the mixtape circuit with classics like Guess Who's Back? and 50 Cent Is the Future , the South Jamaica rapper perfected his songwriting skills and was ready to go hard over Dre and Eminem beats. The album's first single, "In da Club," was a shotgun blast to the face of every other rapper in the world – Irv Gotti would later admit Murder Inc. knew they had a "major problem" on their hands when the song came out. What followed was 16-tracks of the most capitalistic energy ever focused on a single body of work. With Dre, Em, Rockwilder and Mr. Porter manning the beats, 50 fused syrupy melodies and unforgettable hooks with decimating attacks on anyone that stood in his way – mainly Ja Rule and co. In the years following the album's release, 50 would be pulled into other ventures with music no longer being his primary focus, but at this singular point in rap history, there was no turning away from him.
68. Masta Ace – Disposable Arts
Released: October 16, 2001
Label: JCOR Entertainment, Interscope
A staple MC of hip hop's golden age and a member of the legendary Juice Crew, Masta Ace made his name during the '90s with albums like Take a Look Around and the misunderstood SlaughtaHouse (released under the Masta Ace Incorporated name), but stepped back from rhyming after disillusionment with the industry took hold of him.
Fed up with how labels frequently mistreated rappers, he went behind-the-scenes to focus more on executive and production roles. It wasn't until six years later that the Brooklyn MC returned with his next album, Disposable Arts . And what a comeback album it was.
Based around the concept of a young man's return from prison and his life in Brooklyn, Disposable Arts is one of the strongest concept albums in rap history. Featuring Ace's tight poetry and pinpoint delivery delivered over lush, sample-driven boom-bap, the album is a triumphant success musically, lyrically and thematically.
67. UGK – Ridin' Dirty
Released: July 30, 1996
Label: Jive
This is like the Southern hip hop Bible. The stripped back production and lyrical focus on the thug lifestyle became the foundations of trap music, and the Southern twang to Bun B and Pimp C's voices proved that an unapologetically Southern sound could still be a massive success. Ridin' Dirty was UGK's first album under a major label, blowing up across America and showing the country that the South was more than just OutKast.
66. Redman – Muddy Waters
Released: December 10, 1996
Label: Def Jam
After the manic episode that was Dare Iz a Darkside , Redman stayed away from drugs and got healthy, so when he finally returned to the studio, he was more focussed than ever. The change in lifestyle shows in the music, because Muddy Waters has that same Redman madness but sprinkled with mature verses and deeper themes. Dare Iz a Darkside was the drugs talking, but Muddy Waters is all Redman, and the result is his magnum opus.
65. Deltron 3030 – Deltron 3030
Released: May 23, 2000
Label: 75 Ark
This isn't your average rap album to put on in the background. Deltron 3030 is hip hop at its most immersive, creative, and detailed, and deserves your utmost attention. It takes the listener along the journey of mech soldier Deltron Zero as he tries to escape a futuristic dystopia, all over a range of epic sci-fi beats from Dan the Automator. For its ambitious concept and one-of-a-kind sound, it's up there with the very best.
64. Run–D.M.C. – Run–D.M.C.
Released: March 27, 1984
Label: Profile, Arista
With no exaggeration, Run–D.M.C. may be the most important hip hop album ever made. Rap music in the late '70s and early '80s closely resembled disco, with funky grooves and light-hearted lyrics which didn't add up to much substance. But with Run–D.M.C. , the whole game changed. The group's explosive rock-rap production and social commentary evolved hip hop to the next level with hard-hitting bangers and lyrics with meaning. This record is when hip hop became hip hop.
63. Cannibal Ox – The Cold Vein
Released: May 15, 2001
Label: Definitive Jux
Cannibal Ox offer the listener a tour through the dark underbelly of New York, pointing out all its issues over a dark soundscape of haunting samples from El-P. The level of wordplay and metaphor on The Cold Vein is mind boggling, with Vast Aire and Vordul Mega possibly being the most underrated lyricists of all time. The Cold Vein set a new standard for abstract hip hop, and its impact still lives on in the modern underground.
62. Missy Elliott – Miss E… So Addictive
Released: May 15, 2001
Label: The Goldmind, Elektra
"Addictive" is just the word to describe this album, because the glamorous, confident style Missy Elliott mastered on this project begs you to run it back again and again. The somewhat avant-garde, futuristic production was like catching lightning in a bottle, creating a sound that music fanatics could enjoy, and casual partygoers could easily dance to. So Addictive was vital for Missy Elliott's career, becoming her most beloved project and bringing a new wave of creativity to the mainstream.
61. Boogie Down Productions – Criminal Minded
Released: March 3, 1987
Label: B-Boy
Take a look at the cover of Criminal Minded and you'll understand just what makes this album vital to the culture. KRS-One and Scott La Rock are seated, surrounded by guns, ammo, and grenades. KRS said it himself – they're not drug dealers, they're revolutionaries. With Criminal Minded , Boogie Down Productions revolutionised the bombastic and violent sound of gangsta rap, causing a ripple effect of influence with artists from Wu-Tang Clan to Biggie Smalls being influenced by their raw style.
60. Danny Brown – Atrocity Exhibition
Released: September 27, 2016
Label: Fool's Gold, Warp
This is the soundtrack to Danny's downward spiral, when his drug addiction was at its worst, but his music was at its most powerful. It almost feels wrong to call this his best, considering all the pain he was going through, but there's no denying the mastery of Atrocity Exhibition . The numerous samples used have left Danny in debt to this day, but the cost was worth it, because there's no better depiction of addiction in rap than Atrocity Exhibition .
59. The Pharcyde – Bizarre Ride II the Pharcyde
Released: November 24, 1992
Label: Delicious Vinyl, EastWest
On their debut, the Pharcyde do exactly as the title suggests, pulling the listener on a wild ride through a world of colourful jazz samples and cartoonishly animated rapping. It's an unpredictable rollercoaster winding through so many different sounds, but at its core, it's one of the best jazz rap albums ever made, and a refreshing take on West Coast hip hop. The Pharcyde helped diversify the West Coast's sound, which was crucial for the West's evolution.
58. Kanye West – The College Dropout
Released: February 10, 2004
Label: Def Jam, Roc-A-Fella
Kanye West may be a multimillionaire industry titan today, but back in 2004, he was a rookie MC played down as a producer who should keep away from the mic. The College Dropout is his underdog story, using the album to prove his doubters wrong and show the world his elite ability as a producer and a rapper. From its smooth chipmunk-soul beats to Kanye's charisma, it's hard to find something not to love.
57. Lupe Fiasco – The Cool
Released: December 18, 2007
Label: 1st & 15th, Atlantic
Every Lupe album is like a lyrical milestone for hip hop, but The Cool just might be his most impressive. The whole thing plays out like a novel, with so much detail and heart going into the narrative which follows the life of a character called Michael Young History. From its complex metaphors to Lupe's mind-blowing rhyme skill, the lyricism on The Cool is simply unmatched, showing the new generation what a perfect concept album looks like.
56. Geto Boys – We Can't Be Stopped
Released: July 9, 1991
Label: Rap-A-Lot Records
We Can't Be Stopped is a bloodbath of violent themes and hardcore lyrics, with each MC murdering their respective tracks to create an unapologetically brutal album. Geto Boys weren't the first to create gangsta rap or spit gruesome bars, but the extremity of their content put a hardcore spin on rap, paving the way for horrorcore in the South. From its influence, to the huge success of its singles, We Can't Be Stopped certified Geto Boys as Southern legends.
55. Slick Rick – The Great Adventures of Slick Rick
Released: November 1, 1988
Label: Def Jam, Columbia
Slick Rick was truly a one-of-a-kind MC. There wasn't anyone like him before he came out, and there hasn't been anyone after. A London-born, New York-raised rapper who had an extraordinary talent of weaving stories through his songs, MC Ricky D was a superstar years before his debut off the strength of the timeless "La Di Da Di."
But it was with his debut album, The Great Adventures of Slick Rick , released a few years later that the Bronx MC cemented his position as one of the most captivating storytellers of his time. Over sparse yet memorable production from The Bomb Squad and Jam Master Jay, Slick Rick rapped compelling tales that were funny, vulgar, and educating all at once. Classics like "Children's Story," "Teenage Love" and "Hey Young World" will never ever leave the hip hop conscious, because Slick Rick the Ruler is forever.
54. Beastie Boys – Licensed to Ill
Released: November 15, 1986
Label: Def Jam, Columbia
Hip hop would never be the same after 1986, because Licensed to Ill changed the game so much that a '70s rap fan would think it was a totally different genre. This record is an explosion of drums and guitar, scrapping the disco influence in favour of rock. That's not even mentioning the album's success – License to Ill became the first rap album ever to chart at number one, bringing hip hop to new heights.
53. N.W.A – Straight Outta Compton
Released: August 8, 1988
Label: Ruthless, Priority
Take every hip hop stereotype you can think of – from objectifying women to glorifying crime – and you can probably link it back to Straight Outta Compton . Unlike groups who walked on eggshells trying to avoid controversy, N.W.A. didn't care, spitting ruthless bars about life in the streets and their hatred for authority. This record is historic, kickstarting the careers of so many West Coast legends and proving to others that music doesn't have to be "clean" to blow up.
52. Eric B. & Rakim – Follow the Leader
Released: July 25, 1988
Label: Uni, MCA
In the '80s, the undisputed master of lyricism was Rakim, and Follow the Leader should make it obvious why he held that title. This project is a lyrical upgrade from Paid In Full , but with the confidence Rakim exudes, it seems like he doesn't even have to try to sound so good. Over a set of stripped back and groovy Eric B. beats, Rakim showcases how great lyricism can turn a good album into a brilliant one.
51. MF DOOM – Operation: Doomsday
Released: October 19, 1999
Label: Fondle 'Em
When the supervillain made his debut, he threatened hip hop with an arsenal of powerful weapons from his unrivalled rhyme skill to his effortless flow. Operation: Doomsday is such an important album for DOOM, more creatively focussed than ever, and marking his comeback to music years after his brother's untimely death. DOOM entered the scene with a masterpiece of slick beats and slicker bars, invading the underground which he would rule over for years to come.
50. El–P – Cancer 4 Cure
Released: May 22, 2012
Label: Fat Possum Records
Cancer 4 Cure is a nightmarish glimpse into El-P's troubled mind as he grieves the loss of close friend Camu Tao. The futuristic production is dark and disjointed, reflecting his pain in such an experimental and creative way. While it may not have had the impact of his work like The Cold Vein or Funcrusher Plus , Cancer 4 Cure is simply El-P at his best: lyrically versatile and musically heart-breaking.
49. Scarface – The Diary
Released: October 18, 1994
Label: Rap-A-Lot, Noo Trybe
There's no better way to describe this album than how Scarface already does – it's a diary. Every track plays like an entry to a secret notebook nobody else was supposed to see, with a level of vulnerability and emotion most wouldn't have expected from one of the frontmen of Geto Boys. On The Diary , Scarface uses the criminal themes he's known for but puts a personal twist on them, reinventing what gangsta rap could be.
48. Big Daddy Kane – Long Live the Kane
Released: June 21, 1988
Label: Cold Chillin', Warner Bros.
Sometimes, artists need a few projects to get comfortable on the mic, but when Big Daddy Kane dropped his debut, it sounded like he had been in the game for decades. Long Live the Kane has the MC rapping until he's breathless, with a quickfire run of tracks which fly like the record is playing at double speed. It would be impossible to count the number of MCs who were inspired by Kane's fast flows and lyrical precision.
47. Prince Paul – A Prince Among Thieves
Released: February 23, 1999
Label: Tommy Boy, Warner Bros.
Real hip hop heads will recognise the name Prince Paul when they see it. While the Long Island-born rapper-producer may not have had the same commercial success as some of his peers, he's been low-key one of the most enduring and influential artists in hip hop history. Whether it was being a member of Stetsasonic (the first hip hop band ever), producing De La Soul's first three groundbreaking albums or forming the Gravediggaz with RZA, Frukwan, and Too Poetic, Prince Paul has managed to touch the full spectrum of hip hop music. So to say that A Prince Among Thieves is amongst the best work he's ever done is really saying something. A concept album in the truest sense of the word, Prince Paul's second album follows the story of a budding MC named Tariq (voiced by Breezly Brewin) on his way to hustle a record deal. Along the way, he's joined by an array of characters, performed by the likes of Kool Keith, Big Daddy Kane, Chubb Rock, Chris Rock, De La Soul, Everlast, Sadat X, and Xzibit. As a listening experience, A Prince Among Thieves is without equal – the production is of the highest value and every performer on the album is dedicated to their role. It's an album that only someone with the bonkers intelligence and hip hop wizardry of Prince Paul could conceive of and execute.
46. Eminem – The Marshall Mathers LP
Released: May 23, 2000
Label: Aftermath, Interscope, Web
The Slim Shady LP transformed Eminem into the most exciting rapper heading in the new millennium and catapulted him into superstardom, but it wasn't anything compared to the impact of The Marshall Mathers LP . Recorded over a two-month long creative streak that often had the Detroit rapper in the studio with Dr. Dre for 20-hour days. The spontaneous and riffing nature of the recording sessions manifested itself in the music as Em tackles a wide range of themes, including his come-up, criticism of the media, his mother, and plenty of drug use. Lyrically, Em's third album is a big step-up from his previous releases with the MC showcasing his rhyming versatility, storytelling chops and emotional depth across songs like "Stan," "The Way I Am" and "I'm Back." Production-wise, Dre's sparse, twisted funk still dominates the album, although Em began to come into his own as a beatmaker with assistance from the Bass Brothers. By the end of the first week of its release, The Marshall Mathers LP had sold close to 2 million copies and hip hop had a new king in town.
45. De La Soul – 3 Feet High and Rising
Released: March 3, 1989
Label: Tommy Boy
Hailing from the Amityville area of Long Island, New York, De La Soul were one step removed from the main hustle and bustle of hip hop's late '80s epicenter. Which explains why their debut album just sounds so different from anything else going on at the time. Released during the West Coast's gangsta rap boom, the trio declared the dawn of the "D.A.I.S.Y. Age" with this album. With Prince Paul (of Stetsasonic fame) behind the boards, providing a smorgasbord of jazz, funk, soul sampling-sonics, Posdnuos, Trugoy and Maseo flexed their rhyming muscles across a diverse range of lyrical themes. A foundational addition to the Native Tongues catalogue, 3 Feet High and Rising is without doubt one of the best hip hop albums of all time.
44. DJ Quik – Quik Is the Name
Released: January 15, 1991
Label: Profile
During the time when the West Coast was dominated by the likes of N.W.A. and Ice Cube (who had broken off on his own), there was a young rapper-producer hailing from the heart of Compton, California who was starting to make a name for himself. Inspired by Roger Troutman and George Clinton growing up, David Marvin Blake aka DJ Quik began creating homemade mixtapes that soon caught the attention of Profile Records. Thus, Quik Is the Name was born.
Despite the saturation of gangsta rap at the time, Quik stood out with his down-to-earth lyrical themes – talking about day-to-day life in his hometown – and fresh-faced delivery. But it was the production that really caught everyone's attention. Written, produced and arranged by Quik himself, the album drew its sound from the crates of '70s funk and soul which made it feel like a primarily party record despite the heavy gangsta narrative. In an ideal world, Quik Is the Name would be mentioned in the same breath as The Chronic .
43. Juvenile – 400 Degreez
Released: November 3, 1998
Label: Universal, Cash Money
While it may have been Lil Wayne, Drake and Nicki Minaj who waved the Cash Money flag all through the 2000s and 2010s, it was a rapper from the Magnolia Projects of New Orleans by the name of Juvenile who set it all off in the first place. Bolstered by the singles "Ha" and "Back That Azz Up," Juve's third album, 400 Degreez , became a huge success, selling over 4 million copies within a year of its release, and helped establish Cash Money Records as a Southern powerhouse. As a record, the New Orleans rapper's rudimentary rhyming skills are more than offset by his sheer energy, the standout features from Lil Wayne and B.G., and of course, Mannie Fresh's production. In fact, Mannie is the real MVP of the show, his collection of hot beats form the foundation of the album and make it the classic that it is.
42. The Roots – Things Fall Apart
Released: February 23, 1999
Label: MCA
By the late '90s, it was clear that The Roots weren't on a trajectory to superstardom. Even with the immense talent populating the Philly-based hip hop band – Questlove on the drum, Black Thought on the mic, and various other members filtering in and out – and their growing catalogue of dope records 1995's Do You Want More?!!!??! and Illadelph Halflife the year after, it was clear that the mainstream spotlight would elude them. Things Fall Apart would change that. Their fourth and most complete album to date, Things Fall Apart retained The Roots' jazzy improvisational work and band chemistry of their earlier albums, but elevated their songwriting and accessibility, with an added soulfulness. The tweaks worked – the Philly group scored their biggest hit ever with the Grammy-nominated "You Got Me" and the album eventually earned their first (and only) platinum plaque to date.
41. Missy Elliott – Supa Dupa Fly
Released: July 15, 1997
Label: The Goldmind, Elektra
Even by 1997, women were still unfairly treated and stereotyped in hip hop, so Missy Elliott dropped Supa Dupa Fly to set the record straight. With an abstract pen game and the slick ability to switch from singing to rapping, she pioneered a fresh, mature sound in hip hop and laid to rest the stereotype that women could only rap about sex. With Timbaland at her side, the duo created one of the most forward-thinking rap albums that decade.
40. Beastie Boys – Paul's Boutique
Released: July 25, 1989
Label: Capitol
Though not as commercially successful as their first album, Licensed to Ill , which was the first rap release to top the Billboard 200 chart, Paul's Boutique was sonically, lyrically and artistically a step forward. With production handled by The Dust Brothers, instead of Rick Rubin, The Beastie Boys' sophomore album is a rich tapestry of densely stacked samples that provided the perfect sonic environment for the group's clever interplay. There wasn't anything like the Beastie Boys when they debuted on the rap scene in 1986, you know what? Close to 40 years later, there hasn't been anything like them ever since.
39. EPMD – Strictly Business
Released: June 7, 1988
Label: Fresh, Sleeping Bag
While the rest of the rap world was busy mining James Brown records to death, Long Island-based duo EPMD were looking at new sources of music to find their funk. And boy did they find it for their timeless debut album Strictly Business . Drawing inspiration from artists like Zapp, Kool & the Gang, and Steve Miller, EPMD crafted some of the funkiest, bounciest grooves for them to rhyme over. On the rapping front, while Erick Sermon and Parrish Smith weren't the technical lyricists that Rakim or Big Daddy Kane could claim to be, the two rappers were smooth enough on the mic that their deceptively simple MCing meshed perfectly with the funky backdrop. A few years later, Dre would change the rap game with The Chronic 's intoxicating G-funk, but the fact is the foundation of that sound was laid here on EPMD's Strictly Business .
38. Public Enemy – Fear of a Black Planet
Released: April 10, 1990
Label: Def Jam, Columbia
With this album, Public Enemy captured all the chaos and unpredictability of a riot in musical form. The group perform over a mountain of chopped samples which are as lively as a protesting crowd, and the lyrics are just as confrontational, fighting against the police, the system, and the powers that be. Fear of a Black Planet brought politics back into the hip hop mainstream and influenced a wave of conscious MCs to join the riot against their oppressors.
37. Bone Thugs–N–Harmony – E. 1999 Eternal
Released: July 25, 1995
Label: Ruthless, Relativity
While West Coast specialists like Dr Dre forged that summery G-Funk sound, Bone Thugs-N-Harmony made music for when the sun goes down, and the result is a dark, menacing version of that classic sound. But let's not pretend that the production is all that matters here, because the melodic rap style the group pioneered on this album has impacted thousands of MCs and opened the door for styles like pop rap to flourish.
36. Goodie Mob  – Soul Food
Released: November 7, 1995
Label: LaFace
Just as OutKast did with their debut, Goodie Mob shoved Southern hip hop into the spotlight with this funk-filled classic, becoming a craze around America. Turn this on and it's like you've been sent back in time to the '70s, with enough groovy bass and funky rhythms to confuse Soul Food for a James Brown record. OutKast may have been in the spotlight longer, but Goodie Mob deserve the credit too for bringing the South to the main stage.
35. Gang Starr – Hard to Earn
Released: March 8, 1994
Label: Chrysalis, EMI Records
It should come as no surprise that Gang Starr have made the list so many times, because the duo of Guru and Premier is a formula nobody could ever get tired of. Hard to Earn is their most consistent project, with Premier's rustic boom bap more addictive than ever and Guru spitting rhymes so powerful they sound like they were ripped out of a book of poetry. This is the definitive Gang Starr album.
34. Kendrick Lamar – good kid, m.A.A.d city
Released: October 22, 2012
Label: TDE, Aftermath, Interscope
Kendrick has always been a poet, but this album is like the work of an author, with enough depth to the narrative to confuse good kid, m.A.A.d city for an audiobook. He had already seen success with his debut, but this was the album that certified him as one of the greatest MCs of his generation. The project led to a resurgence in concept albums because it was just that successful, continuing to chart on Billboard to this day.
33. Run–D.M.C. – Raising Hell
Released: May 15, 1986
Label: Profile
Nowadays, you can't listen to the radio for ten minutes without a rap song coming on, but back in the mid-'80s, you'd be lucky to even hear a snippet of hip hop. Run-D.M.C. were the ones to finally change that with Raising Hell , a rush of rock-rap bangers that took the world by storm. "It's Tricky" was a worldwide sensation, and "Walk This Way" with Aerosmith was the first rap song to ever chart in Billboard's top 5.
32. Kanye West – Graduation
Released: September 11, 2007
Label: Def Jam, Roc-A-Fella
Graduation is the album that turned Kanye from hip hop's underdog to an unstoppable titan. Take all the swagger and witty one-liners of his past albums and fuse that with some of the catchiest synthpop production you can imagine, and the result is Graduation . This was Kanye's make-or-break moment, with Graduation famously being part of a sales war against 50 Cent's Curtis . Kanye won that war with a mindboggling 957,000 copies sold in one week, crowning himself rap's king.
31. Blu & Exile – Below the Heavens
Released: July 17, 2007
Label: Sound in Color
Released in 2007 during a time when hip hop was in a major transition mode – the internet had wreaked havoc on the record industry with CD sales at an all-time low; the gangsta rap tropes of 50 Cent and G-Unit were fading; and artists like Kanye West and Lil Wayne were making their way up to the top of the mountain. So when a young L.A. rapper by the name of Blu linked up with budding producer Exile to drop Below the Heavens – a throwback to soulful boom-bap beats and no-nonsense everyday lyricism – it was a breath of fresh air. The duo's debut album is reminiscent of the golden age staples of Gang Starr and Pete Rock & CL Smooth, where clever rhymes, good vibes, head-nodding beats and a cohesive sound were the priority for artists. One of the best rap albums of that year, Below the Heavens has aged beautifully over the decades and more than deserves this spot amongst the greatest hip hop albums of all time.
30. Kendrick Lamar – To Pimp a Butterfly
Released: March 15, 2015
Label: TDE, Aftermath, Interscope
Whether you listen to hip hop for the concepts, the lyrics, the rapping, or the production, To Pimp a Butterfly has it all, amplified to the max. It's a jazzy deconstruction of oppressive America and made the whole culture freeze to appreciate Kendrick's poetry. As the Black Lives Matter movement raged on in 2015, "Alright" became an anthem for protests. But although the riots stopped, love for To Pimp a Butterfly has never gone away.
29. Black Star – Mos Def & Talib Kweli Are Black Star
Released: September 29, 1998
Label: Rawkus, Priority, EMI, MCA, Universal
Mos Def and Talib Kweli are like Yin and Yang, different in so many ways but complementing each other to form one of hip hop's tightest duos. The more animated rapping from Mos bounces well off of Talib's laidback approach, but together they cook up a platter of lyrically dense verses which pioneered the conscious hip hop scene. The duo found that perfect balance with their lyrics – political but never preachy, inspiring many to follow in their conscious-minded footsteps.
28. Madvillain – Madvillainy
Released: March 23, 2004
Label: Stones Throw
When Madvillainy dropped, it shook the underground and caused an earthquake across the culture, impacting MCs as underground as Open Mike Eagle and as mainstream as Tyler, the Creator. Madvillain were unstoppable. The husky, multi-layered rhymes from DOOM are a level up from his previous work, and Madlib's beats hypnotise the listener in a world of stuttering drums and off-kilter samples. Madvillainy is the heart and brain of abstract hip hop, and without it, the scene would be non-existent.
27. Snoop Doggy Dogg – Doggystyle
Released: November 23, 1993
Label: Death Row, Interscope
By the end of 1993, Snoop Doggy Dogg was already close to being the most famous rapper alive thanks to a phenomenal debut appearance on Dre's "Deep Cover" and his scene-stealing features on The Chronic . So to say his debut album was highly anticipated would be quite an understatement. When Doggystyle dropped, it sold over 800,000 copies in one week, making it the fastest-selling rap album at the time until 50 Cent came along. As the spiritual successor to The Chronic , the album featured more of Dre's sunny P-funk production that boasted thick bass grooves and Snoop's laconic, melodic flow. With timeless singles like "Who Am I? (What's My Name?)" and "Gin and Juice"; Snoop paying homage to Slick Rick on "Lodi Dodi" and the homies Warren G, Kurupt, Daz and Nate Dogg coming over to hang out, how could this not be one of the greatest West Coast rap albums ever made?
26. Jay–Z – Reasonable Doubt
Released: June 25, 1996
Label: Priority, Roc-A-Fella
At the age of 26 years old, Jay-Z was relatively old when he dropped his debut album, compared to Nas who was 20 when Illmatic came out and Big who was 22 when Ready to Die dropped. This was an advantage though. With more life experience gained over the course of his hustling days, Reasonable Doubt glimmers with a sophistication and wisdom that distinguished the album amongst its '90s East Coast peers. While Bandana P was threatening to "rock you in your face, stab your brain with your nose bone" and Big was boasting about robbing pregnant women for their "#1 Mom pendant," Hov was sitting back, cooling, talking about drinking Mai-Tai's in Vegas. Production-wise, the album is built upon face-screwing drum breaks and smooth jazzy soul vibes that add to the Brooklyn rapper's elegance and mystique. Though not as immediate as Ready to Die or impactful as Illmatic , Jay-Z's debut has aged like fine wine over the decades and solidified as one of his best albums ever .
25. Outkast – Stankonia
Released: October 31, 2000
Label: LaFace, Arista
Ever since they came into the rap game, OutKast made every effort to evolve their sound in between releases – from the soulful funk grooves of Southernplayalisticadillacmuzik to the celestial psychedelia of ATLiens and live instrumentation of Aquemini . On their fourth album, the high octane-fueled Stankonia , the Atlanta duo took drastic steps to take it up a notch further with the bounce and energy. The production team – made up of Organized Noize, Mr. DJ and OutKast themselves – sought to pull from a diverse range of genres, from funk and gospel to electronic to rock and funnel them through the Dirty South vibes. Lyricall, the duo are on point as always with Big Boi holding down the fort while Andre 3000 continued his departure further and further away from planet Earth. Stankonia was also the moment OutKast became global superstars with the single "Ms. Jackson" becoming a smash hit and the album going 5x platinum.
24. Lauryn Hill – The Miseducation of Lauryn Hill
Released: August 25, 1998
Label: Ruffhouse, Columbia
Who needs a lengthy discography when you can have one album as gorgeous as this? The backbone of this album is hip hop, but built around that is a lavish neo-soul masterpiece, with Lauryn flexing her versatility as she switches from impassioned singing to ferocious rapping in a matter of seconds. This is the defining project in her career and influenced generations of female MCs – as well as singers – to pick up the mic.
23. Eric B. & Rakim – Paid in Full
Released: July 7, 1987
Label: 4th & B'way, Island
Inspired at an early age by the likes of Charlie Parker, Miles Davis, Dexter Gordon and John Coltrane, Rakim Allah was raised to rap differently from everyone else. After cutting his teeth MCing under the name Kid Wizard at park jams and block parties, the Long Island-born rapper linked up with Eric B. & Rakim to release the game-changing "Eric B. Is President" (backed by the equally impactful "My Melody") in 1986. Rakim's unique blend of devastating lyrical talent and his cool, laid-back demeanor paired with Marley Marl's James Brown-sampling production wizardry heralded a new era in hip hop. With their debut album, Paid in Full , unleashed the full scope of their genius – the God MC's supreme command over the English language over funky-ass, danceable drum loops and scratches. To say this album is one of the most influential rap albums of all time would be an understatement.
22. GZA – Liquid Swords
Released: November 7, 1995
Label: Geffen
By late 1995, the Wu-Tang movement was in full swing. Following the release of their landmark debut, members Method Man, Ol' Dirty Bastard and Raekwon the Chef had begun releasing their solo albums to critical and commercial acclaim. Before the year closed out, GZA the Genius came out with Liquid Swords , the greatest winter album in hip hop history. RZA's production here is in peak form, crafting haunting melodies and eerie soul samples floating over neck-snapping breakbeats, while the Genius holds it down lyrically with simple but layered bars that take repeat listenings to understand fully. The features are also a big standout – Deck, Meth and Ghost are especially in prime form here. One of the greatest, if not the greatest, Wu solo album, Liquid Swords almost immediately cemented itself as one of the best hip hop albums of all time.
21. Ice Cube – Death Certificate
Released: October 29, 1991
Label: Lench Mob, Priority
Between 1990 to 1991, Ice Cube was the busiest rapper alive. Coming off the massive critical and commercial success of his solo debut AmeriKKKa's Most Wanted , the L.A. MC was occupied with working on Yo-Yo and Del the Funky Homosapien's debut releases, as well as making his first film appearance in Boyz n the Hood , a co-starring role no less. Still, Cube had time to drop Death Certificate , the unflinching follow-up to AmeriKKKa's Most Wanted . While the Bomb Squad's production was replaced by Sir Jinx and Boogieman, the beats are just as noisy and funky (perhaps even more so), and Cube still as incendiary and uncompromising as he's ever been. Even with hardly any radio play for the singles, Death Certificate went platinum in two months, proving that Cube was the most captivating rapper on the planet at the time.
20. The Fugees – The Score
Released: February 13, 1996
Label: Ruffhouse, Columbia
The biggest difference between The Fugees' debut album Blunted on Reality – a well received but commercially unsuccessful release – and their sophomore was creative control. Even though their first project sold a measly 12,000 copies, the group's label head ​​Chris Schwartz of Ruffhouse Records decided to advance them $135,000 for their next album and granted them complete artistic control. The result was The Score , one of the biggest and best rap albums of the '90s . Over rich, live instrumentation and gorgeous production from maestros like Diamond D and Salaam Remi, the trio's distinct voices sliced through the music like a hot knife through butter. Balancing massive hits like "Killing Me Softly" and "Ready or Not" with verbal acrobatics on tracks like "How Many Mics" and "Family Business," The Score managed to go seven times platinum, while endearing itself to the hardcore hip hop heads.
19. Mos Def – Black on Both Sides
Released: October 12, 1999
Label: Rawkus, Priority
Following the conscious rap masterpiece, Mos Def & Talib Kweli Are Black Star , Mos Def embarked on his solo journey with the richly produced and socially-charged Black on Both Sides . As an MC who rhymes with the deft nimbleness of a man born to rap, Mos is in fine form over the course of the entire album, from the Aretha Franklin-sampling "Ms. Fat Booty" to the dazzling Preemo-laced "Mathematics." With the head-nodding layers of soul, funk, rock and jazz providing the template, Mos' rapping takes centre stage as he captivates the masses with thoughtful lyrics about love, hip hop, and America.
18. Pete Rock & CL Smooth – Mecca and the Soul Brother
Released: June 9, 1992
Label: Elektra
Coming off their debut EP, All Souled Out , which featured the duo's fully-formed aesthetic of laid-back, intelligent raps over soul-drenched boom-bap, Pete Rock & CL Smooth were back in a major way with Mecca and the Soul Brother . Released just a few months before Dre would take over the rap game with The Chronic , the album could be seen as the antithesis of the West Coast blockbuster. Over a sprawling 80-minutes (which never feels like it's a drag), the duo prove that they are the perfect match for each other, with the producer's crisp drum breaks and signature horn loops providing the cloud that CL Smooth simply glides over with his butter smooth voice.
17. A Tribe Called Quest – The Low End Theory
Released: September 24, 1991
Label: Jive
Inspired by the thunderous bass of N.W.A.'s Straight Outta Compton , Q-Tip sought to find the bottom of the bottom on A Tribe Called Quest's aptly-titled sophomore album. With smooth jazz grooves floating over the top of crisp, heavy drums, Tip and his partner-in-rhyme Phife Dawg sound more locked in than ever, demonstrating a chemistry that was lacking on their debut. Quite possibly the best produced rap album of all time, The Low End Theory proved that Tribe were here to stay for a long time. Even the album cover is GOAT level.
16. Kendrick Lamar – DAMN.
Released: April 14, 2017
Label: TDE, Aftermath, Interscope
Kendrick stans are probably going to drag me for this placement, but fuck it. DAMN. is the best album Kendrick Lamar has created to date and I'll die on that hill. After dropping two back-to-back classics with good kid, m.A.A.d city and To Pimp a Butterfly , the Compton MC had been elevated to the very top of the rap game, with talks of GOAT status already floating around his name. The two aforementioned albums may feel more important to Kendrick's catalogue – the autobiographical nature of good kid and politically-charged atmosphere of To Pimp lend themselves to this – but from a production and rapping point of view, DAMN. is simply superior to them both. Kendrick on this album is like Big on Life After Death , a rapper so self-assured in their hard-earned talent that they're going to prove it on the biggest stage possible. Storytelling tracks, introspective mediations, battle raps, club joints, radio smashes, street bangers, collaborations with U2, duets with Rihanna, Kendrick showed us that he could do whatever the fuck he wanted to do, and do it better than any other rapper in the world. And that's why DAMN. is Kendrick's best album.
15. Clipse – Hell Hath No Fury
Released: November 28, 2006
Label: Re-Up, Star Trak, Jive
Ask Pusha T about why Hell Hath No Fury is such a timeless rap record and he'll tell you it was because the Clipse were going through the worst period of their recording career. All the pent up anger and frustration of being stuck in label purgatory for four years was eventually channeled over the course of just under 50 minutes on this coke-fueled masterpiece. Together with The Neptunes, Pusha and Malice took the formula that made Lord Willin' so great and doubled down on it. The beats here – a fusion of sparse drums and fluttering sonics – are harder and weirder; the duo's rapping is a step above their last release and the album a tighter body of work overall. Just listen to the "Keys Open Doors," a highlight track on an album full of highlights, and you'll realise the album's genius – Pusha's sneering bars ("I ain't spent one rap dollar in three years, holla"), Malice's religious references ("I yell, 'Re-up,' 'til I'm locked like Mumia / And get it cross-state with the grace of Maria"), and The Neptunes' eerie, thumping production. This might be a list about the greatest hip hop albums of all time, but Hell Hath No Fury is without doubt the best coke rap album ever.
14. The Notorious B.I.G. – Ready to Die
Released: September 13, 1994
Label: Bad Boy, Arista
By the mid-90s, the East Coast hip hop scene was experiencing a resurgence after the West Coast's domination with G-Funk since the release of Dre's The Chronic in 1992. But while acts like Onyx, Black Moon, Wu-Tang and Nas were critically acclaimed and appealed to the hardcore hip hop heads, they didn't make much of a dent, commercially-speaking. It wasn't until The Notorious B.I.G. came with his masterful debut album, Ready to Die , that the spotlight truly shifted back to New York. Inspired by the thematic cohesiveness and storytelling structure of Ice Cube's AmeriKKKa's Most Wanted , Big and Puffy set out to create a universal rap album that appealed to the masses, while retaining the gully Brooklyn street joints that would endear the MC to the hardcore crowd. For every "Juicy", "Big Poppa" or "One More Chance," there was a "Machine Gun Funk," "Warning" and "Unbelievable" to balance it out. Nas may have been the best rapper alive in 1994 after dropping Illmatic , but as the year came to a close, it was clear that Biggie was quickly usurping the Queensbridge poet's position as the King of New York .
13. 2Pac – The Don Killuminati: The 7 Day Theory
Released: November 5, 1996
Label: Death Row, Interscope
Strictly 4 My N.I.G.G.A.Z… is 2Pac's most politically-charged album, Me Against the World is his most introspective, All Eyez on Me is his biggest, but The Don Killuminati: The 7 Day Theory is the rapper's best album. Eerie, rageful and unpolished at certain points, Pac's first posthumous album may have been overshadowed by his untimely death, but as the years have gone by, it's clear that the rapper was in a different zone while recording this album. The unbridled anger that Pac displays throughout the 12-tracks lends itself to the project's darkness and overwhelming tension, and it's clear that he felt like he didn't have long left in this world. From "Bomb First (My Second Reply)" to "Against All Odds," Pac is in full war-mode, and the producers Hurt-M-Badd, QDIII and Darryl "Big D" Harper laced him with some of the most vengeful music to accompany his march.
12. Mobb Deep – The Infamous
Released: April 25, 1995
Label: Loud, RCA
Despite the violent and dark nature of '90s New York rap music, most artists still found time for levity in their music. Even though he penned some of the most vivid poems about how brutal life could be in Queensbridge, Nas had certain moments of positivity sprinkled throughout Illmatic . Even though Big ended Ready to Die with a suicide, the Brooklyn MC still found time to crack jokes on the album. And the Wu-Tang Clan were just goddamn hilarious with their abstract references and skits. Not Mobb Deep though. Prodigy and Havoc were dead serious. When Bandana P said "I'm only nineteen, but my mind is old" on the duo's timeless single "Shook Ones (Part II)," it was the realest shit ever uttered on a rap record. With The Infamous , Mobb Deep proved that no other rap act could make brooding street rap better than they could. With Havoc (and Tribe's Q-Tip) manning the boards to create some of the bleakest, grimy production ever and P stepping up to lead the mic, the duo quickly catapulted themselves to the top of the New York battle for rap supremacy.
11. Kanye West – My Beautiful Dark Twisted Fantasy
Released: November 22, 2010
Label: Def Jam, Roc-A-Fella
There's a lot of things that I don't agree with Kanye on, but when he said that My Beautiful Dark Twisted Fantasy was perfect, he was absolutely on point. The Chicago rapper-producer made the album as a defiant apology statement and he had nothing less than supreme excellence on his mind. So he did everything he needed to make it so: he recruited some of the greatest producers on the planet (Mike Dean, No I.D., RZA, Bink, S1), flew out his favourite MCs (Pusha T, Raekwon, Jay-Z, Nicki Minaj, Rick Ross, Kid Cudi) to work with him in Hawaii, and crafted a captivating story for the album that would give listeners a glimpse of what it was like to be Kanye West living in America. Everything on this album lines up perfectly – the GOOD Friday series leading up the release, the singles, the features, the production, the skits, the little interludes and the way songs segue into each other, the breath-taking intro and introspective outro. There was no doubt that when My Beautiful Dark Twisted Fantasy dropped that it was the best album of 2010, and looking back at it now, it's easily the best rap album of the decade.
10. Public Enemy – It Takes a Nation of Millions to Hold Us Back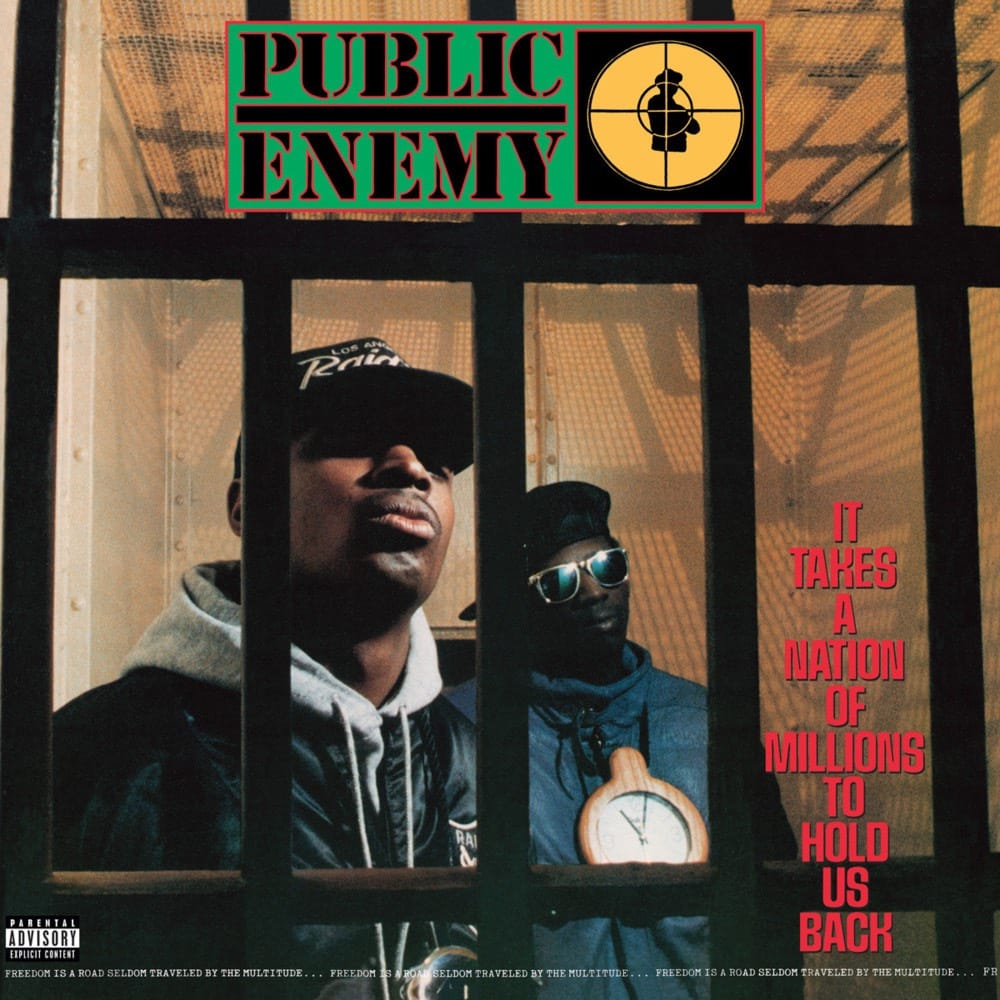 Released: June 28, 1988
Label: Def Jam, Columbia
It Takes a Nation of Millions to Hold Us Back isn't a rap album, it's a revolution. Chuck D isn't an MC, he's a prophet of rage. The Bomb Squad aren't producers, they're agents of chaos. Long before Illmatic was crowned the greatest hip hop album of all time, Public Enemy's 1988 sophomore album was regarded as the golden standard of rap classics. Not long after dropping their debut, Yo! Bum Rush the Show , the Long Island-based group got back in the lab to record their follow-up, primarily motivated after hearing the innovations Eric B. & Rakim were making over on their end of town. "'I Know You Got Soul' was the best fuckin' record I had heard in my fuckin' life, and it comes from Eric B who was givin' us hell," the Public Enemy frontman said in an interview. "We were gettin' ready to go out on the Bigger & Deffer tour, and we're gonna have to look at the guys every day who made this fuckin' record! I was, 'No, man!'" The result was It Takes a Nation of Millions to Hold Us Back . A mashed collage of dense funk, soul and jazz samples stacked on top of each other; the mind-boggling turntable scratches of Terminator X and Chuck D and Flavor Flav's mic chemistry, the album hit like a Molotov cocktail when it dropped and destroyed any notion of what rap music was and could be.
9. The Notorious B.I.G. – Life After Death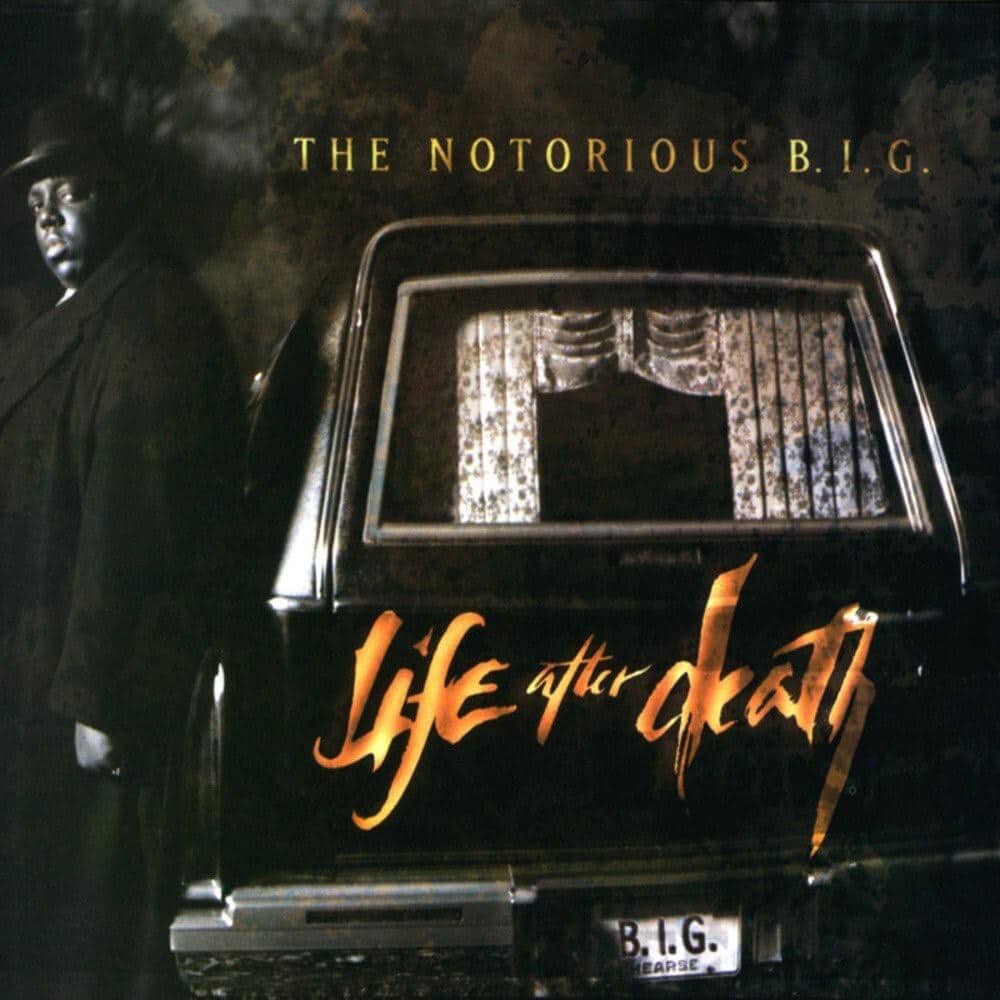 Released: March 25, 1997
Label: Bad Boy, Arista
Big's 1994 debut, Ready to Die , was an autobiographical masterpiece that heralded the arrival of a once-in-a-lifetime rap phenomenon. But his sophomore album , Life After Death , is even better. During a period in New York rap history where the competition was fierce and the tension was thick in the air – Nas, Mobb Deep, Wu-Tang, Jay-Z were all gunning for the throne – Big used this album to silence everyone. Once Life After Death dropped, there was no question on who was the best rapper in the game. There are battle raps ("Kick in the Door"), war-rallying diss tracks ("Long Kiss Goodnight"), chart-topping radio smashes ("Hypnotize", "Mo Money Mo Problems"), storytelling masterpieces ("Somebody's Gotta Die", "Ni**as Bleed", "I Got a Story to Tell"), grimy street cuts ("Last Day", "What's Beef"). You've got West Coast-flavoured joints ("I Love the Dough", "Going Back to Cali"), introspective shit ("Sky's the Limit"), ill concept songs ("Ten Crack Commandments"). You've got Big rapping like motherfucking Bone Thugs-n-Harmony, and doing it on the same level as them. The point is, Big cemented his position as one of the greatest rappers of all time with just two albums, and Life After Death shows you exactly why.
8. Jay–Z – The Blueprint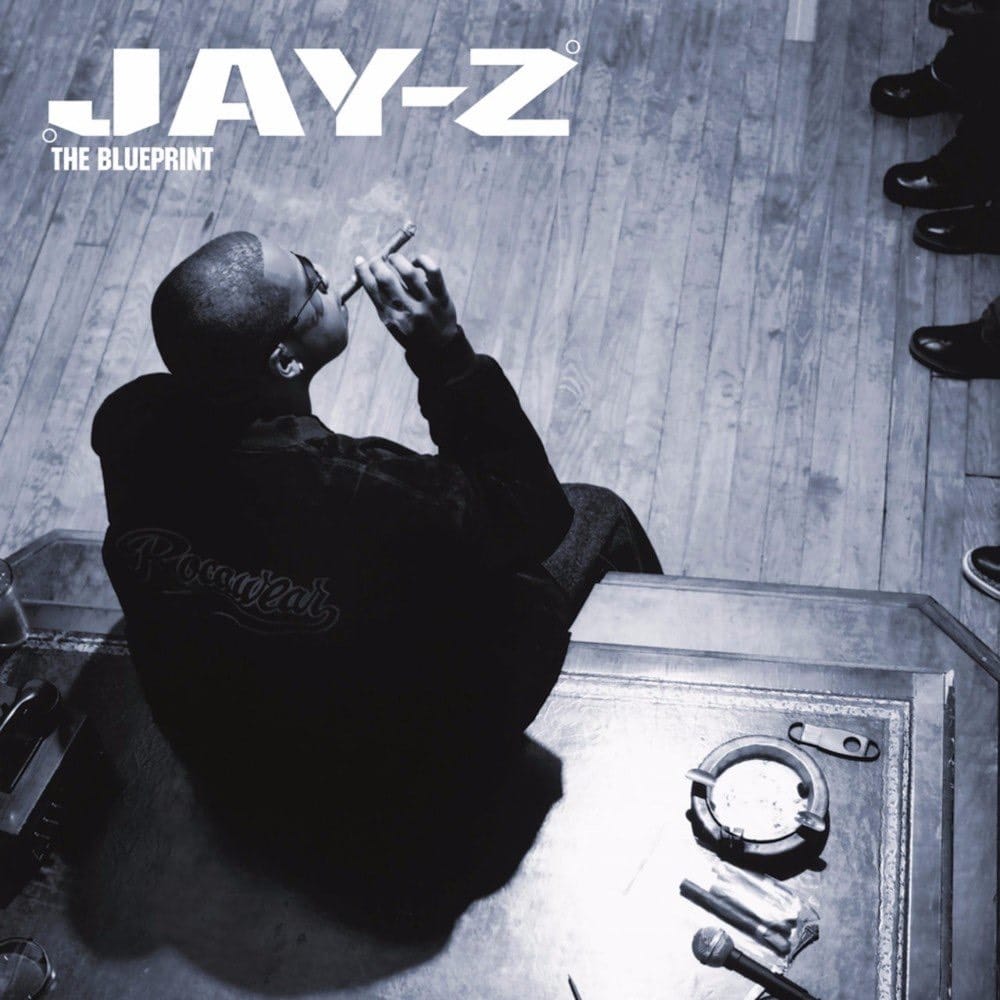 Released: September 11, 2001
Label: Roc-A-Fella, Def Jam
Jay-Z's sixth studio album is the soundtrack to his reign as the King of New York . Never has an MC sounded as self-assured in his status in the rap game as Hov on The Blueprint . Coming off the back of three number one albums, following his breakthrough with Vol. 2… Hard Knock Life , the Roc-A-Fella rapper had ascended to the throne and was now defending it from various challengers. Backed by the lush '70s soul sampling-production of Kanye, Bink and Just Blaze, Hov captivated the masses, on the very same day as the Twin Towers fell no less, by solidifying his crown position, going to war with Mobb and Nas, reminiscing on his come-up, and talking love, loss and hustle. In a catalogue that boasts of several classics and many, many platinum plaques, The Blueprint still stands tall as Jay-Z's crowning achievement.
7. Wu–Tang Clan – Enter the Wu–Tang (36 Chambers)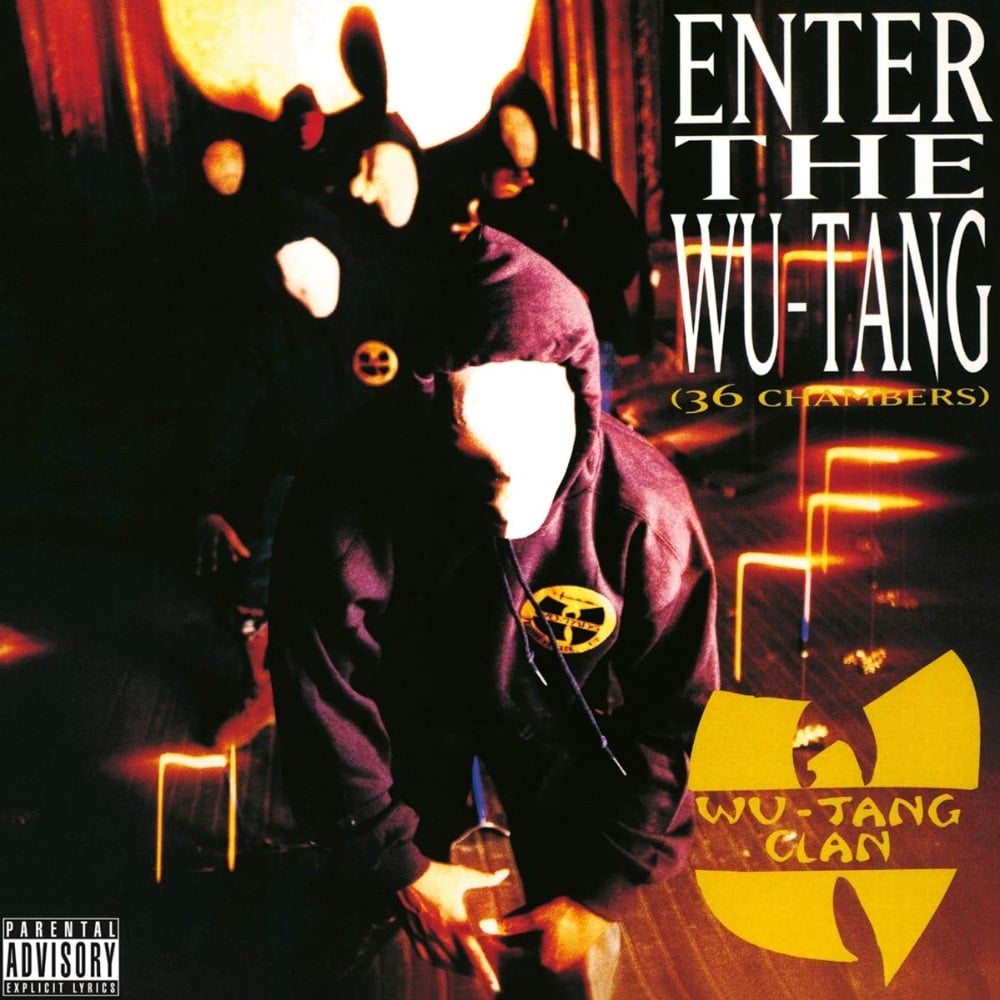 Released: November 9, 1993
Label: Loud
When nine masked killer MCs hailing from Staten Island kicked down the door with their debut single "Protect Ya Neck" in 1992, they struck a match in the underground that ignited a global movement. The production was lofi and gritty, the rappers were aggressive yet distinctive with their own flavours, they called Staten Island Shaolin and their group the Wu-Tang Clan; it was nothing hip hop had ever seen before. When Enter the Wu-Tang (36 Chambers) dropped almost a year later, it helped pave the way for the East Coast Renaissance of the mid-90s, shifting the spotlight back to New York at a time when L.A. had it on lock. The MCs were totally original with their precise rhymes about martial arts, comic books and life in the projects, while RZA was the dusty production maestro who laced the rappers with the illest soul samples and gritty drums. From a rapping, production as well as business point of view, Enter the Wu–Tang (36 Chambers) is a landmark rap release, and absolutely one of the greatest hip hop albums ever released.
6. Dr. Dre – The Chronic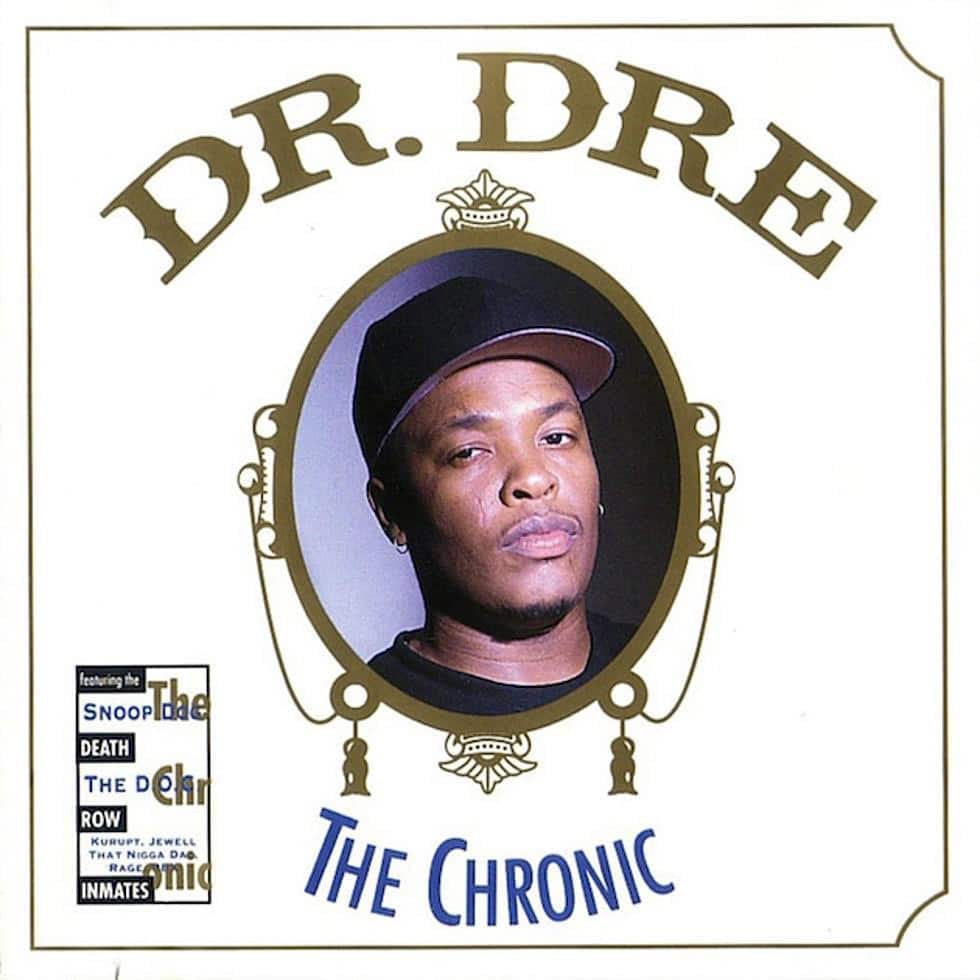 Released: December 15, 1992
Label: Death Row, Interscope
There have been few hip hop albums that have had the seismic impact that Dre's debut album had in 1992. Having split from N.W.A. after a short but explosive run, Dre linked up with Suge Knight to form Death Row Records and began working on The Chronic . Upon its release, the G-Funk classic completely changed the rap landscape, launching the careers of West Coast greats like Snoop Dogg, Daz Dillinger, Kurupt, Nate Dogg, and Warren G; recontextualised gangsta rap to a wider audience; and established Death Row as one of the most important rap record labels in history. But putting all that aside, The Chronic just sounded dope as fuck. Even to this day, Dre's crisp production laced with P-Funk samples and Snoop's laconic, lyrical style have aged extremely well, making it one of the most replayable rap albums ever.
5. Raekwon – Only Built 4 Cuban Linx…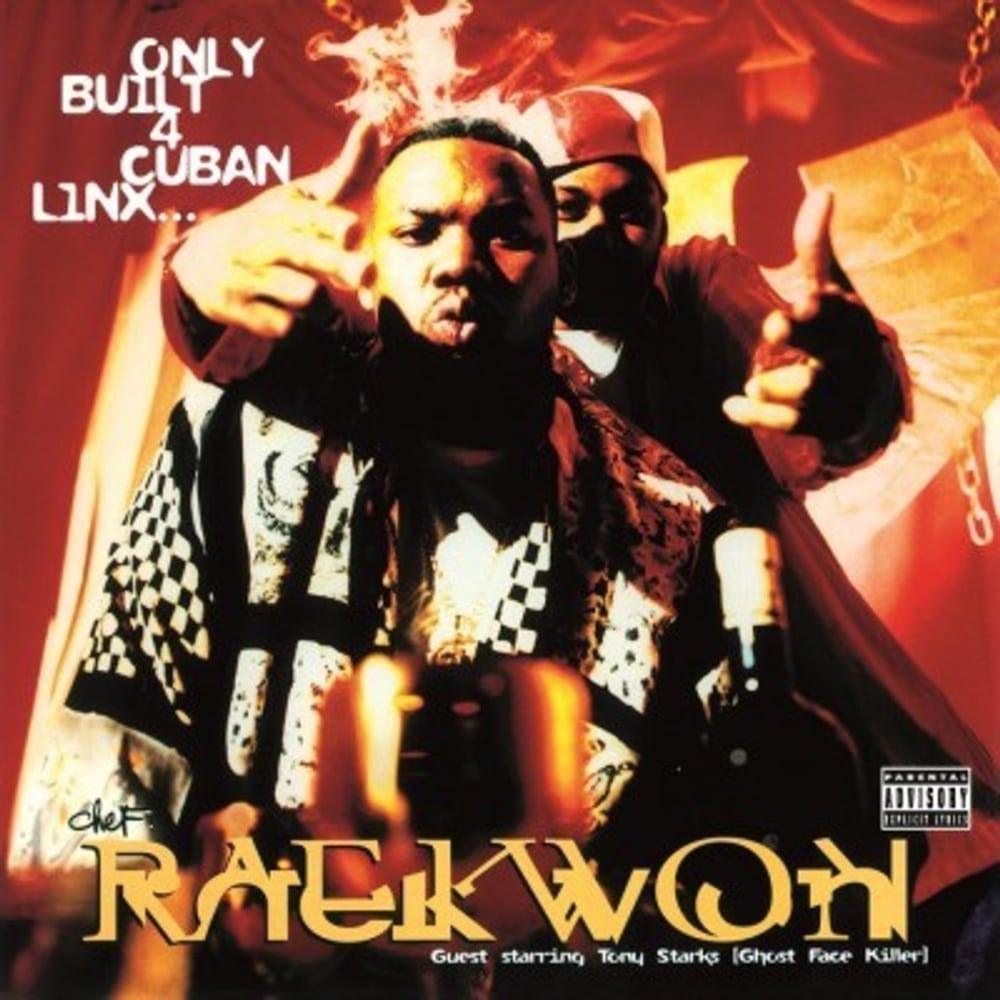 Released: August 1, 1995
Label: Loud, RCA
A cinematic masterpiece released during Wu-Tang's peak era, Raekwon's Only Built 4 Cuban Linx… has long been regarded as the holy grail of street rap, as Pusha T once said . In fact, the Virginia MC used The Purple Tape as inspiration for his 2018 classic Daytona . The third Wu solo album released, following Meth and ODB, Only Built 4 Cuban Linx… featured a more layered and refined sound from RZA. While previous releases emphasised broken samples over snapping drum breaks, the Abbott ups the ante on here, opting for a richer, fuller production technique that pulled in soul samples, polished strings and murmuring piano loops. Lyrically, Chef and his co-host Ghostface are on-point the whole way through with Rae playing the cool, laid-back mafioso don and Starks as his unhinged enforcer. Even the skits like "Striving for Perfection," the Big-baiting "Shark Ni**as (Biters)" and classic intro to "Glaciers of Ice" all have a purpose and are better than anything Wu had done earlier. Bottom line is: Only Built 4 Cuban Linx… is undoubtedly the greatest street rap album of all time.
4. A Tribe Called Quest – Midnight Marauders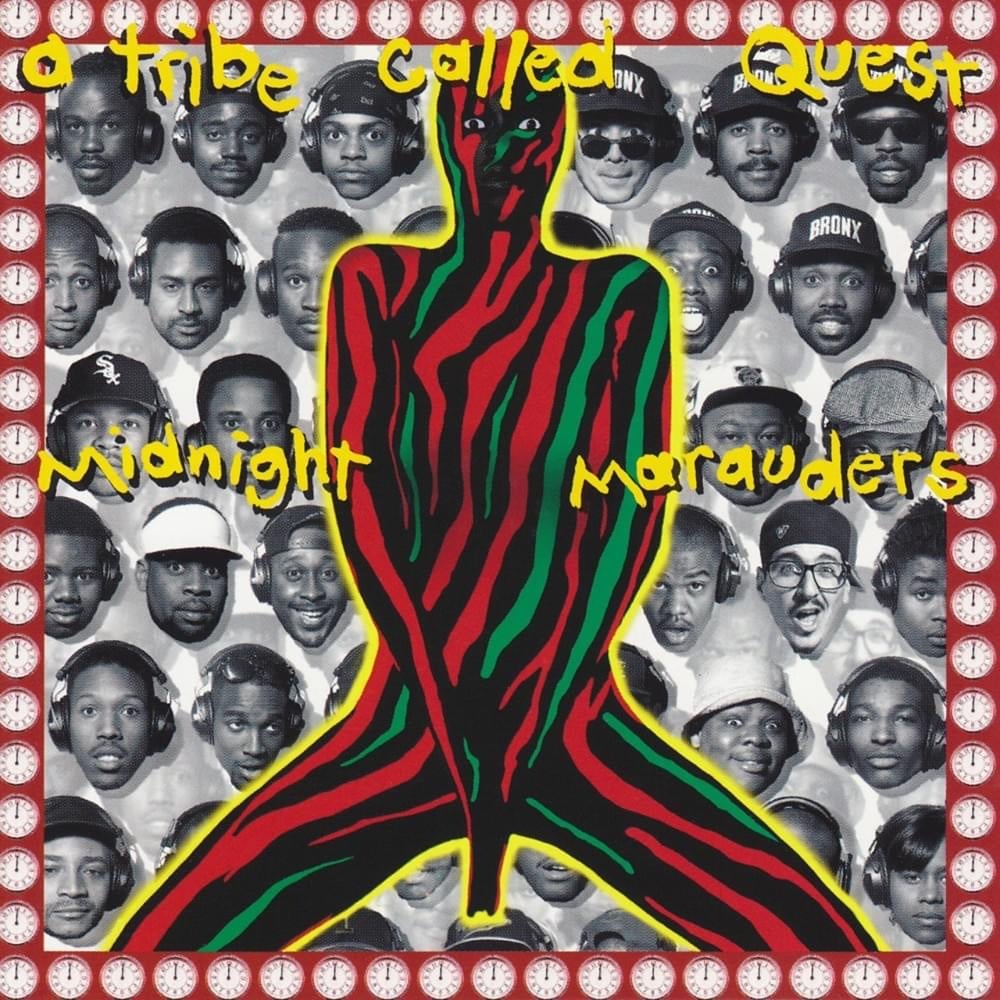 Released: November 9, 1993
Label: Jive
A Tribe Called Quest's third album also happens to be their best album. The trio struck magic on their debut, People's Instinctive Travels and the Paths of Rhythm , by blending rich jazzy riffs, cracking drum breaks and raps about Afrocentric living. They then evolved their sound on The Low End Theory , one of the finest produced rap albums of all time, with the help of legendary mixing engineer, Bob Power, while Q-Tip and Phife Dawg locked in with each other lyrically. On Midnight Marauders , Tribe perfected everything. From the rich, laid-back samples, crisp drums and live instrumentation, to Tip and Phife's chemistry on the mic and the duo's effortless wordplay, Midnight Marauders is one funky masterpiece. There are only a handful of artists in hip hop history who have managed to one-up both their debut and sophomore (OutKast, Kanye and Kendrick come to mind), so this is rarefied presence we're talking about. Midnight Marauders isn't just Tribe's best album, it's one of the best rap albums ever made.
3. Ice Cube – AmeriKKKa's Most Wanted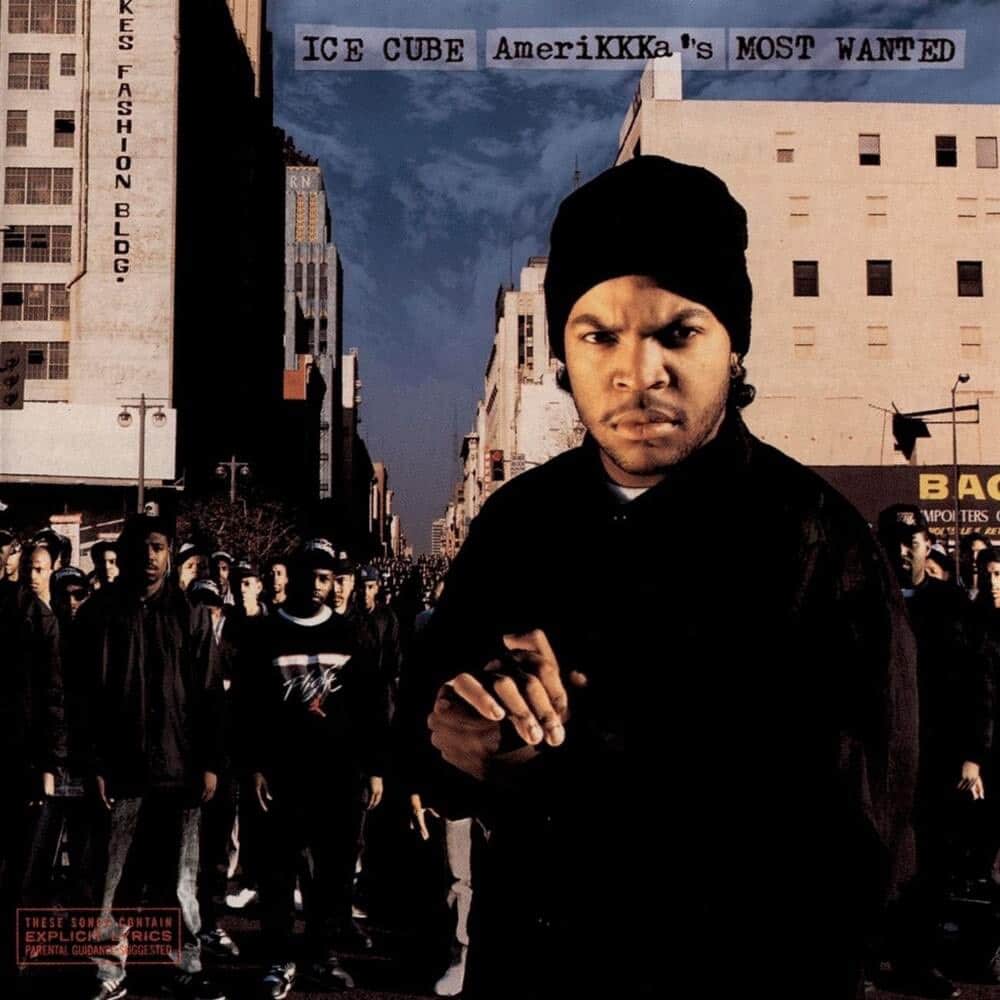 Released: May 16, 1990
Label: Lench Mob, Priority
After splitting up with N.W.A. due to financial disagreements , Ice Cube travelled to New York to link up with the famed Bomb Squad, legendary for the chaotic funk they produced on Public Enemy records. The union between East and West resulted in one of the greatest rap albums ever created. No longer burdened by group members who needed their rhymes written for them, Ice Cube's subversive writing and incendiary delivery is on full display as he takes the listener through a first-person narrated experience of life in the projects, gang warfare, racism and poverty. It's the first album of a five-year run that cemented Ice Cube as one of the greatest rappers of all time .
2. OutKast – Aquemini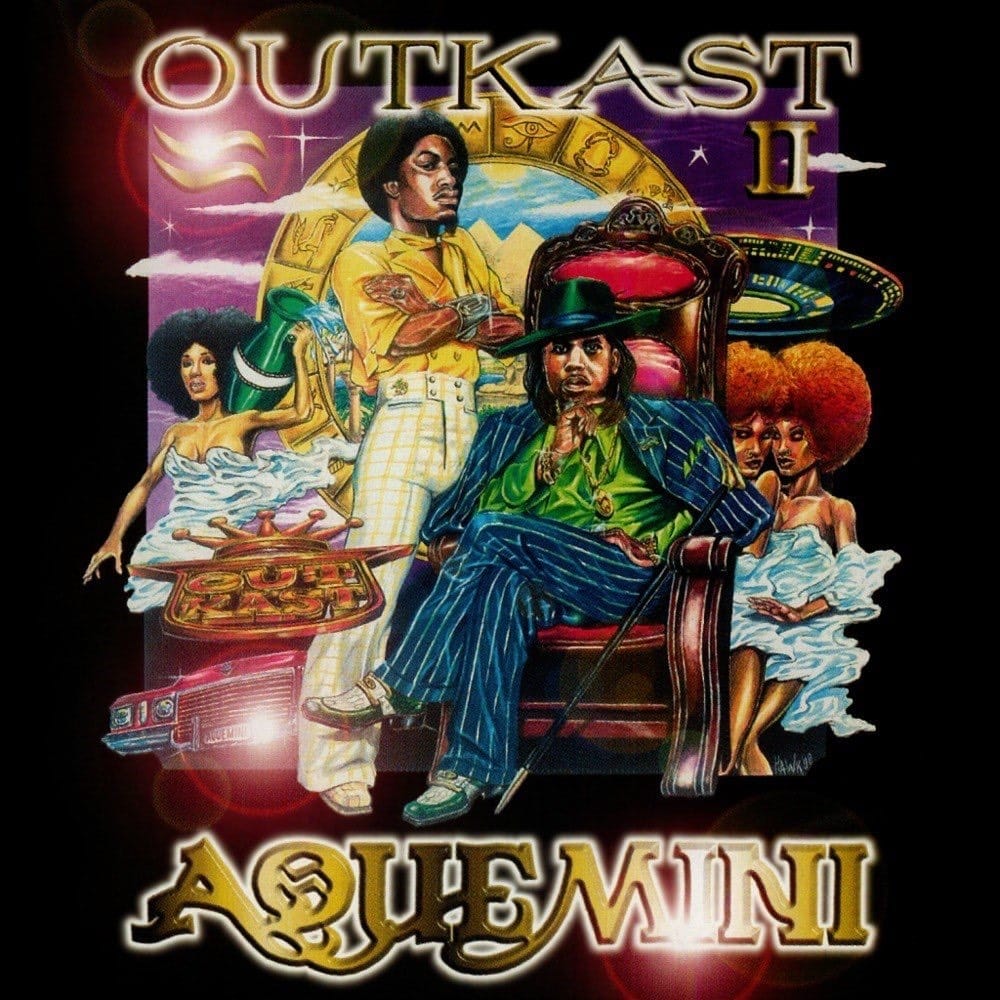 Released: September 29, 1998
Label: LaFace, Arista
Combining the earthly live instrumentation and funk-soaked soul of Southernplayalisticadillacmuzik and ethereal spacey vibes of ATLiens , and then sprinkling some psychedelia on for extra flavour is how OutKast created their 1998 magnum opus. Although, truthfully, the Atlanta duo has one of those rarefied catalogues in hip hop where you could argue for any of their albums to their best. The thing that separates Aquemini from the pack for me is that, not only does it sound amazing with some of the best rapping and production ever, but it also feels important in the grand scheme of things. There's the mission statement upfront on "Return of the 'G'" where Andre 3000 makes it very clear where he stands as an artist, and then the album closes off with "Chonkyfire" where the duo's speech at the monumental 1995 Source Awards is featured. Andre uttered pure prophecy when he said "But it's like this, the South got somethin' to say. That's all I got to say"
1. Nas – Illmatic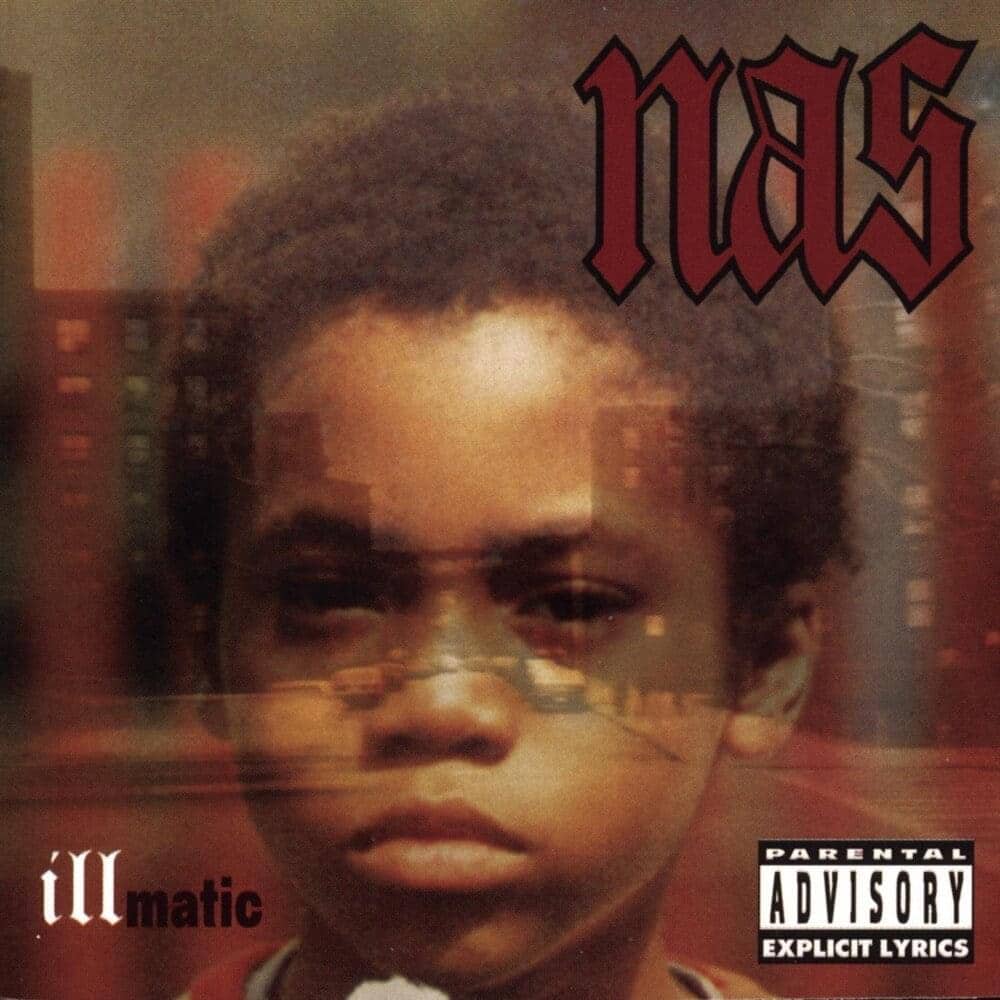 Released: April 19, 1994
Label: Columbia
Fuck yeah, Nas' Illmatic is the greatest hip hop album of all time. How is this even a debate? Were you expecting anything other than Nas' brilliant debut to show up in the top spot? Look, people have written entire books dedicated to the genius of this album, so I don't need to sit here and break it down for you. Put simply, Illmatic is the most perfect marriage of beats and rhymes in hip hop history. Backed by four of the greatest hip hop producers of all time (DJ Premier, Pete Rock, Large Professor, and Q-Tip) who all brought their A-game to the recording sessions, Nas shined a light on day-to-day life in the Queensbridge projects in the most vivid, poetic way possible. Then there's the way that Illmatic changed hip hop. As soon as it dropped, every rapper serious about their craft were put on notice (Jay-Z changed his whole lyrical style after hearing it); having multiple producers on an album became a trend; it galvanised the King of New York title; and it helped bring the spotlight back to the East Coast at a time when the West Coast was dominating. Bottom line is: Illmatic is the best hip hop debut, the best '90s rap album and the best hip hop album of all time, period.